You'd be wrong to assume that InMotion Hosting's WordPress plans are just the same as its regular shared hosting plans. They're not – in fact, I was pleasantly surprised to find that InMotion Hosting has put a lot of effort into making its WordPress hosting plans stand out amongst the crowd. There are so many web hosting companies that tack the word 'WordPress' onto their regular hosting plans and maybe, if you're lucky, throw in an optimization plugin.
But it's in its WordPress plans that InMotion Hosting does some quite interesting things.
They're not all
revolutionary
things, but they do warrant a close look. Like
BoldGrid
, which effectively turns WordPress into a fully-fledged drag-and-drop builder (a million miles away from the less-than-user-friendly regular editor in WordPress), and premium features like off-site backups – although that last one is reserved for top tier plans. So if you want (or already have) a WordPress site, let's see if InMotion Hosting is right for you.
Spoiler alert: There's a lot to like.
It might well be
perfect
for beginners (and that's something very rare indeed!)
Features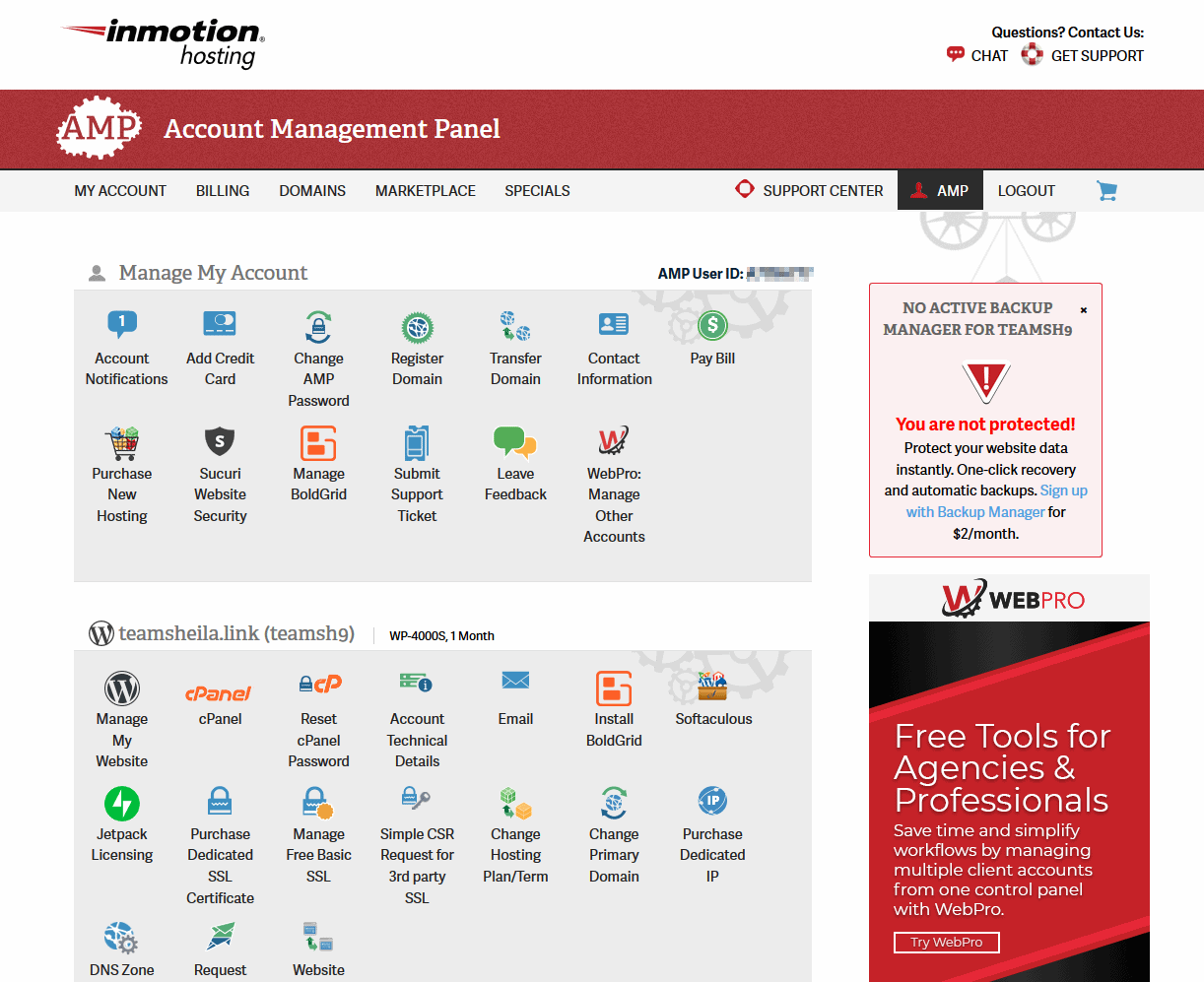 These WordPress Plans Don't Play Around
Something you're going to notice about a lot of WordPress plans on various hosts is this: It's just regular hosting, with WordPress. Maybe there's a caching plugin to make your site load faster. A few tweaks to the server configuration, and most hosting companies will call it a day. But here we've got something a little different.
InMotion Hosting has made a specific effort to cater to WordPress users in a big way.
 First, let's go over general features you'll find in all WordPress plans, and shared hosting plans as well: For this test, I would normally grab
the cheapest WordPress hosting plan
I could, the WP-1000S. It includes:
Support for 1 website
50GB of SSD storage
Unlimited bandwidth
Unlimited email accounts
And of course, WordPress preinstalled
Those are absolutely solid stats right there, and nothing to complain about.
 I
will
, however, definitely complain that it boasts a feature called "4x performance." Four times better than what exactly? An arbitrary statistic of some sort? Its competitors? Four times faster than I can get my cats to come and cuddle me? It means nothing. … Anyway, you can't get the three cheapest plans one month at a time. You have to pay for at least the whole year in advance. Which is dumb. I had to get the WP-4000S plan to save money on this review, ironically enough. That's the most expensive plan, and it includes (along with everything else already mentioned):
Support for 6 websites
200GB SSD storage
"12x performance," whatever on God's green Earth that means
I also found out that higher-tier plans have more virtual CPU cores dedicated to them. That basically means more processing power.
However
… that makes little difference in the context of this article. I'd be surprised if my little WordPress testing site used up even a single core. There's also a pretty solid set of security features that almost everyone gets. These include:
A free SSL certificate. Keeps data sent between the user and the site encrypted.
Protection against malware.
DDoS protection. So your site will stay up even if thousands of bots are directed to attack it.
Automatic offsite backups. Awesome, but unavailable on the cheapest plan.
Additionally, there are a few marketing tools, free advertising credits, and customer management tools. Well, I did say the company was targeted at businesses. You get a free domain with any plan if you pay yearly. Well, it's free for the first year only, but that's just how it goes. Last, but certainly not least, there's cPanel. Yes, even the WordPress-specific plans give you full access to cPanel. Good stuff. Now let's get into the actual WordPress-specific features:
There's a Free Drag-and-Drop Site Builder
The biggest and boldest WordPress feature is called BoldGrid, and it sets InMotion Hosting apart from just about every other WordPress host.
 (See what I did there?) BoldGrid is a full-on site builder integrated into WordPress, so you can edit all of your pages and posts in a drag-and-drop fashion. This gives you incredible control over the look and feel of your site, and in many ways makes it easier to use… for the visually inclined. This is what it looks like: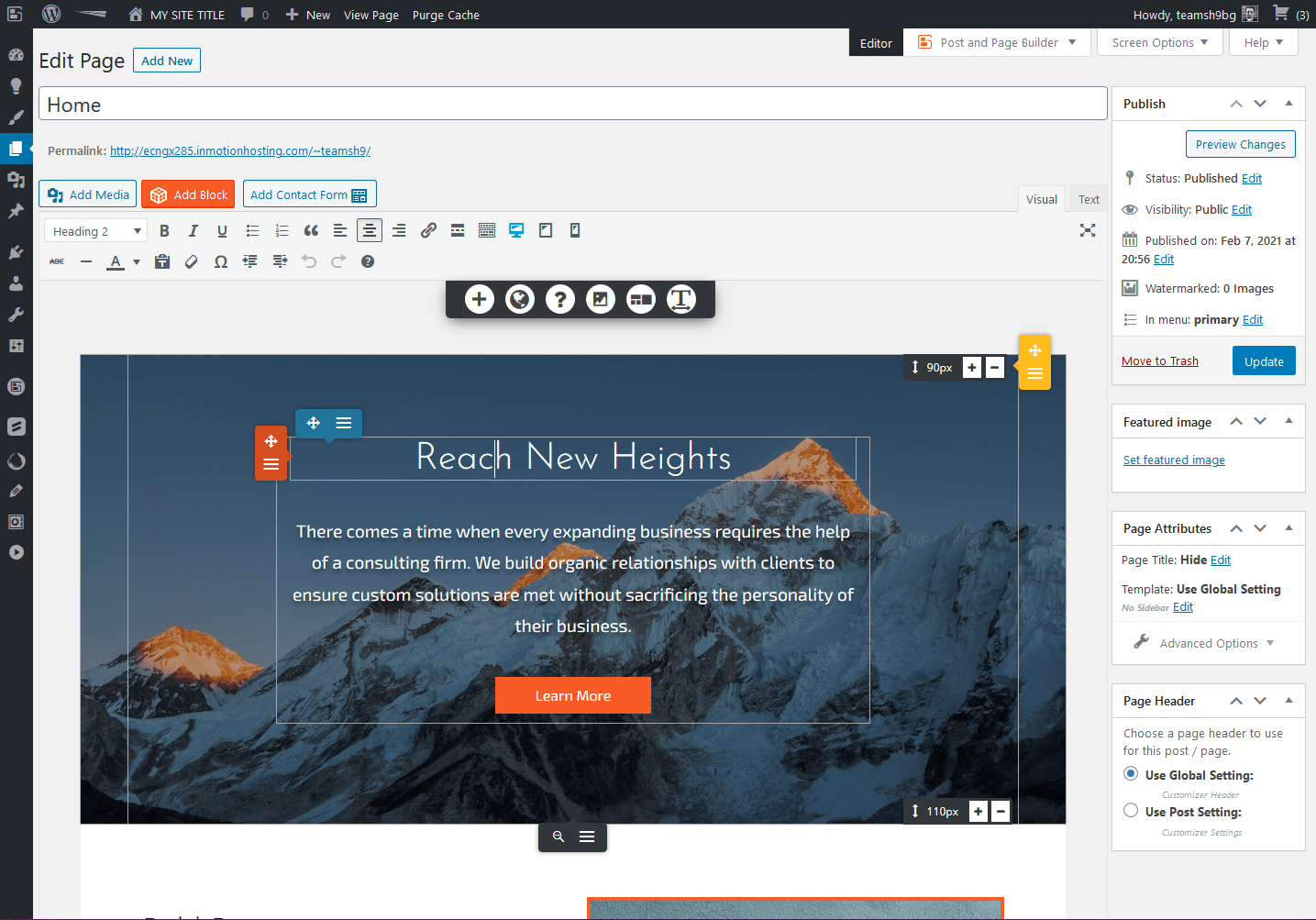 On top of the drag-and-drop site-building functionality, it has plugins for SEO, and integration with WooCommerce is totally feasible. Oh, and there are over 200 free BoldGrid-compatible templates to use for your pages: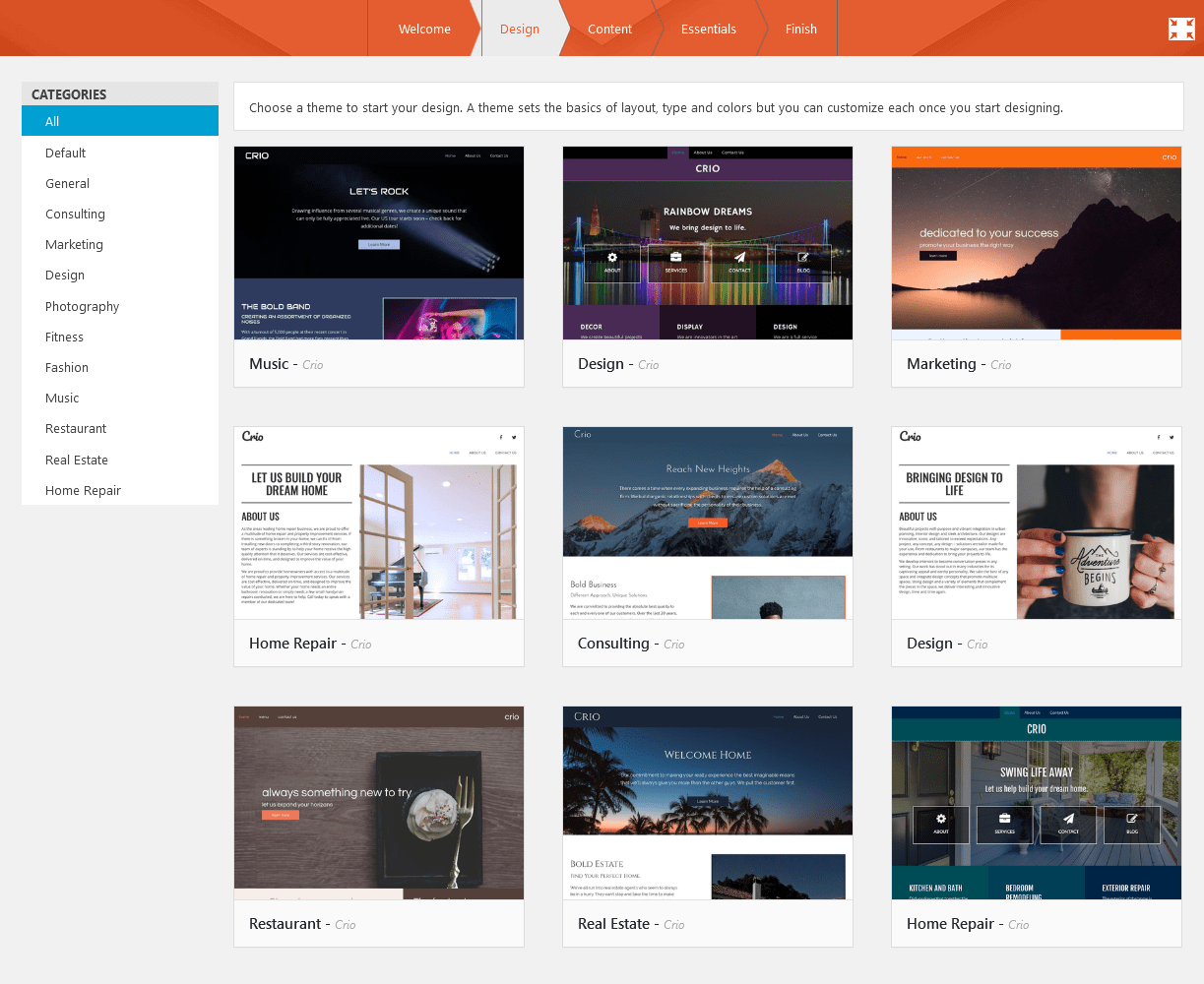 You get all of that, and your site is still powered by WordPress, which was designed to handle large amounts of content. It's not the simplest way to do things, but it works.
And if it doesn't work for you, you
can
 install plain old WordPress.
 Or just deactivate all the BoldGrid plugins and go from there.
Other WordPress Optimizations
So on top of installing
a whole darned site builder
in WordPress for you, InMotion Hosting has a few other pleasant surprises:
Auto-updates. Never have to worry about outdated themes or plugins again. Of course, you can turn this off if you're worried about updates breaking your site.
Caching. There are plugins designed to sort of pre-load bits of your site for the user, to make browsing faster. The installed plugins leverage both server and browser caching.
WP-CLI integration. If you're managing a lot of WordPress sites and you like using the command line, this is the tool for you. It lets you update plugins, configure multisite installations, and perform maintenance on WordPress sites without ever opening a browser.
And more…
No Restrictions on Plugins
OK, now this is a major double-edged sword.
Some WordPress-focused hosts will restrict the kinds of plugins you can install on your site, for the sake of safety and security. Third-party plugins can often contain outdated code, bugs, or security vulnerabilities that, in the worst cases, can mess up every site on a server. That said, if you've found a plugin that does something you need, and you trust the source, it sucks not to be able to install it. InMotion Hosting leaves this decision in your hands and trusts you not to install something that'll break your site. There are measures in place to keep your site from compromising others on the server.
Includes Paid Jetpack Plans
Jetpack is a plugin from Automattic (the company that makes WordPress) that contains a load of extra features. Some of these features are free, but many more require paying for one of the Jetpack premium plans. All but the lowest-tier InMotion Hosting WordPress plan include a premium Jetpack plan.
These extra features include: even more backups, performance enhancements, site monitoring, brute force protection,
 content delivery networks for images and video, an ad network to help you earn money from your site (if you feel inclined to join it), more detailed analytics… [takes breath] A specialized WordPress management app, automated social media promotion for your content, better search functionality, portfolio-style media slideshows, and more. Having all of that included, by default, for no extra charge? That's a fair bit of value for the money.
FEATURES SCORE: 5/5
Ease of Use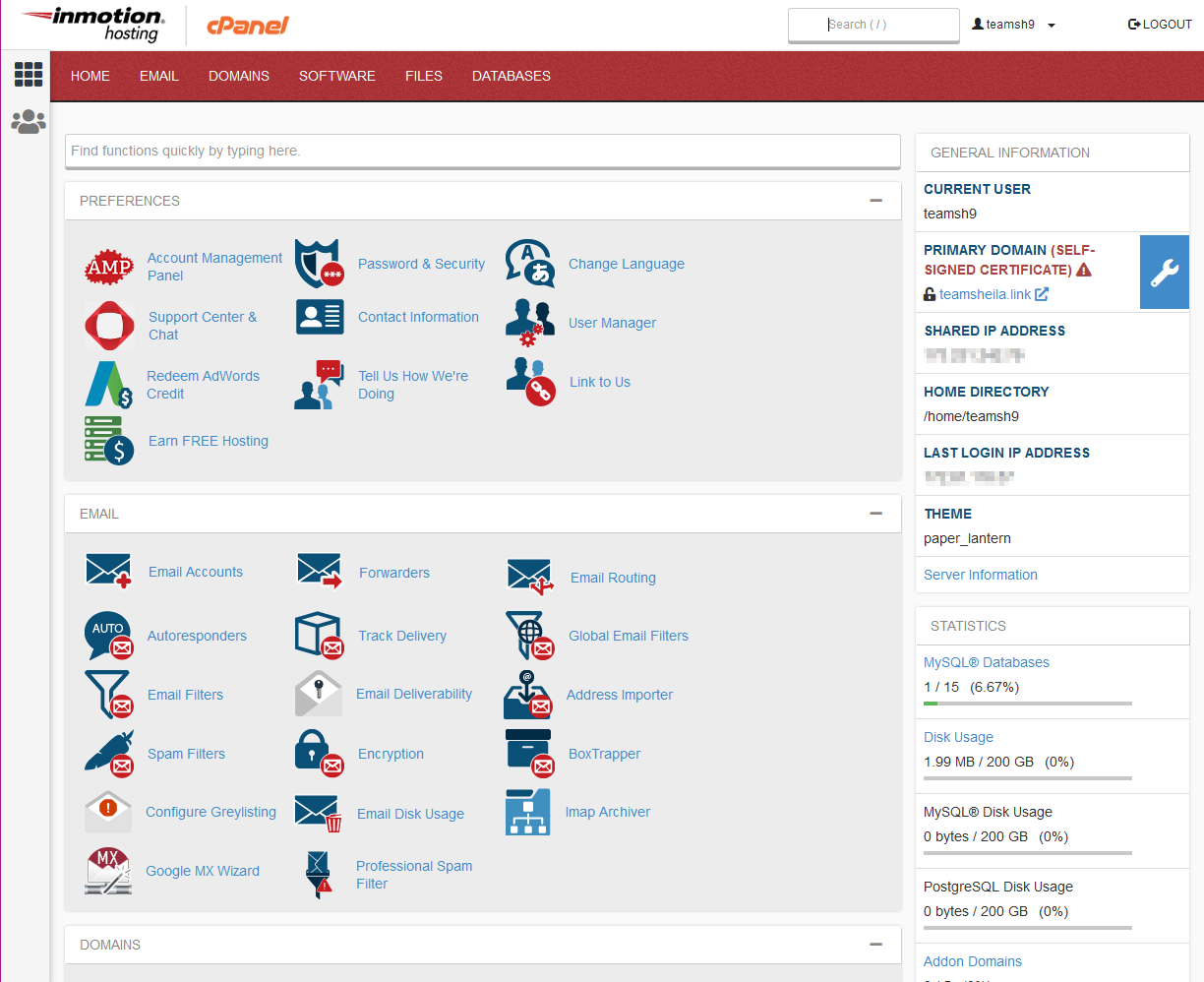 The Experience Will Be Mostly Familiar
It's WordPress and cPanel – how hard could it be, right?
Well, mostly not that hard, but you might run into hiccups. I personally had problems figuring out exactly how to configure my site (you'll see how down below), because the added functionality of BoldGrid makes things… interesting. All the added features mean increased complexity, so there are more things that can go wrong in small ways. Simply put, there'll be a bit of a learning curve, even for those who are accustomed to cPanel-based hosts. However….
InMotion Hosting Can Manage Your WordPress Site for You
You can ask tech support to go in and change things for you at pretty much any time.
They won't actually design a whole site for you, but they will fix problems, update plugins and themes, and perform general maintenance. You'll just have to give the techs access to your site. This can make things drastically easier for you. Oh, and there
is
 a web design and marketing service at InMotion Hosting. It's just separate, and it costs more.
Fairly Extensive Knowledge Base
Need to know how to use your hosting, but don't feel like talking to a person? There's a knowledge base that should answer most, if not all, of your burning questions with no social interaction required. There's even a tutorial on using the command-line based VIM text editor. Most people won't need that information, but I'm weirdly impressed that it's included here.
Website Migration Tools
And of course, there are a number of tools in place designed to make it easy to move your site
from another host to InMotion Hosting. If you already have a WordPress site but aren't happy with your existing host, this can help. You can also, naturally, transfer your domain name to InMotion Hosting if you want to keep your domain and hosting in one place. There are guides in the knowledge base to help you get all of this done in a timely fashion.
EASE OF USE SCORE: 4.4/5
Performance
Performance Was Steady and Decent
The
usual procedure for testing web hosts
 is to install WordPress and upload my favorite testing theme (complete with JavaScript animations and somewhat un-optimized images), to see how the servers perform in nearly-real-world conditions. The performance was pretty good for the most part, as well it should be. With SSD storage, NGINX server tech, a free CDN, and PHP 7, you can expect most WordPress sites to run fast. That said, there were occasional spikes of slow performance, which can be expected from all shared hosting. These spikes were generally short-lived.
All in all, the complete page load time averaged out at 1.56 seconds, with only one short spike of poor performance. It's well under the ideal "less than 2 seconds" loading time. Site uptime sat pretty at 100%.
Gonna get into a little more detail on the performance, so if that's not your thing, you can
jump to the Support section
.
GTmetrix
Here's what one of the better GTmetrix tests looks like (that's the tool we use to measure load time and overall page efficiency). The best time was 1.3s, and the worst time was 2.4s. Most of the tests were around 1.3 or 1.4 seconds, which is not bad at all.

UptimeRobot
UptimeRobot measures how long your site stays not-down. 100% is nothing to sneeze at, though do remember that the testing time was kind of short (around 74 hours total).

You can read even more about InMotion Hosting's performance (on its regular web hosting plans) in
our in-depth review
.
PERFORMANCE SCORE: 4.5/5
Support
Support Is Generally Fast and Great
In theory, InMotion Hosting has 24/7/365 US-based support. But the first time I tried to contact them, I was definitely running into the night shift or something,
 because I couldn't reach the sales team via live chat. What's more, I was supposed to get a callback when I signed up for hosting, and I never did. Every experience after that first night, however, was pretty great. I'd definitely say that customer support is one of InMotion Hosting's strong points. When you can get to it.
Live Chat
The live chat worked just fine during business hours, and I got my initial response in less than a minute.
I asked about that callback I never got, so I could start actually using my web hosting package. To their credit, the agent got me started fairly quickly. I had to answer a questionnaire about "what the site would be for," and I kinda hope they're not mad I had to lie outright. I couldn't just tell them, "I'm reviewing the service for Website Planet." It gives the game away. And I'll be honest with you, I don't like answering questionnaires at the best of times. I'm a weird person, and there's always so much to explain, delete, then ignore.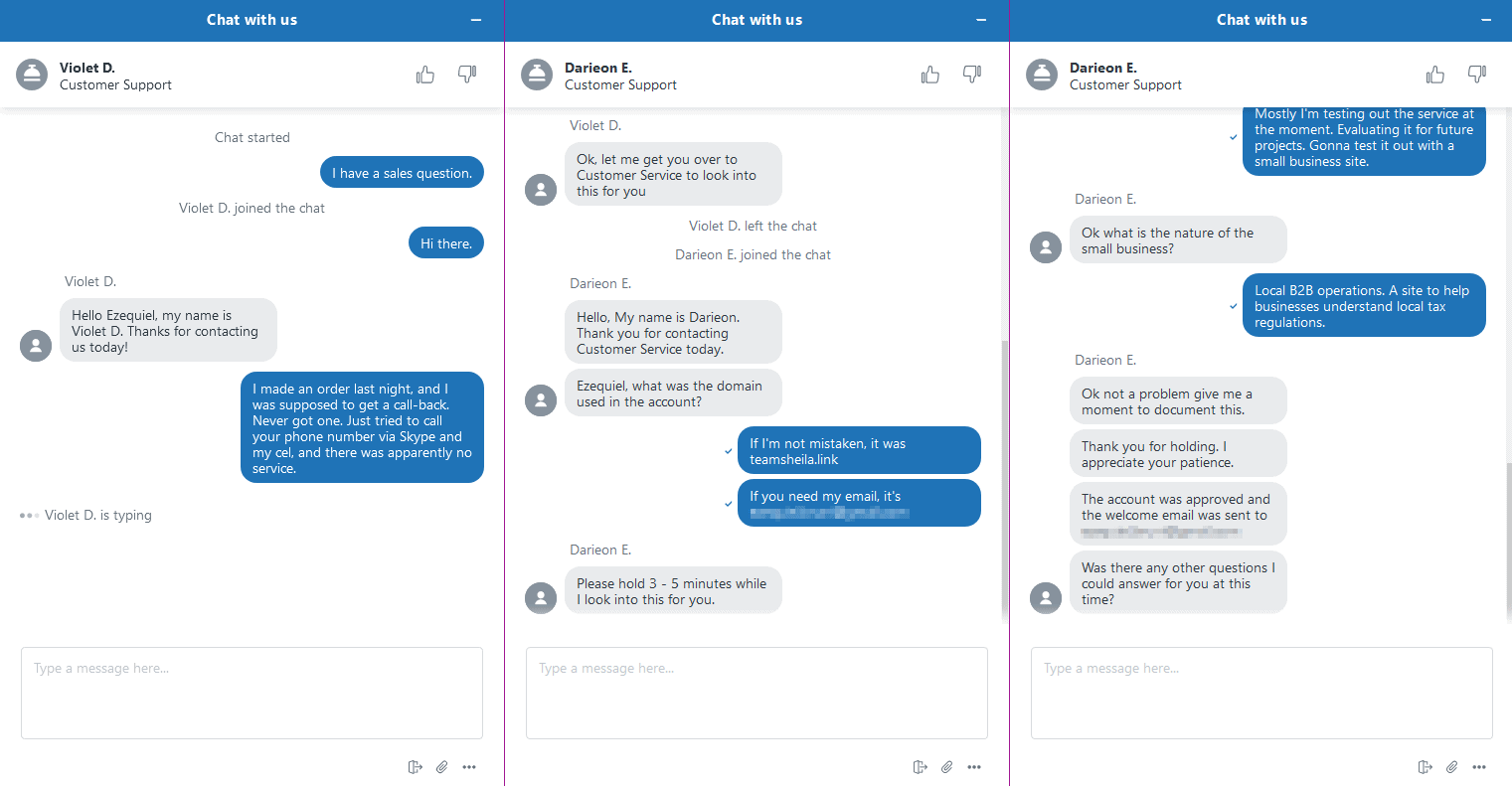 Tickets
You can submit a ticket via the website, but all subsequent interactions happen via email.
 In my case, I was having trouble getting my website to update and show new content to users who weren't logged in. Turns out there are
several
 caching systems in place, any one of which can sometimes mess up and prevent new content from showing. It's something you'll need to watch out for, and configure for sure. All in all, things went well and I got helpful advice that solved my problem in about an hour. Good stuff. Note for the upcoming screenshot: you'll have to read the following exchange from bottom to top.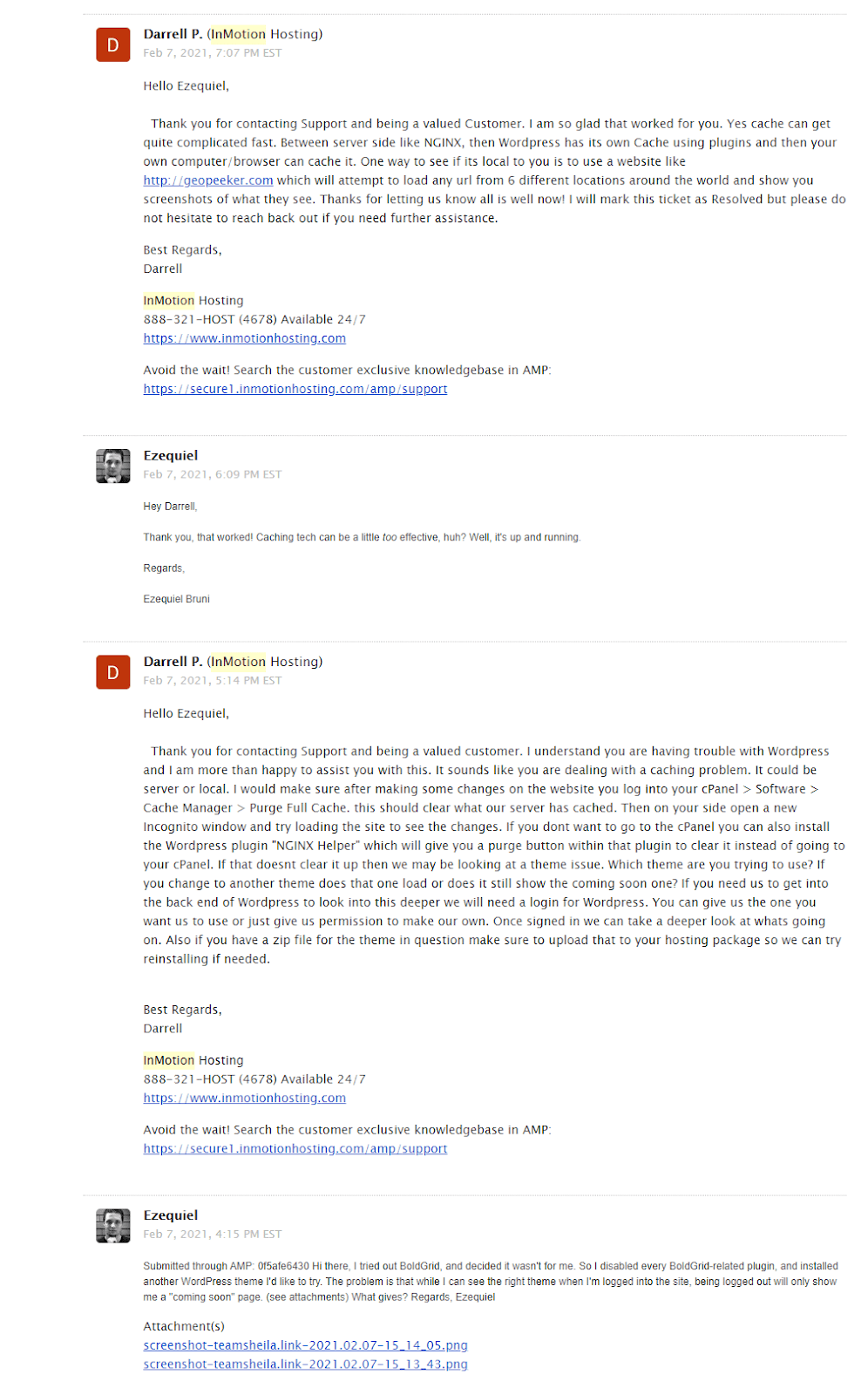 Phone
Later, I called tech support to ask a couple more general questions. First, I asked if I could move my site from one data center to another. Well, the answer is no, so pick the right data center on the first try, or get a CDN. Then, I asked if there was a CDN he'd recommend besides Cloudflare. He was only really familiar with Cloudflare, which is fair enough.
The agent was polite, knowledgeable, and actually fun to talk to.
SUPPORT SCORE: 4.5/5
Pricing
Overall, the pricing is fair enough.
 Just remember that the starting price is
not
 the same as the renewal price. But for the features you get, I'd say even the renewal prices are worth it. However, I do not like that the
cheapest plans
 are only available if you pay a year in advance. I'm generally unhappy about that, but not
that
 unhappy. See the section on refunds below, because it'll help you make your decision. If you decide InMotion Hosting is right for you, you can pay via Visa, Mastercard, American Express, Discover, and PayPal.
InMotion Hosting WordPress Hosting
Cancellations & Refunds
There's a handy 90-day money-back guarantee.
That's right, you get three whole months (or thereabouts) to decide whether you want to keep your InMotion Hosting services live or not. Cancellation is simple: Contact support via chat or phone, and tell them you want out. Cancellations and refunds take 3-5 days to process, and you're home free. I may not like
everything
 about how this company does business, but there is a lot to like.
PLANS & PRICING SCORE: 4.5/5
The Bottom Line
InMotion Hosting is, as I said at the beginning, not that exciting under most circumstances. But when you get to its
WordPress plans
, that all changes.
InMotion Hosting has premium WordPress hosting for reasonable prices – starting at

$

4.99

 – with more features than you can shake a stick at and good support/site management.
I'd recommend it for anyone who really wants to get into the WordPress ecosystem but doesn't have the budget for something like
Kinsta
.
OVERALL SCORE: 4.6/5
FAQs:
Do I need hosting especially for WordPress hosting?
Eh, not really. It helps, though. Most hosts that advertise WordPress-specific hosting have made little tweaks to their servers that allow WordPress to run and load more efficiently. Some go so far as to include a bunch of extra features to make it easy to set up your site. But if you have experience running websites and know how to configure the server a bit yourself, it's not impossible to make all the necessary changes on your own. Bit of work, though. WordPress-specific hosts can save you time that way.
What is the best hosting for WordPress?
As I mentioned above, InMotion Hosting is a pretty fantastic option. If you're looking for decent WordPress hosting that's even cheaper (for the first year) you could check out Hostinger. But the best of the best is Kinsta, for its advanced features, fast servers, and fantastic customer service. Kinsta is pretty darned expensive, though. If none of those options sound right for you, see our list of the best web hosting providers. Chances are, you'll find a home for your WordPress site somewhere in there.
Do all InMotion Hosting's plans include a free domain?
Yes! As long as you pay for a year in advance, all plans include a free domain name for the first year. It's great. Most hosts will make you upgrade to the fancy plans for that feature. And if you want that hosting and domain even cheaper, check out the best discounts on our coupon page.
Is managed WordPress hosting better than unmanaged?
That depends on what you prioritize in a host. If you want a "set it and forget it" sort of experience, then yes. Go for managed hosting, where you won't have to worry so much about updates, troubleshooting, or too much general maintenance. If you want more personal control over your website and a greater degree of privacy, then unmanaged hosting is definitely better. You have to put in more work to keep your site running, but it's also more yours. That's super-important to some people.