If you're looking for a side-by-side comparison between InMotion Hosting and NameHero, you may only find reviews of their high-tier hosting packages, although both of these providers offer a range of plans. As such,
my goal was to compare NameHero's and InMotion Hosting's cheapest plans in depth,
to reveal the good, the bad, and the ugly of each.
For three months, we hosted websites with both providers to find out which one is the better option
. We looked at everything from plans and pricing to security, performance, and support. When I put together all the data collected by me and my colleagues, I found that InMotion Hosting came out ahead of NameHero. Not by much, though. They are pretty similar, but
InMotion Hosting makes an extra effort to keep your business long-term by offering a 90-day money-back guarantee and lower renewal rates.
Check out InMotion Hosting's latest deals
, or keep reading to see how I reached this conclusion.
Plans and Pricing
InMotion Hosting Offers More Features and a 90-Day Money-Back Guarantee
Both InMotion Hosting and NameHero have four affordable subscriptions for shared hosting. While NameHero's plans are decent,
InMotion Hosting's shared plans include more features overall
. For instance, InMotion Hosting offers a marketing suite that includes advertising credits and customer management tools. It also gives you access to a free WordPress-compatible page builder. Speaking of WordPress,
InMotion Hosting offers shared WordPress plans that are a bit more expensive than its regular shared hosting,
but they include NVMe SSD storage, access to a CDN, and WordPress-specific optimization tools. It also offers cloud, VPS, dedicated server, and reseller hosting. When you make the initial purchase, you'll have to commit to a 3-year subscription for a lower long-term price, but lower rates for longer billing cycles are an industry standard. InMotion Hosting does not offer a monthly billing cycle except on the top-end Pro plan. It's also worth mentioning that while
InMotion Hosting's two mid-range plans – Launch and Power – cost the same during the initial purchase, the renewal fee for the Power plan is higher.
InMotion Hosting Web Hosting
NameHero's shared hosting plans are similar to InMotion Hosting's in price and resources, except that NameHero's entry-level plan only allows for a single website, whereas the latter's basic plan allows for two. And
InMotion Hosting's second-tier plan allows for an unlimited number of sites, whereas NameHero's only allows for seven sites.
Once again, the default prices displayed on NameHero's website apply to three-year subscriptions, and there are no monthly billing periods on any of its plans – only annual or longer. You should also note that
renewal rates for NameHero's higher-tier plans are higher than InMotion Hosting's.
A free domain name is included with some hosting plans from NameHero
NameHero offers multiple types of hosting as well, just as not as many as InMotion Hosting. For large-scale projects, you can opt for VPS or dedicated servers, but their prices are higher than InMotion Hosting's counterparts. NameHero has reseller services too, and the rates are about the same as InMotion Hosting's reseller hosting.
The winner in this category is InMotion Hosting.
Its plans offer better value for money, the renewal prices are lower, and it provides budget hosting solutions for a wider range of needs.
Features
InMotion Hosting Is Slightly Ahead With Its 90-Day Guarantee and WordPress Page Builder
InMotion Hosting and NameHero both include many useful resources, such as website migrations, cPanel, and free domain names on some plans. However,
InMotion Hosting offers a 90-day money-back guarantee,
allowing you more time to decide whether all these features are enough for you. NameHero adheres to the industry standard of 30 days. While
InMotion Hosting offers unlimited email accounts
, it doesn't do so with its entry-level plan. Instead, you get only ten. To be honest, that's more than enough considering this plan is meant for small personal websites. That being said,
NameHero includes unlimited email accounts with all its plans
. Notably
InMotion Hosting includes the premium version of the BoldGrid page builder with its shared and WordPress plans.
It's a WordPress plugin that is similar to a website builder. It can be a helpful tool if you have no experience creating websites. NameHero does offer a proprietary
website builder
: HeroBuilder. However, it's not compatible with WordPress, and it's not included in NameHero's shared hosting plans – you have to purchase it separately as part of a dedicated hosting plan. Overall,
InMotion Hosting and NameHero are almost even when it comes to features
. I say
almost
because InMotion Hosting is slightly ahead with its 90-day money-back guarantee and free page builder. Here's a quick overview:
InMotion Hosting
NameHero
Hosting types
Shared, WordPress, VPS, dedicated servers, private cloud, reseller
Shared cloud, web builder, cloud VPS, dedicated cloud, reseller
Free domain name?

✔

✔

Free SSL?

✔

✔

Number of websites
2 – unlimited
1 – unlimited
Storage
100 GB SSD – unlimited NVMe
Unlimited SSD – unlimited NVMe
Bandwidth
Unlimited
Unlimited
Control panel?

✔

✔

CDN?

✔

(on WordPress plans)

✔

Email accounts
10 – unlimited
Unlimited
Money-back guarantee
90 days
30 days
Performance
InMotion Hosting's UltraStack Infrastructure Competes With NameHero's Cloud
For this InMotion Hosting vs NameHero comparison, I took several speed-enhancing features into account. For one thing, InMotion Hosting includes NVMe SSD storage in all its plans except the entry-level one, while NameHero offers it only with its two top-tier subscriptions at its US datacenter. Still, all the other plans (on both sides) offer SSD storage. A more significant difference between the two providers is the server type.
NameHero offers cloud-based shared hosting,
meaning your website shares the resources of a network of servers, so the resources for your website can scale to avoid slowing down during traffic surges. It also uses the LiteSpeed web server, which is optimized for WordPress sites. With InMotion Hosting, you share the resources of one physical server with other websites. But on most of these plans (aside from the entry-level one)
you benefit from InMotion Hosting's
proprietary UltraStack infrastructure,
which features a reverse proxy powered by NGINX for speed and security, and caching technology that enhances your website's performance. As for data centers, InMotion Hosting has two – on the US's east and west coasts. We couldn't test its international loading times, so I can't offer performance scores from outside the US. Even so, your visitors should not experience poor performance, especially if you implement CDN caching.
You can read more about this in our full InMotion Hosting review
. NameHero has two data centers as well, one in the US and the other in the Netherlands. That gives it an advantage over InMotion Hosting if your target audience is in or near Europe, because data center proximity reduces website loading times.
When you choose a data center, keep in mind that NameHero charges a hefty sum if you want to change it later.
Our full NameHero review includes more details
. A CDN (content delivery network) can also improve performance in regions away from the data center.
InMotion Hosting offers access to a CDN in all its shared WordPress plans
. If you opt for a shared hosting plan, you can use a free CDN from Cloudflare or Jetpack. On the other hand,
NameHero includes QUIC.cloud with all its plans,
a CDN that caches both static and dynamic resources, designed specifically for WordPress sites. Lastly,
InMotion Hosting claims to deliver 99.99% uptime, but there is nothing in the Terms of Service to back it up
, and a support agent was evasive when I asked about a guarantee. NameHero also promises 99.9% uptime, but the refund for downtime is at its discretion.
InMotion Hosting is the winner here because it offers NVMe SSD storage on more plans
, although both hosts offer superb performance-enhancing features.
Security
InMotion Hosting and NameHero Both Provide Enough Security Essentials
I found NameHero and InMotion Hosting to offer satisfactory levels of security in their plans. In addition, both offer the opportunity to purchase extra security features, such as automatic backups and premium SSL certificates for e-commerce.
InMotion Hosting includes free SSL certificates, hack & malware defenses, and DDoS protection
with all of its plans. Automatic backups are available with the Backup Manager
feature, which comes at a prorated cost to align with your subscription's renewal date. Dedicated IPs are available for additional fees as well, which you'll need if you want to install premium SSL. NameHero also offers a free SSL certificate from Let's Encrypt with every subscription.
Its plans include Security Shield,
an AI tool that performs real-time scans,
identifies and mitigates threats, and automatically removes malware. Nightly automatic backups are performed, but these are kept for only a day. A month's worth of backup space incurs a nominal fee. When it comes to security, both hosts offer a range of features that will be enough for most people, but
InMotion Hosting has the edge, as its NGINX reverse proxy (in Performance, above) should provide a slight security boost.
Support
InMotion Hosting's Support Was Fast at Pre-Sale – Not So Much Post-Sale
InMotion Hosting and NameHero both claim to have the best support ever. Don't they all? So we tested them to find out for sure. Both hosts have 24/7 phone, email, and live chat support.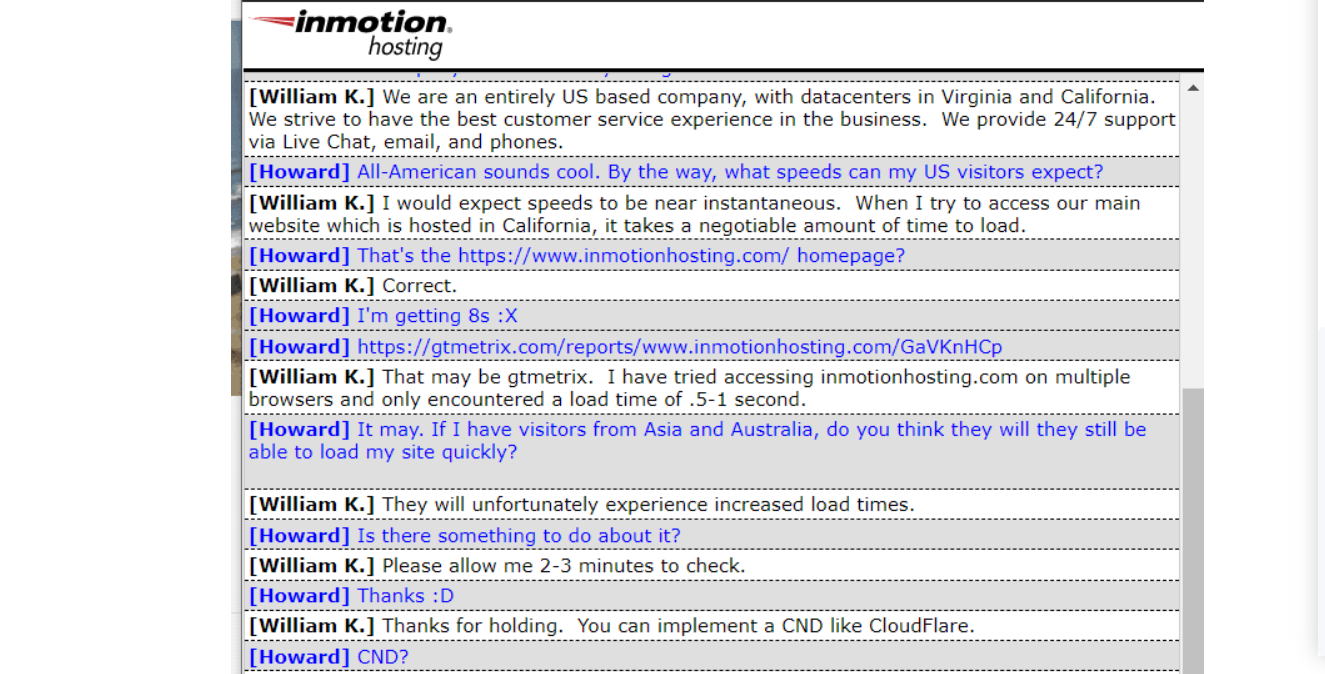 My colleague tested InMotion Hosting's live chat, posing as a complete beginner.
The reply was instantaneous, and the support agent was patient and knowledgeable
. He became my colleague's point of contact from then on, remaining just as helpful with later requests. The problem was that after the sale, the waiting time for a response was 30-40 minutes on average.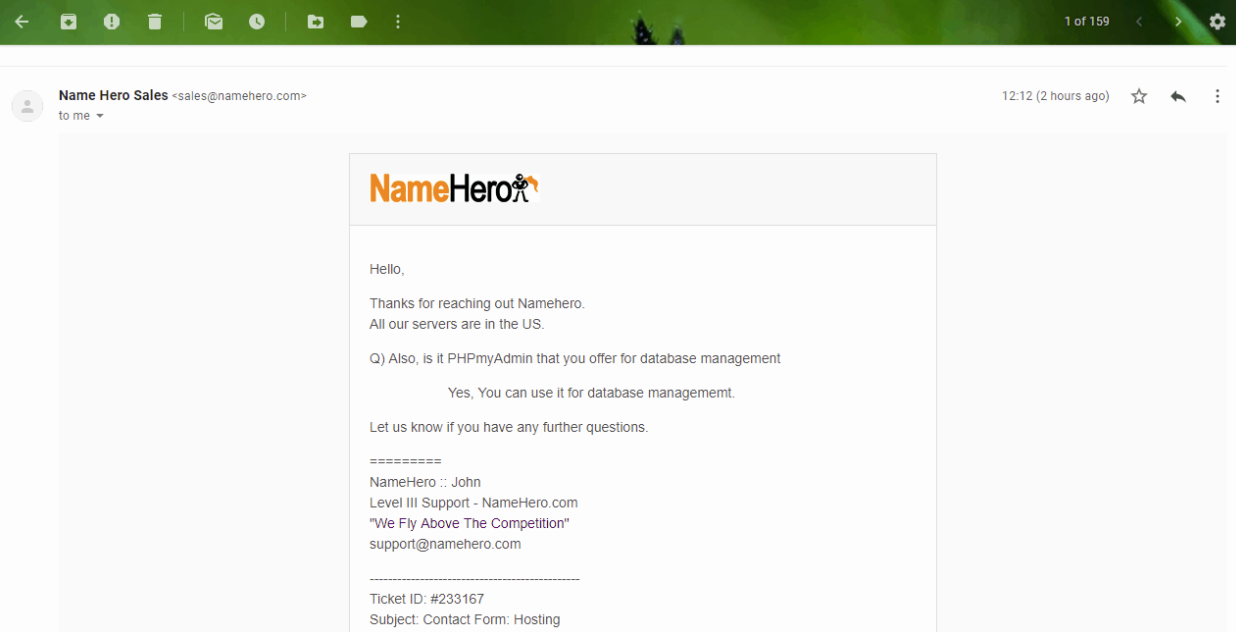 I tested NameHero's email support first, and I got an answer to my query in under 15 minutes.
The agent was polite and informed
. It's also worth noting that NameHero guarantees a reply via live chat in three minutes or less, and I got precisely that as well. Both providers offer extensive knowledge bases filled with information, which I find can be useful to beginners as well as more advanced users. Who wins in the support department? NameHero, because the responses remained just as fast after the sale.
Conclusion: Similar, but Definitely Not the Same
InMotion Hosting's shared hosting plans
are pretty similar to NameHero's cloud-based shared plans, but after a deeper investigation, I found that
InMotion Hosting is the better choice
. There are several reasons for that.
InMotion Hosting offers better value for money
. For instance, InMotion Hosting's money-back guarantee period is three times longer than NameHero's. Plus, NameHero's renewal prices are higher than InMotion Hosting's without offering better value. InMotion Hosting surpasses NameHero in several aspects, particularly in its performance-enhancing features. Notably, it provides NVMe SSD storage with three of its shared hosting plans and all of its WordPress plans, while NameHero only includes it with its top two shared plans. Also,
InMotion Hosting's proprietary UltraStack infrastructure competes well with NameHero's cloud infrastructure.
While the two hosts are very similar, there can only be one winner. And that's InMotion Hosting, which is why we added it to
our list of 10 best web hosts in 2023.
InMotion Hosting
NameHero
Plans and Pricing
Four shared hosting plans and four WordPress plans at affordable prices
Four cloud-based shared hosting plans at prices similar to InMotion Hosting's
Key Features
90-day money-back guarantee, access to CDN with WordPress plans, optional BoldGrid site builder
30-day money-back guarantee, access to Quic.cloud CDN, unlimited email accounts
Performance
2 US-based data centers, UltraStack infrastructure, 99.99% uptime claim, no guarantee
2 data centers in the US and Europe, 99.9% uptime guarantee
Security
Free SSL, DDoS protection, malware & hack protection
Free SSL, Security Shield with real-time monitoring
Support
Instant responses pre-sale, longer waiting times after. Competent support agents
15-minute email response and knowledgeable support agents
FAQ
Is InMotion Hosting legit?
InMotion Hosting is actually one of the best web hosts we've ever tried and tested. It's so reliable that it made our list of the top 10 web hosts in 2023. It delivers reliable performance, solutions for both small and large-scale projects, and decent US-based support.
How much does InMotion cost?
It depends on which plan and type of hosting you need. However, InMotion Hosting's shared hosting plans start at

$

3.29

– it's actually one of the most affordable hosts on the market. If you need the Backup Manager, a dedicated IP, or a better CDN plan, you'll have to pay extra.
Do all NameHero plans include a free domain name?
Only two of NameHero's shared hosting plans include a free domain name – Turbo Cloud and Business Cloud. The other two less expensive plans include free SSL, free CDN access, and free website migrations.
Is NameHero cloud hosting?
Yes, NameHero is a cloud-based web host. While most shared hosting providers set up multiple accounts to share the resources of a single server, cloud hosting has multiple accounts sharing the resources of an entire server grid. This allows for resource allocations to scale for each individual website as necessary during traffic surges.