NameHero officially started offering web hosting services in 2015.
They have used their position as a new web hosting company to make exciting and valuable products and technologies, such as Cloudflare, Lite Speed, etc. an integral part of their offering.
They are based in the U.S. with one East and one West coast data center.
Features and Ease of Use
Name Hero offers these features that will be incredibly handy:
Free domain migration
Let's Encrypt SSL Certificates
Domain registration
cPanel hosting manager
Most of their more advanced features are aimed at making their hosting solutions faster and more available. They use a number of popular technologies and software platforms that they call their "Superhero Features", such as:
SSD Raid 10 secured storage: This type of storage is ultra fast and highly redundant to serve your data to users quickly and to keep it safe.
Cloudflare with railgun: Cloudflare optimizes your content to load faster as well as protects your server from DDOS attacks.
One-click WordPress install: You can get WordPress up and running quickly as well as choose a managed WordPress hosting service.
LiteSpeed web server: This is one of the most popular types of web server software and is supposed to be much faster than Apache.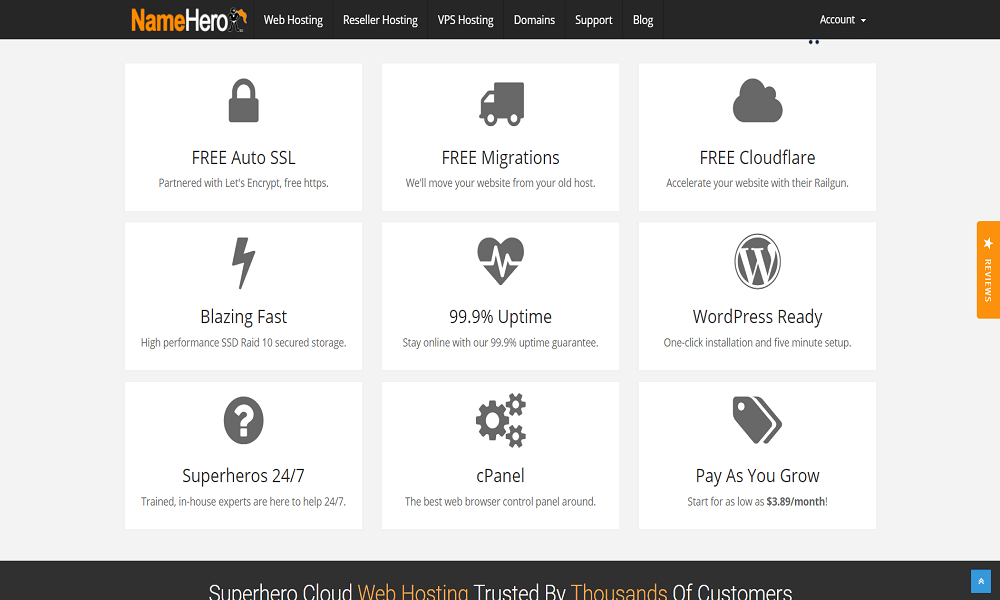 You might feel a bit out of your depth using NameHero in the beginning just because it offers some advanced features. However, these software programs are popular because they are relatively easy to use. Between their tutorial videos, help center, and tech support you should be able to have no trouble figuring it out. Being able to work with either cPanel or WordPress is a blessing as it makes managing your solution easy and gives you full control.
Pricing and Support
The pricing plans at NameHero are pretty straightforward. They offer solutions for shared web hosting, cloud reseller web hosting as well as VPS hosting, for those with more advanced needs, as well as E-commerce hosting. You can choose from a yearly or a tri-yearly billing cycle and there are a few upsells like a dedicated IP, external DNS, and ID Protection.
The shared web hosting and E-commerce pricing structure is almost identical and include:
Unlimited storage
Unmetered bandwidth
One, six, or unlimited websites depending on your plan.
Varying amounts of RAM and processing power
Superhero Features: Free SSL, LiteSpeed, SSD Raid 10, and Cloudflare
Unlimited domains and emails.
Reseller hosting plans differ in the amount of allotted bandwidth (between 500-2,000 GB) and the amount of SSD storage (50 – 100 GB). You have access to all Superhero Features with all plans. The Corporate plan also includes a WHMCS starter license.
Their VPS Hosting is for those with enterprise or large business needs. There are four plans and all come with 5 TB bandwidth, 2 Dedicated IPs, and their Superhero Features as well as being fully managed:
Hero 2 GB: 2 GB RAM, 2 CPU cores
Hero 4 GB: 4 GB RAM, 2 CPU Cores
Hero 6 GB: 6 GB RAM, 4 CPU Cores
Hero 8 GB: 8 GB RAM, 6 CPU Cores
Unfortunately, the only support channel available is through a ticket system. Even via tickets, their support staff is very quick to respond and seem to be working day and night. They also actively provide updates via the support center or social media. Their knowledge base and tutorial videos are some of the better ones so you can find the help you need yourself.
How much does NameHero cost?
NameHero offers plans from $3 to $14. The price depends on which type of hosting plan you choose. You can see the updated pricing table (updated weekly) below.

Which NameHero plan should I get?
My recommendation is to start with a cheaper plan. You can always upgrade later on. NameHero can help you with the migration to a more expensive plan. The increase in visitors many times takes longer than expected and you shouldn't pay a lot of money until the need arises. Of course, your needs may vary, and you can consult with a hosting expert from NameHero
here
.
How good is NameHero's customer support?
NameHero is not ranked as one of our top web hosts. But that can also be a result of NameHero being a small, under the radar, hosting provider. There are advantages to a small hosting company – as a customer, you are more important to them. You can also check out our comparison of the
most popular web hosting services here
.