InMotion Hosting's shared hosting plans cost a bit more, but they pack much more value – that's why I've declared InMotion Hosting the winner of this comparison.
From unlimited resources and additional websites to improved security features, free website migration, and a bunch of performance tools, InMotion Hosting makes a solid case to justify its higher price.
Click here to see InMotion Hosting's best deals
, or read on to see how these two hosts compare.
1. Plans and Pricing
DreamHost Is Cheaper, but InMotion Hosting Gives You More Value
If you compare InMotion Hosting and DreamHost strictly based on pricing, DreamHost is in the lead, especially when you look at the shared hosting plans, VPS (virtual private server), and dedicated servers. However, this is not the case with managed WordPress hosting. For instance,
DreamHost's basic managed WordPress plan is significantly more expensive than InMotion Hosting's equivalent.
For the same money, you can get InMotion Hosting's third-tier bundle for developers and businesses, and enjoy more storage space, the ability to host more websites, and a free CDN (content delivery network). Even with shared hosting, InMotion Hosting's pricing makes sense when you consider that
all shared hosting plans come with unlimited storage, at least one website, and a free SSL
. DreamHost gives you fewer features overall. It's worth noting that InMotion Hosting's lower-tier plans do not have billing terms shorter than one year, while DreamHost allows you to pay monthly. Beware, though: If you do choose a month-long billing cycle with DreamHost, those attractive advertised prices will almost double.
2. Features
InMotion Hosting Goes the Extra Mile, while DreamHost Keeps Things Basic
Both InMotion Hosting and DreamHost give you access to a WordPress website builder on all plans, but only InMotion Hosting will migrate an existing site for free when you opt for a shared hosting plan. In addition, InMotion Hosting includes its best features on most shared hosting plans, while DreamHost makes you upgrade to its Shared Unlimited plan for the same benefits. For example,
DreamHost doesn't offer any free email addresses on Shared Starter, nor does it give you the possibility to build more than a single website
.
Feature
InMotion Hosting
DreamHost
Hosting Types
Shared, managed WordPress, cloud VPS, dedicated servers, 

reseller, bare metal

Shared, managed WordPress, VPS, cloud, dedicated servers
Free Domain
Yes, for one year

on all plans except Lite

Yes, for one year
Disk Space
Unlimited on shared hosting, 50 GB to 200 GB on WP hosting
Unlimited on shared hosting, 30 GB to 120 GB on WP hosting
Bandwidth
Unmetered
Unmetered
Automatic Backups
Available for an additional fee
Yes
Control Panel
cPanel
Proprietary control panel
Free CDN
Only on WordPress plans
Only on higher-tier managed WordPress plans
Free Site Migration
Yes
Only on higher-tier managed WordPress plans
Money-Back Guarantee
90 days on all six-month or longer plans
97 days on shared hosting, 30 days on DreamPress plans
3. Performance
InMotion Hosting Is Fast, while DreamHost Struggles at Best
When we turn to performance in the InMotion Hosting vs DreamHost match, InMotion Hosting wins by a landslide. Both hosts do offer SSD drives on all plans (these can be up to 20 times faster than standard HDDs), but
InMotion Hosting gives you a free CDN from Jetpack on all of its WordPress bundles,
while DreamHost forces you to upgrade to a more expensive tier to get a CDN. A CDN provides faster loading speeds for your visitors, no matter where in the world they're located. That's particularly useful for InMotion Hosting and DreamHost since
both hosts only have data centers in the US
. InMotion Hosting offers a 99.9% uptime guarantee, specifically providing compensation for downtime to customers enrolled in its Business Pro shared hosting plan. However, customers using the Launch or Power Plans do not receive compensation for any periods of downtime. DreamHost supports its 100% uptime guarantee by granting one day of service for every hour of downtime experienced. However,
DreamHost is much slower in terms of website loading speeds, according to our tests
.
InMotion Hosting earned an almost perfect score in our performance tests. Learn more about how this can help your website in our
expert InMotion Hosting review
. DreamHost, on the other hand, barely managed to get any points in our performance tests. To find out what went wrong, read our
complete DreamHost review
.
4. Security
DreamHost Provides the Essentials, but InMotion Hosting Does More to Keep Your Website Safe
Both DreamHost and InMotion Hosting give you a free SSL certificate on all plans
, but DreamHost also provides daily backups and free domain privacy, which allows you to mask your domain registration information and, as a result, makes it less likely that you'll be targeted by spammers. InMotion Hosting, on the other hand, charges an extra fee for backups but offers
enhanced malware and hacking protection, as well as real-time spam filtering on all plans.
In this aspect, InMotion Hosting is one small step ahead.
5. Support
InMotion Hosting Is a Bit Slow, but More Helpful Than DreamHost
You can contact InMotion Hosting support by phone, live chat, ticket, and email, but you might have to wait a bit longer than expected during busy hours.
Once you do get in touch with an agent, they will do everything in their power to help.
It doesn't hurt that InMotion Hosting's support is 100% U.S.-based.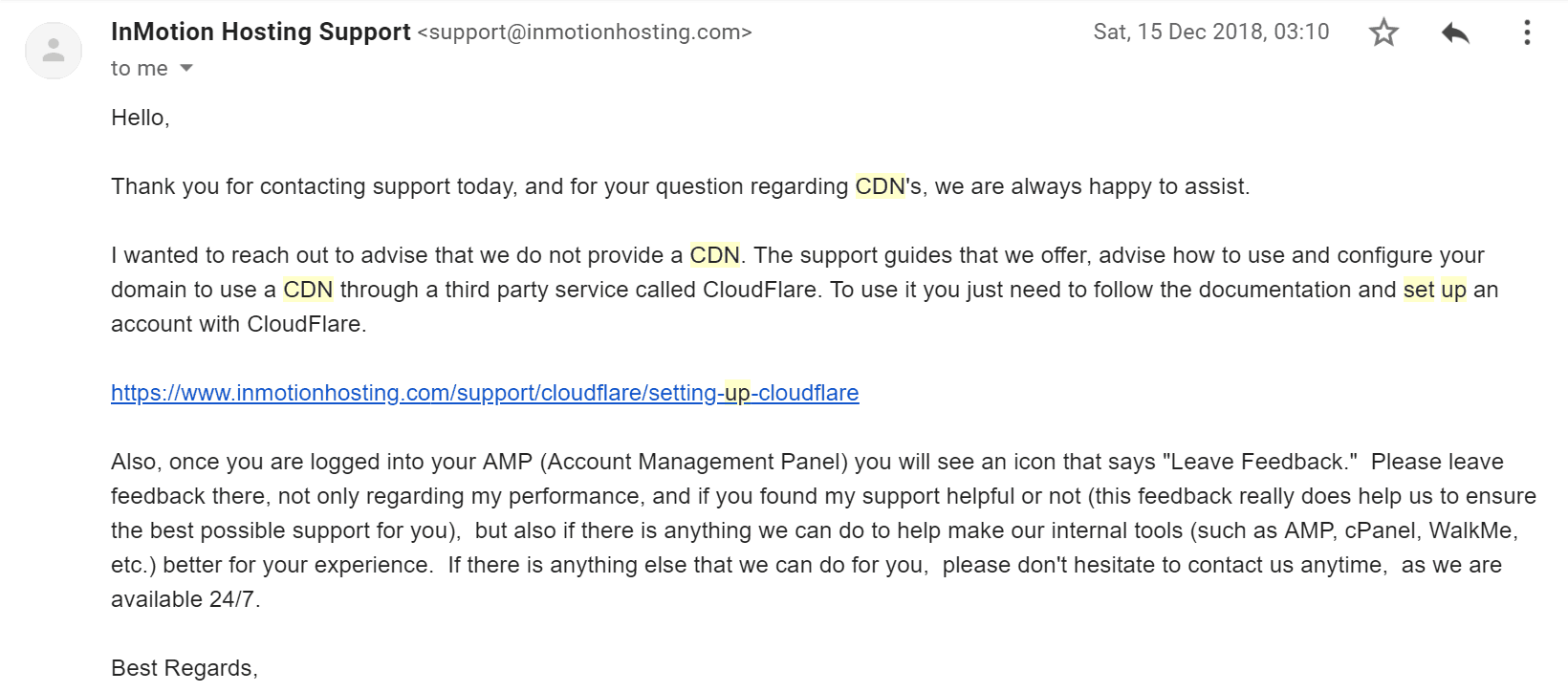 You can only contact DreamHost through live chat or ticket support
, and you might have to go through a clunky bot before you actually get in touch with a human agent.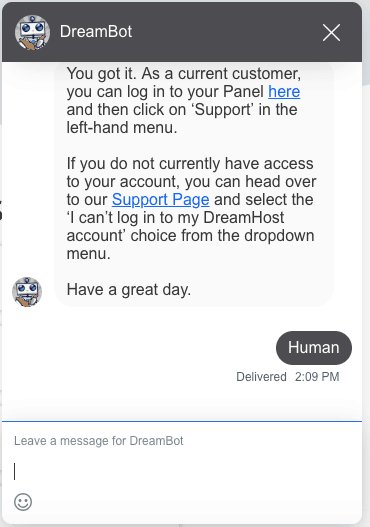 Although both hosts have a decent knowledge base and their own discussion forums, InMotion Hosting takes the win here.
Go with InMotion Hosting for Better Features, Performance, and Support
Pricing is an important factor when you determine the best web hosting service for your needs, but to objectively compare InMotion Hosting and DreamHost, you have to take into account exactly what you get for your money.
InMotion Hosting is almost always worth the extra cost.
For example, if you run an online store, InMotion Hosting ensures that your customers can navigate your website quickly and that their purchase information is kept safe. Also, InMotion Hosting made it into our
top 10 best web hosting services
, while DreamHost did not.
InMotion Hosting
DreamHost
Plans and Pricing
More expensive than DreamHost on most plans, but evenly priced for WordPress hosting
Cheap prices overall, but only basic features are included for free
Features
Unlimited storage on shared plans, free website migration, free WP website builder, free advertising credits
Unlimited storage on shared plans, free WP website builder, automated backups
Performance
SSD storage on all plans, free CDN on WordPress plans
100% uptime guarantee, SSD storage on all plans, free CDN only on higher-tier DreamPress plans
Security
Free SSL certificates, malware and hacking protection, spam filtering
Free SSL certificates, free domain privacy
Support
24/7/
365 US-based customer
support via email, ticket, live chat, and phone; knowledge base, discussions forum
24/7 support via live chat and ticket; knowledge base, discussions forum
FAQ
1. Which web host is better, InMotion Hosting or DreamHost?
Both InMotion Hosting and DreamHost have their unique advantages. DreamHost, for example, might be a better option for you if you're working on a tight budget and you need to get online quickly. However, DreamHost lacks many of the features InMotion Hosting offers on most of its plans. For example, with InMotion Hosting you get more resources, as well as a free website migration, better security tools, and enhanced performance with InMotion Hosting's basic shared hosting plan. This is why InMotion Hosting made it into our top 10 best hosting services, whereas DreamHost didn't.
2. Is InMotion Hosting a good host for WordPress?
InMotion Hosting's managed WordPress plans are not only affordable, they're also packed with features that can improve the security and performance of your WordPress site. Starting with InMotion Hosting's WP-1000S plan, you get an account that is already optimized for WordPress, the BoldGrid WP website builder, a staging environment to test changes to your website before they go live, daily backups, and the Jetpack CDN. Read more about the best managed WordPress hosting providers.
3. What is InMotion Hosting's best plan?
In terms of shared hosting, InMotion Hosting's mid-level Power plan offers the best price-to-value ratio. Included in the plan are 50 websites, unlimited SSD storage and unmetered bandwidth, a good kit of security features such as malware and hack protection, DDoS protection, and a free SSL, as well as a website builder and

$150 in 

free advertising credits to use on popular search engines. Alternatively, InMotion Hosting's WP-3000S is best for WordPress websites and includes WordPress optimizations and themes in addition to most of the features you would get with shared hosting.
4. Is DreamHost good for an online store?
Either of DreamHost's basic managed WordPress plans can power an online store, but the features are limited. With DreamPress Plus, its higher-tier mid-level plan, your account comes pre-installed with WooCommerce, the Storefront Theme, and a free SSL certificate, while additional tools such as the Jetpack CDN and specialized WooCommerce support can help you improve the performance of your online store. To find out more about the features you need to successfully run an online store, read our in-depth guide to WooCommerce hosting.