there are critical differences that affect how well these platforms can meet your marketing needs.
To help you pick the one that's right for your company, I compared Mailchimp vs. HubSpot across five key categories:
Templates and design
Automation tools
Analytics
Landing pages
Social media integration
Templates and Design
Both Offer Hassle-Free Design – Nice Templates and Easy Editing
Your company needs visually appealing marketing campaigns. You might not be a designer or coder, but your team still wants emails that make it look like you hired a design pro. Fortunately, both Mailchimp and HubSpot have your back here. Both of these tools have smooth drag-and-drop editors.
With either HubSpot or Mailchimp, you can easily move design elements like graphics into the perfect place,
or change colors with a click. And you can see exactly how your email will look to readers. If you don't have access to a designer who can create a template for your emails, fear not. Both HubSpot and Mailchimp offer clean, professional, and attractive predesigned templates.
While Mailchimp offers 100 templates (compared to HubSpot's 45), I found HubSpot's templates to be more versatile and customizable.
So if choosing a design quickly is your top priority, you might want to go with Mailchimp. If you're more interested in unique branding, you might prefer HubSpot's flexible templates: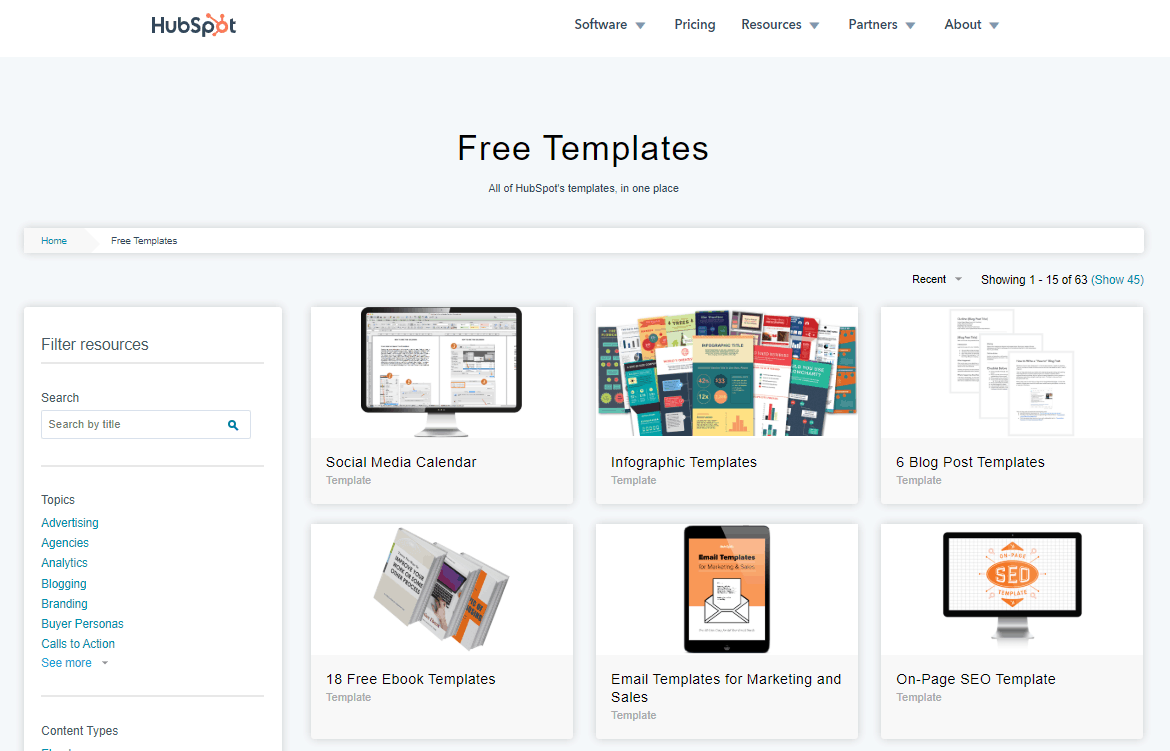 The Winner Is:
It's a tie. No matter what your priorities are, you'll find that it's easy to create great-looking marketing emails with either service. And if you start using either tool over your lunch break, you'll likely feel like a semi-expert by the time you head home for the day.
Automation Tools
Automation Is Magic, and HubSpot Is a Powerful Magician
Okay, email marketing tools don't actually have supernatural powers. But when you set up email personalization in a thoughtful way, automation feels like magic to your customers. Both Mailchimp and HubSpot have automation tools, but there are a lot of differences in what they offer, and how much it will cost you. The biggest difference is that
Mailchimp only offers basic automation – mainly autoresponders.
The great thing is that you get this feature even on the free plan. But to get other valuable automation features like A/B testing, you'll have to use another tool. That means another signup, maybe a fee, and just something else to worry about.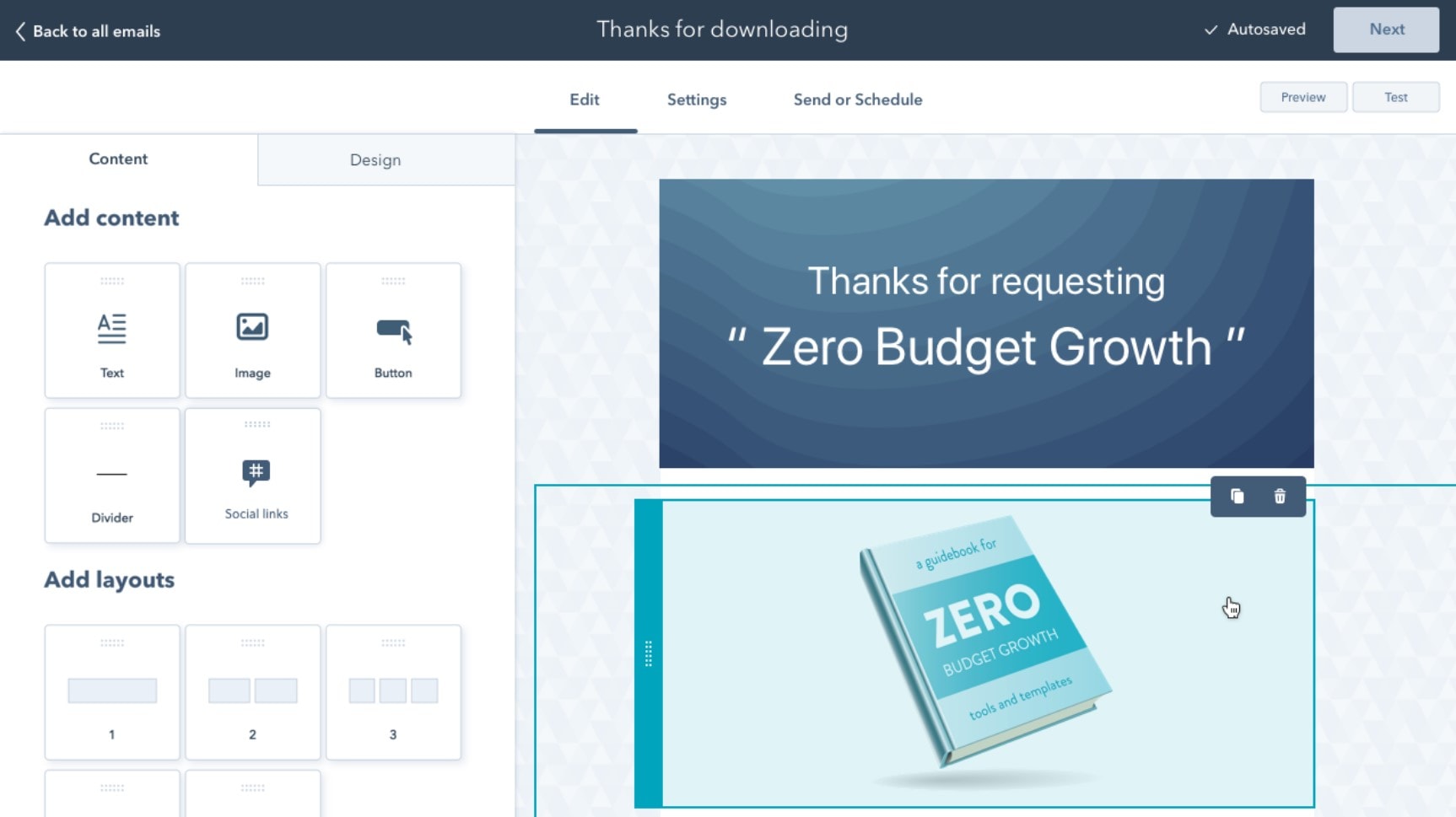 HubSpot, on the other hand, comes with all the automation you're likely to ever need built right into the platform. And unlike Mailchimp, HubSpot offers customer relationship management (CRM). So you can use your own contact lists, which helps you pull off the magic trick of making automation feel like personalization.
Unfortunately, HubSpot's impressive automation options only come with the rather pricey Pro and Enterprise plans.
If you want event-based automation triggers – a powerful tool for sales conversion – you'll need the Enterprise plan.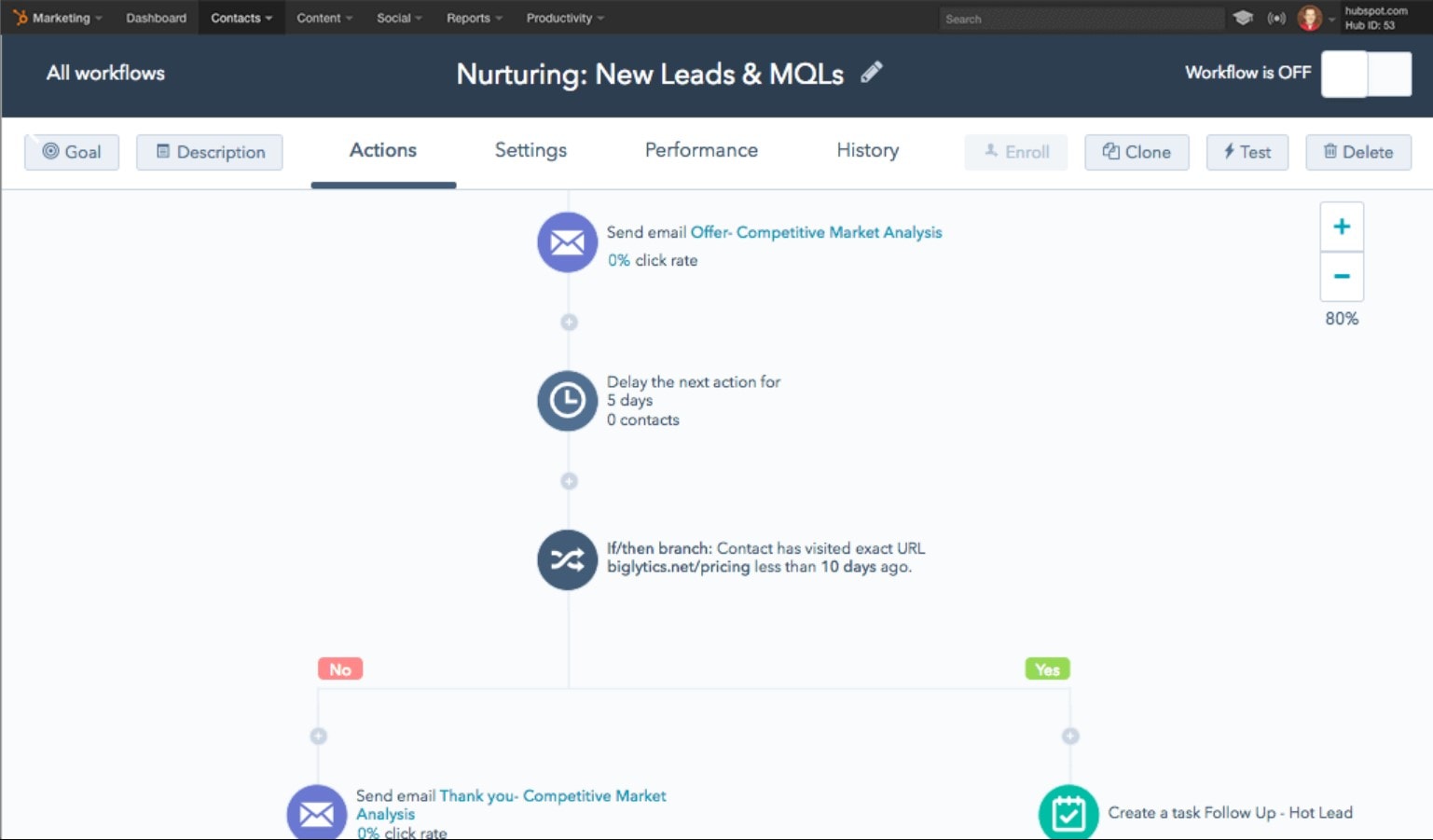 While both platforms let you create workflow automations, HubSpot's automation map is especially helpful for visualizing the process. The map's drag-and-drop functionality also makes it simple to add or rearrange steps. Because
you can start with a HubSpot workflow template, and then just add simple If/Then instructions to trigger automations,
you don't need any experience. I figured out most of it in just a few minutes.
The Winner Is:
HubSpot. With built-in CRM, along with easy-to-use workflow templates, HubSpot definitely offers the most automation. Just remember that you will have to pay more for the more advanced features. Want to learn more? Don't miss our
detailed HubSpot review
.
Analytics
Upping Your Marketing Game – Which Service Does It Better?
Creating enticing emails is a great start for your marketing efforts. But you still need to know how your messages actually perform, and that means a lot more than just tracking open rates. Both HubSpot and Mailchimp offer analytics on their paid plans, but HubSpot gives you more, in terms of both quality and quantity of analytics tools.
With Mailchimp, you basically get four reports: Campaigns, Comparisons, Automation, and Landing Pages.
You can generate these reports for each of your audiences, which is nice. But you really just get the data – no insights, no recommendations. You might end up spending a lot of time trying to figure out what the reports mean and what actions to take.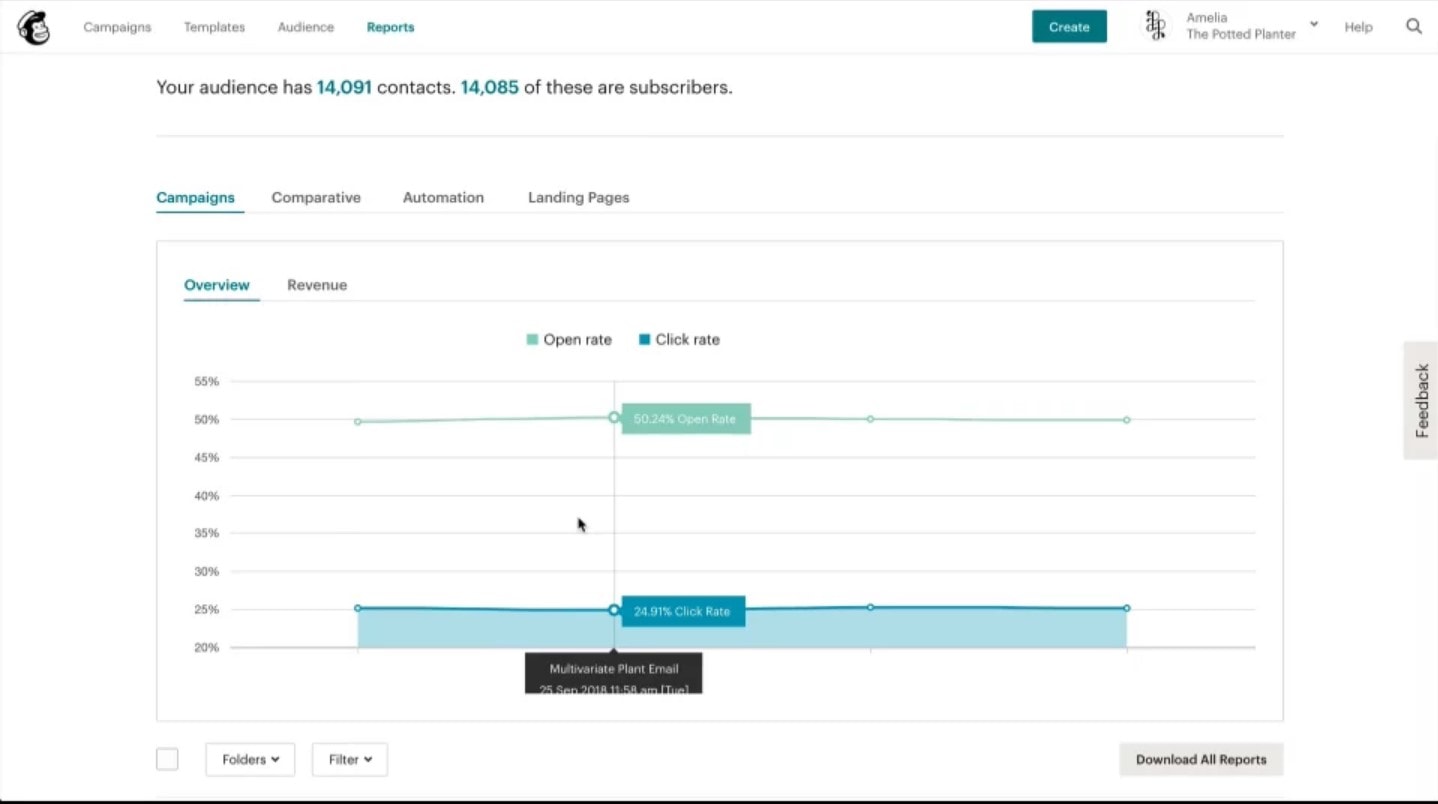 HubSpot, on the other hand, really shines when it comes to analytics. For example, instead of just giving you a bounce rate (like Mailchimp does),
HubSpot provides detailed information about the type of bounce, so you know what you need to do differently.
And you get lots of data about each click, including the device type, how long the reader stayed on the page, and exactly which links they clicked.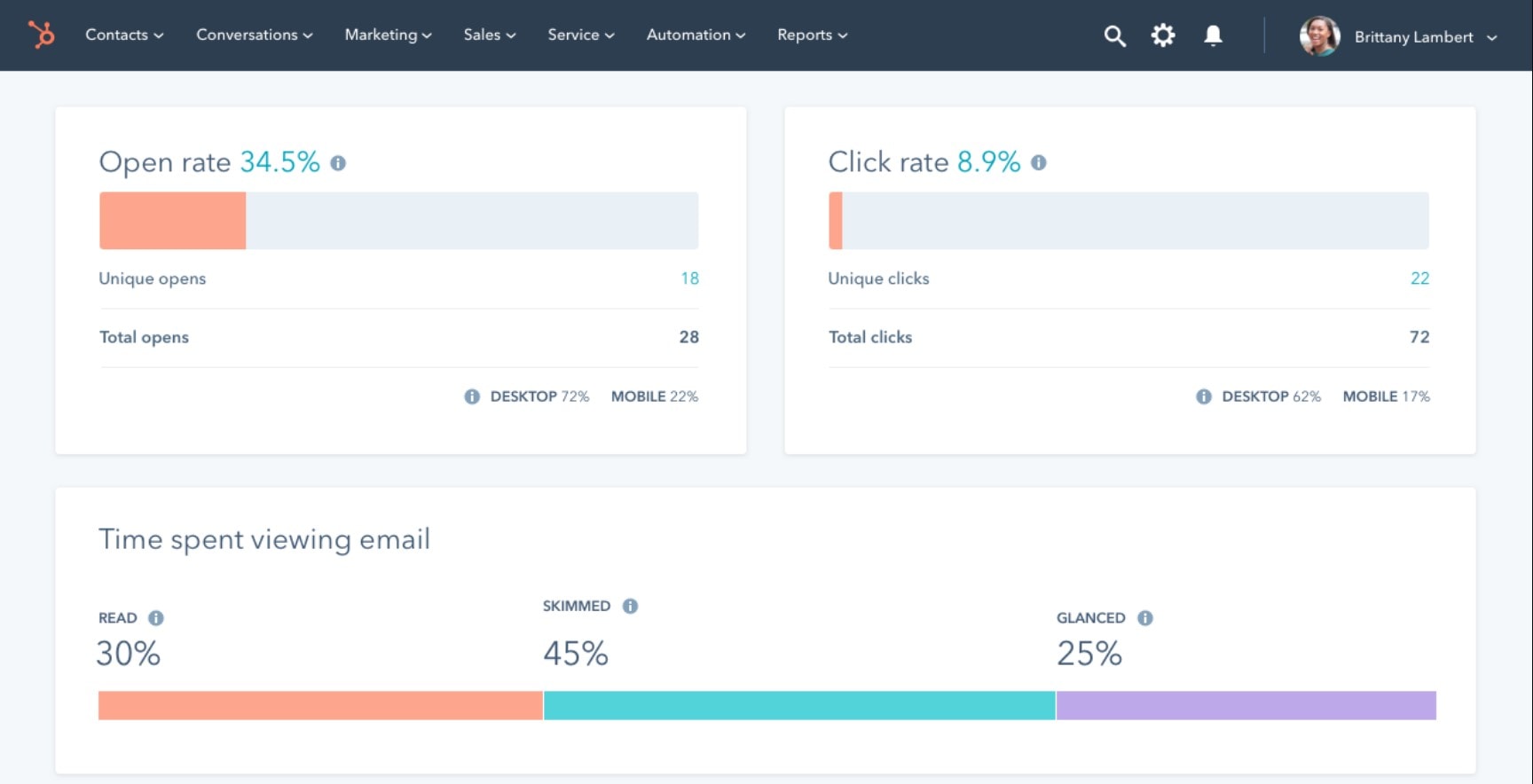 You'll find the biggest difference between the analytics offered by these two services in HubSpot's
Sources
tab. Under this tab,
HubSpot shows you the results of each effort to drive traffic, providing crucial insights on what is working best.
Wait, I spoke too soon. The
best
part is actually HubSpot's
Analyze
tab, which compares all the important metrics for your emails in one place. You see the full picture in an instant, instead of jumping between reports like you would have to with Mailchimp.
The Winner Is:
HubSpot. This one's not even close.
Landing Pages
Great Landing Pages Are a Must – Which Tool Helps You Create Them?
The emails you send out have to lead somewhere, and that's almost always a landing page. No matter how many potential customers open your message, if your landing page doesn't convert, then your email didn't do its job. But creating a landing page that matches your branding and website design isn't easy.
You cannot build a landing page directly in Mailchimp, but you can integrate other tools that create landing pages
. So if you choose Mailchimp for other reasons (most likely price), you will still have a way to create that all-important landing page. And Mailchimp
will
give you analytics on your landing pages. Still, for me, the need to bring in other tools is a turnoff. I don't need another tool. I already have a gazillion. Meanwhile,
HubSpot's landing page builder almost made me swoon.
Not only is the page editor easy to use, but as with emails, you can pick from a variety of very customizable templates. I also loved the option of saving calls to action (CTAs), making it super easy to add them to new landing pages. Only downside: landing pages aren't included in HubSpot's stripped-down free plan. But if you need to build your own landing pages, the upgrade is almost certainly worth the cost.
The Winner Is:
HubSpot. And again, it wasn't close. If landing pages are important to you, HubSpot should definitely be your choice.
Social Media Integration
Mailchimp Has the Basics – HubSpot Offers Much More
The most successful online marketing campaigns include both email and social media outreach. Ideally, these two efforts should weave together seamlessly. Sure, you could manage your social media in a different program than the one you use for emails, but not only could that be inconvenient – it could lead to inconsistency in your campaign's message.
Mailchimp has the basics you need to integrate your social media efforts with your email campaign.
You can create ads for Instagram, Twitter, and Facebook, along with organic ads on all the major platforms. This campaign model makes it easy to keep both your messaging and the look of your ads and emails consistent. You can even try out social media posts and campaigns on the free plan, although Mailchimp's website warns that "additional fees may apply."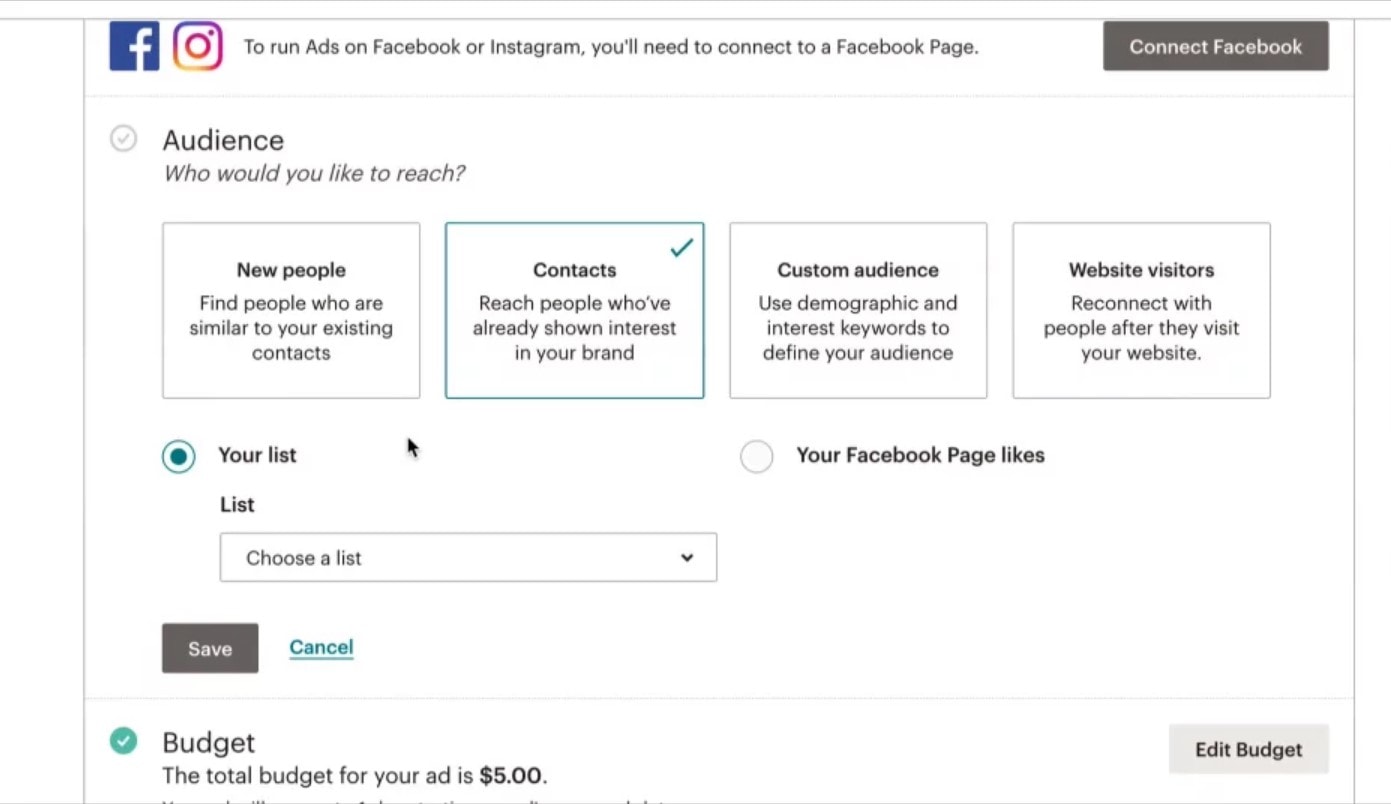 HubSpot offers a lot more than just social media connection features – it includes a complete social media management system.
You can do everything from publishing to monitoring and gathering analytics. And all these features are easy to use. I found the monitoring feature to be especially helpful and intuitive. Of course, HubSpot's social media integrations cost more than the basics on Mailchimp. But since a strong social media game is crucial to your company's success, the value you get from HubSpot's monitoring and analytics is often worth the added expense.
The Winner Is:
HubSpot. Yes, it's more expensive than Mailchimp, but maybe not by as much as it seems at first. The completeness of HubSpot's social media package means that you don't need to subscribe to another social media management or CRM tool. You might get stuck with those added expenses if you choose Mailchimp. If you're still not sure, you should read our
in-depth Mailchimp review
.
Bottom Line: Which One Is the Right Fit for You?
For overall functionality, versatility, and power, HubSpot wins this contest easily. That said, HubSpot's features and ease of use do come at a cost – it's a lot more expensive than Mailchimp. I would say that HubSpot is excellent value, considering all the tools that you get in one place. But I get that it's not going to fit within everyone's budget. HubSpot's pricing is also a bit confusing, with three different bundles called Starter, Professional, and Enterprise. Each bundle has add-on options that may involve an additional cost. By comparison, the pricing model for Mailchimp is very straightforward, and more typical of email marketing platforms. Mailchimp's basic paid plan offers nice features for about the price of a movie ticket each month. So if HubSpot's prices are simply out of reach for you, Mailchimp might meet at least your most important needs with these cheaper plans:
Emails
Easy-to-use, drag-and-drop editor
Easy-to-use, drag-and-drop editor
Automation
Easy-to-create automations, including event based
Basic automation through autoresponders
Analytics
Detailed and customizable reports
Four general reports only
Landing Pages
Excellent landing page templates and building features
Only available by integrating other tools
Social Media
Full-featured social media management
Basic social media
Putting it all together,
go with HubSpot if:
you want social media management, which Mailchimp does NOT offer
you want to take your marketing to the next level, with advanced automation and in-depth analytics
However,
you might be able to get by with Mailchimp if:
you are just looking for email marketing, without social media integration or CRM
you are on a tight budget or just starting out (Mailchimp's free plan may be the best place to start)
If you fall into the second category, consider starting with Mailchimp and moving to HubSpot as your business grows. Over the long run, I have no doubt that HubSpot can do more for your business. HubSpot's built-in tools give you opportunities to grow your customer base and sales that you'll only get with Mailchimp if you subscribe to a bunch of additional services.