Here's a guide about all things Facebook marketing for blogs and small businesses.
We wrote this guide to equip you with everything you need to know about marketing and distributing your content through Facebook advertising. At the end of this guide, you'll be able to confidently answer the following questions… and maybe even help a friend or fellow entrepreneur:
What type(s) of content should you advertise on Facebook?
How much do Facebook ads cost?
How should you choose the best audience for your Facebook ads?
What type of media should you put in your Facebook ads?
There's no time to waste. Let's get started.
Optimizing Your Business Facebook Presence
Before we dive into how to create Facebook ads, let's cover a few helpful tips for making the most of your Facebook presence. Why? Because, whether you're posting organic or paid content on Facebook, your posts will lead back to your Facebook page and – hopefully – your website. Also,
your organic content and connections on Facebook can help you maximize and strategize your ad reach.
Before posting your next (or first) Facebook ad, do these three things.
1. Create or Update Your Facebook Business Page
Make sure it's got your company's current branding, website, and other business information. If a Facebook user clicks on your Business Page from a paid ad, you don't want to lose them because they don't recognize your logo. Remember, your Facebook Page is an important tool when creating ads – it serves as a hub for Facebook users who know or
"like" your Page
, and can be a valuable source for discovering new Facebook ad audiences.
2. Visit Your Facebook Business Page Insights
This is where you can see how your organic content is performing. You'll see who's visiting your page and where they're coming from, which can help you accurately target your paid content. Additionally, you can pinpoint which organic content may be worth boosting (a.k.a. paying to promote).
3. Check Out Your Competition
Under your Facebook Business Page Insights, you'll find a section called
Pages to Watch
. This section compares your page performance to Similar Pages – or your competitors. You can add your own pages or pull from the Suggested Pages section. Your competitors are important to recognize as you can also target
their
audiences with your own ads. Now, let's talk about how to create Facebook ads that grab your audience and maximize your click-through rate (CTR).
Expert Tip:
The beauty of social media is that you can let users do some of the marketing work for you. When posting content on your website or blog, don't forget to include
social sharing links
so your readers can easily share posts they like with their own followers.
Using Facebook Ads to Distribute Your Content
Advertising is a crucial part of Facebook marketing for small businesses. Your business should invest time and resources into a healthy mix of organic content and paid ads. Here are a few important things about advertising on Facebook. Keep these in mind if you want to build the most effective Facebook advertisements.
1. Facebook Isn't Best for the "Cold" Sell
It's highly unlikely that a consumer who's
never
heard about you will click and convert from a single ad. Why? For one, Facebook is a highly social platform. Trying to sell a new product on Facebook is like asking friends at a party to buy something from you.
People visit Facebook to relax and socialize, not to (intentionally) shop.
The Facebook sales funnel typically looks like this: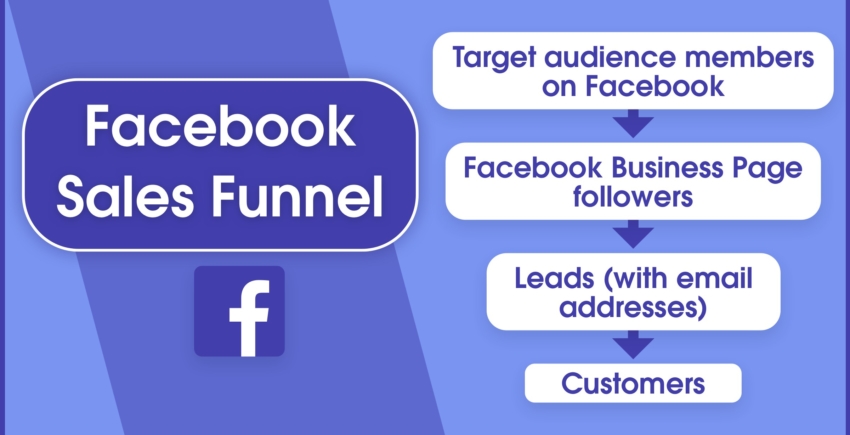 Because of this, the best content for Facebook ads is top-of-the-funnel (TOFU) content, or content that turns
Facebook users to followers
and followers to leads. We're talking e-books, checklists, blog posts, videos, and other resources. To maximize your CTR, choose content that builds brand awareness and top-of-the-funnel customers. You can also consider retargeting ads to target Facebook users who've already engaged with your brand in some way (e.g. by watching a video, filling out a form, or interacting with an event).
2. Consider Investing in Your Skills
It's always a good time to
invest in training
and broaden your skill set. Facebook is continuously updating their advertising capabilities for businesses, which is why it's super helpful to take an ads course. From bidding to copywriting to choosing audiences,
courses on Facebook advertising will keep your business ahead of the curve.
Udemy, Skillshare, and Lynda offer great courses, and Facebook even offers one of their own.
3. Be Patient
Seriously, read that line again. It'll take time for your ads to see traffic – and clicks. It'll also take a few tweaks to your content, audience, and budget before your ads are at peak performance. Results take effort, but also time. We can't stress this point enough. Now, let's dive into everything you need to know about using Facebook ads to market and distribute your content – and how to create great ones.
Expert Tip:
A social media tool like
Sendible
can make your life as a content marketer much easier. You can manage your Facebook page, schedule posts, keep track of how your ads are doing, and even reply to comments on your ads – all from the same place. You'll never miss a thing! And the best part is that you can
try it for 30 days for free
.
How to Create Facebook Ads That Get Your Audience to Click
To get started, head over to your Ads Manager, which can be found under
Explore
in the menu on the left-hand side of your Facebook homepage. If you've never used it before, Ads Manager is where you will set up and create your Facebook ads and ad campaigns, manage your ad bids, and monitor your ad performance. Consider it your Facebook advertising "home base." (Lucky for you, there is also a Facebook ads API option that can help you create and manage campaigns.) To create an ad, click the green
Create+
button found in the top left corner of your
Campaigns
,
Ad Sets
, or
Ads
tabs.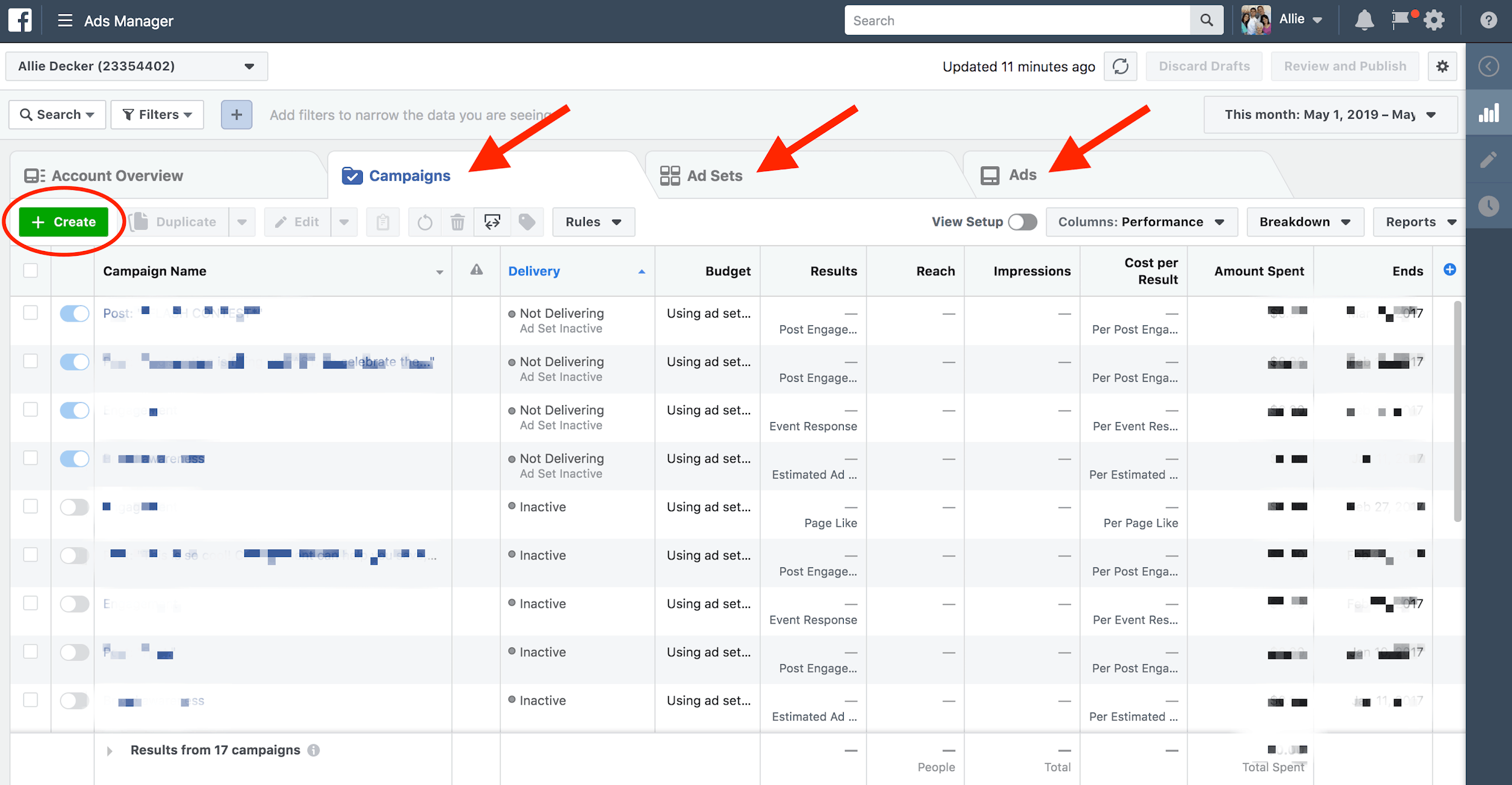 Expert Tip:
Don't miss out on engagement and conversions because of something as silly as a typo. Yes,
bad grammar can actually cost you money.
We highly recommend
Grammarly
. The browser extension is free to install, and it will check your spelling and grammar in real time to make sure your online content and Facebook ads are error-free.
Step One: Your Facebook Ad Campaign
The first step of building a Facebook ad is choosing a campaign objective. (Even if you're launching just one ad, you always start by building a campaign.) Ask yourself: What do you want your Facebook ad to do? Get you more traffic? Increase your brand awareness?
This objective will influence the rest of the ad-building process.
If you need more context about each objective, hover over each box and click the little "i" that pops up.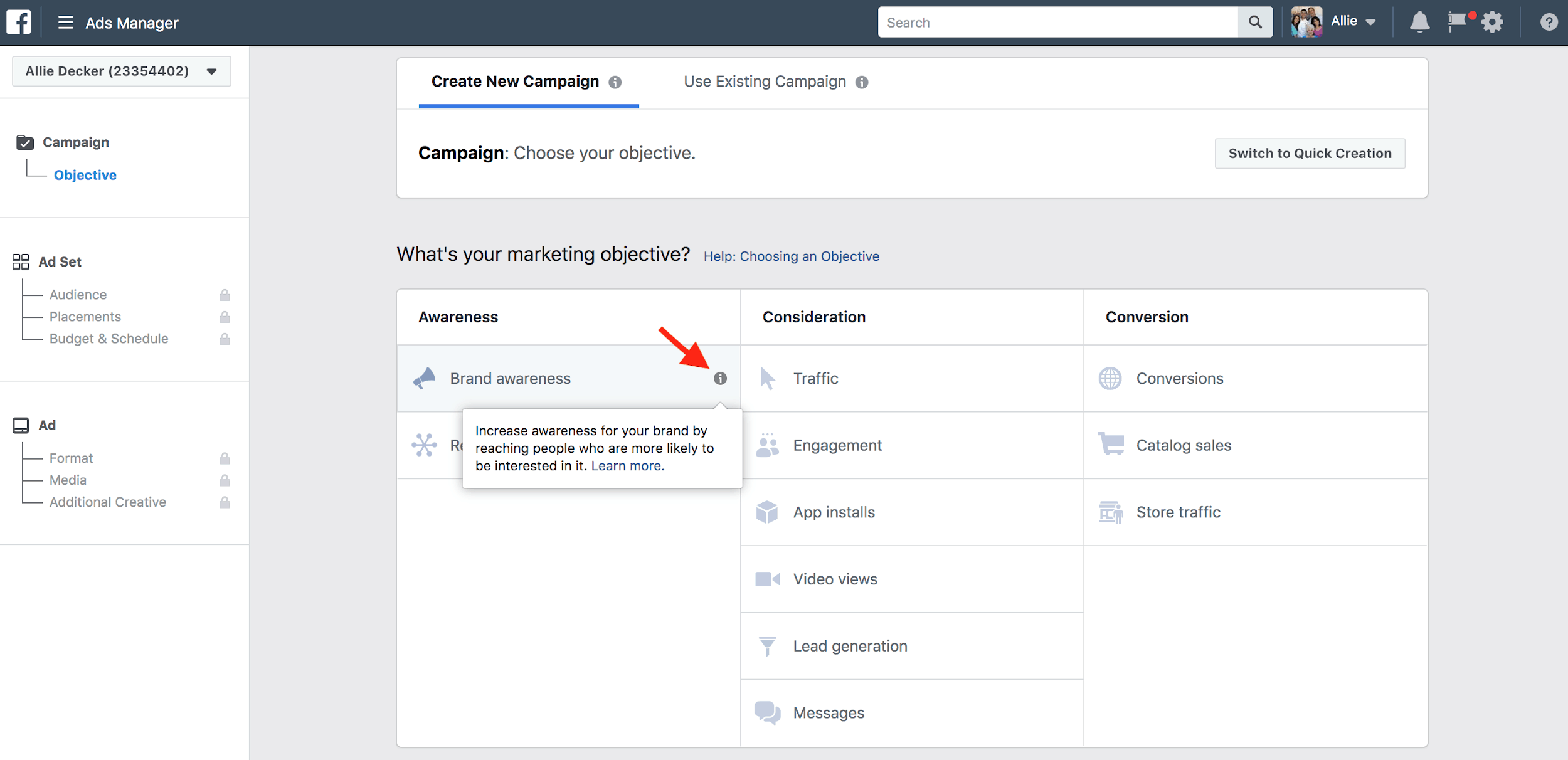 To best distribute and get clicks on your content, we recommend you choose objectives under either
Awareness
or
Consideration
. These objectives will prioritize reach and relevance – getting your ads clicks from the most relevant Facebook users and best aligning with that TOFU content we talked about above. As an example, I'll choose Brand awareness. Before you move on, name your campaign and choose whether or not you want to run an A/B test or optimize your budget across ad sets. Click
Continue
.
Step Two: Your Facebook Ad Set
The next page is where you create your ad set. For reference, an
ad set
is a collection of ads that operate under the same budget, bidding, delivery schedule, audience targeting, and placement. An
ad
refers to the individual creative that your Facebook users see – the image, copy, and call-to-action. First, name your ad set. You'll look for this name when reading campaign results and reports.
Defining Your Facebook Ad Audience
The next step is to choose who you want to see your ads. Facebook allows you to create and save audiences to use for other campaigns or ad sets – a handy tool when you want to target the same people more than once. You can create a Custom Audience or Lookalike Audience. To reach people at the top of your Facebook funnel,
we recommend creating a Lookalike Audience – new people who will likely be interested in your content because they "look like" your current followers and customers.
Lookalike Audiences mimic Custom Audiences, so be sure to
create a Custom Audience
first. This strategy will help you target new Facebook users that are more likely to click on your Facebook ads.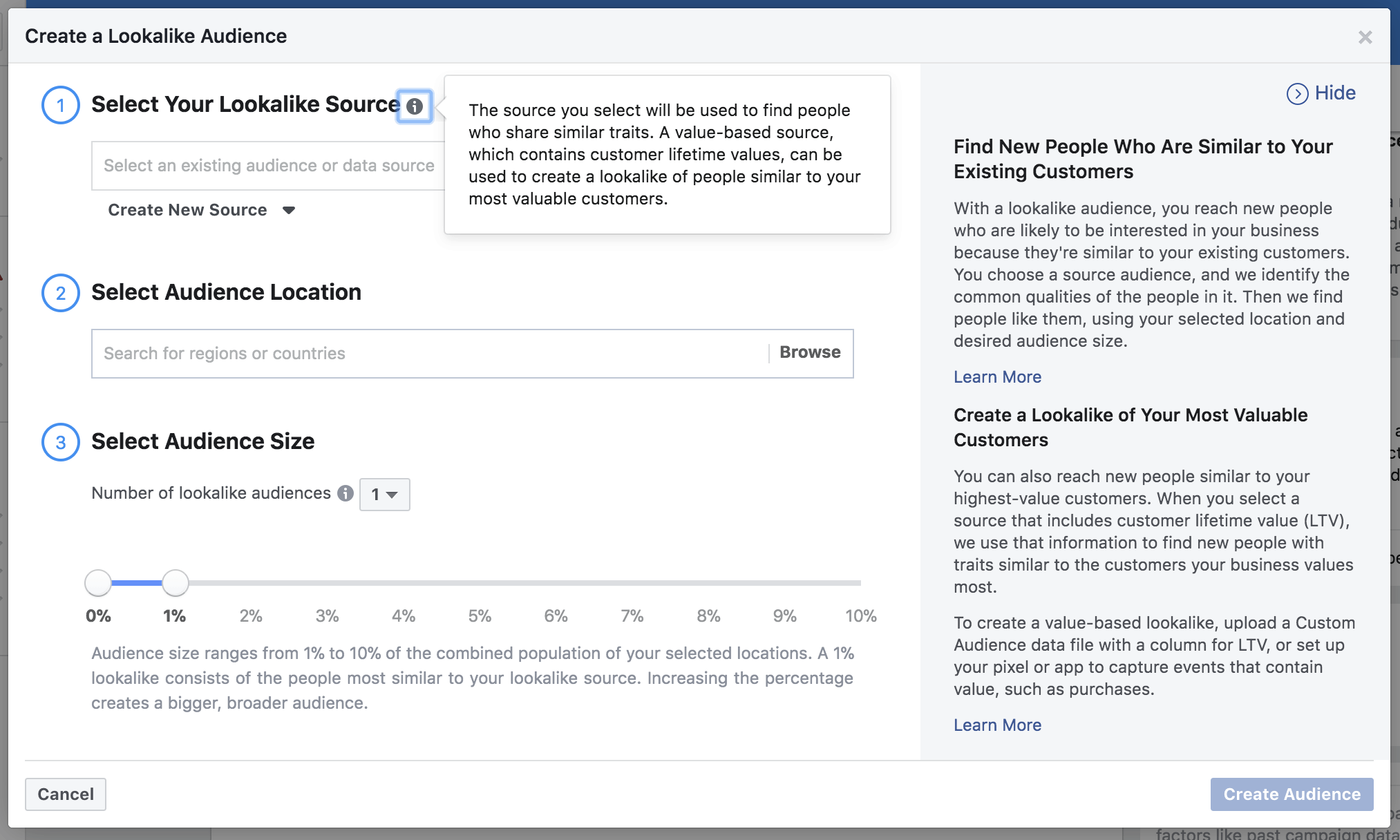 In this section, you can also define your audience location, age, gender, language, and detailed traits (which you can target or exclude). Another way to reach new, relevant audience members is to add a connection. This reaches Facebook users who've interacted or connected with your Business Page, app, or event, and narrows your audience even further.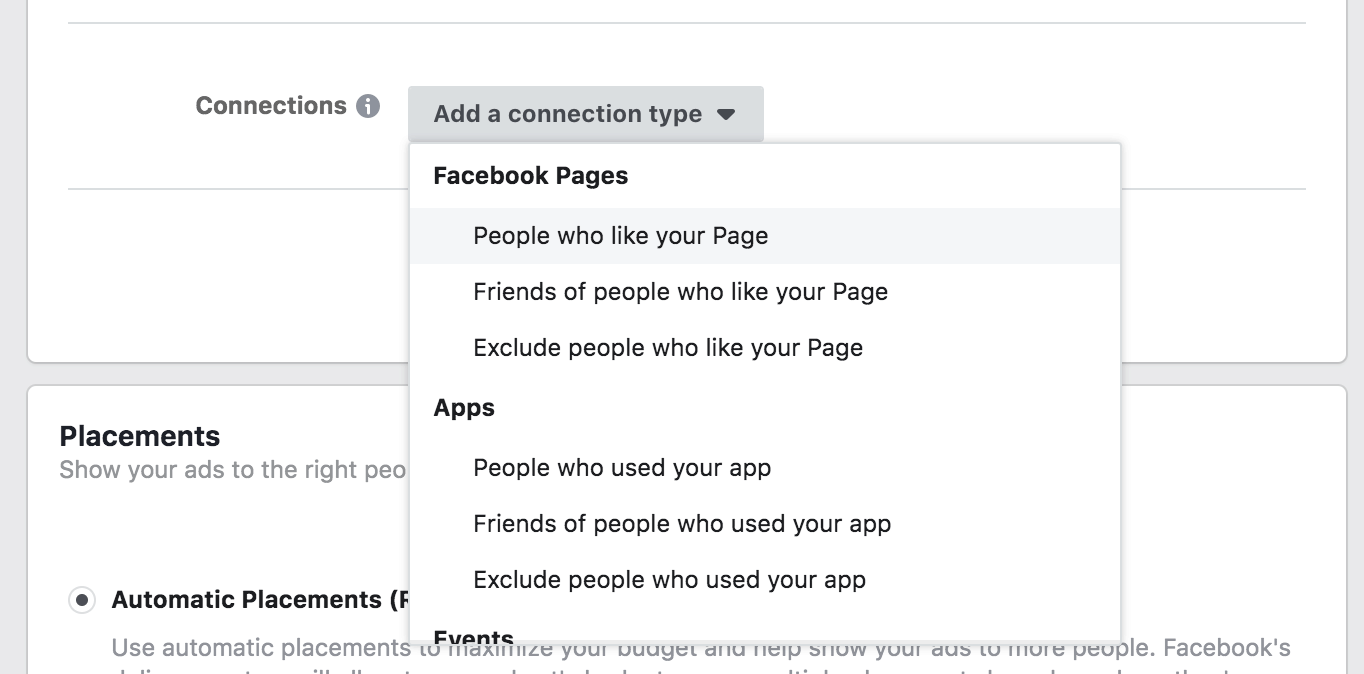 Placing Your Facebook Ads
Now it's time to choose a placement for your ads.
We recommend choosing Automatic Placements to maximize your campaign's reach and budget.
Facebook will show your ads in locations where they're likely to perform the best. Ads placements include mobile and desktop, Facebook and Instagram feeds, Stories, Suggested Videos, and more.
Setting Your Facebook Ad Budget and Schedule
The last step of setting up your Facebook ad set is establishing your ad budget and schedule. You'll see the Optimization for Ad Delivery option. This tells Facebook what you'd ultimately like your campaign to do. Since I chose Brand Awareness for my campaign objective, Facebook automatically sets this to Ad Recall Lift, meaning they'll show my ad to the people who are most likely to remember it. Other options you may see are Link Clicks (which drive people to your website), Conversions (which turn people into leads or customers), or App Install (which encourages people to install your app).
These options will vary based on your campaign objective.
Additionally, bidding and budgeting options will also vary based on your campaign objective. Since my objective is Brand Awareness, I'm only prompted to choose a Daily Budget or Lifetime Budget. Facebook will then charge me per impression. For PPC objectives (like Conversions, Lead Forms, and Link Clicks), you would have to place bids on your ads. You can either choose for Facebook to decide the bid, or you can manually place bids. Many people are worried about the cost of Facebook ads, but you can really spend as much or as little as you want. Finally, define your ad schedule.
You can run your ad continuously or establish start and end dates for your campaign.
Within those dates, you can choose to run your ad all the time or only on certain days and times (e.g. work hours or weekends). To reach the most people with your content, we recommend you run your ads all the time.
Expert Tip:
You already know your Facebook page is a great way to grow your brand's following, but did you know you can use it to grow your mailing list? As part of its professional email marketing service,
Benchmark Email
offers a Facebook Page Signup Form App. It's easy to install, and all it takes is a few clicks to create a signup form tab on your Facebook page. You can also easily customize your form's appearance. As Benchmark offers
a forever-free email marketing plan
, there's no reason not to give it a try.
Step Three: Your Facebook Ad
The final step is creating your actual Facebook ad that users will see on their Facebook feed or elsewhere. This is arguably the most important step of the process as people will decide whether or not to click based on your Facebook ad content. Your Facebook ad imagery and copy will determine how frequently your
ad converts users and followers into leads
.
Facebook Ad Format
First, choose your ad format. You can choose a Single Image, Video, or Carousel, which shows users multiple images that they can scroll through. Facebook also recently added Instant Experiences, which, if chosen, shows users a mobile landing page once they interact with your ad.
Facebook Ad Text and Media
The format of your Facebook ad will determine how you input your ad media and copy. For a Single Image or Video ad, you can upload up to six images, a video, or a slideshow as your ad media. Facebook recommends that video ads be less than 15 seconds as this length can be shown in every ad placement (on Feeds, in-stream, and on both Facebook and Instagram Stories).
Expert Tip:
Want to make sure you only use the best Facebook video ad specs? We've put together
a guide that can help
!
If uploading an image, be sure your Facebook ad size is 1080 x 1080 pixels and in a 1:1 crop ratio. Choose images that have less than 10% overlaid text if you want to maximize your ad delivery.
This means that you should save your ad copy for your ad text, headline, and news feed link description.
Your ad text should be your top priority as it will show up in the most ad placements. Your headline, link description, website preview, and call-to-action (CTA) will show up in a few key placements, like the Desktop News Feeds, Instagram Feeds, and more. (To preview what your ad looks like in different placements, click the drop-down button above the ad preview.)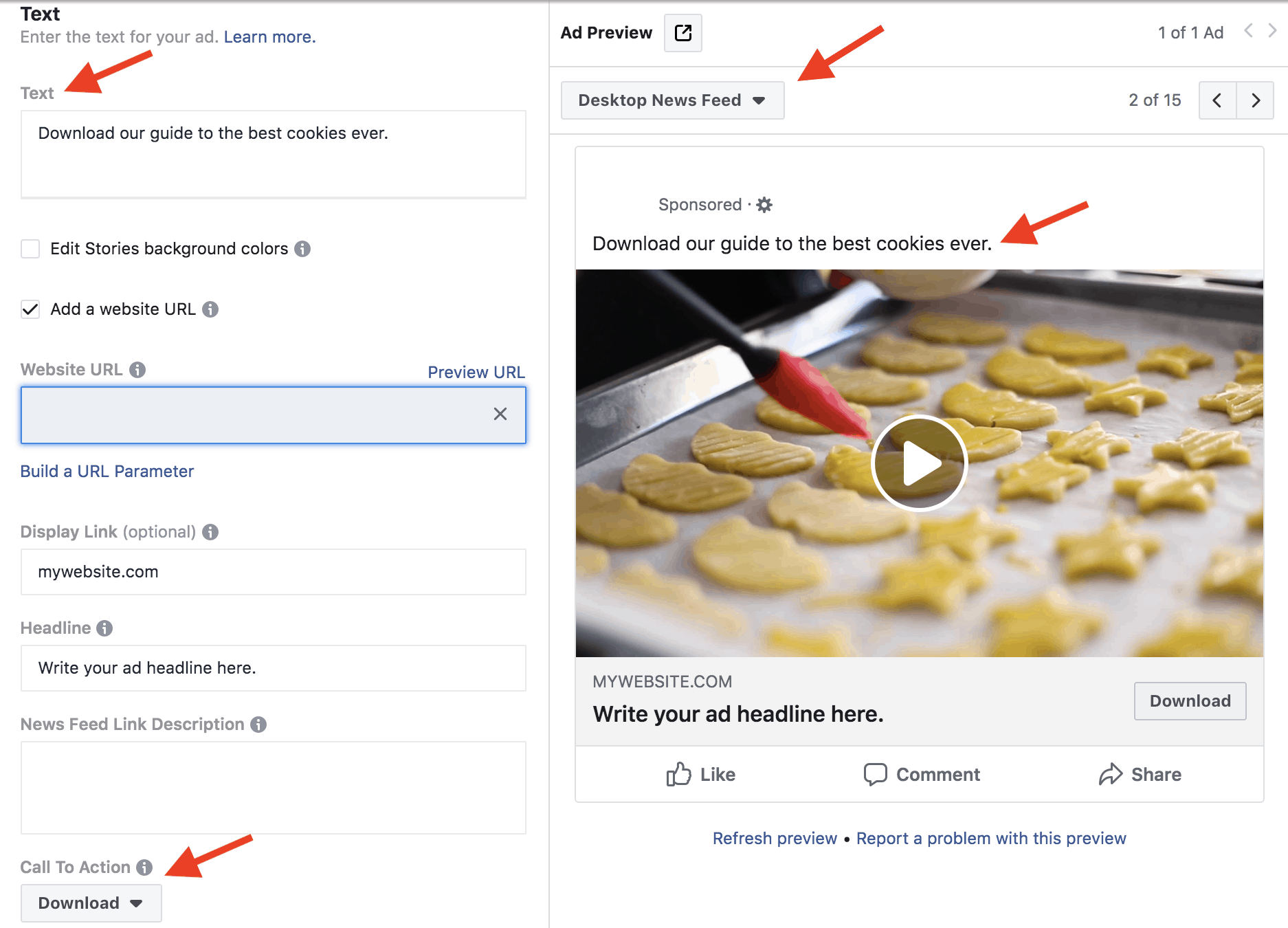 Depending on your ad content, consider choosing CTAs like "Download," "Learn More," "Sign Up," and "Subscribe."
These are low-commitment actions that allow users to express interest without spending lots of time or money.
Are you prepared for the final step? Incorporate URL parameters and conversion tracking to enhance the precision of your audience targeting. These tools have the potential to assist you in retargeting audience members who have previously visited your website or monitoring Facebook users who leave the platform without finishing an action. When you're all done here, click
Confirm
to finalize your campaign. Congratulations! You've created a Facebook ad campaign to market your content the
smart
way.
Now It's Your Turn
Facebook ads can be
incredibly effective
when it comes to promoting your brand or business. Not only can they help you reach relevant audiences and set highly targeted objectives, but they also help your content stand out on a crowded, noisy platform. More importantly, they help your audience members transition from Facebook users to Business Page followers – and eventually to leads and paying customers. Want one last secret to success? Take advantage of all of the resources that are available to you.
Social media management tools
– both free and paid – can help you with scheduling while keeping an eye on analytics. Now you have no excuse but to make Facebook ads work for you!