You have a great idea for a Facebook video. You have the concept and the logistics all planned out. But you aren't ready to start filming just yet:
your Facebook video will perform its best only if it's been created exclusively for Facebook
. This means making sure all your video specs are correct. Don't worry, we've got you covered! We'll share the most optimal specs and also some tips and tricks for increasing engagement on your videos. Remember, a polished video doesn't just get attention, it gets conversions.
Requirements for a Facebook Video
To upload a video to Facebook smoothly, you need to follow some parameters, whether you record it in the app or upload a separate file:
Length
Videos can be up to 240 minutes long (four hours)
Minimum length is one second
Format
MP4 or MOV formats are recommended for both mobile and desktop videos; however, Facebook supports many other video formats
Audio
Stereo AAC Audio
12kbps or more
Size
Resolution
1280 x 720 pixels is the general recommended resolution to make sure your video will look great on all screen sizes; anything higher will be automatically downsized by Facebook
Minimum width is 600 pixels, with the length depending on the aspect ratio
Supported Aspect Ratios
16:9 landscape; 9:16 portrait
2:3 or 4:5 vertical
1:1 square
Frame Rate  
Max frame rate is 30 FPS (frames per second)
Facebook's Recommendations
Thankfully for us all, Facebook provides users with a comprehensive table featuring suggestions for uploading every type of video they support. As Facebook owns Instagram, there is helpful information regarding those videos as well: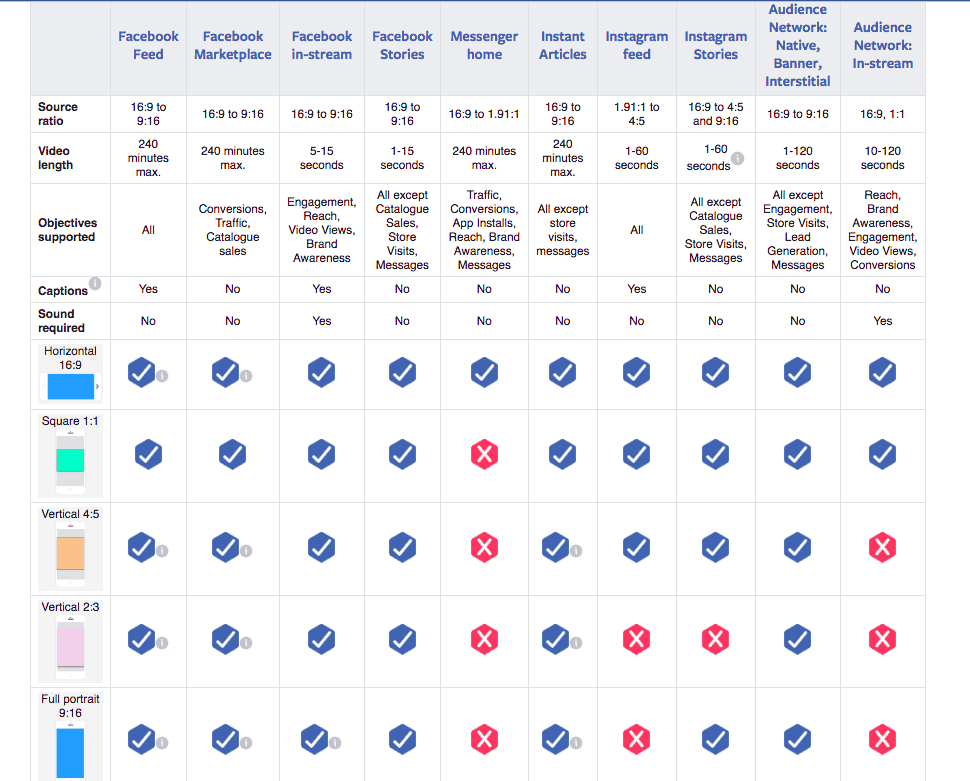 Create an Effective Facebook Video
The first step toward making an effective Facebook video is to know what works. Here are seven of the most important tips to remember:
Tip #1: Create for "On the Go"  
Facebook users are 1.5 times more likely to watch video daily on a mobile device. Utilize the screen space as effectively as possible by creating videos with a 1:1 (square) or 9:16 (vertical) aspect ratio.
Tip #2: Silent Video Options
Recent studies also tell us that 85% of Facebook users watch videos with the sound off. For this reason, you'll want to include subtitles or otherwise ensure that the narrative and CTA can be understood without sound.
Tip #3: Short Is Sweet
In 2015, our average attention span was down to about eight seconds (yikes). Technology surely hasn't helped that number go up, so you need to keep your videos short, no matter how long Facebook allows them to be.
Six-second ads had "higher brand metrics across the board" according to Facebook's Sheryl Sandberg in 2017
No matter the length, capture attention early—within the first 3 seconds if possible
Don't forget to show your branding early
Tip #4: SEO Is Your Friend
People need to find your video. Choose your keywords carefully, both in the video title and description.  Here are some tips for creating a headline that will rank well with search engines:
Research your keywords so you are including terms people are searching for
Use power words like "never" and include an opinion to entice people (e.g., Six foods you should never eat if you want glowing skin)
Learn what's working for your competitors
Ask the viewer a unique question (e.g., Do you know what food is best for your skin?)
Create urgency with phrases like: "Hurry," "Right now," "Limited Offer," "Exclusive," or "Ends Tonight"
Remember that
your thumbnail picture is also important for SEO
. If your video is about skiing tips, for example, a thumbnail that pictures someone skiing on a mountain will get more clicks than an empty ski lift or a lone snowy mountain.
Tip #5: Place Your CTA Carefully
If you are calling your viewers to action (and you probably should be), place your CTA carefully and deliberately. Best practices suggest that the middle of your video is best. This is because the beginning of your video is for capturing attention and, realistically, fewer people will be watching at the end. So, right after you've captured attention, call people to act.
Tip #6: Follow Paid Ad Regulations
Facebook has a whole separate set of requirements if you are using your video as a paid ad, including language and the use of adult content. If you plan to use the platform for video ads, make sure that you review these policies carefully to make sure your ads will be approved.
Tip #7: Be Clear About Your Goals
We saved this tip for last because it is probably the least technical piece of advice we have. But, in order to create a successful video, you need to know your goals first. Are you telling a story? Are you only hoping for views or is click-through the objective? Are you introducing your brand, or trying to start a conversation? The answers to these questions are important because they'll help to shape your entire video ad campaign. But no matter what your objective, don't forget to be creative. Remember that Facebook videos receive the most engagement when they're created for the platform and uploaded directly to the platform. A YouTube video shared to Facebook simply won't perform as well.
Watch What Works
The most successful videos all have some subset of the characteristics listed above. When first starting out, take some time to watch videos that have been developed by other marketers. Consider what works and what doesn't. What's a great idea that you can carry through to your video, and what factors do you think can be improved upon? After that, it will be time to start creating a video for your brand. Outlining your objectives and the points of differentiation can help you find your creative spark. At that point, you'll just need to worry about following the guidelines outlined above, and your video will be well on its way to success.
---
Sources:
https://www.facebook.com
https ://www.falcon.io/insights-hub/topics/social-media-strategy/facebook-video-ads-best-practices-for-2018/
https ://www.wordstream.com/blog/ws/2017/11/07/facebook-statistics
https ://sproutsocial.com/insights/social-media-video-specs-guide/#facebook
https ://blog.hootsuite.com/social-media-video-specs/
https ://www.wordstream.com/blog/ws/2017/05/17/how-to-write-great-headlines