When your income depends largely on gigs that require a specific skill set, then you want those skills to be top-notch and constantly improving. This is a hard reality for freelancers if they want to remain competitive, regardless of whether they use websites to find jobs online (
Upwork
,
Freelancer
,
Guru
, and
Fiverr
are the big ones) or depend on a job placement agency.
According to a recent study by the Metropolitan Policy Program at the Brookings Institution, the gig economy is outpacing the growth of standard payroll employees by about 27%. So, the million dollar question for freelancers around the world is,
"How do I stand out in an industry that is becoming increasingly competitive?"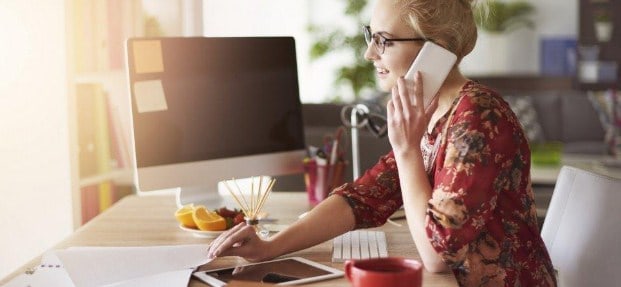 Job Training: Competitive Advantage Today, Job Security Tomorrow
One way to stand out among other freelancers in your industry is to invest in upgrading your skill set. Mary Meeker, of Kleiner Perkins Caufield & Byers, recently shared her 2018 Internet Trends Report, which shows that
55% of freelancers have updated their skills in the past six months. For comparison, only 30% of their non-freelancer counterparts did the same.
This is incredibly important when you consider that
over half of the U.S. workforce does not feel confident that their current job will even exist in the next 20 years.
Basically, by not expanding and diversifying your expertise, you risk becoming obsolete.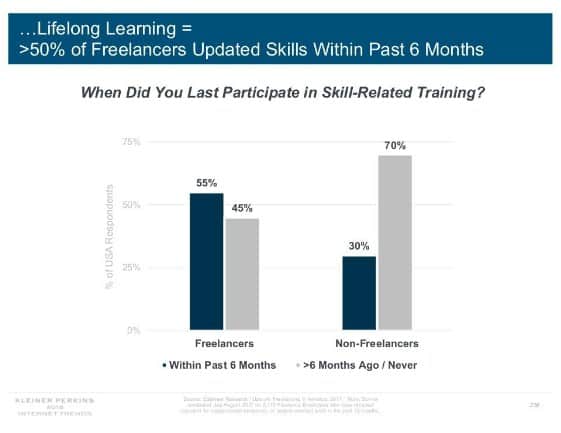 Where Can Freelancers Get More Job Training?
Now that you are sold on the idea that additional skills training can benefit your career both now and in the future, you might be wondering where to go.
The short answer is: it depends on your specific industry, current qualifications, finances, and availability.
Consider the following ideas for further developing your skills and experience:
1.
Universities:
Regardless of whether or not you already possess a university degree, it is never too late to go back to school. Many universities are increasingly offering after-work classes and short courses for obtaining various diplomas and certificates. Some universities, like Stanford University, are even offering free courses online (paid certificate available).
2.
Edx:
A nonprofit, massive open online course (MOOC) provider, started by Harvard and MIT. You can audit every class (with the exception of professional education courses) for free, or elect to pay somewhere between $50 and $300 for a verified certificate. This is a good option if you are looking to gain some entry-level skills, however, there is very little available free content for those looking for more advanced courses.
3.
Coursera:
The majority of the courses offered can be accessed for free, but if you want to participate in the graded assignments and earn a certificate, you will need to pay. Coursera recently revised their subscription model, allowing individuals to have access to the entire course catalog for a low monthly rate. By partnering with over 150 universities, there are thousands of courses available to motivated learners.
4.
Udacity:
This is a course provider that specializes in technology and computer science, and allows learners to earn "Nanodegrees." Similar to the options above, these are typically free to audit, but you'll need to pay in order to have access to project assignments, work reviews, and assigned mentors. Udacity works closely with industry players to ensure that classroom content is relevant to the "real world," and can also help place students in open positions.  
5.
Udemy:
Their mission is to teach anyone, anything. There are thousands of different classes available, covering a range of topics that is much more extensive than the providers listed thus far. And they are not just taught by universities or professors—any industry expert can develop a course that learners can pay to take. This would be a great platform to explore if you are looking to learn a more specific or unique skill set.
6.
Skillshare:
There are thousands of classes available, covering many of the most popular freelancing categories, such as design, business, photography, and technology. You can take some classes for free, or sign up for a monthly or annual subscription. The free courses available tend to be a much shorter time commitment compared to earlier options, many of which can be completed within just an hour or so.
7.
CreativeLive:
What's different about this learning option is that classes are streamed live, 24-hours a day, on five different channels. All you need to do is just log-in to watch for free. You can also see the list of upcoming classes and RSVP a couple of weeks in advance. Alternatively, you can choose to pay a fee and "own" the course, which allows you to save the materials and refer back to the videos whenever you'd like. Courses are mostly geared toward those in creative fields.
8.
TED Talks:
This website currently hosts around 3,000 talks in different languages from authorities in technology, entertainment, science, business, and global issues lasting between few minutes and an hour, so you just have to find the right one for you. You can also sign up for
TED Recommends
, a service that offers you personalized suggestions for talks that will teach and motivate you based on your interests.
9.
Meetups:
It is not unusual for freelance online platforms to organize face-to-face meetups among their members. For example, Upwork regularly invites top-rated freelancers to organize an "Upwork Huddle" in their local area where freelancers can connect, socialize, and share knowledge and tips for achieving success as a freelancer. To take advantage of these opportunities, be sure to join online communities and message boards.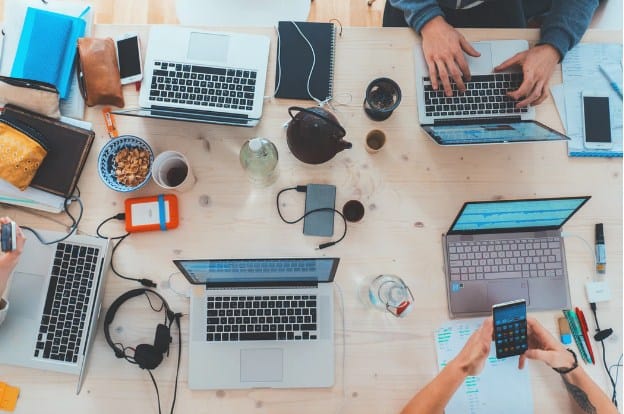 Acquiring New Skills Is a "Freelancer Promotion"
Investing in oneself is consistently advisable. Adopting any of the previously mentioned approaches for upskilling may result in the ability to enhance your hourly or project rate. Individuals who undergo retraining have a higher likelihood of securing a promotion. This principle should hold true for freelancers as well. Ultimately, clients now reap the advantages of your expanded skill set and expertise in the subject area.
According to Hubstaff's 2017 Freelancing Trends study,
freelancers should review the rates they are charging their clients to ensure that they reflect any acquisition of a new skill or experience.
Increased and improved work experience is one of the main factors that contribute to increased rates, but remember that this cannot be changed overnight. It would be overwhelming to upgrade all of your skills at the same time, particularly if you are trying to maintain a full work schedule. Instead,
focus on improving one niche skill with lower competition in order to increase your chances of landing an open role and getting paid a higher rate
for it because you have more training and practical work experience than your competitors.
Continue to Work on Yourself
It is not always easy to balance between working "in" your freelance business and working "on" your freelance business—but it's important to do both. Successful freelancers compete on value, and not on price. Increasing your value by getting more job training can ultimately result in increasing your income and having a more successful freelance career in the future.
—
Source:
Mary Meeker's 2018 Internet Trends Report:
https://www.recode.net/2018/5/30/17385116/mary-meeker-slides-internet-trends-code-conference-2018