I'll teach you how to sell T-shirts online, from setting up your shop to selling your first tee.
You don't need any skills or lots of money to start selling T-shirts online as it's one of the businesses with the lowest barriers to entry. It's really not as daunting as it sounds.
There are many places to sell shirts online, but I recommend building your own store.
Having your own website is unparalleled for showcasing your brand and leveraging conversion elements for significant profits.
I built my T-shirt store on Wix, a beginner-friendly website builder with all the tools to run a successful T-shirt business.
It also integrates with many print-on-demand (POD) services, meaning you can get started without inventory and upfront costs. In my step-by-step guide, I will show you how to build an online shirt-selling business and make it profitable. If you're busy, hop onto Wix's free plan now, or keep reading to avoid wasting time on trial and error.
How To Start an Online T-shirt Business: The Basics
Research isn't the most fun part, but you don't want to blow your budget on the wrong thing, right? Here's how to start a shirt business online the right way.
Identify Your Audience and Niche
You must identify your target customers before anything because they are the ones that will pay, wear, promote, and potentially come back for more T-shirts. Whom do you picture wearing your tees? What do they need and like? Don't play a guessing game.
Instead, rely on different research tools like Facebook's Audience Insights and hashtags,
check forums like Reddit and trending tee designs on marketplaces, conduct online surveys, and gather insights from consumer research.
Conduct competitor analysis
by digging through their social profiles, reviews, and sales channels to see who's buying tees and why. What are the best-selling designs? Do those come with many customization options? What can you do better?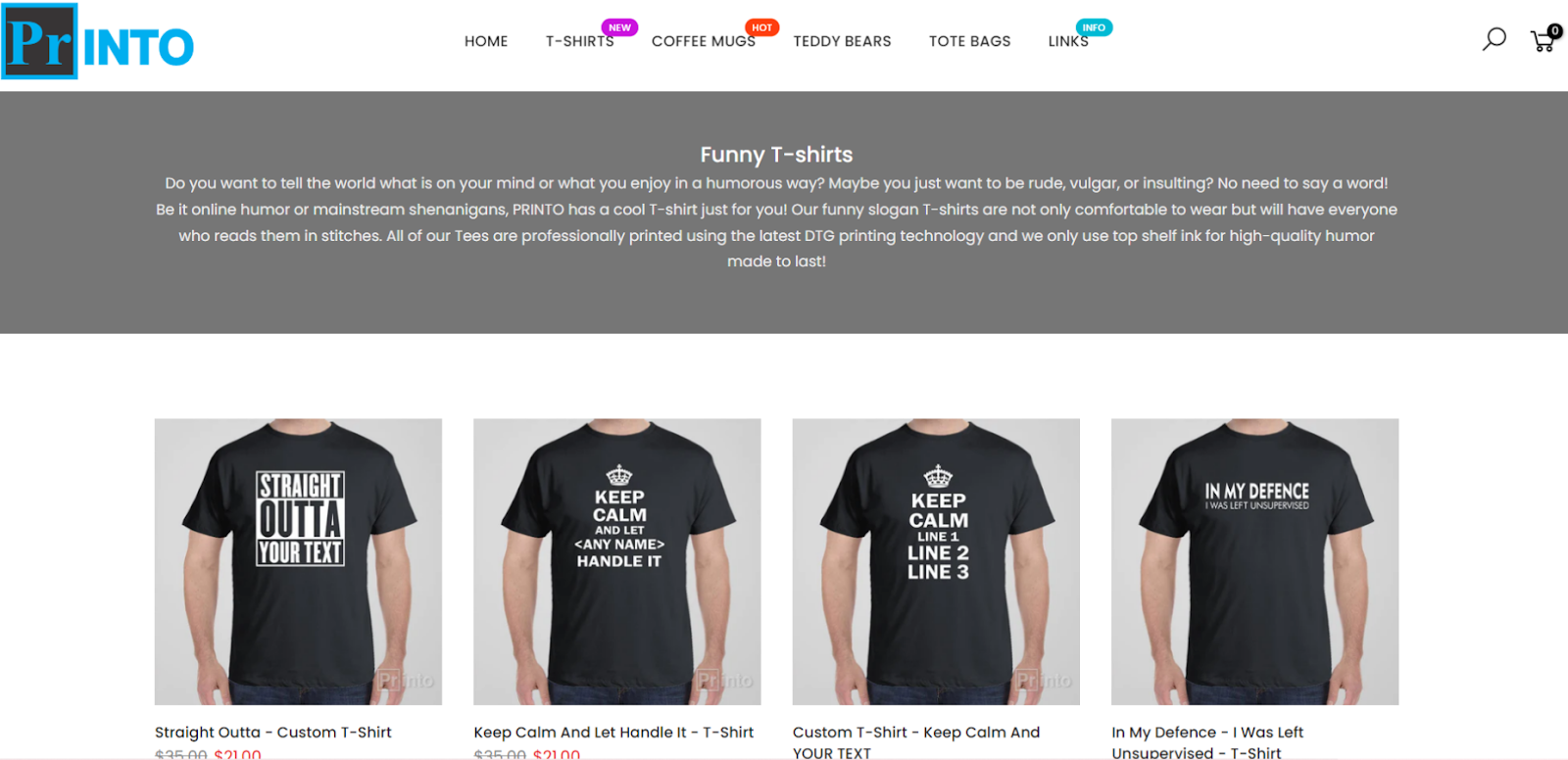 Understanding your target audience will help you determine the right branding, tone, and language.
Then, you can focus on finding your niche. What sets you apart from the competition? Is it your brand story, sustainable materials, or something else? Start with a narrow niche, like funny slogans for tech enthusiasts, and expand as the business grows.
Source Materials and Printing Solutions
Print-On-Demand (POD) services allow you to start an online t-shirt business without inventory, minimums, logistical issues, and upfront costs.
You only need to provide the designs. Wix currently offers a selection of 16 trusted providers. POD is an excellent option for selling T-shirts on the side.
With more time and money, you can handle everything by yourself
. This approach comes with upfront costs. You should expect to pay between $1 and $4 for a T-shirt depending on the style, color, quality, softness, and weight. You will need to buy in bulk for better prices, and it'll be up to you to store, pack, and ship your products. It's best to
order samples from a few top suppliers and compare them
. Lower quality might bring you higher profit margins initially. Still, negative reviews and non-repeat customers will affect your long-term success. Whether you decide to partner with a local printing service or handle the process yourself, these methods are most suitable for printing on T-shirts:
Heat transfer: an affordable and fast method that uses heat transfer paper, suitable for detailed designs but might fade or crack over time.
Direct-to-garment: a cost-effective but slow print method where patterns are applied straight onto the fabric with an inkjet printer. It's great for small batches of detailed designs. Bulk discounts are not possible as the process is pretty time-consuming.
Screen printing: transfers designs onto fabric using layers of ink and stencils. It's fast and long-lasting but suitable only for simple designs with a few colors. Bulk discounts are possible for large orders.
Design Your T-shirts
Here comes the fun part! You have three options:
Create Your Own T-shirt Designs
There are many free and paid tools you can use.
Canva is one of the most beginner-friendly options that will let you design T-shirts for free.
You can also use more sophisticated design programs like Adobe Photoshop, Adobe Illustrator, Inkspace, and Procreate. If you're an artist, you can even hand-draw your designs. What if you need help with your color palette? Draw inspiration from
Pantone's Color of the Year
and other palettes, or use color palette generators like
ColorSpace, Coolors, Colormind,
and
Colorhunt
. For free stock images and vectors, check
Shutterstock.
For cool fonts, incorporate one of Google's 800+ options into your design.
Buy Ready-Made T-shirt Designs
You can get vector (i.e., infinitely scalable) images for your T-shirts on Vexels, T-shirt Factory, icons on Flaticon, ready-made designs on Creative Market and Designous, and graphics on GraphicRiver. Buying ready-made designs carries the risk that many other T-shirt sellers will sell the same ones, making it harder to differentiate your business.
Hire a Professional To Design Your T-shirts
If you don't have the skills or time to design your T-shirts, it's best to hire an expert.
Fiverr has T-shirt designers, artists, and illustrators with rates as low as $5.
Get Mockups
If you use Adobe Photoshop, you can use its T-shirt templates to see how your designs will look on actual T-shirts. Mockup World, GraphicRiver, and Placeit have plenty of preview options, while POD services like Printful and Pritify have their own mockup generators.
Gather Feedback
I
f you picked the DIY route, validating your designs might be more challenging.
If you have a following on social media, you can share the creations with your audience. You can also ask for feedback on Reddit and other online communities. If you have a unique idea like stain-repel T-shirts, you can even run a Crowdfunding campaign. Aside from collecting funds for your project, you can get expert guidance and free exposure.
Collecting feedback is easy if you opt for the POD online T-shirt business model.
All you need to do is link your online store to a print-on-demand service, upload your designs, and wait for real customers to order and review them.
Choose the Right Platform To Sell Your T-shirts
You can sell directly on print-on-demand sites like TeePublic, RedBubble, and Spreadshirt. Marketplaces like Amazon, eBay, and Etsy are also an option. While they have organic traffic, you will share it with (millions of) other sellers, forcing you to lower your prices to remain relevant.
Popular platforms typically have higher sales and listing fees
– recent research discovered Amazon takes up to 50% cut from each sale. Figuring out how their algorithms work is another huge challenge, and your sales might suffer due to unexpected changes. In contrast, a website comes with predictable monthly fees and, in Wix's case, no transaction, refund, or chargeback fees. But even when you win sales,
these platforms won't let you build relationships with your customers which is critical for driving repeat business.
You can pay to appear on their highest-converting slots, but for marketplace shoppers, you're just one out of many stores. They might not even bother to read your store name, let alone remember it.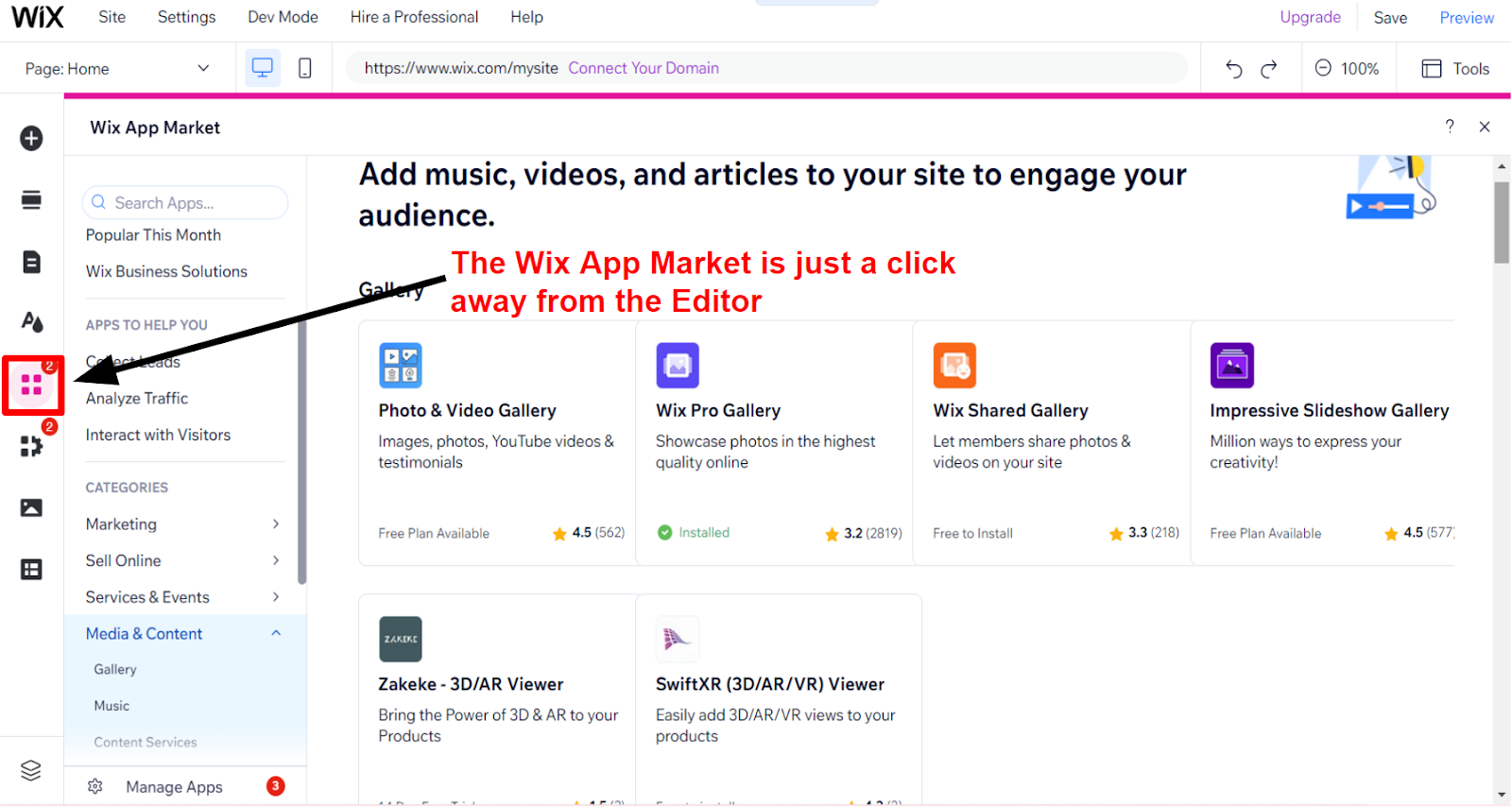 Selling platforms lack the essential tools needed to create brand-conscious T-shirt stores.
But advanced builders like Wix allow you to build a fully customized storefront in record time.
There are six gallery apps to present your designs in the best light, and you have complete control over your CTAs, buttons, menus, and other functions (e.g., enhanced navigation, accessibility, and eye-catching promotions).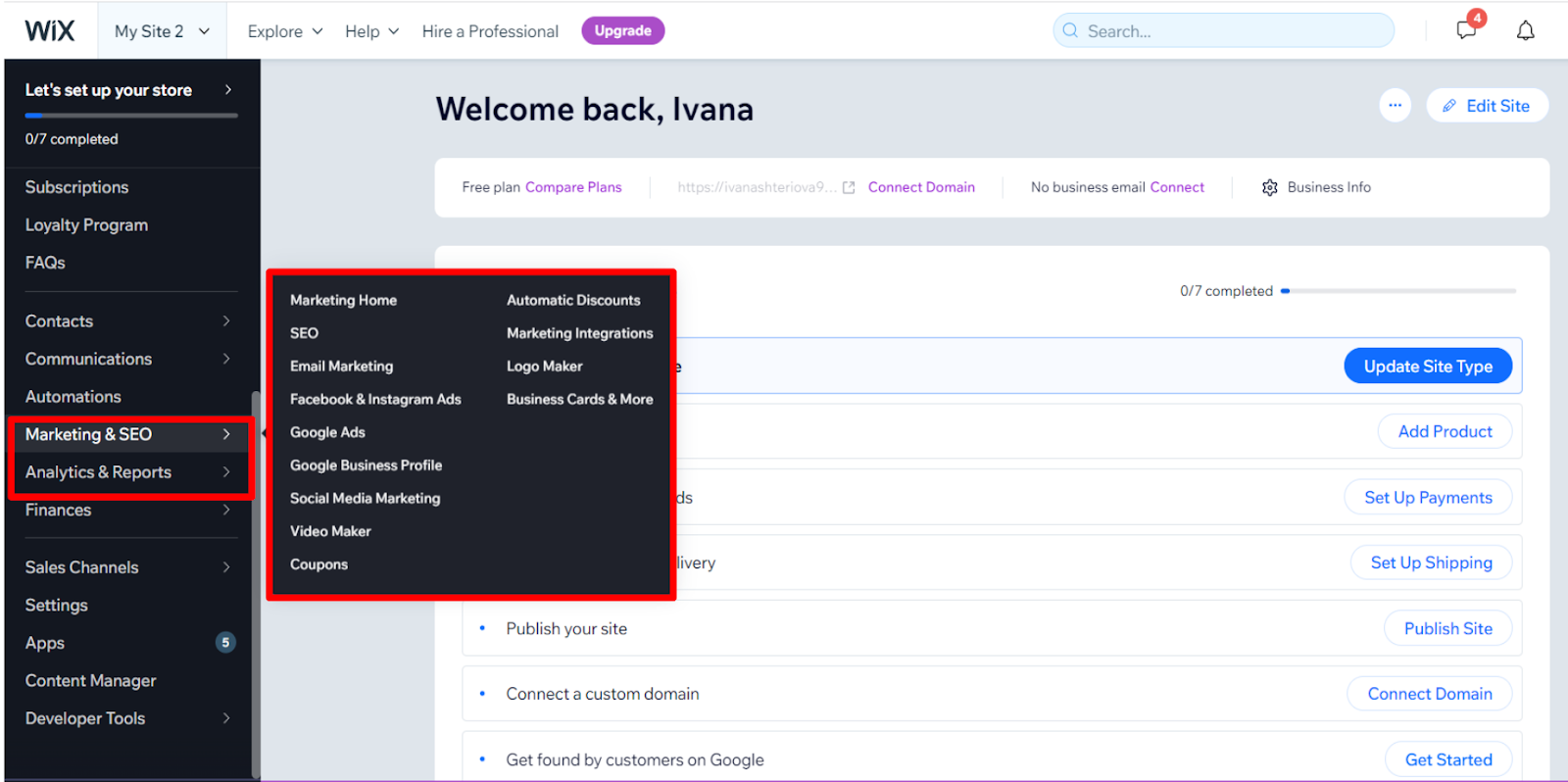 There's a built-in SEO dashboard with a personalized SEO checklist, email marketing service, ad management tools, cart abandonment feature, and performance metrics, all within one dashboard.
You can also easily integrate your website with a print-on-demand service, dropshipping service, social media accounts, and all popular marketplaces like Amazon, Etsy, and eBay.
Choose a Good Name for Your Online T-shirt Store
A domain name is a name that appears in your web address and should match your online store name.
Make it short, unique, and easy to remember. Do you plan to include more products like hoodies or mugs later on? Don't limit yourself by making it all about T-shirts, then – use Wix's brand name generator to come up with a winning name.
Once you have the name, you can check its availability directly through your Wix site by clicking Connect a custom domain from your store setup checklist.
If your domain name isn't available, this tool will offer alternatives similar to your original idea. You can
buy a custom domain directly from Wix
. You won't have to pay anything for the first 12 months, as Wix's e-commerce plans include one. After the promotional period, you'll have to pay the service's yearly subscription fee for as long as you use it. This cost is separate from your website builder plan. Alternatively, you can connect a domain from elsewhere, but you'll miss out on Wix's offer.
Customize Your T-shirt Store
I always wanted to study fashion design, but pursuing a creative career wasn't encouraged back when I went to college. Still, that didn't stop me from becoming a bright and bold style aficionado. T-shirts are a major staple in my wardrobe – I like them loud and expressive. It was time to share some of my passion with the world.
First, I created my account, and Wix asked me to name my T-shirt store
. My T-shirt brand caters to female entrepreneurs and independent gals, so I went with
SheBo$$.
If you want to launch your T-shirt store ASAP, try Wix's AI solution Wix ADI
. You'll get a decent website right away that you can come back to customize whenever you have the time. Still, I would take the DIY route – AI isn't too creative (yet). If you are a T-shirt designer, you can use your design skills to create a one-of-a-kind website with Wix's grid-free drag-and-drop editor.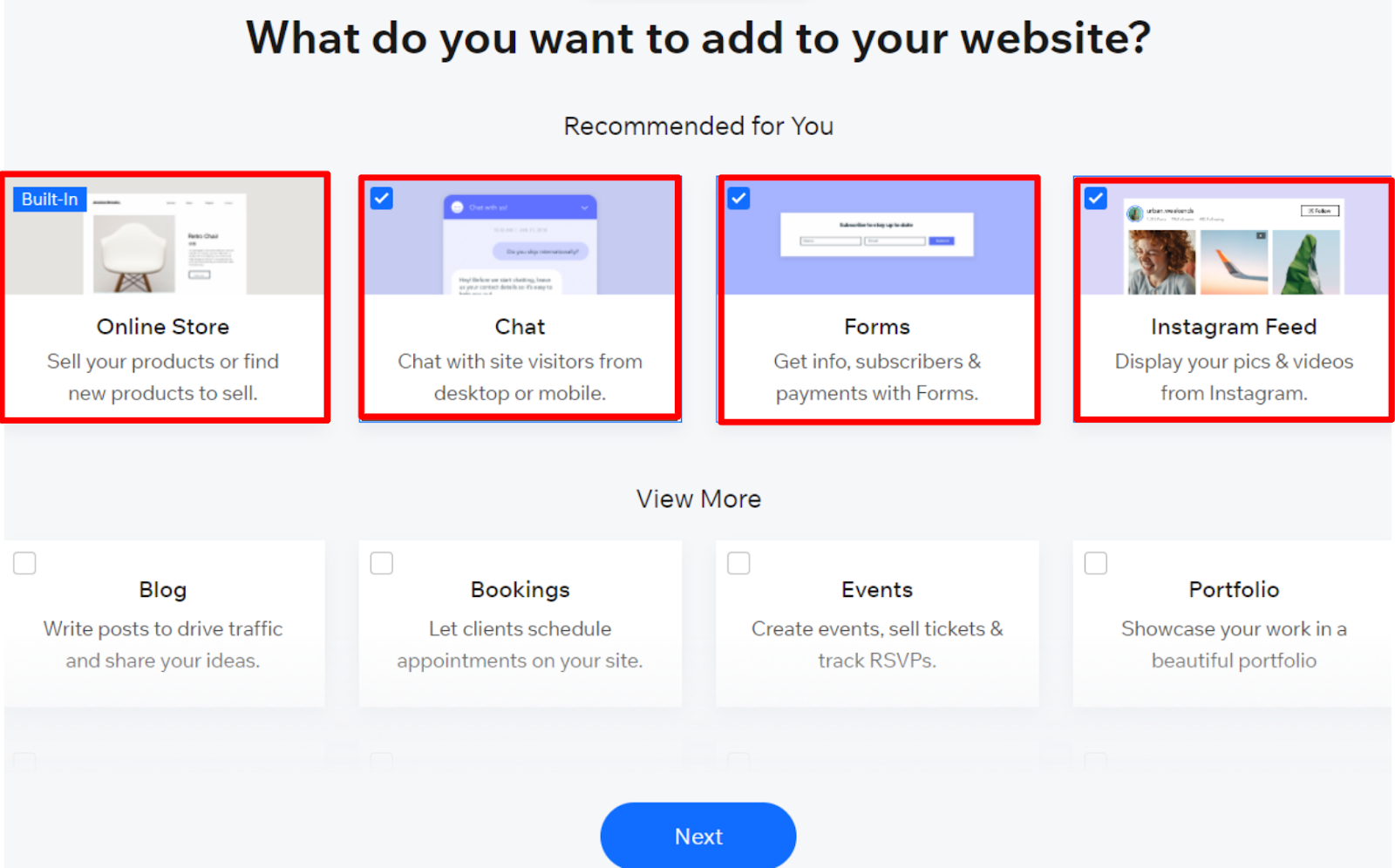 Next, Wix asked me which functionalities I'd like to add to my website, offering personalized recommendations based on my previous answers like online store, chat, Instagram feed, and forms.
If you don't see a feature you need, you can most likely get it from the Wix App Market.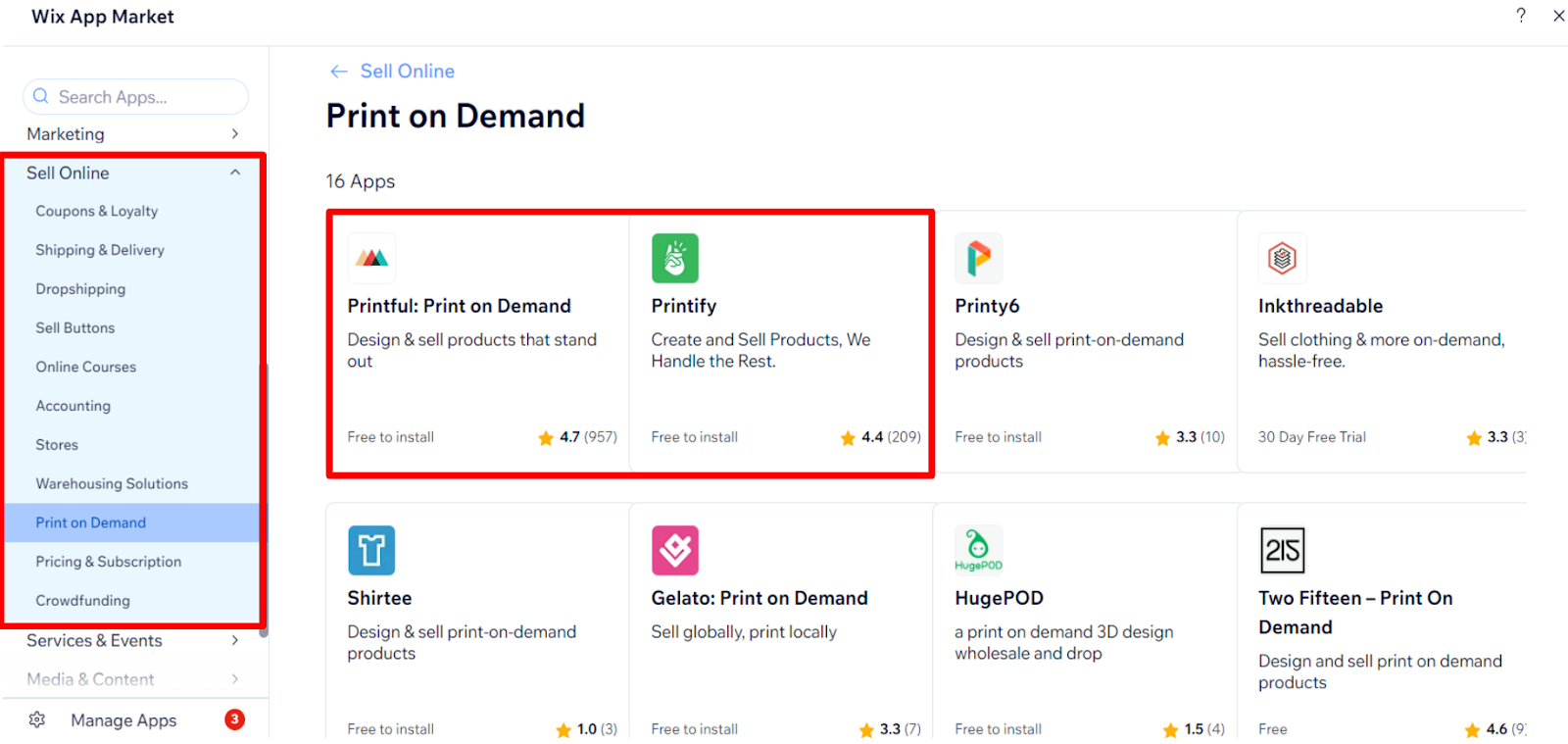 Of the over 150 apps dedicated to e-commerce, dozens directly relate to selling T-shirts online.
If printing on demand, you can integrate Wix's top-rated providers,
Printful
or
Printify. MyTshirt
allows you to create merchandise from your photos, which is an excellent option if you are a photographer. And if you want to offer premium-quality, sustainable, custom T-shirts, check out
NovaTomato
.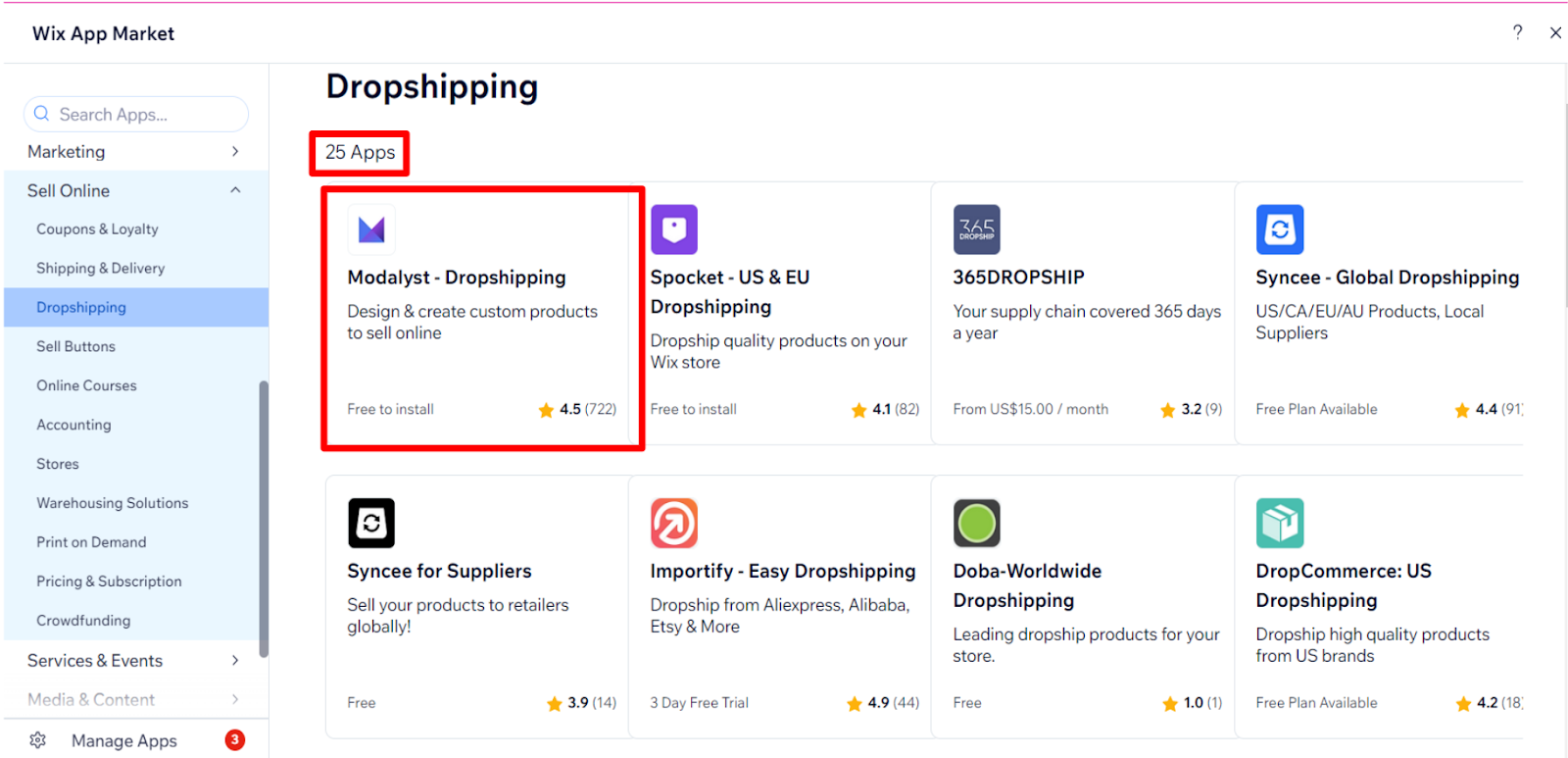 You can resell products with Wix's 25+ dropshipping apps if you prefer selling T-shirts without inventory or designs.
Modalyst
is one of the most popular (and free!) options that connects you with thousands of trusted dropshipping suppliers. If you decide to try your hand at designing, Wix also provides print-on-demand (POD) services.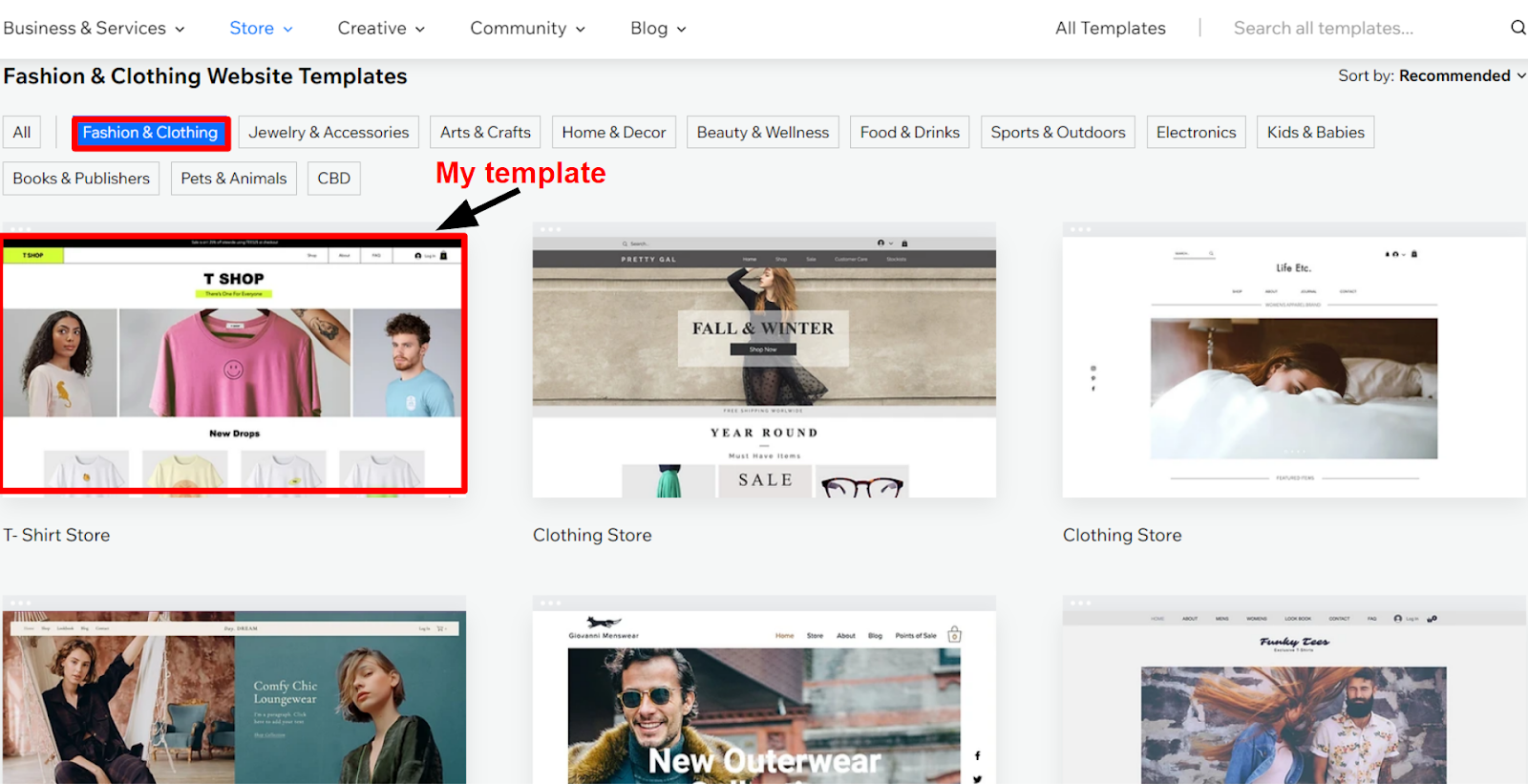 After signing up, I made it to the
Fashion & Clothing templates
.
There are 800+ ready-made designs across multiple categories and three specifically designed templates for T-shirt stores.
The first template caught my eye so I went with it.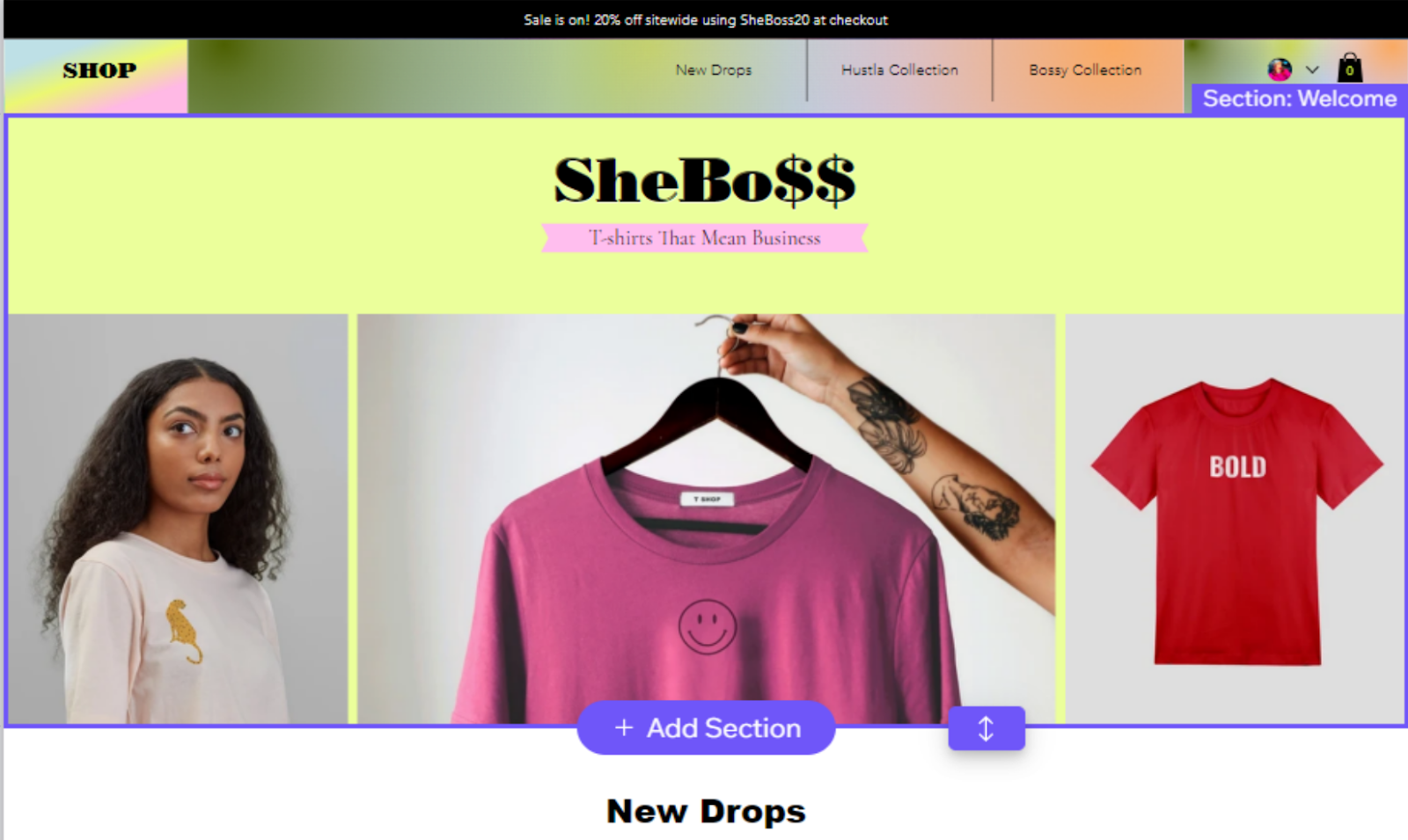 I changed the entire aesthetic and feel of my site.
I switched the background of a few sections from white to pastel rainbow, picked cool fonts, customized my buttons, and altered the layout by deleting some elements and adding others.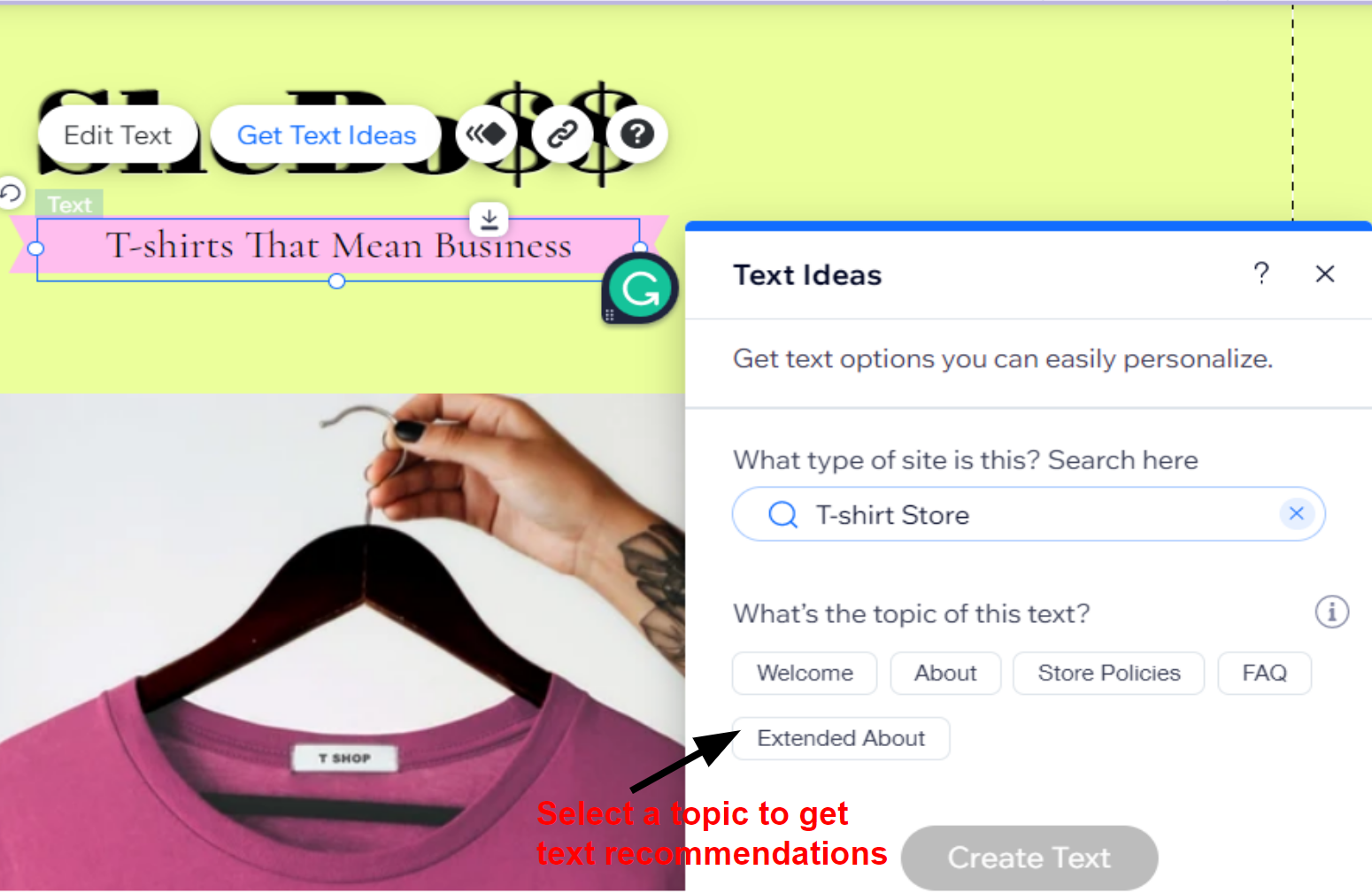 Wix recently launched an AI-powered text generator within its editor, which helped me fill my site with content faster.
I wouldn't recommend relying solely on AI because you want content that speaks directly to your target audience. Still, it's great to get the creative juices flowing.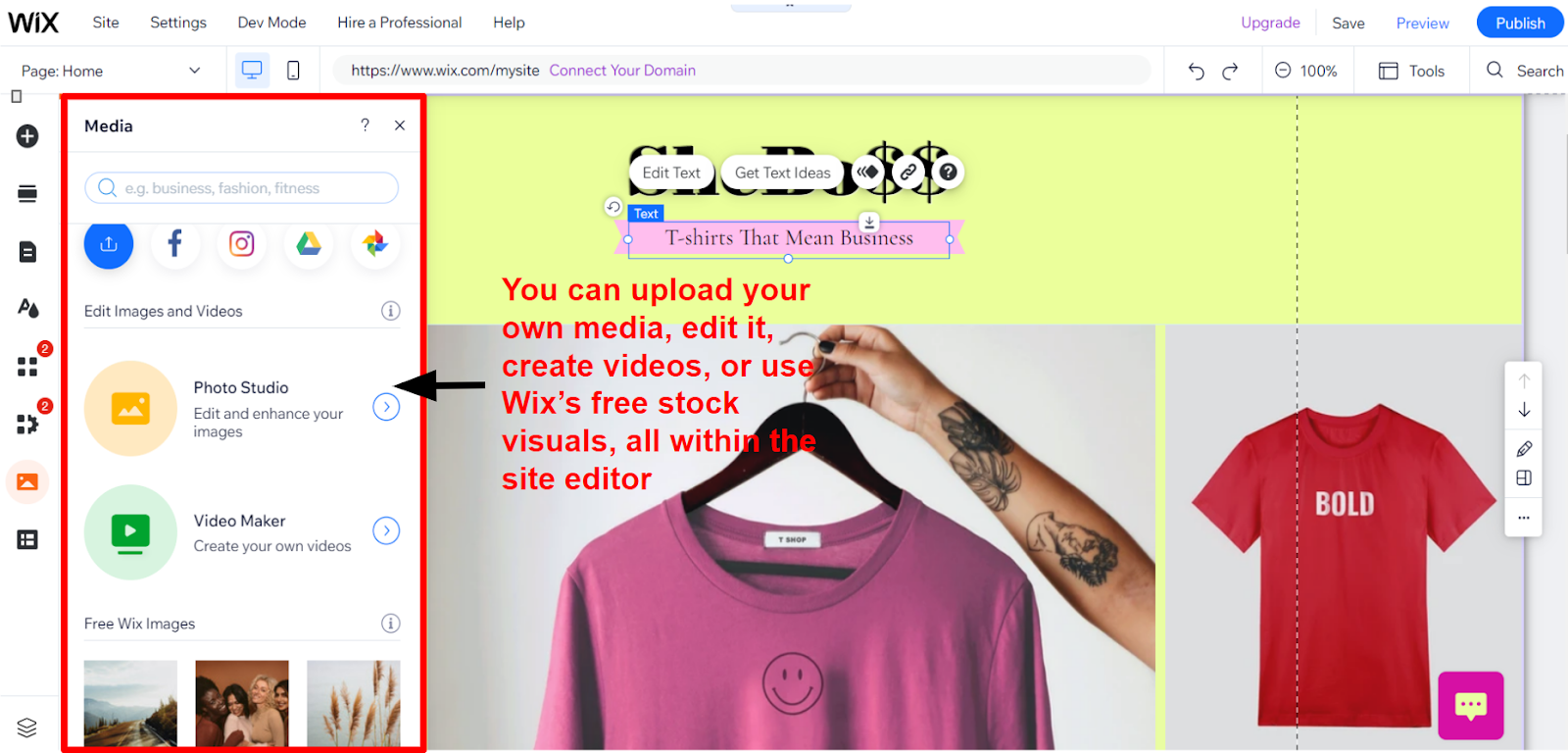 Finally,
I used some visuals from Wix's free stock gallery, and I got a site that reflects my fictional T-shirt brand in under an hour.
Add Your T-shirts as Products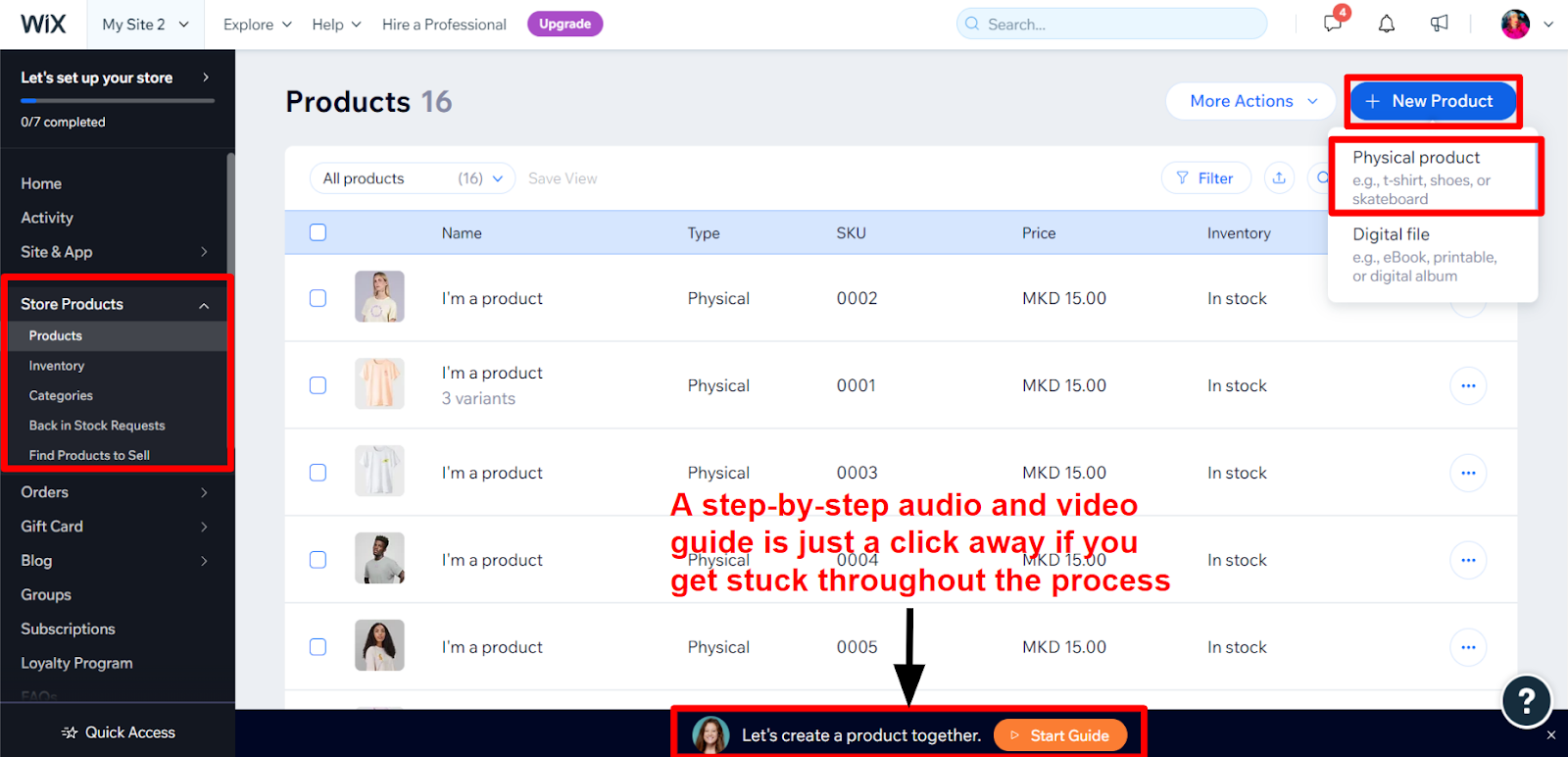 To add your T-shirts as products on your Wix site,
go to Store Products,
accessible from your account dashboard, and
select Products
. Then
click +New Product and select Physical
.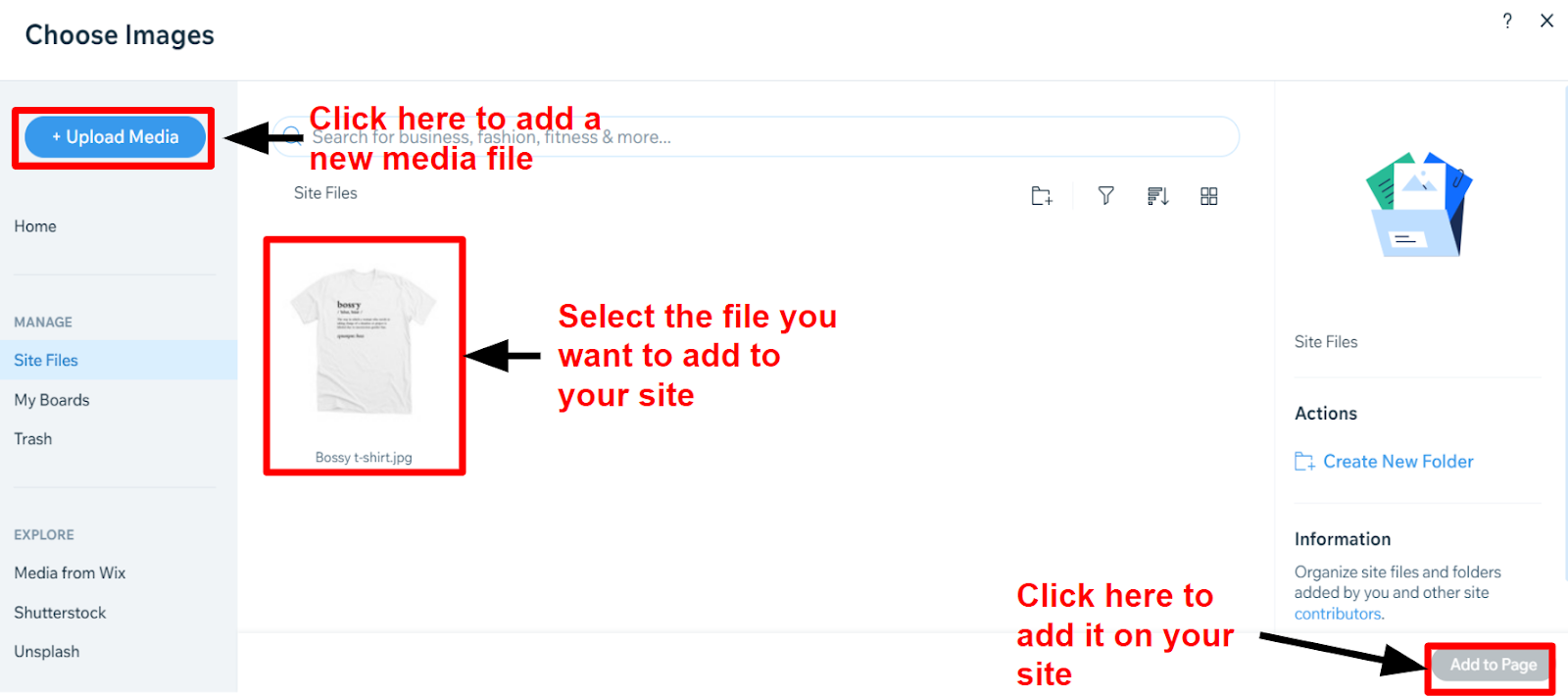 From here, you can
add your product's visuals
(images, GIFs, or videos). Your previously uploaded visuals will appear in
Site Files
. If you need to add new ones, click on
Upload Media
. With attention spans getting shorter, you can't afford dull product images on your site. You only get about 50 milliseconds to impress your customers, so
make sure your product presentation rocks!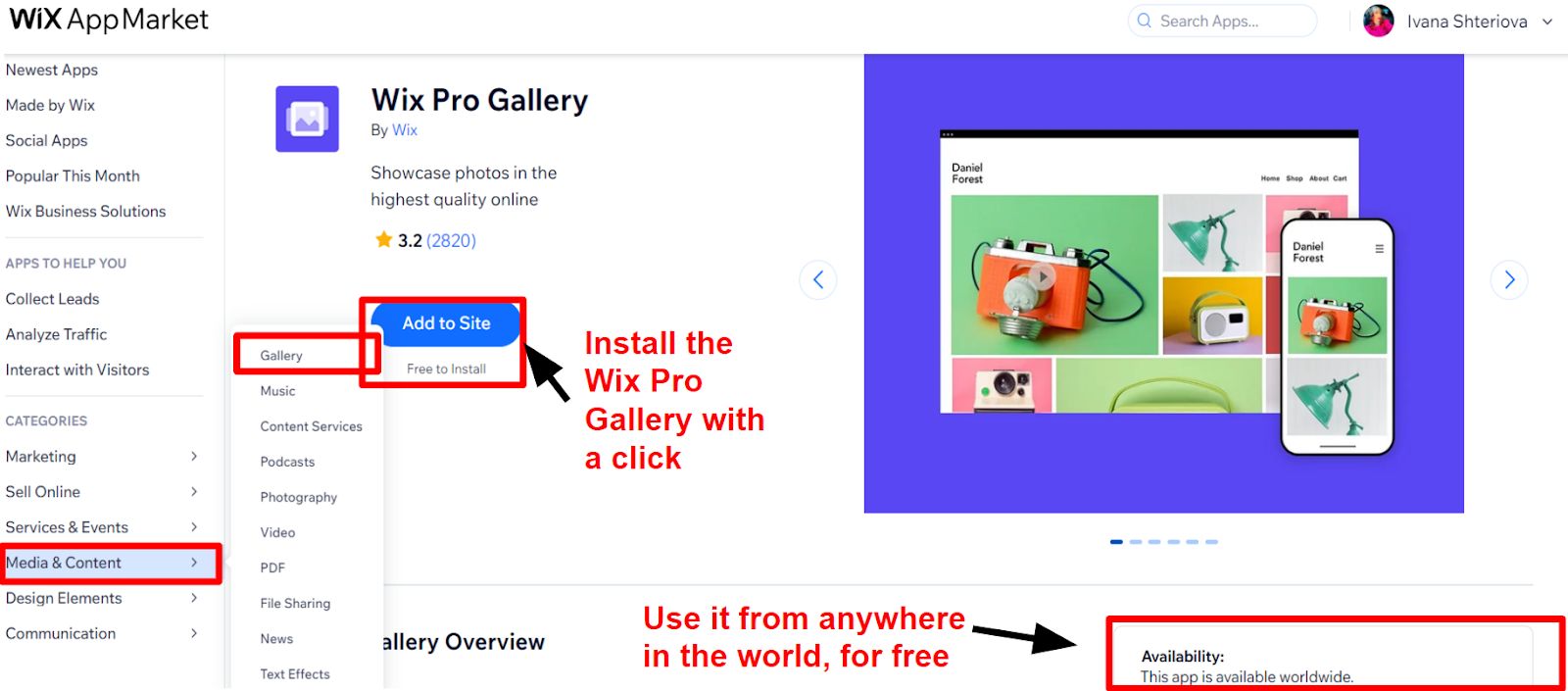 Use a consistent photography style for your product images
. If you can't afford to hire a model, rely on flat-lay photography – the Wix Pro Gallery app can help you optimize your photos. Hanger photos are an option for social media and marketing campaigns but look unprofessional as product photos. Dropshipping and POD services don't need original photos, but having a mockup generator can help visitors create visuals with minimal effort.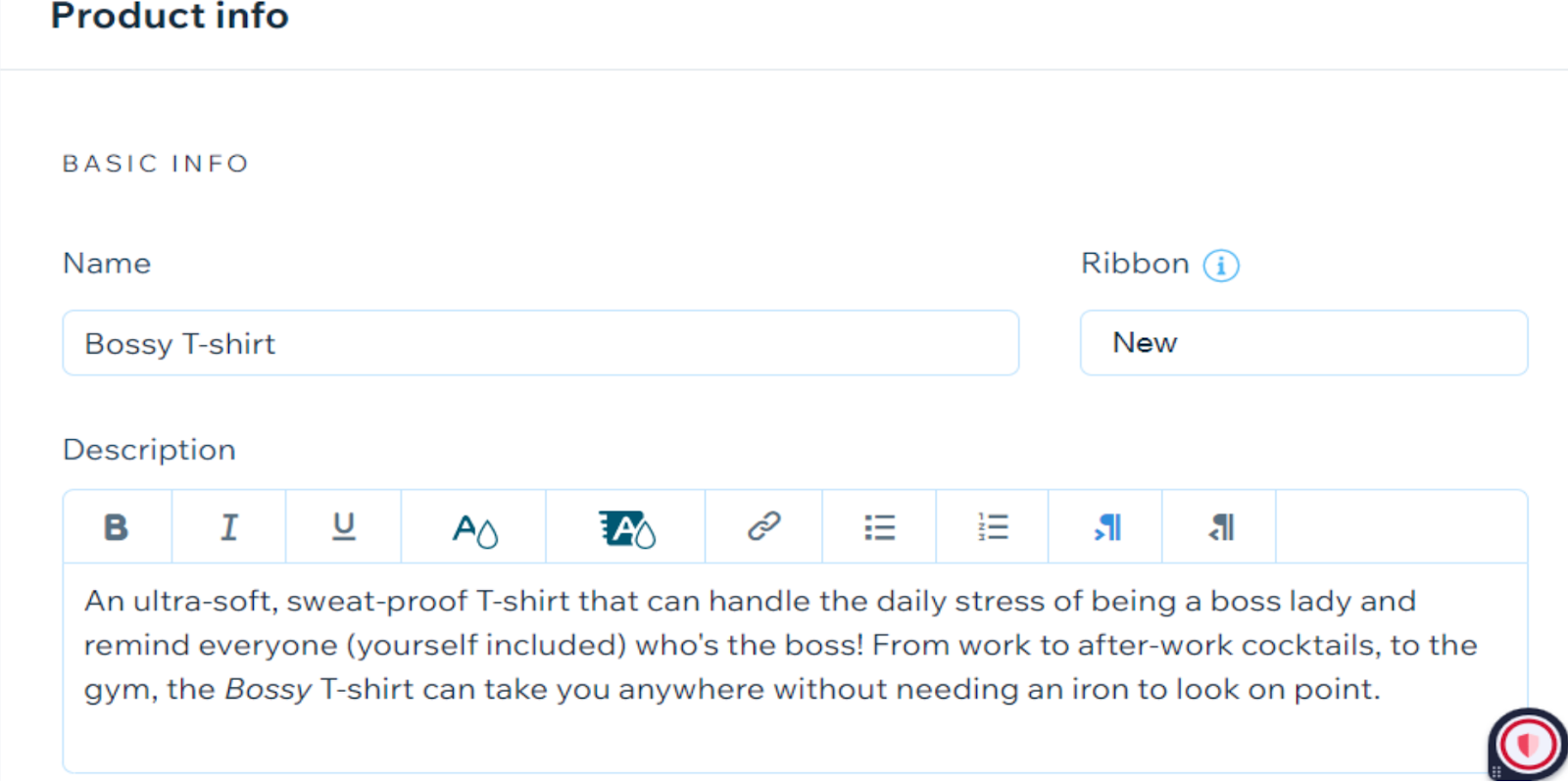 Next, you need to add your
Product Info
which consists of a product name and description. You get up to 8000 characters to describe the key selling points of your product – don't waste characters, but don't waste people's time, either.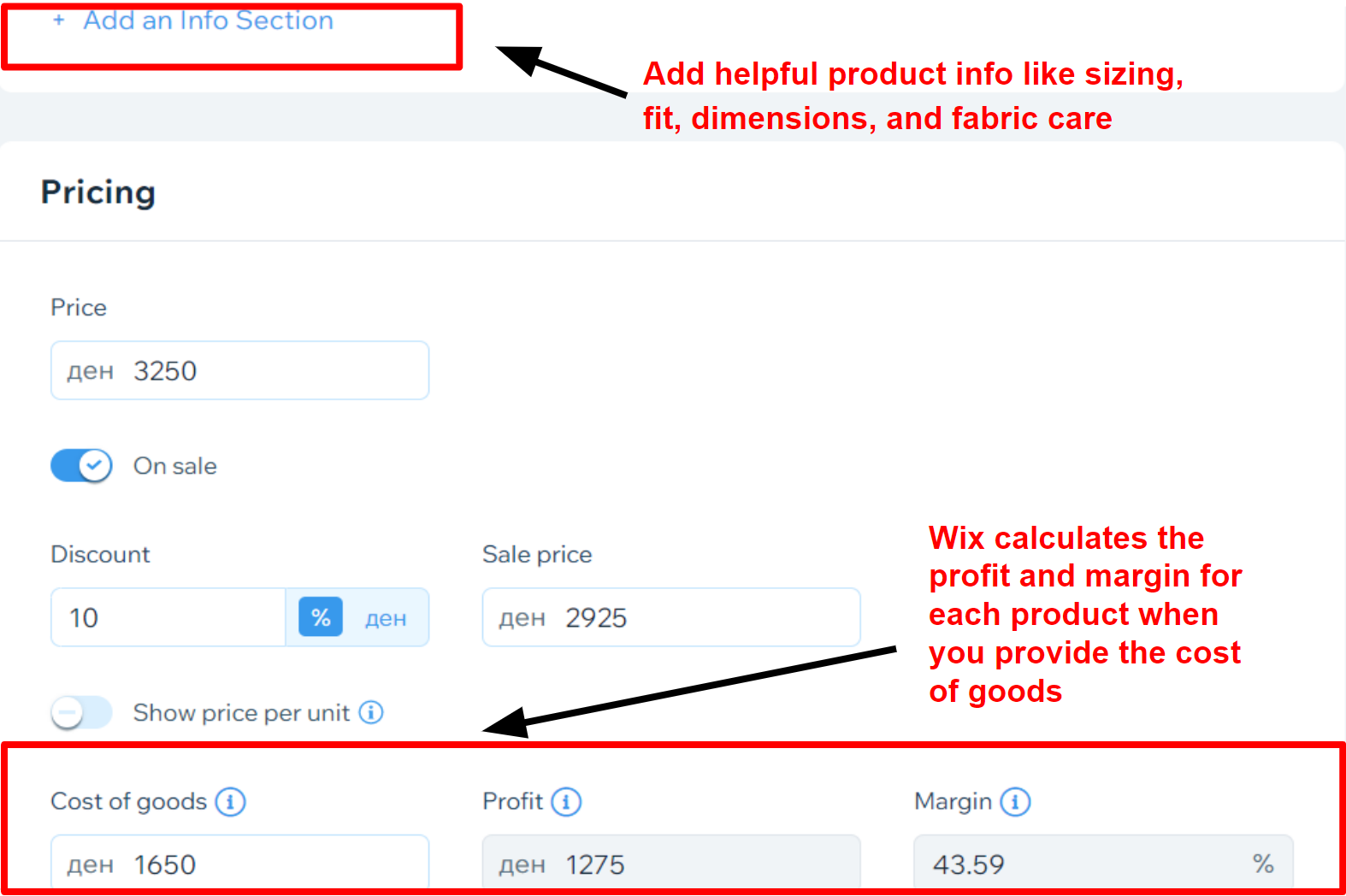 In the Pricing section, you can set a price and calculate your profit and margin percentage
. You should aim for at least 40% in the custom T-shirt industry.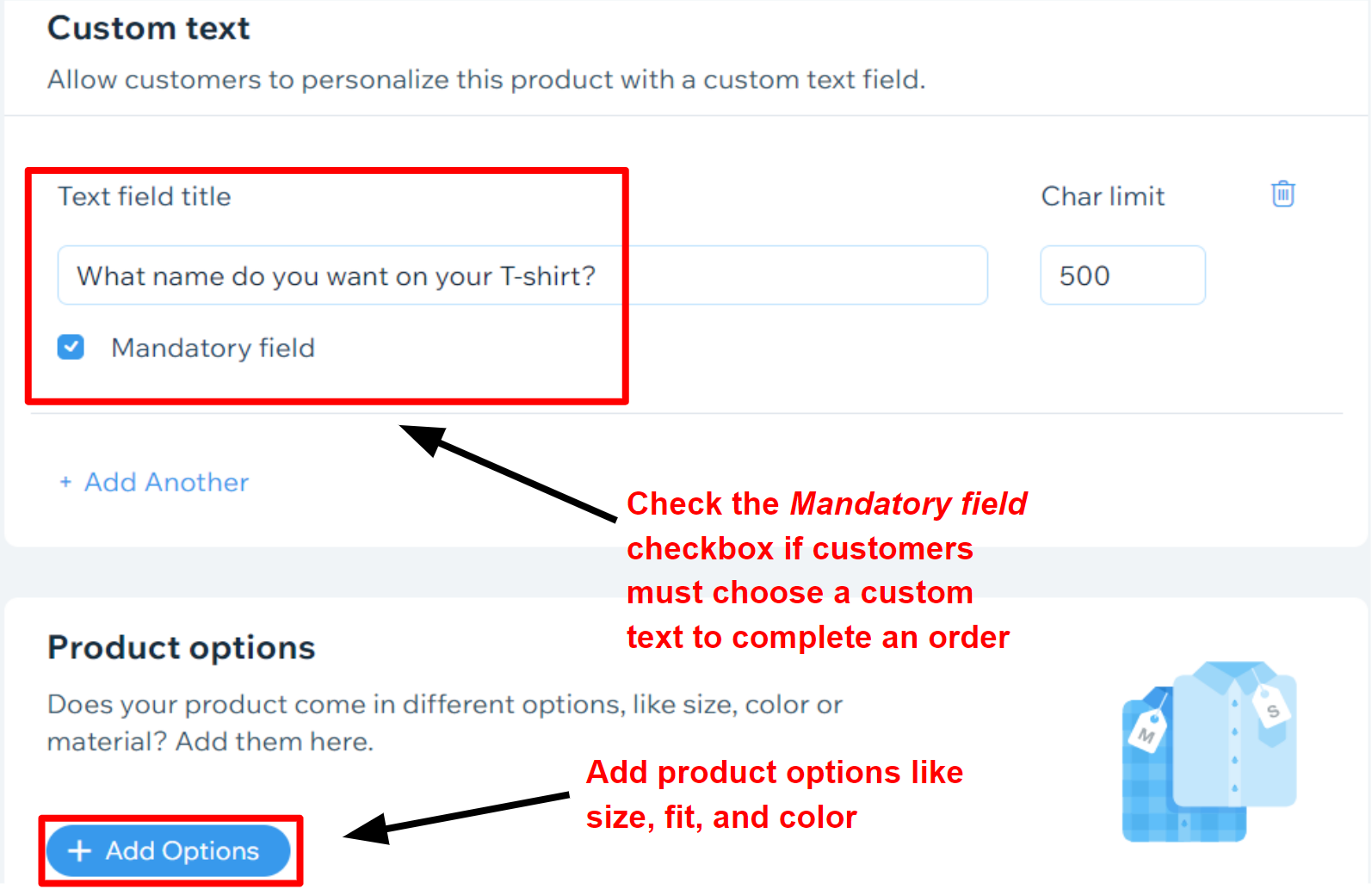 If you want customers to personalize their T-shirts with custom text (e.g., slogan or name), insert the customization options under
Custom text
. You can set product choices for each product, such as small, medium, large, and extra large. Product variants refer to the total number of variations one product can have. For example, if you have two product options and each comes in three choices, the product will have a total of 6 variants.
You can add up to 6 product options, 100 choices, and 1000 variants for a single product on Wix.

You can track inventory automatically or manually and enable pre-orders for out-of-stock items. If you decide to accept pre-orders, the
Add to Cart
button on the front end will automatically switch to
Pre-Order
when the product is out of stock. Hit
Save
at the button right corner, and your first T-shirt will be up in your online store!
Update Your Store Settings and Payment Information
Wix has a store set-up checklist accessible from the site dashboard to help you finalize your website creation process without forgetting anything.
Wix has 70+ payment options and a native solution.
I tested and reviewed Wix Payments
and can confirm that it's the most convenient and cost-effective payment method, provided it's available for your location. It allows you to offer an on-brand checkout experience and save on fees that other providers and platforms often charge. Still, some customers who haven't heard about it might turn away due to the lack of options. It's best to offer popular payment providers, like Paypal and Stripe, on top of Wix Payments.
Preview and Launch Your T-shirt Store
Ready to start selling T-shirts online? Awesome!
Before you go live, test everything on your site, from the homepage to product pages, contact forms, apps, buttons, and shopping features.
Browse your pages as a user to get a feel for the experience. Any hiccup can cost you sales, so this is the time to ensure everything works as intended.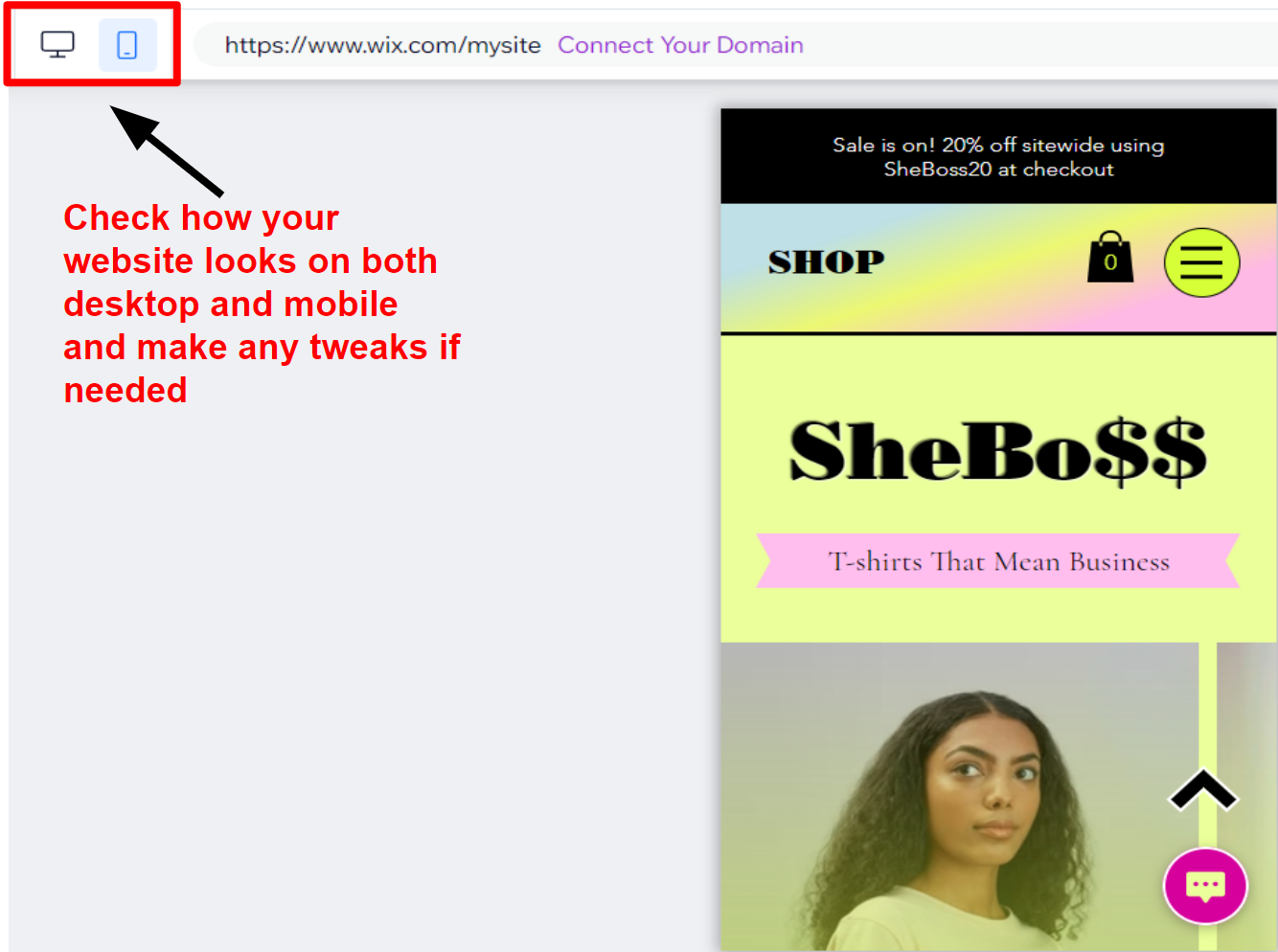 Wix offers extensive design freedom, resulting in mobile-friendly sites that aren't always fully mobile-responsive. To ensure optimal mobile performance, limit template modifications and don't add too many third-party apps. Utilize the mobile preview in the Wix site editor to assess your site's mobile behavior and make any required adjustments.
Once you launch your site, run a speed test.
On average, websites take 10.3 seconds to load on desktop and 27.3 seconds on mobile. That said, most users prefer 3-second load times, and almost half will abandon a site that takes longer. You can check your site speed within the Site Speed dashboard accessible from the
Analytics & Reports
tab, where you can also find helpful tips to improve your load time.
Start Selling on Amazon, eBay, and Social Media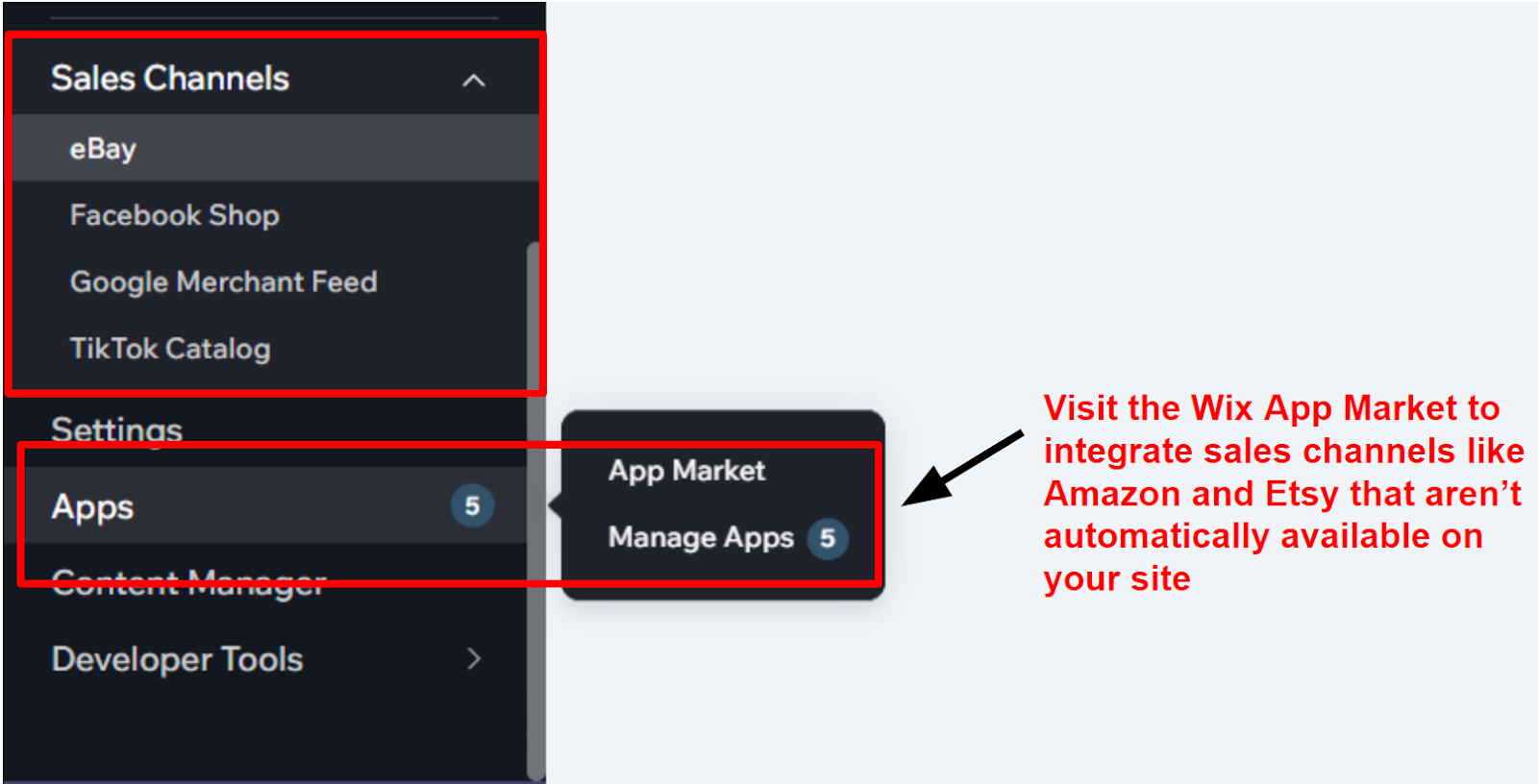 Sales channels like
eBay
,
Facebook, TikTok, and Google Merchant Feed
, are readily available from the Sales Channels in the account dashboard. You can
add a shop button to your Instagram posts
to direct users to your online store. You first need to connect your Instagram business account to your Facebook Shop and then integrate it with your Wix site. You can also feature your Instagram feed on your site.
Pinterest
is another great channel to showcase your T-shirts. Both people looking for inspiration and those with a clear purchase intent hang out on the platform. You can drive people to your store organically or through promotion.
Amazon
has around 310 million customers worldwide. If you can keep up with the competition (6.3 million sellers across different categories), you can sell on Amazon via the available integration. Wix also enables you to connect your site to an
Etsy shop
. Compared to no transaction fees at Wix, Etsy's 6.5% fee might sound too high, but with around 96 million shoppers, it might be worth listing your T-shirts on the platform. With 138 million active buyers, eBay is another option, and it's readily available through the Sales Channels tab.
Promote Your Online T-shirt Store
As an app focused on visual presentation,
Instagram is the perfect place to showcase your T-shirt designs
. If you are targeting a younger audience, promote your designs on TikTok. Check out the
best social media management tools for business
to get the most out of your social efforts.
Facebook Dynamic Ads
allow you to promote an entire product catalog across FB, Insta, and other audience networks. The platform's
Collection Ads
are another great way to stretch your marketing money by promoting multiple designs at once. If you need help with your ad campaigns, check out the
best social media ad creators
. Do you sell T-shirts for a fashion-conscious audience? Start a blog to give your audience style tips and ideas on how to wear your designs. With a blog or without,
Wix's redesigned SEO Dashboard can help you master the SEO game
with its personalized SEO checklist, SEO settings, Search Console performance data, and advice tailored to your level of knowledge.
Email marketing can keep your audience engaged, run promotions, and announce new drops.
Don't know anything about building an email list and running campaigns? The
best email marketing services
got you covered. Wix also has a decent native email marketing solution. If you're ready to dedicate time and money to your T-shirt business, it can most definitely generate income over time. But it's easy to blow your marketing money when you're just starting.
These
freelance websites
have experts with affordable rates to put your budget to good use.
Launch Your Online T-shirt Store Today
An online T-Shirt business can actually make you a good profit
. Yes, we're not short on sellers, but do you know anyone who doesn't wear T-shirts? I don't! Still, you can't expect to launch a store and forget about it. Keep it fresh with new designs, content, and occasional promotions.
Track your site performance, do more of what makes you profitable, and improve any weak points along the way.
Selling on a platform like Wix that offers advanced analytics, automation, and expert advice will make this part of the job less time-consuming.
Wix provides all the tools you need to run a profitable online T-shirt store no matter which business model you choose
, and this guide has everything to get you started right off the bat. If you have a few designs ready, you can set up a simple T-shirt shop in an hour or two. Connect it with a POD service, and you can start selling today!
FAQ
How to sell T-shirts online without inventory?
Create your own online store
and connect Print-on-demand (POD) or dropshipping services. With POD, all you have to do is provide the designs. Dropshipping is a business model where you can connect with trusted suppliers and sell their T-shirts online without keeping stock.
Is selling T-shirts online profitable?
Selling T-shirts online can be profitable with the right designs and marketing. Print-on-demand (POD) services typically allow for 40% profit margins, while dropshipping typically has 20% to 60% profit margins on T-shirts.
Where is the best place to sell T-shirts online?
Building an online store to sell T-shirts online is the best way. You get more control over your content, product presentation, and conversion elements, which ultimately translates into more sales. You also can build direct relationships with your customers and drive repeat business. With site builders like Wix, you can run an online store for an affordable monthly subscription.
How do I sell my own T-shirt designs?
The easiest way to design and sell T-shirts online is to create your own online store and connect it to a POD (print-on-demand) service that handles production, printing, and shipping. It allows you to sell your designs without inventory. You can also sell on marketplaces or purchase blanks and partner with a local printing service (but then you'd have to handle everything yourself, which isn't ideal).