You'll also save on hefty sales fees and keep more of your profits.
What's more, designing a website is much easier than you might think when choosing a dedicated e-commerce platform like Shopify. And it doesn't have to cost a fortune, either. Shopify offers an inexpensive starter plan that lets you sell on social media and messaging apps. It includes
essential marketing and business tools, and the monthly cost at $5 is less than a one-time coffee fix from Starbucks.
Beginners Guide To Selling Shoes Online
While building a successful online shoe store might feel overwhelming, taking it step by step will make it much less challenging. To start, you'll want to think about the type of shoes you want to sell and how you'll stock your store.
Narrowing your focus to a specific niche in the footwear market will make it easier to differentiate yourself from the competition.
That might be women's or men's shoes, sneakers, boots, or shoes for kids. It pays to "niche down" even further. For example, if you want to sell women's shoes, build your brand around one segment of this niche, like ballet flats (trending) or chunky soled shoes, and think about how to
develop focused messaging that will make your store stand out and attract the buyers you've targeted.
You can turn to a free tool like Google Trends to see what shoe enthusiasts are searching for, check social media websites, or browse a marketplace like Amazon to learn what shoes are in demand.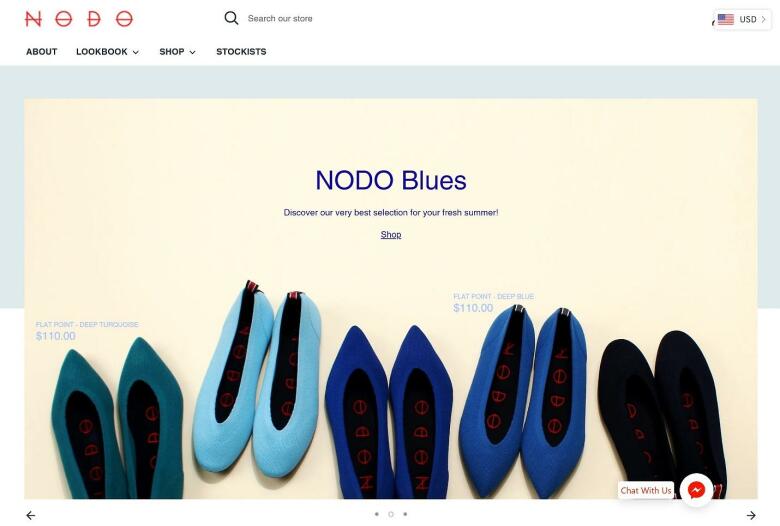 The successful Shopify NODO shoe store built its brand by offering a modern take on the classic ballet flat with a signature twist – their shoes are woven from recycled plastic waste. Each pair is stylish, comfortable, and sustainable. Once you've settled on a product and identified your target customer, you'll also want to examine the competition and look for ways to differentiate your brand. You can check their websites, product reviews, and customer ratings to see how they measure up.
Decide How To Source Your Products
Once you have decided on the type of shoes you want to sell, think about how you'll source your products.
If funds are tight, dropshipping is a great way to launch your business without investing much into inventory.
You can browse dropshipping apps in the Shopify app store to see what shoe styles suppliers offer. If you decide to dropship, not only will you reduce your upfront costs, but you'll also do away with the hassles of shipping and fulfillment because the dropshipper will take care of that.
A wholesale marketplace like Shopify's Handshake is another way to keep your startup costs down.
Browse wholesalers to determine if they offer the shoes you plan to sell and the minimum initial purchase amount – it can be just a few hundred dollars.
Develop a Business Plan
Including all the information you've gathered into a business plan is a good idea. It doesn't have to be super detailed. Still, it should include the type of shoes your plan to sell, how you'll source products, your target demographic, competitor analysis (if you've completed this step), your budget, and a rough idea of your marketing strategy. Starting with a business plan template will make the process easier. Fortunately,
Shopify has one, along with helpful tutorials you can view before creating an account and setting up your store.
Choose the Right Platform To Sell Your Shoes
Even if it seems easier to jump right in and start selling on a marketplace like Etsy, Amazon, or eBay, it's wiser to hold off. These platforms make it hard for a new venture to get noticed – your shop or listing is one among thousands of look-alikes. That's the main reason why so many eager retailers quickly become discouraged. If making money selling shoes online is your goal, an online Shopify store is your best path to success. You'll have complete control over your store's design and features and everything you need to promote, manage, and build a profitable business.
Shopify has dozens of themes built for shoe stores designed to create a user-friendly shopping experience on desktop, mobile, or tablet
. Once you pick your theme, the beginner-friendly editor and helpful setup guide will help you customize your theme and start selling in no time.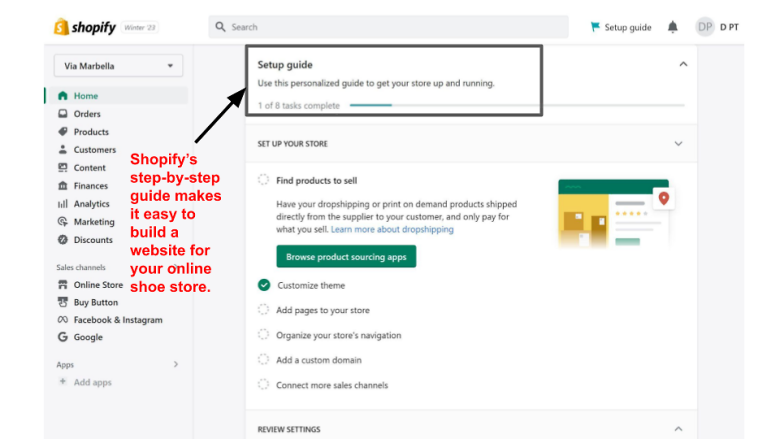 With
Shopify's multichannel integration, you can still sell on social media (Tik Tok, Facebook, Instagram, and Pinterest) and popular marketplaces (Etsy, Amazon, and eBay).
But instead of the hassle of going from platform to platform to check on your sales and payments, you can manage everything from your Shopify dashboard. It couldn't be simpler.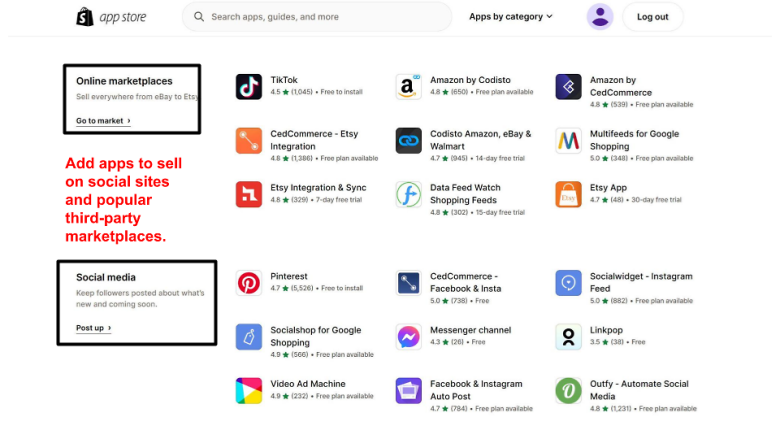 Another advantage to Shopify is that
you can choose a theme and try the platform during a free-trial period.
When your free trial ends, you can sign up for the Basic plan and pay just $1 per month for the first three months. Or opt for the $5 per month Starter plan and start selling on social media and messaging apps. Learning how to sell shoes online via Shopify is pretty straightforward. To make things even easier for you, I'll take you step-by-step through the process of designing a high-converting online shoe store.
Choose a Good Name for Your Online Shoe Store
It's a good idea to choose a store name that's simple and easy to remember. Ideally, it should identify the type of shoes you sell and capture what sets your brand apart. A good domain name is equally important. It's the URL a customer types into their desktop or mobile browser to access your store.
Like your store name, your domain name should be short so customers can find you easily.
It should match your store name exactly or include your store name and a couple of relevant keywords.
If you're struggling with your business's name and domain, Shopify has nifty business tools that can help.
You can
start with the business name generator
 and then use the domain name generator to find a matching URL.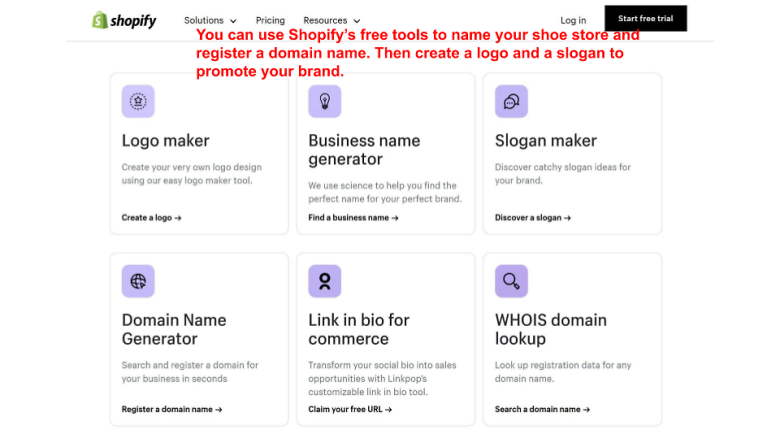 There are
20+ free business tools
you can turn to when setting up your store. Need a logo design? Shopify has you covered. Help with writing a return or privacy policy? There are tools for that too.
Customize Your Shopify Shoe Store
If you didn't pick a theme when you created your account, Shopify automatically loads Dawn (its free default 2.0 theme). But you're not locked in.
Shopify has 100+ free and paid templates,
and there's no limit to the number of pre-made layouts you can test or stores you can design during your trial period.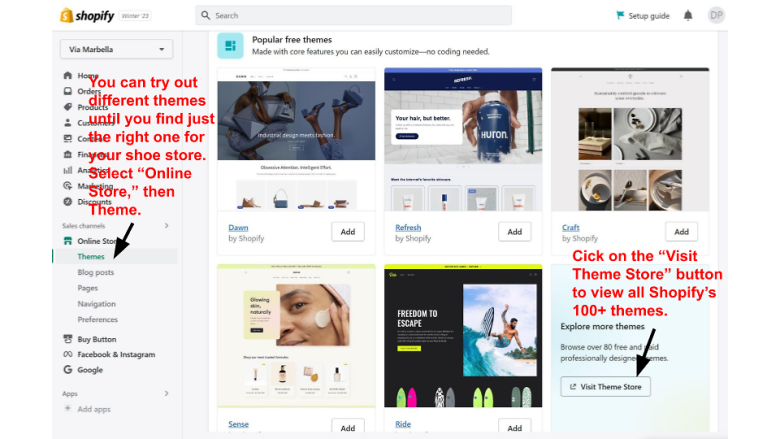 The Shopify theme library is organized by industry, catalog size, and features (menu styles, sticky header, quick view, etc.). You can also filter themes by date released, popularity, and price.
A search bar even lets you narrow your options to themes recommended for selling shoes.
Once you've settled on a theme with the style and features you want, you can start personalizing the images, background, colors, and text to suit your store's unique brand. The theme editor also allows you to add, remove, and edit content. You'll find
Undo
and
Redo
icons and a
Save
button in the top right corner of the editor.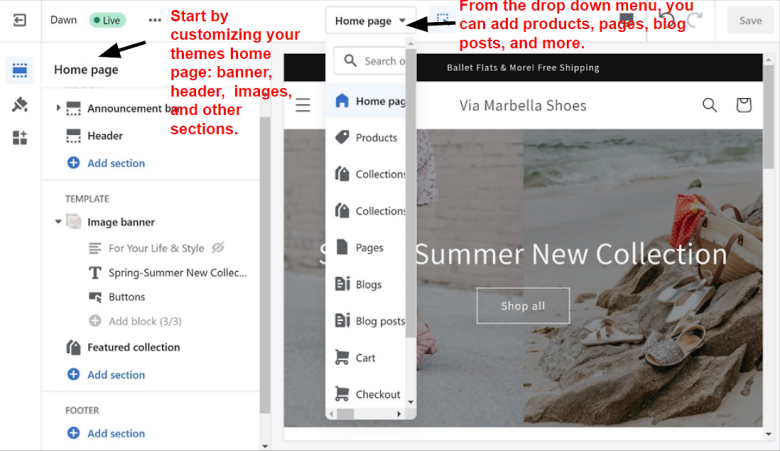 If you've chosen an Online Store 2.0 Shopify theme, you can use drag-and-drop sections and blocks to create custom pages for your store.
You can insert links, banners, images, and videos on any page
. The latest updates to 2.0 also allow you to drag some (but not all) design elements where you want them. While your theme has essential pages, such as a Blog, you can add others by clicking
Add Page
in your dashboard. Then you can use pre-built page templates, such as those for the Contact and About pages. One of the best things about Shopify is its app store, stocked with thousands of apps (many free) that you can install
to source products, add social media feeds, track orders, incorporate live chat features, design email marketing campaigns, and more.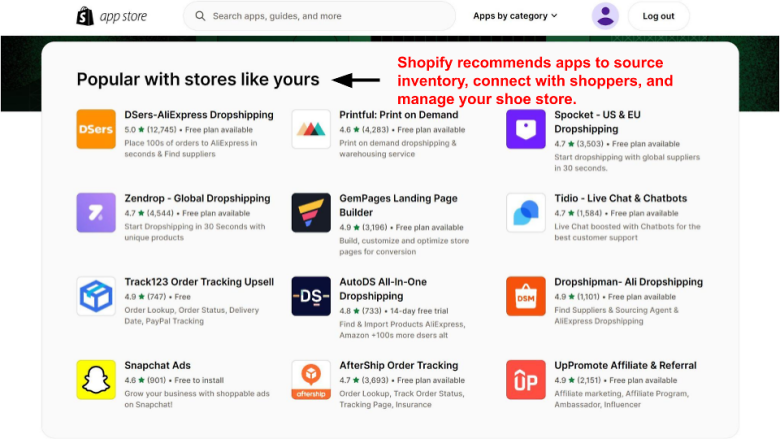 You can browse the app store by clicking on
Apps and Sales Channels
in your store settings or start by adding apps Shopify recommends for shoe stores.
Add Shoes as Products
Adding products to your site and managing your offer to third-party sales channels can be challenging. Themes are built for visual merchandising, a must for online sellers. To add inventory to your store,
simply click Products on your Shopify dashboard and upload a product image and description.
Most buyers will want to see multiple photos of each shoe style for a more "in-store" experience, including side, front, and back views (including video).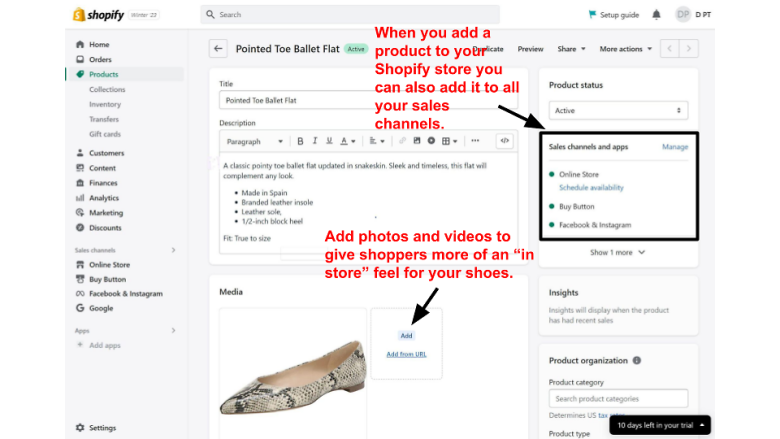 It's always best to display your shoes against a neutral or white background to eliminate distractions. The aim is to provide excellent media and detailed product descriptions that clearly highlight the benefits and features of each shoe style
. That can make shoppers more confident about purchasing
and reduce the likelihood of returns. Suppose you're offering a shoe in different finishes (snakeskin, leather, or suede) and multiple colors. In that case, you can use the product variant section to set different prices and availability for each finish.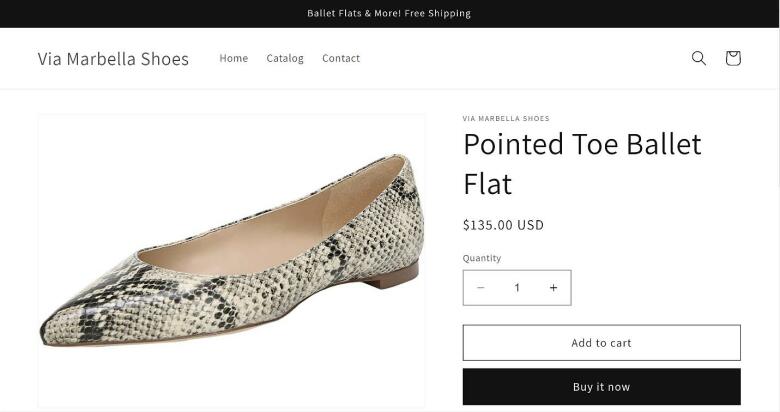 If you enable the lightbox view, shoppers can click on a photo and bring up a full-screen image for a close-up view. Other built-in tools allow you to crop, rotate, and resize your photos.
Update Your Store Settings and Payment Information
From your Shopify dashboard, you can access all your store's settings, including the customer checkout experience, payment options, shipping and delivery, taxes, duties, and more. Simply navigate from
Payments
to
Policies
. Shopify offers 100+ payment gateways, but it makes sense to
use Shopify Payments to avoid the transaction fee on top of the standard credit card processing fee.
Other transaction-free payment options include PayPal, Amazon Pay, and Apple Pay.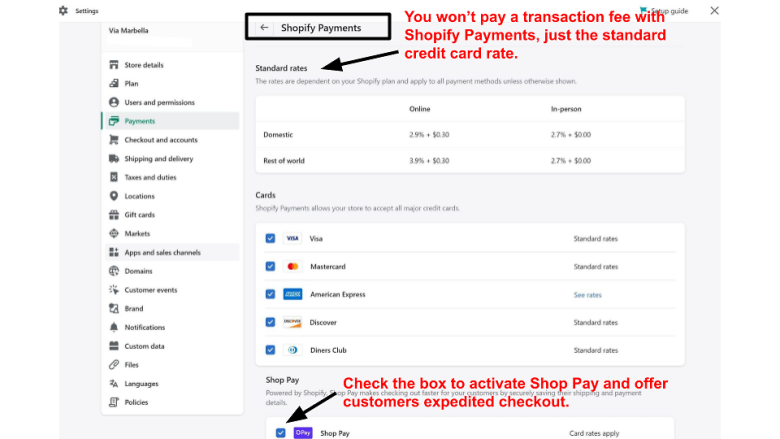 Whether you choose Shopify Payments or a third-party processor, customers can pay with over 60+ methods, including major credit/debit cards, digital wallets (Apple Pay, Google Pay, and Samsung Pay), and bank transfer.
When
you enable Shop Pay, your customers will enjoy an accelerated checkout experience.
They can also choose to pay in interest-free installments. The
Checkout
setting lets you personalize your store's shopping experience. Activating
sign-in with Shop
allows customers to set up accounts and securely store their personal information and preferred payment method. After signing in with Shop, their information is pre-filled at checkout, and they can complete their purchase with a click.
Notifications is where you access Shopify's productivity tools to make your business run smoothly and improve customer relationships.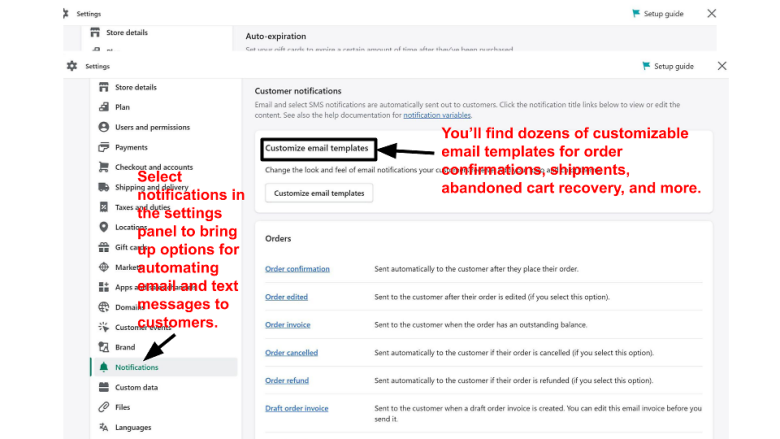 You can automate 16+ email notifications, including new customer "welcome" notices, email signup confirmations, abandoned checkout discount offers, order status, shipping updates, and refunds.
Click on Brand to upload a logo, colors, cover image, and slogan
– aim for a consistent look for your shoe store across all your sales channels. The
Settings
panel also has templates for your store's contact information (it will appear in the footer by default), its terms and conditions, and refund, privacy, and shipping policies. You'll find them under
Policies
.
Preview and Launch Your Shoe Store
Now it's time to preview your shoe store on desktop and mobile. You'll want to ensure that all your content shows correctly without spelling or grammatical errors. Then
test the navigation menu and all clickable buttons, links, and images
. Broken or misdirected links are a big no-no – they turn shoppers off.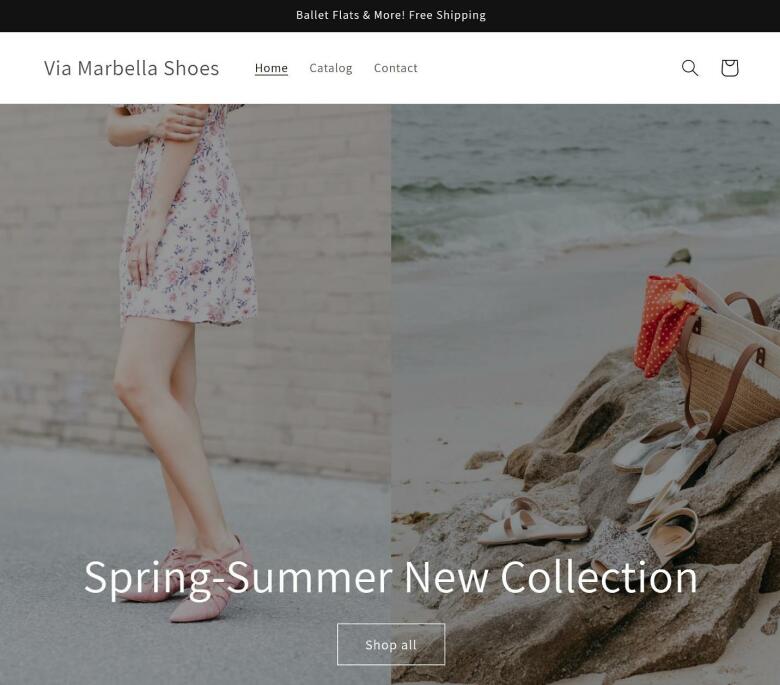 The most crucial step is to shop your store to make sure it offers a good user experience.
Select a product, scroll through the photos (and video if you've added one), and zoom in to see finer details. Then bring up the size chart and ensure product variants, like color selection and trim, are properly displayed. Lastly, add an item to your shopping cart and go through the checkout process. It should be easy for shoppers to select a payment method and create an online account or checkout as a guest. Confirm that promotional discounts, taxes, and shipping costs are correctly applied. That includes free shipping. Before you hit the publish button,
remember to check your Shopify speed score
. You'll find it by going to
Online Store
>
Themes
. If the data is available, there will also be a link to a report that compares your site to similar Shopify stores and scores it as faster, comparable, or slower. You can follow Shopify's recommendations to optimize page load speed. You can use the Google Lighthouse tool to see how fast your site loads on mobile. After that final check, your store is ready to go live!
How To Sell Shoes Online and Turn a Profit
With a well-designed website, a niche product, a unique selling proposition, and the right platform, you can build a successful online shoe store.
When you choose Shopify for your online shoe store, you can count on its fantastic e-commerce tools and features.
They can save you a lot of time and effort. You'll have everything you need to create a visually appealing storefront that's a pleasure to shop – precisely what it takes to attract customers and keep them coming back.
FAQ
Can you make money selling shoes online?
With a dedicated e-commerce store builder like Shopify, you'll have the tools, features, and support needed to tap into the growing global demand for shoes and build a profitable shoe business. A well-designed website, a good niche product, and an effective marketing strategy will put your business on a sound footing.
How do I decide what type of shoes to sell on Shopify?
Take the time to do in-depth product research and sourcing. You can sell brand-new shoes or resell in-demand vintage shoes. What's most important is choosing a niche product that satisfies a particular need. You're more likely to succeed with this approach than if you try to sell to the broad footwear market.
What's the cheapest way to start selling shoes online?
Inventory is one of the highest startup costs for online shoe sellers. Partnering with a dropshipping service will allow you to sell shoes without having to buy inventory. The Shopify app store has hundreds of apps for dropshippers, including print-on-demand services and marketplaces, so you'll likely find one that offers the type of shoes you want to sell
Which is the best platform to sell shoes online?
Shopify is one of the best platforms for selling shoes. It offers top design, e-commerce, management, marketing, and analytics tools to help you launch and build a profitable online shoe store. Plus, you can add popular social sites and marketplaces like Facebook, Amazon, eBay, and Etsy to your Shopify shoe store to build your brand and tap into a broader audience. If you're still unsure, our in-depth review of the 10 best website builders in 2023 can help you decide.