Superb Internet has been providing North America-based hosting since 1996. Currently, it has hundreds of thousands of customers from 150 countries, so it's certainly a well-established business.
This article is going to take you through the entire process of setting up an account with Superb Internet, including step-by-step instructions and images. By the end, I'll have covered any questions or concerns about creating an account. If you'd like more information about Superb Internet, you can read my full review.
Getting Started
Creating an account with Superb Internet was fast. It took me less than five minutes to choose a plan, configure it, and pay. I chose GridLITE because it has unlimited monthly traffic and 20GB of disk space, which was more than enough for me.

There were a few add-ons presented during the checkout process. Although my plan came with a free Let's Encrypt SSL certificate, I could purchase a separate Comodo Essential SSL certificate for a one- or two-year period.
Extra email accounts were available as well (at an expensive rate), but the plan already comes with 1,000 email accounts, so I chose to do without this option.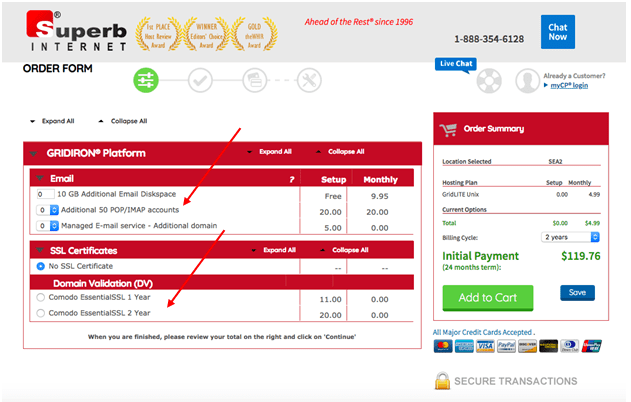 A managed email service was also available at an additional cost. I'm not a fan of upsells with shared hosting plans, since it often seems like the company is just trying to find ways to make more money off its customers. However, luckily for me, none of these were required due to the high resource allocations already included in the base package.
Modes of Payment
Superb Internet offers a good range of payment options, including the usual credit card choices (Visa, MasterCard, Diners Club, Carte Blanche, JCB, American Express, Discover / Novus, Union Pay) and PayPal, provided you have a credit card on file.
The company also allows offline payments by check, wire transfer, mail-in checks, money order/bank draft, postal money order, or Western Union – and this is something you don't see very often.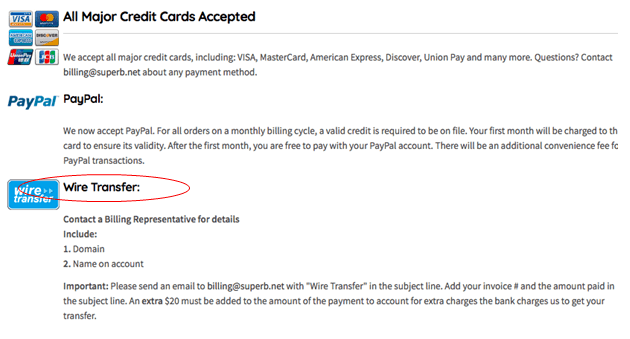 A Slight Hiccup
The process to create an account and pay was smooth and quick, with one major caveat: it wasn't an instant setup. I received two email receipts once I'd paid, an order confirmation once the process was complete, and a welcome email a little later. Once I'd paid and created my account, I was advised via email that they'd received my order and were processing it, with no indication of how long this would take.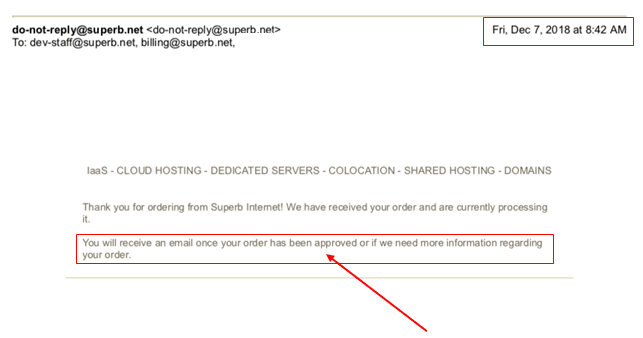 As Superb Internet is a U.S.-based company and I'd registered during the night, I had to wait about six hours before I heard back from a member of their team. Not quite 24/7 customer service – and likely indicative of a North American focus. It was fortunate I wasn't in a rush.
That said, after the initial six hours, a helpful customer service representative contacted me to confirm my order by phone and get the account set up. Once my account was live, I received a final welcome email with instructions on how to access my control panel.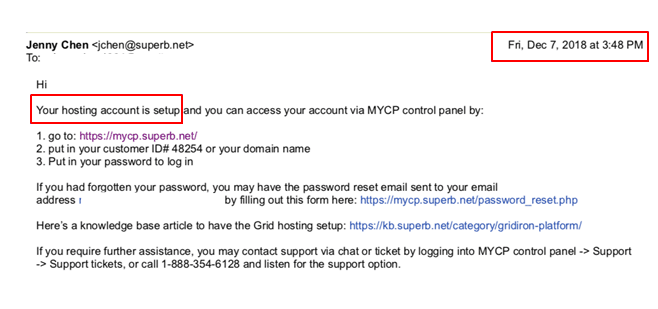 Conclusion
Overall, signing up was a smooth process. It only took a few minutes to sign up, pay, and receive my welcome emails. Aside from the expensive but optional add-ons, the whole checkout process was fine.
My only concern with the setup process was the six-hour lag time. This won't be an issue for North American customers though, and it was easily resolved by the friendly customer service operator.
If you're interested in Superb Internet, you can read more about its services here.