HostGator may not be perfect, but it was true to its word and gave me a full refund when I canceled my account. The process was completely hassle-free, even though I had
signed up for the cheapest plan
.
If you're thinking of purchasing a hosting plan from HostGator, or even if you already have one, you might be wondering how easy it is to cancel your account. Perhaps you're unhappy with your current plan, or you just want to know that it's not a big hassle to get a refund before you sign up. If you're ready to move your website to a new host, a good alternative is Hostinger. It has consistently scored very highly in our tests, and also,
Hostinger's plans are cheaper
 than HostGator's.
Quick Guide: How To Cancel HostGator and Get a Full Refund
Head over to the HostGator website and log into your account.
Go to your account dashboard. Once you're there, look in the left-hand sidebar for Hosting.
Click Hosting. After you've clicked on Hosting, find your hosting product, then find the Manage button underneath.
Click Manage. After that, click on Billing.
Click Cancel Package. This is the final step. Once you've given a reason for cancelling your plan, you'll be entitled to a full refund.
My Experience: Here's How I Cancelled My HostGator Plan
The first step in cancelling your plan is to
log in to your HostGator account
,
then head over to your account dashboard.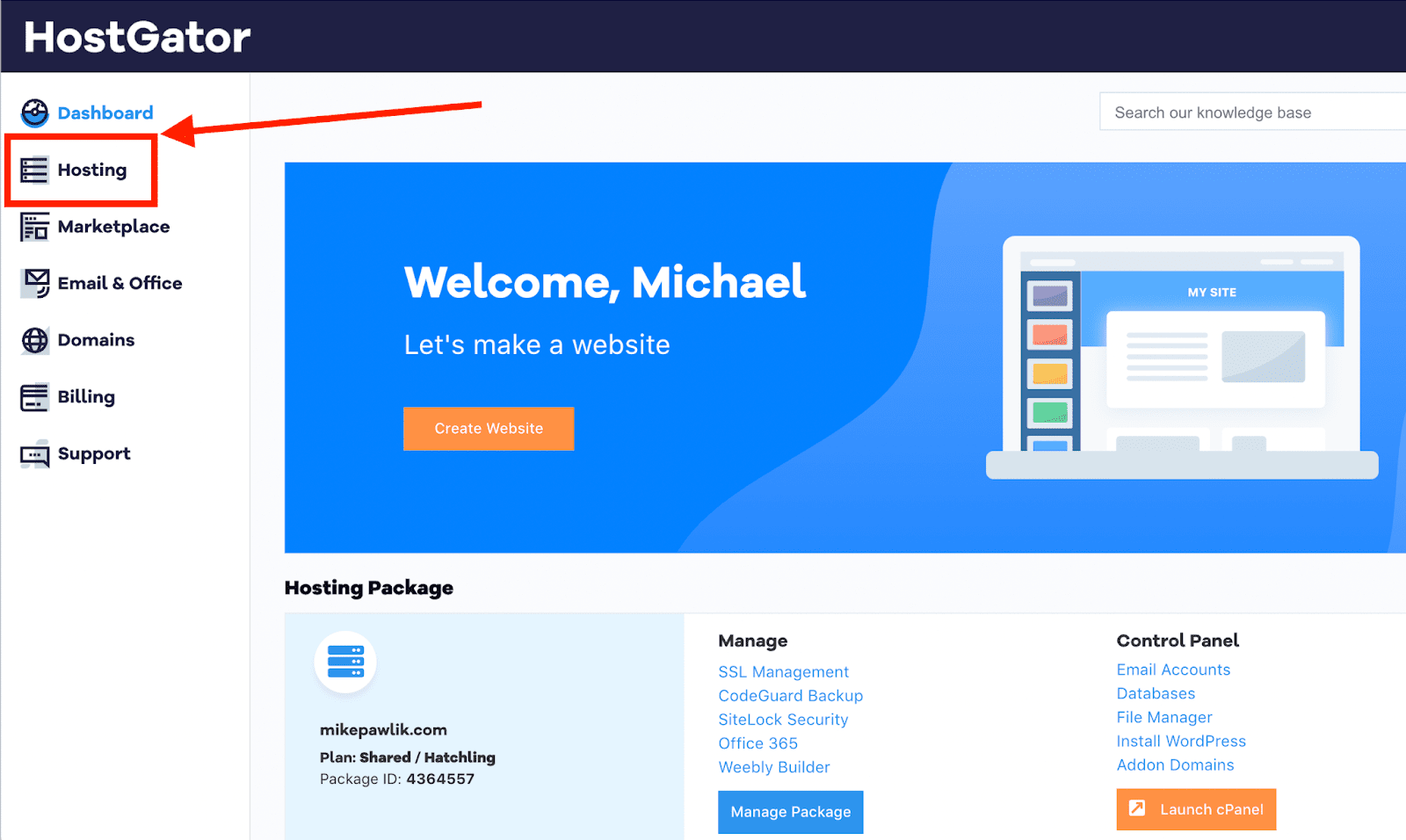 Once you're there, you'll need to
click on Hosting in the left sidebar
, found directly under
Dashboard
.

Once the page has loaded,
look for the hosting product you want to cancel, then hit the Manage link
right under its domain name.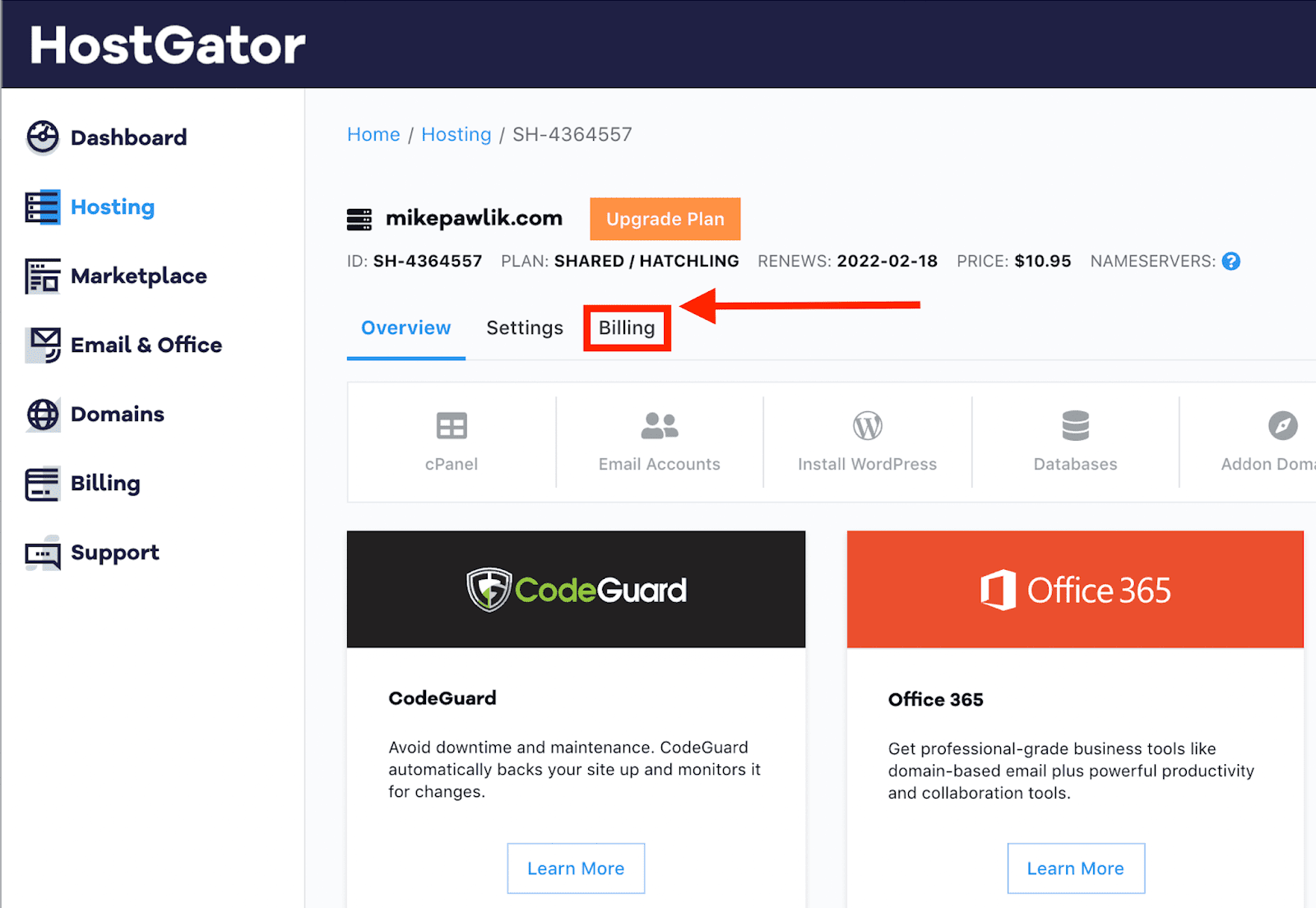 Once there,
click on Billing at the top
, under your domain name.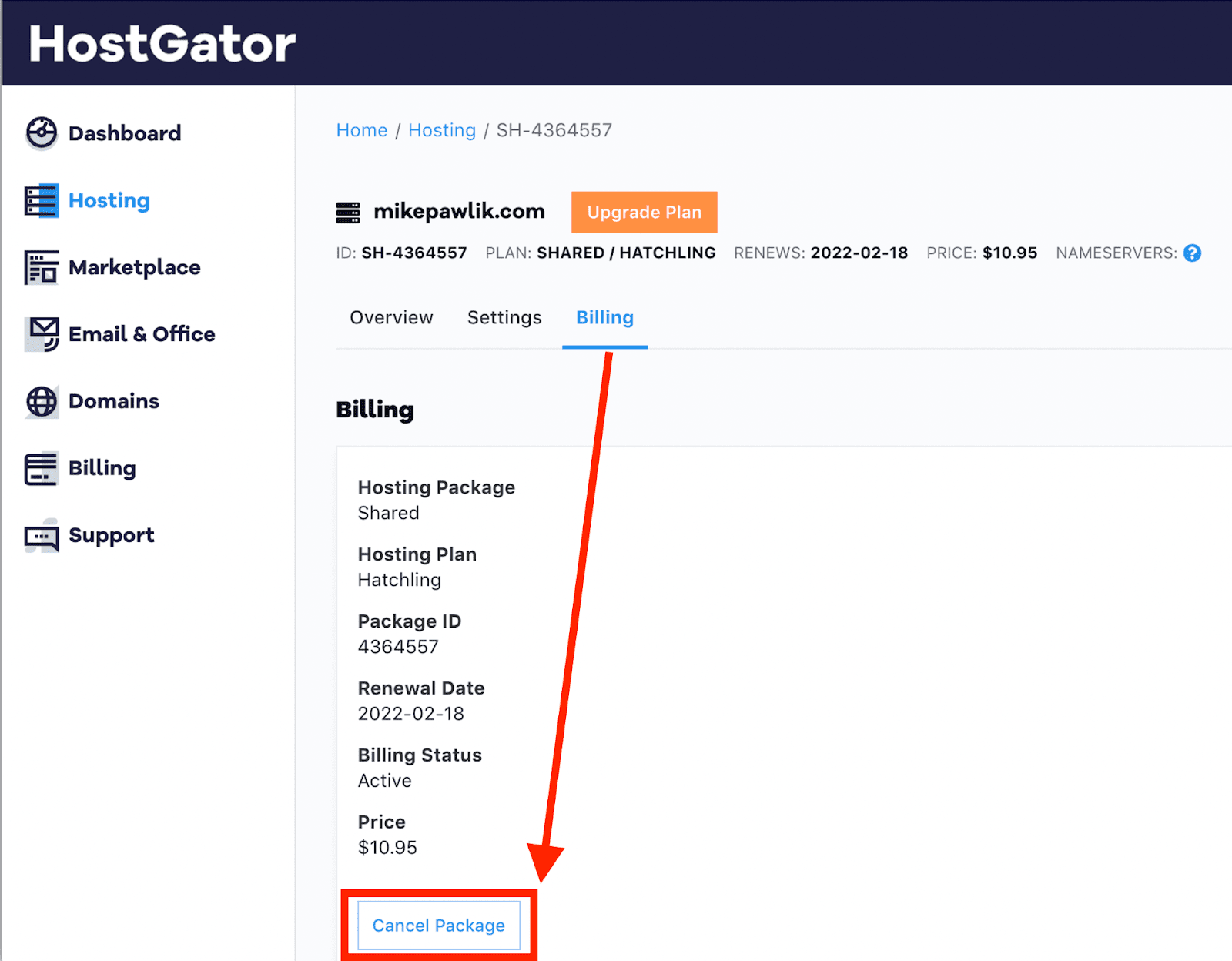 From there, you'll be able to click on the Cancel Package button,
which will take you to a screen to fill out the cancellation form. All you have to do here is provide a reason for the cancellation. Click on
Continue,
then click on
Finish Cancelling
. You'll have to wait about two weeks for your refund.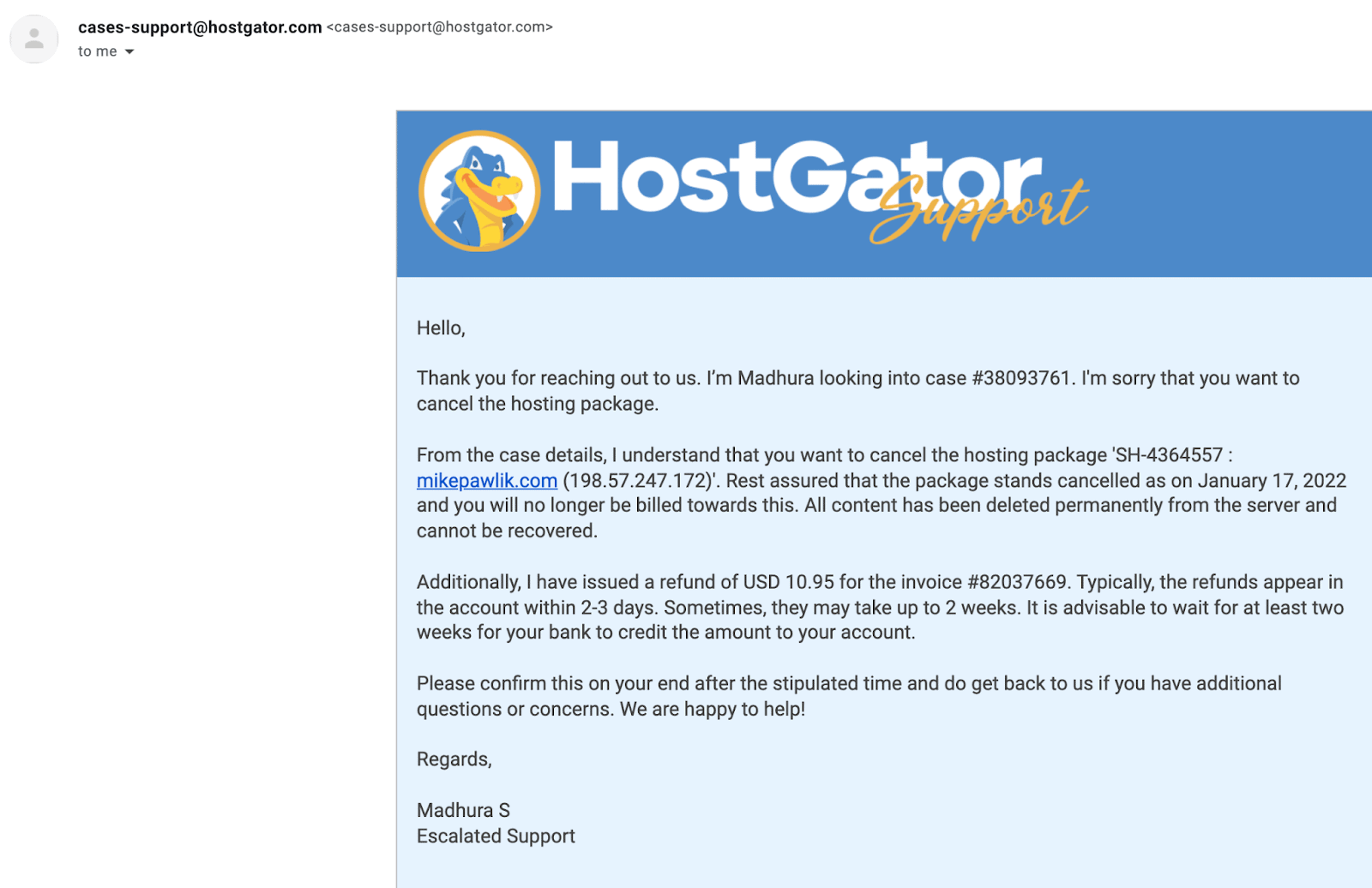 After I went through the process, I got an email from HostGator about five minutes later confirming my cancellation along with the issuance of my refund.
Be sure to note that the refund policy is only available for first-time customers.
If you've been a HostGator customer in the past, you can't get a refund on any of your current or future services.
3 Best HostGator Alternatives for Shared Hosting
Is it time for a new web host? Be sure to check out our favorite HostGator alternatives. I've tested all of the hosts below that have excelled in areas in which HostGator fell short.
Hostinger is one of the highest-ranked web hosts from our testing, and its customer service is miles ahead of HostGator's. The entry-level plan is ideal if you want to launch a basic website at an affordable price. And if you change your mind, Hostinger offers a 30-day money-back guarantee.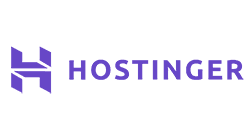 Save up to 75 % on your Hostinger plan!
Limited-time offer - Don't miss it!
7002 users used this coupon!
Nexcess makes it a big part of its job to help people build and host WordPress websites. Someone from the support team can help you out even if your issue is not hosting-related (which is something few other hosts offer). Aside from that, Nexcess is also a bit pricier, but I think it's well worth it for the premium performance as well as for the stellar support.


Save up to 33 % on your Nexcess plan!
Limited-time offer - Don't miss it!
55 users used this coupon!
InterServer is a respected web hosting provider that provides a 30-day money-back promise. Its Standard shared hosting package is notable for its endless storage and bandwidth. Different from HostGator, the cost remains consistent even if you choose to pay every month.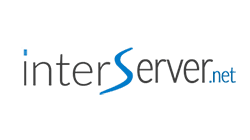 Get your first month of hosting for just $0.01!
Take advantage of this exclusive deal to try out InterServer.
424 users used this coupon!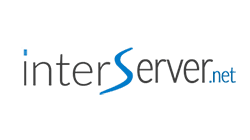 Get your first month of hosting for just
$
0.01
!
Copy and paste this code at InterServer
HostGator Makes It Very Easy to Cancel Your Plan (Within 45 Days of Signing Up)
At the end of the day, it's super-simple to cancel your HostGator plan. It only took me about two minutes. After canceling my plan, I received an email from support confirming my cancellation and providing details about my refund status within five minutes. The entire process was seamless, effortless, and did not necessitate direct communication with any individuals.
FAQ
How do you cancel your HostGator account?
If you purchased your HostGator plan less than 45 days ago, you'll be entitled to a refund. To cancel, simply log in to your account dashboard, then follow the instructions above.
Can you cancel your HostGator account at any time?
You have 45 days from the time of your purchase to cancel your account if you want a refund. If you cancel outside of the 45 days, you won't get your money back. If you're looking for a simple way to start a new website with a new web host after you get your refund from HostGator, you may want to check out our handy in-depth website building guide.
Does HostGator auto-renew?
By default, your HostGator services auto-renew. You can elect to disable this if you don't want it to do so. If you're planning to cancel your HostGator services, you may want to take a look at our list of the top-reviewed web hosts for 2023.
How do you contact HostGator?
HostGator offers 24/7 customer support in the form of live chat and phone calls, available in the top right-hand corner of every page of its website.