Amazon AWS may not be perfect, but it gave me a full refund when I cancelled my account. However, cancelling was harder than it needed to be – even though I had only
signed up for a cheap EC2 instance
.
Like many cloud computing platforms, the range of hosting options from Amazon Web Services (AWS) is diverse and complex.
I found Amazon's service to be harder to navigate than most
, and sometimes, critical billing information was deeply hidden in multiple menus. If you aren't careful, you may end up with a higher-than-expected bill total. So, perhaps you're looking for an easier platform to work with, or maybe you're after a greater degree of flexibility and better overall value.
Kamatera's platform is easier to use, and it offers lower on-demand prices
. Unlike Amazon AWS, you can build a fully-custom cloud instance with RAM and CPU levels set to your exact specifications, ensuring you pay only for what you need.
Quick Guide: How to Cancel Amazon AWS and Get a Full Refund
Log in. Enter your account details at the Amazon AWS website.
Terminate or delete all billable services. Click or tap EC2 in the list of services on the dashboard homepage, then terminate all instances and additional add-ons. If you have active services outside of Amazon EC2, delete these as well.
Pursue a refund. Press the question mark on the top toolbar, followed by the Support Center link. Write out a support request and choose a method of contact.
Close your account. Click your username in the top right, then the Account link. Scroll down to the bottom, agree to the terms, then hit Close Account.
My Experience: Here's How I Cancelled My Amazon AWS Account
Cancelling your account with Amazon AWS does not always stop all billable services
, so it's possible to incur charges for active services even after your account is closed. Therefore, you must manually terminate or delete all billable services with Amazon AWS before closing your account. It's worth noting that
Amazon AWS' Savings Plans can't be cancelled
– if you've made a one- or three-year commitment to a service, you'll have to continue paying the bill until the Savings Plan expires.
While Amazon AWS doesn't have a standard refund policy, it tends to be lenient about refunding accidental billings
. Some previous customers tell tales of accidentally racking up thousands in fees, though these were promptly refunded by support. In my case, I had set up a t2.small Amazon EC2 instance thinking it was part of the free tier. However, this turned out not to be the case, and I was charged for the service. So, I attempted to cancel my AWS account and get a refund. My step-by-step process is outlined below.
1. Enter your account details at the Amazon Web Services website.
You can log in by clicking the orange
Sign In to the Console
button on the top right of any Amazon AWS page.
2. Confirm all the billable services you'll need to terminate.
Leaving a sneaky service running after account cancellation comes with a risk of accidental billings, so you need to make sure you make a note of each individual service.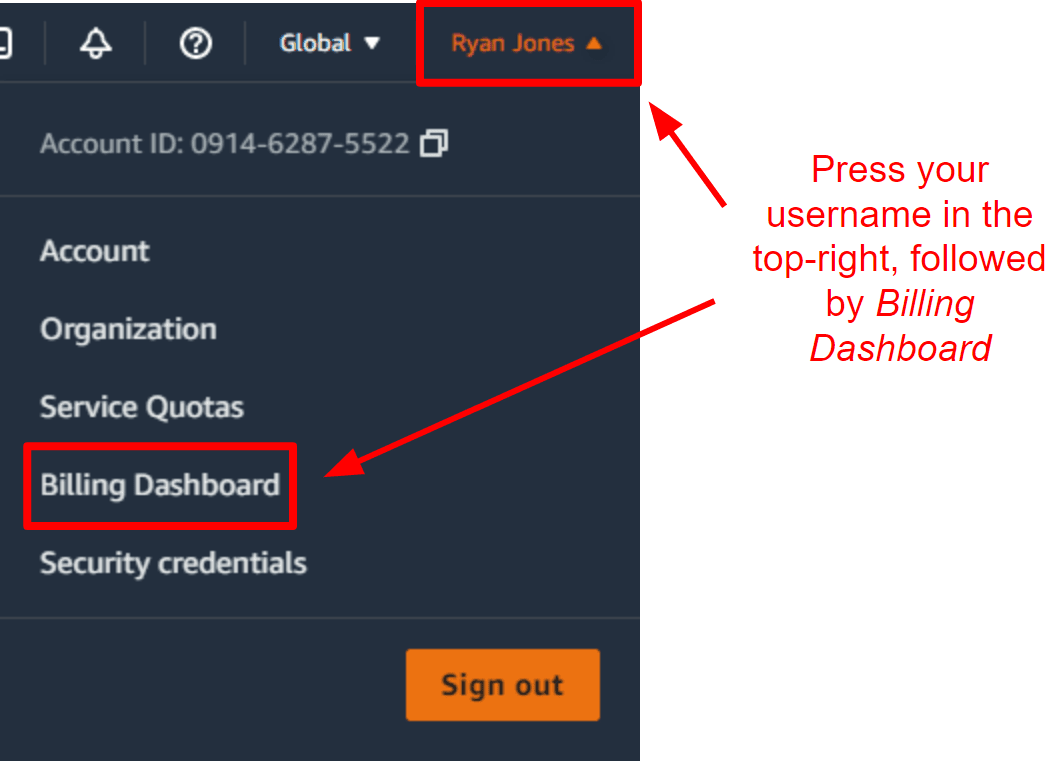 To see what services are accruing charges, click your username in the top-right, then choose
Billing Dashboard
.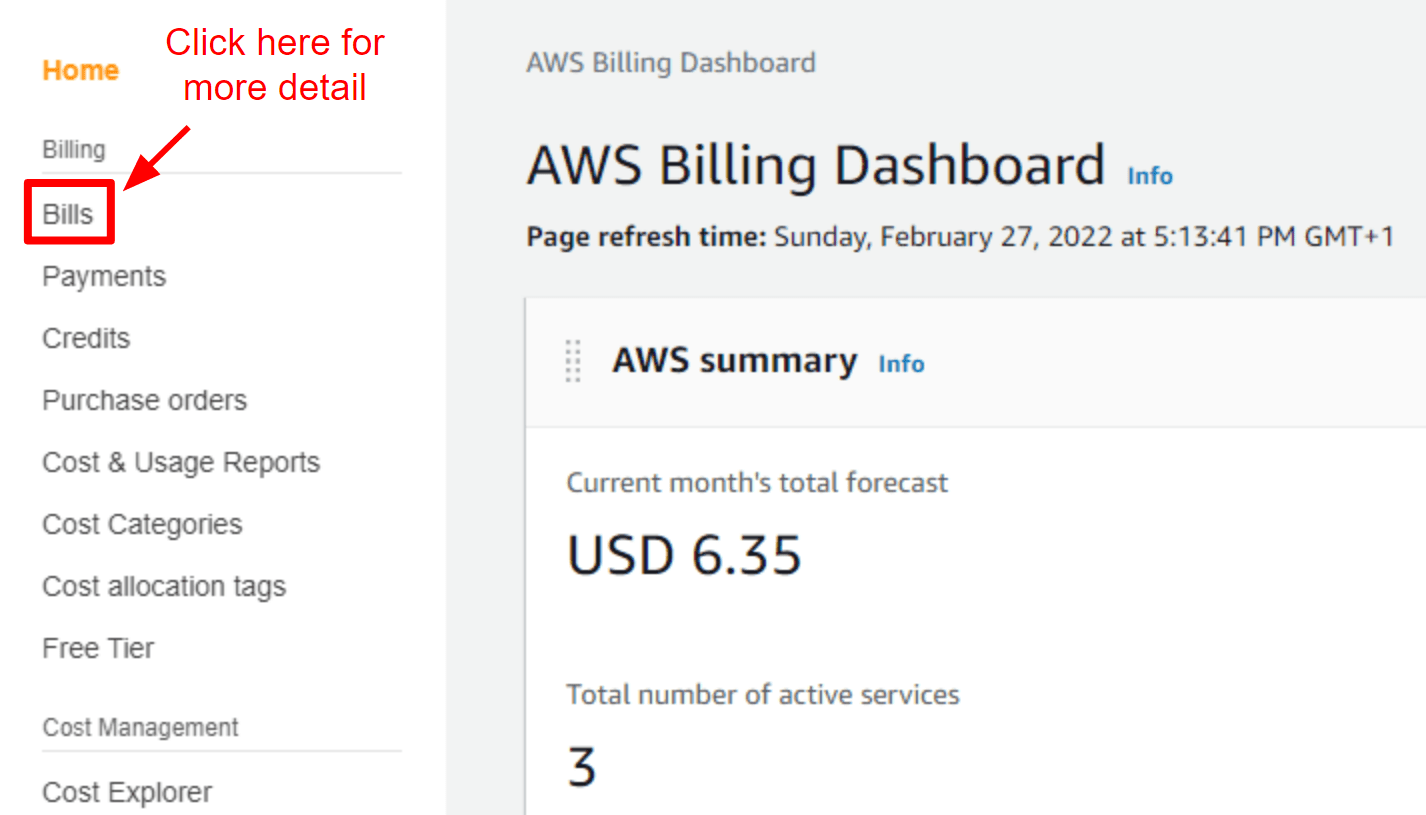 On this page, you'll see a general overview of your monthly expenditure and total number of active services.
If you've only just opened your account in the last few days, this data may not appear for you yet.
If so, you'll need to wait a few days or contact support to get a list of your billable AWS services. That said, this screen doesn't really give us the details you're looking for. To find out what particular services are adding up to make this bill, click
Bills
in the navigation menu on the left.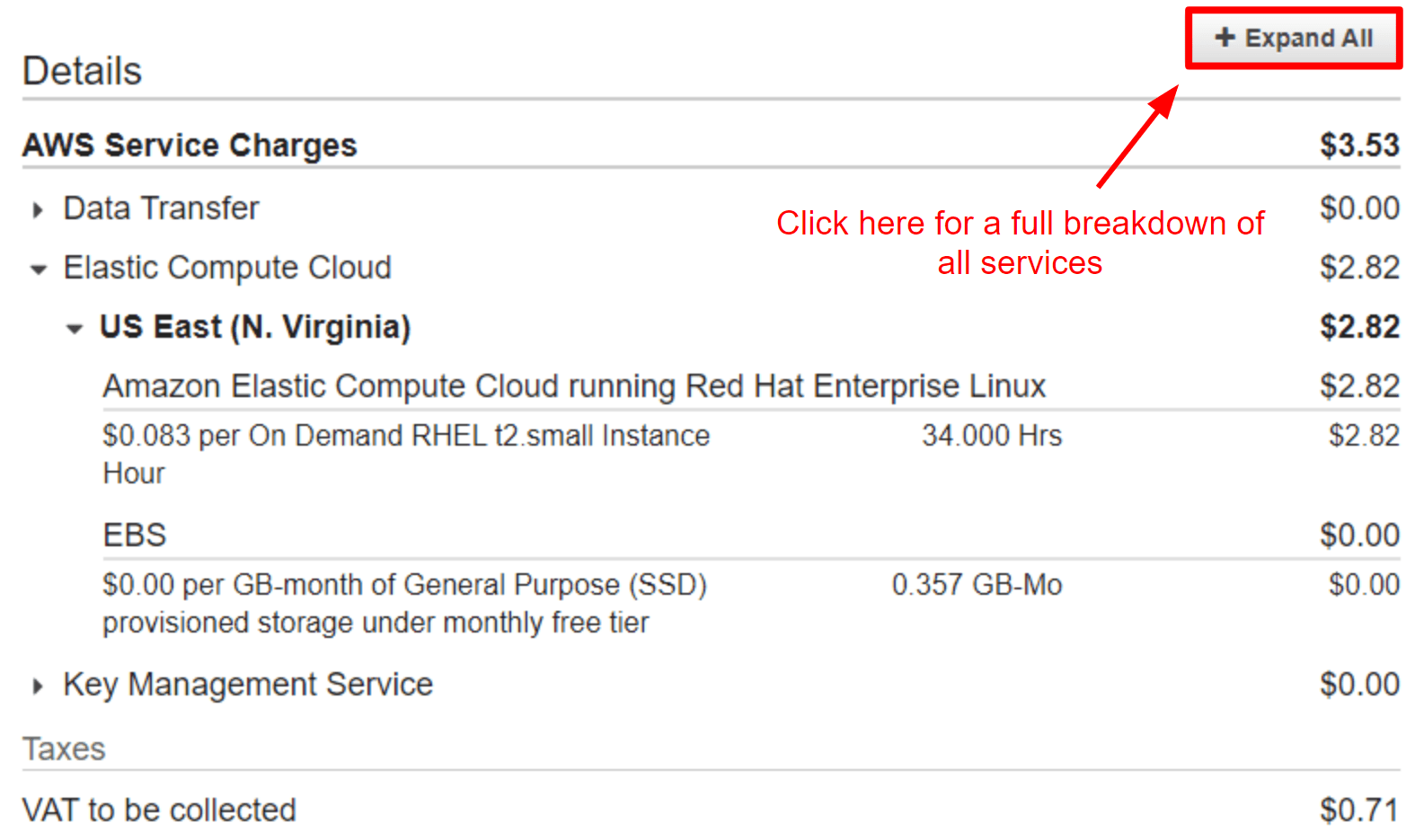 Here, you'll see a detailed list of all your active services. If you've been with Amazon AWS for some time, you should use last month's bill as the clearest indicator of all your active services. If it's your first month, the current month's bill will do. You can change the bill you are viewing with the drop-down menu at the top of the screen. Make a note of the services you'll need to cancel. Some services, such as Amazon EC2, have associated billable sub-services that are hidden under sub-menus, so
I highly recommend clicking
Expand All
to see everything you may be charged for
.
Also, make sure to note in which region each service is active
. Unfortunately, there's no way to cancel a service for all regions – you'll have to cancel each particular instance manually within its respective region (more on this later). Even with plenty of experience working with complex cloud hosts, I found myself a bit perplexed here. Why did I need to go through two separate sets of menus just to see what services I'm being charged for? I also found some items on the bill to be confusing. I had a $0 bill for Key Management Service – which I had never heard of before. Did I need to cancel it? Would it accrue charges if I left it alone? Eventually I discovered it was for the SSH keys to my instance, and that it wasn't a service that needed to be cancelled. But I would've liked to see a more precise description of each service in the itemized bill.
Once you've established the list of services that need to be cancelled, you can begin terminating them
. Unless you've purchased additional services outside of EC2, the entire process can take place within the EC2 dashboard. This was the case for me, so I headed straight there.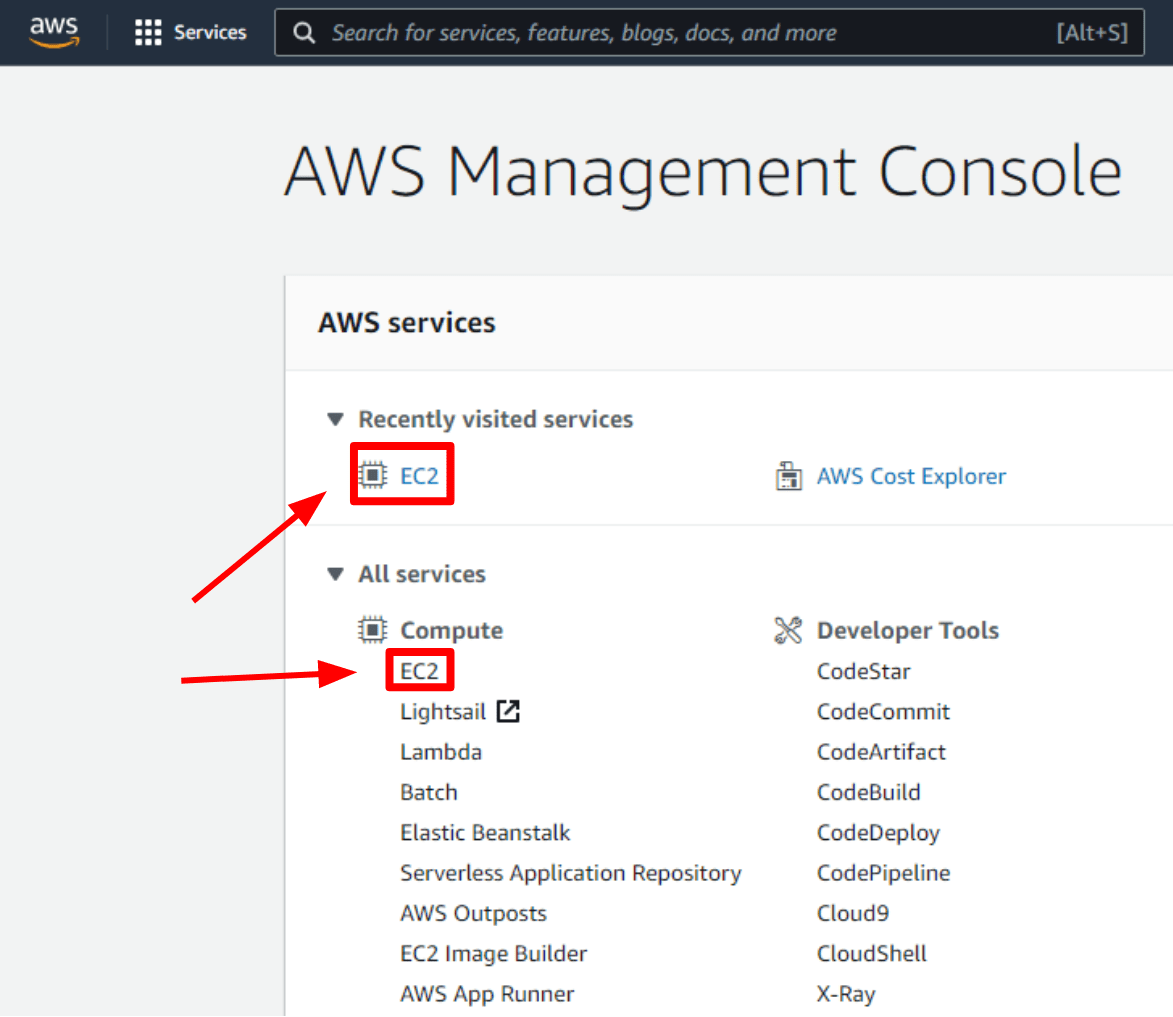 3. Terminate your billable services.
In my case, I just had to cancel an EC2 instance, so I went back to the dashboard homepage by clicking the Amazon AWS logo in the top left. Here, you'll see a list of all AWS services. I was able to click
EC2
in the
Recently visited services
tab to head straight to the EC2 dashboard. Or, you can open the
All services
tab – you'll find the
EC2
link right at the top.

You'll now find yourself in the EC2 console. At the time of writing, Amazon AWS was trying out a new console layout. The following process follows that new UI – if you're on the old one, the screenshots and instructions may not line up for you. You can change to the new dashboard easily by clicking the
New EC2 Experience
switch on the top left.
To cancel an EC2 instance, click its ID to go to a detail screen
.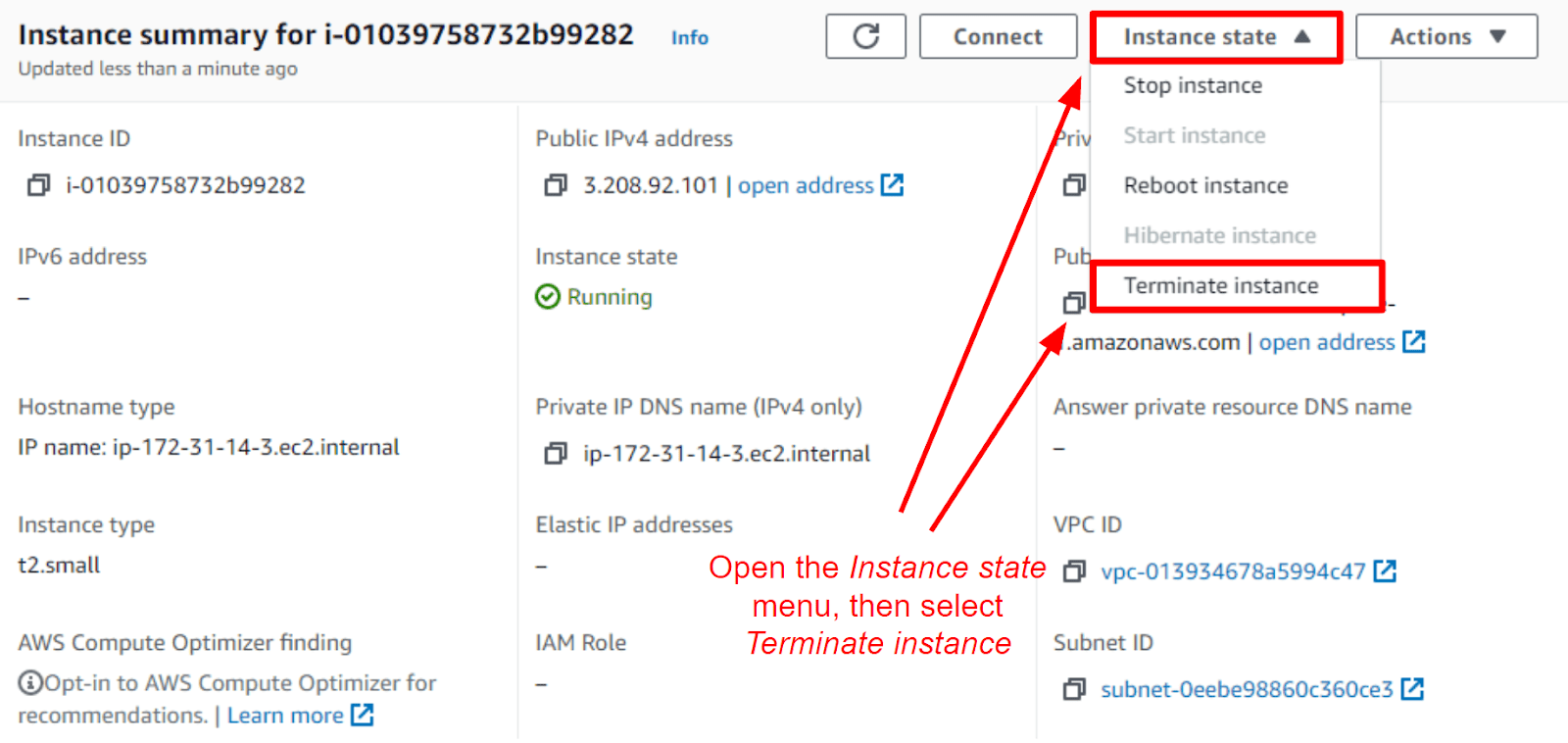 Now, open the
Instance state
menu in the top-right. Then, hit
Terminate instance
. You'll be asked to confirm your decision.
Terminating an instance deletes the attached root block storage volume
. If you have anything critical stored here, ensure you back it up before taking this step. After you confirm termination, your instance will be deleted in a few seconds. Repeat this process for all active instances.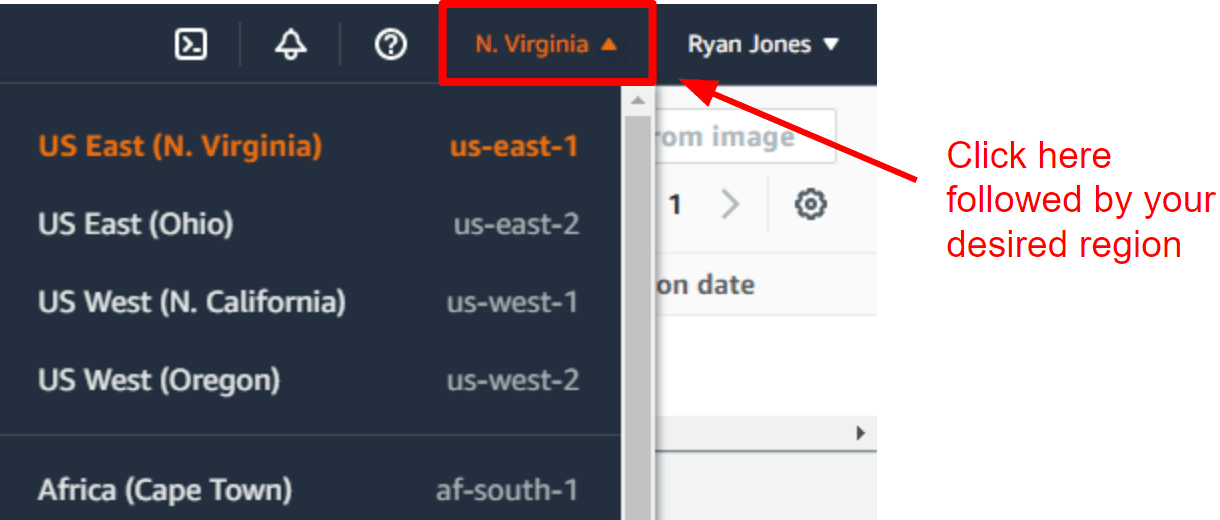 If you have instances in different regions, make sure you delete these as well.
To view and terminate these instances, you'll need to change your current region
. This can be done by clicking your current region near the top right, which will open a menu containing more. Select the appropriate one to switch to that region.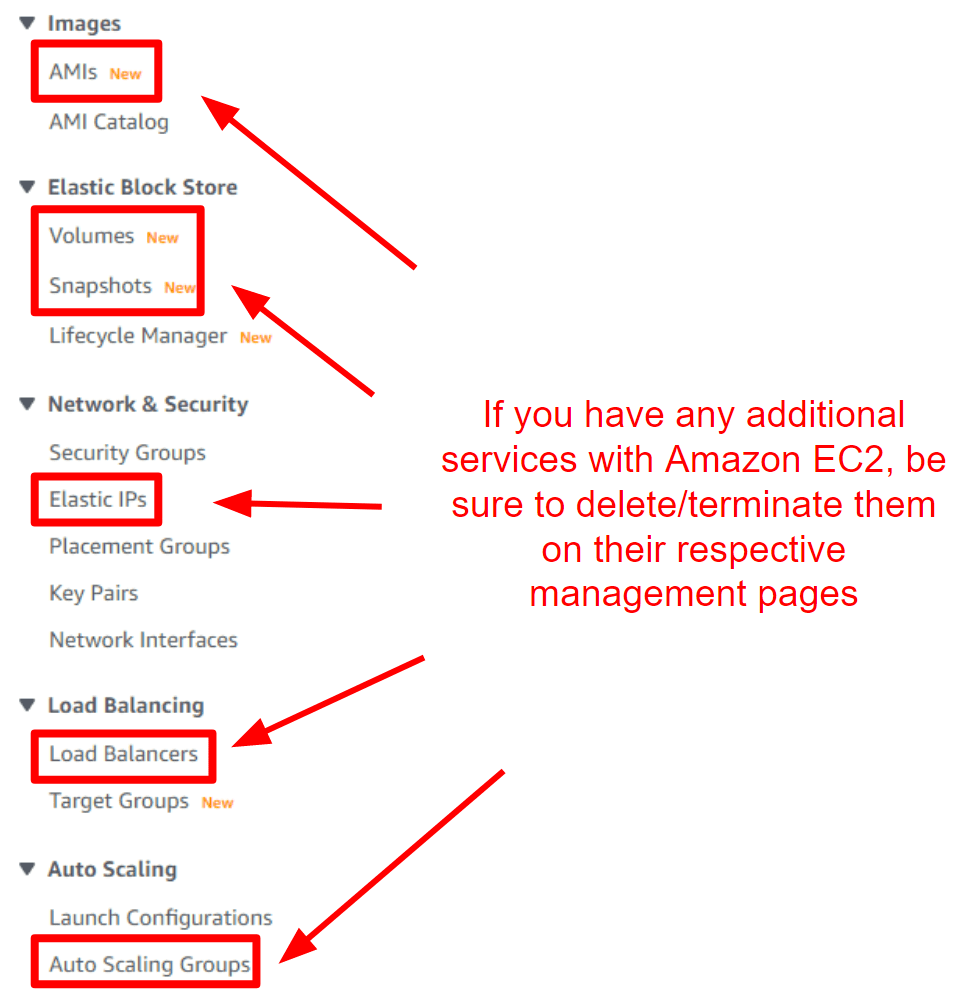 You'll also need to ensure you delete all active EC2 add-on services
. These are
not
deleted with your instances, and will need to be cancelled individually. To do so, you'll need to enter each add-on's respective management page. These can be found in the navigation menu on the left of the Amazon EC2 management console. Deleting additional services is thankfully a quick and easy process.
To delete an add-on, enter the menu for the respective service, select the add-on, then click
Actions
, followed by
Delete
. If you have any other Amazon AWS services outside of EC2, these should also be terminated. You can use the list of services on the dashboard homepage to navigate to the management console for each one. Alternatively, type the name of the service in the search bar at the top.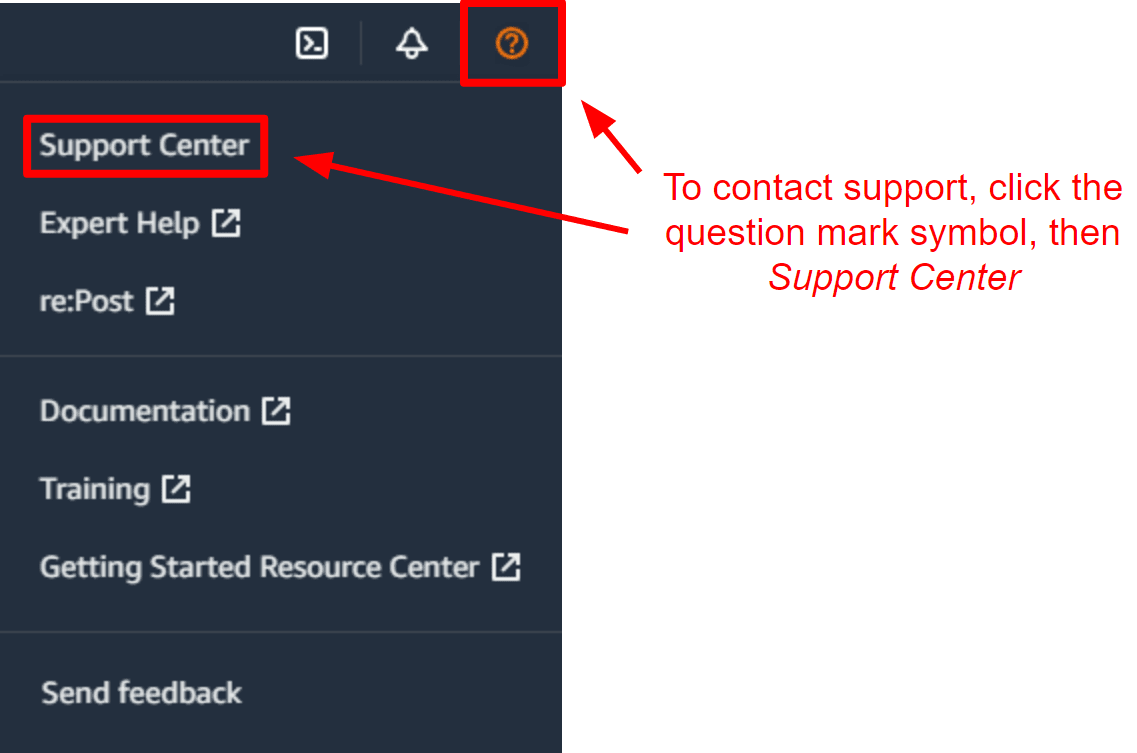 4. Get a refund (optional).
If you'd like a refund, now is the time to pursue it. If you don't need one, feel free to skip ahead to the final part of the guide to see how to cancel your account.
The only way to get a refund is to contact support
– there's no way to request one through the dashboard itself. To contact support, click the question mark symbol on the top toolbar of the dashboard. Then, click or tap
Support Center
.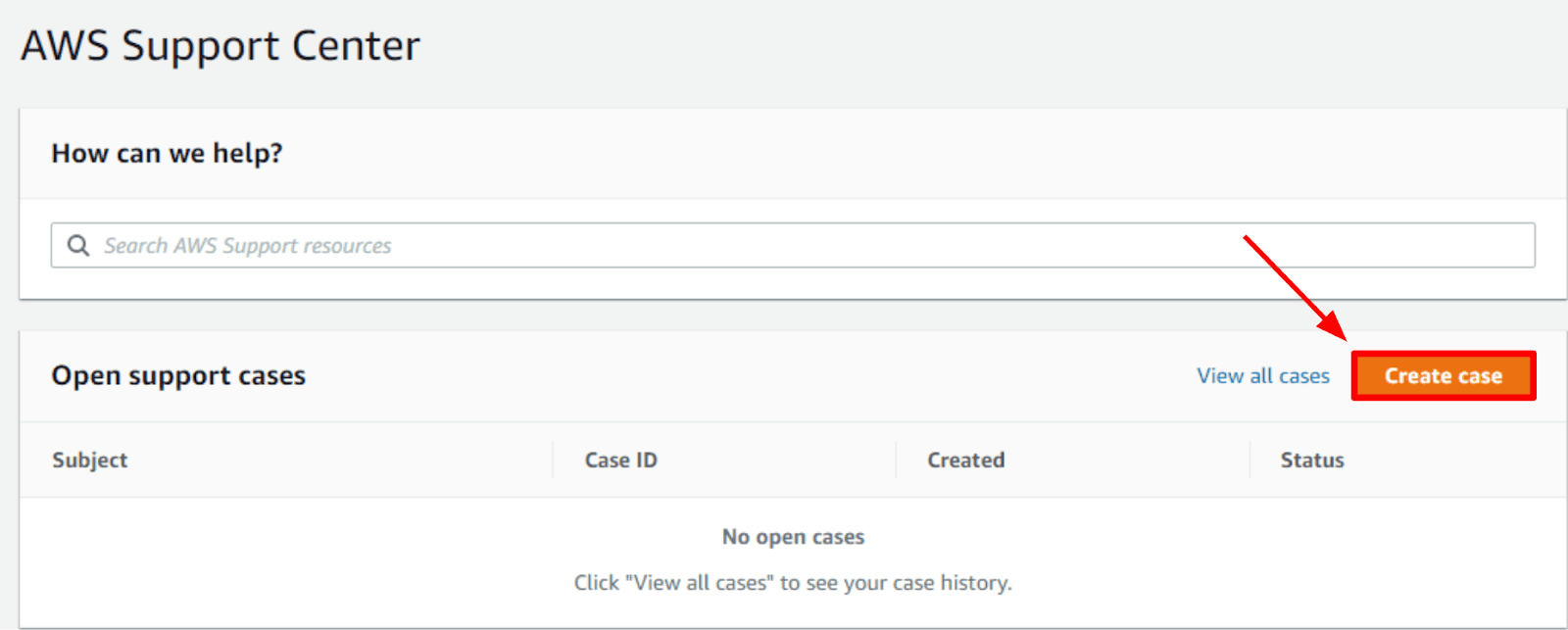 Thankfully, AWS offers multiple avenues of support for account and billing issues, even if you're only on the free, basic support tier. To start your refund request, click the
Create Case
button.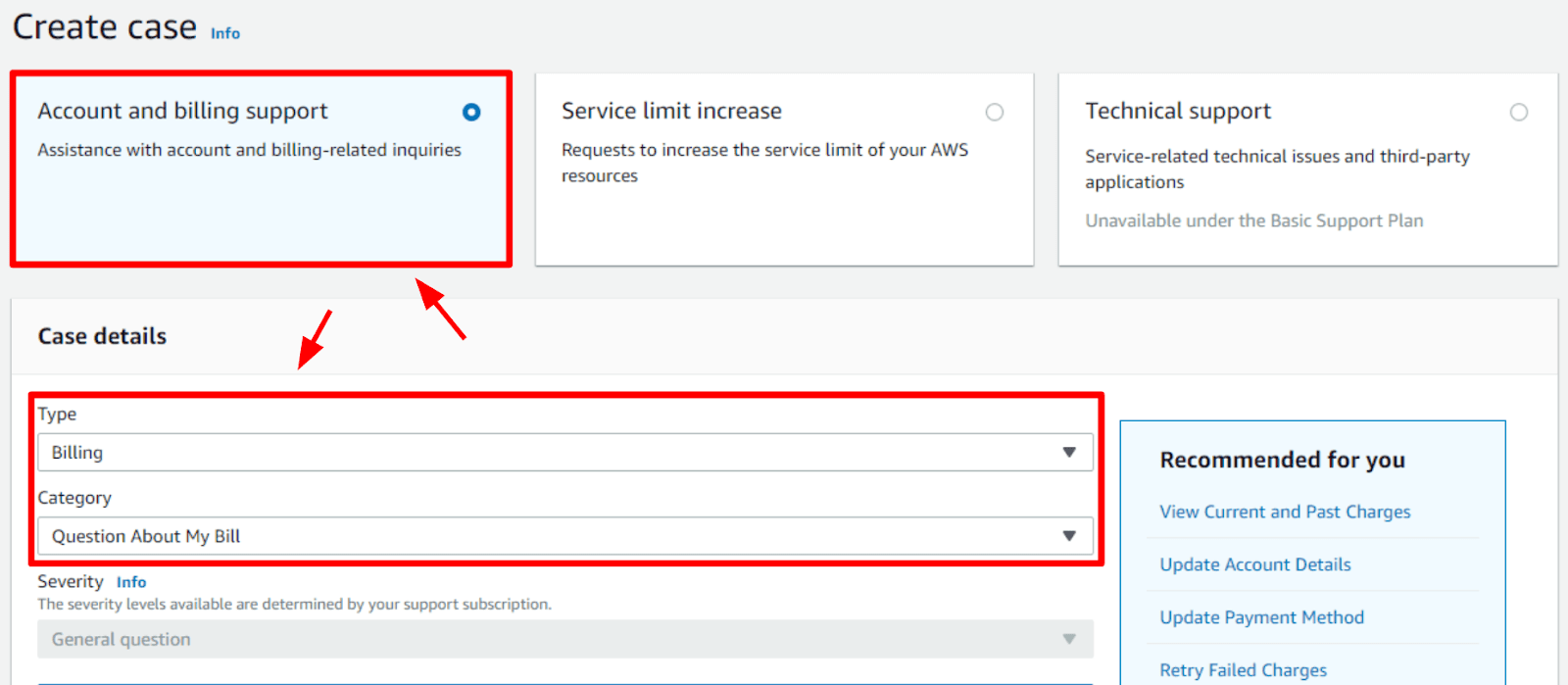 Here, you'll provide the bulk of the information related to your support request.
Select
Account and billing support
at the top, then use the drop-down menus to narrow down your issue further
. I selected
Billing
as the type of issue, and
Question About My Bill
as the category.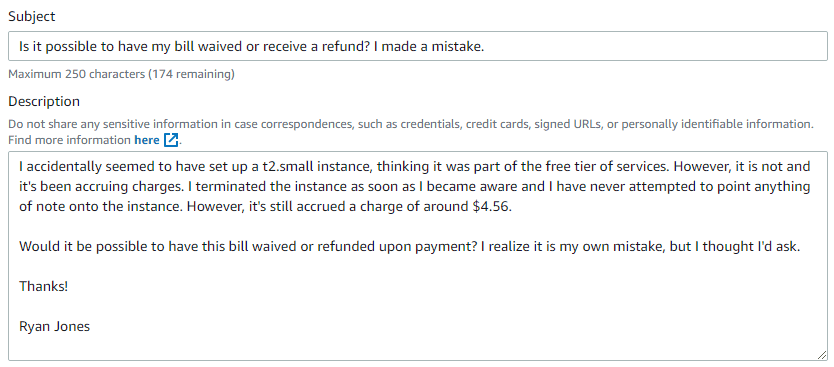 In my case, as I was refunding so early, I hadn't actually received the bill yet – so I typed out a request to get my bill waived or automatically refunded at a later date.
When describing your issue, try to give the support agent as much information as possible
to expedite the process. The exact amount of the refund you're seeking, the date of the bill, and so on.

After completing the form, scroll down to the bottom of the page and choose your preferred method of contact. I went with live chat, hoping to get a quick response.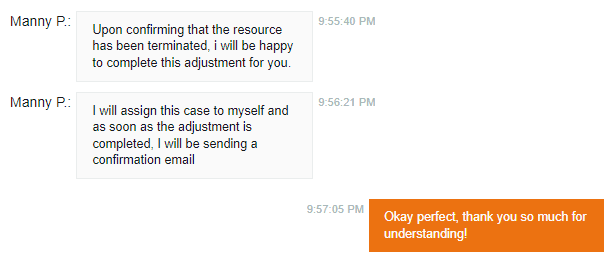 I was promptly connected with an agent in just under a minute.
After confirming that I had already terminated my instance, support was more than happy to help
. They didn't ask me any questions – they simply waived the bill. Within an hour, I received confirmation by email. Your mileage may vary, of course.
As Amazon AWS doesn't have a standard refund policy, it's on a case-by-case basis
.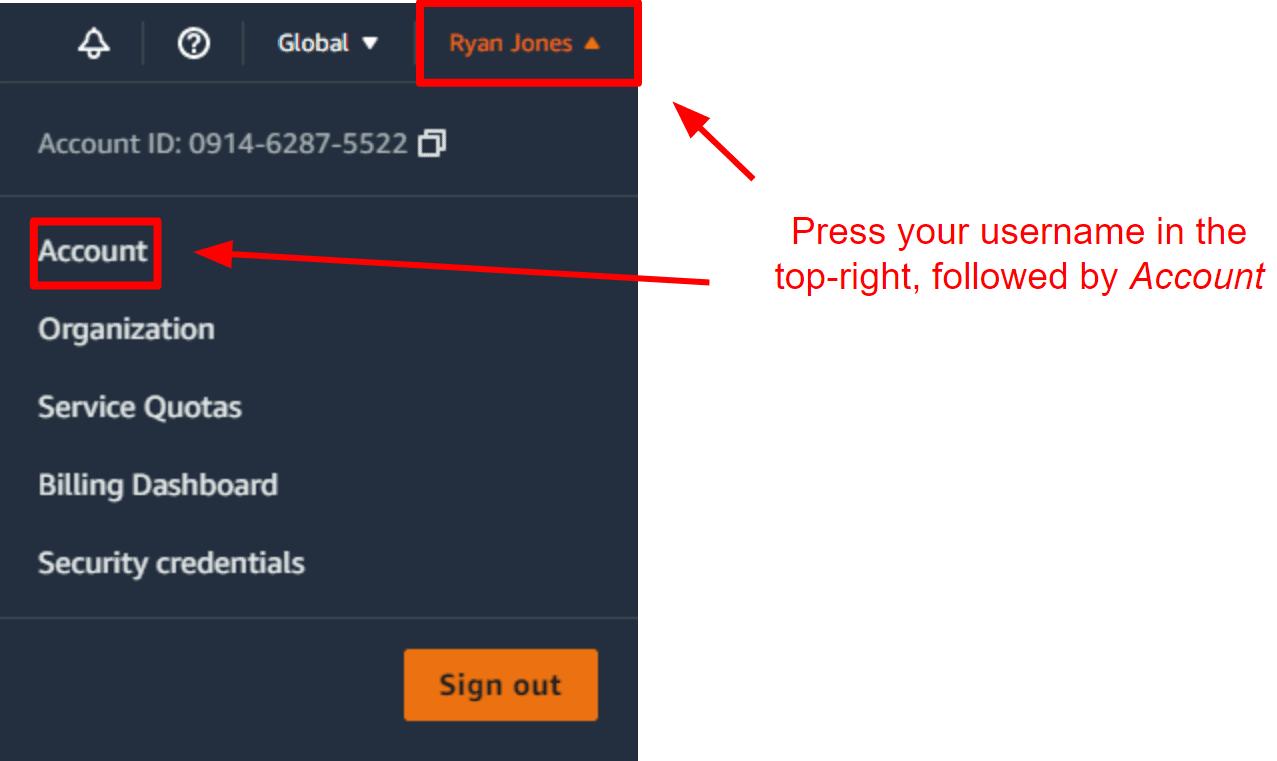 5. Close your account.
Now that I had my refund sorted, I could initiate account closure. Luckily, it's quick and easy – but be sure to double-check that you no longer have any active resources on your account. To do this, click your username once again in the top-right. Then, choose
Account
. This will bring you to your Account Settings.

By scrolling down to the bottom of the
Account
page, you'll see an option to close your account
. Before you can do so, you'll need to check several boxes to show that you understand the terms of cancellation. Be sure to read them thoroughly. If you're OK with these conditions, check all the boxes and press
Close Account
. And with that, you're done!
3 Best Amazon AWS Alternatives for Cloud Hosting
If you're looking for an alternative to Amazon AWS, here are my top recommendations. We've tested each provider below and found them to excel in areas where Amazon AWS falls short.
While Amazon AWS encourages you to commit to a cloud instance for one to three years to get a good price, Kamatera offers much lower prices for on-demand billing. You can get a pretty great deal while retaining the flexibility to scale down or cease hosting entirely at any point. In addition,
Kamatera's virtual servers are much more customizable
. You can build the perfect cloud instance for your needs, setting exact RAM and CPU levels. This level of functionality isn't available with Amazon AWS – and in some cases, this can lead to you paying for resources that rarely get used.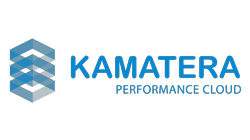 Save 100 % OFF Kamatera for 30 Days!
Get one month FREE for your server configuration and take advantage of Kamatera's high-performance cloud infrastructure today.
64 users used this coupon!
If you're in need of a high-quality managed service, I'd go with Liquid Web. All of Liquid Web's cloud instances include 24/7 server monitoring with proactive response, security enhancements, OS installation and upkeep, and more.
Liquid Web's free technical support is backed by a rapid response guarantee
: if you use live chat or phone support, you should get a response within 1 minute. If you don't, you could be due compensation. Amazon AWS offers technical support as an expensive extra with no such guarantee of quality.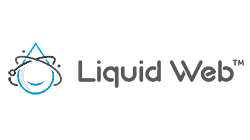 Liquid Web now has a 30 - day money-back guarantee!
Get a discounted annual plan without taking any risks.
70 users used this coupon!
In need of a budget solution?
InterServer offers inexpensive cloud instances with generous resource allocations
. You can get a lot of CPU and RAM for much less than with Amazon AWS, even with its long-term plan discounts. It's also worth noting that all of this is available with a simple monthly bill – there's no need to commit long-term with InterServer to get a good price.
Helpful Billing Support Saves a Convoluted Cancellation Process
The cancellation process with Amazon Web Services can be a bit of a mess – especially if you have lots of different services active
. Ideally, if I cancel my account, I'd want all billable services automatically stopped, but with Amazon AWS, you'll have to cancel everything manually to avoid a surprise bill. Fortunately, AWS typically refunds accidental billings. However, if they create a more transparent platform that makes it easier to view your active services at any moment, this issue would become less frequent. I look forward to Amazon AWS implementing a more straightforward cancellation process in the future.
FAQ
How do I cancel my AWS account?
You'll first need to terminate all billable services. Once done, click your username in the top-right, followed by Account. Scroll to the bottom of the page, and you'll see an option to close your account. If you're looking for an alternative cloud host, and you've already checked out my top recommendations, you may want to take a look at our list of the best web hosting services in 2023 for more options.
How do I stop AWS from charging me?
If you're incurring fees from Amazon AWS, you likely still have an active service running on your account. You can see what services are incurring charges by clicking your username in the top right, then choosing Billing Dashboard. Hit Bills on the left to see a detailed overview of any active service, then head to its respective management page to cancel it. For more info, see my detailed guide.
Does closing my AWS account stop charges?
Not always – some services can remain active after account closure, and Amazon AWS Savings Plans and other subscriptions incur charges until expiry. It's best to manually cancel all services before closing your account. Check my in-depth tutorial to see how. If you're looking to build a new website site on an easier-to-use platform, see our step-by-step guide to building a website in 2023.
How do I remove my credit card details from AWS?
Click or tap your username in the top right of the screen, followed by Billing Dashboard. Click Payment methods on the menu to the left. Then, press Delete on the desired payment method. You cannot delete a default payment method, though – if you'd like to remove this, you must cancel your account. Here's my quick guide to doing this.