These two budget hosts have a lot of experience between them, and they share a lot of similarities too. They're both owned by EIG (Endurance International Group) after all – a huge corporation with control over 60 web hosting brands. But look a little closer and you'll start to see some differences.
In this battle, though, the best web host all comes down to YOUR needs. Now let me explain: if you're a small business and you need fast support 24/7, then HostMonster is your hosting of choice, no questions asked. If you need unlimited SSD storage space, marketing credits for your business and you're willing to invest for cheaper, long-term prices, then Bluehost should be the one for you. 
However, despite their popularity, neither of these web hosts made it onto our list of the very best web hosting services, so check these out before you make your decision.
To help you decide which is right for you, I've compared Bluehost vs. HostMonster's website hosting packages in five key areas:
Want to know more? Let's get started.
Round 1: Pricing and Signup
It's a closely fought contest for these budget-friendly hosts but Bluehost has the edge
Both Bluehost and HostMonster offer a range of website hosting packages, but in this comparison, we'll look at their cheapest shared hosting plans, aimed at small businesses and individuals.
When you sign up with HostMonster, you can choose from four pricing plans. Keep in mind that the advertised prices on the signup page only apply when you pay for a three-year term. If you don't want to commit, you could end up paying more than you anticipated. There's also a big emphasis on upselling during the checkout process.
Signing up with HostMonster is a simple process. There's even a "live demo" if you want to see how the cPanel and hosting management area work before making a purchase. However, the live demo feature wasn't working when I tried to use it, so it seems to be a bit unpredictable.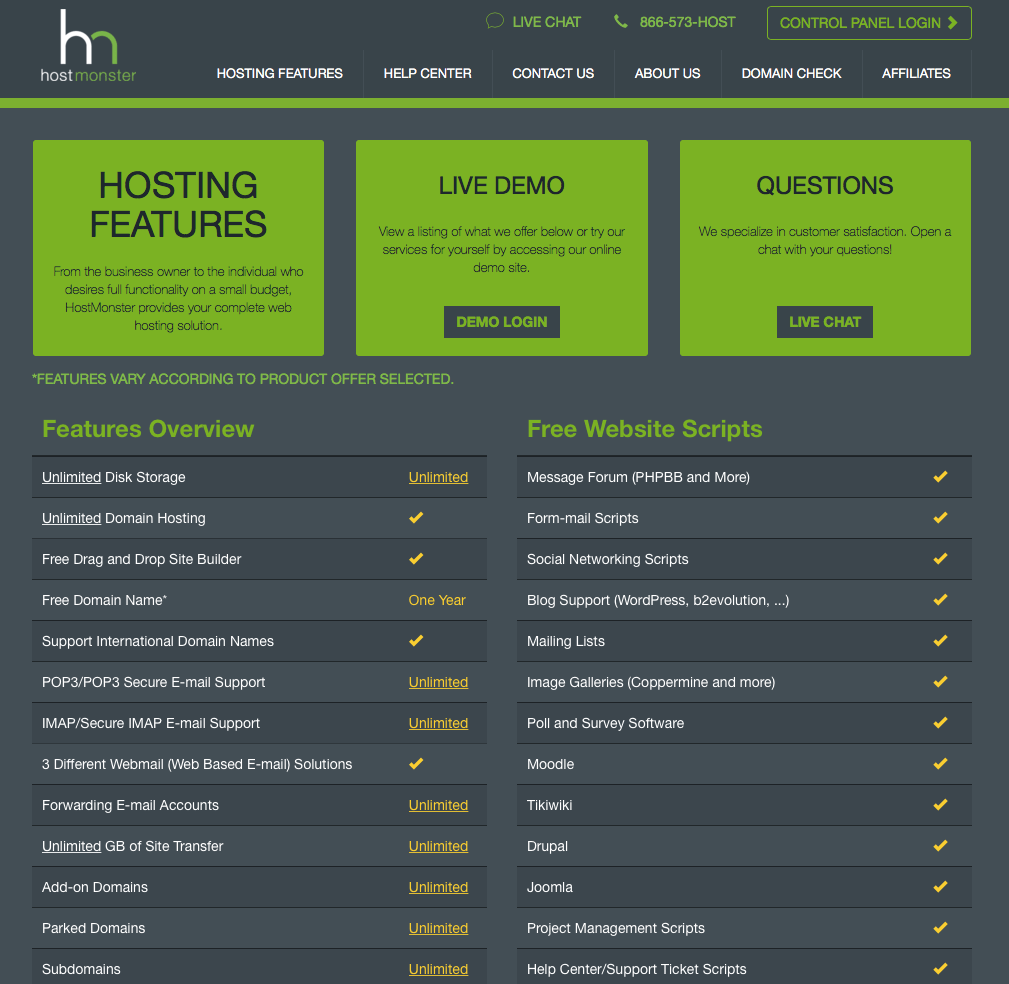 Bluehost also offers four pricing plans, but the prices tend to be cheaper than HostMonster's, depending on what offers are currently available.
Bluehost's signup process is also straightforward, but you will be faced with a lot of upsell attempts. When you check out, you'll notice that "package extras" like SiteLock Security and Codeguard Basic are automatically checked. If you don't want these add-ons (which can double your monthly cost), you have to uncheck the boxes before you enter your payment details.
And the winner is: Bluehost. By a small margin, Bluehost just scrapes into the lead, due to its (slightly) lower prices and the option to choose your domain name later. Offers can change, however, so it's worth checking out the current offers before you sign up.
Round 2: Speed and Reliability
HostMonster's uptime record may be better but Bluehost promises "resource protection" 
Reliability is one of the most important factors to consider when you're looking for a hosting provider, especially if you want to sell products or services. You lose business when your website is down, so good uptime records or guarantees are important.
HostMonster has an average uptime of 99.96%. Prior to April 2018, uptime scores were much poorer, but they have been steadily improving. There's no specified uptime guarantee, however, only the promise of "maximum guaranteed uptime." This vague wording doesn't inspire a huge amount of confidence.
Bluehost's uptime is amongst the top ten budget hosts, with averages of around 99.98%. There isn't a published uptime guarantee with Bluehost, however, so if you do experience downtime, you won't receive any kind of compensation.
One area where Bluehost differs from HostMonster is its promise of "resource protection." This is designed to reduce any impact on your site if another website on your shared server sees a sudden spike in traffic. While this isn't a guaranteed way of ensuring you won't experience performance issues, it does help. Plus, Bluehost's storage space is SSD, which can improve the speed of your website compared to "regular" HDD drives.
And the winner is: Bluehost. Again, Bluehost wins this round by a narrow margin, based on its SSD storage and resource protection. That being said, HostMonster's uptime record is slightly better, so this is a very close round indeed.
Want to know more about Bluehost? Read our expert review.
Round 3: Features
HostMonster offers you the chance to upgrade your hosting space – Bluehost gives you unlimited storage
The features included with your hosting package are what enable you to judge whether you're getting good value or not. Bluehost and HostMonster have a very similar set of features, with only a few small differences. Here's what you get:
HostMonster
Bluehost

Generous amount of hosting space: 50GB with Basic, 150GB with Plus, and Unlimited with Choice Plus and Pro
Unmetered bandwidth
Free SSL certificate
Free domain name
Marketing credits (Google Ads/Bing) on the Plus, Choice Plus, and Pro plans
Unlimited email accounts on the Choice Plus and Pro plan
30-day money-back guarantee
1-click app installation (WordPress, etc.)
Full range of e-commerce features

Unlimited SSD storage space on all plans except Basic (50GB)
Unmetered bandwidth
Free SSL certificate
Free domain name
Marketing credits (Google Ads/Bing) on all plans
Unlimited email accounts on all plans except Basic
30-day money-back guarantee
1-click app installation (WordPress, etc.)
Full range of e-commerce features
And the Winner Is…
Bluehost. With HostMonster, Basic and Plus plans don't come with unlimited storage, but with Bluehost, you get unlimited SSD storage on all but the Basic plan. Bluehost also offers marketing credits on all plans, not just the higher-tier plans, which is a bonus if you want to market your business easily. Bluehost is more generous with email accounts, too.
Round 4: Security
Bluehost offers a standard set of security features but HostMonster offers free daily back-ups too
When you sign up for a web host, you want to know your website is not going to be vulnerable to malware, distributed denial of service (DDoS) attacks, and other security issues. You also want to know you're protected if something happens to the server. Having backups of your website data is vital, but it's often unclear whether these are included in shared hosting plans.
While HostMonster does offer complimentary daily backups, there's a disclaimer on the site that advises you to also make your own, as the HostMonster backups are not guaranteed. Additionally, if your website is more than 30GB in size, HostMonster will not make automatic backups at all. Automatic, guaranteed backups, in the form of CodeGuard Basic backup protection, are available only on the Choice Plus plan, or as an add-on.
In terms of keeping your website secure, HostMonster's security features are adequate and include SpamAssassin Protection for email accounts, hotlinking protection, and integrated DDoS protection, malware scanning, and server-side firewalls. HostMonster also offers subscriptions to SiteLock Basic at an 80% discount (for the initial term) when you sign up for shared hosting.
If you sign up for a basic or plus plan with Bluehost, you're responsible for your own backups, unfortunately. Automatic website backups are only available on the two most expensive Bluehost plans. You can add CodeGuard Basic to your plan as an add-on, however.
Bluehost has a fairly standard array of security measures to keep your data protected. These include SiteLock Security, server-side firewalls and DDoS protection, and spam protection for email accounts. Bluehost, like HostMonster, also tries to upsell you to one of the SiteLock plans.
And the winner is: HostMonster. Neither Bluehost nor HostMonster offers a particularly spectacular set of security features, but HostMonster's free daily backups are definitely a nice perk.

Round 5: Support
Both website hosts have got you covered when it comes to customer support
Being able to access customer support is especially important if you're new to website hosting or have fewer technical skills to fall back on.
HostMonster offers 24/7 technical support, but other types of support (e.g., sales and billing) are only available during "working hours." For example, billing support is available 6 a.m.–10 p.m. Mountain Time Monday through Friday and 8 a.m.–5 p.m. Saturday. You can access support by live chat, phone, and support tickets. Response times for live chat are pretty good, with a connection in under five minutes and queries answered relatively quickly.
The quality of the support varies. I noticed that the support agents were much more helpful when I used live chat as a potential customer looking to sign up for an account, compared to when I used live chat as an existing customer. Response times were slower when I logged in as an existing customer—10 minutes compared to less than 2 when I contacted a sales agent.
HostMonster has a knowledge base of help articles, but it's certainly not the best, containing a small collection of basic articles, and you have to use search terms to find the articles you need—there are no options to browse by category.
With Bluehost, 24/7 support is available, and you can contact Bluehost via live chat and phone. This is available for both technical issues and any other questions that you may have. Response times aren't great with Bluehost, either.
It's not uncommon to be waiting up to 20 minutes or more for an actual human response. The quality of support also varies, particularly if you have a very specific issue that you need to be resolved.
Bluehost's knowledge base is pretty extensive, however, and there's also an official YouTube channel with short tutorial videos that can help you to get the most out of your hosting.
And the winner is: It's a draw! There are pros and cons to both Bluehost's and HostMonster's customer support services, making it impossible to choose an outright winner.
If you want to get a faster response to your queries about technical issues, then HostMonster is your best choice. If, however, you're more interested in fixing problems yourself by calling on knowledge base articles and/or YouTube videos, then Bluehost is best for you.
To learn more about HostMonster, check out our expert review.
A Clear Winner in the Battle of HostMonster vs Bluehost
Settling on a winner in this battle of the web hosts isn't easy. When you do a direct comparison of their features, there are more similarities than differences. Dig a little deeper and you'll discover that this is because Bluehost and HostMonster are both owned by the same conglomerate, Endurance International Group (EIG).
The clear winner in this comparison of HostMonster vs. Bluehost really depends on what you're looking for:
If you're looking for the most affordable website hosting package, then Bluehost's prices do seem to be a little lower than HostMonster's—but only if you're signing up for a three-year plan.
If you're more concerned about being able to get 24/7 technical support with faster response times, then HostMonster appears to be quicker at resolving your issues than Bluehost.
Still not sure? Check out our list of the best web hosting services around before you make your decision.