Both Hostinger and DonWeb are extremely popular web hosts and have been serving a huge number of clients since their inception in 2004 and 2002 respectively. As both of these hosting providers offer similar solutions to a good extent, you may find it difficult to choose any particular one among them.
I decided to perform a thorough Hostinger vs DonWeb comparison based on critical parameters like plans, features, performance, security, etc to help you make an informed decision. Based on the results, I feel confident enough to say that Hostinger would be a much better option than DonWeb in terms of helping you get better value for your money.
If you want, you can check out Hostinger's latest deals or continue reading to learn more about the comparison.
1. Plans and Pricing
Hostinger offers much cheaper solutions than DonWeb
With Hostinger, you get a broad variety of options to choose from including shared hosting, WordPress hosting, VPS hosting, Minecraft hosting, cloud hosting, and email hosting.
DonWeb also offers a diverse range of solutions including shared hosting, WordPress hosting, cloud hosting, dedicated servers, and reseller hosting.
However, Hostinger pricing is what makes it a much better option than DonWeb to go with. You'll get an unbelievably cheap monthly price if you sign up for Hostinger's longest period of forty-eight months. On the other hand, even if you opt for DonWeb's longest period of twenty-four months, the discounted monthly price still remains nearly double the price of Hostinger. Another disadvantage of DonWeb that I found is you cannot buy its initial shared hosting package below the annual term, which is not the case with Hostinger as it offers a monthly billing cycle.
A Free Domain is included when purchasing any hosting service from DonWeb
2. Features
Hostinger boasts more features – DonWeb offers more flexibility
Both Hostinger and DonWeb bring you a broad range of industry-standard features that include free SSL certificates (with DonWeb, it's plan-dependent), 1-click app installer, plan-dependent free domain, plan-dependent backups, among others. You'll also get the all-in-one LSCWP plugin with Hostinger WordPress solutions.
DonWeb brings you more flexibility in terms of letting you choose the OS between Linux and Windows – an option that's only available with Hostinger's VPS solutions. It also comes with a plan-dependent free website builder, which is payable with Hostinger.
I created this comparison table to help you understand the difference between the major features of these providers.
| | | |
| --- | --- | --- |
| | Hostinger | DonWeb |
| Hosting Types | Shared hosting, cloud hosting, WordPress hosting, VPS hosting, Minecraft server hosting | |
| Free Domain | Plan-dependent | Plan-dependent |
| Free SSL Certificate | ✓ | Plan-dependent |
| Disk Space | 30GB SSD-300GB SSD | 5GB-100GB |
| Bandwidth | 100GB-unlimited | Unlimited |
| Automatic Backups | ✓ | ✓ |
| Control Panel | hPanel | Ferozo Panel |
| Email accounts | 1-unlimited | None-Unlimited |
| Free CDN | ✕ | ✓ |
| Free Site Migration | ✓ | ✓ |
| Money-Back Guarantee | 30 days | 30 days, plan-dependent |
3. Performance
Hostinger offers a host of performance-boosting features
With Hostinger, you get features like LiteSpeed Cache, SSD storages, etc together with an SLA-backed 99.9% uptime guarantee.
While DonWeb also uses SSD storages, it doesn't offer any uptime guarantee with its shared hosting solutions. Instead, it provides an SLA-backed 99.99% uptime guarantee with its cloud hosting packages.
Hostinger lets you get the Cloudflare CDN with an additional payment. While DonWeb offers it for free, it'd be useful if your target audience is mainly based in Latin America, U.S., and Europe.
Hostinger has seven Tier III datacenters worldwide whereas DonWeb comes with only one Argentinian datacenter.
In my performance test on Hostinger, the results were simply outstanding. Though I've yet to perform that test on DonWeb, I doubt whether it'll come out with satisfactory results or not. To check the details of the performance test, you can see our
expert Hostinger review
. You can also take a look at our
expert DonWeb review
 to learn about its performance-boosting features.
4. Security
Hostinger takes security more seriously than DonWeb
In terms of overall security features, both of these web hosts offer a good number of standard security features including automated backups, free and paid SSL certificates, among others. However, there're two major features that keep Hostinger much ahead of DonWeb in terms of security. First, you'd get Cloudflare protection that itself comes with features like protection from DDoS attacks, malware, etc. And second, it uses the BitNinja server security tool to protect the servers. This is one of the popular security tools with powerful defense mechanisms that offer protection from a broad range of online attacks. Additionally, Hostinger offers plan-dependent SSH access which would secure your remote logins.
5. Support
Hostinger offers an unmatchable level of support
Both Hostinger and DonWeb offer 24/7 support through different channels. With Hostinger, your options include live chat, contact us form/email, and support ticket while DonWeb lets you seek support through phone, live chat, contact us form, and through a help desk. Despite the availability of more options, DonWeb fails to match the outstanding level of support offered by Hostinger.
Whenever I contacted Hostinger's support team, I received efficient and speedy responses.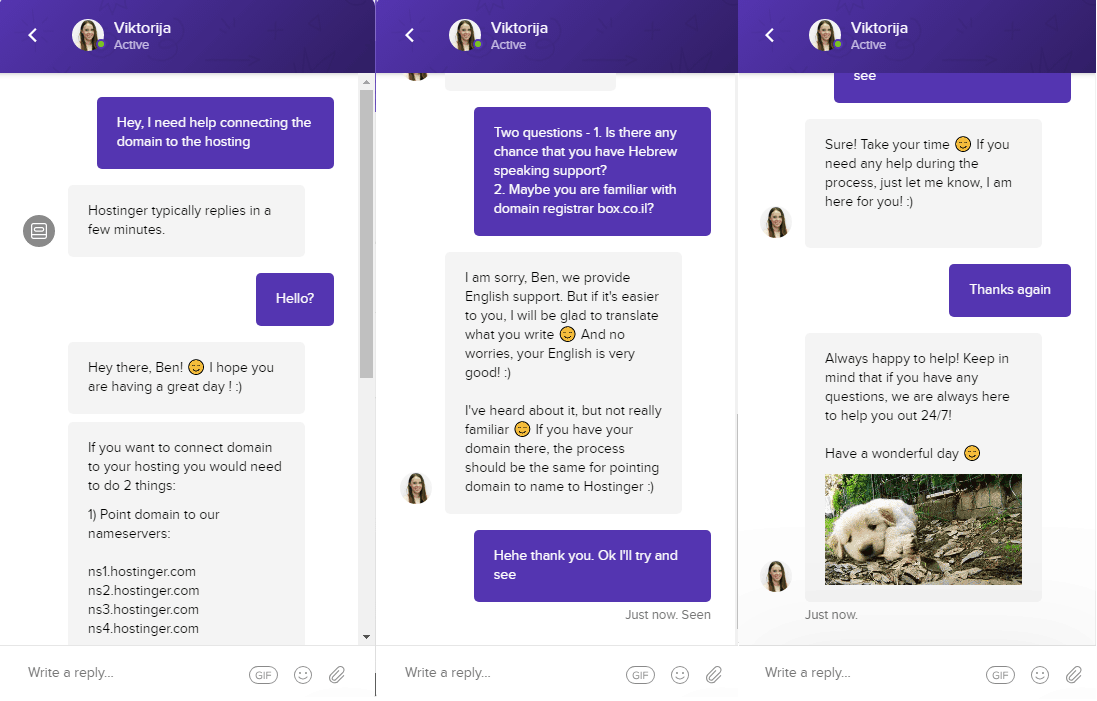 On the contrary, with DonWeb, in response to my query, I immediately received an automated reply and an actual reply the following day.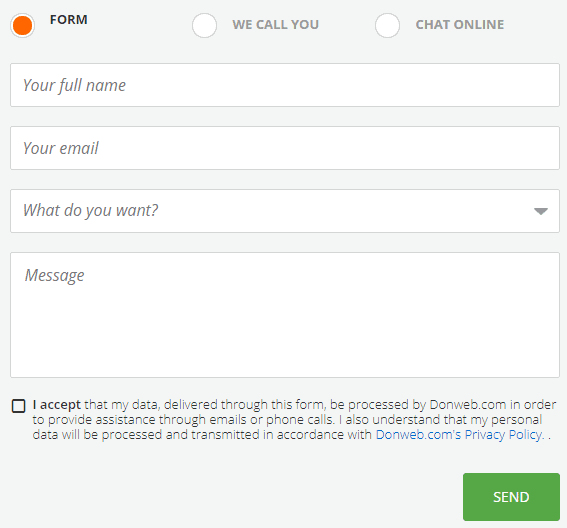 In terms of self-help resources, Hostinger brings you outstanding knowledge base and many useful tutorials. DonWeb also offers a pretty useful help and resource center.
Hostinger Offers the Best Service at the Cheapest Price Possible
It's clear from the above battle between Hostinger and DonWeb that Hostinger would be worth every penny. From pricing and performance to security and support – Hostinger easily outperforms DonWeb. And in the case of features, choosing any particular one among these two web hosts actually comes down to your needs. However, if your requirements solely revolve around Windows shared hosting, you may consider signing up with DonWeb. But despite that flexibility, you must consider the critical factors that I mentioned above because those are the main aspects you'll be encountering the most down the road.
You may also note that Hostinger has secured a place in our list of top 10 web hosting providers because of its exceptional overall service. This list would also act as a great resource if you want to check out other web hosts similar to Hostinger.
Comparison Table
Plans and Pricing
A wide range of solutions, unbeatable price
A good range of flexible solutions, much expensive than Hostinger
Features
30GB-300GB disk space, 100GB-unlimited bandwidth, advanced features, money-back guarantee
5GB-100GB disk space, unlimited bandwidth, plan-dependent money-back guarantee
Performance
99.9% uptime guarantee, seven Tier III datacenters
99.99% uptime guarantee (cloud hosting), one datacenter
Security
Cloudflare protection, free and paid SSL certificates
Industry-standard features, free and paid SSL certificates
Support
24/7 prompt support through live chat, contact us form/email, support ticket, along with outstanding knowledgebase, lots of tutorials
24/7 support via phone, live chat, contact us form, help desk together with useful help and resource center
FAQ
Is Hostinger better than DonWeb?
Yes, Hostinger outperforms DonWeb in almost every critical parameter. You can take a look at our list of the best web hosting services to check out other similar options.
Does DonWeb offer WordPress hosting?
Yes, it offers a feature-rich WordPress hosting solution. However, be sure to see our list of the best managed WordPress hosting providers to review some top web hosts.
Does DonWeb offer VPS hosting?
No, but there're plenty of other web hosts that offer it. You can take a look at them in our list of the best cheap VPS hosting services.