While Google Sites and WordPress both have the same goal – to help you build a good-looking, functional website – their approach is pretty different. I tested each of the builders, comparing features, templates, pricing, and customer support. While both have strong and weak points,
WordPress takes the lead, as it comes with a comprehensive list of features that will help your website stand out design-wise and rank high in search engines.
That said, Google Sites could be best if you want to create portfolios or work on small personal projects as it comes completely free with all of its functions. Go ahead and
explore the latest WordPress offerings
, or read on to find out which building platform works better for you.
1. Themes
WordPress Offers over 250 Themes; Google Sites Has Only 13
It's important to note that Google Sites makes a distinction between templates and themes. Templates include a selection of page types and layouts, while themes involve web design elements, such as color schemes and images.
Google Sites provides only 13 templates
, which are divided across Personal, Work, and Education categories. You can add, remove or edit images and text, but you can't edit your site's design settings.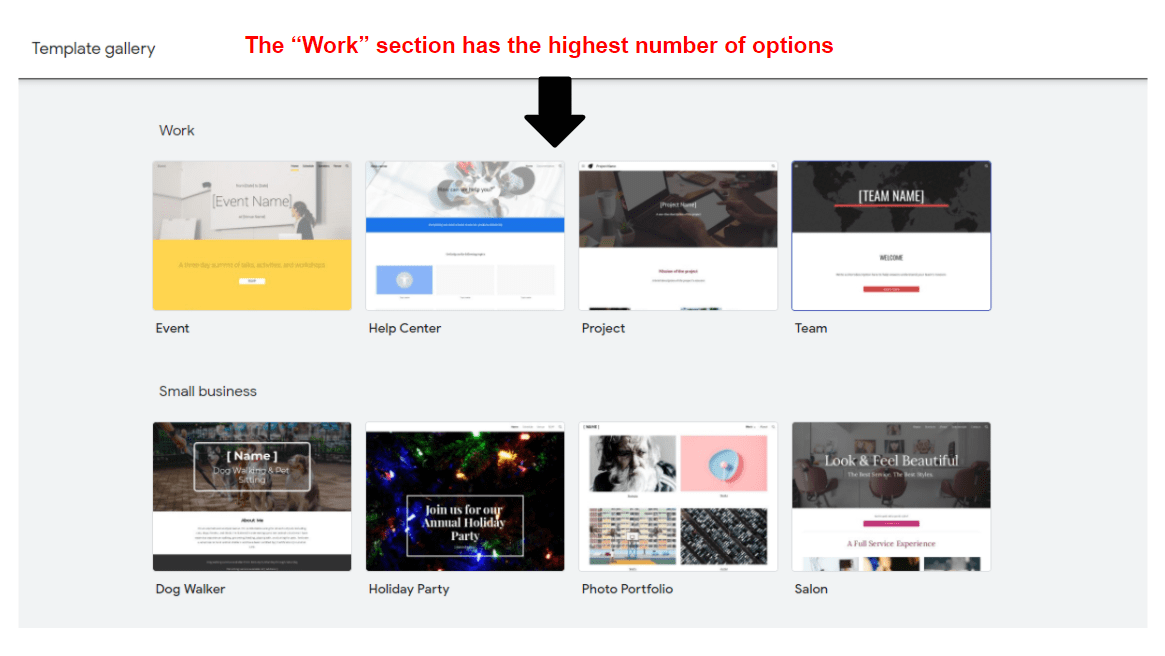 WordPress offers more than 250 themes
, free and paid, which you can customize to a different degree depending on the plan you're on. Upgrading to a Premium plan will enable CSS file editing, while a Business plan subscription will grant you free access to all premium themes and the ability to upload custom themes.

The themes are divided across 26 categories, and although most of them are designed for blogs, there are some layouts more suitable for business websites.
2. Ease of Use/Features
Google Sites Editor Is Simple, but WordPress Offers More Features
Google Sites has an intuitive WYSIWYG editor that's pretty easy to use. You can add an unlimited number of web pages and create different types of pages – all you have to do is hit the
Insert
button. You can also
 integrate Google Analytics to track your site's statistics, and any G Suite extension
, including Google Docs, Maps, Drive, etc. To make the editing process more beginner-friendly,
WordPress introduced the new, more flexible Gutenberg editor
, which replaced the classic/HTML editor. The new editor is based on content blocks which can be rearranged on a page in any order you like.

Each block can be set up individually, so you can adjust the text appropriately to fit the form of a title, paragraph, quote, or list. You can also add images and embed videos from different platforms, including Twitter and Reddit.
WordPress was designed to be easy to use, provided you know a thing or two about running a website.
If you have no prior web design knowledge, you'll find customization to be pretty complex, but if you're willing to learn more, it will be worth your while.
3. Apps and Plugins
Google Sites Provides Google Apps, but Can They Match WordPress Plugins?
Google Sites allows
 integration of any app from the G Suite pack
, which makes it possible to add diagrams, slideshows, presentations, YouTube videos, Hangouts, and many other elements. WordPress still remains undefeated here, as it offers numerous free and paid plugins. In addition to G Suite apps,
you can integrate numerous third-party apps
, whether you're running an online store or a social network. Google Analytics is available from Premium plan and above, while e-commerce plugins require Business plan subscription or up.
4. Pricing and Plans
Google Sites Is Free, but WordPress Offers More Options on Paid Plans
WordPress offers a free plan
and four paid plans: Personal, Premium, Business, and E-commerce. While the majority of perks come with paid plans, the free plan includes limited selection of themes and plugins, so it works great for personal projects. Paid plans are geared toward professional business websites and are priced accordingly.
Google Sites is completely free to use
, and all you need to access it is a Google account. It also includes unlimited storage and the option of adding up to five custom URLs to your website.
| | | |
| --- | --- | --- |
| | Google Sites | WordPress |
| Plan | Free | Free |
| Storage | Unlimited | 3GB |
| Free Domain | Included |  Included |
| Website Analytics | Google Analytics | Google Analytics; Other analytics plugins available |
| Support | Help section with tutorials and how-to articles | Support documentation and forums |
5. Support
Google Sites Has a Help Center, but No Other Types of Support
Google Sites offers a built-in Help Center packed with how-to articles and tutorials
 on how to edit your site, but there is no email or live chat customer support.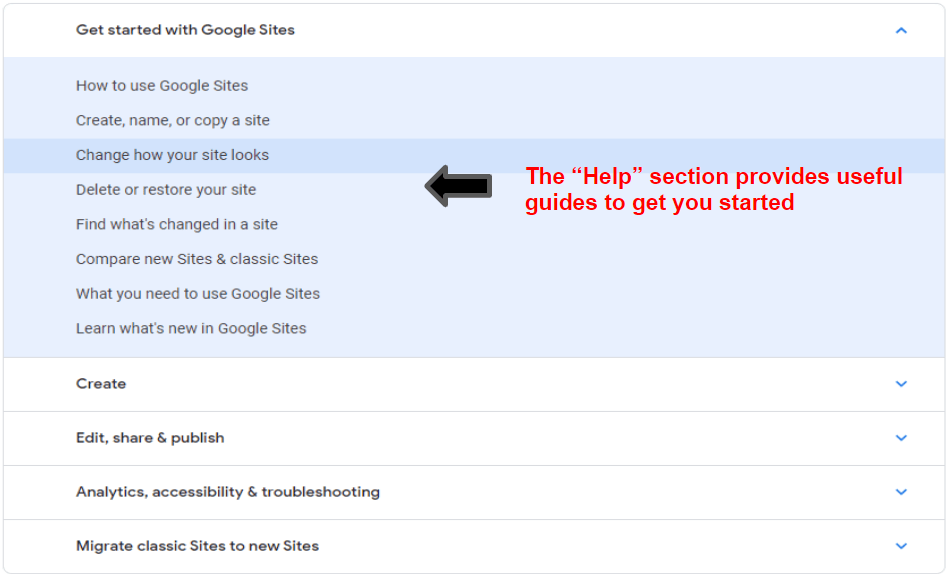 WordPress free plan subscribers have access to support documentation and forums only
, but you'll find plenty of guides on different topics, and the WordPress community is pretty engaged and happy to help. To test this, I posted a question in the forum, and although it took a little while before I received a response, it was helpful.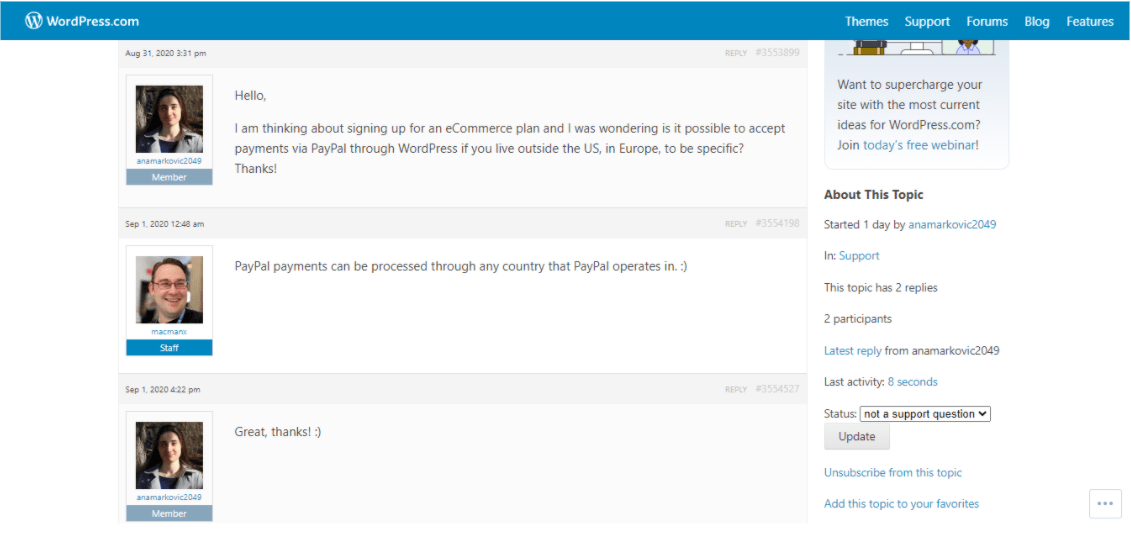 Users on paid plans will benefit from email and 24/7 live chat customer support.
Chat is available 24 hours a day, Monday through Friday for customers with Personal, Premium, Business and eCommerce plans. Weekend support is also available 24 hours a day with Business and eCommerce plans.
One Clear Winner: WordPress.com
WordPress.com outperforms Google Sites in all categories.
Although you'll need some web design knowledge to make the most of it, WordPress still offers an extensive number of features to put your project on the map, which makes it particularly great if you are trying to jumpstart your business. Google Sites is free and extremely easy to use, but it doesn't offer SEO tools or apps that can help you promote your business, making it more suitable for small personal projects, such as school projects, portfolios, and events. WordPress is not only the winner in this comparison – it also ranked high in
our list of the best website builders
.
Templates
Only 13 to choose from
Hundreds of available templates
Ease of Use / Features
Easy editor with basic features
Easy block-based editor with advanced features
Apps, Plugins, and Add-ons
Free apps within the G Suite
Unlimited app options, free and paid
Pricing and Plans
Free, plus three paid plans available
Free, plus four paid plans available
Support
Built-in Help section with tutorials; extensive Help Center with how-to articles
Support documentation and forums on free plan; email and live chat support on paid plans
FAQ
Which is cheaper, Google Sites or WordPress?
Google Sites is free to use with all of its features, but it is pretty limited. WordPress also has a free version, but you'll need to subscribe to a paid plan if you want unlimited templates and plugins. If you do decide to upgrade to a paid plan on WordPress, make sure you take advantage of any current deals or coupons.
Which is easier to use, Google Sites or WordPress?
Google Sites is ideal for beginners, while WordPress requires web design knowledge, particularly if you're going to edit CSS files or install third-party plugins. However, users who are willing to acquire some web design skills will benefit immensely from the variety of options WordPress has to offer. You can read more about both WordPress.com and Google Sites in our expert reviews.
How do I decide what website builder is best?
It all depends on your project's needs. Google Sites is well suited for small personal projects, while WordPress works better for professional businesses. If you want more options to review, take a look at our list of the top website builders.