Flywheel only offers managed WordPress hosting, while SiteGround has a broader package of hosting services.
Although you may assume that a host focused entirely on managed WordPress is the best choice, that's not necessarily the case,
and I'll tell you why in this review. I'm a SiteGround user myself – and
I've done tons of legwork when it comes to researching managed WordPress hosting,
so I've been in the position you're in now. These two hosts have very different approaches to security, staging, and collaboration that you need to know about before you make your choice. I can tell you right now that you won't necessarily
need
all of the extra add-ons that SiteGround has to offer, but sometimes, knowing that your host has everything covered can give you the confidence you need to sign up long-term.
Click here to see SiteGround's best plans
, or read on to take a closer look at the differences between these two hosts.
Plans & Pricing
SiteGround's Affordable Pricing Beats Flywheel's Price Tag
SiteGround and Flywheel both have a few set pricing plans, with both also offering custom pricing for clients who need a bespoke solution. At Flywheel, you'll see packages aimed at entry-level businesses, freelancers, and agencies. At SiteGround, plans are labeled similarly: a starter plan, a 'GrowBig' plan more suited to multi-site deployment, and a 'GoGeek' plan that unlocks all features. Pricing, though, is not aligned between the two;
SiteGround's hosting packages are considerably more affordable,
which will make them attractive to WordPress enthusiasts on a budget. Paying more for managed WordPress hosting at Flywheel gets you increased resources and a higher visitor limit at each plan level. You'll also notice that
Flywheel limits bandwidth, but SiteGround doesn't
. While that doesn't mean that SiteGround will allow you to run a bandwidth-hogging download site, you'll be limited by its acceptable use policy rather than a fixed cap on transfer. Bandwidth can be pretty difficult to estimate, particularly if you're just starting out with WordPress, so the lack of a hard cap gives you a little bit of breathing space. Flywheel's offering is quite different once you start to look at features, but looking solely at pricing and plans, there's a huge saving to be found with SiteGround.
And the winner is:
SiteGround. While you don't get as much disk space with some plans, you gain flexibility thanks to its less stringent bandwidth policy compared to Flywheel. To learn more about what you'll get, read our
full SiteGround review
.
Features
Flywheel Has a Custom Control Panel – SiteGround is Ditching cPanel
Managed WordPress hosting is designed to make WordPress as hassle-free as possible, and the features behind the scenes are key.
Flywheel and SiteGround are quite different in the way they package their WordPress hosting.
Flywheel has developed its own control panel, and proudly states that it doesn't rely on cPanel. Its control panel has some custom features, such as collaborative tools that are unique to its platform.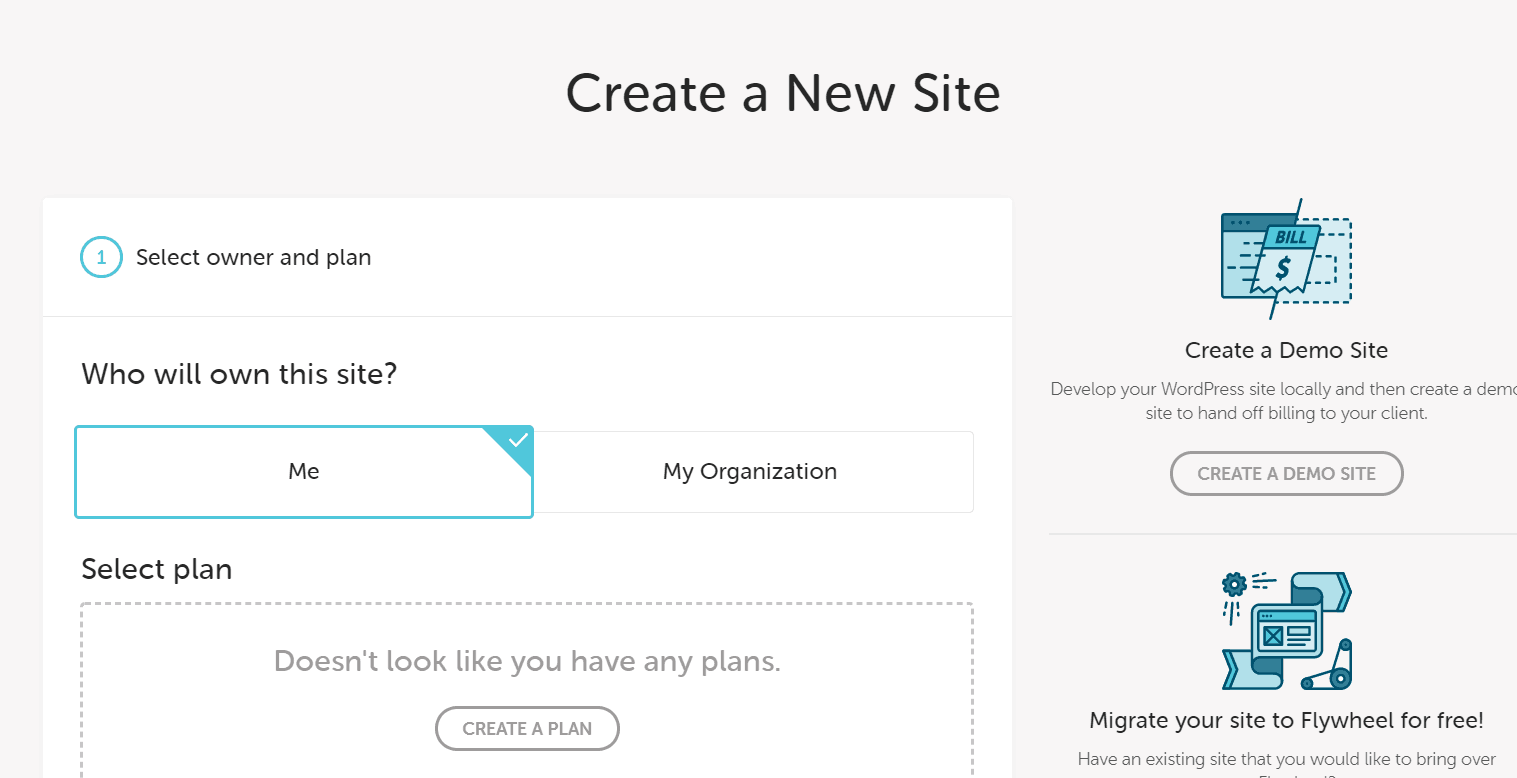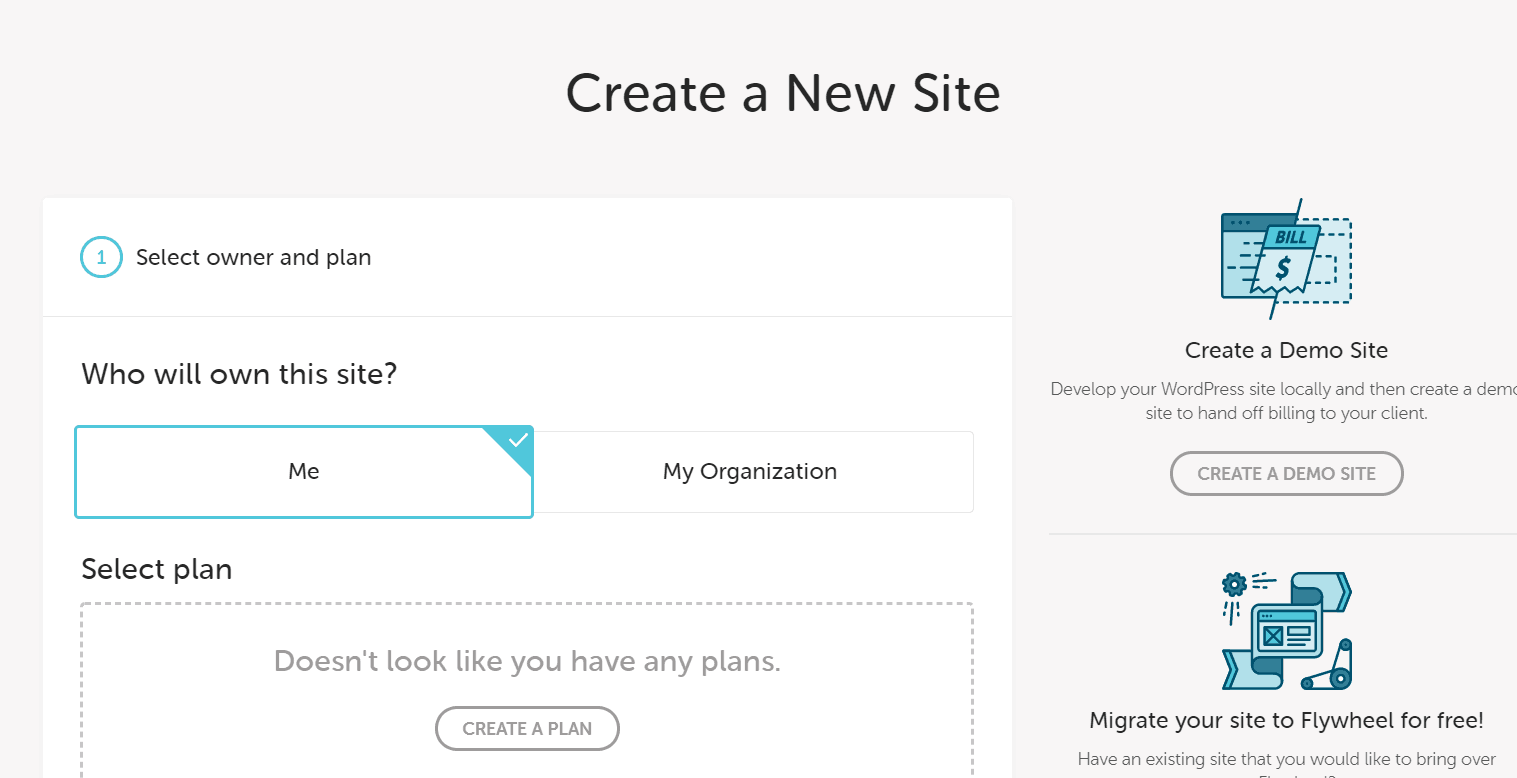 SiteGround does have collaborative tools as well, and it allows you to ship a site and recommend a SiteGround hosting package at the same time.
It's not quite the same as Flywheel's feature for passing sites to clients because you don't retain management of the account.
SiteGround does use cPanel as its base, but it is currently moving customers to a new control panel called SiteTools. Both approaches are valid, but bear in mind that
you may miss cPanel if you're used to it.
SiteGround isn't giving any customers the option to retain cPanel once SiteTools is fully rolled out.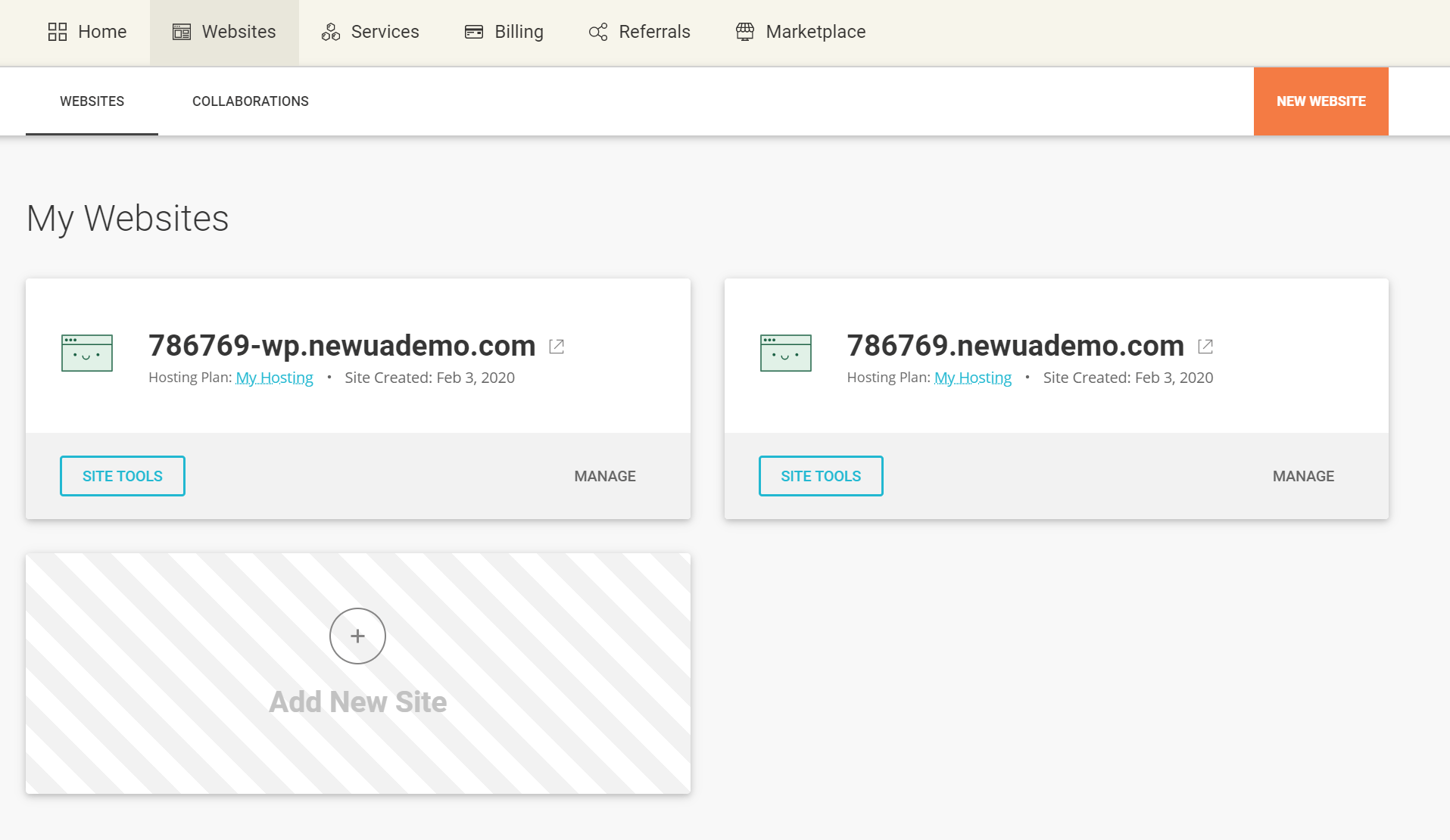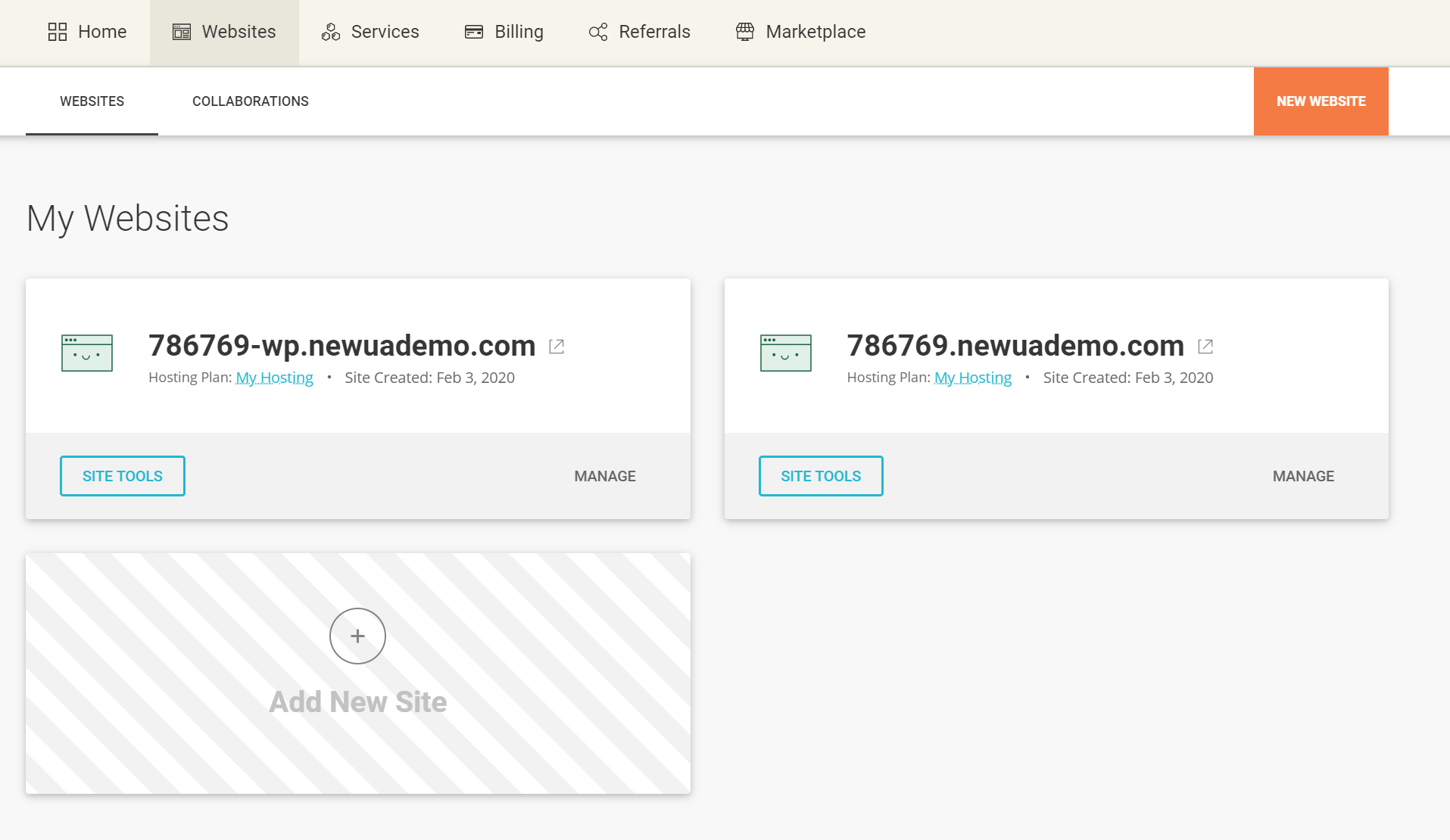 There's another important difference: the way Flywheel and SiteGround provide staging environments. A staging environment allows you to create a copy of your site before you make changes, so you can easily roll out the new version without impacting your live site. SiteGround's staging is more limited; for example, you need to have a certain amount of disk space free to use staging, and the number of operations per day is capped. Flywheel's staging environment is more flexible, without caps or checks.
If you have a lot of people pushing changes out to client sites in a working week, you'll probably find Flywheel's approach creates less friction.
Flywheel also allows you to develop wireframes, which it calls Blueprints, and you can clone sites when you need to make large changes. On the flip side, your developers might prefer to have access to cPanel and do things the way they're used to. Email hosting is another important consideration. Flywheel does not host email at all. So if you need business email tied to your domain, you're going to have to use a separate provider.
SiteGround allows you to create unlimited email accounts at your domain.
Finally, let's look at backups. Flywheel takes automatic daily snapshots, and you can add your own when you need to. SiteGround takes daily snapshots too, with a rolling limit of 30 per site. Backups on demand are available at SiteGround, but if you're on the cheapest managed WordPress plan, there's an extra fee.
And the winner is:
Flywheel. Flywheel just edges it over SiteGround by having fewer limits and better ways to divide tasks among a team. But just keep in mind that it won't host your email, and that might be enough to swing you back to SiteGround.
Performance
Flywheel's CDN Is Impressive, but Siteground Promises Better Uptime
Managed WordPress hosting is always optimized for speed, but
optimization beyond the basics can shave seconds off your site's loading time
. Caching, CDNs, and data center location all play a part. First up, caching is available on both hosts. Flywheel has its own automatic caching, FlyCache; to activate Siteground's caching, you need to install and activate its WordPress plugin.
Both sites offer integration with content delivery networks (CDNs).
Flywheel has its own CDN called Fastly, which integrates with FlyCache. SiteGround plugs into Cloudflare. Arguably, either will do the job just fine; Cloudflare's better known, but Fastly edges it with full-page caching and some obscure, but advanced, features.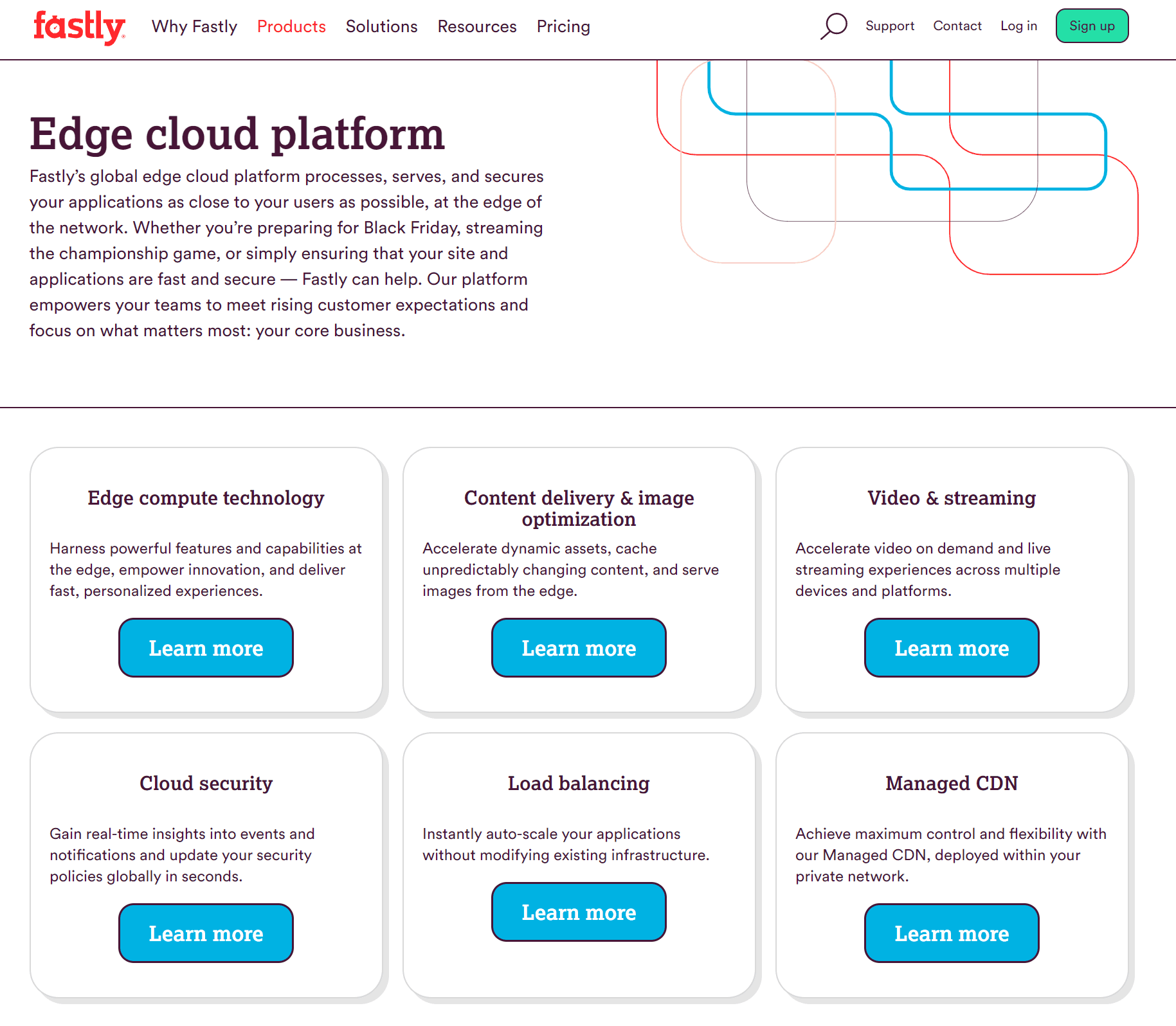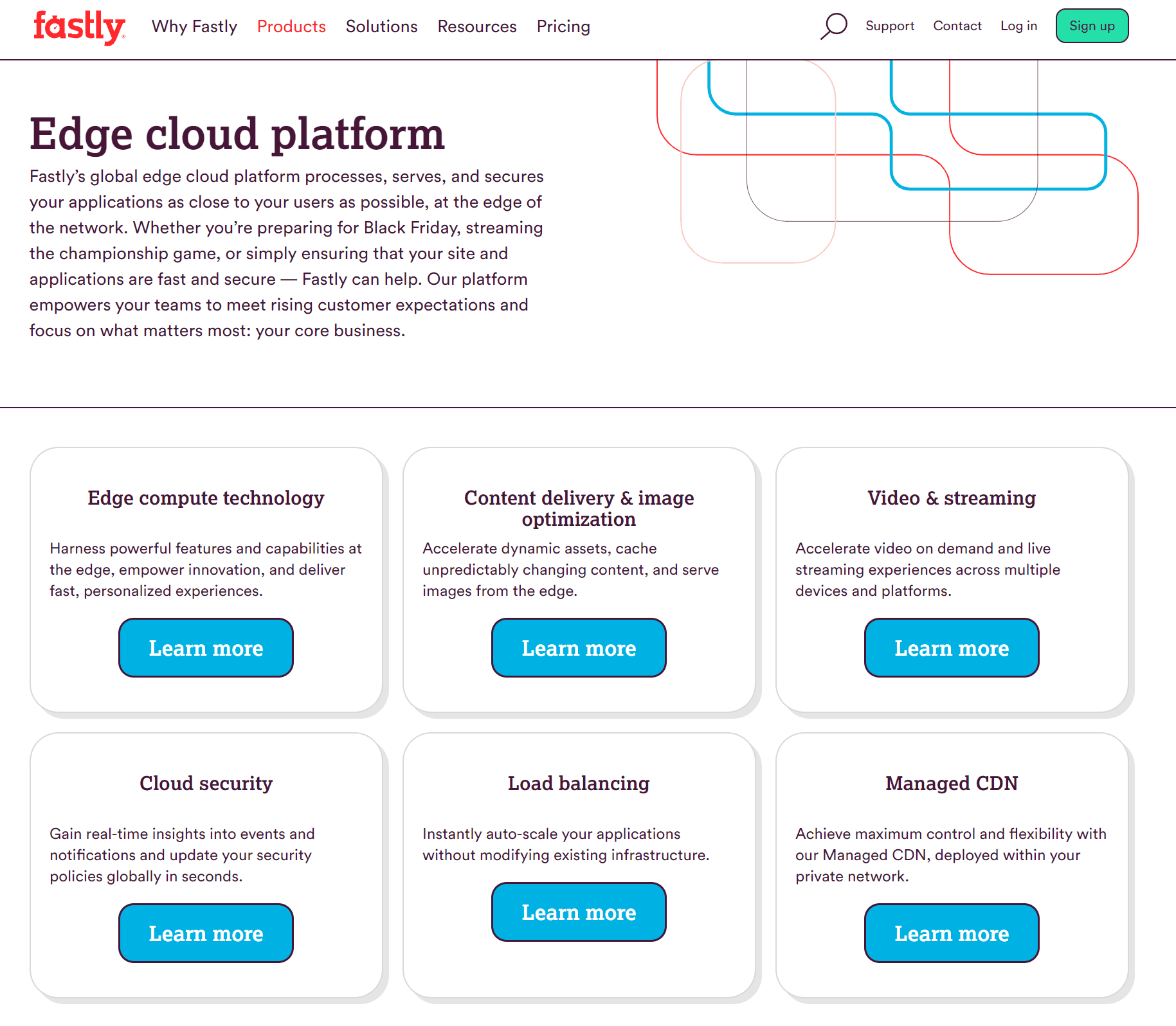 SiteGround has five data centers in four countries, while Flywheel has five in five countries. It's pretty closely matched. SiteGround gives some information about its data centers, but it's fairly generic. It does beat Flywheel, though, which provides rough locations without any further detail at all about who owns them or what kind of physical security is in place. Finally, we can look at the uptime guarantee to get more clues.
Flywheel promises 99.9% uptime for managed hosting customers, which is surprisingly conservative given the level of confidence it has in its use of Google Cloud.
SiteGround promises 99.99% uptime. In other words, Flywheel's allowing for around 43 minutes of downtime in a month before its guarantee kicks in, while SiteGround allows less than five minutes. When I spoke with Flywheel's support department, they said that its historical uptime is between 99.96% and 99.99%, but the person I spoke with was unable to give me a breakdown month by month. SiteGround directed me towards my own site uptime and declined to give me a figure for the company as a whole. In practice, uptime guarantees only matter if you have to claim against them.
But SiteGround appears more confident in its uptime than Flywheel.
And the winner is:
SiteGround. I'd expect high uptime on managed WordPress plans, and SiteGround aligns with that expectation. Flywheel's own CDN is impressive on those advanced features, but Cloudflare will be enough for most business websites.
Security
Flywheel Removes Malware for Free – SiteGround Provides More Control
All websites are vulnerable to hacks, viruses, and exploits.
When considering security, you need to look at the safeguards offered by the host, as well as the tools they have to put things right.
Both Flywheel & SiteGround will automatically keep WordPress and its plugins up-to-date without you having to log in and deal with it yourself. Old versions of plugins can have security holes, just like old software. And it's in the host's interest to keep their servers secure, just as it is in yours. Both hosts also offer 2FA, which is optional. 2FA, or two-factor authentication, requires a password and an automatically generated security code at login.
Flywheel will clean up malware for free.
If you've ever wasted several days trying to salvage a hacked site, you'll understand how valuable this is. SiteGround offers an annual plan for malware cleanup, which you'll need to pay for on top of your hosting fee. SiteGround's automatic updates are optional, so you can skip a version of WordPress if you prefer to wait until it's proven to be bug-free.
It also screens for issues at the firewall level, adding rules to prevent attacks as exploits become known within the WordPress community.
Beyond that, you'll be more reliant on plugins to add things like two-factor authentication to your site. But that means you have more visibility over your site's security because you'll be able to see what your plugins are doing, while the host's own systems are usually closed off. This also potentially gives you control. For example, you could use the security plugins you have already paid for, if you have a preference, or mix different plugins on different sites.
And the winner is:
SiteGround. Both hosts have good security in place, and your site will likely be safe on either hosting platform. Having been on the business end of a huge hack, I remember the pain and expense of having to deal with malware, but other Flywheel features (see the full list in our
in-depth Flywheel review
) can be replicated with plugins at minimal expense.
Support
SiteGround's Phone Support Beats Flywheel's Chat/Ticket Service
Every fancy feature pales into insignificance if your site falls over, and this is why
support is ultimately the most crucial consideration in hosting
. As well as online help materials, you need to try to gauge how easy it'll be to get help when you're under pressure to fix a fault. Flywheel has an ebook library and a fairly meager knowledge base with a handful of articles on each topic.
Its help area will get you familiarized with features, but won't necessarily provide any answers to more serious issues with your site.
SiteGround's help system, on the other hand, is massive. It has more than 4,500 articles covering every question you could possibly think of on hosting features and problems. Granted; SiteGround's service catalog is broader than Flywheel's.
But when an obscure problem crops up, it's clear that SiteGround is more likely to have covered it.
Support is provided 24/7, 365 days a year, at both SiteGround and Flywheel. Flywheel provides support via ticket or live chat, but not by phone.
SiteGround offers chat, ticket, and phone support via a local telephone number to reduce the likelihood of long-distance calling fees.
I tested out the response times at both hosts at 5pm GMT, which is noon in NYC, and 9am on the US West Coast. I asked both hosts about their historical uptime figures. At SiteGround, I had to log in to use live chat, while Flywheel support was available to me as an anonymous visitor.
Flywheel's support team answered the ticket within a minute.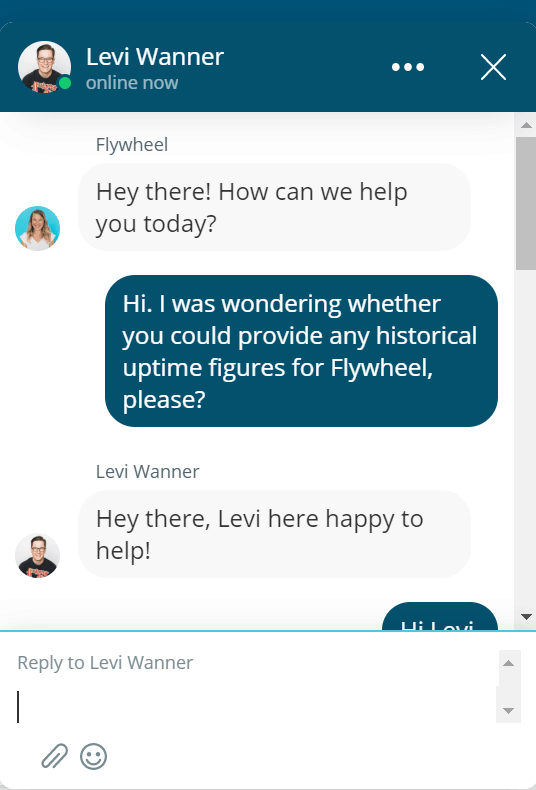 SiteGround reported a wait time of 11 minutes, but answered in about 8 minutes.
They could see my account and domains right away, which would potentially have saved some time if the problem was complex.
Both response times are well within acceptable limits and both live chat attendants were helpful and friendly.
And the winner is:
SiteGround. It's not necessarily a 'Superbowl' brand name — but it has invested in its help and support over the years and that shows. When I've needed help in a hurry, it has lived up to its promised timeframes.
SiteGround vs Flywheel: Which Is Right for You?
Both SiteGround and Flywheel offer high-quality managed WordPress hosting packages. However, upon delving into the specifics, we can observe distinct variations in how they structure their WordPress hosting solutions. There are also differences in the way each host secures their customers' sites, and the strong collaboration features in Flywheel might swing you that way if you need to retain a degree of control. If you have the money, and you rely heavily on collaborative tools to serve large numbers of customers, bringing all of your hosting, billing, development, and administration into
Flywheel
 could make sense. But if you're purely looking at the buying decision in terms of value for money in the managed WordPress market,
SiteGround
 is the best choice for you.
Plans & Pricing
Lower pricing and a more generous bandwidth allowance
Higher pricing with more disk space
Features
Staging feature is more restrictive
Fully integrated control panel allows for more functionality – but no email hosting.
Performance
Cloudflare integration and 99.99% uptime promise suitable for practically every use case
Has its own CDN with advanced features, but uptime promise not as generous
Security
Basic security covered, and you can skip a version of WordPress until its proven
Free malware cleanup is alluring, but no way to manage your own security
Support
Phone support available alongside chat and ticket
No phone support, but good chat response time in testing