FatCow and HostGator may seem almost identical. They offer similar services and they're both owned by EIG, a mega-corporation that owns over 80 hosting brands. However,
there are still a few crucial differences you need to know about.
To show you what I mean, I've extensively researched and tested both hosts. In this FatCow vs HostGator matchup,
HostGator came out on top in almost all aspects.
 HostGator gives you better value for your money, offering more features and resources for lower prices. That said, if I had to choose a new web host right now, I wouldn't go with either of these.
I'd go with Hostinger, which offers even better prices
 and delivers great features and excellent performance.
1. Plans and Pricing
HostGator Is More Affordable Than FatCow
While both FatCow and HostGator offer great prices for long-term contracts,
 HostGator is cheaper in terms of initial pricing and renewal fees.
For instance, FatCow's shared hosting plan is not only much more expensive than HostGator's equivalent, but it also renews at nearly 3x the amount for a 12-month period. Even if you sign up for 3 full years, HostGator will still be cheaper than FatCow.
A free domain name is included with some hosting plans from FatCow
What about other types of hosting? HostGator's WordPress starter is more expensive than FatCow's corresponding plan, but
HostGator gives you more value since it includes automatic malware removal, automatic daily backups, and free migration.
With VPS, it's the same story. HostGator's Snappy 2000 has the same price as FatCow's VPS Basic. However, FatCow gives you way more resources. There's just no competition between the two. In addition, HostGator's VPS gets you started with two IP addresses, while FatCow provides just one.
A free domain name is included with some hosting plans from FatCow
If you're looking for the speed and reliability of cloud hosting, HostGator has you covered. Unfortunately, FatCow does not offer cloud hosting. But what's really amazing is that
HostGator's Cloud Hatchling is roughly the same price as FatCow's standard shared offer.
 The performance and reliability of the cloud simply outshine what you'd be able to get with FatCow's shared plans. As for the technical stuff: when it comes to money-back guarantees, FatCow has a standard 30-day policy on shared plans, while HostGator gives you a generous 45 days to make up your mind. During checkout, you can expect both web hosts to automatically add several paid add-ons that will significantly bump up the initial price – so
be sure to check your cart carefully before finalizing your purchase.
The bottom line here is that while both hosts offer attractive prices, Hostinger simply does better, with shared hosting starting as low as
$
1.99
. That's why it would be my number one choice.
A free domain name is included with some hosting plans from Hostinger
2. Support
Neither Host Has Amazing Support
You can rest assured that both web hosts promise 24/7 support via live chat and phone.
 But still, support is one area where it's difficult to come up with a FatCow vs HostGator winner. As EIG subsidiaries, they share the same customer service infrastructure as mediocre hosts like Bluehost and JustHost. HostGator's knowledge bases has hundreds of helpful articles on a variety of topics ranging from design tools and advanced troubleshooting to what you can do to optimize your website. FatCow's knowledge base is not as comprehensive, but most of the basic topics are addressed.
To compare HostGator and FatCow in terms of support, I decided to try out the live chat function for both.
 This is what happened. With FatCow, I had the pleasure of talking to Jarod, who seemed to answer my questions in a genuine manner. Based on my feedback, he recommended a hosting plan that actually fit my needs.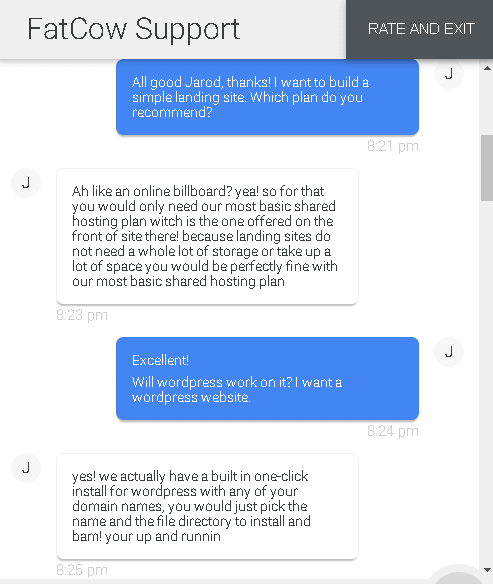 To his credit, Jarod was honest in terms of the service's drawbacks.
 He didn't try to hide or draw my attention away from the fact that WordPress doesn't come pre-installed on any FatCow plan, nor from the fact that my website would not perform as well for visitors outside of the US.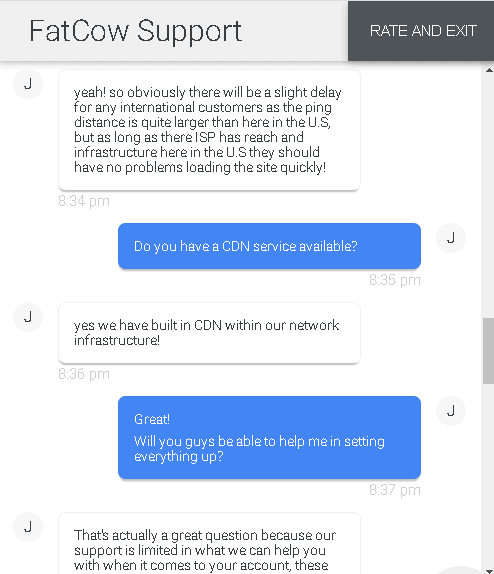 As I expected, my experience with HostGator wasn't very different. Erik did suggest plans I might be interested in and, since HostGator has a managed WordPress option, he was quick to point it out as the best fit for me.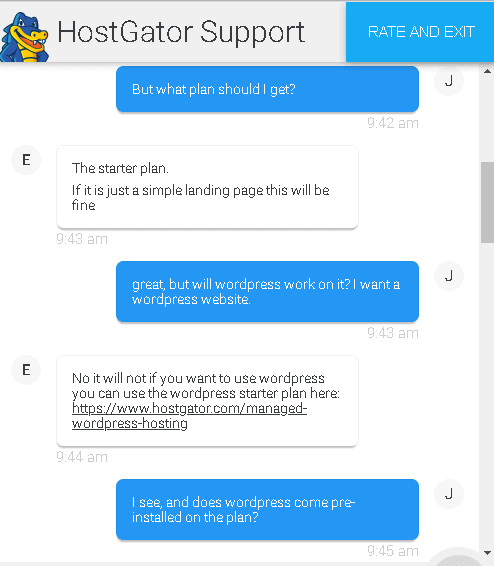 When I asked about performance, the agent mentioned HostGator's cloud SSD infrastructure and indicated that I'd have 45 days to ask for a refund if I wasn't satisfied.
This wasn't exactly what I was looking for. I would have liked some more detailed information, perhaps a link to the optimization section of their knowledge base – not to be told that I'd have 45 days to take my business elsewhere.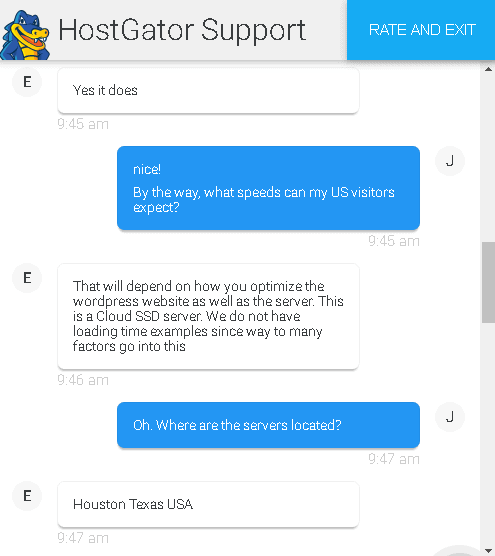 Much like FatCow's support agent, Erik from HostGator was very brief in terms of providing information related to setting up a domain name registered with another company. I would have liked a link to a tutorial, since the process is not very user-friendly.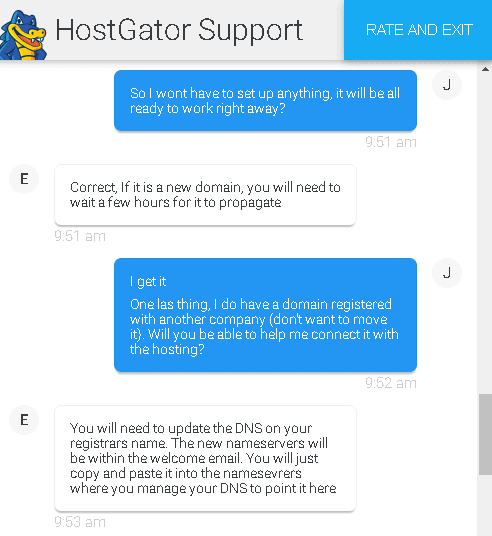 I can't say there's much difference between HostGator and FatCow when it comes to customer support. Neither is great, and you might be better off reading tutorials and figuring things out on your own.
3. Features
FatCow Isn't Bad, but HostGator Gives You More Freebies
HostGator's plans are not only more affordable than FatCow's equivalents, but they also give you better features.
Let's take a closer look at what you get with HostGator's entry shared plan, the Hatchling, as opposed to FatCow's only shared plan. Even though these plans seem similar at a glance – both include unlimited storage, bandwidth, and emails – there are a few noteworthy differences between them.
For one, HostGator includes automatic weekly backups, and one free website transfer.
With FatCow, If you already have a website hosted elsewhere, you'll have to migrate it on your own. You'll also have to pay extra for the Site Backup add-on. More importantly, all of HostGator's shared, cloud, and WordPress hosting plans come with SSD storage (which could significantly boost your performance). With FatCow, the shared plan comes with HDD storage and only the WP Essential plan has SSD.
When it comes to ease of use, HostGator's cPanel has the advantage over FatCow's modified version of vDeck.
 FatCow pushes pricey add-ons through vDeck, allowing you to try some of them out from the dashboard. It can get annoying, since add-ons continue to appear on your dashboard even though they're not actually part of your plan.
While the FatCow's homepage says a website builder is included with its shared plan, this is not actually the case.
 If you want a website builder with FatCow, you have to pay nearly twice the promotional, one-time "introductory rate" every month in addition to the base hosting cost. On the other hand,
HostGator's website builder is included free of charge and it has hundreds of templates to help get you started.
Finally, both FatCow and HostGator offer a free domain name if you sign up for at least a year, as well as $200 worth of advertising credits with Bing and Google.
| | | |
| --- | --- | --- |
| Feature | FatCow | HostGator |
| Hosting Type | Shared, VPS, WordPress, dedicated servers | Shared, VPS, managed WordPress, reseller, cloud, dedicated servers |
| Free Domain | Yes | Yes |
| Free SSL Certificate | Yes | Yes |
| Disk Space | Unlimited | Unlimited |
| Bandwidth | Unmetered | Unmetered |
| Automatic Backups | Paid | Weekly |
| Control Panel | Customized vDeck | cPanel |
| Email Accounts | Unlimited | Unlimited |
| Free CDN | Yes | No |
| Free Site Migration | No | Yes |
| Money-Back Guarantee | 30 Days | 45 Days |
4. Performance
HostGator Is Fast, while FatCow Tries to Keep Up
Both web hosts only have servers within the US. FatCow's data centers are located in Boston, while HostGator's are in Texas and Utah. Unless you're using a CDN (content delivery network), this means that people visiting your website from Europe, Asia, or Australia will experience longer page load times.
FatCow offers an integrated CDN, according to its support agents, while HostGator does not have one.
You can, however, purchase the paid SiteLock upgrade with either service. However, my advice is that you first try to install the free version of Cloudflare and see if that makes things better.
If you want the affordability of a shared plan, HostGator is likely to offer better performance than FatCow for the simple reason that they have full SSD storage, while FatCow is still trudging along with HDDs.
More importantly, FatCow does not have a service-level uptime guarantee.
 This means that in the event of server downtime, you won't be compensated for the amount of time your website is offline. There's also no guarantee that the server will be up and running within a reasonable amount of time.
On the other hand, HostGator has a standard 99.9% uptime guarantee.
 In the event that you get any less than this, you may be eligible for credits that are worth one month of subscription.
HostGator managed an impressive score in our performance tests. To learn more, you can read our
in-depth HostGator review
. Unfortunately, we haven't had the chance to thoroughly assess FatCow's performance. To learn more about the web host's performance-related optimizations, you can read our
expert FatCow review
.
5. Security
Both Hosts Offer Basic Security, but You Have to Pay for Advanced Modules
Both FatCow and HostGator give you access to free SSL certificates from Let's Encrypt, as well as a spam filter for email.
 The SSL installation process is straightforward and can easily be done from your dashboard, while the spam filter is set up from the backend by each host, so you don't have to worry about it. Unfortunately, FatCow does not ensure any automatic backups. HostGator provides weekly snapshots, but you can also create DIY backups whenever you want to make sure that your work is saved. To benefit from daily automatic backups with either, you'll have to purchase an additional upgrade (Site Backup with FatCow, CodeGuard with HostGator).
If you are looking for additional protection, neither of these web hosts will make it easy on your wallet.
 Malware and virus scans and SiteLock hacker protection will double your monthly fees with both hosts. On the bright side
, HostGator's servers have custom firewall rules to prevent DDoS attacks in the form of UDP floods.
 This is included in all plans and you don't have to pay for it. If you want to benefit from similar protection with FatCow, you have to buy SiteLock.
HostGator Isn't Great, but It Sure Beats FatCow
I wish I had better news for you after this in-depth analysis.
Even though HostGator is the winner, neither of these two hosts is great.
 Still, hosting your website on HostGator will be cheaper, and you're more likely to get decent performance.
You can get more value for better prices with Hostinger, a no-nonsense web host.
 The features are very similar, but the service is excellent and the performance is probably the best I've seen for shared hosting. Neither FatCow hor HostGator managed to grab a spot in our top 10 web hosts. To see the providers that did make the cut, check out our list of
the best web hosting services
.
Plans and Pricing
Higher than average prices with steep renewals and modest value
Competitive prices with acceptable renewals and good value
Key Features
Unlimited bandwidth, unlimited storage, unlimited emails, vDeck control panel
Unlimited bandwidth, unlimited storage, unlimited emails, cPanel, free website builder
Performance
HDD storage on shared hosting and VPS, no SLA uptime guarantee, two US-based servers
SSD storage on shared plans, 99.9% uptime guarantee, two US-based servers
Security
Free SSL certificates, paid-for backups, additional security add-ons can be purchased
Free SSL certificates, weekly automatic backups, embedded DDoS protection, security add-ons available
Support
24/7 support via live chat and phone, scarce knowledge base
24/7 support via live chat and email, good knowledge base
FAQ
Is HostGator better than FatCow?
HostGator is only marginally better than FatCow. For example, FatCow does not offer SSD storage on shared plans, while HostGator has SSD on all its plans. HostGator offers an uptime SLA, which is a guarantee that it will do its best to keep your website up and running. FatCow does not have an uptime guarantee. If you're looking for a new web host, my recommendation is to explore other options. When you compare FatCow of HostGator to some of the best web hosts, you'll see what I mean.
Is FatCow cheap?
No. FatCow is actually more expensive than most web hosts of its caliber. To make things worse, renewal prices are very high and you don't get much value for your money. It never hurts to keep looking – and our coupon page, where you can see all the best deals in the world of web hosting, is a great place to start.
Does HostGator offer cloud hosting?
Yes. HostGator does offer several cloud hosting plans. However, HostGator is not my first choice for cloud hosting, especially when it comes down to performance and service level. If I were you, I'd compare HostGator with some of the industry-leading cloud hosts before making a purchase.
Does FatCow use cPanel?
No. I've confirmed this in an awkward interaction with one of FatCow's agents, where I was initially told that FatCow uses cPanel right before the agent switched their statement. To this day, I cannot say why this was the case. FatCow uses a modified version of vDeck, which wouldn't be my first choice of control panel with respect to ease of use. What's worse, FatCow uses its dashboard to frequently push upgrades.