Both Shopify and Etsy will let you sell your arts and crafts online, but
the best option for your business will depend on your personal needs.
Shopify is a website builder that lets you create your own online shop where you can sell virtually any type of product. Etsy is an online marketplace like Amazon where you can sell handmade goods and vintage items. After testing them both,
I found Shopify to be the best platform overall, offering an intuitive interface and over six thousand apps
to extend your store's functionality. It also comes packed with features to help you scale your business quickly, making it a good choice for both smaller and larger stores. That said,
Etsy is still a great option if you're just starting out
. You'll get immediate access to its large user base, helping you reach potential customers quickly. Once your business is more established, you can use Shopify to create a standalone, fully-functional shop that reflects your brand. But even as you grow,
there's no need to discard your Etsy store
– you can keep it as an additional outlet and extra source of income. You can
try Shopify for free now
, or read on to learn more about the benefits of having both platforms.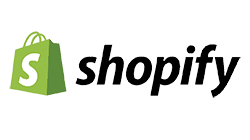 Save up to 25 % on your Shopify plan!
Limited-time offer - Don't miss it!
293 users used this coupon!
Templates
Etsy Doesn't Have Templates; Shopify Offers Dozens of Designs
Etsy is an online marketplace
, not a website builder, so it doesn't offer templates. While this makes it super easy to set up your store, it also means you're pretty much stuck with a single layout and design. You can add your own logo and banner, but
your Etsy shop will still look more or less the same as everyone else's
, making it difficult to really stand out.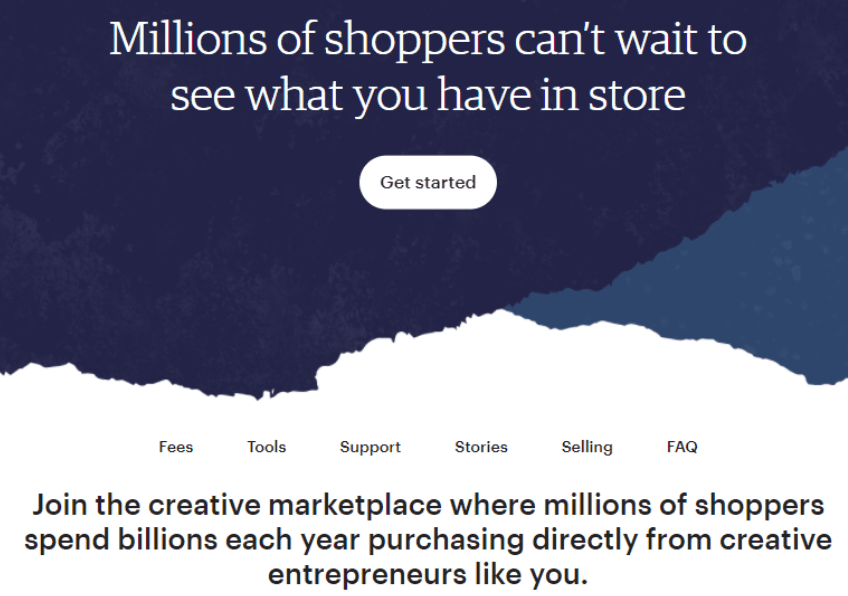 Shopify, on the other hand, offers over 80 designer-made templates (called "themes")
, including 13 free designs. Each one looks polished and elegant. Plus, every theme is mobile responsive, meaning it'll adjust automatically to look as good on mobiles. And if none of Shopify's native designs meet your needs, you can import a third-party theme from an external provider like
ThemeForest
.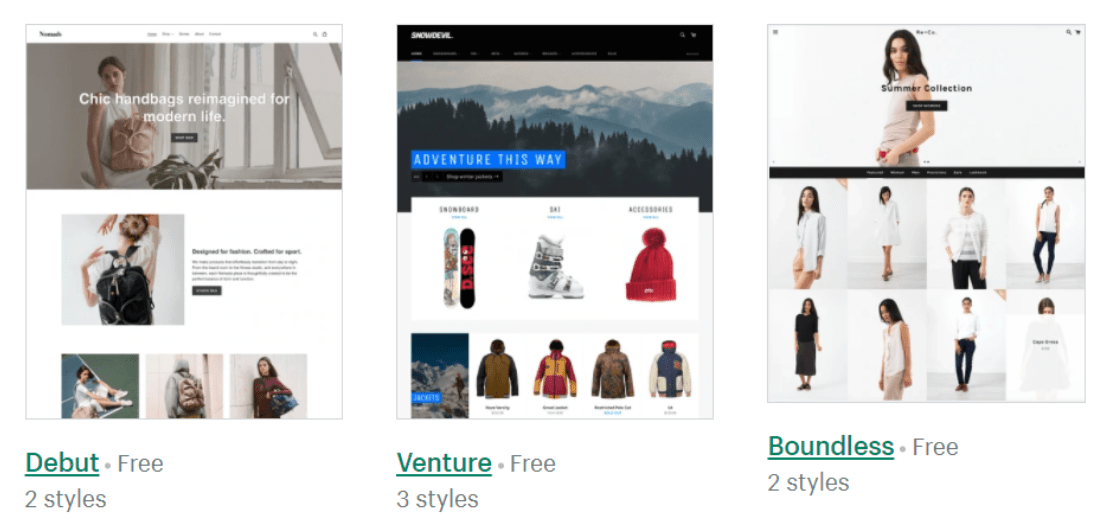 Compared to Etsy, Shopify also offers far more customization options
. For example, you can modify fonts, colors, and layouts to give your store a distinctive visual identity that matches your brand. Or, for a totally unique look, you can edit your theme's code to customize it in almost any way you like.
Features and Ease of Use
Both Shopify and Etsy Are Easy to Use, but Shopify Offers More Features
Opening a store with Etsy
only takes a few minutes.
Once you set up an account, you'll answer some basic questions about your business and choose your store's name. Then you'll upload your product images and info, set up payment options, and you're good to go.

With Shopify, you get much more creative control over your store's design, so it can take a bit longer to set things up. However, this doesn't mean creating a store is difficult.
Shopify's drag-and-drop editor
 is intuitive and easy to navigate
, so customizing your template will be pretty straightforward, even if you're a beginner. You can add and modify template sections such as columns, testimonials, sign-up forms, slideshows, and more. Don't worry if that sounds like a lot to get your head around –
Shopify provides lots of easy setup guides to help you get started.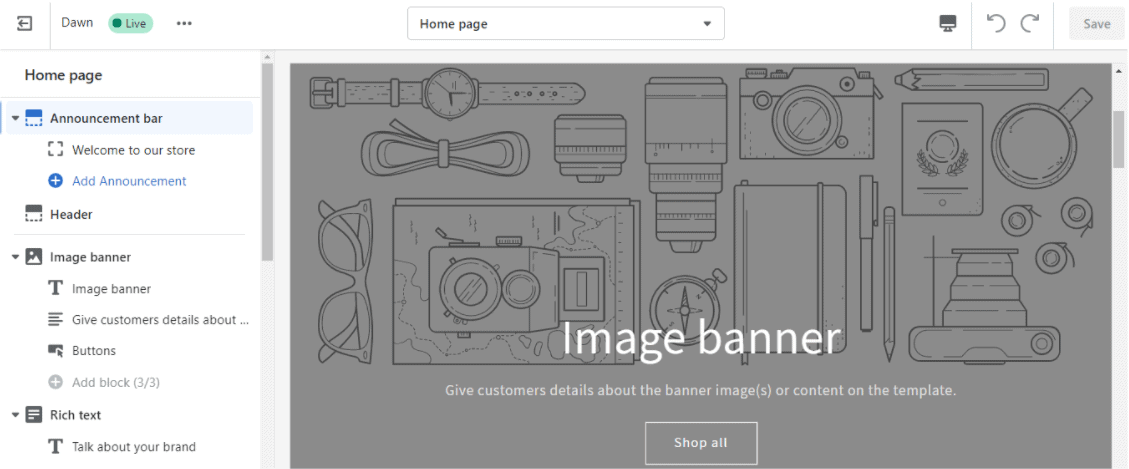 When it comes to features, Shopify outperforms Etsy in almost every respect
. You get more tools to manage your store and promote your products, you can sell on various channels (including social media), and you get access to more payment options. Unlike Etsy,
Shopify also lets you add a blog to your online store
, which can help you expose your products to more potential customers. The bottom line is that while Etsy will let you set up an online store faster, Shopify is still easy to use and offers better e-commerce and marketing features. Plus, you get more ways to customize your store and make your brand and products stand out.
E-Commerce
Etsy Has a Solid Set of Tools, but Shopify Is More Powerful
Etsy doesn't let you customize the layout of your product pages, but you can still showcase your crafts. For each listing, you can add up to 10 photos of your product from various angles to give shoppers a more detailed view. Still,
Shopify lets you add more than just standard images. You can add 3D models and videos of your items
to show them in their best light.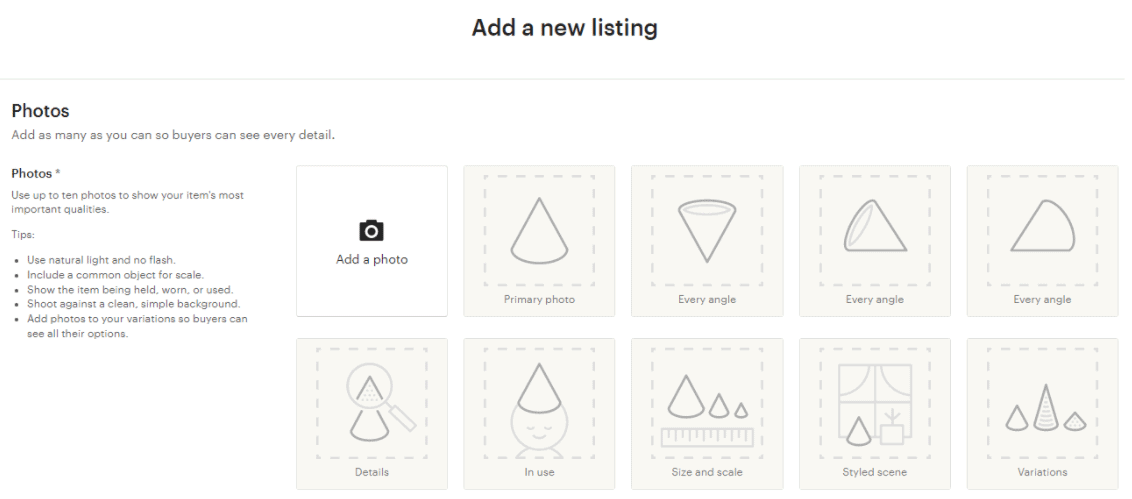 Adding items is straightforward on both Etsy and Shopify, but
Spotify gives you more options for setting product specifics.
It only takes a few minutes to enter basic product information like name, category, and price. You can then set up more advanced info, such as product variations, later – Shopify won't overwhelm you with a ton of options right off the bat.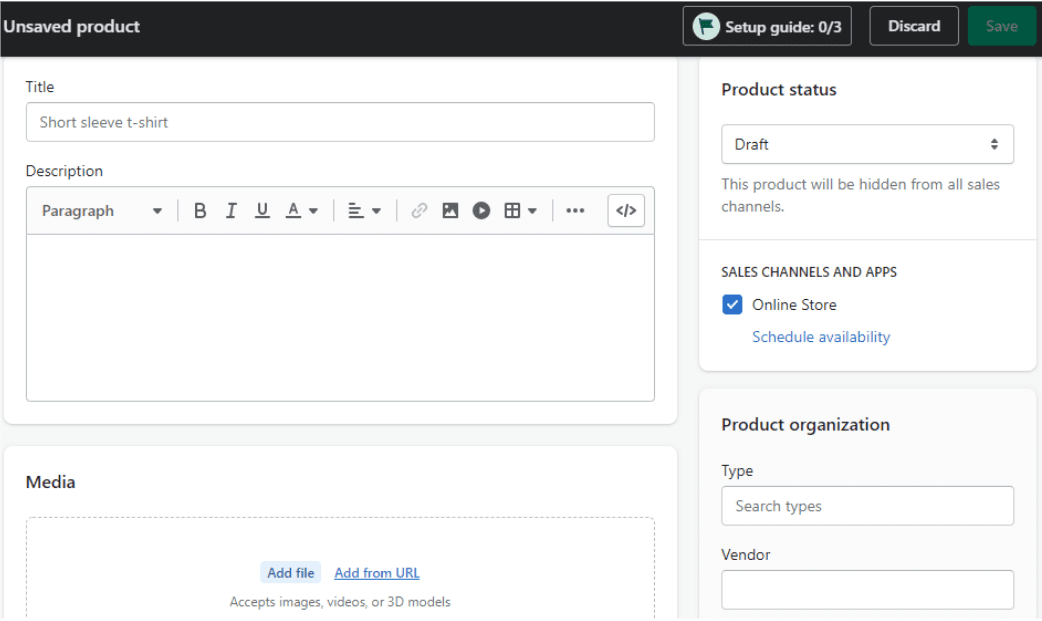 Etsy gives you basic tools for managing your orders and communicating with your customers
, whether through your online account or the Etsy App. However, Shopify gives you a far greater variety of advanced e-commerce tools. For example,
Shopify offers customizable customer login areas and one-click checkouts
to let your customers shop hassle-free. And if you already own a brick-and-mortar shop,
Shopify's POS system
 will allow you sync your physical and online stores. Etsy's major drawback is that it forces you to use its proprietary payment system, Etsy Payments, which isn't available everywhere.
Shopify gives you much more freedom, allowing you to integrate with over 100 payment gateways
, such as PayPal and Stripe. And if you use Shopify Payments, you won't be charged transaction fees (which can't be avoided with Etsy). Overall, while Etsy provides a decent range of tools, Shopify provides more advanced e-commerce functionality. And thanks to its ability to connect with multiple payment processors, you can sell to and from practically anywhere.
SEO
Etsy Has Its Own SEO Strategy; Shopify Offers Diverse Tools
Etsy has its own search engine that ranks listings based on customers' search queries and the chance it thinks they will buy a product. Since you're
listing your items within Etsy's closed ecosystem, you may find it easier to make your products visible
– at least at first.
Shopify lets you increase your store's visibility to the entire internet
, exposing you to a much larger customer base. The only downside is that you'll be competing with more sites. It may take you a bit longer to get a store to rank highly on Google than on Etsy. Both Etsy and Shopify allow you to optimize your product titles, categories, and descriptions. But unlike Etsy, Shopify automatically creates a sitemap of your store so that search engines can easily scan your website.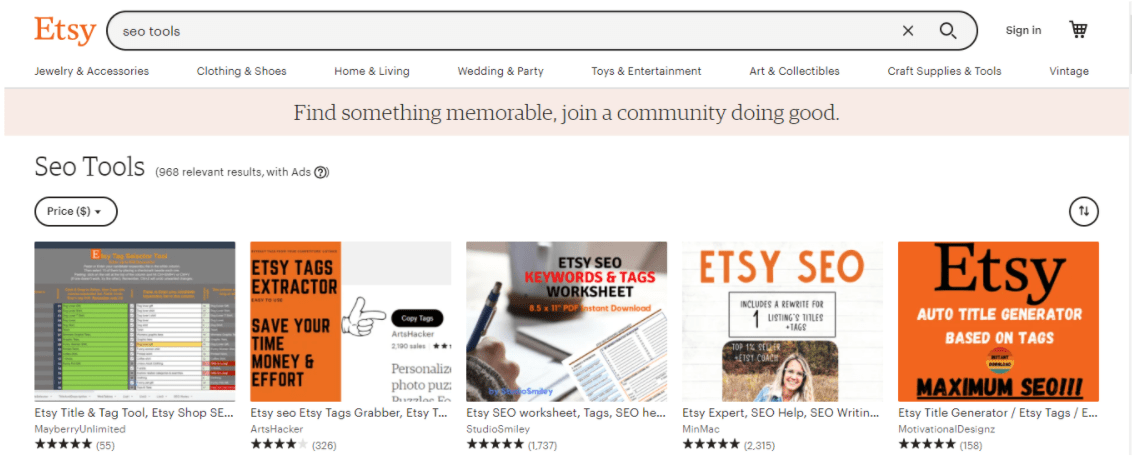 When it comes to analytics,
Etsy's built-in reporting tool gives you insight into how people find your listings.
It displays page views, traffic sources, and the search terms that led shoppers to your products.
Shopify Analytics, though, tells you all this and more
. For example, it records customer search terms that didn't return any products, helping you refine your SEO strategy over time.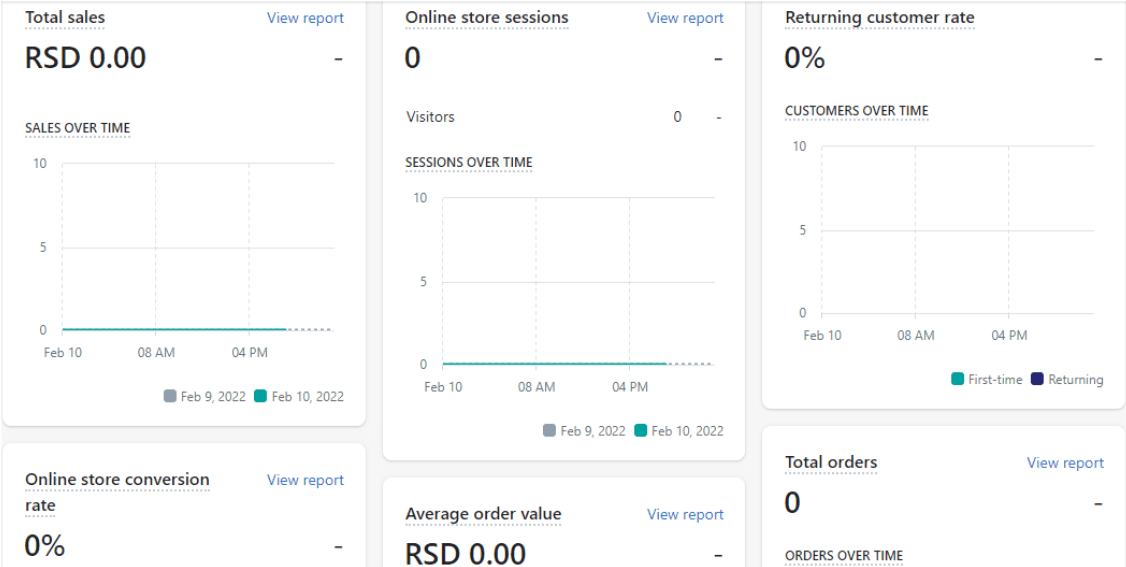 Ultimately, Etsy makes it easier for potential customers to find your products just by searching. With Shopify, you may have to put some extra hours into marketing to drive traffic to your store. However, as your business grows and your site ranks higher on search engines,
Shopify will ultimately help take your sales to the next level.
Marketing
Etsy Offers Basic Features; Shopify Has Stellar Email Marketing
Etsy offers a simple but effective set of marketing tools. You can create coupons, share to social media, and add third-party tools like Google Shopping. For more advanced features, you'll have to upgrade to
Etsy Plus
.
This gives you access to ad credits,
banner templates, the ability to send customers item-restock email alerts
, and more.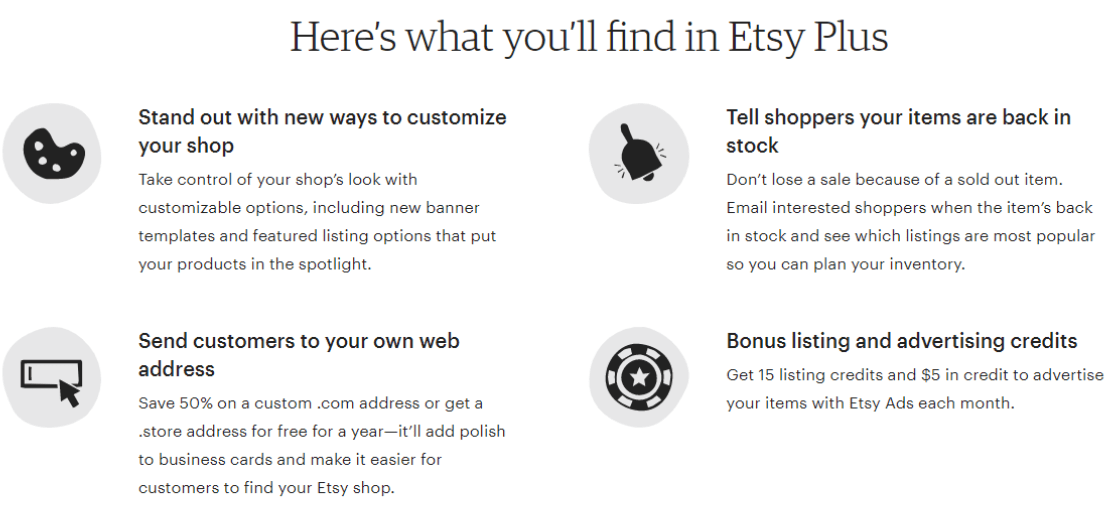 However, even the marketing features on Etsy Plus can't rival Shopify's built-in tools. For example, Etsy doesn't offer any email marketing tools, whereas
Shopify Email gives you everything you need to run a large-scale email marketing campaign.
This includes pre-configured email templates that automatically pull your products, logo, and store colors. You can even
send up to 2,500 free emails per month.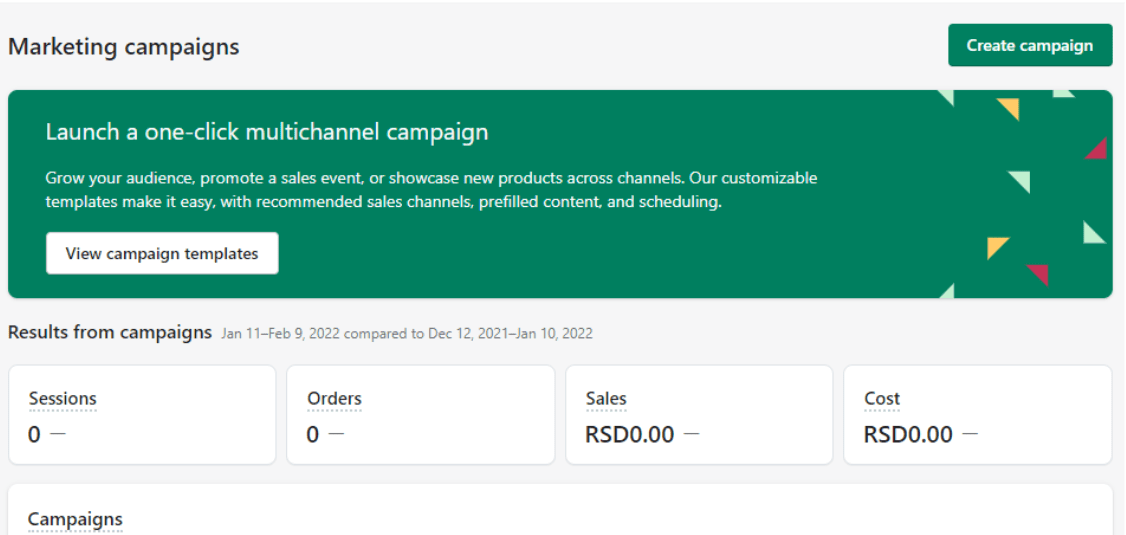 Shopify also lets you promote eligible products by listing them for free on Google's Shopping tab. Even more impressive,
you can sell on various channels through Shopify
, including Facebook, Instagram, eBay, and more.
Apps
Shopify's Huge App Store Has Everything You Need
Shopify is the clear winner when it comes to third-party integrations. Its app store contains
over 6,000 free and paid apps
. There's a tool for virtually everything, including dropshipping apps, countdown timers, loyalty programs, and a lot more.

Unlike Shopify, Etsy doesn't have its own app store. However,
you can find lots of apps from third-party marketplaces and providers designed specifically for Etsy sellers
. Still, Etsy can't compete with Shopify when it comes to either the variety of apps available or the convenience of browsing and installing these from a single app store.
Pricing
Shopify Costs More, but It Provides Better Value
Etsy Standard plan is completely free to use
and lets you sell as many products as you like. For a monthly subscription, Etsy Plus unlocks more features like shop customization, restock requests, and 15 free listings per month.
Regardless of which Etsy plan you choose, you'll have to pay three types of fees
: listing fees (per item), transaction fees, and payment processing fees.
Shopify offers a free trial
and three paid plans.
All plans include unlimited products, abandoned cart recovery,
multilingual stores, and 24/7 support.
Higher-tier plans allow you to add more staff accounts and assign inventory to more locations. Just note that if you don't use Shopify Payments, you'll also have to pay transaction and credit card processing fees. In the end, Etsy is likely to be cheaper if you're just starting out, but
Shopify's extensive set of features provides better value overall
. And even on Etsy's free plan, the various fees can really eat into your profits.
If you sell a large volume of products, Shopify could actually save you money
– provided you stick to Shopify Payments.
Etsy Plus
Basic Shopify
Starting price
$10

$

29.00

Transaction fees

✔

Yes, unless you use Shopify Payments

Number of products you can sell

Unlimited

Unlimited

Multi-channel selling

✘

 

✔

POS system

✘

 

✔

Abandoned cart recovery

✘

 

✔

24/7 customer support

Yes, in some cases

 

✔
Support
Both Have Large Help Centers, but Shopify Offers Better Live Support
Both Etsy and Shopify provide extensive support documentation, including articles and tutorials on a wide range of topics. Etsy also gives you access to its seller handbook – a detailed, searchable guide on all aspects of selling on its platform.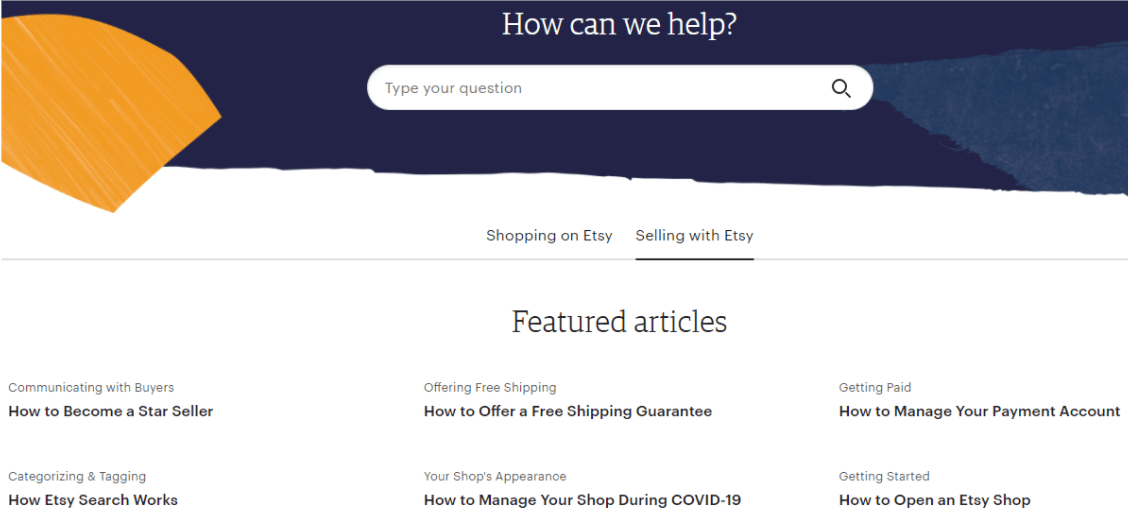 However, Shopify has the edge when it comes to direct support.
It offers unlimited 24/7 live chat, email, and phone support,
whereas Etsy only offers these support channels for certain kinds of issues.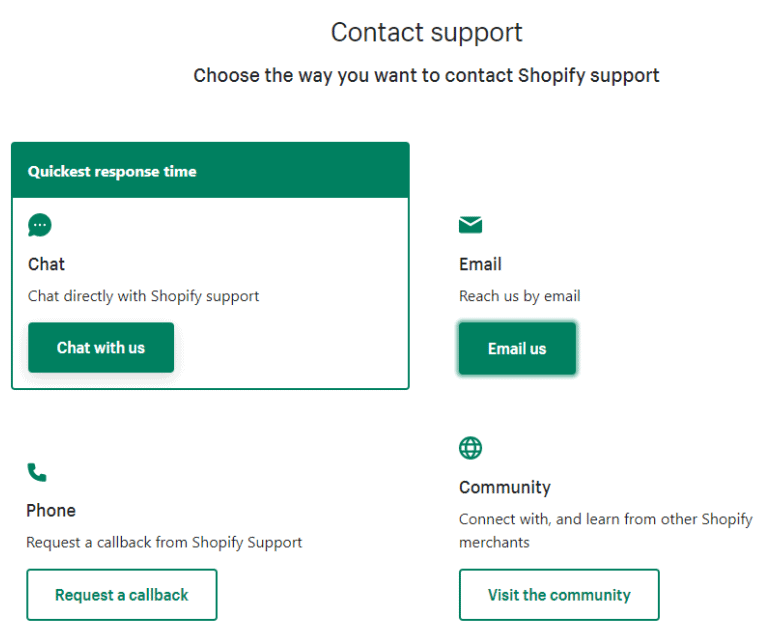 In my experience, Shopify's support agents are very responsive. When I tested it's live chat, I usually got a reply within a few minutes.
Shopify Wins, but Etsy Remains a Great Add-On
If you're looking to scale quickly, Shopify is your best option.
It has a simple editor, extensive sales features, and loads of third-party apps to extend your site's functionality. That said, Etsy is still a good option if you're just starting out or have only a small number of items to sell. Tapping into its huge customer base can really help put your products on the map. Once your sales pick up, you can create a Shopify store to help develop your brand. Ultimately, you don't need to choose between them.
You can always run a Shopify and Etsy store in parallel
to get the benefits of both
. Though Shopify and Etsy are popular e-commerce choices, they're not for everyone. If neither platform meets your needs, take a look at our list of
the best website builders for 2023
to review more options.
Features & Ease of Use
Easy to use, few customization options
Intuitive drag-and-drop editor, lots of customization options
Apps
No app market, ability to add apps from third-party marketplaces
6,000+ apps, easy to search and install from the Shopify App Store
E-Commerce
Essential tools for quick selling
Extensive set of essential and advanced features
Marketing
Advanced features on the paid plan
Plenty of tools, focus on email marketing and multichannel selling
SEO
Internal search engine, built-in reporting tool
Built-in SEO tools, Shopify Analytics, ability to add Google Analytics
Pricing
Free plan and one paid plan; cheaper for lower sales volumes
Free trial and three paid plans; cheaper for larger sales volumes
Support
Support articles

Community forum

Limited

live chat, email, and (callback only) phone support
Support articles 

Community forum

Unlimited

24/7 live chat, email, and (callback only) phone support
FAQ
Which is better, Etsy or Shopify?
Etsy is great if you're new to online selling and offer a small catalog of handmade goods or vintage items. Shopify helps you build a fully fledged website where you can sell a wider range of products. It also gives you tons of features to manage and expand your business, making it a better option for scaling.
Is Shopify more expensive than Etsy?
Shopify can be more expensive than Etsy, depending on the plan you choose, how many apps you use, and your sales volume. However, Shopify has more powerful features than Etsy, so it offers better value overall. Unlike Etsy, Shopify doesn't have a free plan, but it does have a free trial, so you can try it out before you commit.
Should I have an Etsy and a Shopify store?
Both Etsy and Shopify are incredibly easy to use, and managing them together can increase your overall income. You can keep your Etsy shop as a side gig for selling crafts and use your Shopify store to offer a wider selection of products, develop your brand, and build your own customer base.
Is it better to sell on Etsy or on your own website?
Selling on Etsy gives you access to its huge customer base, so you don't need to worry as much about driving traffic to your store. If you sell on your own site, you'll be solely responsible for driving traffic to it, but you'll also get far more control over your store's look, feel, and features. Check out our list of the best website builders for 2023 to discover lots of options for building a site easily.