Eleven2 and HostGator may seem similar at first glance, but that's not the case.  HostGator provides useful features that Eleven2 doesn't have, such as a website builder, spam filtering, and more. Even though Eleven2 claims to offer "unlimited love," as far as I'm concerned,
HostGator is the winner of this comparison, because I'd rather have more tools to help build and manage my website.
That said, if I had to choose right now, I wouldn't go with either of these hosts. I'd
choose Hostinger instead
 – not only are the prices better, but you get much more for your money. To compare HostGator vs Eleven2, I tested and researched both web hosting services based on five aspects. Find out more about how they did below.
1.  Plans and Pricing
Eleven2 Is Affordable, but HostGator Offers More Value
Both web hosts offer shared, VPS (virtual private server), cloud, reseller, and dedicated hosting,
but
HostGator's plans offer better value than Eleven2's equivalents.
For example, all of HostGator's shared plans have SSD storage, while Eleven2 has separate plans for shared SSD that offer less storage for the same price as its HDD plans. Other key features you get with HostGator shared plans but not with Eleven2's are unlimited storage, unmetered bandwidth, a free website builder, a free SSL, and email security. Where Eleven2 shines is its pricing transparency: Eleven2 displays its renewal rates for its plans, and you can pay monthly, annually, or every two or three years.
HostGator, on the other hand, only displays its discounted rate, and you need to dig to find that its renewal rate is actually higher than Eleven2's.
HostGator's plans are billed every month, every three months, every six months, annually, or every two or three years.
2.  Features
HostGator Is Packed with Useful Tools, while Eleven2 Has the Basics
Despite its great pricing, Eleven2 falls short of delivering everything you need to set up a website easily.
HostGator includes almost everything Eleven2 offers, but
throws in additional features for free,
such as a free domain for one year and a website builder.
HostGator
Eleven2
Hosting Types
Shared, VPS, dedicated, reseller, WordPress, cloud, Windows
Shared, VPS, dedicated, reseller, cloud
Free Domain

✔

Yes, for one year on annual plans

✘

Disk Space
Unlimited on all shared plans
10 GB to 500 GB on shared plans (5 GB to 200 GB on shared SSD plans)
Bandwidth
Unmetered bandwidth
50 GB to 40 TB on shared plans
Automatic Backups
Weekly backups included, CodeGuard add-on available

✔

Control Panel
cPanel
Proprietary control panel
Free CDN (Content Delivery Network)

✘

✔

Free Site Migration

✔

✔

Money-Back Guarantee
45-day money-back guarantee
60-day money-back guarantee
3.  Performance
Eleven2 Is Reliable, but HostGator Is Even Better
For starters,
both hosts have a standard 99.9% uptime guarantee.
If your site falls short of this benchmark, HostGator gives you a refund worth up to an entire month of service at your current plan, while Eleven2 credits you with one day's worth of service for every 60 minutes of downtime. HostGator has two data centers in the US. Eleven2 has two data centers in North America as well as one in Europe and another in Asia. However,
if you go with an Eleven2 SSD plan, you can't choose the Europe data center
.
HostGator achieved an almost perfect score in our performance tests. To learn more about its strengths, read our
in-depth HostGator review
. Eleven2's has some interesting performance-enhancing features – to learn more about them, you can read our
expert Eleven2 review
.
4.  Security
HostGator Keeps You Safe, while Eleven2 Lets You Fend for Yourself
Not only does HostGator include a free SSL certificate on all its basic web hosting plans, it also protects you from identity theft and spam with SpamAssassin.
Plus, HostGator gives you the option to purchase SiteLock Essentials if you want virus and malware protection. This is not available with Eleven2. If you want the benefit of an SSL with Eleven2, you have to either pay for it or install a free certificate yourself.
Except for the basic protection offered by the network configuration, there are no additional security features with Eleven2.
Only its managed enterprise servers feature advanced monitoring and firewalls.
5.  Support
Eleven2 Responds Quickly, HostGator Might Keep You Waiting
One drawback to running a popular web hosting service is that support channels can get very crowded during peak hours. Both Eleven2 and HostGator offer 24/7 support via live chat and phone, but they are not equally responsive.
While HostGator's response times for live chat average around 10 minutes, this interval can double if you're stuck in a long queue.
Its customer forum is no better, as posts need to be admin-approved before they go live.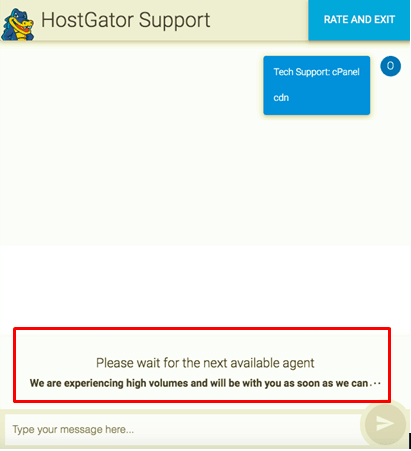 Eleven2 is faster and proficient in answering support inquiries, even when more technical advice is required.
Eleven2 also has a ticket system for support, something HostGator is lacking.
Sometimes You Have to Keep Looking
Although HostGator is a bigger company with a significantly larger customer base, that doesn't necessarily make it better. As I've shown in my comparison, Eleven2 matches up fairly well against HostGator.
However, HostGator is still the overall winner, as it provides a series of features, upgrades, and tools that Eleven2 doesn't have.
Although there's some potential here, neither HostGator nor Eleven2 currently has what it takes to be considered a top hosting service, especially when you compare them with a company like
Hostinger
, which would be my first choice without a doubt. To discover the other hosts that made it into our top 10, read our complete list of the
best web hosting services
. Here's a table to summarize the key takeaways of each section:
Plans and Pricing
Very low prices for initial purchase terms, more expensive than Eleven2 after renewal
Low prices for initial purchase term
Features
Free domain; unlimited storage, bandwidth, websites and emails; free email security and website builder
Free backups, free Cloudflare CDN, unlimited emails
Performance
SSD storage on most plans, two data centers in the US, 99.9% uptime guarantee
SSD storage only available as upgrade or on cloud, data centers in the US, Europe, and Asia, 99.9% uptime guarantee
Security
Free SSL, free email filter, advanced security add-ons
Advanced security available only on managed enterprise solutions
Support
24/7 support via phone and live chat; knowledge base
24/7 support via ticket, live chat, and phone; knowledge base
FAQ
1. Which host is better, Eleven2 or HostGator?
These two web hosts are very similar, but HostGator will ultimately give you better value for your money. For instance, with HostGator's shared plans, you get a bunch of useful features, such as a website builder and unlimited bandwidth, which are not included in Eleven2's plans. Whether you're looking for shared, VPS, cloud, or dedicated hosting, there are better alternatives to both Eleven2 and HostGator. Check out our list of the current top 10 best web hosts for some ideas.
2. Does Eleven2 offer cloud hosting?
Eleven2 has one cloud hosting option. It comes with cPanel and unlimited emails, domains, websites, and databases. However, as is the case with its shared plans, Eleven2 doesn't provide much in the way of extra features. My advice is to compare Eleven2's offer with some of the more competitive cloud services. Read our list of the best cloud hosting services for more details.
3. Is Eleven2 cheap?
Eleven2 is an affordable web host, but it's not the cheapest nor the best value option out there. If you're looking for a cheap hosting solution, I highly recommend Hostinger or InterServer.
4. Does Eleven2 have cPanel?
Eleven2 offers cPanel for its cloud hosting, reseller hosting, and dedicated plans. However, on shared hosting, it has a proprietary version of the software (e2Panel) that is supposed to fulfill roughly the same functions. Neither of the two is available on Eleven2's VPS servers, so you'll have to include the costs of a control panel license on top of the plan expense.