if you optimize your e-commerce landing pages for maximum efficiency
, including these five best practices:
#1: Have a Clearly Defined Goal
When setting up your landing page, the first thing you need to do is make it clear why it's there in the first place. The
best landing page builders
include various types of forms for visitors to fill out. If you're trying to encourage a purchase (which is often a default purpose of an e-commerce landing page), you need to make it clear to potential customers what's in it for them. Having clear copy immediately lets people know the central theme of the landing page. Start with a
customer-oriented and engaging headline
, possibly coupled with the one from your ad so the transition feels comfortable and natural. Adding a few lines about your product or service is always a good idea,
highlighting the most important or relevant features
.
Case in Point:
Shopify's trial landing page has an on-point, attention-grabbing headline and CTA, which does not waste words to get to the point. A few bullet points accentuate the main benefits and there's only one field that needs to be filled out (I'll get to that in a minute), making it all that much easier to get started.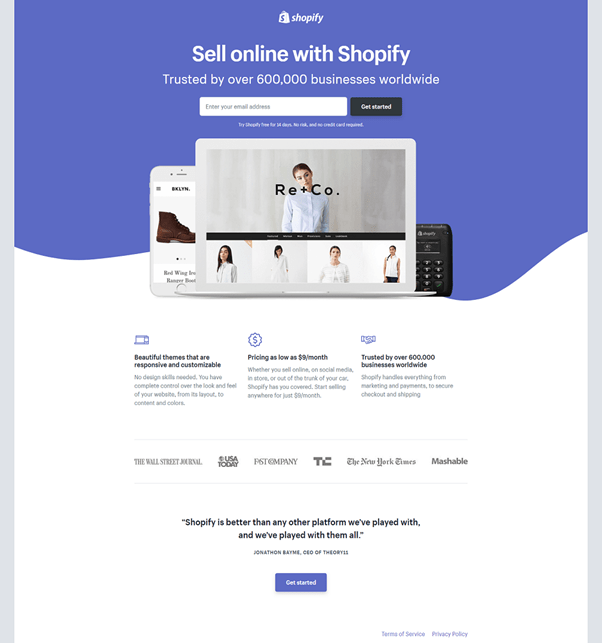 #2: Make your CTA (Call to Action) Pop
Don't fall into the trap of thinking it's enough to place a button here, a few words there, and expect people to click on it. That's where your call to action comes into play. A strong CTA is vital to the success of your landing page with every aspect requiring attention to make it work. Your CTA should stand out, either by color, size, or positioning. For color purposes, it's always a good idea to
use contrasting colors that will easily catch someone's eye
. Obviously, a larger CTA is easier to spot and read; it also allows for a bit more descriptive text than the boring "Buy Now," as
the language of the CTA also plays an important role in conversion
. The same can be said about placement, with the above the fold position (visible without scrolling) being an industry standard. Make sure that your CTA button grabs the most attention in order to maximize conversions.
Case in Point:
Here's how Unbounce promotes its landing page conversion course: the CTA is obvious and eye-catching, standing out amidst the predominantly blue color scheme. The action statement makes it clear what a visitor gets when clicking on the button.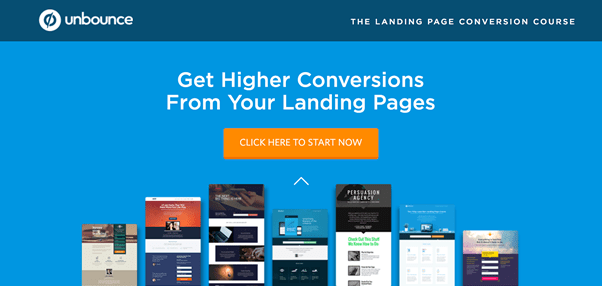 #3: Restrict Visitor Movement
By this, I mean absolutely lose the site navigation capabilities.
A landing page should be a separate entity from your website, one that has a more narrow intent.
There's no need to have links (sans Privacy policy and Terms of Service, which are always a good idea whenever information is submitted) that your visitors can click and thus move away to other parts of your website without committing to a purchase.
Case in Point:
Even if a little extreme in terms of simplicity, Nordstrom's landing page shows thumbnails of different products, adding more as you scroll down. There's nothing else to do but scroll down and click until you find something you like.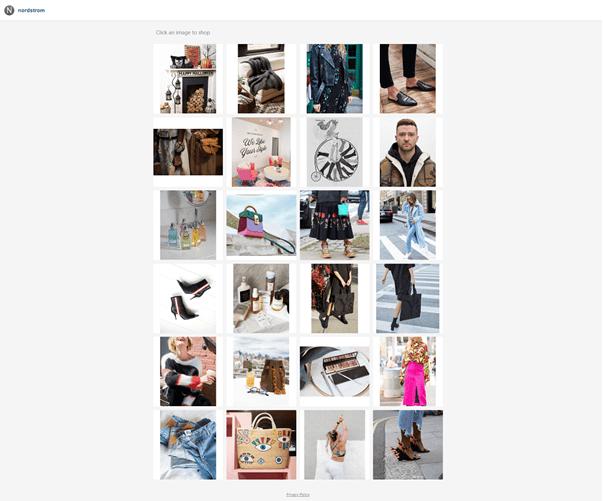 Other, more straightforward examples (like the Shopify one) are usually based on the premise of "what you see is what you get," meaning that the only clickable element is the CTA button.
#4: Keep it Simple
One of the best general practices you can implement when crafting an irresistible landing page is the idea that
less is more
. Keep your landing page simple as to minimize any potential obstacle en route to conversions.
Design-wise, too many visuals or too much copy can risk alienating the visitor by making the page confusing
. The point is to pique interest; a poorly designed page can negate the effect your CTA has, and possibly even obscure the necessary form(s). Too much information can water down the overall message and distract the focus away from the main point. That said, remember that simple doesn't have to mean boring or uninspired. Make sure you still include the essentials: for example, customer testimonials can be a powerful motivator, you just probably don't need 12 of them.
Case in Point:
Industrial Strength Marketing promotes its responsive design guide with a catchy headline and a color scheme which makes the CTA stand out. There are only a few chosen words about the product, all the necessary B2B-related forms are present, and there's a bonus testimonial for a little more extra convincing.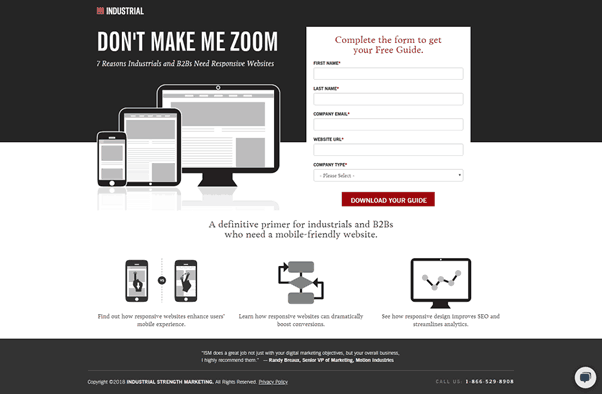 Here's an example of a landing page that gets the simplicity wrong. While there's a neat option to choose a webinar, and the copy is clear, you can barely notice the CTA button. There's also arguably too much text at a first glance, not to mention entirely too many form fields that can easily scare away visitors.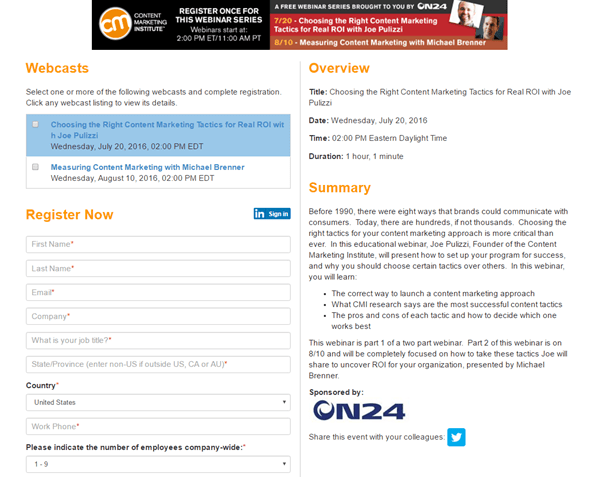 #5: A/B Test to Perfection
A/B testing (or split testing) is the process of testing different versions of a landing page at the same time. Everything is up for grabs here: your copy, images, CTA, layout, etc.
Just be sure to test one variable at a time, so you know what is driving the results.
To optimize your landing page's impact, consistently test and measure results. While certain industry norms suggest that placing CTAs on the right side of the page tends to yield superior performance, your specific audience's preferences could differ. By conducting A/B tests, you ensure the attainment of the most efficient landing page feasible.
Case in Point:
The standard landing page conversion rate is only about 2-3%. That said, the highest performing landing pages can see conversion rates 20% or higher. The difference is knowing what works for your brand and audience, and the only way to do this is through testing. For example, landing page builder
Lander
found that just by testing the color of the CTA button, clients could increase their conversion by 17%. And for e-commerce landing pages,
where a conversion can mean a potential sale or a lifetime customer, A/B testing is intrinsically tied to the financial success of your company
.
Remember: It's a Landing Page, Not a Product Page
In the highly competitive landscape, most e-commerce businesses are continually under pressure to reach their quotas and goals. Specifically designed landing pages that effectively address the needs of your visitors can help ease the strain, but it's important to remember that they serve as a long arm of the sales front, not as a regular product page. By keeping your landing pages focused on generating revenue in accordance with these best practices, you just might be able to relax a bit and enjoy your improved conversion rates.
---
Sources: 1.
Why Users Click Right Calls to Action More Than Left Ones
2.
How to Run A/B Tests That Bring BIG Landing Page Results
Image credits: 3.
Landing Page Optimization: 101 Tips, Strategies, & Examples
4.
110 Landing Page Examples