Squarespace is the number one option
if you're designing your first website. Primarily
due to its clean, minimalist-style templates, and ease of use
. It is for this reason it has come to be known as "the Apple of website builders." That said, it does have limitations. Ease of use and clean design will, inevitably, lead to limits in terms of the flexibility available to any web developer using the platform.
Duda, on the other hand, offers more flexibility and is still fairly easy to use.
 But it comes with a plethora of options useful to website development agencies that run well beyond your needs if you're aiming to build your first website – whether it's for business or personal use.
I've built several websites, which include successful e-commerce businesses. So I decided to put both of these platforms to the test.
 Want to know how they performed?
Templates
Can Squarespace Match the Builder Designed for Web Development Agencies?
Both platforms offer over tons of pre-designed templates to help get you started.
Duda's templates are divided into ten categories
 which include options for online stores, travel, restaurants, and portfolios.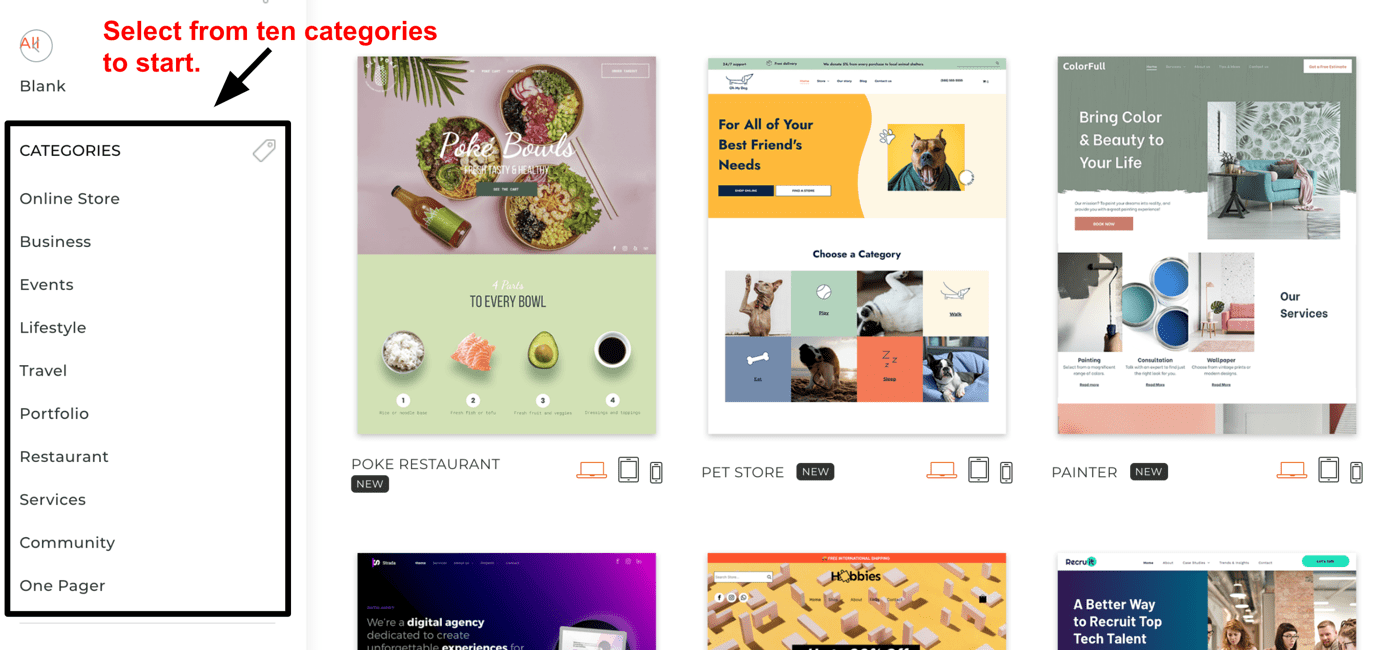 Squarespace offers a more refined way of starting your site building journey. First, you choose from four "types," including:
Online Store, Portfolio, Memberships, Blog, or Launch Page.
Then, you'll get to pick from one of 17 topics so that Squarespace can show you the best template matches for getting started! (All together, there are
60+ templates to choose from
.
) These 17 topics include everything from
Art & Design, Photography, Personal & CV, Fashion, Professional Services, Local Business, Food, Entertainment, Restaurants, Real Estate to Weddings.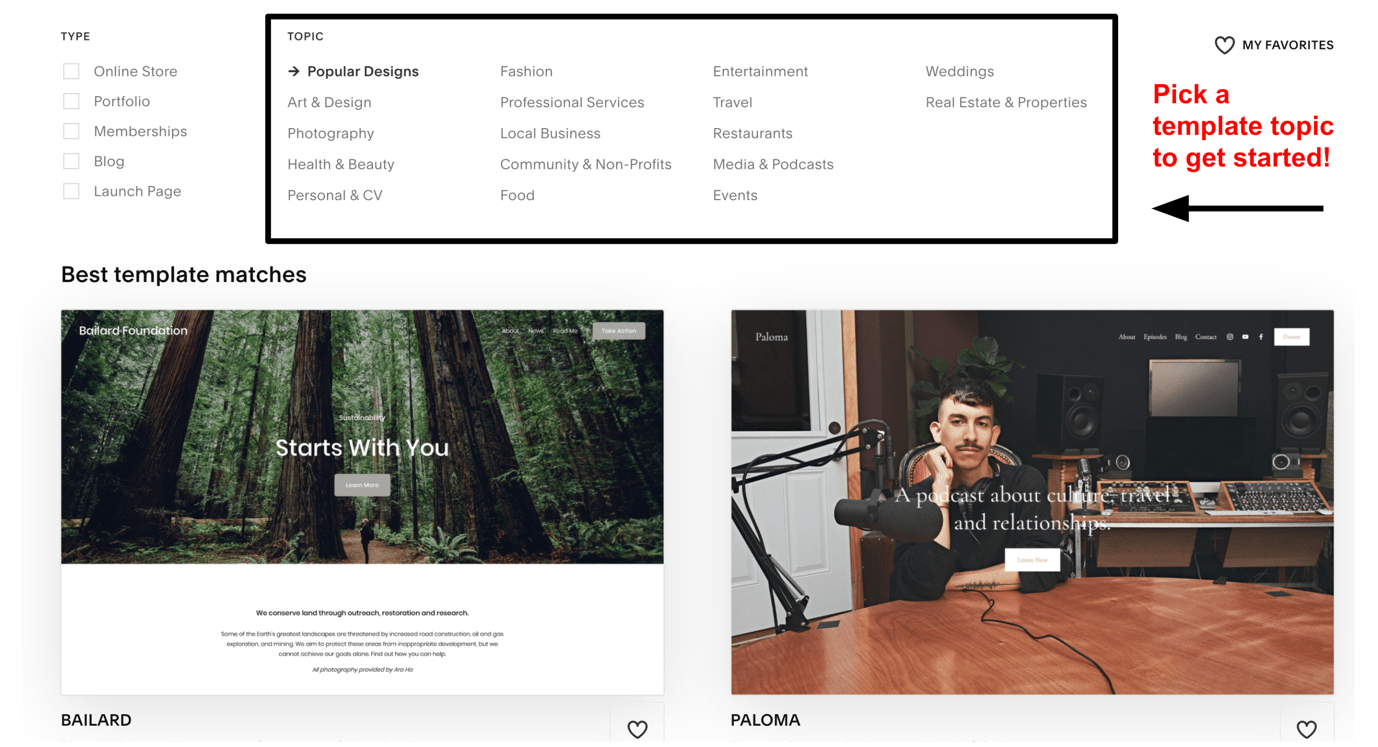 Nothing compares to the
clean and minimalist-style templates of Squarespace.
 They really are great places to start, especially because Squarespace has already done some of the heavy lifting for your site's design – by helping you narrow your choice to a few sensible options. But don't be discouraged if you don't like choices left after Squarespace helps you narrow down your options.
You can choose from any of the templates offered by Squarespace to get started.
You can also purchase Squarespace templates from third-party marketplaces if, for some reason, you're not sold on the ones offered.
Duda's templates look great as well but they're definitely "busier"
 meaning that there is more built into the templates that you will likely need to adjust or customize. This may be great for web development agencies and more experienced website builders, but if you're just getting started the level of choice and things to adjust may be overwhelming.
In Squarespace, customizing your website from the template is straightforward and easy to learn,
especially for the beginner.
 You hover your cursor over specific elements and then select "Edit Section" to make any changes you would like to make.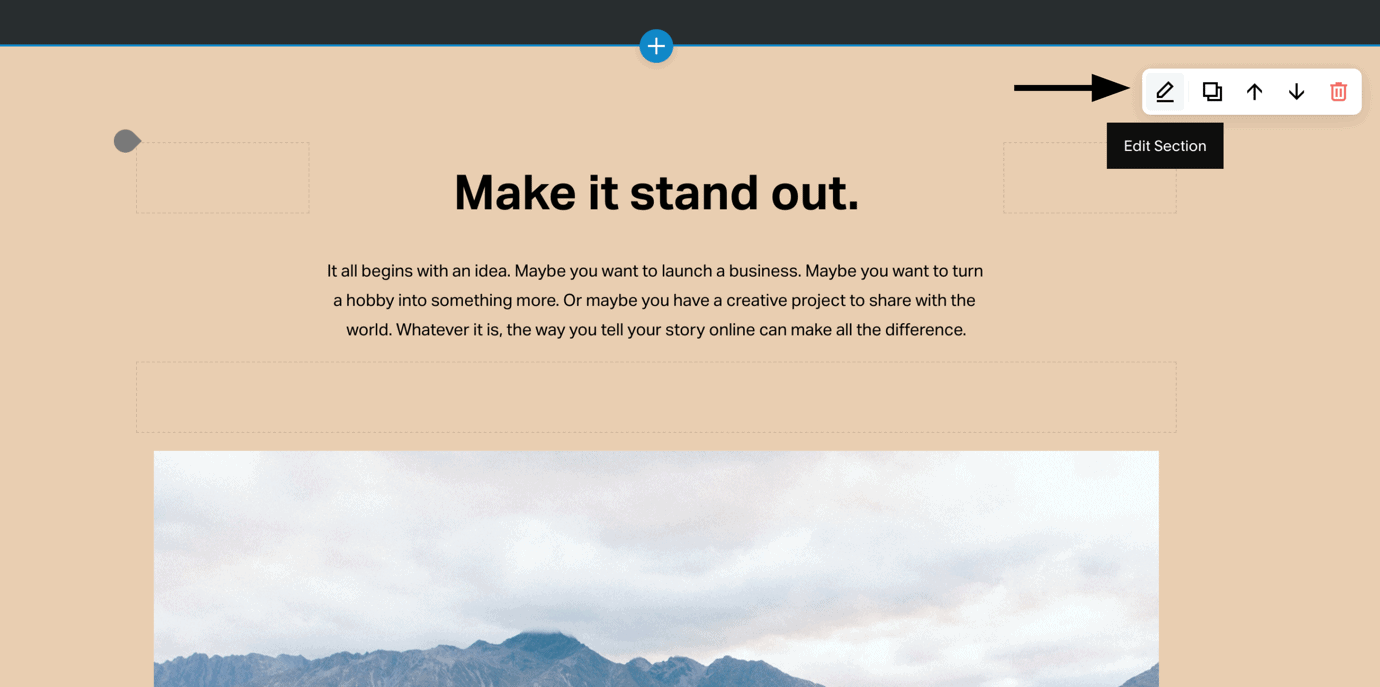 The same is true for Duda, however,
with Duda there are more things that you can change.
For instance, in Squarespace you can only adjust the color of fonts in specific sections within options determined by a color palette that you set for your entire site. Duda, on the other hand, allows you to pick any color you like for any text throughout your site. That said,
Squarespace is designed to be as easy to use as possible,
 so a limit to customization is to be expected.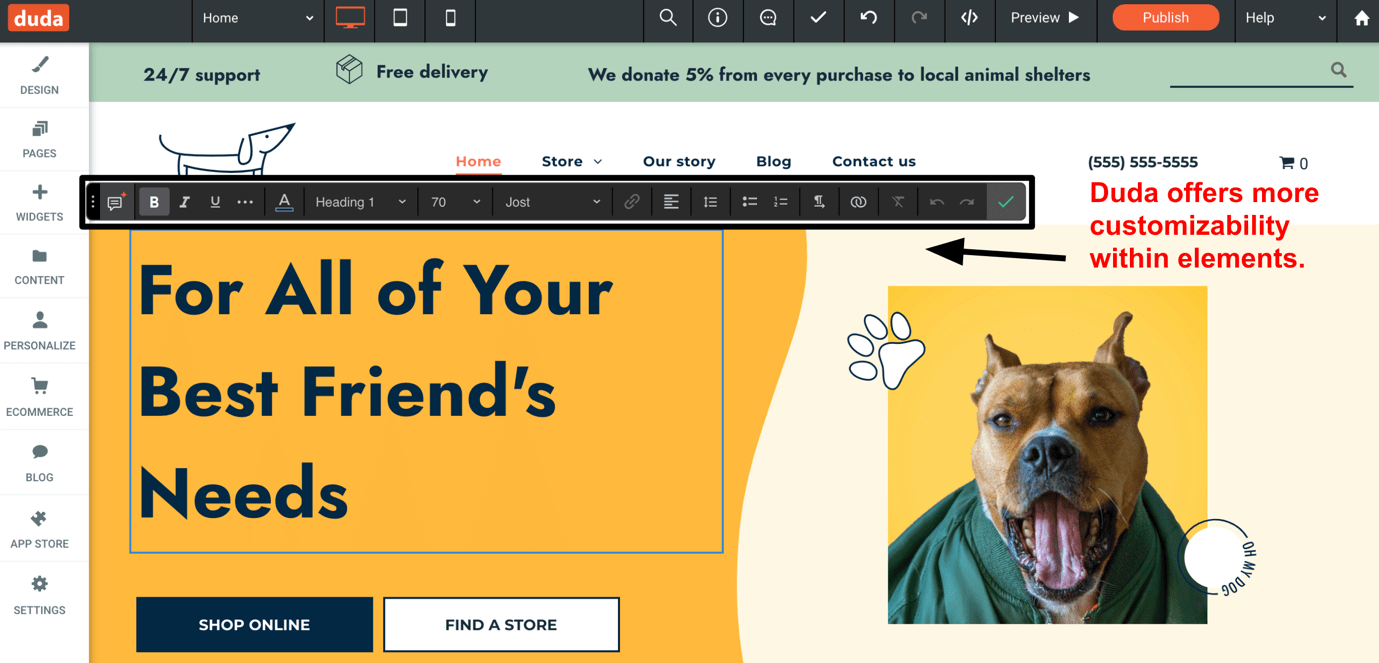 With Duda you can switch templates
 if you like, though it's probably more work than it's worth. If you've spent time working on your site and you decide to switch, you'll have to either do a "complete reset," which will cost you all of that hard work of creating content for your site. Or you can choose to "keep site data," which will allow you to keep data such as blogs intact while you change templates. You will still, however, have to modify the new template to match your preferences.
In a previous version, Squarespace 7.0, it was fairly straightforward to switch templates, but in the new version (7.1) you can't.
 This means that if you want to overhaul your site's presentation you'll either have to start over, or change everything within the template you started with. Not fun.
Features and Ease of Use
Squarespace Is Easier, but Duda Has Cool Features
Both platforms are easy to use, however,
Squarespace will be ideal for most.
Duda's features are aimed at web development
agencies
 with numerous clients. For example,
Duda offers white-labelling,
 which means that if you're developing websites for clients, your clients can log into a dashboard hosted by Duda that will have your agency's branding.
Duda also has a built-in client management system
 to manage your clients from the time they're your prospects to project completion. This is great for agencies, but beyond your needs if you're simply aiming to set up a website for yourself or your business.
And if you want solid support from Duda you will need to pay for this extra stuff!
This is because to access anything outside of mere email support (i.e., chat or phone support) you'll need to subscribe to their second-tier plan. I've written more on this under
pricing
and
support
 below.
Editing your website is straightforward and easy on both platforms
. To add a section to your site in Squarespace you simply select from a number of pre-designed sections and then adjust them to your preferences. These elements include, for e.g., galleries, sections of text, images, and forms. Then, within a website section
you can add content blocks which you can then drag and drop to where you want them.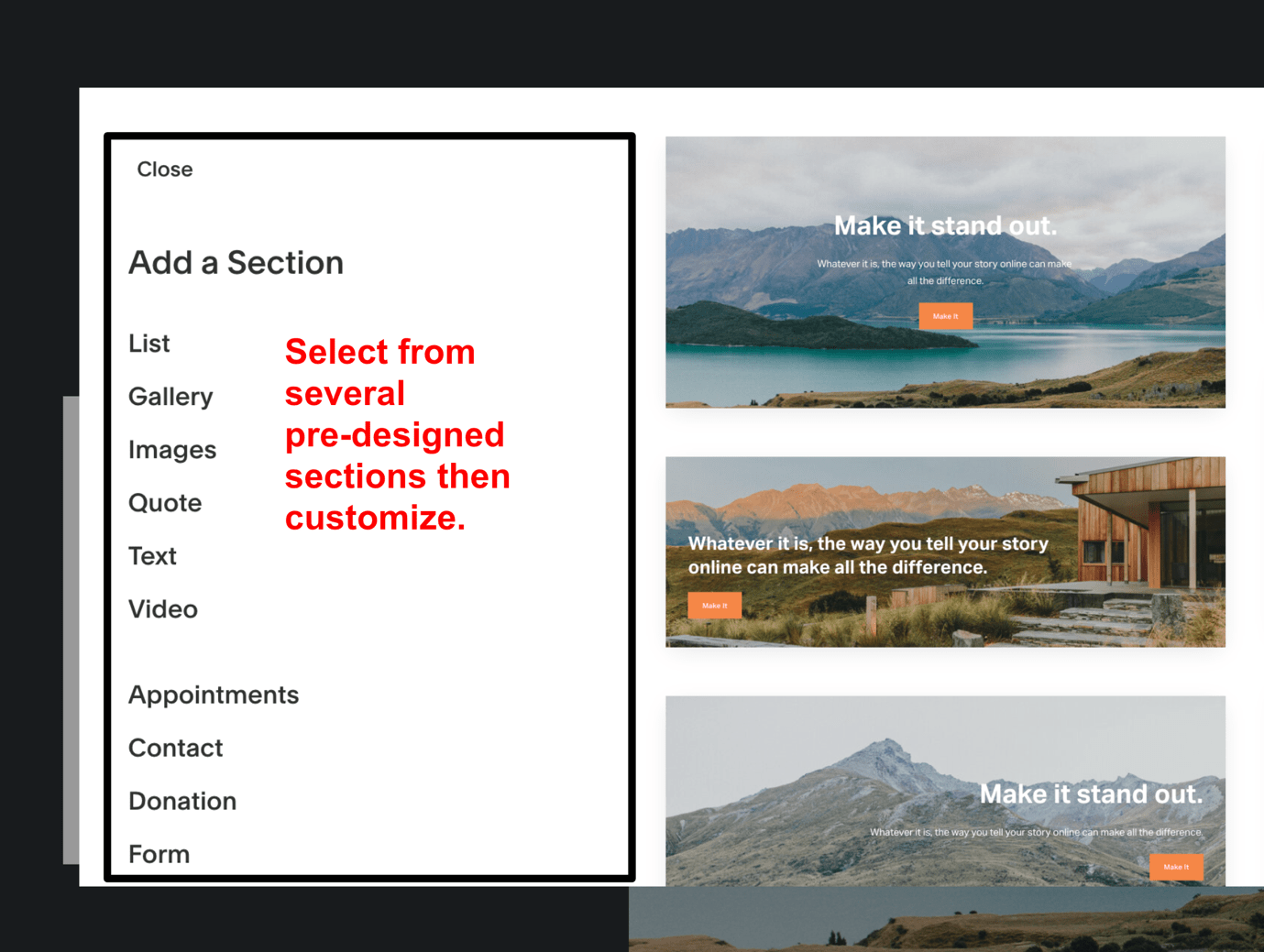 Duda works the same way. It calls its additional content blocks 'widgets' and, like Squarespace, you
simply drag and drop them into sections on your site
. These include options such as text, images, buttons, contact forms, etc.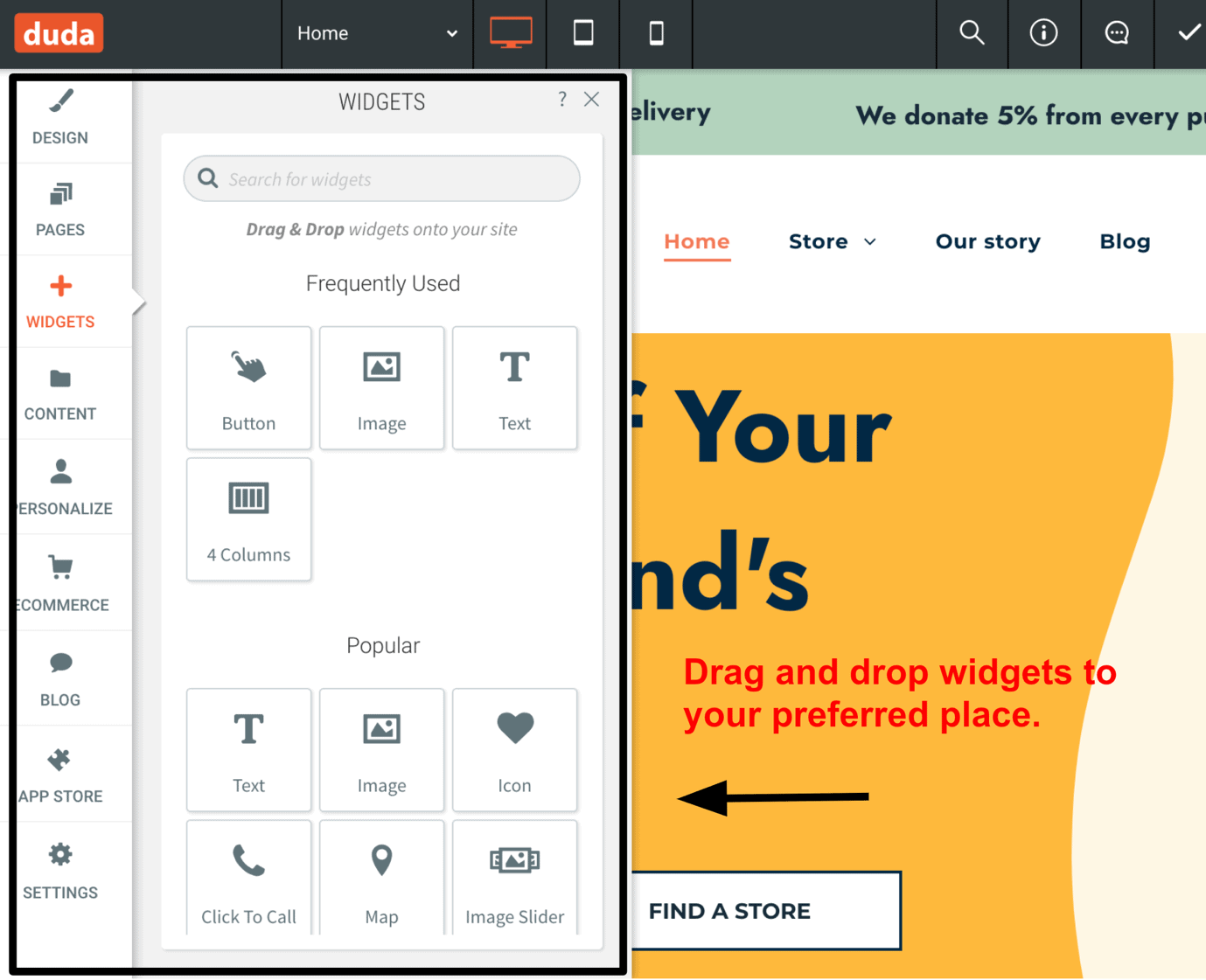 Again, the customizability of Duda's templates is high but may be too much if you're building your first website.
Editing for mobile is straightforward on both platforms.
 From your editing screen you can choose to view and edit in mobile or desktop view. Duda has a tablet-view option as well. Editing
from
mobile is different for each. If you need
to make a change to your Duda website from your mobile device you'll have to do it from within your browser.
And you'll be limited in terms of what you can change. I tried to change the font color of a section on my mobile and couldn't do it. That said, it's good to know that if I have to update text on my Duda site I can do it from anywhere. However,
Squarespace has an app that allows you virtually the same level of editing capability from your mobile device as you get on your desktop.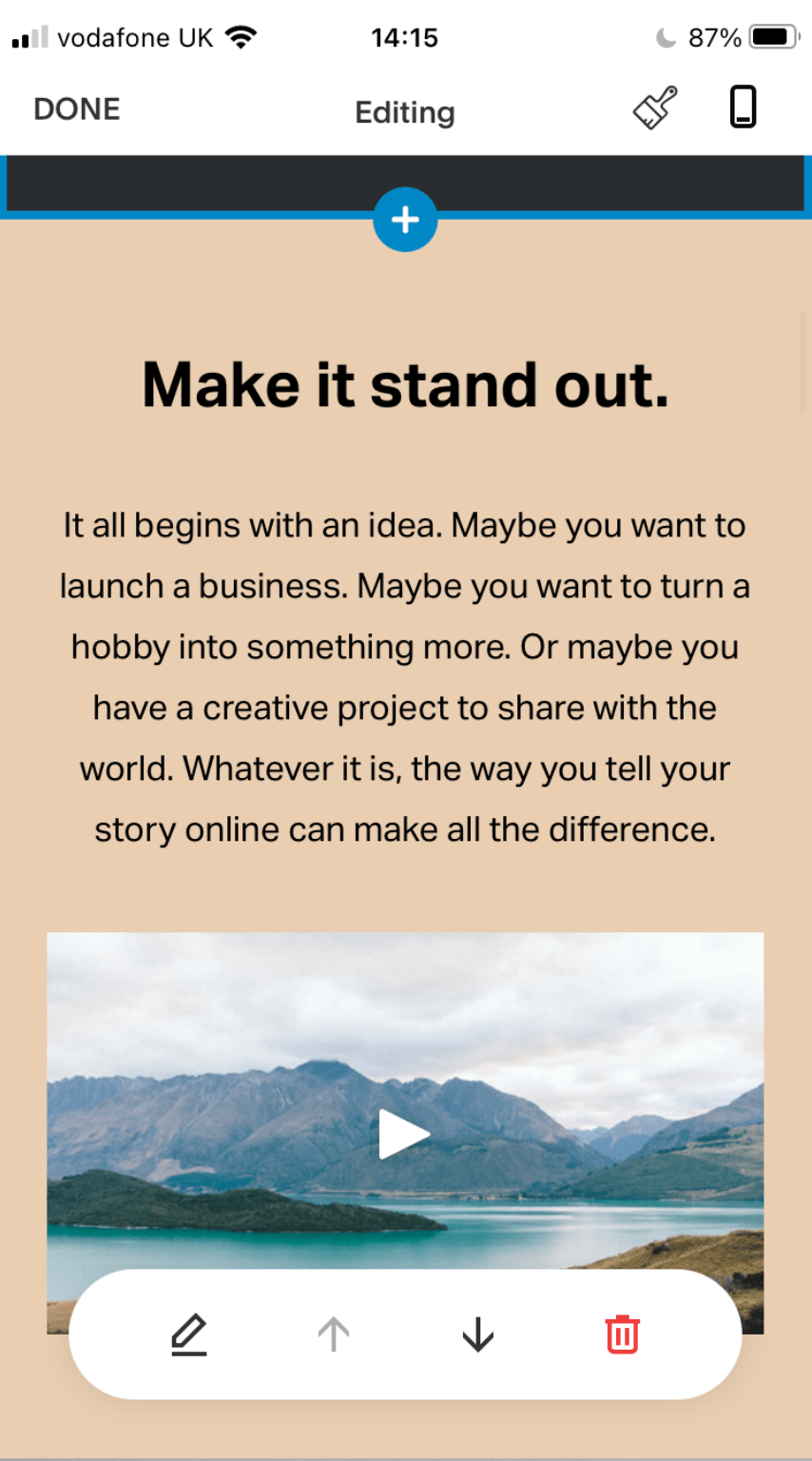 So, when it comes to editing your website on the go, Squarespace wins hands down.
Apps and Extensions
Squarespace Has More Apps. Can Duda Keep Up?
Squarespace has 23 extensions that can be added to your site
to help you with anything from shipment tracking, order fulfilment, to accounting and taxes. Many of the extensions will be a blessing for those of you doing e-commerce – and
several offer free subscriptions to start!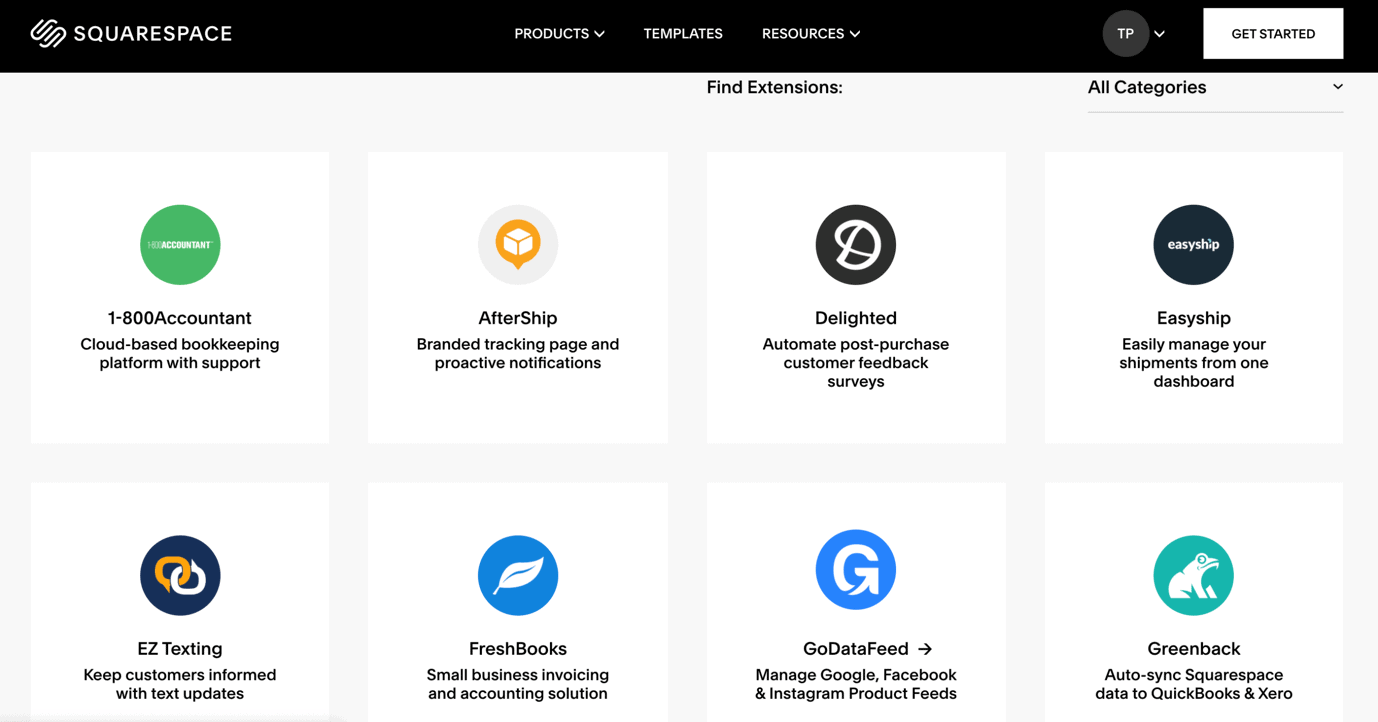 There are also numerous companies providing third-party Squarespace add-ons to those who want additional customizations.
Duda has seven apps available in their app store and several have free trials.
 They include apps to help your site meet GDPR requirements, and handle online bookings or appointments.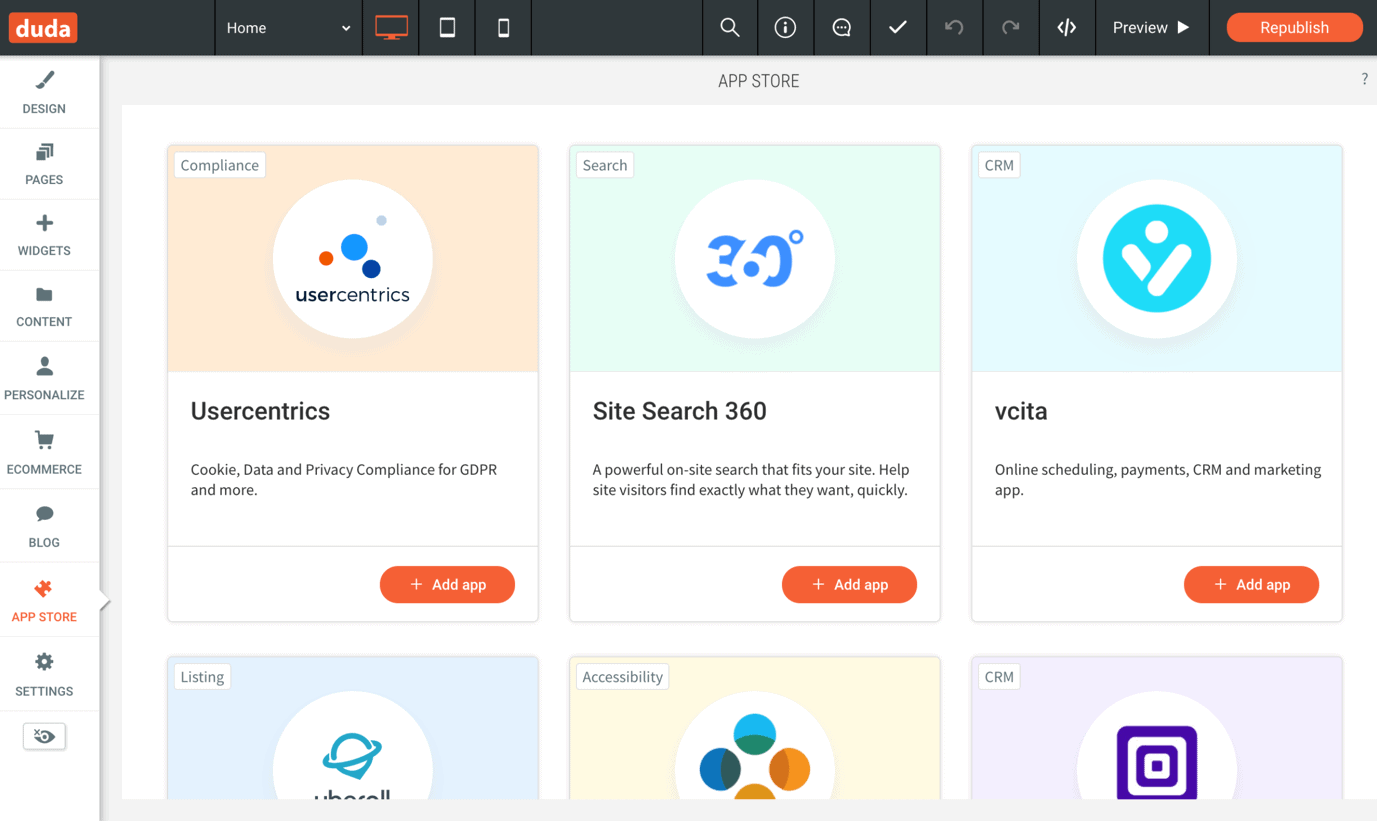 Both platforms offer seemingly countless integrations with third-party software and sites, including QuickBooks, Google Sheets and all of the social media platforms. But, given Squarespace has many more apps and extensions available than Duda, and the option to purchase many more from third-party developers, Squarespace wins this one.
Pricing
Squarespace Is Best for New Users, but Does It Offer the Most Value?
Neither builder has a free plan, but you can try a
Squarespace 14-day free trial
or a
14-day free trial from Duda
 to get started. So if after reading this article you're still having a hard time deciding, there's no reason not to try both!
Squarespace, however, is the cheaper option,
 especially if you're going to pay monthly. Both offer discounted prices if you opt to pay annually. Squarespace has four plans:
Personal
Business
Basic Commerce
Advanced Commerce
If you plan on using your site
for
e-commerce you will need at least the Business plan
to process transactions on Squarespace at a rate of 3% per transaction. If you're an online retailer, you'll want one of their Commerce plans as they have
no transaction fees.
Duda's four plans include:
You can use your site for e-commerce on any of Duda's plans,
but you have to pay an additional monthly fee for e-commerce.
I've included a table comparing the first-tier plans of both platforms below:
| | | | | |
| --- | --- | --- | --- | --- |
| | E-commerce | Number of Websites Included | Customer Support | Contributors |
| Squarespace Personal Plan | Not included. You'll at least need the Business Plan. | One | 24/7 Chat, Phone, and Email Support | Two are included with the Personal Plan. |
| Duda Basic Plan | Available, but you'll have to spend extra. | One | Just Email Support | Just one. For additional contributors you'll need the Team plan. |
Support
Squarespace's Customer Support Is Better than Duda's
To test the customer support of each website builder I messaged both the exact same two questions:
I want to build a simple website with an online store to sell 3 products. Which plan should I choose?
If I want to switch to WordPress in the future, will I be able to export my site content?
Squarespace has 24/7 chat support available to all of their customers, even if they're only on the free trial.
 I messaged their chat support at 11:04 pm and was in a short queue. Just 15 minutes later I got a message from them.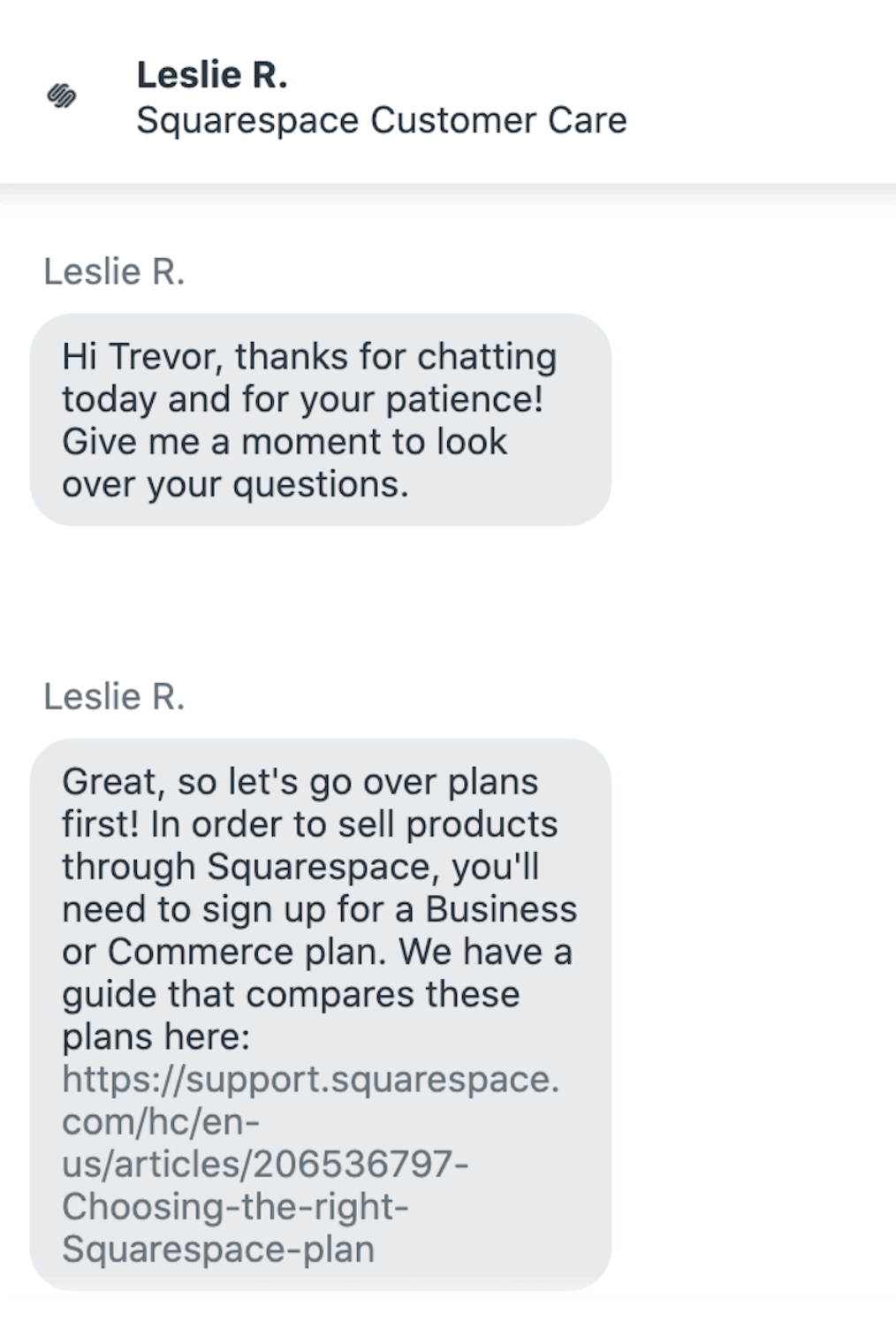 Leslie persistently addressed my inquiries and elucidated that I could export the majority of my site's content as an .xml file. Furthermore, she promptly shared a link to a comprehensive guide detailing the export process, along with information about what would and wouldn't be included in the export. Her assistance proved exceptionally valuable throughout the entire interaction.
Duda only offers chat and phone support to those on their second-tier (Team) plan and up.
 So I had to email them the questions. I sent the email at 11 pm my time (I'm in the UK), but didn't hear back until after 6:19 pm the next day (which is 10:19 am PST).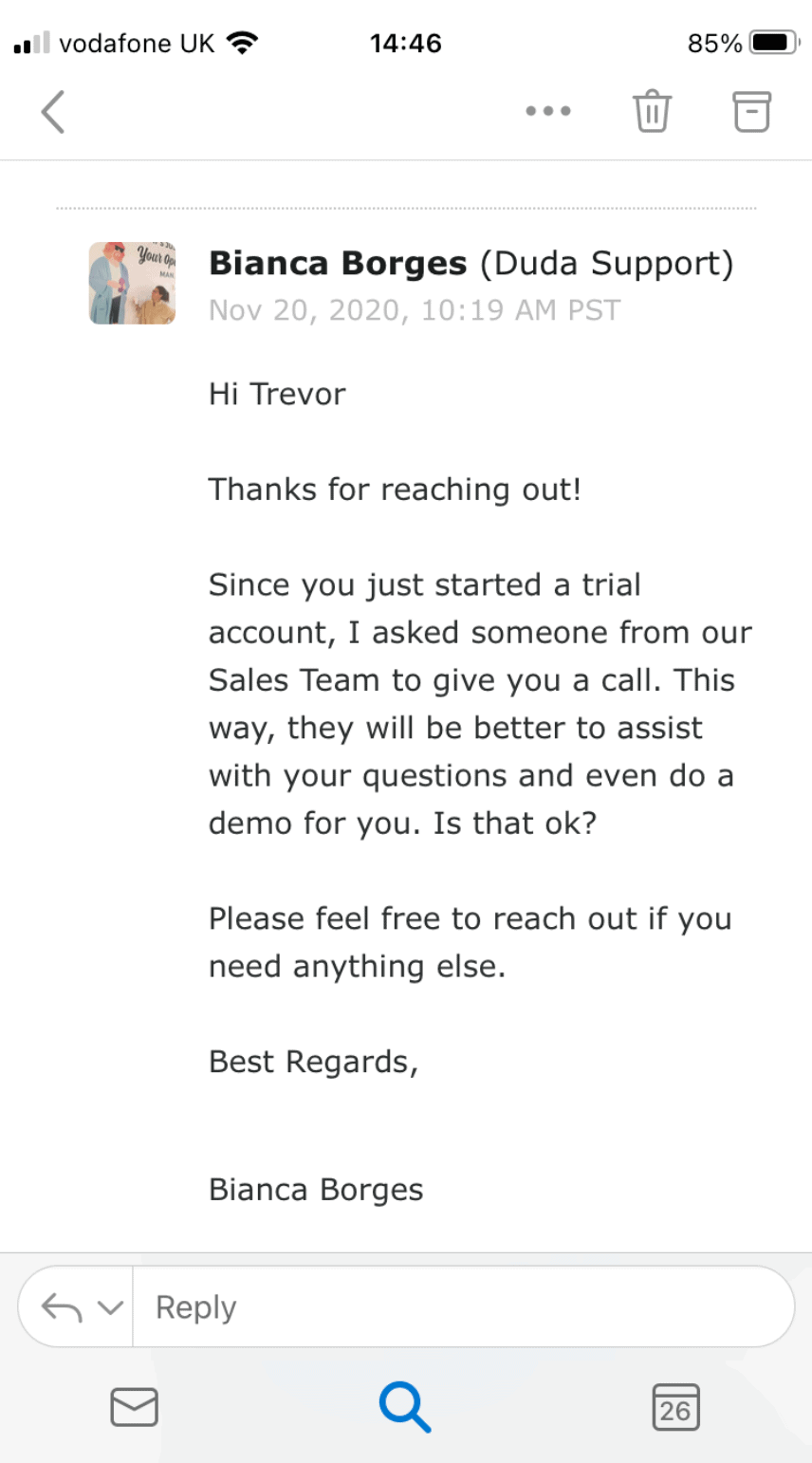 The response is perfectly polite, but
I think they saw my questions as a sales opportunity
rather than a chance to give me the feedback I required. I could understand this response being appropriate for my first question, but thought that they should have at least answered my second question about exporting my site to WordPress.
Squarespace takes the gold medal for customer support.
So Who Wins This Website Builder Showdown?
Squarespace Is the Best Option for New Website Builders
All things considered,
Squarespace is the better website builder
,
 especially if you're building your first site – whether for personal or business use. Why?
Fantastic customer support
Very easy to use
Clean, minimalist-style templates to get you started
Better value for money
A mobile app so you can edit your site on the go!
Squarespace offers all of this and the capacity to
incorporate E-commerce on the Business plan (and up) without additional costs.
 So, while Squarespace does have limits to its customizability it
is
easy to use, which means
your first website will look great!
Still unconvinced? Our
expert Squarespace review
 will give you all the information you need. That said,
Duda is good for a number of reasons too:
Ease of use
More customizability
Built-in client management system
White-labelling
But most of these options aren't necessary if you're building your first website. They are, however,
perfect for web development agencies and freelancers building sites for multiple clients.
If you would like to know more about Duda, see our
expert Duda review
. To conclude, unless you're a professional website builder,
Squarespace will more than meet your needs!
Templates
60+ to choose from. Clean, minimalist style, but limited customizability.
Over 100 to choose from. Very flexible customization.
Features and ease of use
Easy to use. Drag-and-drop editing. Mobile app for editing your website on the go.
Easy to use. Drag-and-drop editing. More features, including client management and white-labelling.
Apps, plug-ins, and add ons
23 extensions which cover everything from shipment tracking to accounting. Plenty of third-party developers.
7 apps that help you with things like GDPR compliance and online bookings.
Pricing
Squarespace is cheaper, but you will need the Business plan (or higher) for e-commerce.
Decent value but pricier than Squarespace. You will need to pay extra to do e-commerce.
Customer Support
24/7 Chat, Phone, and Email Support for all customers.
Just email support on Basic plan. For chat and phone support you'll need the Team plan (or higher).
FAQ
Which is better, Duda or Squarespace?
This depends upon what you're using the website building platform for. If you're building a website for personal use, or for your business, Squarespace is best and offers more value for money than Duda. However, if you're building websites for multiple clients then Duda is the website builder for you. It's customizability, built-in client management, and white-labelling make it an irresistible option for web development agencies.
Which is cheaper, Duda or Squarespace?
This one is much more straightforward. Squarespace is cheaper at every tier. And, if you plan on building an e-commerce site you don't have to pay an additional monthly fee – as long as you're at least on their Business plan. (Read our entire guide on Squarespace pricing.) Duda, on the other hand, requires an additional charge on top of your monthly subscription, which is already pricier than Squarespace. But, if you still can't decide, Duda offers a 14-day free trial, Squarespace also offers a 14-day free trial, so try them out for yourself!
What is the best website builder in 2020?
In my opinion, Wix is the best website builder overall. Its customizability is more flexible than the two options I've discussed here, and it has hundreds more templates to start from. Wix also has an easy-to-use site editor and you get all of this at a very reasonable cost. Don't believe me? Check out our review of the top ten website builders for 2023!
Is Squarespace worth the cost?
Yes, the value that Squarespace offers, especially with their customer support, makes it a top contender. If you decide to subscribe to a plan you can use one of our Squarespace coupons for a discount! If you're still not sure, check out our expert Squarespace review!