But if you're in the website development business, then Duda is going to be perfect for you, and the cost will be well worth it.
I've used several different website builders to build a number of websites, including e-commerce businesses. So I have a good sense of value for money when it comes to these things. To break it down for you, I've compared Duda's plans to its competitors' to see which offer the most value. Duda has a plan for every user and every business, from startups to established agencies. So, does Duda offer enough value for the cost? Read on to find out!
Duda's Plans: You'll Want More Than Just 'Basic'
First, I'll briefly tell you what plans Duda has available, then I'll describe each plan in detail.
Duda's four plans include:
Basic – For building a simple website
Team – For several people working on a site
Agency – For startup website development agencies
Custom – The only plan for fast-growing website development businesses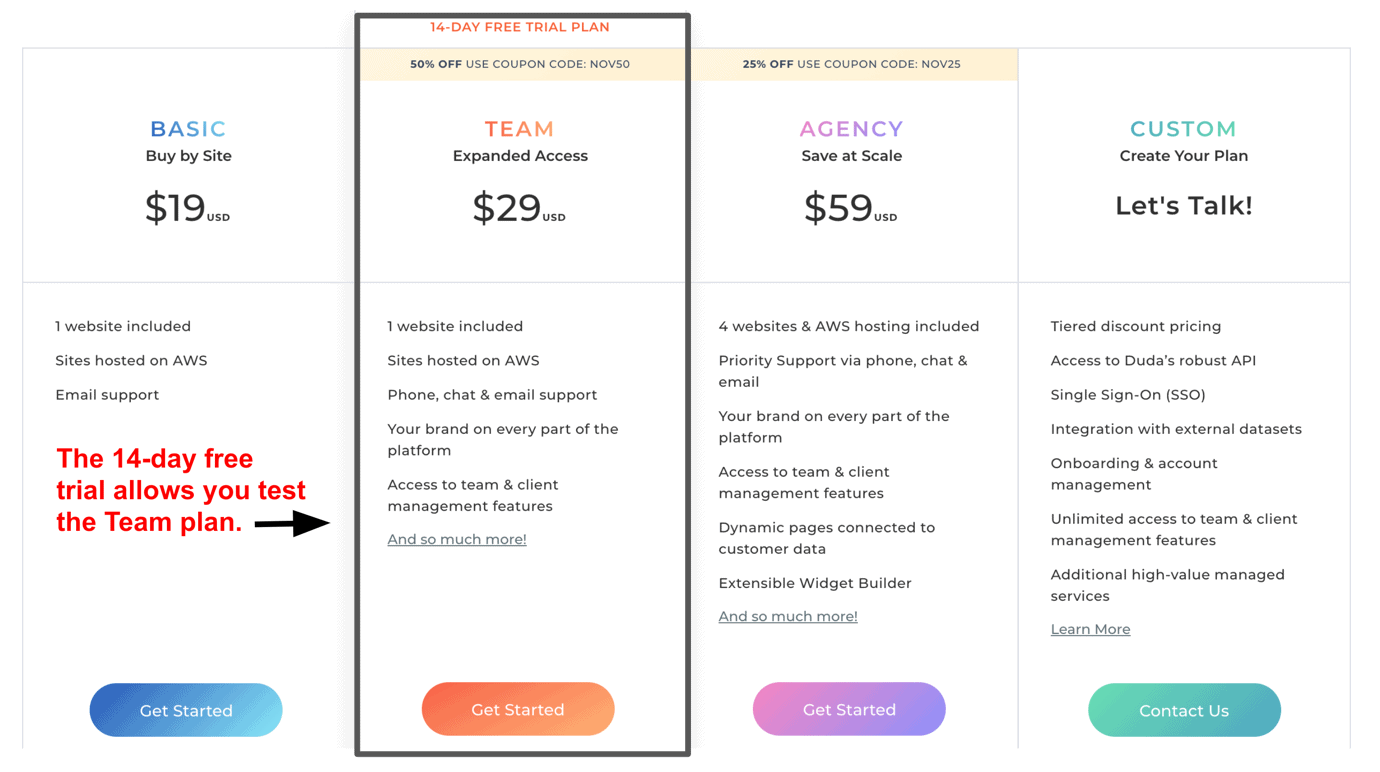 Before we get into the specifics of each plan, I should briefly mention what
all
 of Duda's plans include, namely:
Hosting on Amazon Web Services (AWS)
HTTPS encryption
Multi-language websites
Access to Duda's app store
The multi-language feature is a real plus.
Duda uses Google Translate to
automatically translate your site, then you edit the final version.
 (And you'll want to, as Google Translate is far from perfect – but this feature can speed up the process.) This feature is SEO-friendly, too. You can create URLs that are language-specific based on geo-targeting, so your clients' visitors will see websites in their own language. Duda's app store is quite small, with just seven apps. However, it's likely to grow quickly, and some of the apps on it are really interesting. One pushes business info to online directories to make companies more discoverable, for example. Another helps with GDPR compliance. And then you've got the ever-useful online booking and scheduling software. Some of these apps offer free plans and free trials to start, too.
Here's what Duda's plans don't include: custom domains and email addresses.
You'll need to get these from outside of the platform.
Also, I want to point out right away that using your site(s) for e-commerce will cost extra – per site.
No matter which plan you're on. At first glance, this is a big turnoff. But it does make Duda's pricing more competitive. To see how structuring their pricing this way is a benefit, skip ahead to my
competitor comparison
.

So, which plan is right for you? Let's talk about them in more detail.
Basic: Probably Too Little for What You Need
Cost:
$
14.00
Usually a website builder's most basic plan comes with a free trial. But Duda's doesn't: it reserves
the free trial
 for the next tier up. I think that's because it knows that
this plan doesn't offer enough for most users.
Offering you free access to it won't sell you on the benefits of using Duda. Why? For starters,
you only get access to email support.
 That's fine if your website is just for your hobby. But if you're a business owner or freelancer, or if you use your website as an online CV, you're going to want better access to customer support. The Basic plan also comes with some pretty severe limitations.
First, it only lets you build one website for the listed price.
 Adding more websites will cost you a
lot
extra: each one is the same price as the monthly subscription
.
Second, the plan only gives
one person
access to build the website. If you want more people working on your sites, you'll need to upgrade to one of the higher tier plans. All in all,
Duda's Basic plan is fine for building personal websites
, but not for creating professional or business sites.
Team: Duda's Actual Basic Plan
Cost:
$
22.00
This is the plan that you'll be testing if you sign up for Duda's
14-day free trial
(and you should!)
This plan also includes only one website, but
you can add up to three people to your account
so they can work on your site as well. Most importantly,
you get chat, phone, and email support on this plan,
 which makes it much better for e-commerce entrepreneurs and professionals. But it's called the "Team" plan for a reason. That is, it's designed with a team – a business or nonprofit – in mind. That's because it includes
white-label client access
: your clients can log on to the platform and see
your
company's logo on the backend. One thing I think is really cool about Duda is that on all of its plans (except the Basic plan)
your clients can leave feedback directly on the sites you're building for them – while you're working on them.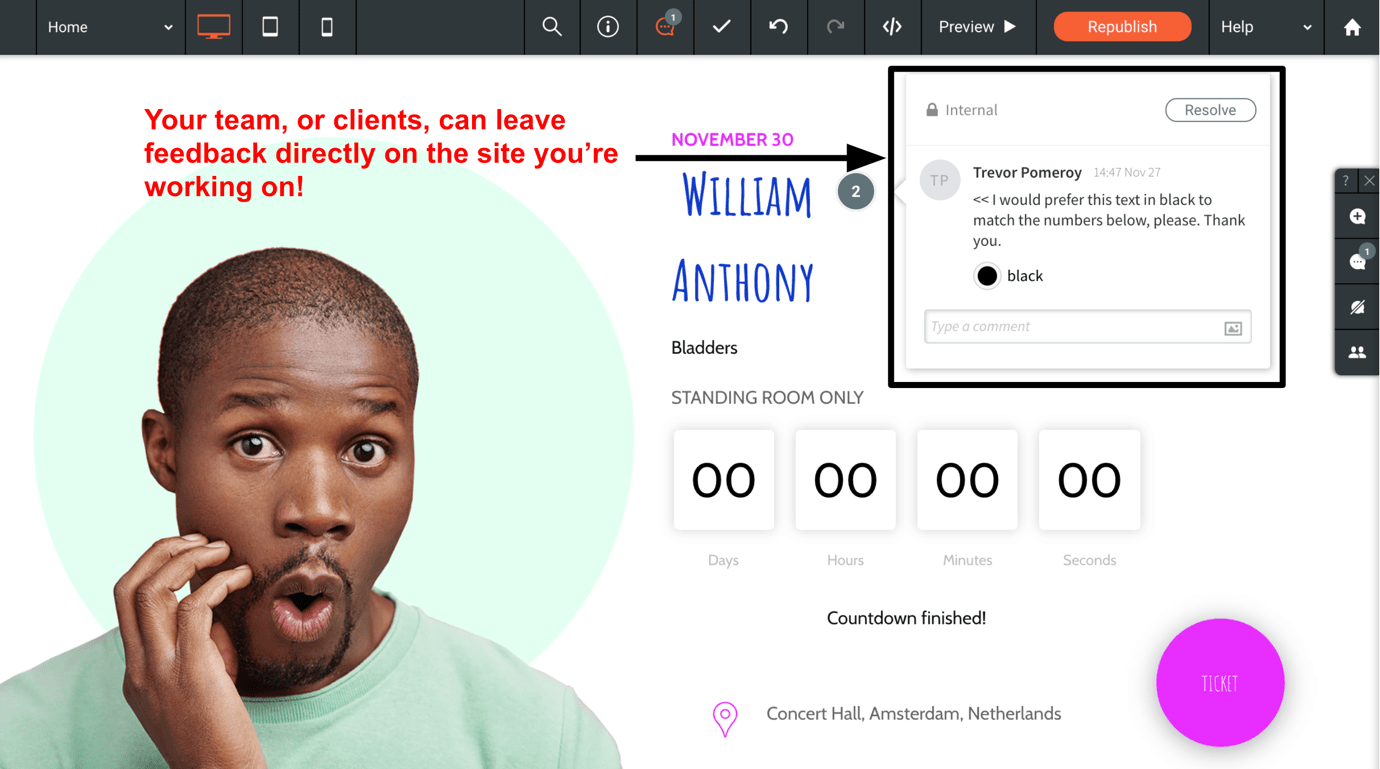 This lets you meet your client's needs much faster, allowing you to take on more clients – which is what we all want as business owners, no?
Starting from the Team plan, Duda also has a built-in client management system
and allows you to customize your clients' access to the sites you're building for them.
The Team plan (and up) also includes white-label marketing materials
that you can customize to match your business's branding,
including:
Landing pages for lead generation
Sales decks
E-books
Video tutorials for your clients
These materials will prove invaluable if you're just starting your website development agency. Nothing could be easier than adding your logo to a ready-made e-book explaining why it's important to have a responsive website (and therefore why they should work with you). All of this functionality is really where Duda shines. But there's a catch:
only one website is actually included with the Team plan.
 So while it's nice to be able to add team members, have white-label, customizable client access, and get quicker access to customer support, you're probably only going to want these features if you need to manage more than just one website.
To get more websites on the Team plan, you'll have to pay an additional $13 per month, per site
(or a bit less if you pay for a whole year at once). In my opinion, this plan is ideal for startup web development agencies.
But once you have a few clients, it would make more sense financially and business-wise to graduate to the Agency plan.
Agency: For Growing Web Development Agencies
Cost:
$
44.00
The Team plan is great for agencies that are just getting started. But if you're attracting clients and growing your business, you're going to want the Agency plan. Why? Well,
it includes everything in the Team plan
plus four websites and some extra features
that are really going to take your agency to the next level. They include:
Dynamic pages
The ability to add up to nine additional team members
A widget builder to build custom widgets for your clients
Fairly easy website exporting
Dynamic pages allow you to design a page and then populate it many times over by connecting it to numerous data sets. This allows you to create hundreds of pages just by pushing a few buttons. For example, it's perfect for real estate listings and portfolios. Dynamic pages are available on the Team plan as well, but you can only have one collection per site, with up to ten rows. 
On the Agency plan, you can have as many dynamic pages as you want.
Duda's widget builder allows you to create custom widgets for you or your clients' websites. This does require coding, however, so beginners beware! Without a thorough knowledge of HTML, CSS, and Javascript you'll quickly find yourself in over your head with this feature.
Finally, on the Agency plan you get priority chat, email, and phone support.
 The Team plan also offers all three channels, but you're first in line when you're on the Agency plan. The one thing I don't really like about the Agency plan is that it only includes four websites, which is really not much if you're scaling your business. Each extra website costs $11 per month (though it's a bit cheaper if you pay annually). If your agency is growing fast, this will very quickly become too expensive. Duda knows this, and that's why they have their top-tiered Custom plan. In fact, it seems like their goal is to encourage you to move onto this plan once you need more than a handful of websites to accommodate your clients.
Custom: Duda's Elite Plan for Successful Agencies
Cost:
Negotiable So, business is booming and your website development agency has grown to the point where you need dedicated attention and support from Duda's team. If that sounds like you, then you need the Custom plan. This is Duda's top-tier plan, and it includes everything
I've described so far about the other plans… plus a ton of additional features to accommodate your fast-growing website development business. On the Custom plan you can:
Set the number of websites your plan will include before you pay additional fees
Get 24/7 dedicated chat, phone, and email support
Add unlimited team members
Develop unlimited dynamic pages
Access Duda's API for easy integration with other systems
This means that you'll negotiate directly with Duda to determine the cost and the number of websites included in your plan.
You'll also be assigned your own account manager for 24/7 dedicated support.
This level of attention and support is a must-have for any agency with a large number of clients.
A technical glitch wreaking havoc across your client base would cause big problems, so you need immediate support to keep you running smoothly at all times. Finally, having access to Duda's API means that you can integrate Duda into your own business's service in a way that's customized to
your
needs. This is an essential feature if your business is a SaaS platform or provides hosting services. Developers will also be glad to know that this includes unlimited API calls and SSO, as well as implementation guidance. Not enough? The Custom plan also includes sales, design, and/or technical training for your team,
which will help you onboard new team members more quickly.
Duda will also help you migrate as many websites as you want onto the Duda platform.
 Just closed with an international client that already has over a hundred websites? No problem. Duda will help you transfer them all over.
This level of support makes the Custom plan perfect for successful, fast-growing web development agencies, hosting services, or SaaS platforms.
Duda vs Competitor Pricing: Duda Offers the Most Value, by Far
There are many website builders available, but Duda is in a class all its own when it comes to website builders designed specifically for website development agencies. There is simply no competition. To see why, let's look at a few of the other leading website builders to see how their plans compare to Duda's.
WordPress.com
WordPress.com is cheaper to start.
In fact, you can start your website building journey on WordPress for nothing at all on
their free plan
. But you'll quickly want to move on to a paid plan to get your own domain and, at least, some email support. For a simple website you can go with the Personal plan, which will cost you $4 per month if you pay for a full year. If you're a freelancer, you'll want to go with the Premium plan, which is just $8 per month. All of this sounds way cheaper than Duda, doesn't it? Well, hold up. If you're a web development agency, hosting provider, or SaaS platform, neither of these plans are going to remotely cover your needs. So, to do a proper value comparison, we have to look at WordPress.com's business and e-commerce plans. WordPress.com's Business plan costs $25 per month ($300 per year), and its eCommerce plan is $45 per month ($540 per year). Both plans include
priority 24/7 chat support,
which is essential to your agency.
However – and this is the kicker – you'll need to buy separate subscriptions for every website you manage.
 If you're building and managing websites for several clients, the cost of this is going to add up
fast
. And this doesn't even include any additional paid apps that your WordPress.com sites may require! If you deal with a lot of e-commerce clients, be aware that with WordPress.com, you'll
have
 to use its eCommerce plan if you want to build an online store. Duda, on the other hand, lets you add e-commerce to any of their plans. Finally, it goes without saying that WordPress.com doesn't include a built-in client management system or white labeling for your business (although that feature is available on WordPress through plugins such as White Label CMS if you're on its Business plan).
In short, Duda offers much more value for your growing website development agency than WordPress.
 Besides the agency-specific features Duda provides, Duda is simply much easier and quicker to use, due to its drag-and-drop editing, widgets, and dynamic pages. And time is money, as they say…
Wix
Wix's plans are priced similarly to WordPress, but they come with considerably less storage.
Wix offers 20–50 GB of storage depending on your plan, while WordPress.com's Business and eCommerce plans both include 200 GB of storage.
Duda's websites include unlimited storage and bandwidth.
Like WordPress.com, Wix also has cheap plans (including
a free plan
) to get you started. Its Connect Domain plan starts at just $4.50 per month and its Combo plan is just $8.50 per month (if you pay annually). But again, if a simple website for personal use is all that you're looking for, you're probably not considering Duda. So how do Wix's upper-tier plans compare to what Duda offers? Wix's Unlimited plan is its most popular, and it's ideal for you if you're an entrepreneur or freelancer. It costs $12.50 per month if you pay annually, and you'll be able to connect a domain, get a new domain free for one year, and remove Wix ads. You'll also get 10 GB of storage and unlimited bandwidth. $24.50 per month will get you Wix's VIP plan, which includes 20 GB of storage, a professional logo, and priority customer support. If you're a website development agency, though, you'll need to consider Wix's three business and e-commerce plans.
With Wix's Business Basic plan ($17 per month, paid annually) you get 20 GB of storage plus the ability to accept payments on your (or your client's) website. Business Unlimited ($25 per month) gets you 35 GB of storage plus important e-commerce features such as currency conversion and the ability to offer subscriptions. The Business VIP ($35 per month) includes all of this plus priority customer support. However, none of Wix's plans include a white-label dashboard or built-in client management system. And again, you'll need to pay a separate subscription fee for each website, which means the prices of these plans are going to escalate quickly if you have multiple clients.
The upshot:
for a growing web development agency, hosting service, or SaaS platform, Duda offers way more value than Wix.
Period.
Squarespace
All of Squarespace's plans include free domain registration for one year, unlimited bandwidth and storage, and great 24/7 customer support. The Personal Plan costs just $16 per month ($12 per month if you pay annually). This does make it cheaper and more valuable than Duda's Basic plan, which is $19 per month ($14 per month if you pay annually). So, if you want to build a simple personal website for yourself then Squarespace
is
 the way to go. That said, if you're growing a web development agency and managing multiple clients, then the business plans are going to be your primary concern. E-commerce is included with all of Squarespace's plans except the Personal Plan. Squarespace's most popular plan is their Business Plan. This plan is $26 per month (just $18 if you pay annually) and includes everything in the Personal Plan plus a free Google email and Google Workspace account for one year.
However, Squarespace charges a 3% transaction fee on all sales made on this plan. So, if you, or your clients, are making great sales, you'll want to upgrade to one of Squarespace's commerce plans. There are no transaction fees associated with Squarespace's Basic Commerce and Advanced Commerce plans. These cost $30 and $46 per month respectively (or $26 and $40 per month if you pay annually).
But, as with WordPress.com and Wix, you do need to pay these subscription costs for each website you build.
 So, while Squarespace is a better choice for entrepreneurs and freelancers, the cost will escalate quickly for web development agencies building sites for multiple clients. And while Squarespace will let you add unlimited contributors and manage their permissions on its business plans, it has no equivalent to Duda's white-label dashboard and built-in client management system.
So again, for SaaS platforms, hosting service providers, and growing web development agencies, Duda still offers more value.
Chart Comparison
If you're considering Duda, you likely have (or intend to have) multiple clients. So, I decided to compare the
monthly cost of running
four websites with basic e-commerce functionality
on Duda, WordPress, Wix and Squarespace. (Note: the listed costs are for if you pay yearly.) Check out this chart for a quick breakdown of which vendor offers more value!
| | | | | |
| --- | --- | --- | --- | --- |
| | Duda | WordPress | Wix | Squarespace |
| Cost of Four Websites | $73 | $100 | $100 | $104 |
| Cost Breakdown | Agency plan – $44 per month E-commerce add-on – $7.25 per month x 4 websites = $29 | Business Plan x 4 websites = $100 | Business Basic Plan x 4 websites = $100 | Basic Commerce x 4 websites = $104 |
| Storage | Unlimited storage | 200 GB of storage per site | 20 GB of storage per site | Unlimited storage |
| Contributors | Up to ten team members | Unlimited contributors | Unlimited contributors | Unlimited contributors |
| White labeling | Built-in white label dashboard | White labeling available with plugins | No white label dashboard | No white label dashboard |
| Client Management | Built-in client management system | Client management systems through third-party plugins | No built-in client management system | No built-in client management system |
| Domains | Domains not included | Free domains for one year | Free domains for one year | Free domains for one year |
| Customer Support | Priority 24/7 chat, email, and phone support | 24/7 chat, and email support | 24/7 chat, email, and phone support | 24/7 email support Live chat during specified hours |
* This table does not include the cost of additional apps, add-ons, or plugins that you or your clients may require.
Hidden Costs to Watch Out For
First, be aware that Duda's plan page displays the cheaper rate you'll get if you pay for a full year upfront.
 If you know you want to make monthly payments instead, you'll need to slide the switch at the top of the pricing page to see that higher rate.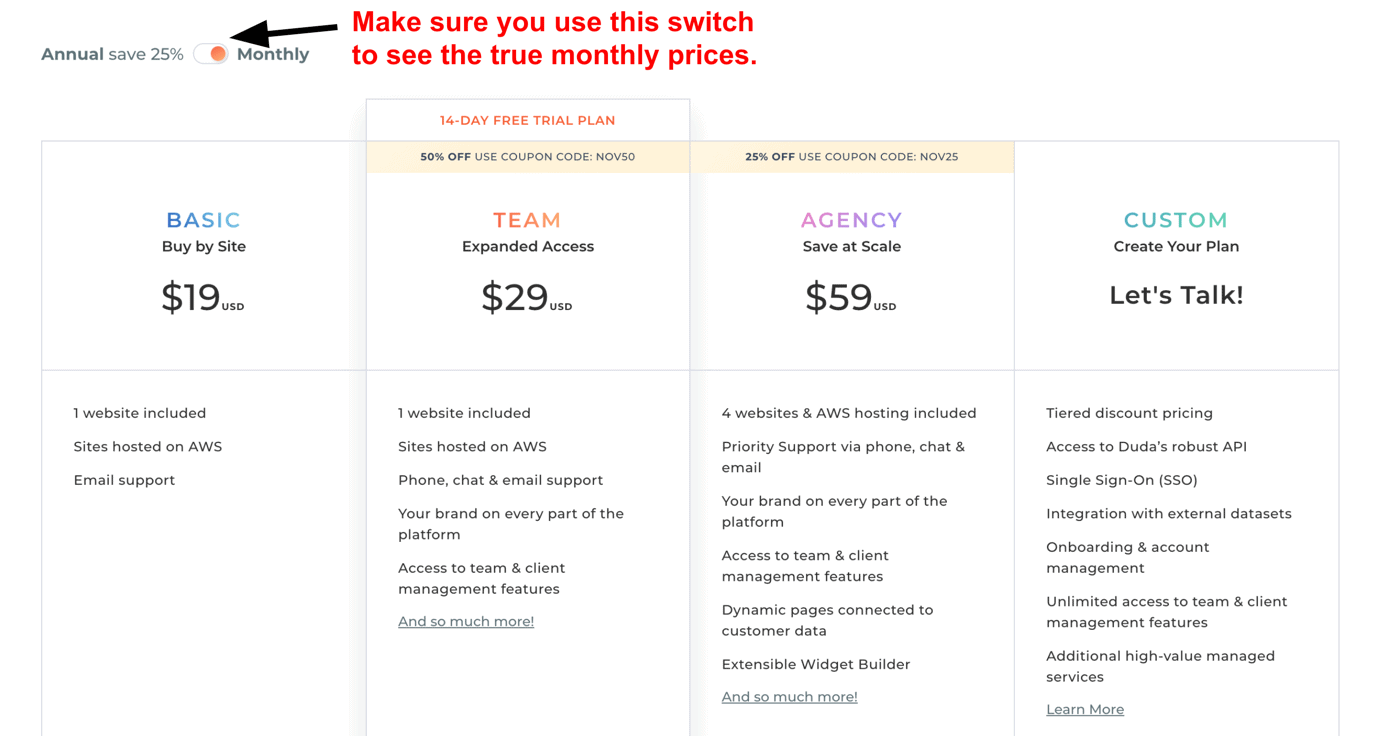 Second, as I mentioned before,
while e-commerce functionality is available with all of Duda's plans, this does cost extra per month, per website.
 The e-commerce add-ons are:
Standard: $8 per month (for sites selling up to 100 products)
Advanced: $22 per month (for sites selling up to 2500 products)
Unlimited: $49 per month (for sites selling an unlimited number of products)
These prices are listed here at the per-month rate; as with the plans themselves, you get a discount if you pay yearly. Third – and I know I've said it before, but it's worth saying again –
 you have to pay extra for each website beyond what's included with the plan.
On the low end, the Team plan includes just one website and costs an extra $13 per month for each additional site. The Agency plan includes four websites, which already puts it well ahead of Duda's competition.
And it costs just $11 for each additional site.
Duda: The Clear Winner for Agencies
Duda is perfect for website development agencies, hosting service providers, and SaaS platforms.
 This is because Duda was designed with the website development agency in mind. The primary factors that set Duda apart are:
White label dashboard: this allows your clients to log in to the backend of their site(s) to make changes/suggestions and not even realize they're on Duda's platform…because they'll see your business's logo and branding.
Client management: all of Duda's plans include a basic client management system, including different levels of site access permissions for clients.
Number of sites supported: Duda's competitors charge a full monthly subscription for each site you run. On Duda, four websites are included with the Agency plan, and additional sites require a relatively small extra monthly fee.
E-commerce functionality for all plans: Duda distinguishes itself from its competitors by offering the flexibility to enhance any plan with e-commerce functionality for a simple additional fee, whereas all other competitors mandate the purchase of a dedicated business or e-commerce plan to operate an online store.
When considered as a whole, the prices, flexibility, and functionality of Duda are unparalleled. On the other hand, if you're a freelancer, hobbyist, or entrepreneur setting up a website for just yourself, you'll want to consider options such as
Squarespace
. If you're still unconvinced that Duda offers the most value for your web development agency, check out our
in-depth expert Duda review
!
FAQ
Is Duda any good?
Yes. Duda is designed for web development agencies, and it has several essential built-in functions for managing multiple clients and their sites from one streamlined platform. You can read more in our in-depth Duda review. And if you'd like to explore other options, our experts have compared the top ten overall website builders in 2023!
Is Duda better than WordPress?
In my view, Duda is better for growing website development agencies, hosting providers, and SaaS platforms. But for experienced website developers building sites for their own use, I think WordPress.com is better. It's more customizable and its flexibility will better meet your specific needs – plus, there's a free plan. If you want to learn more, check out our in-depth WordPress.com review.
How much is a Duda website?
A simple basic website with email support costs $19 per month, or $14 per month if you pay annually. You'll need to buy your domain separately and there are additional costs if you want to engage in e-commerce. That said, before you sign up, make sure you check for any current discounts or coupons.
Is Wix really free?
Wix really does allow you to build and publish a website for free. That said, it will have Wix advertising on the site and be very limited in terms of function. You'll need to upgrade to a paid plan to connect your own domain. Read our expert Wix review for more info, and make sure you check if there are any Wix deals before you sign up for a paid plan.