tough
 deciding which website builder to go for. Dreamweaver and WordPress are both
capable of making clean, professional web pages
, but the process from start to finish couldn't be more different. With WordPress, there's much more guidance – plus, the interface is much more intuitive. It's a whole lot
easier to start using right away
 for new users, but still
offers a lot of flexibility
 for more experienced site builders when it comes to coding. In comparison, Dreamweaver
requires much more experience in coding
 to create websites – plus it's a software you need to download and pay for to use. As a blogger and photographer, I thought that it would be easier to use Dreamweaver since I'm already familiar with the Adobe Suite. In the end, this didn't help much. WordPress's
straightforward setup
 and further customization options won me over! Read on to discover why WordPress comes out on top – or skip the review and
get started on WordPress for free
.
1. Templates
WordPress Has Thousands of Ready-To-Use Themes; Dreamweaver Requires More Imagination
WordPress has
a huge number of themes that are ready to use
 – both free and paid
. This extensive variety is both provided by WordPress and third parties. WordPress themes offer
easy-to-use customization
; while it's not
as
 easy as a
drag-and-drop website builder
, it's
straightforward to understand
 which elements of the page are being altered and how to do so.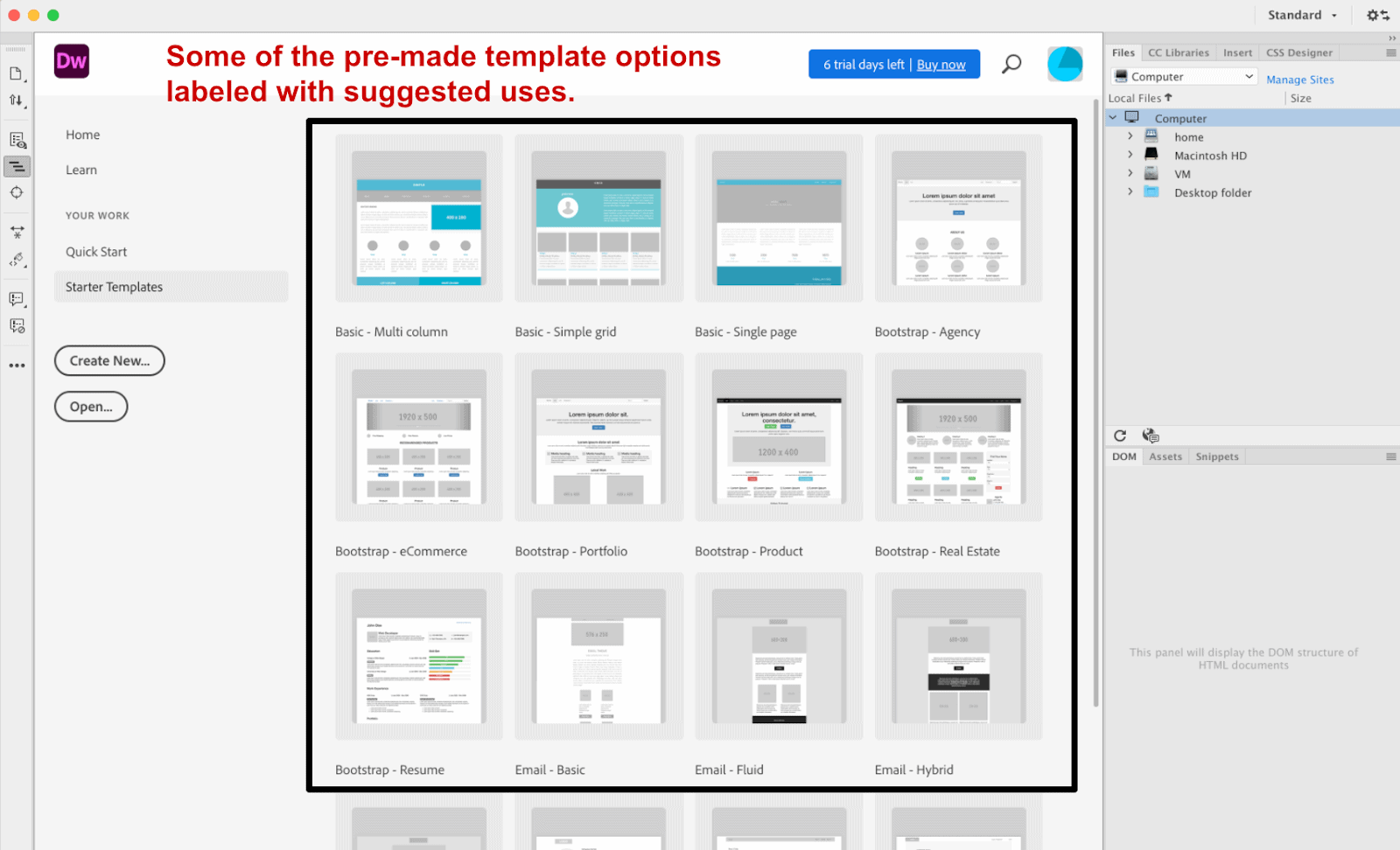 In comparison, you're offered
16 templates to start with included in Dreamweaver's software
. The templates provide a
good starting point for customizing
, but that's the tricky part. Dreamweaver requires you to have a decent coding background and a strong grasp of web design to create websites. There
are
 websites offering downloadable Dreamweaver templates – however, these templates aren't necessarily endorsed or fully supported by Adobe. This means that if you have any template issues, you might not be able to reach out to
anyone
 for support.
2. Ease of Use / Features
WordPress Wins for Usability – from Newbie to Advanced
Dreamweaver is an
HTML editor with a live preview
, so you can see the changes as you code. It's not a drag-and-drop system – it requires users to have a coding background. Adobe
 does
offer tutorials and how-tos, but there's still a
steep learning curve.
 Even if you're already familiar with Adobe (like me) it's not intuitive to use.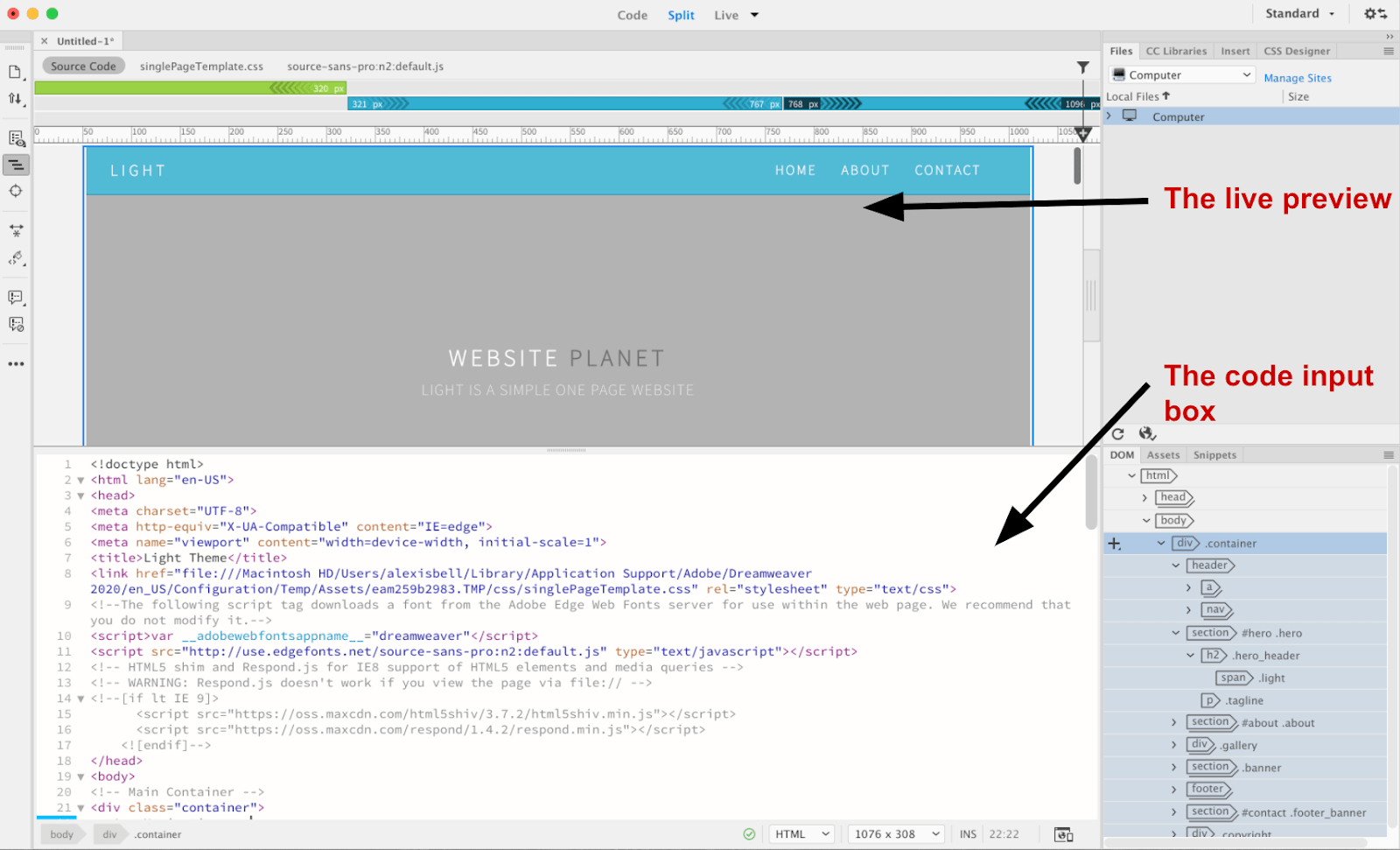 Dreamweaver has
zero built-in integrations for SEO
 and other features you'd normally have on a website, such as a comments section or e-commerce capabilities. You'd need to
create everything from scratch
. In comparison, I found WordPress much more
straightforward and easy to use
. It's much simpler and intuitive to work with – something that I think more people would appreciate. The interface is clearly labeled and obvious to figure out.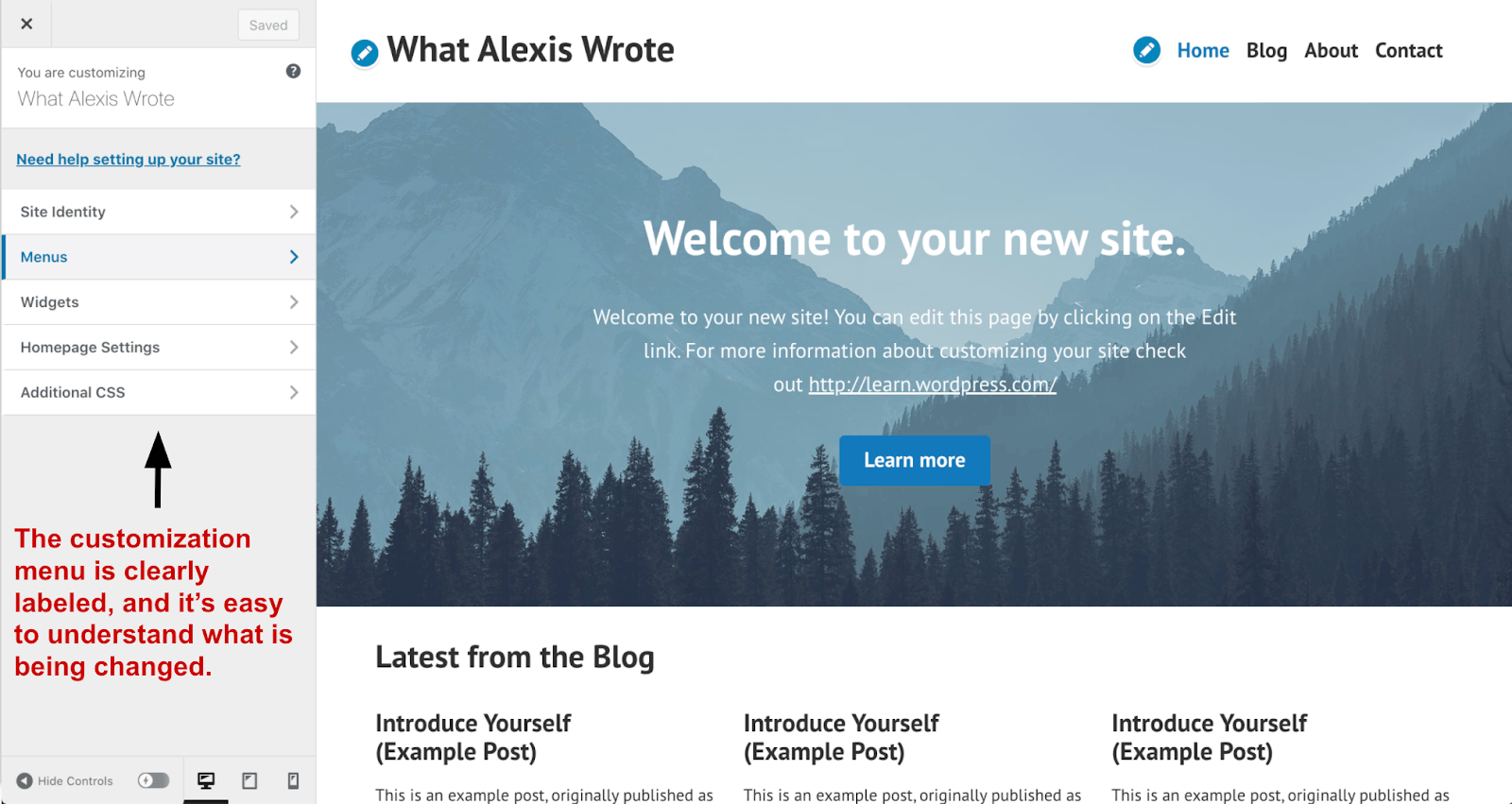 However, it's important to note that this
isn't a drag-and-drop site creator
 – even though it's easier to use than Dreamweaver, WordPress does have a small learning curve. Plus, if you're familiar with HTML & CSS, WordPress is just as customizable as Dreamweaver.
3. Apps & Add ons
Both Have Extensions and Plugins, but WordPress Has More
Dreamweaver has
two categories of add-ons
 – App Integrations (solely focused on other Adobe software) and Extensions. Compared to WordPress's enormous plugin library, Dreamweaver has a much
smaller range
. These add-ons are also more for experienced website designers – they're not as user-friendly as WordPress's plugins. WordPress has an
enormous plugin library
 of almost everything you could want to integrate with your site; SEO tools, e-commerce tools, restaurant menu tools, just to name a few. There are plugins for websites of all niches, and this variety just isn't something that Adobe has. Most of these are third-party plugins, which is how WordPress has such a large range.
4. Pricing and Plans
Is Dreamweaver's Pricey Subscription Worth It?
With Dreamweaver, you get a
free trial for one week
. After the trial finishes, you'll be charged a monthly subscription to keep using it. If you already use Adobe, you can add this onto your existing plan or pay for a full year – yearly is cheaper in the long run, but still pricey. WordPress has
four tiers of plans (plus a free one)
 to suit all users. The free plan means you have 3GB of space and includes a branded URL – but it also means you can't use plugins or use custom WordPress themes.
Each plan tier offers more flexibility
 (with an increase in price).
Compared to WordPress, a Dreamweaver subscription can be hard to justify, even if you're familiar with the Adobe Suite. A full year's subscription costs the
same as WordPress's second most expensive plan
 – but with none of the same functional benefits of having a live website, such as SEO tools and plugins.
| | | |
| --- | --- | --- |
| Features | Dreamweaver | WordPress Business |
| Domain & Hosting | No | Yes |
| Premade Templates | Yes | Yes |
| SEO Optimization | No | Yes |
| Google Analytics Integration | No | Yes |
| Full Web Design Capability | Yes | Yes |
5. Support
WordPress Has an Extensive Network of Community and Employee Support
Adobe has a
 responsive and easy to find chat support
on the website. Utilizing AI technology, it assists in identifying your concern before connecting you to a customer service agent, if needed. Should you require immediate assistance, a 24/7 phone number is available for direct contact. Nevertheless, I've observed that Adobe's customer support responds promptly, though the provided answers might not always be the most comprehensive.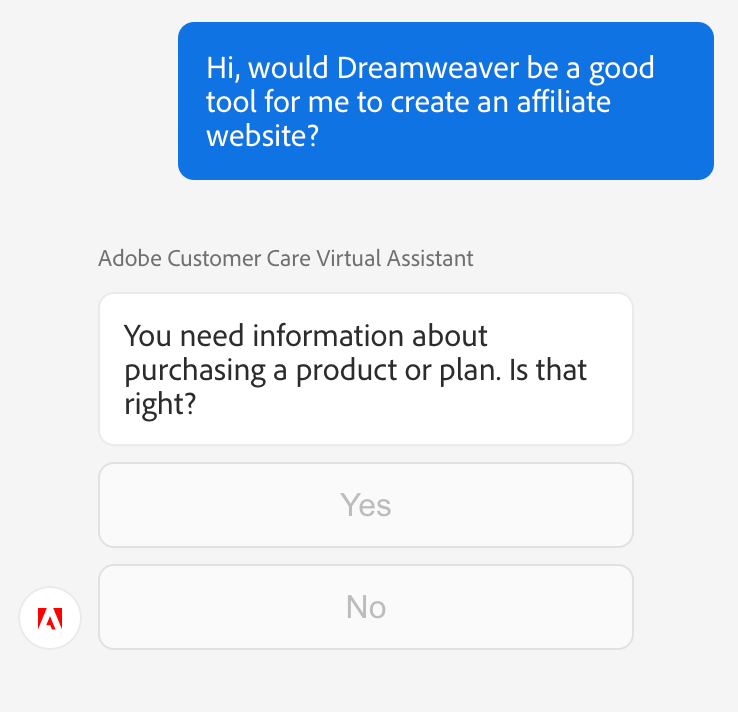 Like Adobe, WordPress has an AI chat for basic queries before taking you through to a customer service rep. When it comes to website support, WordPress has taken every step possible to
get questions answered in the help chat, the FAQ, or in the community boards.
In fact, when you hit "Contact Us," it's a submission to the community boards first, not to the customer care chat.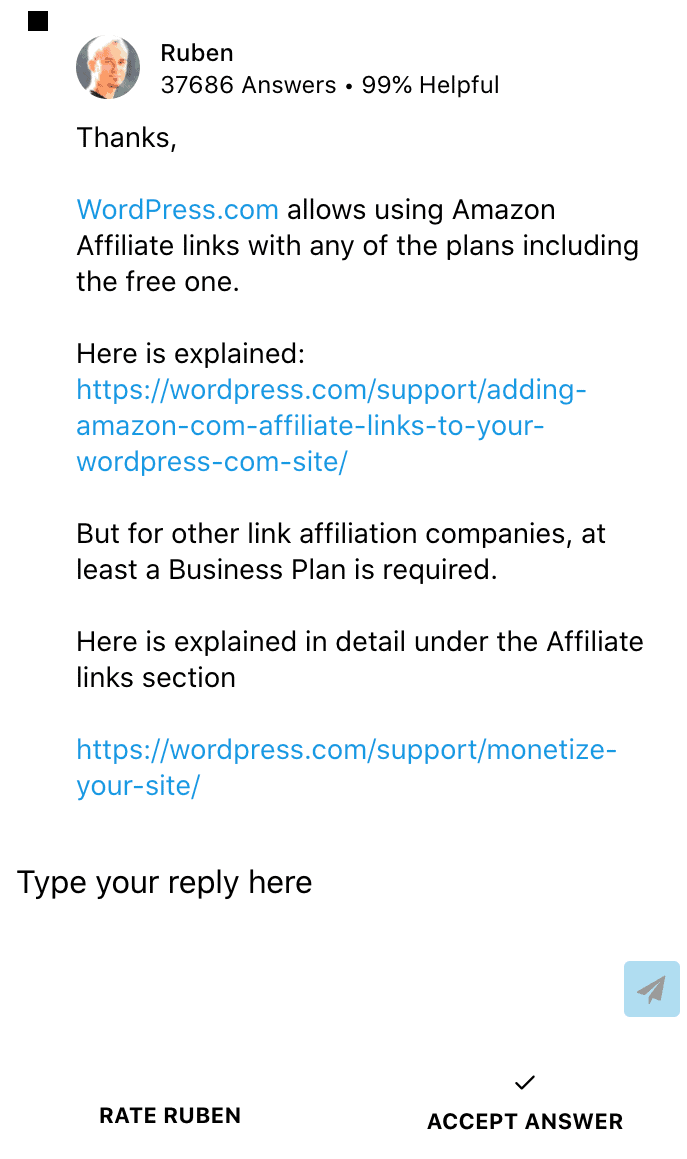 Here's Why WordPress Wins
So when would I choose one or the other when making a website? While comparing them directly is difficult because they're not
exactly
 competitors, there's still a reason you're thinking about using them – you want to create a functioning website. However, in the time it takes you to learn how to code a specific page or feature on Dreamweaver,
you could have easily set up a fully-functioning, self-hosted website on WordPress
 – and on top of that, you'd be paying a lot less for it, too. It's also worth noting that WordPress is on
our list of top web builders
 – and it's there for good reason. However, if web design (from scratch) is something that you're passionate about, Dreamweaver might be the better choice for you.
Templates
16 base templates included
Thousands to choose from + customize
Ease of Use / Features
A website builder for the pros with HTML + CSS knowledge
A more intuitive editor for beginners and pros
Apps, Plugins, and Add-ons
Limited & pricey extension/app integration options
Large plugin library – a combination of paid and free from both third parties and WordPress
Pricing and Plans
Monthly or yearly subscription for software
Four tiers of paid plans, plus a free plan
Support
24/7 live chat and phone support
24/7 live chat and email support
FAQ
Which is cheaper, Dreamweaver or WordPress?
While Dreamweaver has a free trial, WordPress has a free plan that doesn't expire. Plus, if you decide you need to upgrade in order to access e-commerce features, for example, you can take advantage of the latest WordPress deals and coupons.
Which is easier to use, Dreamweaver or WordPress?
WordPress is much easier to use thanks to its straightforward dashboard – it's great for everyone from website building newbies to experts. If you're interested in learning more about what it's like to actually build a website on WordPress, head over to our expert review.
How do I decide what website builder is best?
That all depends on you. If you're looking for complete creative control (and are willing to learn some HTML and CSS), Dreamweaver could be the tool to create the site of your dreams. If you just want to quickly create a professional-looking website, WordPress would be a better choice. For even more options, there's always our list of the top website builders to check out.