I'm always cautious when it comes to companies like GoDaddy and Domain.com, which claim to be a one-stop shop for all your hosting needs.
What tends to happen is that they're spread so thin that everything they offer is average at best rather than having one or two stand-out services
. Is that the case with these two hosts? I signed up for WordPress hosting with both GoDaddy and Domain.com, used online tools to compare their performance, and tested out their customer support – and I'm still not sold on the "we offer everything for everyone" approach,. I probably wouldn't choose either of these hosts for my own website. I'd go with Hostinger, which offers excellent performance for a great price. That said,
if I had to choose one of the two, it would be GoDaddy.
Read on to find out why and see if one of these two hosts might be the right choice for you after all.
Plans and Pricing
Domain.com Has Simpler Pricing – But Isn't Better Value
While Domain.com only sells shared hosting,
GoDaddy goes one better, covering VPS and dedicated hosting
, as well. So, you don't have to worry about changing providers should you need to scale up site resources later on.
GoDaddy also offers both unmanaged and managed WordPress hosting
, whereas Domain.com only covers unmanaged WordPress hosting. So, GoDaddy is the better option for beginners who don't know how to (or want to) manage the technical aspects of their site. There are a couple of other things to note about the differences between the two hosts' plans. First,
Domain.com doesn't use promotional pricing
or have pricing that changes depending on whether you pay upfront for a year, two years, or three years
.
The price is the same, no matter the length of your plan. Domain.com does, however,
give you a discount on the basic plan if you buy a domain name
without adding hosting – but you won't see this discount on the web hosting sales pages. In comparison, GoDaddy offers generous discounts for longer-term contracts (1 year+).
GoDaddy Hosting Web Hosting
A free domain name is included with some hosting plans from GoDaddy Hosting
Features
GoDaddy Is Better Value – But Its CDN Lets It Down
Features are what make a hosting plan good value – and both Domain.com and GoDaddy pack a few notable ones (for free!). However – with an Office 365 email, powerful SSL certificate, daily backups, cPanel license, and better tools –
GoDaddy's hosting plans
 edge out into the lead when it comes to value for money
. Yes,
Domain.com offers unlimited storage (a rarity) as well as a free domain name for a year.
The host also issues and maintains free Let's Encrypt SSL certificates for all hosting plans. A basic free SSL – it's sufficient to secure your site. However, it doesn't compare with more powerful, paid SSL options. In comparison, GoDaddy may not support the automatic installation of Let's Encrypt SSL certificates. However,
a very powerful in-house 2048-bit SSL certificate is included for free with GoDaddy's higher-priced hosting plans
. Otherwise, you can also use Let's Encrypt SSL certificates with GoDaddy, but you have to install and reissue them yourself every 90 days. Our only complaint is the GoDaddy CDN, which doesn't support full-page caching. With shared hosting, you tend to find very similar (or even identical) feature lists and hosting plans. With Domain.com and GoDaddy, the discrepancy is more obvious. To summarize all their features,
I've put the details of what Domain.com and GoDaddy's hosting plans include
in an at-a-glance table below.
| | | |
| --- | --- | --- |
| | Domain.com | GoDaddy |
| Hosting Types | Shared, WordPress | Shared, WordPress, VPS, dedicated |
| Free Domain Name | Yes, for the first year | Yes, for the first year (on 1-year term or higher plans) |
| Free SSL | Yes, free Let's Encrypt (128-bit) SSL certificate on all plans | Free GoDaddy (2048-bit) SSL certificate on Ultimate plan and above |
| Number of Websites | 1-unlimited websites | 1-unlimited websites |
| Storage | Unlimited | 10-75 GB (shared hosting); 10GB to unlimited (WordPress hosting); 2-64 GB (VPS); 1 GB-16 TB (dedicated) |
| Bandwidth | Unmetered | Unmetered |
| Free Website Migrations | No | No, but does offer an integrated WordPress site migration tool |
| Backups | Not included – website backup and restore is available as a separate product (not an add-on) | Daily backups |
| One-Click App Installation | 100+ applications | 150+ applications |
| Control Panel | Domains Dashboard | cPanel |
| Free CDN | Yes (SiteLock) | Yes (GoDaddy) |
| Email Accounts | Unlimited email addresses (G Suite and Office 365 available for additional cost) | 1 free Office 365 email address for the first year |
| Free Website Builder | Separate website builder hosting packages | Separate website builder hosting packages |
| SSH Access | Yes | Yes |
| PHP 7 | On some servers | Yes, but must be requested |
| Money-Back Guarantee | 30-day money-back guarantee | 30-day money-back guarantee (1-year term or longer contracts only) |
Performance
Domain.com Fails to Meet Google's Recommended Page Loading Speeds
When a host claims to be "powerful and reliable" like Domain.com does, I like to put those claims to the test. One of the main aspects of performance that I always test is page loading speeds –
since slow page loading speeds not only cause over 50% of website visitors to click away, they can also affect your position in search results.
I actually consider several performance factors. These include:
Fully loaded time. This is the time it takes for the webpage content and all scripts to be fully loaded from the host server. Google has issued guidance that your web pages should load within one second to avoid a high bounce rate (visitors leaving your website before it loads).
Time to first byte (TTFB). TTFB shows how quickly the server sends the first byte of data to your visitors' browsers. This is the point at which the page actually begins to load. Slow TTFB times may indicate overloaded or poorly configured servers.
Contentful paint. This is the point at which your web page content is visible to your visitors – although any content that's controlled by javascript may not yet be visible. Your visitors can see your webpage but it's not fully loaded and will only be fully functional when all scripts have loaded.
You can see how GoDaddy and Domain.com performed in my tests in the screenshots below.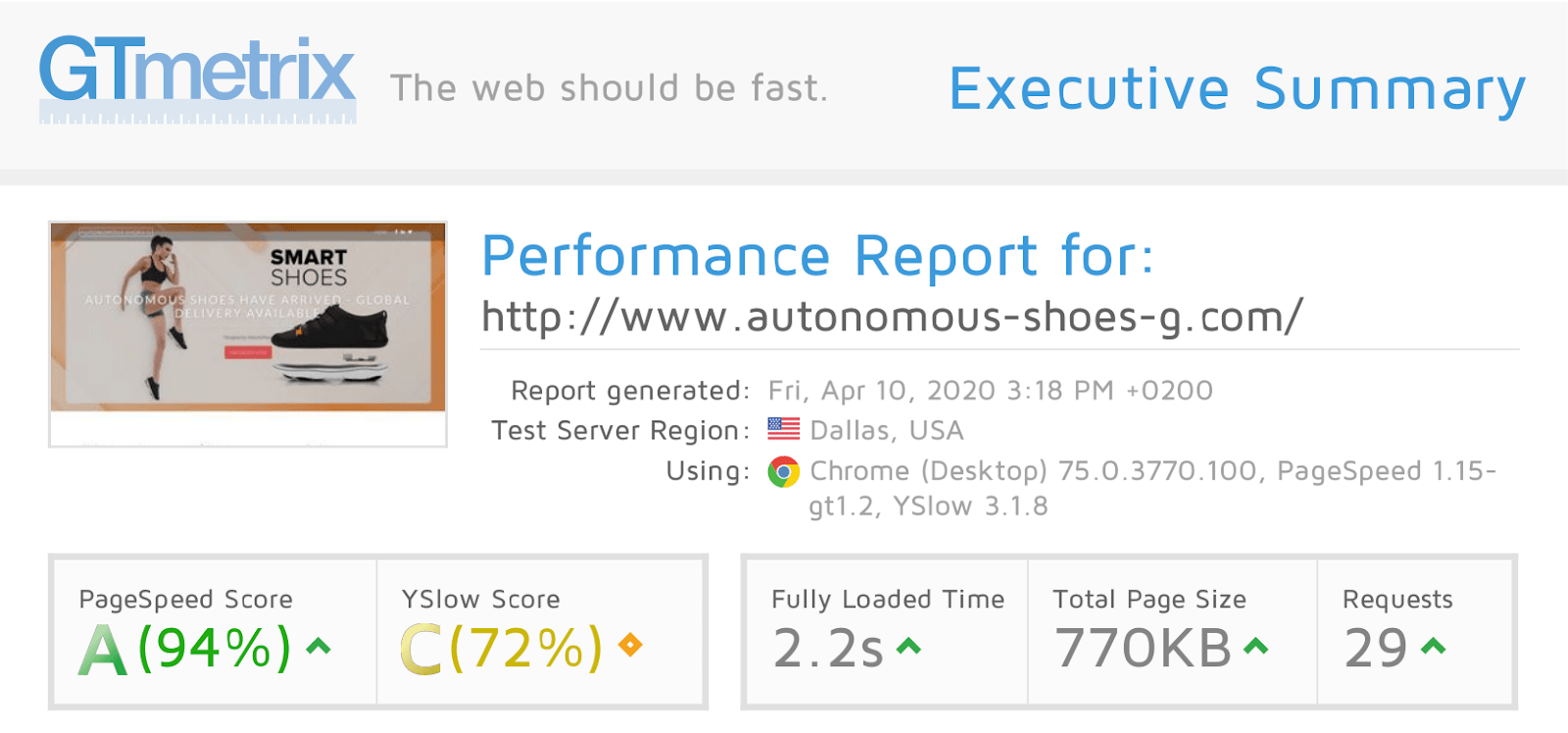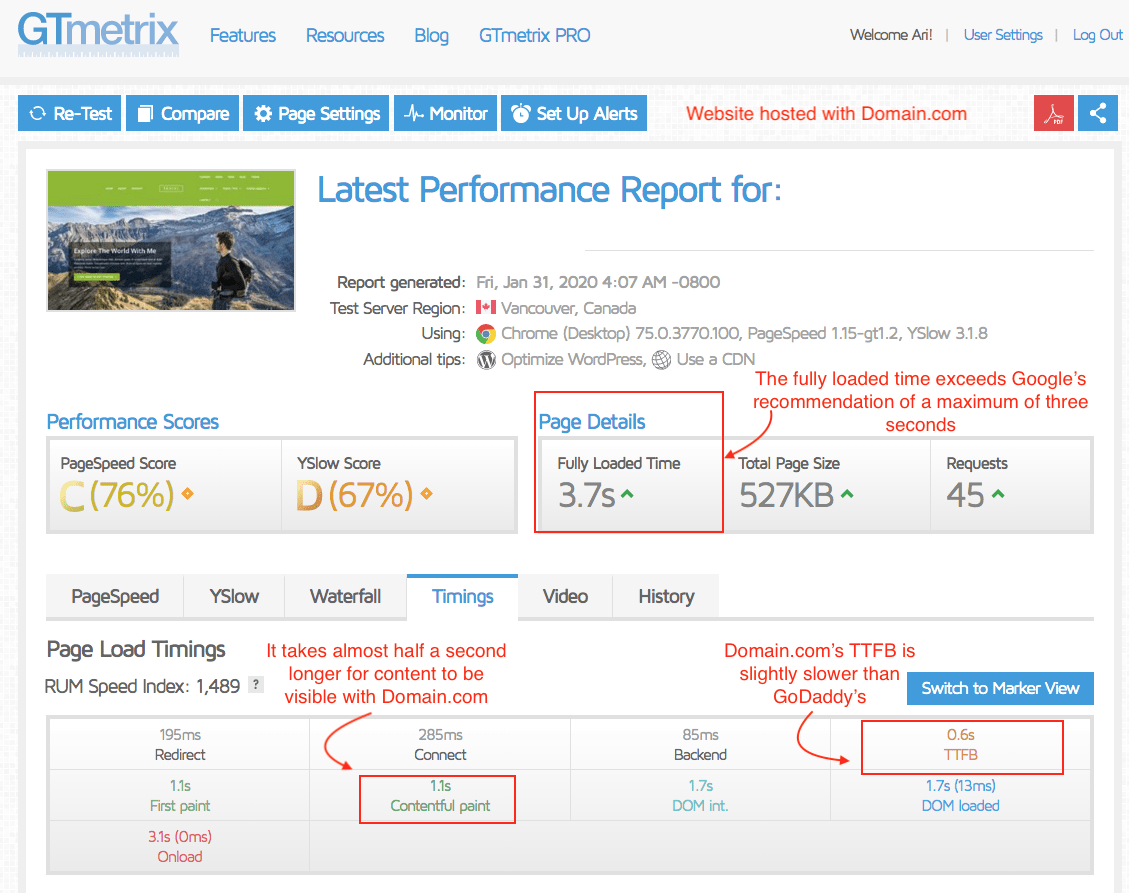 The website hosted on Domain.com failed to meet Google's recommended page loading speed – although its TTFB and contentful paint times were not much different from GoDaddy's.
As well as page speed, I also look at the reliability of web hosts to assess performance. Reliability is measured in uptime – and while GoDaddy offers the standard 99.9% uptime guarantee, being compensated for downtime doesn't make up for potential lost business during downtime. An uptime of 99.9% still allows for 43 minutes of downtime per month. Domain.com doesn't even have an uptime guarantee!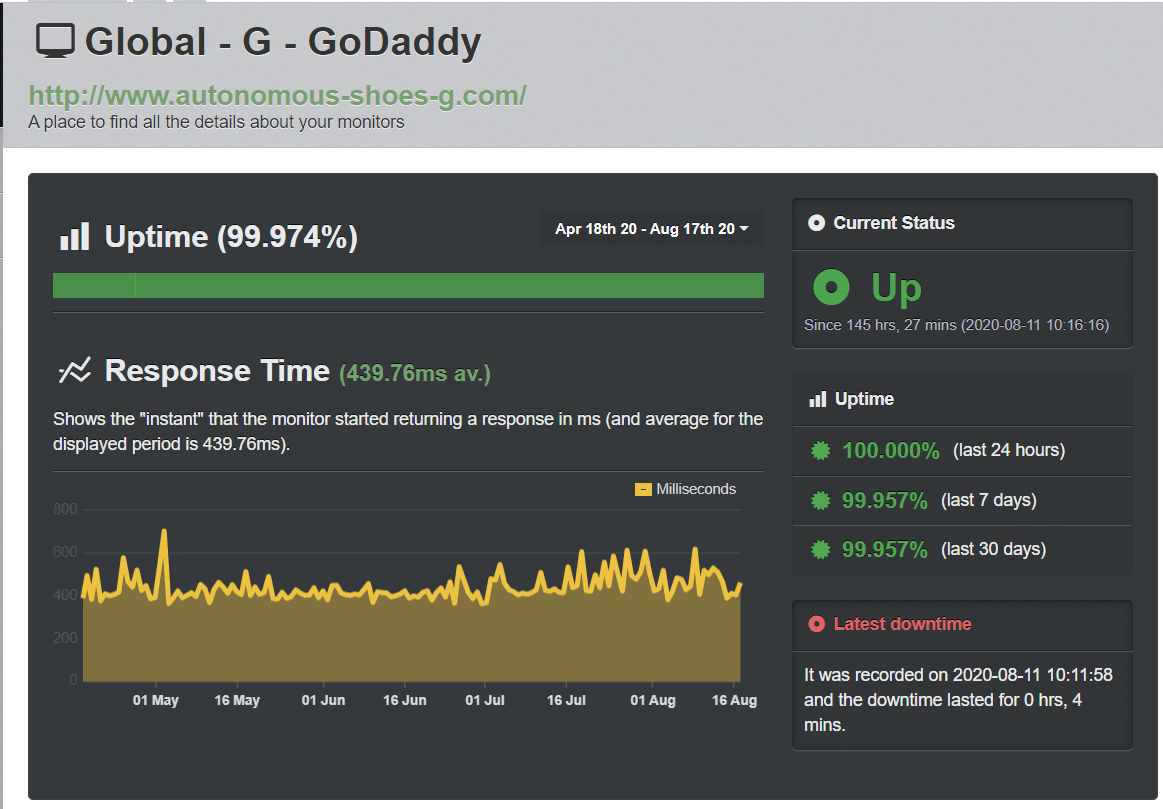 GoDaddy, in my tests, proves to be more reliable than Domain.com, with its average monthly uptime rarely falling below 99.95%.
 Domain.com, however, has a lot more instances of downtime (perhaps due to overloaded servers) and fairly frequently has average monthly uptime scores of less than 99.85% (including one recent month with 99.42% uptime). Both GoDaddy and Domain.com have their issues with performance.
This is why I prefer Hostinger – its shared hosting plans provide some of the fastest loading speeds I've seen, and its uptime record is excellent.
Domain Registration
GoDaddy's Domain Features Are Simply More Extensive
Yes, I know this is a web hosting comparison, but since GoDaddy and Domain.com were established as domain registration services before they expanded into web hosting and more, it would be foolish not to look at this part of what they offer. GoDaddy often claims to be the best domain registrar – and since nearly 19 million people have bought domain names from it, it must be doing something right!
 What makes GoDaddy superior for domains compared to Domain.com is the range of domain-related features it offers.
| | | |
| --- | --- | --- |
| | GoDaddy | Domain.com |
| Domain Extensions (e.g., .com) | Over 500, with new ones being added frequently, including .design, .realestate, .fun, and .coffee | Over 400, although some are still in the "early access period," which incurs higher registration fees, and others are held in the "priority pre-registration" phase |
| Domain Transfers | Automated, fully supported process, with the option for bulk domain transfer of up to 500 domains (plus discounts when transferring more than six .com domains) | Automated process with support if needed, but no option for bulk domain transfer |
| Domain Privacy (to keep your personal details private in your domain's WHOIS listing) | ✔ | ✔ |
| Domain Name Generator | ✔ | ✘ |
| Domain Broker (to help you get the best deal if you want to purchase a domain that's for sale) | ✔ | ✔ |
| Domain Value Appraisal (if you want to sell your domain name later) | ✔ | ✔ |
| Business Name Generator | ✔ | ✘ |
| Domain Auctions | ✔ | ✘ |
| List a Domain for Sale | ✔ | ✘ |
| Discount Domain Club (a membership club with discounts for new domain extensions) | ✔ | ✘ |
| Domain Backorder (to pre-order a forthcoming domain extension) | ✔ | ✔ |
| Discount on Basic Hosting When You Purchase a Domain (but only if you go to checkout without adding hosting) | ✘ | ✔ |
Domain.com's domain hosting features are adequate
 – you can search for your ideal domain name, there's a variety of domain extensions to choose from, and you can purchase domain privacy protection – but compared to GoDaddy, these services seem rather basic.
Security
No Built-In Security Features – But GoDaddy Offers Site Security at a Lower Price
Many of the budget web hosting companies don't include the kind of security features you really need – such as malware scanning and removal and web application firewalls – within hosting plans.
Both GoDaddy and Domain.com include the basics – DDoS protection and 24/7 security monitoring. However, they also charge extra for advanced security – but there's a big difference between the two.
Domain.com has partnered with SiteLock to provide three optional levels of protection – Essentials, Prevent, and Prevent Plus. Unfortunately, the Essentials add-on only provides the bare minimum of protection. To take advantage of a WAF (web application firewall) that prevents malicious traffic from accessing your website, you should be subscribed to the Prevent plan. Unfortunately,
all of these SiteLock plans will increase the cost of your Domain.com hosting plan by more than double
.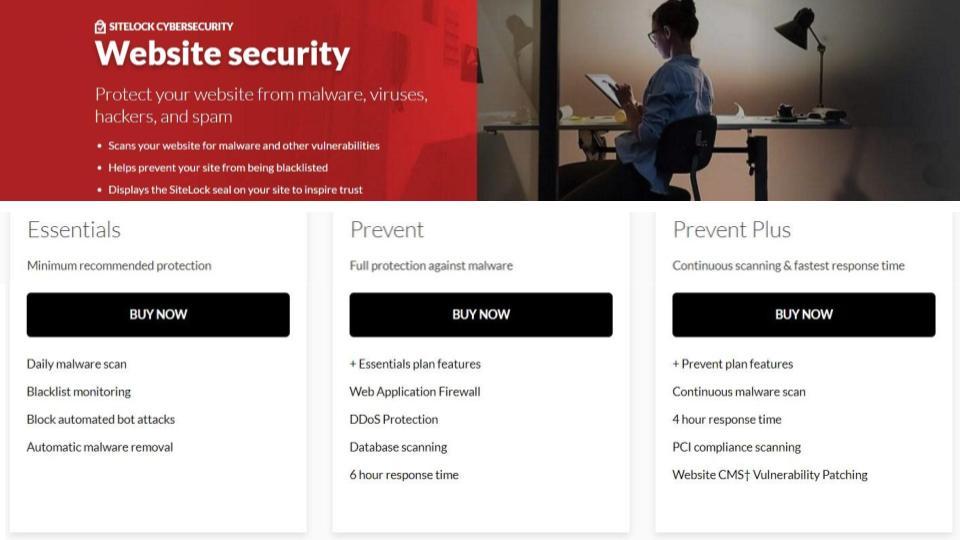 GoDaddy's security features will also cost you – and more than some of Domain.com's SiteLock security options.
However, with Domain.com, you have to pay even more separately for backups (a basic of security) via its Website Backup & Restore subscription. GoDaddy includes free daily backups on all hosting plans, plus extra backup storage on advanced security subscriptions.

Support
GoDaddy's Support Isn't 24/7 Worldwide – But It's Better Domain.com's
I dedicate significant time to testing customer support through live chat. I've discovered that simply having 24/7 support may sound appealing, but it doesn't guarantee a better experience if the support quality is lacking.
GoDaddy is known for having somewhat complicated support availability
. If you're in the US or Canada, you can get 24/7 GoDaddy support via live chat and phone. However,
if you're in select locations such as Switzerland, Hong Kong, India, or New Zealand, phone and live chat is only available during certain hours
(often 9 a.m. to 9 p.m. Monday through Friday)
.
Luckily, there's a whole web page dedicated to phone numbers and availability times for global GoDaddy support, though. In comparison, Domain.com simply says it offers 24/7/365 live chat support – no phone support. I'm in the UK and I prefer to test support via live chat, so I can only evaluate GoDaddy on weekdays. At first, that seems like an inconvenience – but then I tried Domain.com's live chat support and, well,
I got better support from GoDaddy's live chat during weekends (when it's closed) than I got from Domain.com!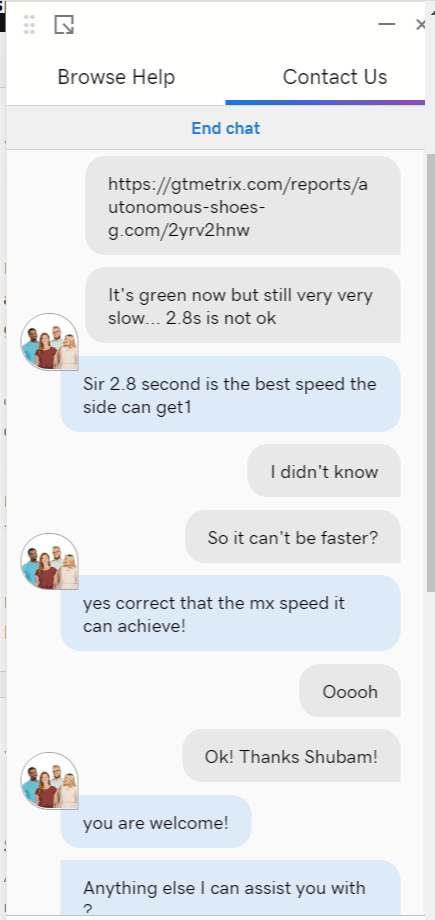 Below is a screenshot of my exchange with Domain.com's live chat agent.
After failing to actually answer my questions properly (just copying and pasting information from the website) and insinuating that I wasn't looking at the website properly, the support agent simply stopped responding to my questions
 and the chat window was automatically closed due to inactivity.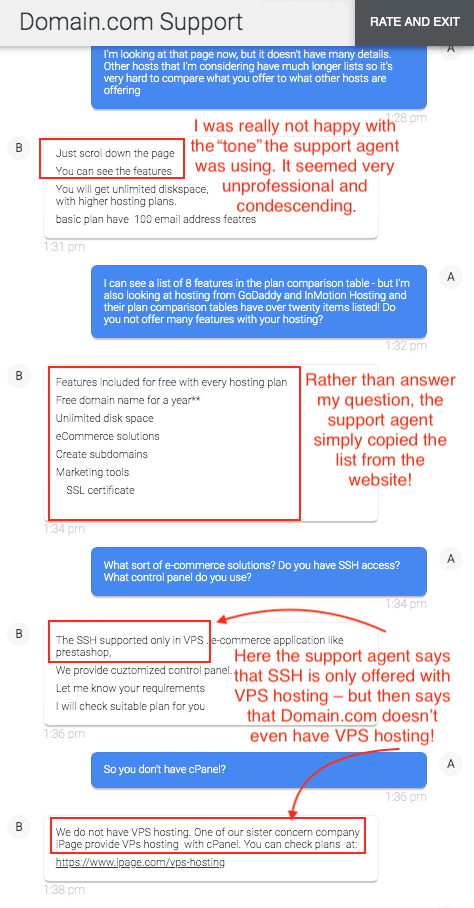 GoDaddy Is Best, But You Can Do Even Better
GoDaddy's hosting isn't perfect, and it's not at the top of my list of recommended hosts, but compared to Domain.com, it's superior in performance, domain registration features, support, and security.
If you're looking to build your first website for a blog or business, one of GoDaddy's shared hosting plans could work for you.
Even if you're just beginning,
you should not compromise on the quality of your hosting services
. Switching to a different host at a later stage could become a significant inconvenience. Therefore, I strongly advise selecting an outstanding web host right from the outset.
Hostinger's shared hosting plans
are cheaper than anything GoDaddy can offer. They also include better features and provide some of the best performance I've seen. It's no surprise that Hostinger made it to our list of
the top web hosting services for 2023
.
Plans and Pricing
Plans are less expensive than GoDaddy's, and pricing is clearer, but Domain.com only offers shared and WordPress hosting.
Plans include most of the standard features you'd expect with shared hosting, and GoDaddy also offers WordPress, VPS, and dedicated hosting.
Key Features
Free domain name, SSL (128-bit, Let's Encrypt), and emails
Free domain name, (2048-bit) SSL, Office 365 email, daily backups, and cPanel license
Performance
Pages are slower to load, failing to meet Google's recommended maximum of 3 seconds
Pages load faster with GoDaddy – and it has better uptime/reliability
Domain Registration
Basic domain registration services – but watch out for the automatically added domain name protection at checkout
Comprehensive range of domain registration and management services, including the option for bulk transfer of domain names
Security
Basic security (DDoS protection and 24/7 monitoring) is included with all hosting plans. Advanced website security is an optional extra and is provided by SiteLock; only higher-priced plans firewall protection
Website security is an paid add-on – but backups and basic security (DDoS protection and 24/7 monitoring) is included for free with all hosting plans
Support
Support was awful when I tried it – both times I used the live chat, the support agent couldn't answer my questions and simply stopped responding
Support has improved, with shorter waiting times and a better quality of support; it's not 24/7 worldwide – some countries will only get support Monday through Friday
FAQ
What is the best site to buy a domain name?
Both GoDaddy and Domain.com offer relatively low-priced domain names. Overall, GoDaddy is the better option, but the truth is that there are other places where you can buy domain names at lower prices, such as Namecheap (our personal favorite).
Which is better, Domain.com or GoDaddy?
After testing both of these hosting companies, I'd say GoDaddy is a better choice. With slightly better features than Domain.com and more freebies, customizability, and control, both GoDaddy's domain registration and hosting services are a level up. However, GoDaddy is still not one of my top picks for budget web hosting.
Should I buy a domain from GoDaddy?
If you're planning on buying web hosting from GoDaddy, then yes, buying your domain from GoDaddy can be a good choice. Check first to see if your chosen GoDaddy hosting plan includes a free domain for the first year, too. Alternatively, you could opt for a domain from a lower-cost provider like Namecheap, which includes free domain privacy with all its domain names.
What is the difference between a domain and a website?
A domain name is the website address that your visitors type into their browsers to access your website. For example, https://www.websiteplanet.com/ is the address that you'd type in to arrive at our homepage. Having a domain name doesn't automatically create a website for you! To have a website, you need to have web hosting and site content (text, images, videos). If you're looking to design a site and host it, be sure to check our list of the best web hosting services.