If you're a marketing newbie, you might not realize that a "landing page" and a "homepage" aren't exactly the same thing. But don't worry, you're not alone. That said, knowing the key differences is important in order to make sure that you are using the right page at the right time in order to accomplish your marketing goals. Let's jump right in, shall we?
#1: Different Objectives
For starters, homepages and landing pages have different end goals.
Let's start with homepages. A homepage serves as an informational hub
. It inspires the visitor to go to another page, it's static, and
there can only be one
. As well as providing an extensive overview of your business and the products or services that you have to offer, it links to other important, permanent pages of your website. It also occupies your root domain (www.yourwebsite.com) and acts as the home of your business online.
It's the place that you direct people when they want to know more about who you are and what you do
. Let's break it down a bit further. A homepage works particularly well in the following situations:
When your business isn't online yet in any other way (a homepage is the natural starting point if you don't have a fully fleshed out website)
When you need a place to provide basic business information (such as your contact details and where you're located)
When your social media profiles ask for a website linking to your business (typically in the "website" field)
When people are asking to see your social media pages (a homepage usually features all of your social links)
For instance, Stockeld Park's website features social icons to the left-hand side of their homepage, which links to each of their individual social media pages. Their extensive navigational menu also provokes interest and directs consumers to the different types of information that they might be searching for.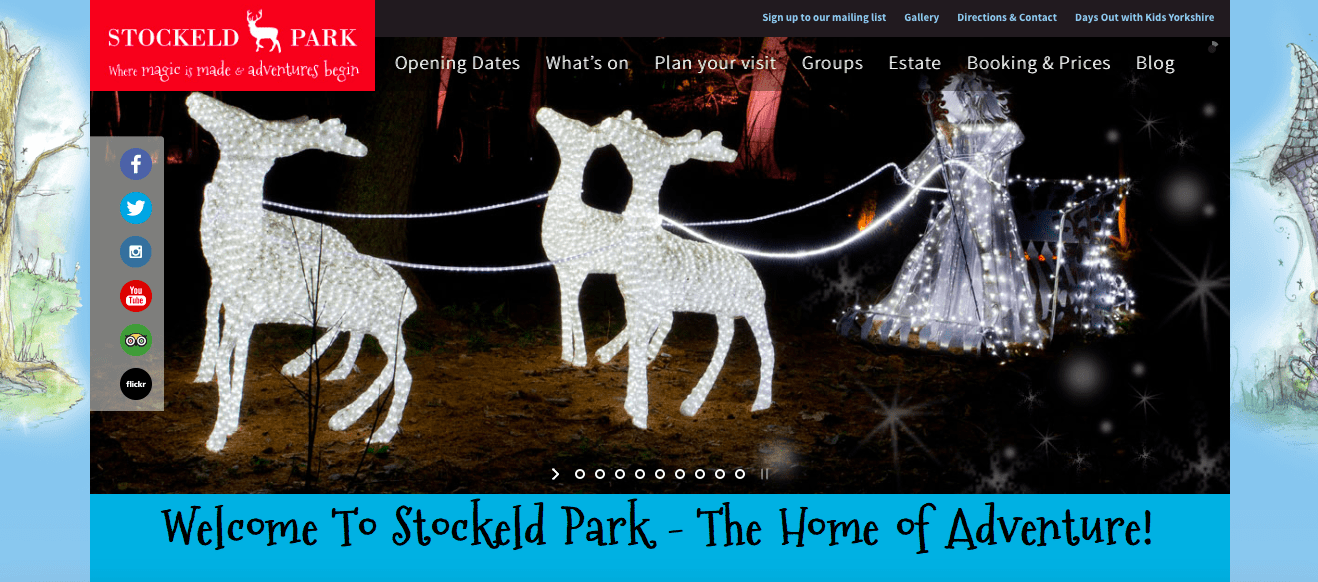 Now, let's talk about landing pages.
A landing page, on the other hand, is a responsive page that has
the sole aim of conversion
. It's usually the destination of a traffic-building, outside source such as a social media ad or email campaign. A landing page gets its name from the fact that it's designed to be the page that visitors "land" on from other sources. It's extremely targeted, has limited features, a specific message, and
prompts visitors to take action
—whether this is in the form of signing up for your email newsletter or purchasing your latest product. Moreover, a landing page isn't always intended to be a part of your website. They often stand alone and
aim to convert
. A landing page works best in the following scenarios:
When you're running a paid social campaign (Instagram Ads or similar)
When you're participating in a paid search campaign (where you bid for a search engine's sponsored links for keywords related to your business)
When you're launching a new product or service (and you want to build buzz around it)
When you're running retargeting ads (where your advertising efforts are targeted toward consumers based on their previous Internet actions)
One company found that specific landing pages can outperform generic pages by
115%
, so keep this in mind when you're trying to work out the current goals of your business.
#2: Different Target Audiences
Another core difference between a landing page and a homepage is the
target audience
. Every online visitor that you might have arrives at either page at a particular stage of problem awareness. There are five stages of
problem awareness
, as follows:
Stage 1: Completely Unaware: Your visitor has no knowledge of a problem
Stage 2: Problem-Aware: Your visitor senses a problem but doesn't know if there's a solution
Stage 3: Solution-Aware: Your visitor has an idea of the desired result but doesn't know if your product provides it
Stage 4: Product-Aware: Your visitor knows your product but isn't sure whether it's right for them
Stage 5: The Most Aware: Your visitor knows your product and just wants "the deal"
A homepage works for visitors at every stage of awareness, whereas a landing page is created based on what your visitor needs at their specific stage of awareness.
Let's consider the instance of the accounting software company Xero. They utilize Facebook ads to target small businesses facing challenges in managing their invoices, as suggested by their online searches. This targeting is focused on individuals who are already informed about possible remedies. The ads guide these prospective customers to a customized landing page. This page offers them the chance to avail a free 30-day trial crafted to aid them in overcoming their specific challenges.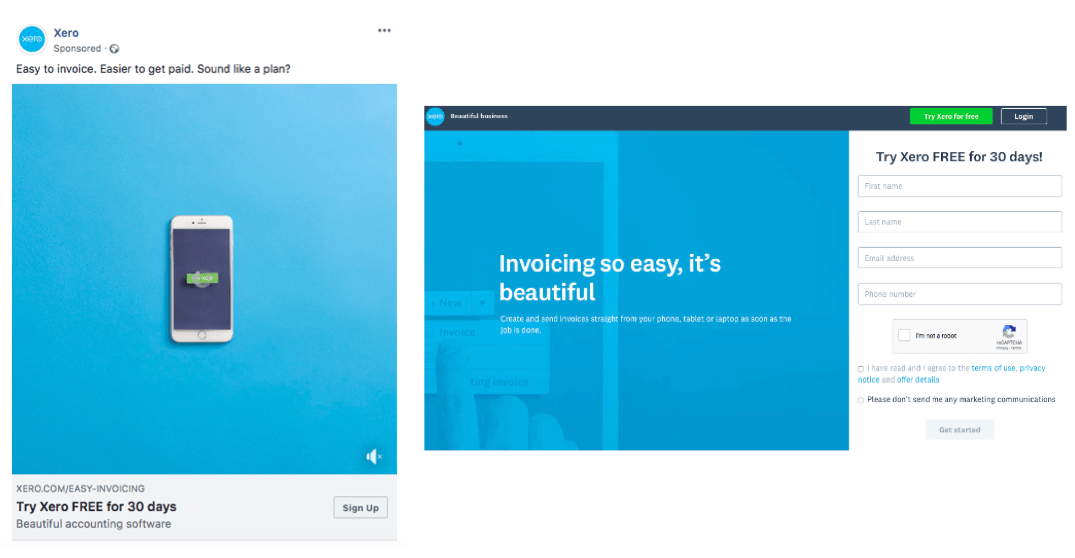 This example is precisely why landing pages are so successful. Their key aim is to drive sign-ups and sales by
solving a problem
belonging to their target consumers.
#3: Different Designs
Another major difference between a landing page and a homepage is the
design
. Let's discuss a typical landing page, which follows
The Rule of One
. This is where your page is designed according to
one big idea with one reader in mind
. For example, copywriter Ashlyn Writes targets her landing page at the product-aware reader with a free writing masterclass as her one big idea.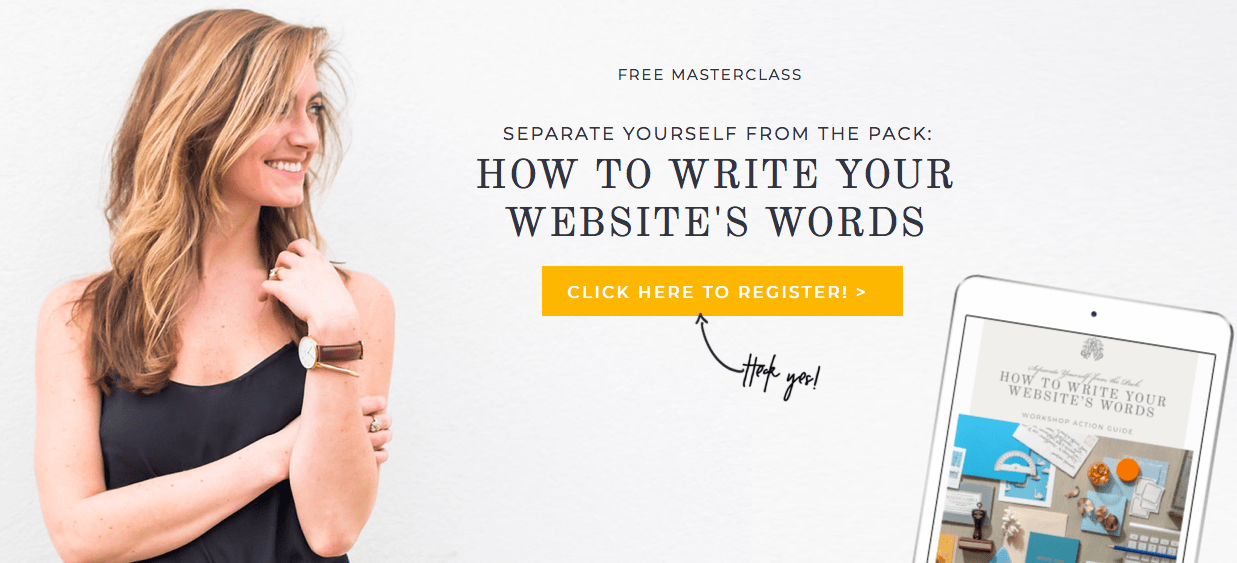 Even though this example is extremely stripped-back and simple—with just a few words, two images, and a Call-To-Action (CTA) button—it just
works
.
It purposefully provides a single type of visitor with a single path of conversion
. Her homepage, however, is a very different story. It has several CTA buttons and clickable text boxes, which allows visitors to choose their own journey, so to speak, based on their individual needs.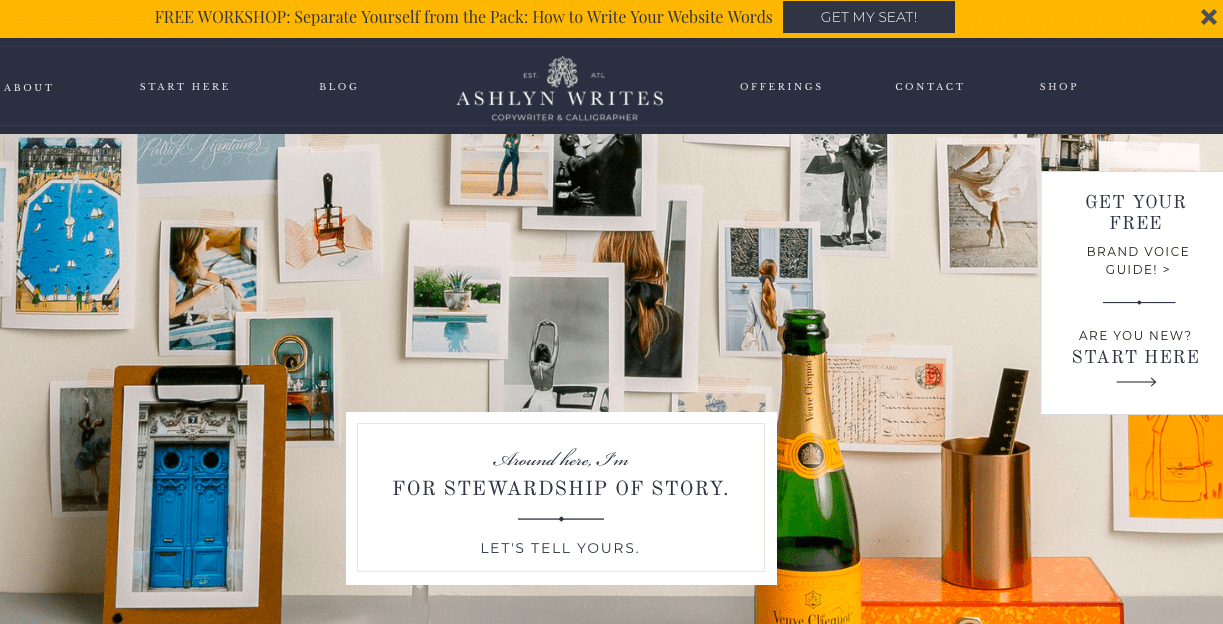 The Ashlyn Writes homepage also has a "sticky header," which is always visible at the top even as you scroll down the page. This means that the visitor has
access to the navigation menu at all times
to help them find the information that they're looking for.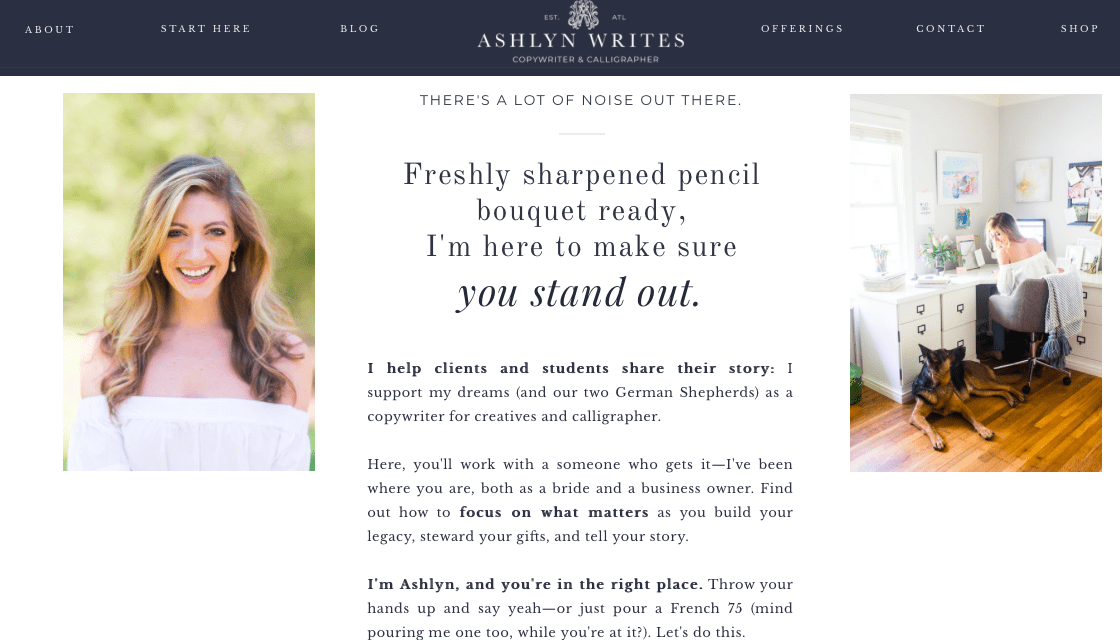 When comparing homepage design to landing page design,
a homepage pulls the visitor in a number of different directions as it tries to anticipate their various needs. A landing page, on the other hand, makes an assumption about the visitor's specific needs, which it attempts to cater to directly
.
#4: Different Metrics
Finally, there are a couple of different ways that you should measure the success of a landing page versus a homepage. The first is in terms of
bounce rate
. What is your bounce rate, I hear you ask? Well, it's the percentage of visitors that leave your page before visiting a second page—and
it's an important metric for both your homepage and your landing page
. These are the general rules of thumb when it comes to a good bounce rate:
Landing page – between 26% and 40%
Homepage – between 41% and 55%
There could be a handful of reasons why your visitors are bouncing instead of sticking around to hear what you've got to say, so it's important to keep analyzing and improving your design until you get it right. Learn more about the
anatomy of a good landing page
. Another key landing page metric is
the conversion rate
, i.e., how many of your visitors are actually turning into paying customers or signing up to your email campaign. According to Cyfe, you should expect to see a
5-10% conversion rate
for any type of landing page. As a homepage isn't primarily designed for conversion purposes, you should expect this rate to be even lower. In fact, according to AdRoll,
98% of your first-time visitors won't convert on your homepage
—but that's okay. Even though conversion would be great in this instance, it's not the main goal—and it's important to understand that.
Leverage the Differences of Each Page
Sure, homepages and landing pages might have different purposes, audiences, designs, and metrics, but
they're both equally important
. At their very core, homepages and landing pages play a similar role. How? Well, they're both
designed to encourage your visitors to proceed to the next step
of your sales funnel. And they're both instrumental to your success as an online business in the digital age. So be sure to leverage both at the appropriate times to strengthen your overall marketing and communications strategy.
---
Sources
Problem Awareness: How to Custom Tailor Your Marketing to Increase Sales: https://nicholasreese.com/problem-awareness/
Ignore This Essential Copywriting 'Rule' From Mark Ford and Risk the Success of Your Copy: https://www.awai.com/2016/05/ignore-this-rule-and-risk-the-success-of-your-copy/
Landing Page vs. Homepage: What's the Difference?: https://www.digitalstrike.com/digital-strategy/landing-page-vs-homepage/
The Most Important Landing Page Metrics: https://www.cyfe.com/blog/important-landing-page-metrics/
What's the Average Bounce Rate for a Website?: https://www.gorocketfuel.com/the-rocket-blog/whats-the-average-bounce-rate-in-google-analytics/
Bounce Rate Benchmarks: What's a Good Bounce Rate, Anyway?: https://conversionxl.com/guides/bounce-rate/benchmarks/
What is retargeting?: https://www.adroll.com/learn-more/retargeting
Homepages vs Landing Pages: Where to Drive Paid Traffic for Higher Conversions: https://neilpatel.com/blog/homepages-vs-landing-pages/