Amazon Web Services (AWS) may be the biggest player in the cloud hosting industry, but this doesn't make it the best for everyone.
Amazon's service
requires a vast knowledge of cloud computing, and even those with a technical background will find the learning curve steep.
AWS is really only accessible to those already familiar with its proprietary technology. As a managed cloud service, Cloudways was built with beginners in mind
. Aside from its intuitive interface, you have access to no less than five different cloud platforms (AWS included).
If you don't want your products or services to be locked in with a specific vendor, Cloudways is a superior choice. I've researched and tested both Cloudways and AWS. While both have their strengths and weaknesses,
using Cloudways to provision and manage AWS
cloud servers is actually one of the best setups available.


Save up to 30 % on your Cloudways plan!
Limited-time offer - Don't miss it!
98 users used this coupon!

Save up to 30 % on your Cloudways plan!
Copy and paste this code at Cloudways
1. Plans and Pricing
AWS Is Cheaper Than Cloudways, but It Also Offers Less Value
The closest thing to Cloudways' instant provisioning is AWS Lightsail. In terms of pricing,
a Lightsail instance starts at
$
3.50
/month – roughly four times cheaper than a Cloudways AWS server with similar specifications
.
AWS has the upper hand in terms of affordability, but Cloudways offers more value for your money.
For instance, Cloudways includes a lot of features you don't get with Amazon, such as automated backups, 24/7 support, one-click SSL, pre-configured caching, free managed migration, and more.
With Amazon, you'll have to set everything up yourself.
Sure, getting WordPress to run isn't that hard, but take a look at the AWS documentation for something as simple as installing a free SSL certificate from Let's Encrypt. It's not pretty – you have to use Linux commands, implement HTTP-to-HTTPS redirection, and configure DNS settings. Don't even ask about advanced caching (Varnish, Memcached, etc.) or a staging environment. You'll have to set up another AWS instance if you want the benefit of a testing environment on Amazon's cloud.
Another area where AWS loses points is server configuration.
With Cloudways, you can immediately host your website(s) once you've signed up. Its servers are already customized by experts with a best-in-class stack based on Apache and NGINX. With AWS, you have to select, license, and configure the server software yourself. Both Cloudways and AWS charge you for backups and CDN access. However,
it's worth noting that CloudwaysCDN is much more affordable than AWS' CloudFront,
which charges you more per GB and adds outgoing traffic to the bill. Overall, AWS seems cheaper, but you get less value out of it. And if you need additional services, your AWS hosting costs can easily spiral out of control.
Cloudways has a more straightforward pricing model
 and offers significantly better value.
The downside is that it's more expensive to begin with.
2. Features
AWS Has a Vast Range of Features, While Cloudways Offers Streamlined Plans
Cloudways is pretty much turnkey hosting.
Everything you need is included, and extra features are available for purchase as add-ons. In this regard, it's as simple as setting up a shared hosting account. On the other hand, Amazon's complex, proprietary tech ecosystem often demands a lengthy onboarding process. In addition, you'll have access to staging areas as well as Cloudways' optimized hosting stack across multiple cloud providers, all of which you can control from a single interface. However,
Cloudways won't give you access to Amazon's advanced cloud services such as machine learning, quantum or serverless computing, game tech, or IoT
– although such features are often only useful for research purposes or niche tech initiatives.
AWS gives you more flexibility than Cloudways.
There's a load balancer you can use to better manage worldwide traffic, custom virtual machines you can provision depending on your specific needs… and, of course, the hundreds of other cloud services it offers.
Some of Amazon's services have free trial periods.
Be wary, though, as this is often a double-edged sword – if you exceed the trial's resource allotment, you may be eligible for charges.
Cloudways does have a free, three-day trial you can (and probably should) use, but it's not a lot of time to work with.
Neither host offers a money-back guarantee since they both work on a pay-as-you-go model.
This is great, since it means you never have to commit to long terms, and you can adjust your service details whenever you need to. Take a look at this comparison table for a brief overview of each host's features.
| | | |
| --- | --- | --- |
| | Amazon Web Services | Cloudways |
| Hosting Types | Cloud virtual machines, containers, serverless compute, edge computing | Managed cloud infrastructure |
| vCPU | 1 – 96 | 1 – 96 |
| RAM | 512MB – 384GB | 1GB – 384GB |
| Storage | 20GB – 16384GB | 20GB – 3840GB |
| Bandwidth | 1TB – unmetered | 2GB – 20TB |
| Control panel | Proprietary | Proprietary |
| Dedicated IPs | 1 | 1 |
| Free CDN | ✘ | ✘ |
| Data center locations | US, Canada, Brazil, UK, Ireland, Norway, France, Germany, Italy, South Africa, Bahrain, India, Singapore, Indonesia, China, South Korea, Japan, Australia | US, Canada, the UK, Ireland, Germany, Italy, Sweden, Australia, Japan, South Korea, India, China, Singapore, Bahrain, South Africa, Brazil, the Netherlands, Belgium, Finland |
| Money-back guarantee | ✘ | ✘ |
3. Performance
AWS Is Just as Good as AWS through Cloudways… Depending on Software
Since you can use Cloudways to make AWS more user-friendly, there's little point to having an infrastructure battle between Amazon and… Amazon.
Your website's page loading speed will depend more on the software you run on those cloud servers,
and whether your pages are optimized for fast delivery. You can further improve your page loading speeds around the world with a CDN. Although Amazon's CDN has the AWS infrastructure behind it, Cloudways' CDN is cheaper. AWS allows provisioning of its servers in 84 availability zones around the world, while
Cloudways has the advantage of offering access to all these data centers as well as those from the other providers it supports
, namely DigitalOcean, Linode, Vultr, and Google Cloud. However
, Cloudways still doesn't have a load balancing service for high-traffic websites, which is relatively easy to set up and use on AWS.
A load balancer allows you to route traffic to several servers around the world to fulfill a surge in simultaneous requests, rather than relying on a single server to handle the load.
The major advantage Cloudways offers over AWS is its preconfigured web hosting stack.
From running an Apache-NGINX web server combo to using Memcached, Varnish, PHP-FHM, and Redis caching, Cloudways' ThunderStack gets you out of having to configure a whole lot of complicated backend stuff when you work with the platform. While Cloudways doesn't provide an uptime guarantee, each of the cloud providers it manages for you has one.
AWS offers a 99.99% uptime SLA
, as well as a tiered compensation system in case of a drop in availability. Amazon Web Services had a strong showing in our performance tests. To find out more about the results, you can read
our expert AWS review
. We've yet to complete all of our Cloudways benchmarks, but you can read more about its performance-enhancing features in
our in-depth Cloudways review
.
4. Security
AWS Has Strong Default Security, but Cloudways Gives You More
Amazon has one of the most secure networks currently available.
There are several anti-DDoS systems in place, not to mention 24/7 monitoring.
That said, you are fully responsible for whatever you put in your cloud instance, as well as monitoring your own traffic. Cloudways includes all the default security that comes with the infrastructure you choose (from AWS, DigitalOcean, Vultr, Google Cloud, or Linode), and it offers additional software features beyond that.
All Cloudways accounts benefit from OS-level firewalls, regular security patches, bot protection, and one-click SSL.
Aside from Amazon's default network security,
AWS Network Firewall will cost you upwards of $100/month… for the policy.
As charges are also traffic-dependent, you can easily end up paying much more if your website experiences a boom in traffic.
Cloudways' default security is simply better than Amazon's
, since it includes the basic protection of the cloud infrastructure with a custom pre-built security solution at no extra charge.
5. Support
Support Is a Primary Feature of Cloudways' Service, and It's Cheaper Than Amazon's
Cloudways' service is fully managed
, which means that your server software will be set up by experts. For as long as you're a Cloudways client, your server will be updated and managed by someone who knows what they're doing.
If you want this level of service with AWS, you'll have to hire someone to do it – someone like Cloudways, for instance.
Cloudways' default support includes 24/7 help through live chat and support tickets, while AWS only offers 24/7 tickets.
For direct access to experts, you pay more for both hosts.
But Cloudways' Premium support tier, which includes a private channel straight to the engineers, is
much
more affordable than Amazon's support add-ons. So, what can basic support do for you? I reached out to Cloudways and AWS to find out.
Once your account is verified, you can chat live with a Cloudways support agent whenever you want.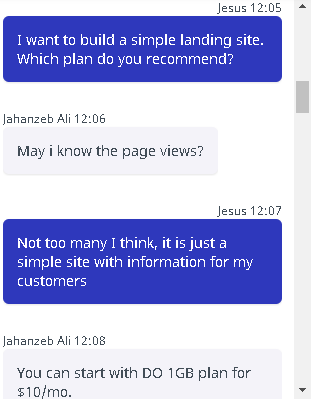 The representatives don't mind providing additional information, which is really helpful if you don't have a solid tech background.
It might seem basic, but a truly informative support service is not that easy to come by in the hosting industry. Since AWS does not offer anything that resembles live chat on its basic plan, I submitted a support ticket. Fortunately,
I didn't have to wait more than 24 hours to get an informative reply.

You can also rely on comprehensive knowledge bases with informative tutorials from both AWS and Cloudways.
Admittedly, Amazon's help center is more extensive, which is to be expected given its much wider range of services.
But if you're not keen on significantly increasing your hosting costs with support add-ons, Cloudways' support is a better deal.
The live chat feature can be a boon to beginners, as basic problems can be solved with one speedy interaction.
AWS Is Better with Cloudways
Amazon Web Services (AWS) stands as one of the top cloud providers, but beginners often find its platform challenging to grasp, and even experts may find it less than straightforward. This is where Cloudways comes to the rescue.
Cloudways makes it easy to work with AWS
because it simplifies launch, setup, and maintenance.
The infrastructure is fully managed, so you can focus on developing and growing websites or applications without having to worry about systems administration.
AWS has the advantage of being cheaper early on, but your hosting costs rapidly become more expensive as you add more services or resources.
It's intended for knowledgeable developers who need complexity, flexibility, and the ability to scale. But for everyone else, Cloudways is a better choice. Cloudways has a lot of features – such as live chat support, a preconfigured web hosting stack, and extensive network security – that are built-in and ready to use at no additional cost. Unfortunately, neither host made our list of
the best web hosting services of 2023
. They're both close, but not quite there yet.
Amazon Web Services
Cloudways
Plans and Pricing
More affordable than Cloudways, but can get really expensive as you add services and resources
More expensive than AWS initially, but the value-added services you receive truly offset the price
Key Features
Hundreds of cloud services to fit every possible hosting need, but infrastructure is self-managed
Fully managed infrastructure with a lot of features you'd have to pay extra for on Amazon
Performance
Excellent global performance, CDN and load balancer available at extra charge
Excellent global performance (depends on chosen host) and a really affordable CDN service; no load balancer
Security
Premium infrastructure security, but application/website-level protection costs extra
Premium infrastructure security (depends on chosen host) with application/website-level protection included
Support
24/7 support via tickets; phone, and live chat only available on very expensive plans; massive knowledge base
24/7 support via live chat and tickets; phone available on higher-tier plans; good knowledge base
FAQ
Is AWS better than Cloudways?
It depends on your needs and knowledge of systems administration. If you don't mind managing your own infrastructure, and especially if you want to work with cutting-edge technology like machine learning or edge computing, AWS is probably a better fit for you. However, if you just want to host a website or simple app, Cloudways is definitely the way to go. Whether the server is hosted by AWS, Google Cloud, Linode, Vultr, or DigitalOcean, Cloudways makes the cloud more accessible. While it's more expensive than AWS, you can enjoy some great discounts and deals when you sign up.
Does Cloudways offer good performance?
Absolutely. In addition to the fact that it lets you provision servers from some of the best cloud hosts in the industry, Cloudways has a pre-built web stack (based on Apache and NGINX) that's optimized for high-performance hosting.
Is AWS good for e-commerce?
In theory, yes. The issue is that setting up an online store with AWS will be costly and difficult if you're not a developer yourself. If you're a beginner or you simply want to focus on managing your business rather than your website infrastructure, you're better off with one of the easy-to-use providers on our list of the best web hosts in 2023.
Does Cloudways use cPanel?
No, Cloudways has its own control panel – but that's a good thing. Its dashboard actually has a lot of advanced features, like cache controls and vertical scaling, that you won't find on standard control panels. If you're new to website building, you may want to consider using a website builder instead. Our complete guide to building your first website has some great advice on what your options are.