DigitalOcean may not be perfect, but it's easy to cancel if it's not for you. The process was completely hassle-free, even though I had
signed up for the cheapest plan
.
While DigitalOcean certainly offers a powerful cloud platform, you may have found that it wasn't as customizable as you had first hoped, or perhaps you're looking for a more helpful support team. Maybe you're just shopping around, and you want to know whether a DigitalOcean plan is easy to cancel before you sign up. If you need an alternative,
Kamatera offers fully-custom virtual servers
with an optional managed service. I'd also recommend taking a look at
my other recommendations
before making a final decision. But first, here's how to cancel your DigitalOcean account, step-by-step.
Quick Guide: How To Cancel DigitalOcean and Get a Full Refund
Log in. Enter your account details at the DigitalOcean website.
Enter the My Account page. This can be found by clicking the profile icon in the top right of the DigitalOcean control panel.
Click Deactivate Account. The button can be found at the bottom of the page.
If necessary, deactivate any Droplets or teams. DigitalOcean will show any issues that need to be resolved. Once done, click or tap Deactivate My Account.
My Experience: Here's How I Cancelled My DigitalOcean Account
DigitalOcean, like other unmanaged cloud hosting services, offers a pay-as-you-go model. While this means you only pay for the resources you've used, it also means you won't get a refund.
There's no money-back guarantee or refund policy
. It is really easy to cancel your account through DigitalOcean's control panel, though. Here's the step-by-step process I followed to cancel my account. 1.
Head over to the DigitalOcean site and log in.
The
Login
button can be found on the top-right of every page.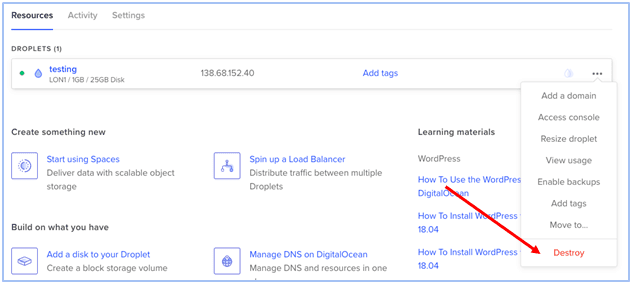 2.
Destroy any active Droplets.
To cancel your account, you'll first need to ensure that you have no Droplets running on your account. Each Droplet must be destroyed – simply turning them off isn't enough.
You will be able to destroy your Droplets from the home page of the control panel
. Click the three dots to the far right of each Droplet, then hit
Destroy
.

You will be asked to confirm the choice on several different screens. Simply follow the instructions. 3.
If necessary, transfer ownership of your DigitalOcean team, or deactivate it.
This is a bit of a weird one – I didn't know I even had a team, yet this still prevented me from cancelling my account. However, it is likely that you have one too, even if you've been working as a sole developer. As of recently,
all new accounts with DigitalOcean have a team created automatically
. This has also been rolling out to existing accounts. In short, DigitalOcean does not let you cancel your account if you're the owner of a team. This means you'll either have to transfer ownership to another team member, or deactivate the team entirely.
If you're a member of someone else's team, you can skip this step
. DigitalOcean will let you cancel without any issues. To manage your team, click
Settings
in the leftmost menu of the control panel. This will bring you to a page where you can see the status of your team and its members.

The easiest way to deal with this issue is to deactivate your team
. For the deactivation option to appear, you'll need to remove all other members. You'll also need to remove any active resources associated with the team, such as Droplets, Spaces, and domains. Once this is done, you can click
Edit Information
to the far right of your team name, followed by
Deactivate Team
.

If you're working with others who'd like to continue using the team, you may wish to transfer ownership instead
. To do this, click the three dots next to the member to whom you'd like to grant ownership. Click
Change Role
, then select
Owner
. DigitalOcean will then send you an email containing a confirmation link. Click this link to confirm, and to send an ownership invitation to the team member you have chosen. Once they've accepted the invitation, you'll be free to cancel your account.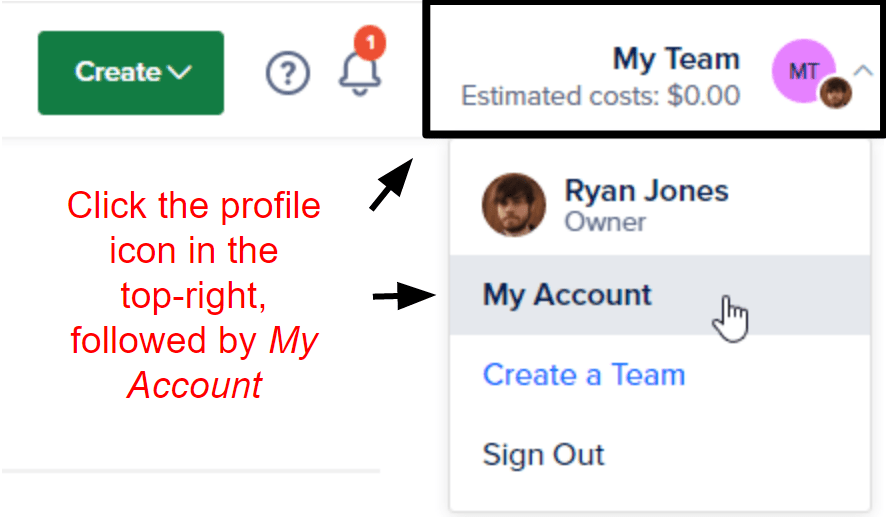 4.
Deactivate your account.
With all that done, you should be ready to cancel. To do so, click the profile icon in the top right of the control panel, followed by
My Account
.

Scroll down to the bottom of the page and you should see an option to deactivate your account
. Once you're ready, hit
Deactivate
. If there's anything you've forgotten to take care of, you'll be brought to a screen that lists any outstanding issues. These may be active Droplets, or you may still be an owner of a team. If you have any bills due, these will need to be paid first. Regardless of what's stopping you, DigitalOcean will offer a direct link to a page where you can resolve the issue. Do this, then try to deactivate your account once more.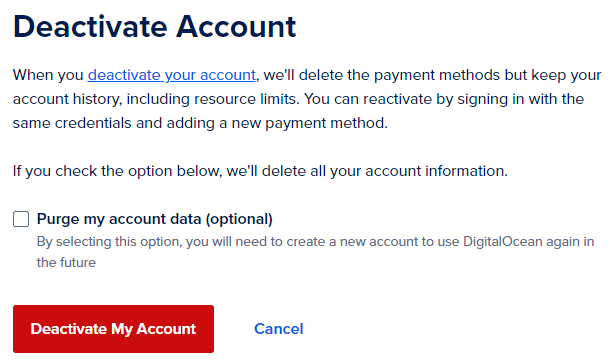 Eventually, you'll be brought to a final confirmation option. Here, you can choose whether you'd like to purge your account data. If you choose not to, you'll be able to reopen your DigitalOcean account at any time with the same credentials. Your account history will be saved and you will not have to go through the verification process again. In addition, you'll also be able to keep any expanded resource limits you had set before cancellation. Purging your account data will delete your entire account history, and will ensure none of your data is kept with DigitalOcean. With this option, you'll have to create a completely new account if you wish to sign up with DigitalOcean again. This is totally up to you – if you're planning to use DigitalOcean again in the future, you'll have an easier time if you let DigitalOcean keep your account data. However,
if you have no plans to sign up again, it's safer to purge your data
. Check the
Purge
box if you wish, then hit
Deactivate My Account
to finish the cancellation process. Ideally, I would've liked a refund for my usage (I'd spent $1.03) while testing the service. But as the support ticket system didn't appear to be working, I couldn't get in touch. The amount I had paid was tiny, so in my situation it wasn't a big deal.
3 Best DigitalOcean Alternatives for Cloud Hosting
If you're looking for an alternative to DigitalOcean, I'd recommend the following options. I've tested each of these hosts thoroughly, and found that they excel in certain areas where DigitalOcean tends to fall short.
While DigitalOcean limits you to rigid plans,
Kamatera allows you to custom-build a virtual server from the ground up
. You can set the exact RAM, CPU, and SSD storage you need, and continue to scale these resources independently from one another whenever you wish. This level of customizability simply isn't available with DigitalOcean. In addition, Kamatera tends to offer cheaper entry-level servers, despite offering five times more outbound data transfer.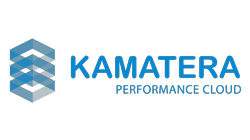 Get 1 month Cloud Hosting FREE!
Get your first month of VPS hosting with Kamatera for FREE!
79 users used this coupon!
If you encountered challenges while working with DigitalOcean, considering Liquid Web could present a more favorable alternative. By default, Liquid Web ensures core management of its cloud VPSs, effectively handling both your operating system's maintenance and security aspects. This feature allows you to dedicate more time to concentrating on your actual project. However, the best part of Liquid Web is the guaranteed support. If you were left disappointed by DigitalOcean's unresponsive support team,
Liquid Web guarantees a response within 59 seconds for live chat queries and phone calls
.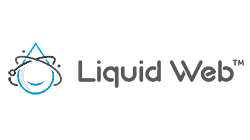 Liquid Web now has a 30 - day money-back guarantee!
Get a discounted annual plan without taking any risks.
70 users used this coupon!
Need to stick to a tight budget?
InterServer's cloud VPS plans offer generous resource limits at low prices
. For example, InterServer's lowest-tier server has twice as much RAM and data transfer than DigitalOcean's entry-level instance, for a comparable price. If you upgrade to the fourth or higher tier of VPS resources, InterServer throws in managed support for free.
Fast and Easy Cancellation, Despite a Lack of Support
Other than a slight complication regarding the team system,
cancelling my account was as easy as setting it up
. However, as the customer service portal was not working at the time, there was really nothing I could have done in the event of an issue. Fortunately, the account dashboard interface is very user-friendly. I wouldn't count on getting a refund. The absence of a refund policy makes your odds low, unless you have a really strong reason to request one.
FAQ
How do I remove my credit card from DigitalOcean?
To remove a credit card, locate the Billing page in the leftmost menu of the control panel. On this page, you can remove a payment method by clicking the three dots to the far right of it, then clicking Delete. However, this only works for backup payment methods – you cannot remove the default method. To remove this as well, you'll need to cancel your account.
How do I delete a DigitalOcean team?
To delete a DigitalOcean team, press Settings in the leftmost menu of the control panel to go to the team management screen. Remove all active resources associated with the team, such as Droplets and Spaces. Then, click Edit Information on the far right of your team, followed by Deactivate Team. After all that, if you're looking to build a new site, have a look at our step-by-step guide to choosing a new web host and launching a website.
How do I cancel a DigitalOcean Droplet?
If you'd like to remove a Droplet and stop it racking up charges, you'll need to destroy it. You can do this by clicking the three dots to the far right of an active Droplet, followed by Destroy. Refer to my detailed DigitalOcean cancellation guide for more information.
How do I get a refund with DigitalOcean?
Unfortunately, DigitalOcean does not normally offer refunds. If you feel you deserve one, you'll need to contact support and explain your case. If you're looking to try a new host, you may wish to have a look at our list of top-rated web hosts in 2023.