We noticed that ever since Hostinger reduced their prices, many users are closing their accounts with DigitalOcean.
DigitalOcean provides cloud hosting for more than one million developers in 195 countries across the world, but it's not the right host for everyone.
If you've decided to cancel your account with DigitalOcean, perhaps you got fed up of the lack of customer service, or maybe you just want a beginner-friendly host like SiteGround.
Click here to read about our other recommended alternatives.
This article will take you step-by-step through the easy cancellation process.
Quick Guide: How to Cancel Your Account with DigitalOcean
Delete all your droplets (be sure to save your data elsewhere).
Go to your dashboard and select Account.
Scroll down to Deactivate Account.
Select Deactivate Account and click to confirm.
My Experience Canceling My Account with DigitalOcean
DigitalOcean, like other unmanaged cloud hosting services, offers a pay-as-you-go model. While this means you only pay for the resources you've used, it also means you won't get a refund.
There's no money-back guarantee, no refund policy. Nada. It is really easy to cancel your account, though. It can be done 100% via the admin.
First, you need to make sure that you've deleted all of your droplets (be sure to save your data elsewhere, if needed!), as this is irreversible.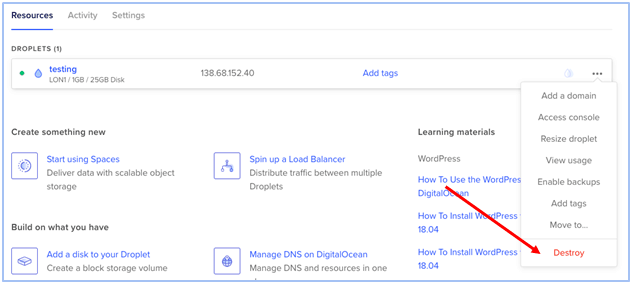 As it's quite a big deal to delete your droplets, you will be asked to confirm the choice on several different screens. However, it's simple and you just need to follow the on-screen instructions.

Once you've destroyed the droplets, select Account from the top right and scroll down to Deactivate Account.

Select Deactivate Account and confirm.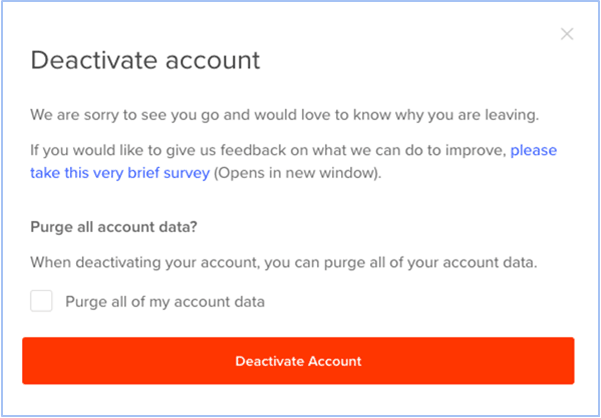 That's the whole process. It's as simple as signing up and can be done in a couple of clicks.
Ideally, I would have liked to request a refund for my usage (I'd spent $1.03) while testing the service. However, as the support ticket system was not working, it was impossible to get in touch. At least in my situation, the amount I paid was so tiny, it wasn't a huge deal.
The Best DigitalOcean Alternatives
Is it time for a new web host? Be sure to check our top recommendations.
If you prefer managed hosting, Cloudways could be a great solution for you.
If you're looking for a more beginner-friendly host, you should definitely read about Hostinger.
SiteGround is another excellent host. It's beginner-friendly, and it also offers cloud hosting (along with some other attractive hosting plans).
Simple, Straightforward, But Don't Count On the Support
Canceling my account was as easy as setting it up. However, without the option to contact customer service, there was really nothing I could do in the event of an issue. All I can say is it's lucky the interface is so user-friendly, otherwise it would be extremely frustrating.
Or if you're in the market for premium cloud hosting and don't need any customer support, read the full review on DigitalOcean to learn about its features and pricing.