Jimdo may not be perfect, but it was true to its word and gave me a full refund when I canceled my account. The process was completely hassle-free, even though I had
signed up for the cheapest plan
.
With its "we do it so you don't have to" attitude, Jimdo is a great beginner-friendly website builder if you don't want to spend countless hours setting up your website.
Jimdo isn't the best option for everyone, however. Maybe you need more advanced e-commerce functionality, or maybe you're finding the lack of customization options frustrating. If so,
it
could be worth trying a different builder entirely, especially if you're looking to take your website to the next level.
If you feel like Jimdo is holding you back, I recommend giving Wix a try.
You can choose from a huge variety of templates and customize them however you like. Plus, Wix offers a ton of advanced e-commerce features that let you build an online store, manage appointments, and even offer your customers 24/7 live chat support. Grab yourself a cup of coffee as I walk you through how to cancel your Jimdo account and give you
my top alternatives
for a beginner-friendly website builder.
Quick Guide: How to Cancel Jimdo and Get a Full Refund
Canceling your Jimdo account is super easy. Plus,
if you're canceling within 14 days of purchase, it's no hassle to get your money back.
Just remember that if you want a refund, you'll need to submit your cancellation request in writing within that 14-day window to be eligible. Here's what you need to do:
Log in. Head over to Jimdo's website and enter your account details to access your dashboard.
Submit a support ticket. Make sure to select Billing/Contract and Cancellation/Revocation as your support topics. You don't have to give a reason for canceling your account.
Wait for email confirmation. You should receive two separate emails, one confirming your refund and one confirming your plan cancellation.
And that's it! It's worth noting that
your website will still be active after you've canceled your Jimdo account.
You'll be put on the free plan, so depending on the size of your website, you might not be able to have as many pages active. You'll also lose any custom domain given to you by Jimdo, and any forwarded third-party custom domains will be disconnected.
My Experience: Here's How I Canceled My Jimdo Account
To cancel your Jimdo account, all you need to do is submit a support ticket saying you want to cancel.
Jimdo offers a risk-free refund policy
, which means you don't have to provide a specific reason or justification for your cancellation.
The only caveat is that you have to submit your support ticket within 14 days from when you signed up.
Even if your cancellation is processed after those 14 days, you should still get your refund so long as you first contacted customer services within that 14-day window.
Step 1: Log In
If you're ready to cancel your account, just
log into your Jimdo dashboard
 and click
Need help?
in the bottom right corner. From here, click
Contact us
to open a support ticket.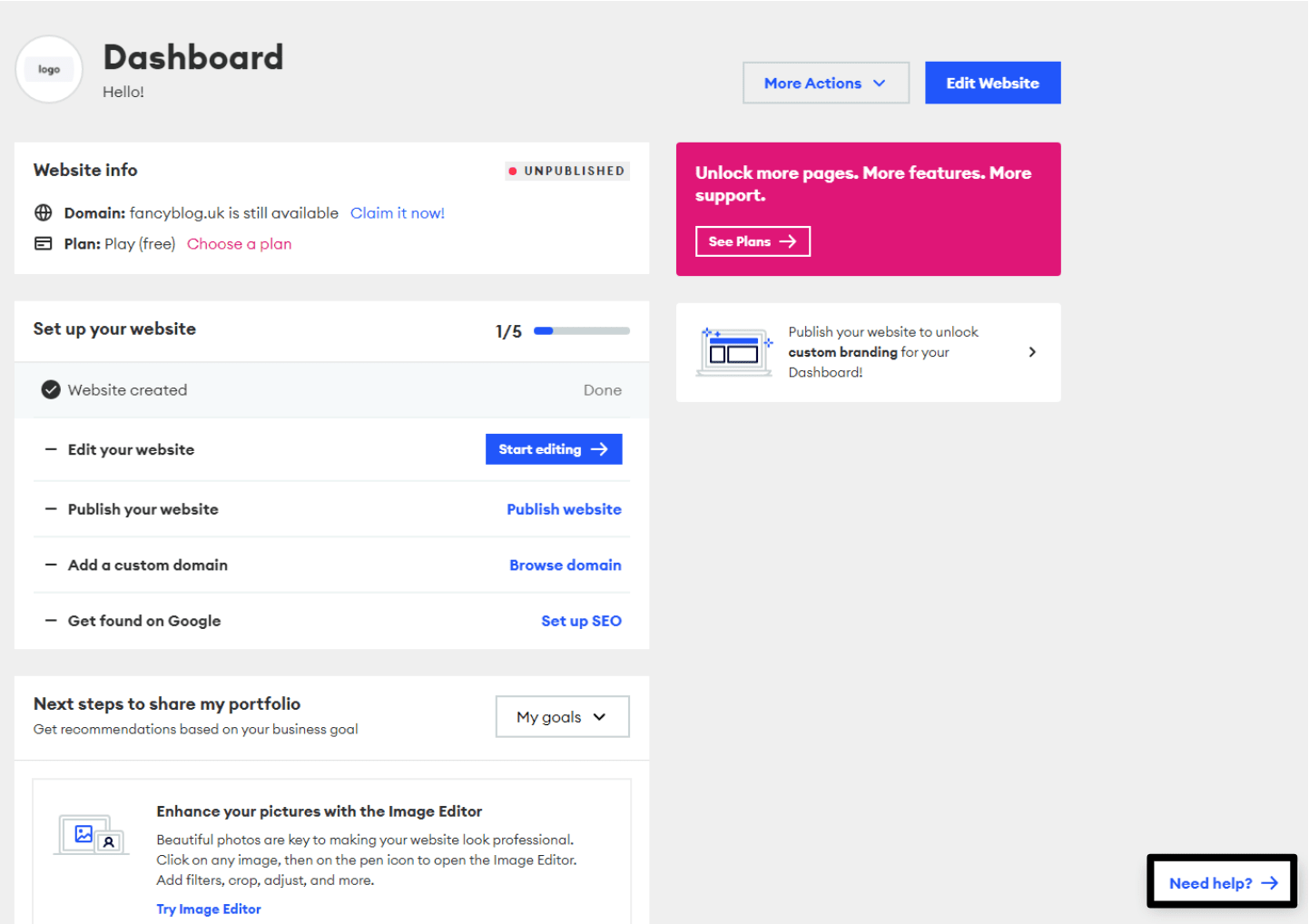 Step 2: Submit a Support Ticket
Select
Billing/Contract
and
Cancellation/Revocation
as the support topic.
Then, in the text field below, state that you want to cancel your account and – if you're eligible – request a refund.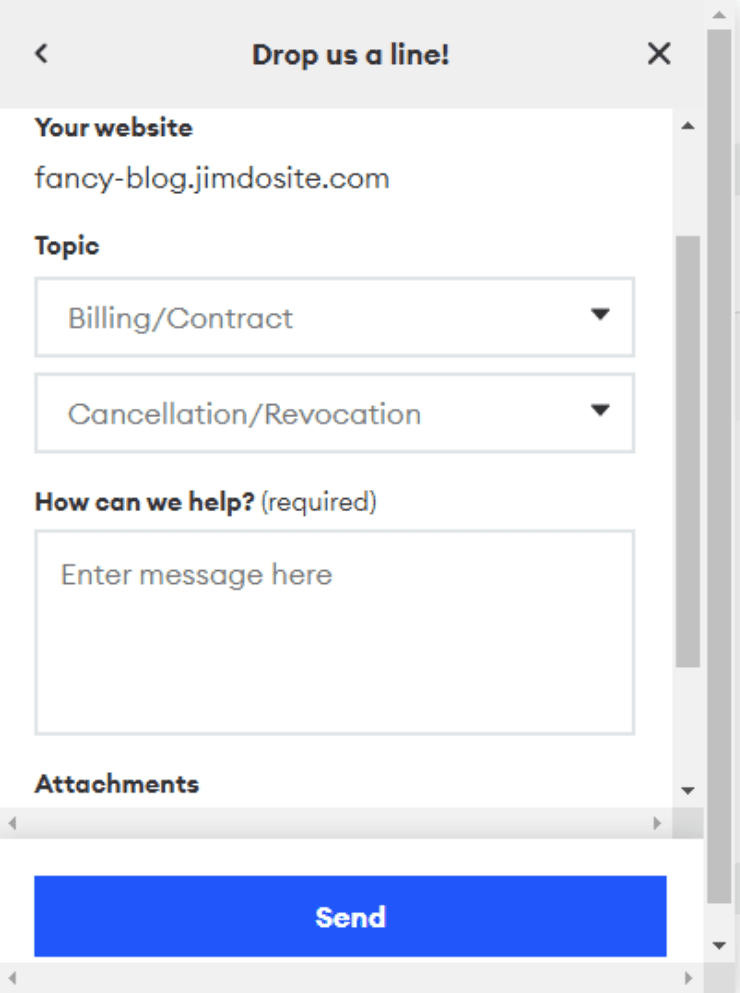 Step 3: Wait For Email Confirmation
I submitted my request late at night and got a response early the next morning. The email said that my refund had already been processed and that the cancellation had been initiated.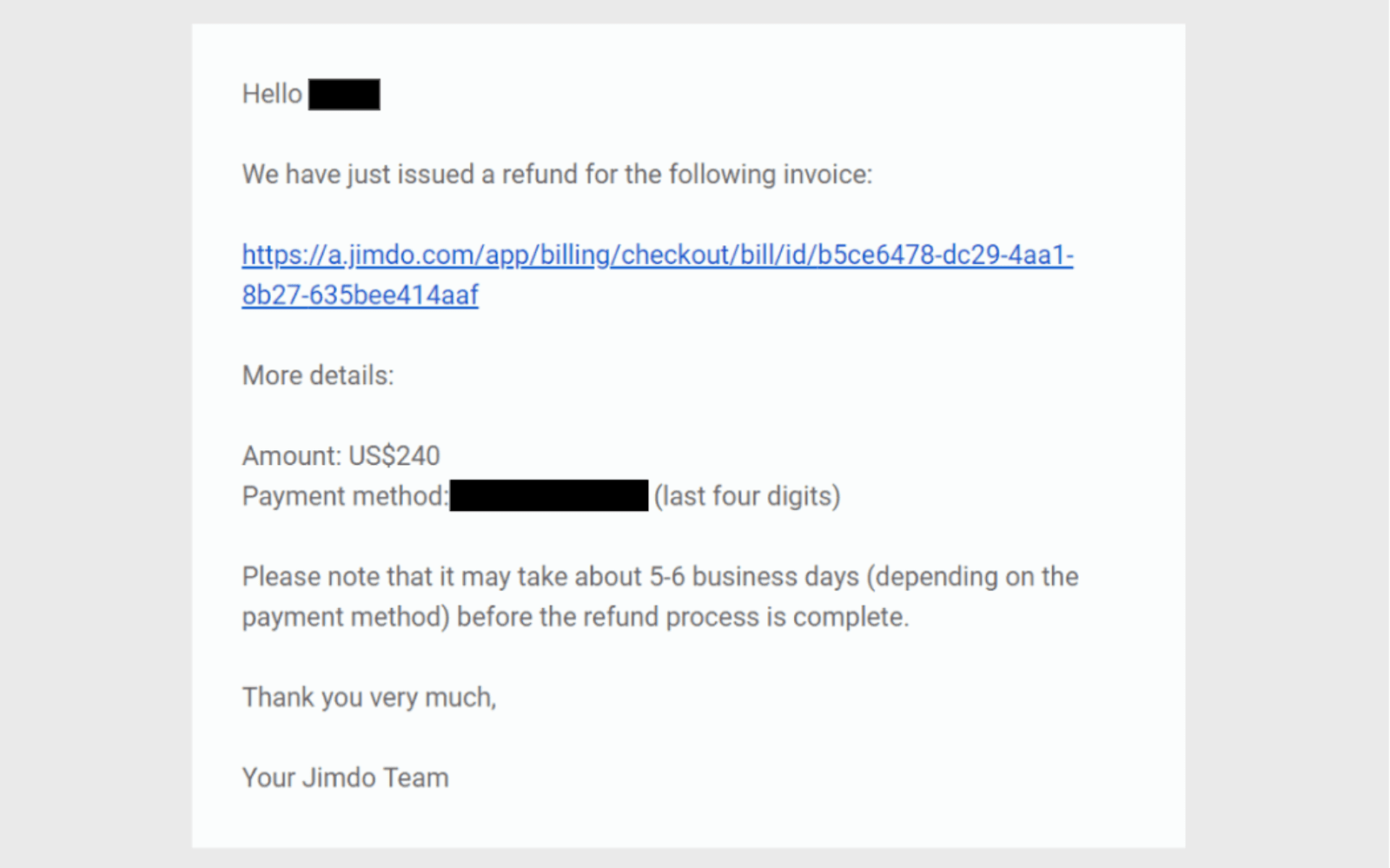 I also got a second email notifying me of when my subscription would end. This is good information to have because you'll lose your custom domain (if you purchased/received it through Jimdo) and potentially some of your website content once your account is downgraded to the free plan.
That's really all it takes.
I got my money refunded to my account within 3 days of making my request.
I found it pretty refreshing that I didn't have to jump through any hoops or go back and forth with customer service to get my money back.
3 Best Jimdo Alternatives for Beginners
If Jimdo isn't working for you, then you might want to try one of my three top website builders for beginners. I've used each of them extensively, and they all have fantastic feature that go far beyond what Jimdo offers. Take a look (and grab yourself a bargain while you're at it).
If you found Jimdo's lack of customization frustrating, you'll love Wix.
With 800+ modern, mobile-friendly, and fully customizable templates, Wix gives you the freedom you need to build a completely unique website.
Not only that, but Wix is super easy to pick up and start using right away, offering one of the most intuitive drag-and-drop editors on the market. And
if you don't have the time to set up everything yourself, you can use Wix ADI.
Simply fill out a simple questionnaire and this AI-driven tool will build a unique website for you in minutes.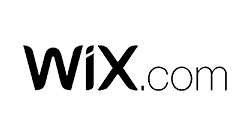 Save up to 33 % on your Wix plan!
Limited-time offer - Don't miss it!
Your Wix with your first % on 30/06/2023!
3901 users used this coupon!
Squarespace is a great choice for beginners that want to go beyond basic website design. At every step of the way,
Squarespace's intuitive UI offers helpful tips and tricks to help you understand all of the features available.
You can also read any of its accessible guides on how to build a high-quality website using Squarespace's simple block editor.
I particularly like that Squarespace has built-in marketing tools.
With so many digital marketing tools out there, it can be tricky to know which ones you'll need to effectively promote your website. However, Squarespace makes this easy by giving you basic tools to help you to learn the ropes before you potentially invest a ton of money in more specialized marketing solutions.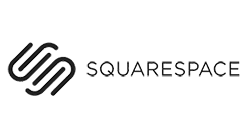 Save up to 30 % on your Squarespace plan today!
Plus get a free domain for one year!
1031 users used this coupon!
As much as I'm an advocate for creative flexibility, the amount of options offered by some website builders can be overwhelming if you're brand new to building websites.
SITE123 does a great job of balancing creative freedom with quick, simple building
, so you'll be able to set up a unique site in a matter of minutes.
You'll also get a guided tour every time you set up a new SITE123 website
, which I found really handy. Each pop-up contains basic tips and short video tutorials to help you get started, and live chat support is only a click away if you need extra help.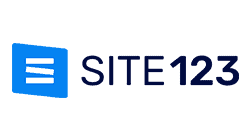 Save up to 50 % on your SITE123 plan!
Limited-time offer - Don't miss it!
76 users used this coupon!
Easy Cancellations and Refunds
Jimdo stays true to its word when it comes to its risk-free, no-questions-asked refund policy.
I experienced no delays in processing my request, and I was refunded the exact amount I paid without any unexpected deductions.
Despite Jimdo's customer service saying that refunds can take up to 6 business days, I received mine within just 3 days.
I found that pretty impressive, especially considering that my subscription was quite expensive. I also liked that my website was placed on a free plan rather than simply being deleted. Sure, you might lose some functionality, but you'll also get the time you need to find a new home for your site.
FAQ
How do I delete my Jimdo website?
If you're on a paid plan, you'll first need to cancel your subscription. Then, go to your dashboard and click My Websites in the bottom left. Click Actions on the website you want to delete, then click Delete. You'll be prompted to tick the checkbox before you click the Delete website button. Just remember to export any data you might need before deleting your site.
Which is better, WordPress or Jimdo?
WordPress offers far more features than Jimdo. Not only was it built for blogging – a feature that Jimdo lacks entirely – but WordPress also has thousands of integrations that allow you to customize and add features to your website with almost no limits. That said, WordPress has a steep learning curve if you're brand new to building websites. If you are a beginner, you might like to check out my top 3 recommended Jimdo alternatives.
Is there such a thing as a free website?
If you want to build a website in 2023 but can't afford a monthly subscription, it's worth remembering that any free website will have limitations. Most free website plans will have limited storage, no e-commerce capabilities, and will put adverts on your website. With that being said, Wix, one of our top website builders for 2023, has one of the best free plans on the market today.
How do I save my Jimdo website?
Jimdo doesn't back up your website on its servers, and there is no way to export your website's files before you delete your account. You'll need to use third-party tools to save a copy of your website's data. With so many other website builders offering easy exports and backup functionality, this is a significant downside of using Jimdo.