We noticed that ever since Wix offers many additional features, users are closing their accounts with Jimdo.
Jimdo is a beginner-friendly website builder, but it's not everyone's cup of tea.
You might want to switch to a builder that gives you more templates or more freedom to customize your pages, or maybe you need some advanced e-commerce functionality.
In this article, we'll check if it's easy to cancel your Jimdo account and get a refund. I'll walk you through the entire process.
If you feel like Jimdo is holding you back, I recommend you give Wix a try. You can choose from a huge variety of templates and customize them however you like. You can start a serious online store, or take advantage of the huge App Market and add advanced features to your site.
How to Cancel Your Account Step by Step
To cancel your Jimdo account, all you need to do is submit a support ticket saying you want to cancel. Jimdo offers a risk-free refund policy, which means you don't have to provide a specific reason or justification.
The only caveat is that you have to submit it within 14 days from the moment you subscribed.
If you're ready to cancel your Jimdo account, just log into your dashboard and head over to the support page: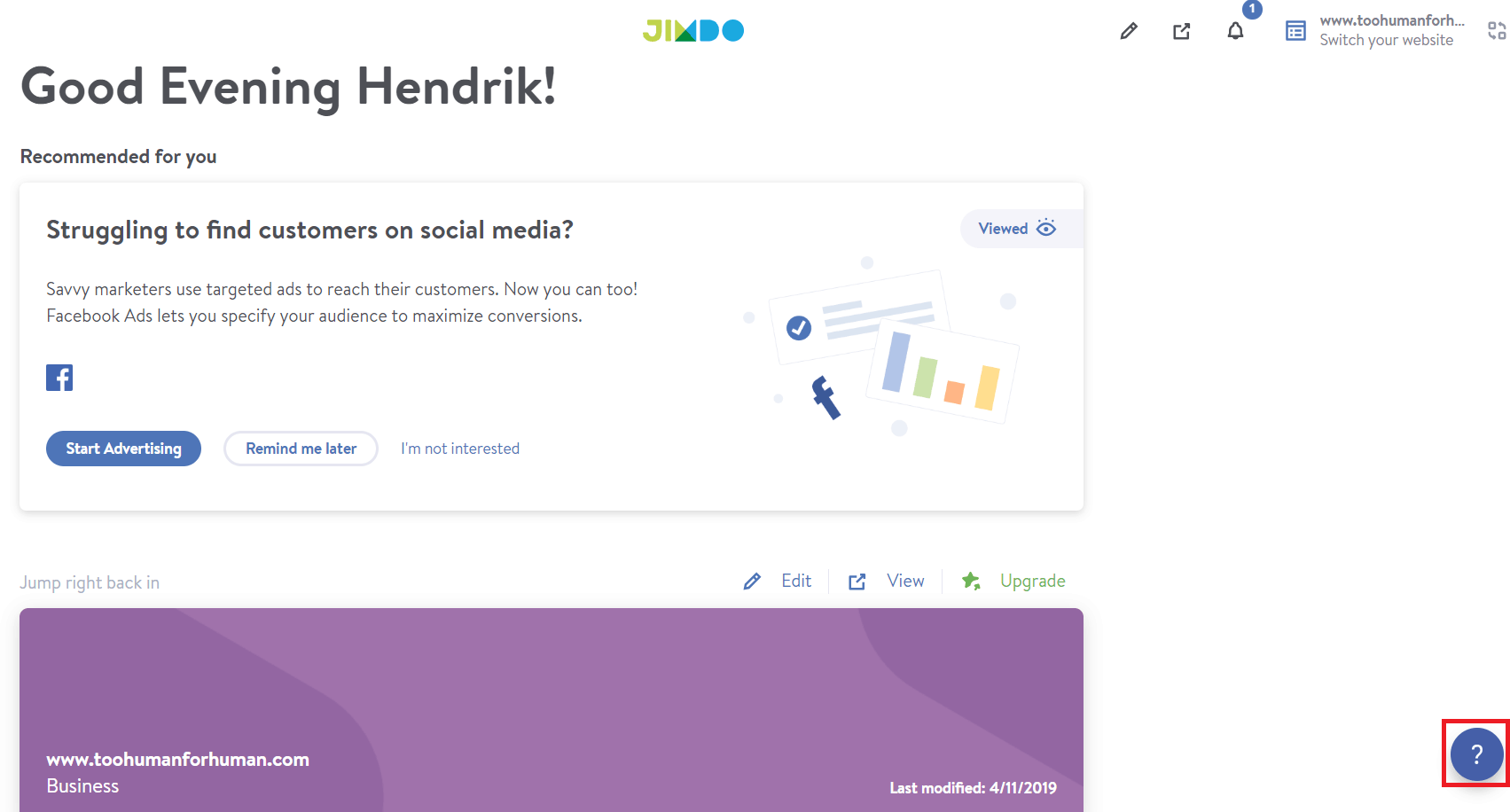 Then, in the help center, click the 'Contact' link: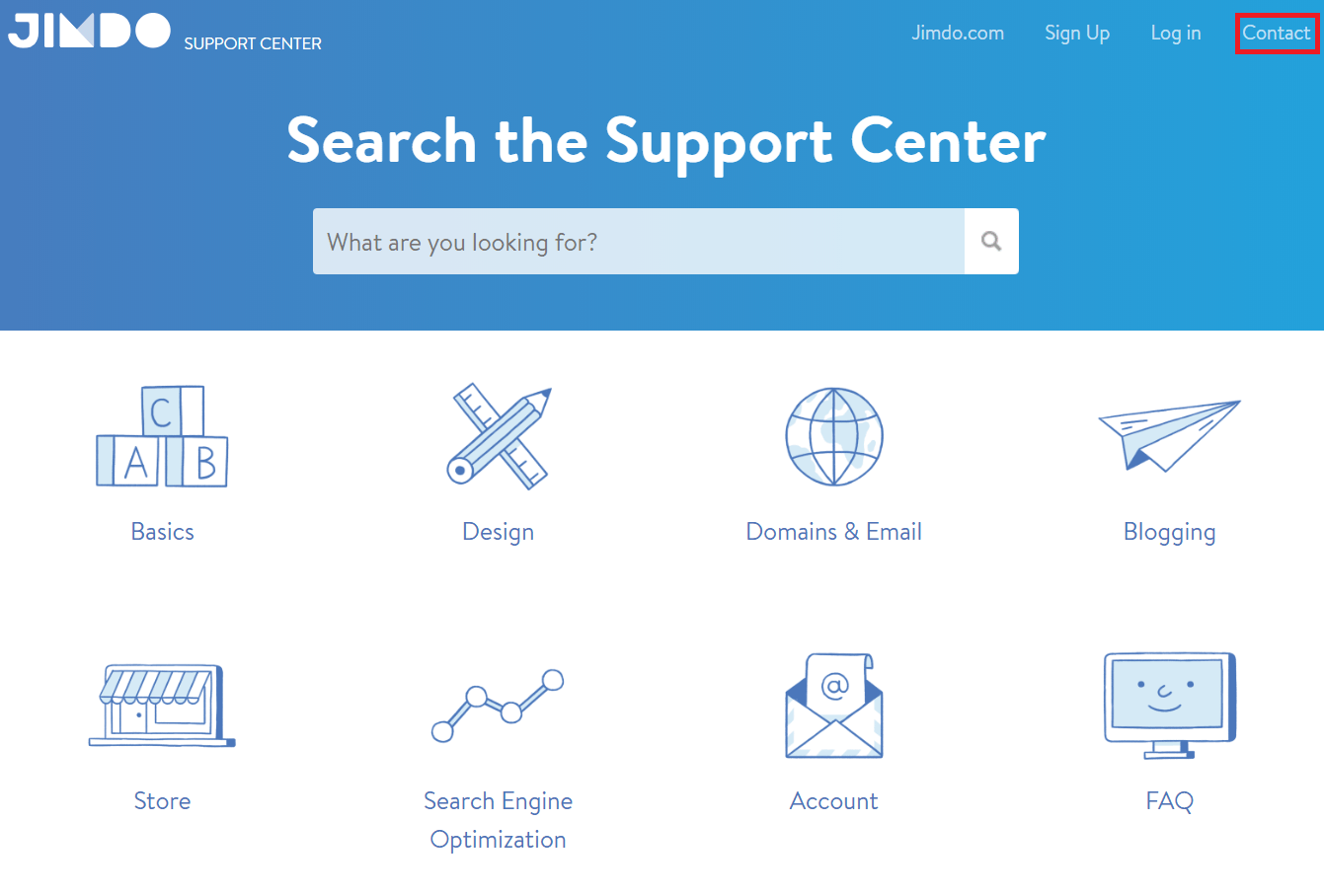 I'm not sure why you have to select your plan on this page, but just to be safe, be sure to pick the right one.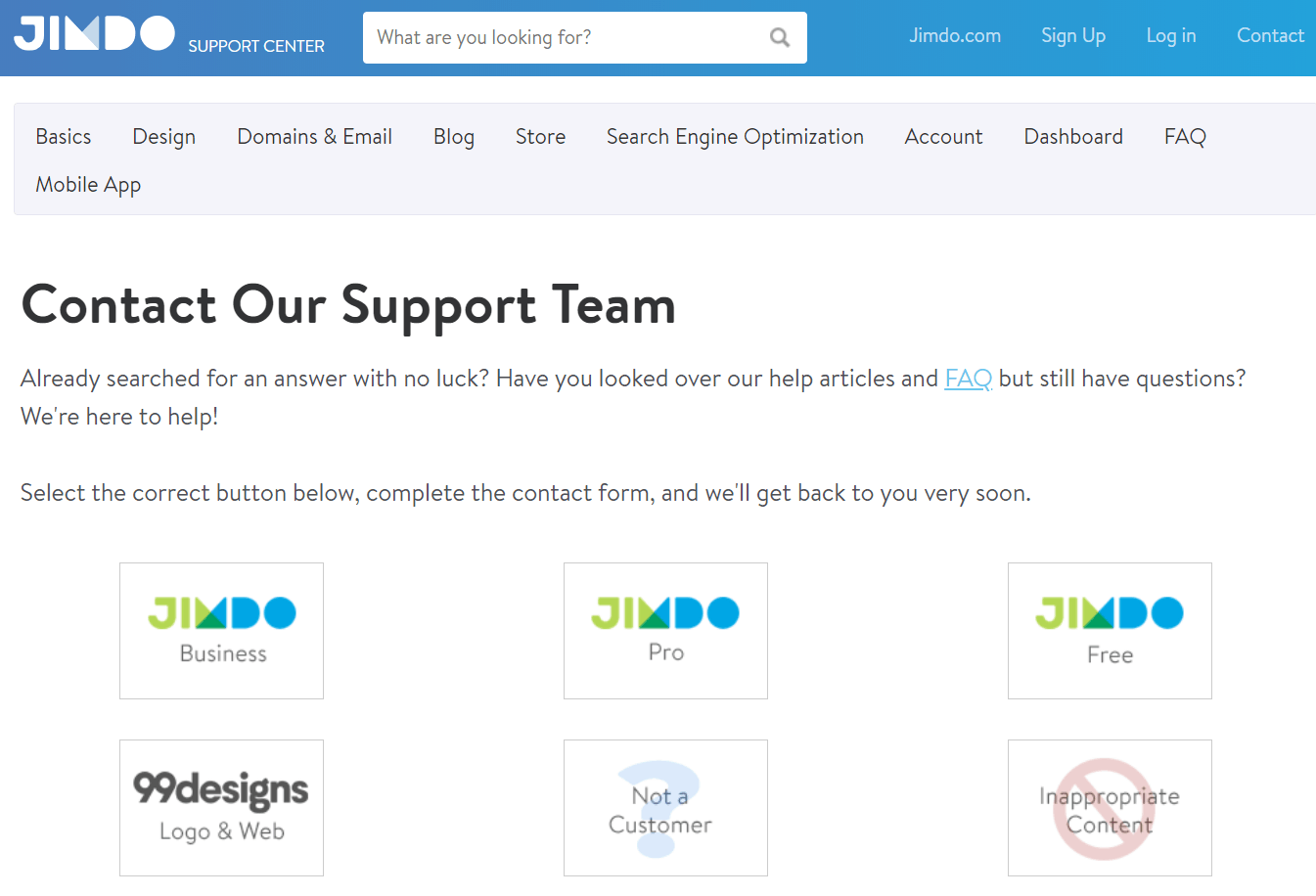 Now, you can type your cancellation message and send the request to Jimdo's billing team. To help Jimdo speed things along, make sure to pick the 'Cancellation' option from the 'Category' drop-down: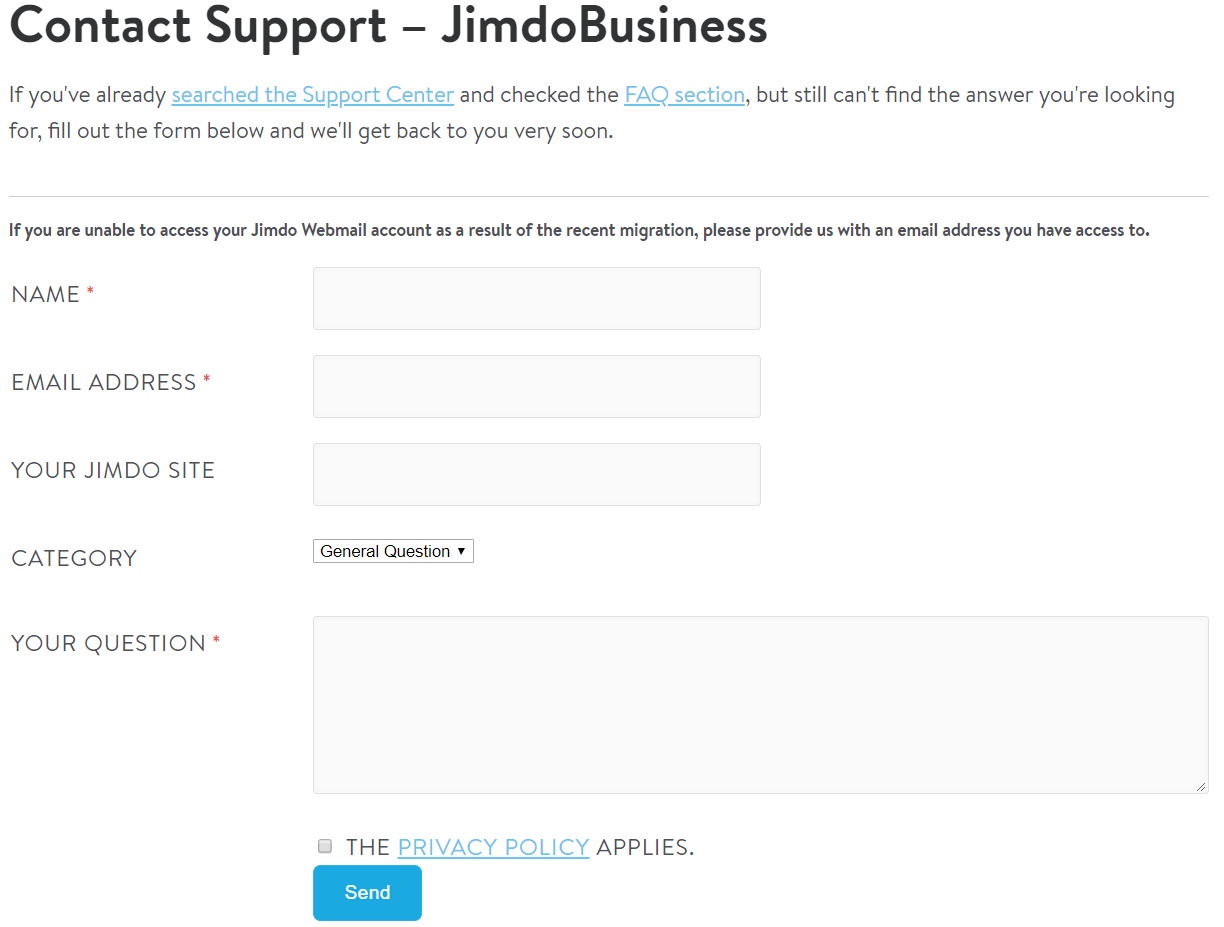 You don't have to provide a reason for your cancellation. I didn't, and I wasn't asked any further questions by the Jimdo team before they processed my request.
I submitted my request late at night, so I only got a response the next morning. The email said that my refund had already been processed and the cancellation had been initiated: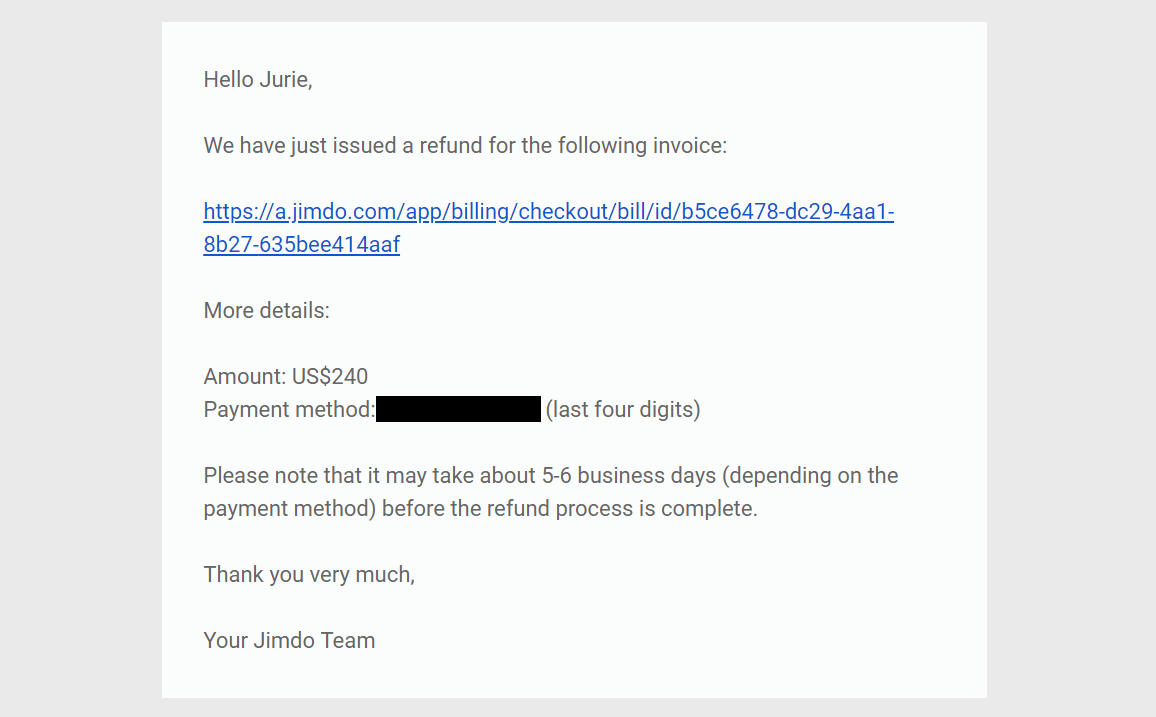 I was happy to see they included the amount, the payment method, and how long I could expect to wait. Sure, five to six days is long for a refund, but I was hoping it would come in sooner.
I also got the following email to notify me when my subscription would end. This is good information to have, in case there is anything you want to do before you lose access to the premium features: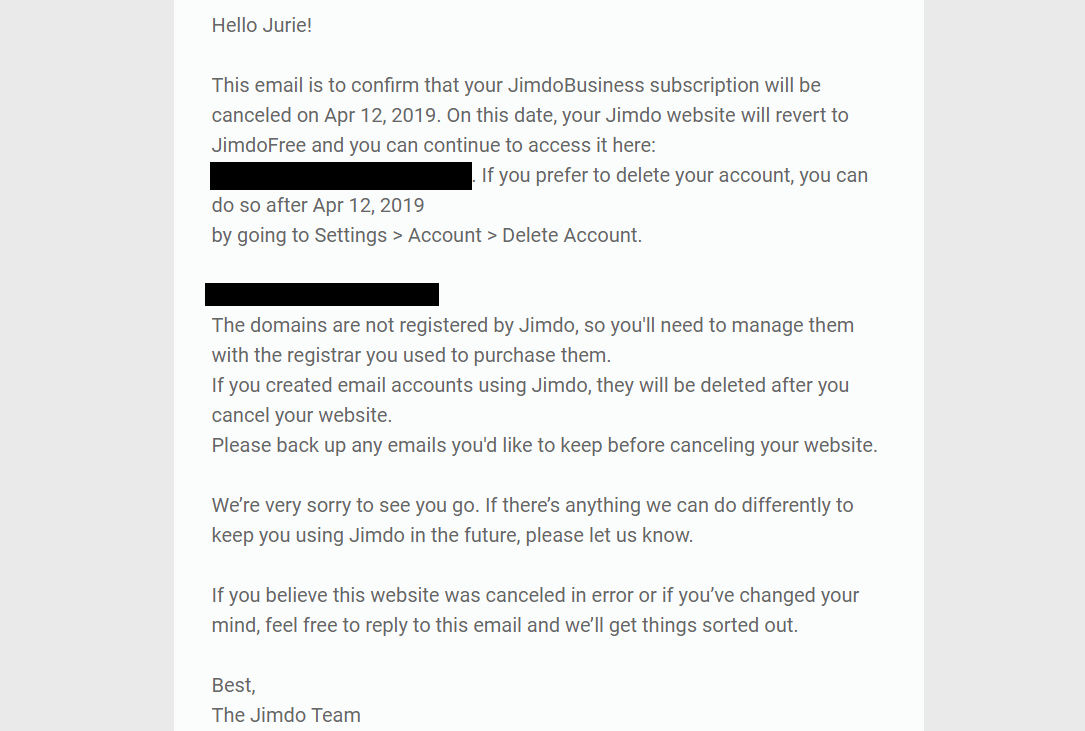 If you want to completely delete your Jimdo account, you'll find all the info you need in the email.
That's really all it takes. I got the funds back in my account within three days of making the request.
Easy Cancellations and Refunds
The only way Jimdo's cancellation process could be easier is if there were a simple 'Cancel and Refund' button somewhere in the dashboard.
Jimdo stays true to its word when it comes to offering a risk-free, no-questions-asked refund policy. I experienced no delays in processing my request, and I got refunded the exact amount I paid without any unexpected deductions. They never tried to convince me to just purchase a different plan.
I got my refund within three days, and I found that pretty impressive, since I had a pretty expensive subscription.
If you're looking for a similar beginner-friendly builder that offers more features, I'd go with Weebly.