anyone can create a beautiful, smooth-functioning site
without writing a line of code. WYSIWYG editors put you in the driver's seat of site design: you can add and change banners, text, images, etc. with a few clicks of the mouse and immediately preview the result. There are lots of WYSIWYG builders out there, but if you're just starting out, you'll want to
choose one that has lots of well-designed templates and an easy-to-use editor
interface. Luckily for you, I've put together a list of beginner-friendly WYSIWYG website builders that have just those features. And the best part is, they all allow you to
try their editor for free
 – either with a free plan or through a free trial – so you can test out my picks for yourself.
Short on Time? These Are the Best WYSIWYG Web Builders in 2023
:
What We Look For in the Best WYSIWYG Website Builders
To narrow down my list of WYSIWYG website builders, I focused on the these user-friendly features:
Ease of use
: The whole purpose of WYSIWYG platforms is to make website building accessible, so I looked for interfaces that even complete beginners can navigate with ease. Many of these builders have drag-and-drop editors, which allow you to place your various site elements literally anywhere you want. Other platforms, like WordPress, have a point-and-click editor, which is also quite intuitive and lets you get creative with content.
Templates
: I looked for builders that offer well-designed templates for a wide variety of website categories. I also checked whether the builders have mobile-responsive templates and whether they let you switch over to a different template if you change your mind. These two features can save you a lot of time, especially if you're a beginner.
Customization Options
: A great template will do most of the work for you, but you also want your website to look unique. I looked at WYSIWYG builders that give you plenty of room to play around with fonts, colors, and layouts to personalize your site. I also chose platforms that make the customization process easy to handle, regardless of your level of technical expertise.
Customer Support
: No matter how user-friendly the platform, chances are you may run into a bump in the road, especially if you're new to building websites. You'll want help to arrive as quickly as possible, so my list includes website builders with efficient customer support that's on time and ready to help.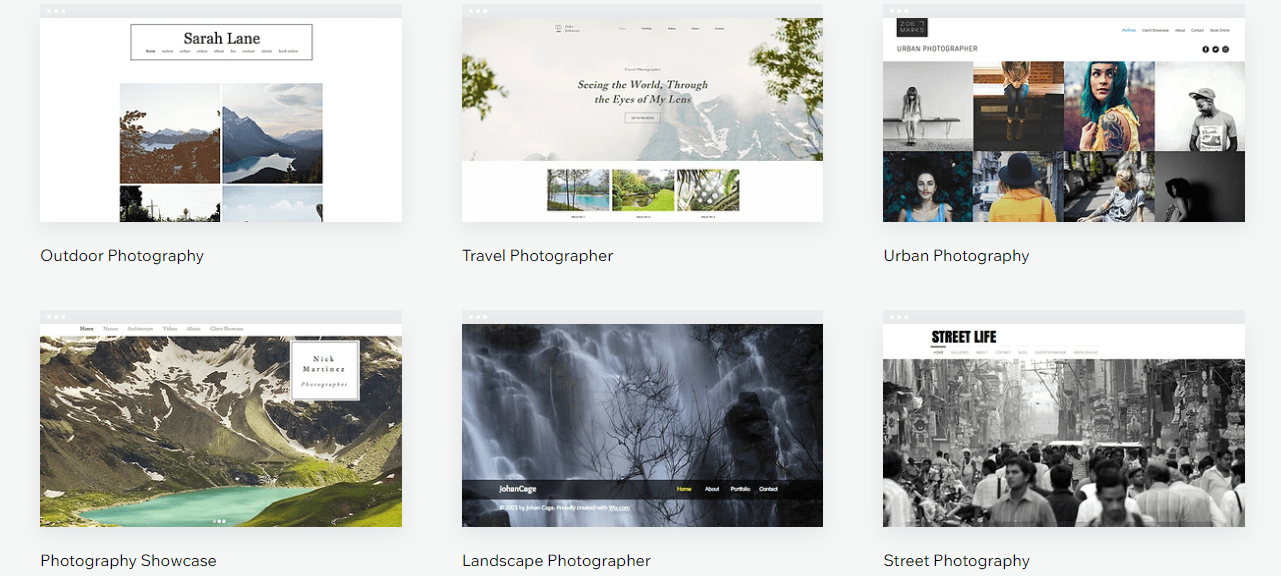 Wix probably has the most intuitive interface of all the WYSIWYG website builders.
 Its drag-and-drop editor allows you to position your site elements literally anywhere you want on the page, while still giving you alignment recommendations to make sure your site is aesthetically pleasing. Since you probably don't want to start from a blank page, you can choose one of the
hundreds of free and paid templates
 Wix has to offer. All of them are fully customizable, but they're not mobile-responsive, so you'll have to adjust them for mobile screens in a separate (also WYSIWYG) editor. Just remember:
 once you've picked your template, you can't switch to a different one,
 so you'll need to do your research before making your decision. If you change your mind, you'll have to start all over again!
If you're short on time and need a zero-hassle solution, Wix has a great tool called WIX ADI (Artificial Design Intelligence).
 It asks you a couple questions about your website's purpose, style and functionality and creates a site for you (which you can still tweak if you want) based on your answers. You can literally be up and running within minutes. One downside about Wix is that if you hit a snag, it can be difficult to reach customer support. For most part, you'll be redirected to the Support Center (which, to be fair, is pretty extensive), with the option to submit a support ticket or schedule a callback if you can't find what you're looking for.
You can read more in our expert Wix review
.
Features
Drag-and-drop editor: Wix gives you complete freedom over how you arrange your content, down to the very last pixel. You can even reorder the pages using your sidebar menu.
Pre-installed apps: Many Wix templates include pre-installed apps that give you additional useful functionality for particular website categories. For example, restaurant templates come with online reservation apps, while photography templates come with Wix Pro Gallery to help you showcase your work.
Quick AI design tool: If you don't have time to create your site step by step, the Wix ADI tool will do it for you. Just answer some questions about the style, tone and functionality of your website, and Wix ADI will whip up a site for you at the click of a mouse.
Generous free plan: You can build a fully functional and visually attractive website on Wix's free plan. It gives you access to almost every feature you get with the paid plans and there's no limit on the number of pages you can add.
Free plan available
Yes, with an extensive set of features
Type of editor
Drag-and-drop
Customer support channels
Support center, ticket system, phone support
Starting price of paid plan

$

16.00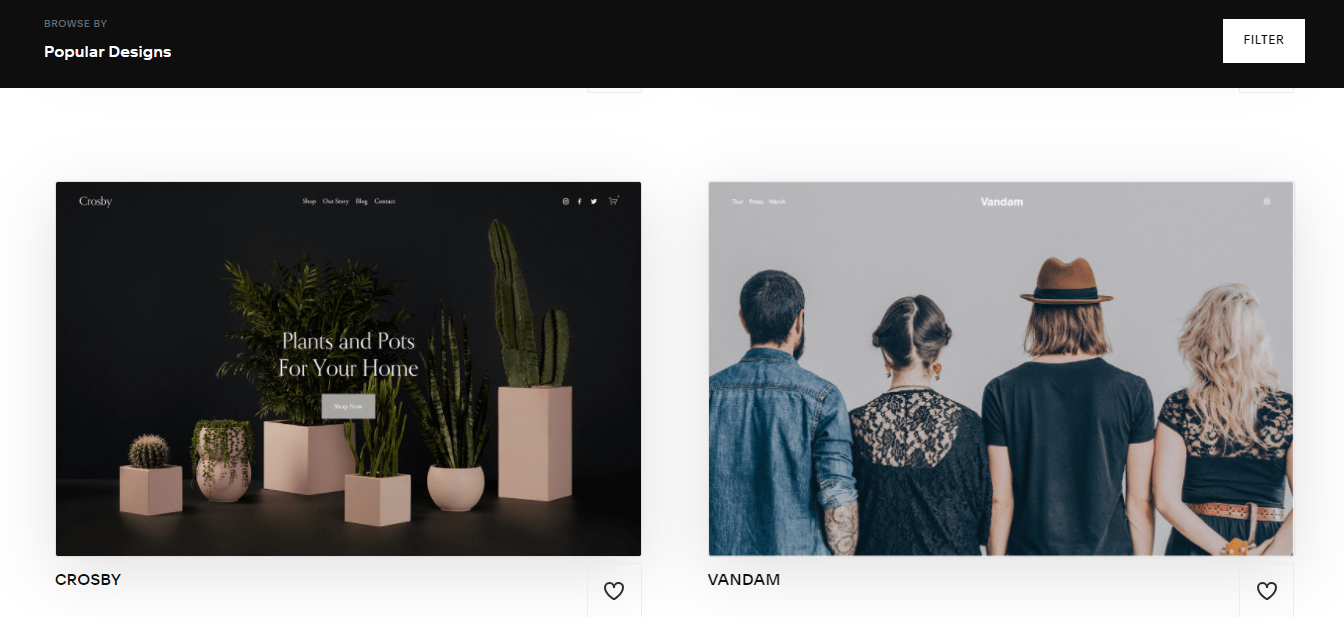 Squarespace is known for its sleek templates designed for modern businesses – although of course you can use them for any project you like. And it really does live up to its reputation:
all its 60+ templates are gorgeous and do most of the heavy lifting for you when it comes to design.
Another big plus is that the templates are all mobile responsive,
so you won't waste your time editing two different versions of your site
.
However, you can only switch version 7.0 templates (not version 7.1, which are all designed as part of the same template family). Squarespace's editor is not
entirely
 drag-and-drop, but it is quite intuitive. You create a site by adding sections, which can be simple content blocks like contact forms and image galleries or more complex elements like social feeds, e-commerce products, and appointment scheduling forms. Because of its focus on design, Squarespace makes it easy to create a beautiful website. This comes with a cost, though:
Squarespace doesn't offer a free plan, and all of its plans are slightly pricier compared to some other web building options.
However, it does offer a
14-day trial
 so that you can test the builder out before making a long-term commitment. Interested in learning more about Squarespace?
Check out our expert review
.
Features
Highly professional-looking, customizable templates: All Squarespace templates feature gorgeous minimalist design and lots of personalization options. If you're willing to pay extra, you can even have a highly customized version of an existing template built for you through Squarespace's developer platform.
Intuitive editor: Squarespace's editor is based on adding and rearranging content blocks within set limits. Although there is a slight learning curve involved if you're a beginner, there are tips and guides built into the interface to help you along the way.
Easy blog interface: Despite being mainly geared toward businesses, Squarespace has some amazing blogging templates and its blog editor is the epitome of the WYSIWYG principle. You write your blog posts right on the page displayed in the editor, so you don't need to use a separate interface like you would with some other website builders.
Lots of third-party integrations: The key to Squarespace's functionality is that it's integrated with plenty of external services, so you can connect your website with various  platforms. Some of the integrations include G Suite, Amazon affiliate tracking, Mailchimp for email marketing, an OpenTable block for restaurant booking, and payment processing tools like PayPal, Stripe, and Square.
Free plan available
No, but there is a free trial
Type of editor
Semi-drag-and-drop
Customer support channels
Community forum, ticket/email system, live chat support
Starting price of paid plan

$

16.00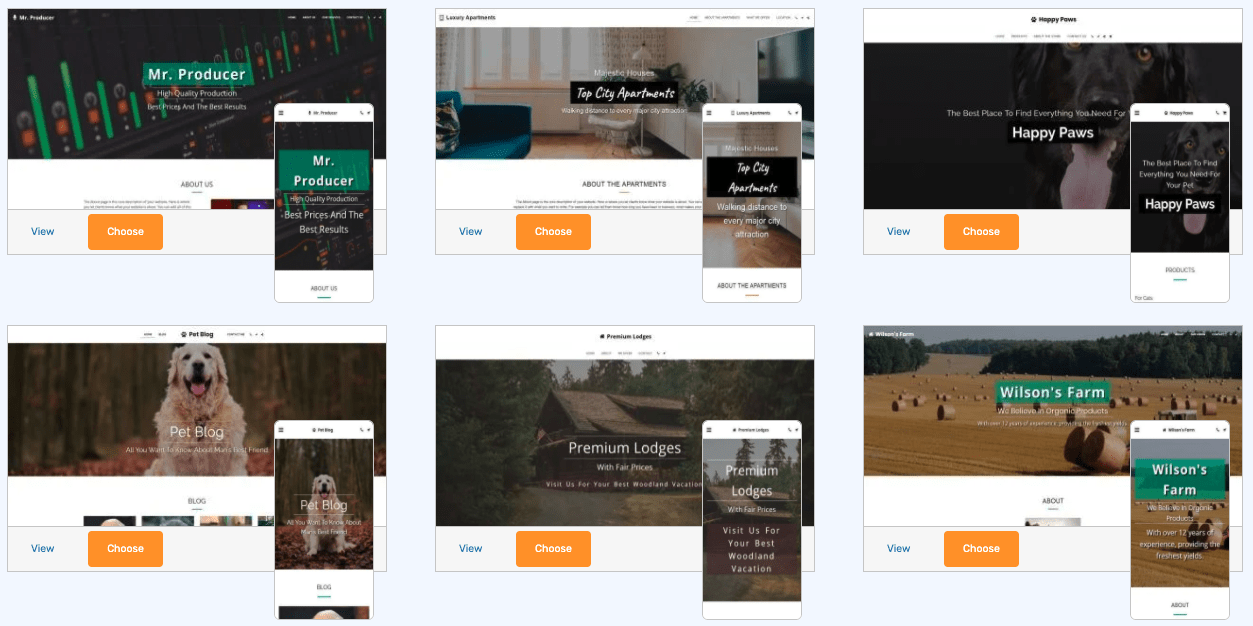 This website builder is designed to help you create a website quickly
 – and thanks to its simple, straightforward dashboard, you can do exactly that.
You can easily add and delete pages, change colors and fonts, add buttons, etc., right from the editing dashboard. SITE123 has
180 templates
, but they're quite similar in structure. They're all free to use, but unless you upgrade to a paid plan, your customization options are very limited. (SITE123 will inform you via a popup window if you need to upgrade to a paid plan to access a certain feature.)
Check out our expert SITE123 review for more information
.
Features
Straightforward dashboard: SITE123's editing bar is very simple to use. Beginners can take a guided tour of the interface, with popup windows containing tips and tutorials to introduce you to the building process. You can also manage all your site's features (including any apps you added), and view your site's performance in the Activities panel.
Free templates: All SITE123 templates are free. If you're on a free plan, though, your template's design will stay pretty basic, with many features out of your reach unless you upgrade. All templates are mobile responsive, but you can't switch between them without losing your edits.
Robust support for multilingual sites on paid plans: you can set up your site to have up pages in up to five languages, but you'll need a paid subscription to do it. The rule is the same as with customization options: the more you pay, the more languages you get.
Quick, multilingual customer support. SITE123 offers 24/7 live chat support in 16 languages. You can also send them an email or turn to the Support Center and FAQ for help.
Free plan available
Yes, but with limited customization
Type of editor
Semi-drag-and-drop
Customer support channels
Support Center and FAQ, email support, 24/7 live chat support
Starting price of paid plan

$

12.80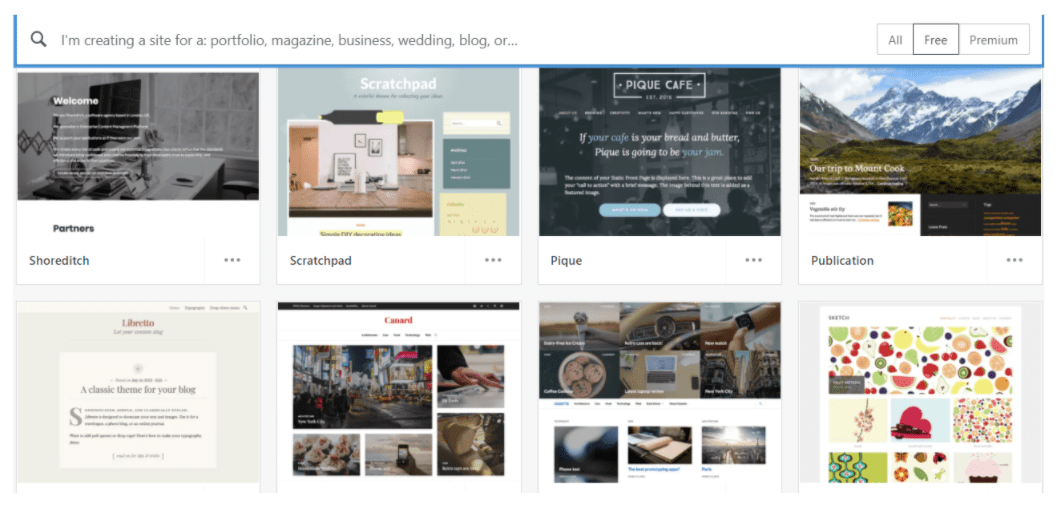 WordPress.com is one of the most popular web building platforms, but it's not exactly a WYSIWYG builder (although its theme customizer does let you make certain changes without touching the code).
However, you can easily turn it into a classic drag-and-drop web builder by installing a plugin such as Elementor.
And if you're a blogger, it might be worth it to give WordPress.com a go whether or not you use Elementor. WordPress.com's Gutenberg editor was designed specifically for bloggers, and it's incredibly intuitive and easy to use. This editor treats headings, paragraphs, images, and every other element of a blog post as an individual block. This allows you to make changes specific to each block: for example, you can change the text size for a specific paragraph, add background images to specific sections, or create columns for images. You can also add lists, forms, and embed videos and social feeds. WordPress.com has
a free plan
 that gives you access to blogging features and free templates (which it calls "themes"), you'll need to upgrade to a paid plan to install any plugins – including Elementor.
Take a look at our expert WordPress.com review for more info
.
Features
Huge selection of themes: WordPress offers hundreds of themes across 26 categories, and you can also install themes from third-party providers like ThemeForest. All themes are mobile-responsive.
Wide choice of plugins: WordPress comes with an array of plugins you can use to boost your SEO, marketing, and e-commerce efforts. You can try out Yoast for SEO tools, add an online store with WooCommerce, or add Polylang to display your site in several languages.
Easily monetize your site content: If you subscribe to the Personal plan or above, you can accept recurring subscription payments for visitors to access your content. Also, you can put ads on your site if you upgrade to the Premium plan or up.
Free plan available
Yes, but with limited features
Type of editor
Point-and-click
Customer support channels
Community forum, email support, live chat support
Starting price of paid plan

$

45.00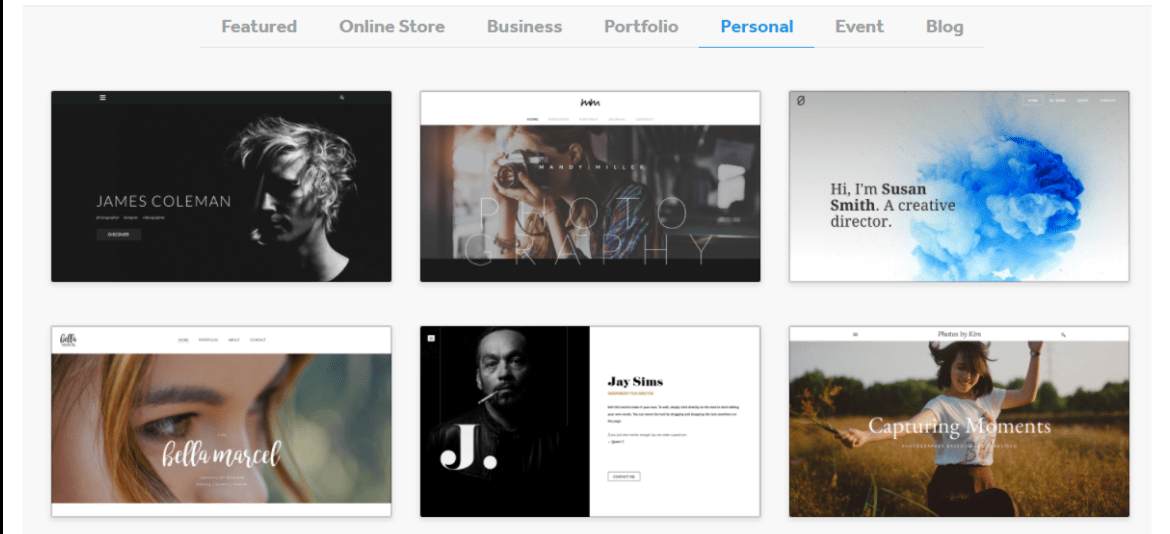 Weebly is notable for having not one, but
two WYSIWYG editors
 –
a classic option and a newer, dedicated e-commerce editor powered by Square
. (Note: you can actually build an online store with the classic editor, too; the biggest difference between the two actually lies in the level of customization they offer.) Weebly's classic editor is pretty easy to use and lets you arrange your site using content blocks. Each block has its own customization menu where you can adjust colors, fonts, letter spacing, and so on. You have some freedom in arranging the blocks, but you have to adhere to a grid. The editor also lets you choose any custom color for any part of your site. If possible,
 the e-commerce editor may be even easier to use than the classic one
, since you choose a premade layout instead of adding content block by block. You can customize sections of the layout by toggling on and off elements like headings, images, and buttons. True to its e-commerce function, describing and categorizing products is super easy, and you can add GIFs and 360-degree images to show off your wares. The e-commerce editor does offer fewer customization options in terms of colors and fonts compared to the classic one, which has proved annoying to some longtime Weebly users. For beginners, though, this may not be such a bad thing: it means you won't feel overwhelmed with too many choices. Take a look at
our expert review
to help you decide if one of Weebly's editors is right for you.
Features
High-quality designs: Weebly doesn't offer a large selection of themes, but each one is beautifully designed and mobile-responsive. They're generally suitable for both personal projects and businesses, and you can use all themes on either editor.
Choice of editors: You can choose between Weebly's classic editor and a dedicated e-commerce editor. The e-commerce editor is slightly easier to use, but the classic editor offers a greater degree of customization.
Built-in email marketing features. Weebly Promote is a great email marketing tool designed to help you create an email marketing campaign, and it works with both editors. It includes email templates and in addition to assisting you with campaign creation, it allows you to build your contact list and track the campaign's statistics.
Great-value free plan: Weebly's free plan gives you access to many advanced features regardless of which editor you choose. However, if you want a custom domain, you'll have to upgrade to a paid plan.
Free plan available
Yes
Type of editor
Semi-drag-and-drop
Customer support channels
Support Center, chatbot, email support
Starting price of paid plan

$

6.00
Which WYSIWYG Website Builder Is Right for You?
The five WYSIWYG website builders listed above all offer fast, hassle-free ways to build a website all on your own. Some provide more freedom and flexibility than others, but they all come with numerous perks to help you get your site up and running.
Wix
has unmatched drag-and-drop capabilities and offers an extensive set of features on a free plan, but it's not for everyone. If you want top-notch professional templates,
Squarespace
is your go-to builder. And if you want to build a powerful blog,
WordPress
 is probably the best choice. Ultimately, your decision will depend on your needs and preferences.
Builder
Stand-out features
Wix

Drag-and-drop editor + ADI option
900+ customizable templates

Squarespace

Highly professional template designs
Intuitive editor for creating pages and blog posts

SITE123

Easy-to-use dashboard
Displays your site in multiple languages

WordPress

Best content editor
250+ themes

Weebly

Two types of editors available
Free plan with numerous features
FAQ
Is Wix a WYSIWYG editor?
Yes. Wix is a WYSIWYG editor that allows you to create any layout you want by dragging and dropping site elements onto your page. You can immediately preview any changes you make. You can build a website from scratch using a blank template, or you can modify one of Wix's 900+ existing templates. For more about Wix, take a look at our expert review.
What is the best DIY website builder?
In my opinion, Wix is the best DIY builder because it has the greatest design flexibility and an easy-to-use drag-and-drop editor. Squarespace is also fairly easy to use and has a wide selection of stunning templates. It's also got a set of tools to help you promote your site and grow your audience. Squarespace doesn't have a free plan, though, so you'll need a paid subscription to use it. Check out our Wix vs. Squarespace comparison for more. Whatever plan you decide to go with, make sure you take a look at our coupon page, so you can get discounts on annual plans.
What is the easiest website builder for beginners?
All the website builders on this list are suitable for beginners, thanks to their WYSIWYG editors. Wix is an excellent choice for new users because of its drag-and-drop editor and AI tool that will generate a website for you in minutes. However, SITE123 and Weebly also have user-friendly dashboards that include a guided tour and tips and tutorials on how to get started.
What is the best website builder for 2023? 
The best website builder for you will depend on your needs and preferences. To compare the top website builders on ease of use, customer service, and value for money, we tried to build the same site on each platform – check out our results to help you compare your options.