You already know the importance of search engine optimization, but do you have the right tools in place to manage your SEO? Some site owners don't have any tools installed, while others just use the first random free tool they find in a Google search. Don't make the same mistakes.
SEO plugins are a great way to help manage SEO. Beginner-friendly SEO tools allow newbies to optimize their website without having to be an SEO expert, while other more robust tools enable experienced webmasters to tweak their website to garner the highest Google ranking possible.
Are You Using the Right Web Host?
Did you know that your web host can have an effect on your SEO? Click here for more information.
If you're running a WordPress website, maintenance tasks like backups, security checks, and making sure all your plugins are up to date can feel like a part-time job, at the very least. That's where managed WordPress hosting comes in.
A premium host like Flywheel can take care of all the dirty work for you. With added bonuses like a staging environment, special workflow tools, and free site migrations, you'll have more time to focus on improving your content and SEO.
Yoast SEO
Easily the most popular WordPress plugin for SEO, Yoast SEO has over 5 million active installations on websites and offers a wide variety of tools for improving SEO. It conducts an SEO analysis of your website and tells you how you're doing on everything, including focused keyword usage, title length, and more.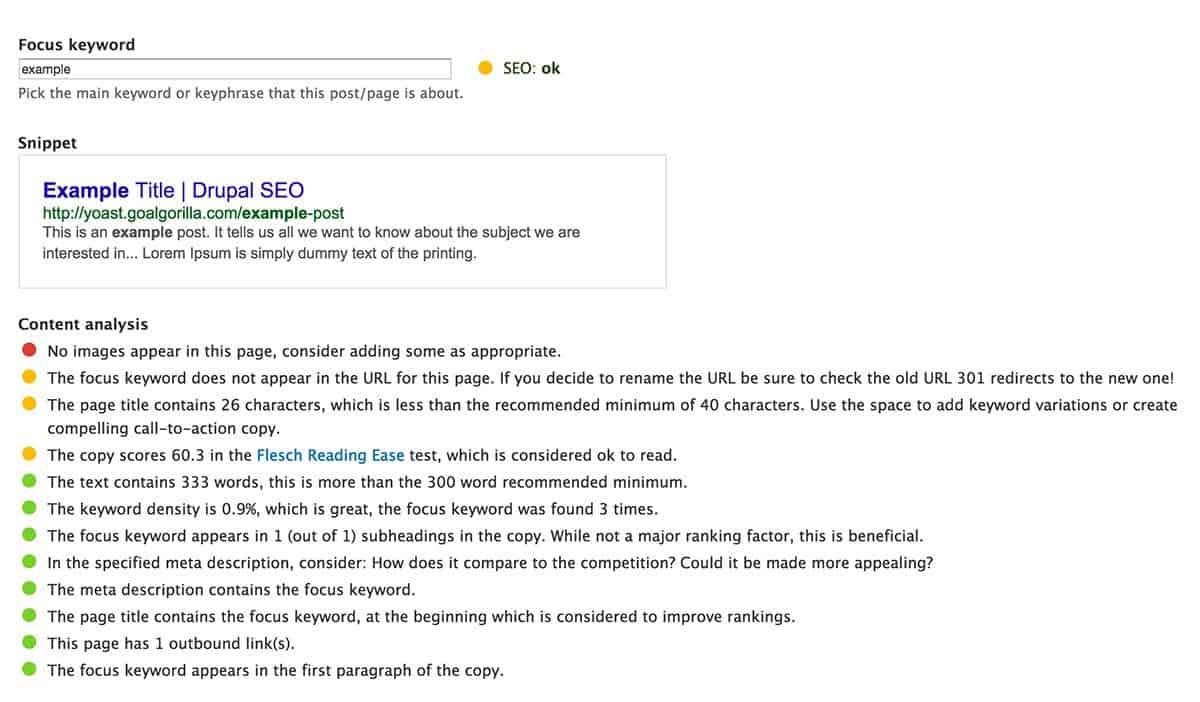 The plugin gives you a color-coded analysis of what to fix. Green means you're good to go. Yellow means it could use some improvement, and red identifies areas that must be corrected. To unlock the full functionality of the plugin, you must upgrade. Premium versions of Yoast include the following features:
Internal-linking suggestions
Content insights to see whether your content matches the keywords most often used
One year of 24/7 support
No ads
Keyword optimization
Duplicate content checker
The advantage of this plugin is that it provides comprehensive SEO tools in an easy-to-understand format. However, the free version is very limited. For example, you can optimize only a single keyword with the free version. For more than that, you have to upgrade to the Premium version, which can be a bit expensive.
All in One SEO Pack
Another popular option for SEO is the All in One SEO Pack. Downloaded over 50 million times since 2007 and currently used by over two million websites, this plugin offers comprehensive SEO tools, with many working right out of the box.
For example, this tool automatically generates META tags and optimizes titles. It's also 100% compatible with PHP 7. Its free version offers solid basic SEO customization options, and it will work for e-commerce websites like WooCommerce. The free version includes the following features:
XML Sitemap support
Support for Google AMP and Google Analytics
Supports Custom Post Types SEO
Ability to override predefined titles, META descriptions, and META keywords
Available in 57 languages
If you want a comprehensive SEO tool that doesn't require a ton of upgrades, this is definitely one worth checking out. However, it's not as beginner-friendly as Yoast and will require a bit of a learning curve. Also, you must upgrade if you want more advanced SEO features such as Video XML sitemaps.
Need some help getting your videos to rank higher on Google? Check out our article on improving SEO for your videos.
Rankie
If you're a stickler for having the best ranking keywords for your website, then Rankie is a plugin you should consider. Rankie is a tool you can use to track keywords on your website and to research for additional high-ranking keywords.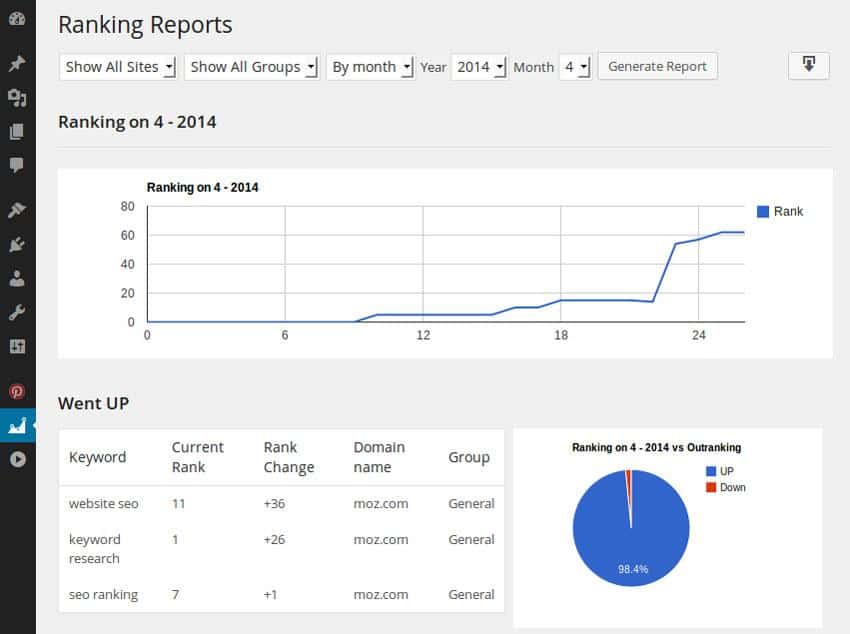 The primary feature of the plugin is that it tracks keyword rankings and allows you to follow how your keywords rank on Google. You can track stats directly from your WordPress interface or have the program send you tracking emails daily.
However, this tool can do much more to help your keywords rank. It includes a powerful keyword research tool that will generate current high-ranking keywords. Click on those keywords, and you can create a list of long-tail keywords you can rank on. Additional features include:
Auto-track searched keywords for your website
Search ranking using Google directly, Google Custom Search API, Google via F-secure.com, or Google via kproxy.com
Filter reports by website, group, or search term
Proxy support
Daily reports and ranking graphs
Rankie is a specialized tool used only for keyword research and tracking. Although it won't help in other areas of improving your SEO, it's perfect for tracking current keywords and researching the best keywords to use for your website. However, it doesn't come in a free version. Licenses incur a one-time fee, and your license includes six months of support from ValvePress for free. If you like, you can upgrade support to a year for an additional small fee.
Squirrly SEO
Squirrly SEO is a robust SEO that helps you become an "SEO Superstar" by offering "Assisted SEO" that guides you through improving your SEO. One main difference between this and other tools is that it's designed for non-experts and guides you through improving your SEO as you're creating content rather than fixing it after. Also, the tool includes all of the following features:
Keyword research tool
Google SERP checker
SEO audit suite
SEO snippet tool
Duplicate removal tool
XML sitemap generator
If you're a true beginner, this is a great free tool that assists you in improving your SEO. Rather than doing things automatically, it walks you through improving your SEO, giving you skills you can build on later.
Note that the free version of the plugin can be used only on a single website. If you choose to use it on multiple websites, you must upgrade to either the Pro or Business version, whose fee can be quite expensive.
Squirrly can help you improve your SEO, but you also need to know the basics. Check out our article on 11 on-page optimizations that all webmasters should know.
WP Meta SEO
JoomUnited offers a reasonably robust SEO tool that's great for intermediate and advanced SEO users. Their WP Meta SEO provides the ability to bulk-edit all of your website's metadata in a single place. This is an excellent option if you have an established website and need to update your SEO, or if you want to strengthen multiple areas at once.
Also, this tool includes a bulk image editor and tools for fixing HTML image resizing in your content. The free version includes the following features:
Image information editor
Sitemap for XML and HTML
Sitemap for webpages, posts, and menus
404 error checker and redirections
Google analytics tracking
Breadcrumb generator
You can also choose to upgrade to get at least six months of support along with the following features:
Google keyword suggestion
Duplicate meta checker
Email reports for Meta SEO data and Google Analytics
Sitemap for custom post types
Sitemap automatic submission to Google
SEO for WPML and Polylang
And more!
This is an excellent tool for those needing to conduct bulk-editing for metadata on websites, or for experienced webmasters wanting more robust meta editing tools. Unfortunately, this is not a tool for beginners. The interface is designed more for those who have a bit of experience.
Pick the Right Tool Based on Your Experience Level
When choosing an SEO plugin for WordPress, pick one based on your present level of experience.
If you're brand new to SEO, stick with tools geared toward beginners. Tools that fill out SEO elements automatically and guide you on how to improve your SEO are great options, as they help you learn more about optimizing your website.
If you're an experienced webmaster, you want tools with more robust options. This is especially important for those running e-commerce websites, or those in highly competitive niches. Tools that provide advanced SEO customization will give you an extra edge that will help you rank over competitors using basic or intermediate tools.
Over time, it's essential that you improve your SEO skills to stay current with the ever-changing standards put forth by Google. This will give your website the best chance for growth in the future. In the meantime, these tools are a great way to learn SEO and get your website ranking on Google and other search engines.
| | | | | | |
| --- | --- | --- | --- | --- | --- |
| | Yoast SEO | All in One SEO Pack | Rankie | Squirrly SEO | WP Meta SEO |
| Free Version | Yes | Yes | No | Yes | Yes |
| Keyword Optimization | Yes | Yes | Yes | Yes (premium only) | Yes |
| Sitemap Support | Yes | Yes | No | Yes | Yes |
| Guided SEO Optimization | Yes | No | Yes (keywords only) | Yes | No |
And if you're not already a WordPress website owner and are interested in learning more about what the platform can do for you, check out our expert review.