crucial
to the success of your site. Without one, you won't just be losing potential visitors, you'll be opening yourself up to lawsuits.
In recent years, there have been many successful legal claims against businesses with websites that were not accessibility-friendly
. This doesn't just hurt your business – it may harm the reputation of your blog or your brand.
That's why your choice of plugin is so important: it must comply with all accessibility standards and regulations
. Not all accessibility plugins achieve this, and some don't even come close. If you choose poorly, you could lose out on leads, or get sued. To find out which accessibility plugins you can rely on, we tested as many as we could find. Eventually, we cut it down to the top five, all of which offer a high level of compliance. Read on to find out which is the best fit for you.
Short on Time? These Are the Best WordPress Accessibility Plugins in 2023
accessWidget – accessiBe's plugin offers your users highly customizable accessibility settings
UserWay – Premium accessibility and monitoring tools for custom websites
Max Access – Offers an AI-driven screen reader at a budget price
What We Look For in the Best WordPress Accessibility Plugins
Compliance with accessibility standards. All these plugins comply with the Amercians with Disabilities Act (ADA) and the World Wide Web Consortium's Web Content Accessibility Guidelines (WCAG). Full compliance minimizes the chance of lawsuits.
Wide range of accessibility features and options. The best accessibility plugins offer assistance for all forms of disability. Visitors to your site should have the options needed to make their experience comfortable.
Ease of use. We found plugins that do the hard work for you, seamlessly making the necessary code changes and other adjustments.
Adaptability. Whenever you add new content to your site or update existing pages, you may be introducing new accessibility issues. That's why I've only selected plugins that continuously monitor your site, fixing potential problems as they occur.
No impact on performance. Performance impacts are a concern with any WordPress plugin. That's why I've only chosen plugins that won't slow your website down.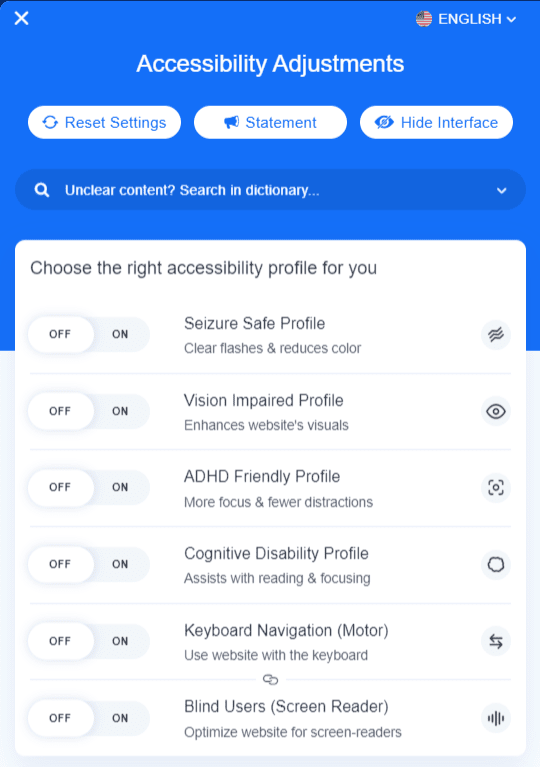 Nearly all accessibility plugins offer a widget with multiple accessibility functions, allowing for customization of the user's experience.
accessiBe's
accessWidget is the best of the bunch in this regard
. This ensures maximum ease of use for a complete range of disabilities and user preferences. For example,
accessWidget allows your site visitors to edit text size, line spacing, and letter spacing individually in 10% increments
. Most web browsers only offer a total zoom percentage. Users may also replace your site colors with ones that meet their personal preferences with regards to contrast and viewing comfort.
accessWidget uses AI to monitor and fix common accessibility issues in the back end of your site.
This includes adding alt text to images, properly labeling interactive elements, and so on. That said, it only scans your site for new accessibility issues every 24 hours, which is somewhat infrequent compared to many other premium plugins.
Features
Generous basic plan. accessiBe's cheapest Standard plan for accessWidget supports up to 1000 pages and 100,000 monthly visits. This is great value for the price – it's a perfect fit for most small to medium businesses.
Several pre-made profiles. Users can select premade profiles in the widget settings that are tailored to common disabilities. These will automatically combine a set of accessibility functions to make your site easy to navigate for people with specific disability types.
Litigation support. If an accessibility claim is made against you, accessiBe will perform two third-party audits of your site to help fix any remaining accessibility issues. They will also provide you with documentation to use in your defense and suggest a legally-vetted response. Customer support is ongoing throughout a case.
User testing service. Unique to accessiBe, you can hire disabled users to thoroughly test your site. This is the best way to find problems with your site's design and code that you may have otherwise missed.
| | |
| --- | --- |
| Free Version Available? | No, 7-day free trial available |
| Page/Visitor Limit in the Basic Plan | 1000 pages and 100,000 monthly visits |
| Frequency of Accessibility Remediations | Every 24 hours |
| Number of Language Options | 12 |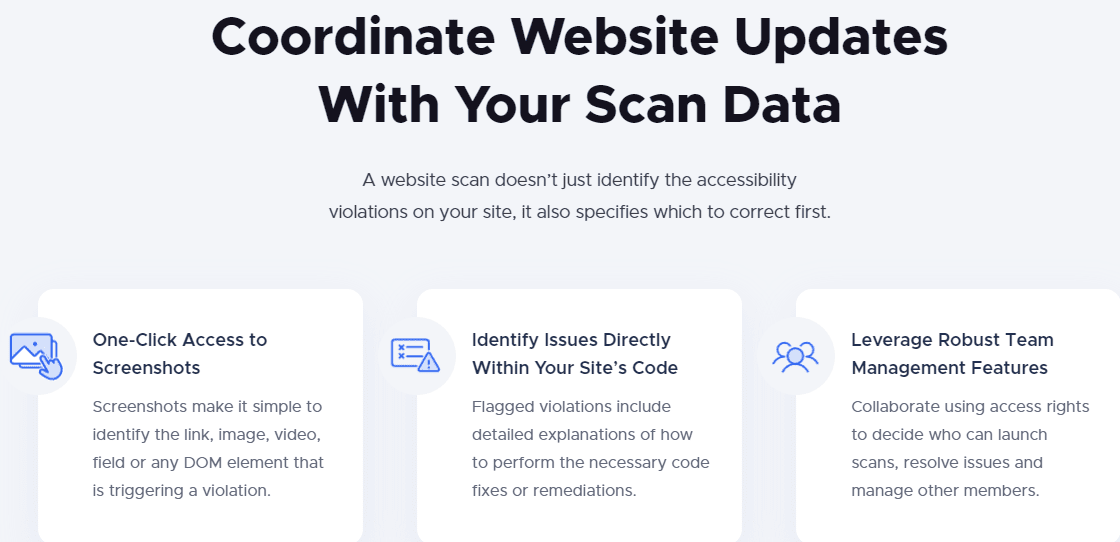 If you have a complex site that requires extensive manual remediations due to a custom WordPress theme, or your own custom HTML and CSS code, UserWay may be the best option. Like most other accessibility scanners, this allows you to scan your site for accessibility issues that the AI cannot fix.
What makes UserWay different is just how easy it is to work with
 – issues are ordered by severity, screen captures of offending elements are displayed for clarity, and you can even export all suggested fixes to a workflow app, like GitHub, Asana, or Trello. However, UserWay isn't cheap. You get one free page scan per month, but you'll have to pay for a premium monitoring plan to really take advantage of the service.
These scans run continuously in the background, catching new issues as they occur
– it's well worth the money if you have a complex site.
Features
High contrast tooltips. This accessibility widget allows low-vision users to hover over website elements to see alternative text and ARIA labels (explanations of what an element is or does) in an easy-to-read window.
Proprietary dyslexia-friendly font. UserWay offers a custom font, created to be legible for people with dyslexia. Every letter is designed to be distinguishable from one another, and users can replace all of your site's text with this font.
Huge number of supported languages. UserWay offers more language options than any other plugin on this list. The accessibility widget is available for use in 42 different languages, covering international visitors from all major countries.
Free version. UserWay offers a version of the accessibility widget for free. This comes with more tools than EqualWeb's free version, offering keyboard navigation, a dictionary, and even a multilingual screen reader.
| | |
| --- | --- |
| Free Version Available? | Yes |
| Page/Visitor Limit in the Basic Plan | 100,000 page views per month |
| Frequency of Accessibility Remediations | Upon publication of new content |
| Number of Language Options | 42 |

Max Access is the only plugin on the list to offer an AI-driven screen reader, which incorporates tone and inflection for more natural speech
. The screen reader is available in 27 different languages with over 54 total voice options. The human-like speech can help you achieve high levels of compliance and appeal to blind people or people with low vision. The screen reader does require purchasing a premium add-on, but
prices are competitive on all plans
. However, Max Access' accessibility widget is limited with regards to customization. The basic functionality is there, but there's only a few adjustable settings for each tool. Furthermore, the AI only scans for new accessibility issues every 24 hours.
Features
Fast setup. Max Access' initial remediation of your site only takes up to a few hours, depending on overall size. This is much faster than most – for example, accessWidget can take up to 48 hours.
Unlimited page views. All Max Access plans feature unlimited page views. That means as long as your site's page count remains below 1000, you can serve as many visitors as you like on the cheapest plan without having to upgrade.
White-label widget. The Pro add-on allows you to rebrand the Max Access widget with your own logo. This complements your brand identity and helps show your strong commitment to accessibility.
ARIA labels and alt text management. Additionally, the Pro add-on provides management tools for the alt text and ARIA labels generated by the Max Access AI. You can access a list of images and site elements on your site for easy editing.
| | |
| --- | --- |
| Free Version Available? | No, 14-day free trial available |
| Page/Visitor Limit in the Basic Plan | 1000 pages |
| Frequency of Accessibility Remediations | 24 hours |
| Number of Language Options | 27 |
4. EqualWeb – Best Overall Value in Accessibility Optimization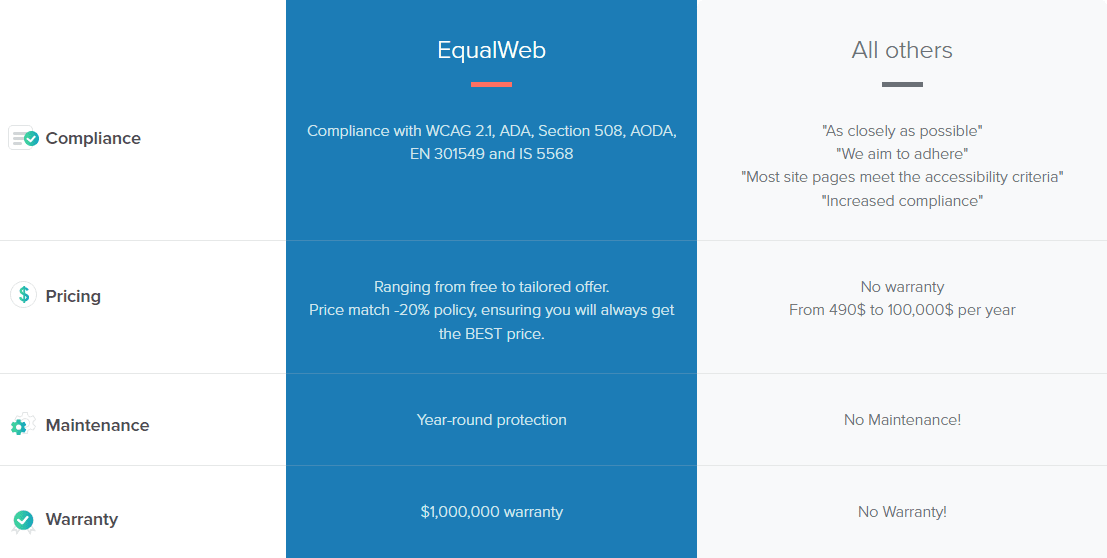 Despite costing slightly less than accessWidget, EqualWeb performs accessibility remediations upon publication of new content
, ensuring all content is perfectly usable as it goes live. In addition,
EqualWeb offers a single manual remediation scan for up to 100 pages, completely free.
This scan is in-depth and may identify issues that the AI cannot. EqualWeb's experts will fix all issues found, then perform a manual audit to confirm compliance. This service usually costs hundreds of dollars, so to get it for free is a great deal. While the premium plans offer good value, there's also a free version available. This offers a number of user-controlled accessibility functions across your entire site. However, the free version is not completely compliant with all standards, as it's missing keyboard navigation and other important functions.
Features
Optional $1,000,000 warranty. In the Medium plan and above, you can choose to add a warranty to your service. If you're ever sued for an ADA violation and lose the case, EqualWeb will reimburse your legal costs for up to one million US dollars.
Voice control. The EqualWeb accessibility widget also offers voice controls in the Medium and higher plans. This is a rare feature in accessibility plugins, and allows users to navigate your site using voice input alone.
Price-match policy. EqualWeb will try to match or beat competing plugins on price. If you find a cheaper deal, you may be able to use this to bring down EqualWeb's prices.
24/7 technical support. In the Medium plan and above, you'll get 24/7 email support. While they can be somewhat slow to respond, EqualWeb offers assistance with any technical problems you may run into. The Full Remediation plan comes with 24/7 phone support as well.
| | |
| --- | --- |
| Free Version Available? | Yes |
| Page/Visitor Limit in the Basic Plan | 100 pages |
| Frequency of Accessibility Remediations | Upon publication of new content |
| Number of Language Options | 41 |
5. AudioEye – Constant Accessibility Monitoring at an Affordable Price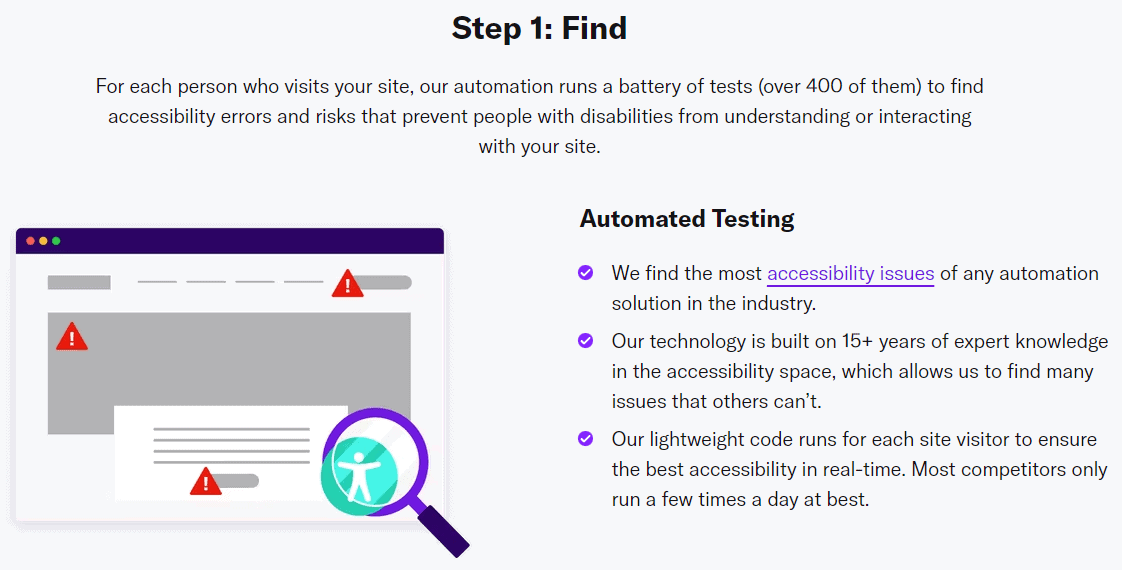 AudioEye scans for new accessibility issues every single time a new visitor lands on your site
. This is especially important if your site primarily serves dynamic content tailored to each user, which may contain accessibility issues that would be missed by other solutions. However, keep in mind that the most affordable plan is limited to 10,000 monthly visits. With every plan, AudioEye provides a free Issue Reporting service. Similar to EqualWeb's manual remediation scan, this service identifies accessibility issues that AI cannot address. While it may not be as comprehensive as EqualWeb's solution, it serves as a valuable alternative, offering in-depth instructions for rectifying accessibility issues within your website's code and content.
Features
Widget hotkeys. Every accessibility function provided by AudioEye's widget can be accessed via a keyboard hotkey. This is ideal for site visitors who may otherwise struggle to access needed functionality.
$1,000 warranty. Every plan, including the cheapest, includes a thousand-dollar warranty. If there's a successful claim against your site, your legal costs will be reimbursed up to the warranty amount.
Assigned accessibility specialist. When you sign up for an AudioEye account, you will be assigned an Accessibility Specialist for the duration of the onboarding process. They will help you get started with the plugin, and will answer any queries.
14-day free trial. While AudioEye doesn't offer a free version, it has a longer trial than most. You'll have two weeks to try out the service, with no credit card required.
| | |
| --- | --- |
| Free Version Available? | No, 14-day free trial available |
| Page/Visitor Limit in the Basic Plan | 10,000 monthly visits |
| Frequency of Accessibility Remediations | Upon every new site visit |
| Number of Language Options | English only |
What's the Best WordPress Accessibility Plugin for Me?
Using the above plugins will allow your site to comply with accessibility regulations and will ensure your content is accessible to all
. Still unsure which plugin is right for you? Here are my recommendations. For the highest degree of customizability,
accessiBe's accessWidget is my top recommendation
. Not only does the basic plan offer great value, the widget allows visitors to fine-tune your site to the exact colors and text format that's usable for them. This means better compliance for more site visitors.
If you need to make a heavily-customized site accessibile, try UserWay.
The interface is one of the easiest to work with, and scan results can be shared with project management software. It costs more than most, but it's well worth it if you need a premium solution for a complex website. If enabling screen reading is your priority,
I'd check out Max Access
. It's AI-driven screen reader offers 54 voice options in 27 languages, at a very competitive price.
If you'd like to compare further, take a look at the table below.
| | | | | | |
| --- | --- | --- | --- | --- | --- |
| | Standout Feature | Free Trial on Premium Plans? | Page/Visitor Limit in the Basic Plan | Litigation Warranty? | |
| accessiBe's accessWidget | Offers plenty of customizability for accessibility tools | 7 days | 1000 pages, 100,000 monthly visits | None | |
| UserWay | Best accessibility scanning and monitoring tools | 10 days | 100,000 monthly visits | None | |
| MaxAccess | Lowest prices, AI-driven screen reader with plenty of voice options | 14 days | 1000 pages | None | |
| EqualWeb | Free 100-page scan for accessibility issues, which are fixed manually by experts | 7 days | 100 PAGES | $1,000,000, available as a paid extra in the Medium plan or above | |
| AudioEye | Rescans your site for accessibility issues upon every new site visit | 14 days | 10,000 visits | $1,000 | |
FAQ
How do I make my WordPress site more accessible?
While automated WordPress plugins can catch a significant number of accessibility issues on their own, they might not fix them all. It's recommended that you build your site with accessibility in mind and continuously monitor it for new issues. Read our guide to website accessibility for more information. Additionally, if you're creating your very first WordPress site, check out our guide to creating a website for some valuable tips.
What are accessibility plugins?
Accessibility plugins help disabled users navigate your site. To do this, they commonly allow site visitors to customize the content of your site to suit their needs. accessiBe's solution could be considered the best example of what these types of widgets can achieve. Many premium plugins also employ AI technology to search for accessibility issues in your site's code. This ensures all elements of your site are accessible and compatible with assistive technologies such as screen readers. Max Access offers some of the best AI-driven screen reading options.
Is WordPress ADA compliant?
WordPress source code is ADA-compliant. However, this does not mean the templates and custom code you deploy on your site also are. Any content you create needs to be screened for accessibility issues that may impact disabled users. For the best deals on WordPress site hosting, check out our list of the top ten web hosts in 2023.
Is WordPress compatible with screen readers?
Not necessarily. While the source code is written to conform with accessibility regulations, not all themes are compatible with screen readers and other assistive technologies. You'll have to ensure your site's code supports such software.