As I was browsing through the WooCommerce theme store, I noticed that you can't filter your options by industry. At first I was a little frustrated!
But then I realized that a lot of themes are suitable for various types of stores and businesses.
After taking the time to go through each WooCommerce template,
I can tell you that some of the best themes are hidden behind titles you might not suspect.
 So I'm going to walk you through five of my favorites, outlining what they have to offer and who they're best suited for. Regardless of the type of business you have, you want a theme that's responsive, intuitive, and looks great. But it should also have the practical functionality you need – whether this means product filters and testimonial features, or great blogs and beautiful galleries.
These are the best WooCommerce has to start with – plus, you can always customize.
For good measure,
I've also included a couple choices from Wix and Squarespace
. 
Like WooCommerce, they provide reliable e-commerce features but have a lot more to choose from.
WooCommerce Themes That'll Woo Your Customers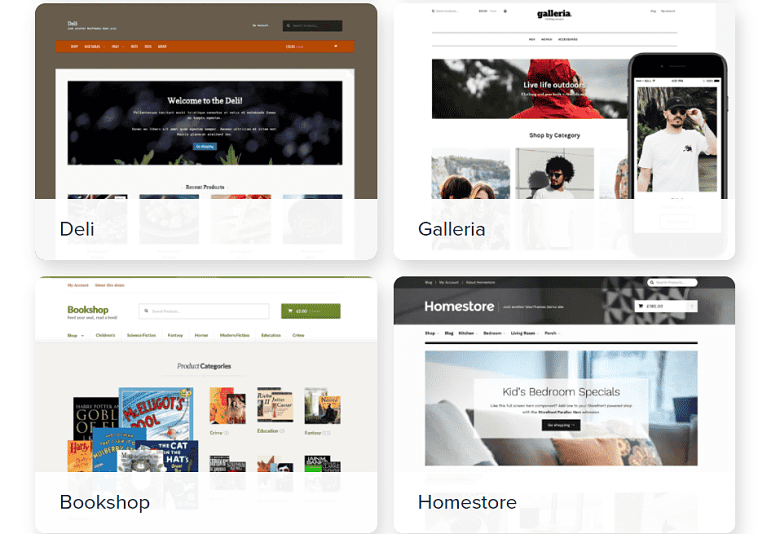 By default, the latest version of WooCommerce works with most WordPress themes. However, you'd need the help of a developer to ensure they work together properly – and to deal with any glitches that pop up after a WooCommerce update. You won't be able to use WooCommerce's review feature either.
So, for the best experience, you're better off choosing one of WooCommerce's own themes
, which update automatically with WooCommerce. You can find the theme store under
Marketplace
 in the menu that appears at the top of most WooCommerce pages. In total,
you have 20 themes to choose from – three of which are free.
Premium themes are reasonably priced too, starting at around $40. However, if you want to be able to customize every single aspect of your storefront without using code, you'll have to invest in WooCommerce's Storefront Extensions bundle which could cost you more than a premium theme. Although WooCommerce's filters claim that just 13 themes are responsive, that's not true. (Facepalm!)
All of them are actually mobile-friendly.
 I checked each one myself.
1. Storefront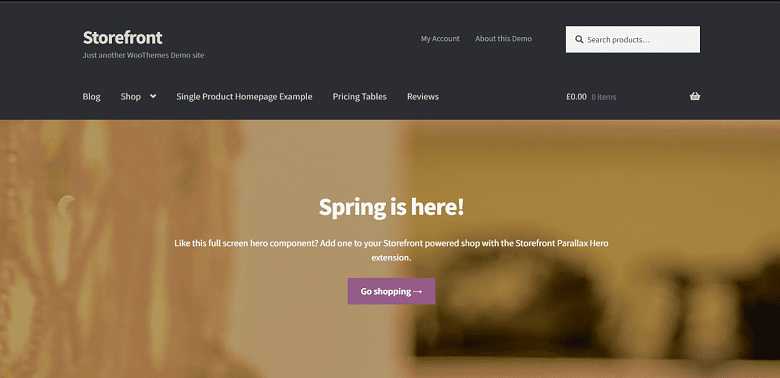 Okay, so this isn't my
absolute
 favorite WooCommerce theme – but it is good.
Storefront
 is also WooCommerce's pride and joy and
most of its other themes are based on this
. So it makes sense to start here. As you might have guessed from the name,
Storefront can be used for all sorts of businesses.
 Its live demo features kitchen appliances, electronics, clothing, food, and luggage. Because you can easily add subscription pricing tables to this theme, it also works for gyms, clubs, online colleges, subscription boxes, newspapers, and magazines.
And it comes free with WooCommerce!
It's efficient so your website will always load quickly – no matter how many products you add.
It was also designed with SEO in mind.
 You can add schema markup to your website, which will help search engines understand and rank your content so your products are more likely to appear in relevant search results. The
Storefront
 theme is pretty intuitive and flexible. It also adheres to accessibility guidelines, so people with disabilities will be able to use your website. But looking past its great user experience, the clean and simple aesthetic is a bit boring.
Though you can always customize the basics in the editor or add your own code if you know how.
I'd recommend
Storefront
 if you want to start selling online quickly. Then, you can always add customization or WooCommerce extensions later on if you need to.
2. Bistro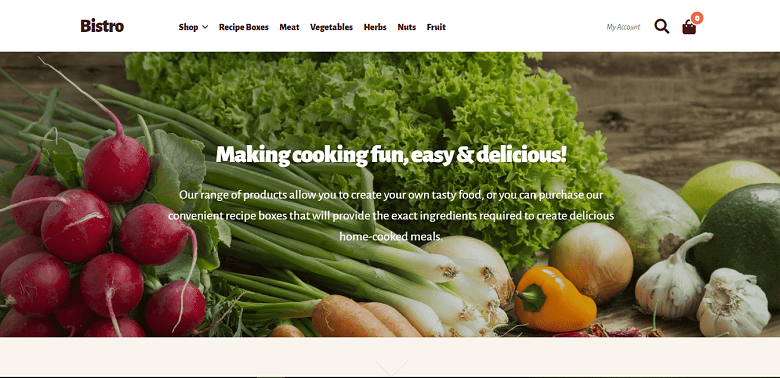 I love how the Bistro theme uses white space to make product images pop.
 And despite its modern design and black-and-white coloring, it still feels warm. WooCommerce recommends this theme for stores selling "organic goods and other consumables". Yes, it looks great with photos of food. But I think it can be used for so much more.
If your products are about luxury, great design, or beauty, this is the theme for you.
 Flower shops, boutiques, jewelry sellers, photographers, galleries, music stores, chocolatiers, and antiques all come to mind. But I'm sure it would work well for bookstores, record shops, and opticians too.
Bistro
 can be tweaked to suit big or small stores.
Businesses with large inventories can simply add dropdowns to the menu to feature more products without ruining the sleek design.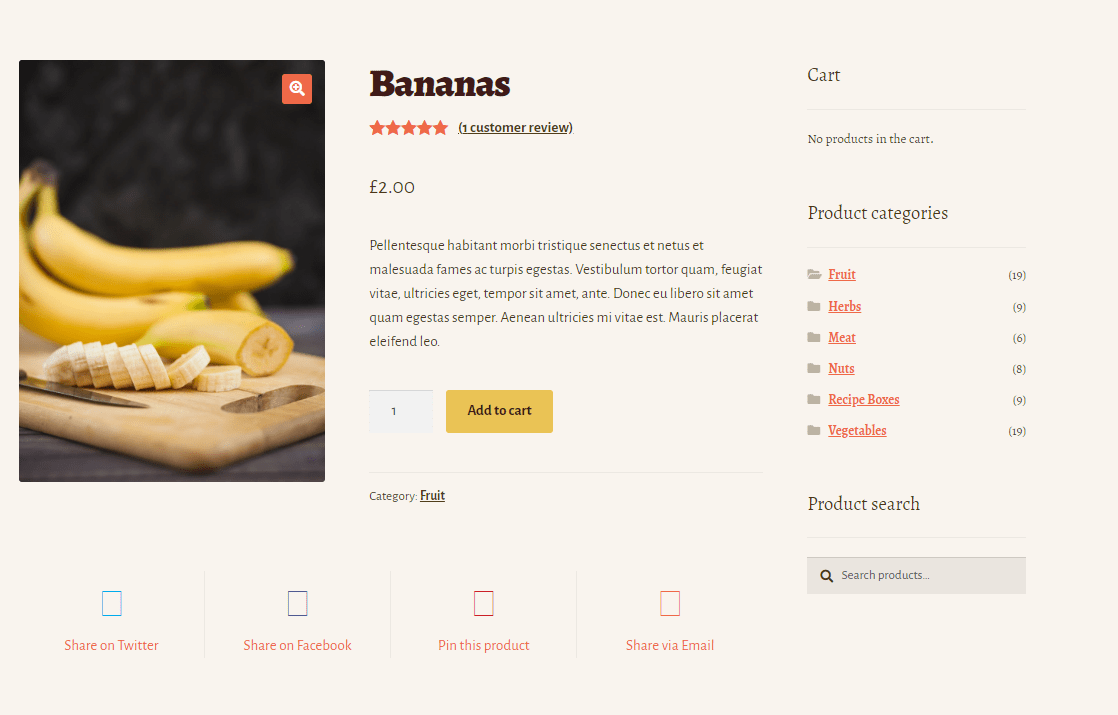 I like how the product pages feature social media links too.
This is by far my favorite theme and the good news is that it's among the cheapest premium themes available.
3. Hotel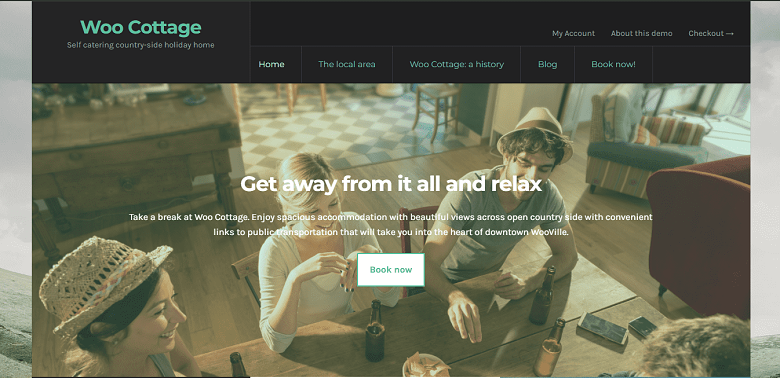 So this one is obviously designed with hotels in mind.
But you might not realize that it's actually ideal for businesses that offer any kind of bookings.
Think holiday homes, B&Bs, hostels, as well as salon appointments, yoga classes, museum tours, doctor visits, therapist sessions, consultant meetings, wine tastings, and more.
The Hotel theme has a unique integration with two WooCommerce reservation extensions
: WooCommerce Bookings and Accommodation Bookings. This is a convenient option if you're after this kind of functionality. (Though be warned the WooCommerce Booking extension comes with its own price tag!)
I really like the image gallery that appears on each product page.
 It makes this design stand out. I'd definitely want to book a weekend away – or even a local tour – after browsing a site like this. Despite the extra functionality
Hotel
 offers, it is one of the cheapest premium themes available.
4. ToyShop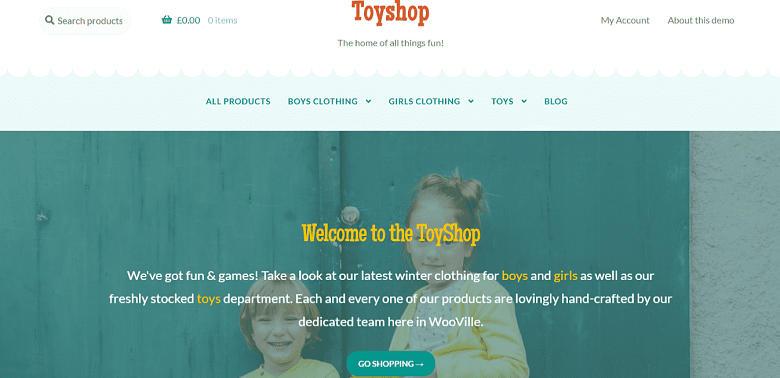 This colorful theme is unique and full of character – and it's reasonably priced.
So if your brand is fun and quirky, ToyShop may be the best theme for you.
Clearly, it's designed with kids in mind.
But it's also quite nature focused with a backdrop of fluffy clouds which drift across the screen, as well as a footer that changes with the seasons.
I think the features of this theme would be perfect for selling tickets to music festivals, circuses, and other events. It might work for booking outdoor activities too – I'm thinking skydiving, surfing, camping, abseiling, meditation, and pumpkin patch visits.
5. Galleria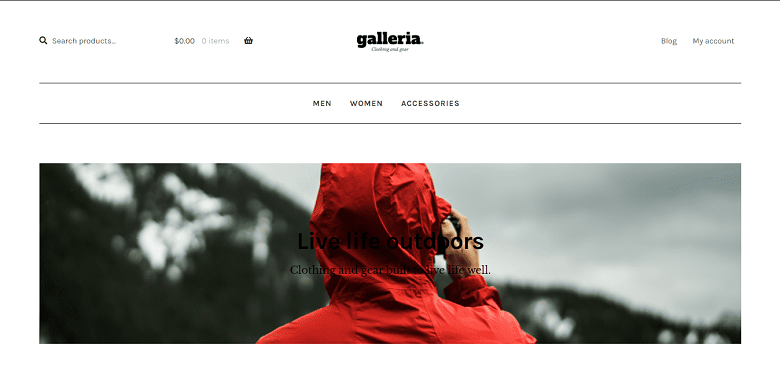 Another premium theme,
Galleria can provide your store with a sleek and stylish aesthetic.
 It is perfect for businesses selling clothes and accessories. However,
I think it would also make cars, bikes, appliances, phones, and other gadgets look great too.
It features a handy filter so customers can sort through your products.
 There's also a budget bar to set minimum and maximum pricing preferences. For this reason, it can easily facilitate stores with a lot of products. In my opinion,
Galleria
 also features WooCommerce's most attractive blogs (honestly, I wasn't bowled over by most of WooCommerce's blog designs). Though the premium Storefront Blog Customizer extension lets you edit any theme's blog as you'd like.
WooCommerce Themes to Avoid
During my browsing I came across a couple of themes that missed the mark a little. For example,
Deli
 has lots of attractive elements, but the design seems a bit off in places. The blog looks dated. Then, some of the images and text touch the very edge of the white space.
If I didn't know better, I'd think it was a mistake – or that the site has been around since the 90s.
Then there's
Stationery
. I actually love the clever design of this theme.
But you should steer clear of it, because it's way too niche.
 With a graph paper background and a piece of Scotch tape holding up each product photo, WooCommerce designed this theme for craft stores and office suppliers.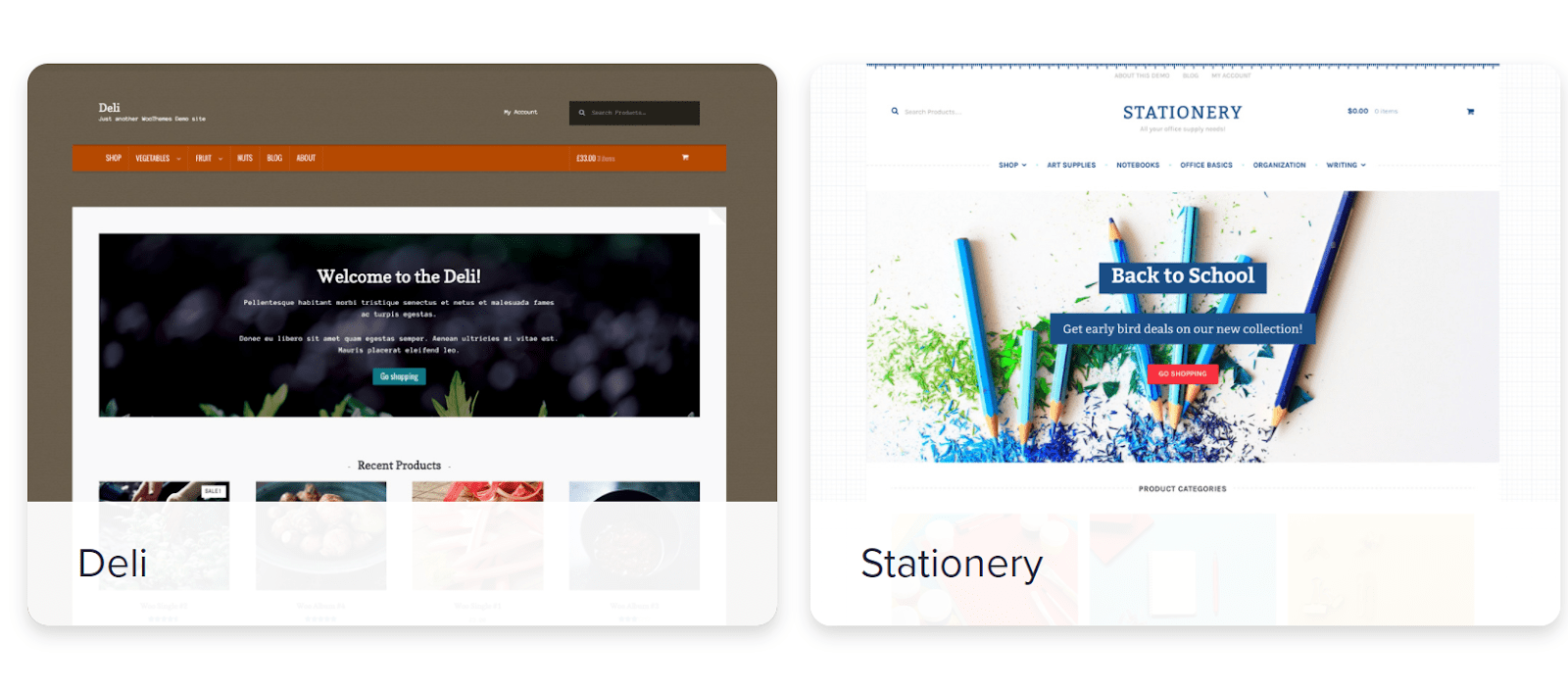 One final point worth noting is that WooCommerce offers a handful of templates which aren't designed by its own developers. While they were all attractive and offer something a little different, I didn't highlight them among my top choices. Why? Well, firstly, they're pricier!
Themes from WooCommerce's development team are either free or around $40, and the third-party themes cost roughly double or triple that amount.
Secondly, though all themes are constantly updated, I think WooCommerce's in-house developers are probably more proactive – and will be for the longest time.
Still Looking? Here Are Some Other Options
If you still haven't found your ideal e-commerce template, you could always check out what other platforms have to offer.
Wix has more than 900 mobile-friendly e-commerce templates
, some of which are specifically designed for niche industries. So you may find a ready-to-go solution
– especially if you have a small product line. For example, the
Loungewear Store
 template is perfect for boutiques and fashion designers. It looks simple but chic – which is ideal!
The features, which include product filters and a beautifully designed lookbook catalog, are also fitting if you're a clothing retailer.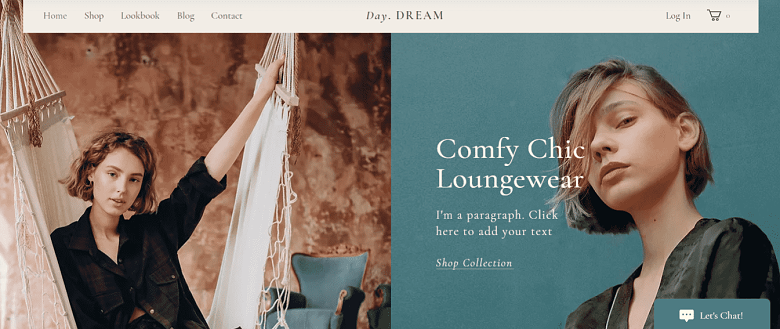 Squarespace is known for its clean and attractive template designs
. It has eight templates specifically for online stores and another seven for local businesses. If you sell products, Squarespace makes it easy for them to look good. Stores can also take advantage of features like limited availability labels and related product displays to drive sales.
All the templates in Squarespace's Online Store category have cool product displays.
 One of the best is
Hester
. The simple black-and-white layout is ideal if you have colorful products to promote. There's also a sleek tile collage of images at the bottom of the homepage. I could picture artists, photographers, boutiques, and other small businesses using this theme. Though it would probably work for selling services too.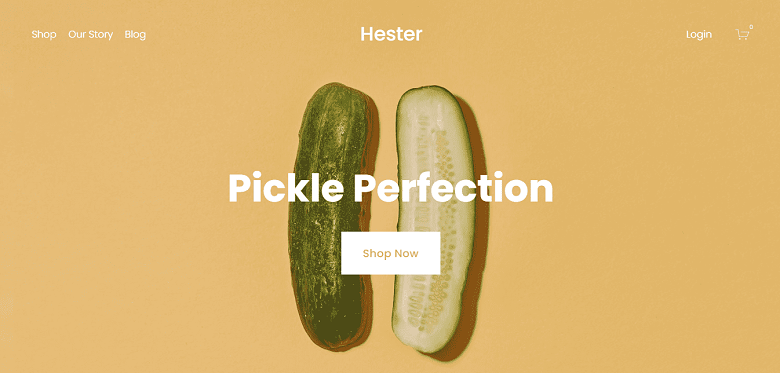 Conclusion
Finding the perfect theme allows you to quickly and easily set up an on-brand store. If you choose wisely, you'll be able entice visitors and encourage sales from day one.
Since all of WooCommerce's own themes integrate flawlessly with the WooCommerce plug-in, you can't go too wrong.
They're all customizable too. However, try to choose a design which suits your brand image and the size of your store. This way your theme will require less editing and there's less risk of something going wrong. If you're not ready to commit to a WooCommerce theme and want to check out more of your options,
take a look at our list of the top website builders in 2023
.
FAQ
What is the best free WooCommerce theme?
WooCommerce offers three free themes: Storefront, Deli, and Boutique. Storefront is the best option for most stores as it is very flexible, intuitive, and can be adjusted to suit the needs of those selling everything from electronics to clothing. However, if you run a small business that only sells a couple of products, you should check out Boutique. If neither of these options suit you, lots of the best website builders offer free templates, so it's worth shopping around.
How do I choose a WooCommerce theme?
Choosing a theme with a design you love will reduce the need for customization. Carefully examine all the page layouts available with each theme before choosing one. Some are best suited to large catalogs, while others will work if you're selling just one or two products. Ask questions based on your main priorities. For example:
Does the checkout experience suit my needs?
Will the product pages showcase my inventory in the best light possible?
Is the blog attractive?
Can I implement my branding easily?
Are there social media sharing icons built-in?
How do I install WooCommerce themes?
If you're confident that WooCommerce is right for you, head to its website. (If you're not sure, check out our expert WooCommerce review.) You'll find the theme store by clicking Marketplace in the menu that appears at the top of most WooCommerce pages. From the dropdown that appears, choose Themes. You'll then see WooCommerce's selection of themes. Click the one you want to purchase and choose Add to cart. You'll automatically be brought to a check out page. Once complete, you can either download your documentation or automatically connect your theme to a WordPress website.
Is WooCommerce really free?
The WooCommerce plug-in is completely free to download and use. However, some additional costs do occur. At the very least, you'll need to invest in a domain name and a hosting service for your store. These usually come with recurring fees. Using WordPress.com is the easiest way to get started, but you'll need a Business plan or higher to use the WooCommerce plugin. Checking out our regularly updated website builder coupons can save you some money! If you want to take advantage of premium WooCommerce themes or extensions, you'll have to pay for them too. However, free options are also available.