attractive, professional design
 that you can customize to reflect your own personality and style. In addition to a good design, you'll also need some
author-friendly features
, such as the ability to add reader reviews, a blog, or an online shop to sell your books. With Wix, you get all of this and more. Wix currently has
19 templates in its Literary Arts category
, but you don't have to limit yourself to this section alone – there are some amazing options in other categories waiting to be discovered. These are the templates that go the extra mile – along with a couple of designs you may wish to avoid. I've also included a few templates outside of the Literary Arts category to get you inspired.
Wix Templates That Will Generate Buzz for Your Books
Before we dive in, just a few things to bear in mind. Wix allows you to
customize your site as much as you want
, so you can change the colors, fonts, and layouts on any template to suit your needs.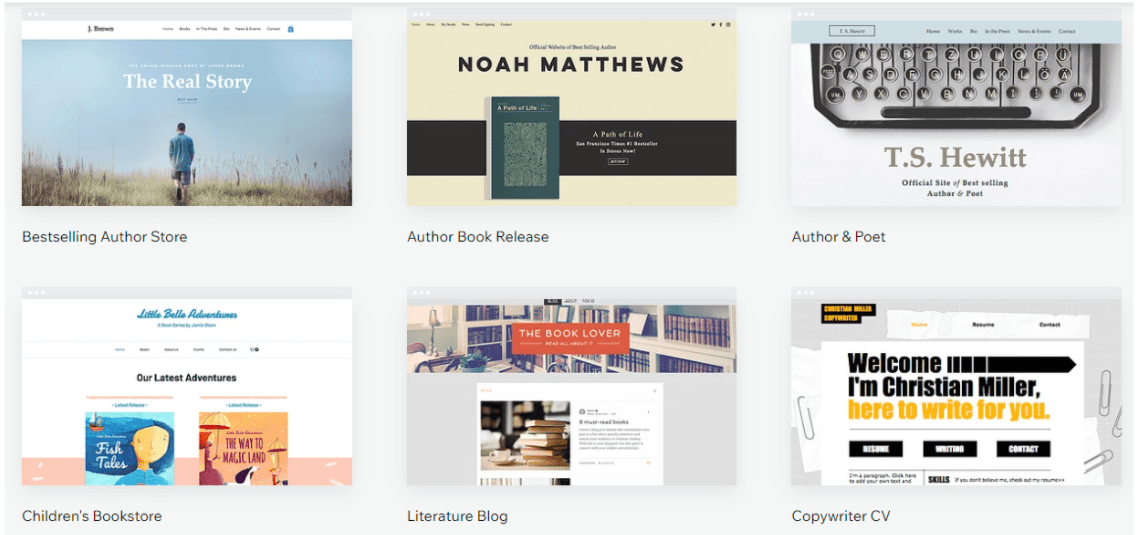 Also, if you've already envisioned a perfect template to reflect your style as a writer, you can choose a
blank template
 and start building everything from scratch. However, be sure to take your time before you make a final decision. Wix
doesn't let you switch between designs
 without losing your edits, so once you make your choice, you'll need to stick to it. Now, back to work.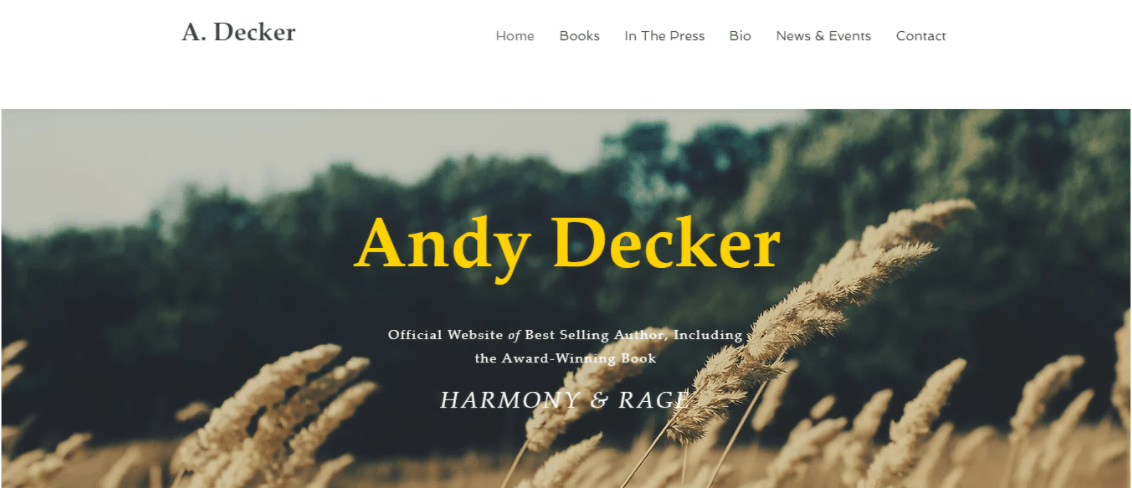 This template is a great option for a writer's portfolio website. Its modern design with
full-width images
 is bound to attract the viewer's attention, and there are specific sections for your
bio, books, press reviews,
 and more. You can customize the Books section by uploading your own book covers, and thanks to the
Wix Stores feature
, you can sell your books directly from your site. Another cool perk is the
News and Events page
 that lets you keep your readers up to date with upcoming events, such as book signings or workshops.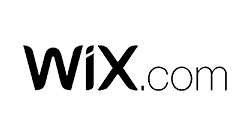 Save up to 33 % on your Wix plan!
Limited-time offer - Don't miss it!
Your Wix with your first % on 30/06/2023!
3901 users used this coupon!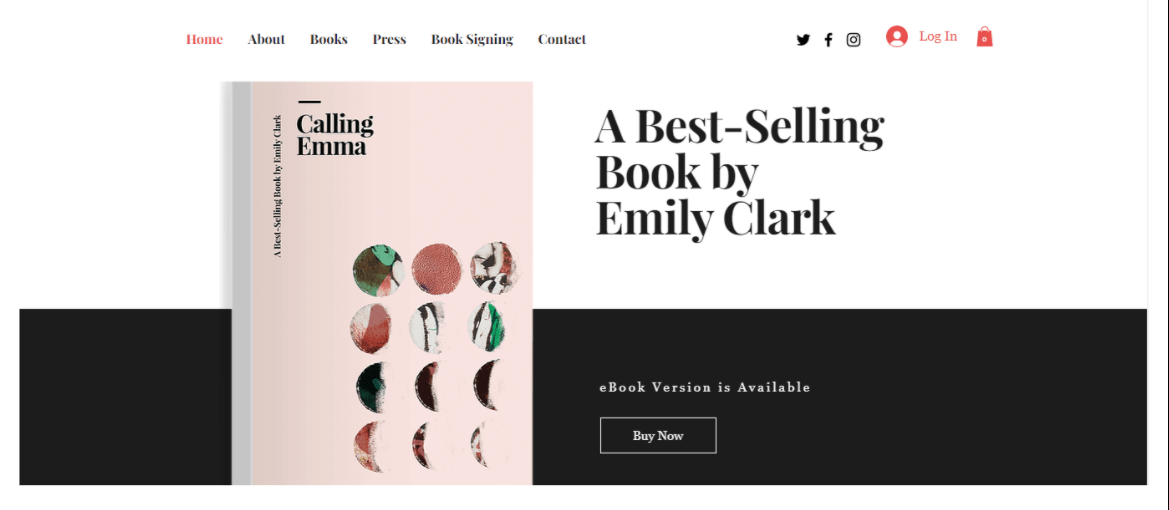 This charming template is the perfect way to promote your latest publication and tell the readers a little bit about yourself and your writing process. The homepage puts your latest work in focus and helps convert readers with a
Buy Now CTA button
. What's great about this template is that it lets you
upload digital files
, so visitors can download your work in e-book format. I particularly like the sliding format of the Press section, but I'm also a big fan of the
Book Signing page
, which displays the location of your upcoming events on Google Maps along with event details and a registration form.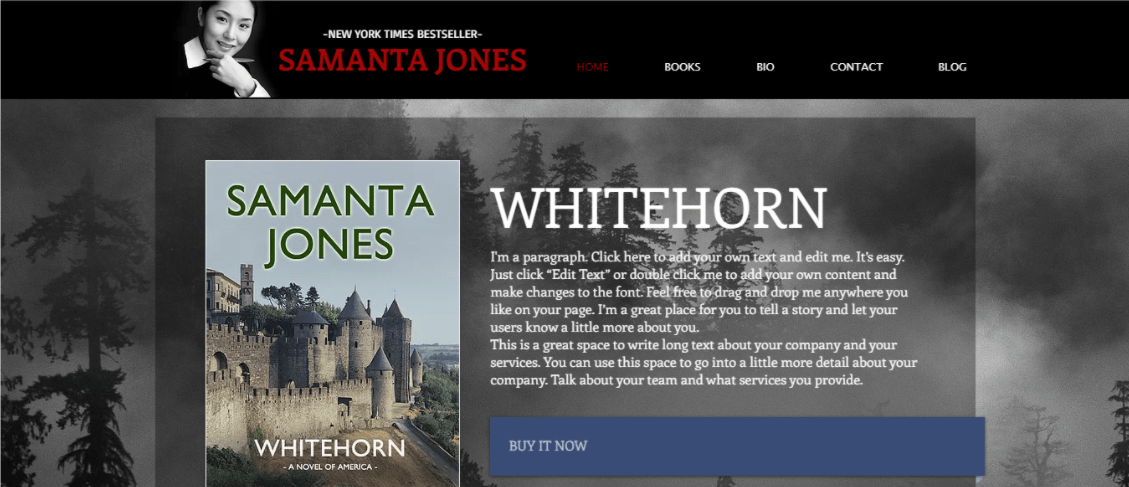 The
bold and dramatic design
 of this template would work well for any writer, but it's particularly good if you're in the thriller genre. There are sections for your bio, previous works, and upcoming news and events, and the homepage features your latest publication along with press reviews.
A standout feature on this template is the blog section,
where you can keep your audience up to date with your latest activities or share chapter samples. And you can set up an
online shop
 and sell books directly from your site. Of course, there's an all-important contact page, so that your readers can easily get in touch with you.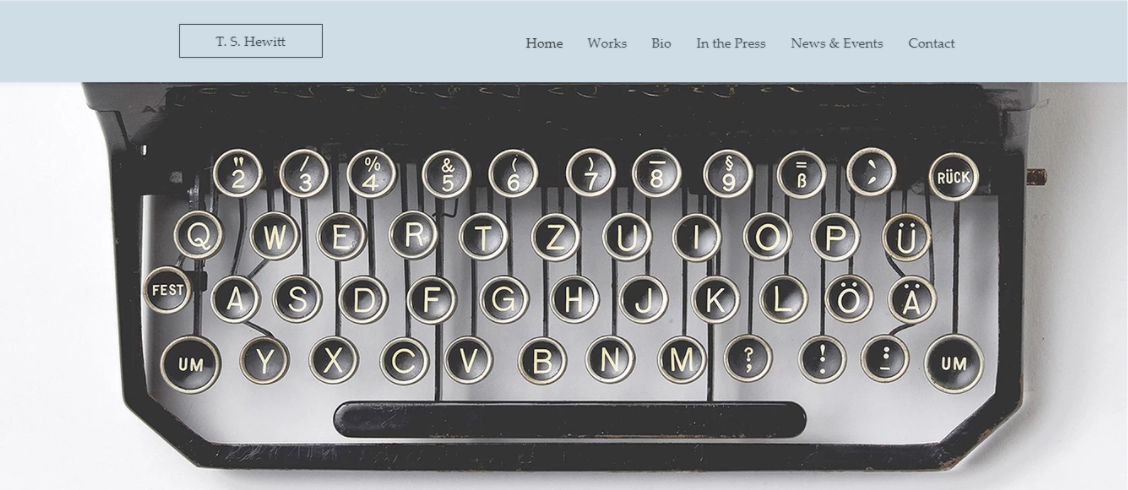 I find the
black-and-white retro style
 of this template very appealing – it gets back to basics with a focus on the writer's craft. You can showcase your novels or poetry collections, tell your story in the Bio section, inform your audience about
upcoming events
, and
sell your books
 straight from the website. Also, this template lets visitors subscribe to your
newsletter
 to learn more about your latest activities.

Regardless of what kind of author you are, this template's sleek and sophisticated design will show off your work in the best light. The homepage displays your latest book cover, and there are specific sections dedicated to your background as a writer, your works, press reviews, and book signings. Much like with the
Emily Clark
 template,
reviews slide in horizontally
 against a subtle starry background. You also get a
preinstalled online shop
, so you can start selling your books right away.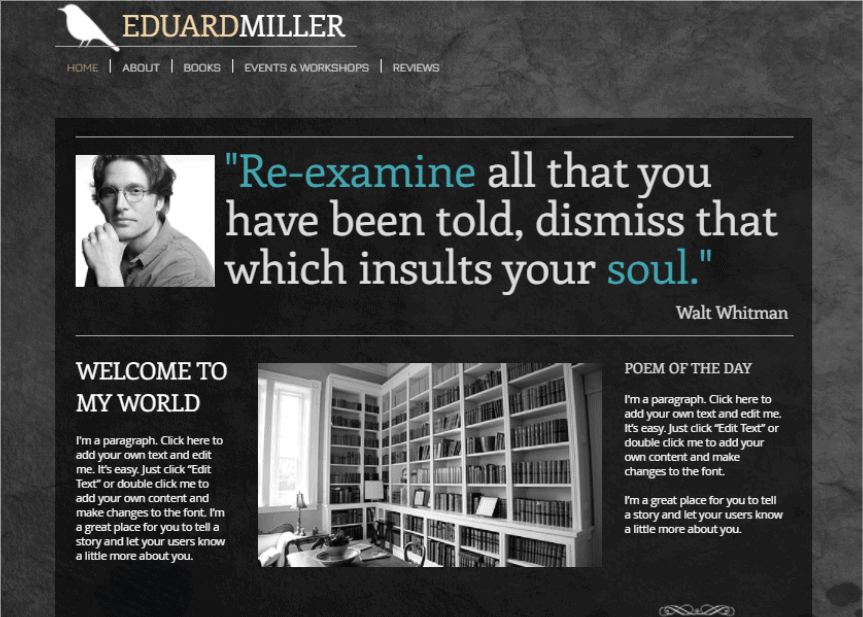 I love the "Edgar Allan Poe" vibe of this template,
and the Walt Whitman quote on the homepage makes it clear that
this template is designed for poets. Of course, you can customize this template to match your style, and with a little work, it can be a good choice for any writer. While many other templates make visitors scroll to find important sections, this one
puts all the essentials in the center
. You can upload your photos, share your story, and present a different poem every week to keep content fresh. Naturally, there are pages dedicated to your books, press reviews, and upcoming events, such as book signings and workshops. And the contact form at the bottom of the About page makes it easy for your fans to reach you.
Wix Templates for Writers You May Want to Avoid
Like I mentioned earlier, Wix's flexibility when it comes to customization is one of its greatest assets. Essentially, you can make any template reflect your style and personality with a little tweaking. However, if a template is
too far away from what you want to begin with
, that process can just take too long. Here are some of the designs that (in my opinion) just aren't worth your while.

Both
Tony
 and Daniel Lunsford have too much white space,
which makes the templates feel uninspired. I'm all for a minimalist approach, but white background and black text on every page seems a bit
too plain and boring
. These designs could work for some personal projects, such as CVs, but a writer's website needs to have
more personality
. It's all about attracting readers and making your website stand out, and these templates just don't have what it takes.
Other Wix Templates That Work Well for Authors
Because Wix is so flexible with the changes it allows you to make, there's no need to limit yourself to the Literary Arts category. If you're willing to move things around a little bit, there are some amazing designs hidden in other parts of Wix's template gallery.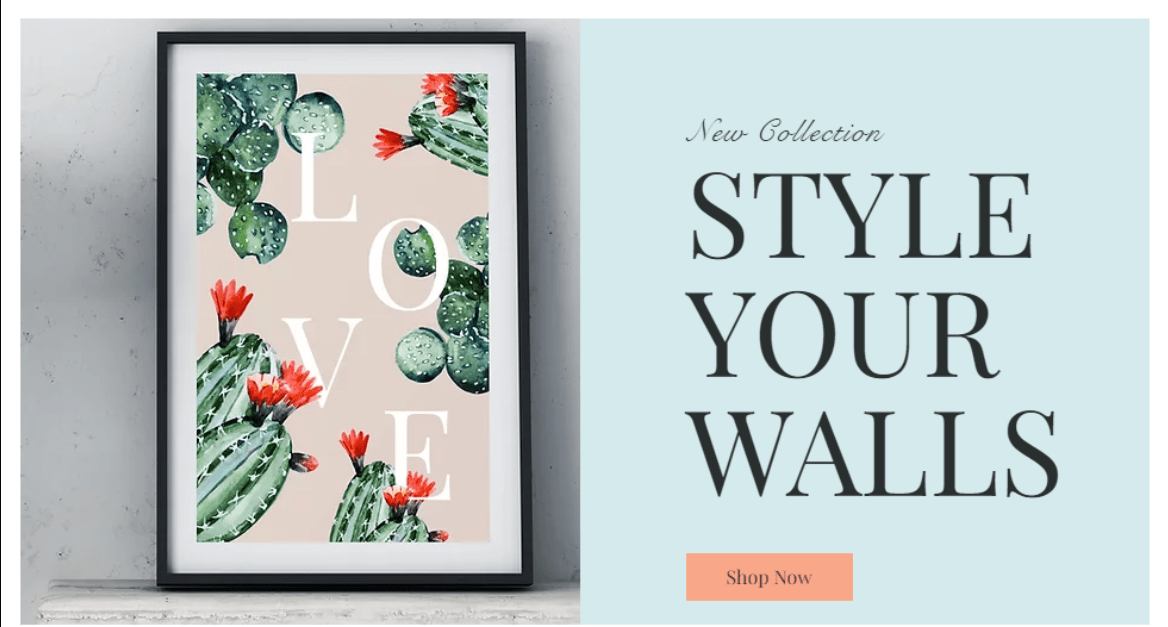 The
fresh and simple design
 paired with a subtle color palette is just the template you need to promote your publications. You can upload your book covers and you get a
pre-installed Wix store
 to sell your work. What's also convenient is the
built-in Instagram feed
 that shifts all the attention to your books. There's also an About section to share your story and a Contact page for readers to get in touch with you.

The
Personal Blog section
 has lots of templates that would work well for authors.
Bump & Beyond
may seem too niche, but with a few customizations it can be a great way to promote your books. The template's visually attractive design with
full-width images
 shifts the focus to your photos, and you can easily personalize it by uploading pics of your covers. As for functionality, this template comes with a
built-in Wix Forums app
, which can help you build a community of readers. Fans can leave comments, interact with each other, and share and post content to generate buzz for your books.

Don't shy away from searching through the Food & Travel section, either.
House of Keto
 is another great template for writers who want to sell their books directly from the site. The
Wix Stores App comes preinstalled, as does the Wix Content Manager feature
, which lets you organize your content into "collections" so that your readers can easily find what they're looking for. Another perk of this template is the
built-in Instagram feed
to keep your followers engaged. Every page puts emphasis on the images, so your covers will get all the attention. Of course, you can delete the pages you don't need, such as the Lifestyle page.
How to Choose the Right Template for Your Writing Persona
Your website will represent your style and personality as a writer, so the template you choose needs to appeal to
you
first and foremost. The right template will help capture your authenticity and prompt the reader to learn more about you and your work. Remember,
your site's design is the first thing visitors will notice
, so don't be afraid to browse other template categories and pick something that works for you. With Wix's enormous template gallery, you're sure to find one you like.
FAQ
Is Wix good for writers?
Wix is a great platform for writers: not only does it have a special template category for the literary arts, but it also has a free plan that comes with convenient features for authors, bloggers, and journalists, such as the ability to add reader reviews, an event calendar, and more. Read our in-depth review of Wix to learn all about its apps and functionality.
Does Wix own your content?
Wix doesn't own your text or images, but you can't download your site or any of its pages from Wix – and you can't export them to another platform. If you decide to switch to another website builder, you have to manually copy the content from your Wix site into a document on your computer and then paste it into the new builder's editor.
What is the best website builder for authors?
It all depends on your needs. Wix has a special template category dedicated to writers, and all the templates in this category include some important features for authors, such as press reviews, forums, and built-in online stores. Squarespace doesn't have an author-specific category, but its templates are some of the most modern and elegant around (plus, they're automatically mobile-responsive). Weebly is the most affordable option if you plan to sell books directly from your site, while SITE123 offers the quickest way to get your site online. Check out our list of the best website builders for authors and writers in 2023 to help you make an informed decision.
How much does Wix cost per month?
Wix's website plans start at around

$

16.00

per month, which is quite affordable. For even better deals, visit our coupon page to get discounts on annual plans. And if you decide not to go with Wix, you'll find other website building options on our list of the best website builders for 2023.