Use it well, and it can make visitors want to keep scrolling for more
. But do it poorly, and it can slow down your site and look gimmicky. With Wix, you don't have to worry much about striking that delicate balance between visual appeal and usability. Since
Wix features tons of professionally designed templates with parallax scrolling built in and ready to go
, it's just a matter of finding the best one for your website. I've built multiple websites with Wix, and when I needed a template with parallax images, I discovered dozens. Some parallax Wix templates go all-in with the effect, and some get pretty creative. I'll show you
my top picks
and explain why I like each one. I'll even mention some that look stale before sharing a
couple of templates that are particularly unique
.
Wix Templates with the Best Parallax Effects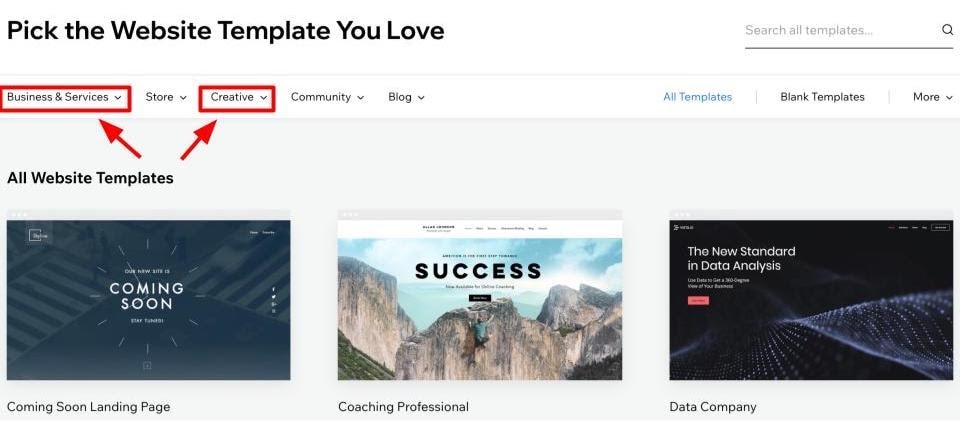 You'll get the most out of parallax scrolling if your website is highly visual and has a clear focus on something you want to show or sell. That's why
you'll find most parallax-ready templates in the Business & Services and Creative categories.
Here are some of my favorite templates from these categories that make parallax scrolling an integral part of the user experience.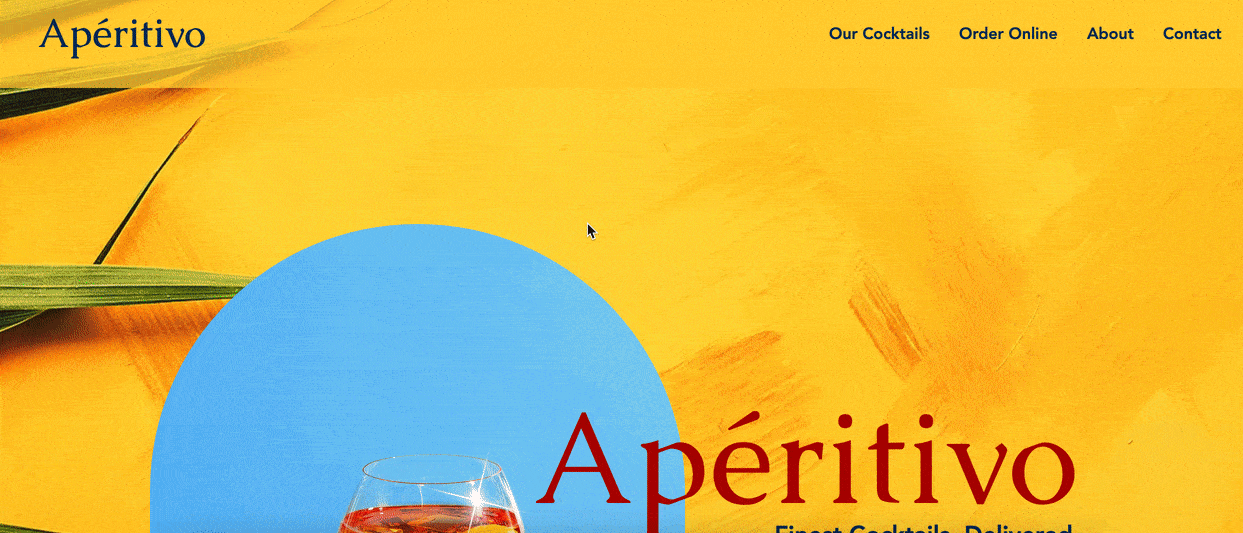 Lots of templates in the Restaurant & Food subcategory feature large images and parallax scrolling to appeal to visitors' eyes as well as their appetites.
Cocktail Delivery Service
 has
a classy, jet-setting vibe
. The header features a large title paired with a photo cropped to resemble an airplane window, offering visitors a peek before they scroll down the page for more. And they'll definitely want to, with this bold and beautiful parallax template.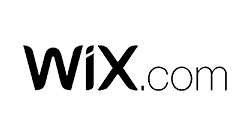 Save up to 33 % on your Wix plan!
Limited-time offer - Don't miss it!
Your Wix with your first % on 30/06/2023!
3901 users used this coupon!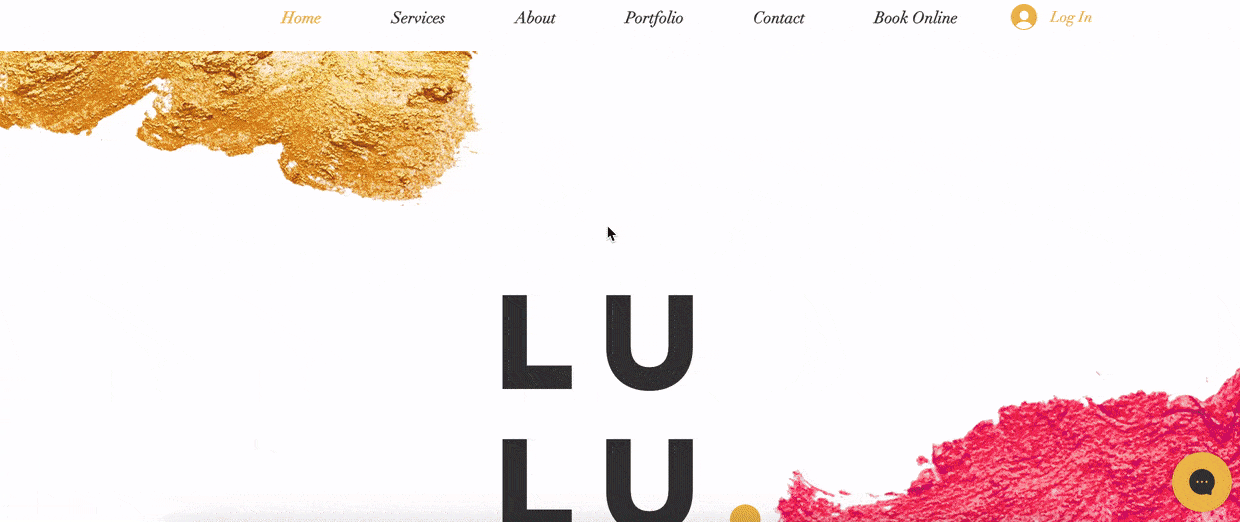 Professional Makeup
 is a landing page template that
uses parallax effects in both the background and the foreground
. As you scroll, textured splashes of makeup give way to a full-screen image that shows what you're all about. The painted-on texture returns as a colorful backdrop to your About and Contact sections.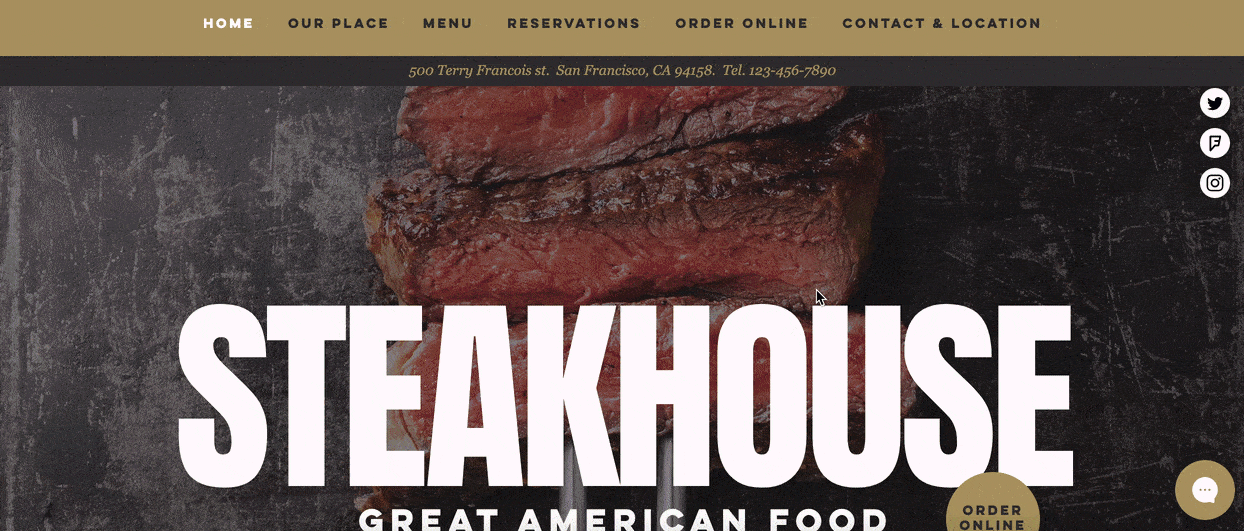 This sophisticated
Restaurant
template is a great example of how you can use parallax effects to mark out a five-course dinner's worth of content – all on one page! Every section is underpinned by a different background photo or illustration, and scrolling down the page is like uncovering the lid on each subsequent dish. The background alternates between light and dark to
call attention to important sections
 like the
Make A Reservation
form.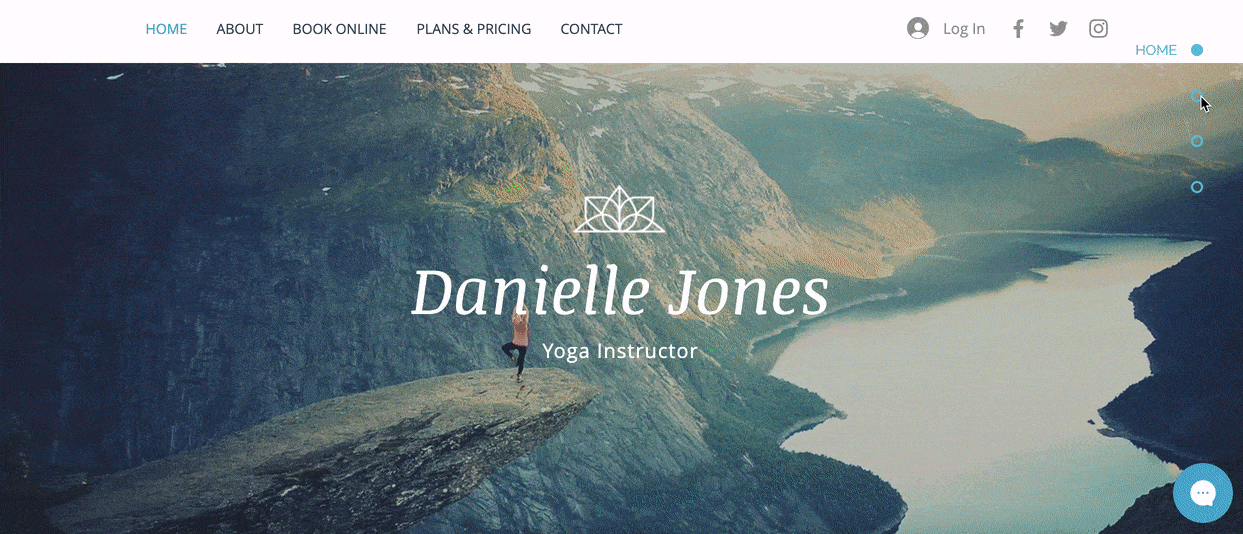 The
Yoga Instructor
template lets you lead with your stunning photos while leaving lots of breathing room for your text. There are no opaque background images for your words to get lost in, so
your photos and text complement rather than compete with each other.
As you scroll down, the top navigation bar is replaced with lightweight navigation nodes on the right side of the screen that show your progress on the page. The template also has two parallax-scrolling images stacked on top of one another, which makes for a cool reveal as the second image appears.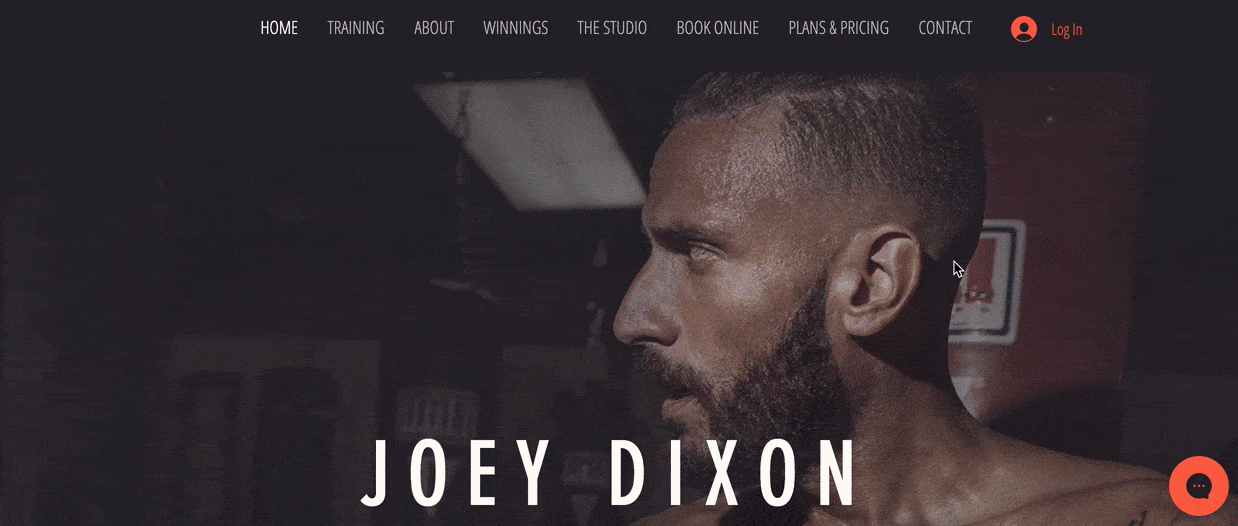 Fitness Trainer
is very much in your face – but it works. This template has parallax-scrolling background images everywhere: in the header, in the navigation, and in almost every section of the page.
If you have lots of photos, it's an efficient way to show them together
 and hype up your killer content. I also like how the About the Coach section features a huge photo to complement the text. This layout lets you do the showing and the telling all at once.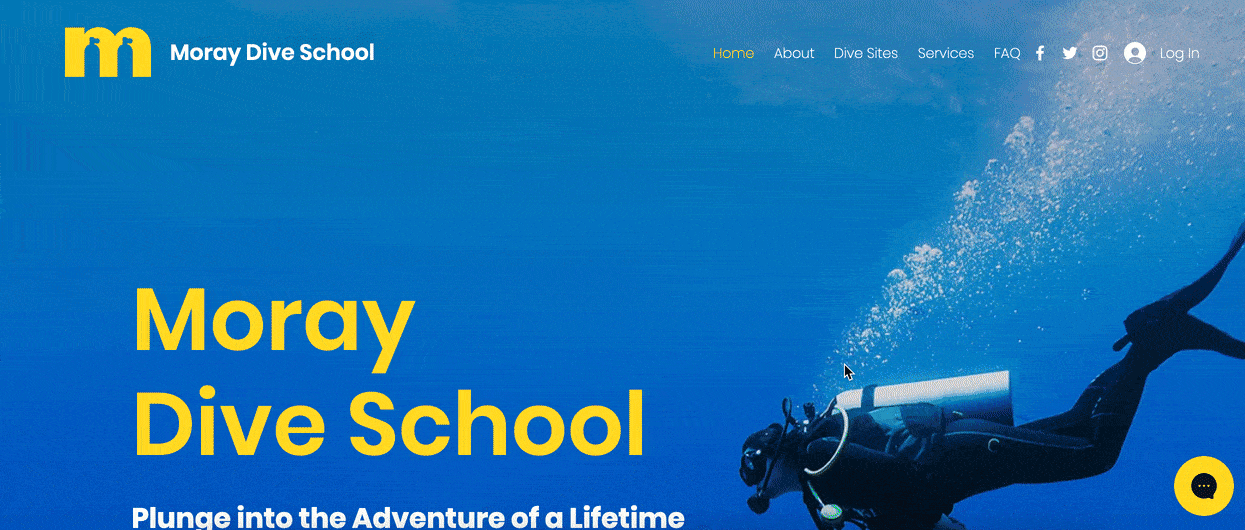 SCUBA Diving Shop's
huge images are beyond fullscreen.
This parallax effect takes advantage of visitors' curiosity,
 since the bottom half of each photo is actually revealed as they scroll. The underwater photos in the demo are incredible, of course, but this template could work well in other niches too. For example, it might be a nice choice if you have
massive, hi-res photos with interesting
 details (think interior design, landscapes, etc.). And since there's so much space, text and call-to-action buttons don't have to be giant to stand out.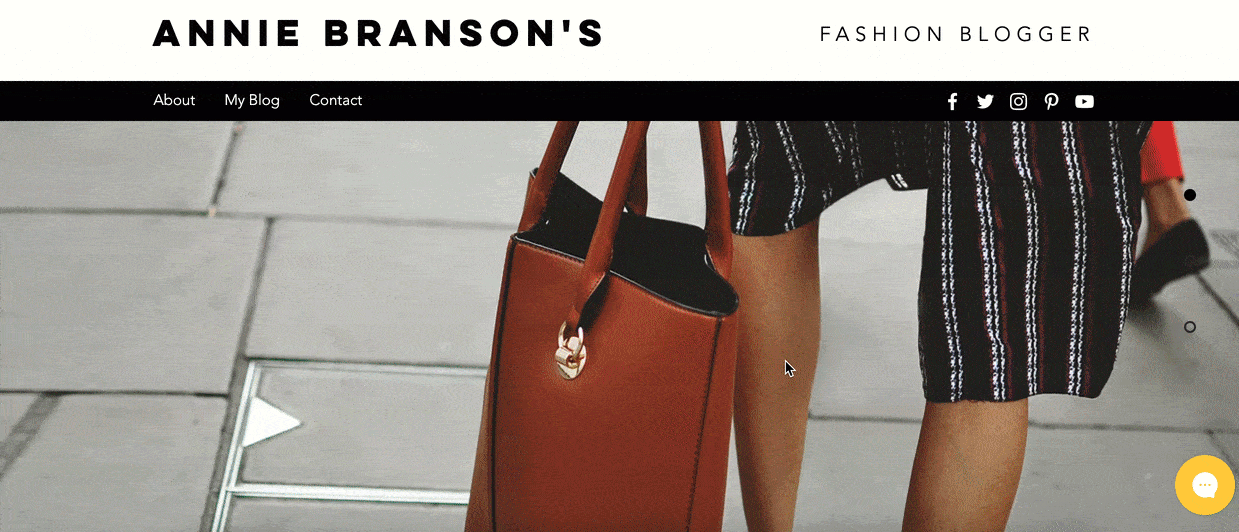 Who says parallax scrolling has to be limited to landing pages?
Street Fashion Blog
 shows how the effect can make your blog look effortlessly cool. The main photo sets the stage while a second parallax-scrolling photo acts as a divider between the About Me section and your blog posts. It actually
works really well, especially if you have a highly visual blog
 such as a fashion blog.
Parallax Wix Templates That are Uninspiring
Adding a parallax effect can give your website the modern touch it needs, but beware. The effect first gained popularity in the mid-2010s, and some parallax-enabled templates might look dated. Others use the effect in unnecessary ways that don't add much to the overall design.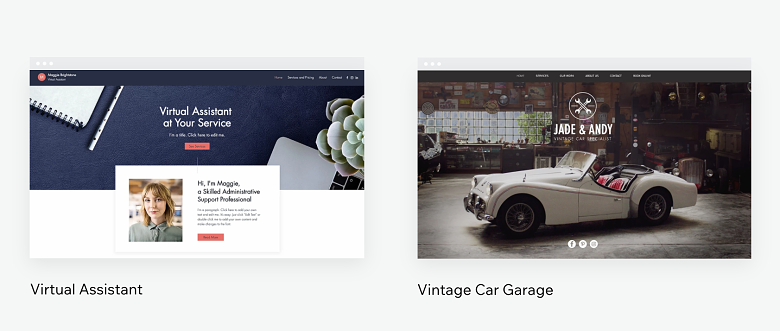 Virtual Assistant
is fine for a simple personal page, but the desk header image is boring and cliche. Of course, it's just a template and you can swap out the photo with something else, but for a CV site like this one, do you really need a parallax-scrolling header? You probably want your photo or qualifications to take the center stage, rather than the header image.
Vintage Car Garage
uses parallax in lots of places. Some, like the header effect, look good.
But parallax scrolling in other places, like the tiled background texture behind multiple sections, is unneeded.
You could get creative and edit out the effects, but that's work that other, better templates don't make you do.
Wix Templates That Get Creative With Parallax
Think parallax sites all look sort of… similar? They don't have to. There are some templates that get pretty artistic and creative. What if you layered your images? Or, what if you didn't just use the effect on main photos or fullscreen backgrounds? Most of the Wix templates I've listed so far are pretty straightforward when it comes to using parallax scrolling. But here are a couple of
inspiring templates that get very creative with the effect.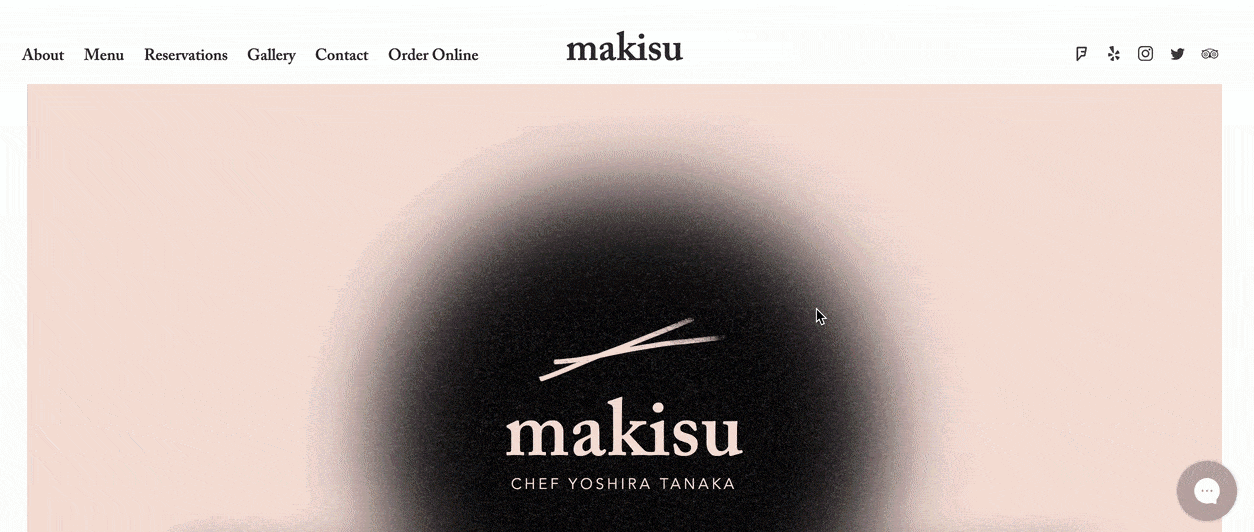 Why use only one image at a time when you can layer them?
Japanese Restaurant
is a beautifully designed template that looks simply delicious. Here, abstract illustrations float over photos that introduce menu items and the head chef. It's a great way to
show off your fine photos while emphasizing the detailed quality and care that set your business apart.
The two-by-two grid lets you combine important navigation buttons, like Menu and Order Online, with a pretty About section and large photo.
This flashy event template uses parallax to make its Schedule section really stand out. (Yes, a schedule section sounds boring, but if you're hosting an event it'll be the most important feature on your site!)
It also spices things up with a timetable that's wrapped inside a parallax-scrolling photo.
 It's a nice idea and a great way to frame a vital part of your site. I also like the sticky table of contents on the right side of the page, similar to
Yoga Instructor
. The clickable red circles show visitors their progress and allow them to quickly jump around.
Pick the Right Parallax Wix Template for Your Site
When it comes to
Wix templates with parallax scrolling
, this list is just the tip of the iceberg.
Just because a template is in the Food category doesn't mean you can't use it for your awesome portfolio site. Parallax scrolling is a versatile design choice, so don't be afraid to roll up your sleeves and get creative with your template selection. There are so many great designs to choose from, and the choice really comes down to what you want to do with your site. For example, you'll want to decide
where to use parallax scrolling on your site
before you get started.
The number of images you have will also be a factor. Some of the templates on my list feature just one or two images, while others use more than a handful. Each one provides different inspiration and great potential for your next parallax scrolling website.
FAQ
Are Wix templates free?
Yes, you can use any of Wix's 900+ website templates on the free plan. The main limitations are in storage space and bandwidth. Also, you can't connect your website to a custom domain or access advanced features like e-commerce tools – but you'll have access to lots of other Wix apps. To learn more about what's included in the free plan, read our expert Wix review. And if you decide you need more features than what a free plan can offer, check out our coupons page for deals on paid plans.
How do I add a parallax effect on Wix?
You can add a parallax scrolling effect to any strip that has a background image. To create a strip, click Add on the left-hand side of the editor and choose one of the strip types. Once the strip is loaded onto your page, click the Background Scroll Effects button and select Parallax from the list of effects. It's important to mention that parallax effects are only enabled on desktop views of templates and are not supported on mobile and tablets views. Fortunately, every template can be previewed on desktop and mobile, so you can get a full idea of how the design looks on both devices.
How can I make my Wix page longer?
You can increase the length of your Wix page by adding content using the Add button. There are nearly two dozen apps and elements to choose from, including text, buttons, menus, photos, fully functional online stores, and more. Once you select the feature you want to add, you can customize its look and order on the page by dragging and dropping it up or down the page. You can add unlimited sections, but keep in mind that pages with more content and more effects have longer loading times. Learn more about building a website with Wix with our 10-minute crash course guide.
 Which is better, Wix or WordPress?
WordPress is held in high esteem by bloggers, but Wix is our top-rated website builder for a reason. Wix's drag-and-drop editor is much easier to use than WordPress's CMS, so you can get right to building your site without reading lots of how-to tutorials and documentation. Plus, Wix's generous free plan gives you access to hundreds of templates and a wide selection of apps. For more info on how Wix and WordPress stack up against each other, read our full head-to-head comparison.