with the right builder, creating a site that captures what's unique about your love story and special day can be fun and stress-free.
Will it be expensive, you ask? Actually, it doesn't have to be. "Specialized" wedding site builders charge a premium for even basic plans and a custom domain name (URL). They also offer subpar templates and place frustrating limits on how much you can personalize your site. Not to mention that some may even share your data with third-party services. That's why I steered clear of these services, and looked at
affordable, industry-leading all-purpose site builders
instead. To find out which ones truly deliver, I tested dozens of builders and found the top six for wedding websites.
These builders offer feature-rich plans with plenty of customization options and all the functionality you need to get your guests ready for the big day.
Short on Time? These Are the Best Wedding Website Builders in 2023
Wix – Best for a customized wedding website with integrated planning features.
Squarespace – Striking templates for visually inspired wedding websites.
Hostinger Website Builder – Fresh, modern wedding websites built with help from A.I.
What We Look For in the Best Wedding Website Builders
When testing the most popular wedding website builders, I focused on these key features:
Template design. The builders on this list offer high-quality wedding templates, which make it easier to create a website for your big event. These templates are also mobile-friendly, so you can be confident your site will look good on any device.
Personalization. Just like their love story, every couple wants a one-of-a-kind experience – and this includes their wedding website. With these builders, changing colors, fonts, and layouts is just the beginning. You can also add extras like event calendars, playlists, videos, and more.
Ease of use. The website builders on this list all have user-friendly editors (drag-and-drop, point-and-click, or block) that actually make designing your wedding website fun.
Wedding-planning features. Most of these builders offer practical tools to help you manage wedding details, from tracking RSVPs and guests' special needs to automating "thank you" emails and "save the date" notifications.
Custom domain. Each of these builders lets you create a custom website URL, so your site is easy to find – and ad free. You can choose a combination of your first names and even add a favicon.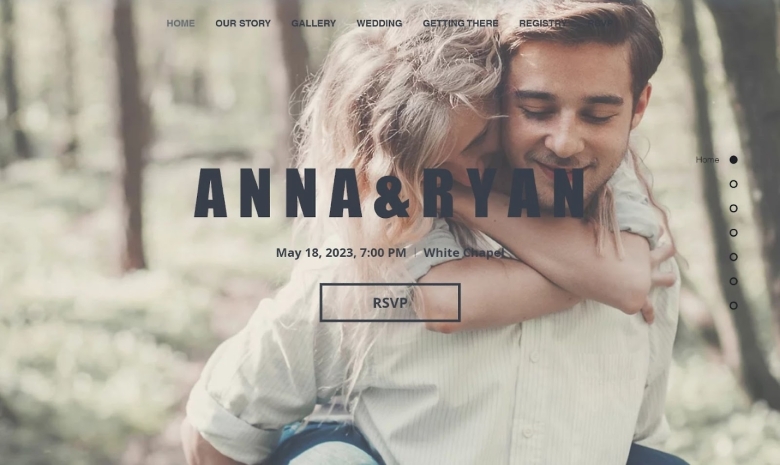 Whatever your style or personality – traditional or modern, elegant or trendy – Wix has a wedding template to suit you. Even better,
Wix templates have dedicated wedding features
and tools built in
, making it easy to share full ceremony and event details, suggested accommodations, and more. With so many wedding details to think about, you'll also appreciate
Wix's intuitive interface and drag-and-drop editor
, which make personalizing your template easy. Adding pages, changing colors and fonts, and uploading photos and videos is all done in minutes. If you upload your guest list, you can use
Wix's email marketing tools to design and send digital invitations that match your site's style
. You can also automate any wedding updates, "save the date" reminders, and RSVP confirmations. What's more,
The Wix App Market
is stocked with 250+ add-ons to meet all your planning needs.
Features
Wedding planning tools. Track and manage your guest list with the Wix Events app, and you can download the Wix Owner app for Android and iOS to manage all aspects of your website on the go.
Shareable wedding playlist. Music sets the mood for your celebration. Wix lets you share your wedding playlist on your site, and even add lyrics so guests can sing along.
Wedding logo design. Use the free Wix Logo Design tool to create your very own wedding logo and feature it on all your wedding communications, including print invitations and RSVP cards.
Online registries. Wix gives you two ways to link your gift registries: you can add registry buttons with store names or display your registries as clickable store logos.
Read our expert Wix review for more details
.
Number of Templates
800+ total, 20+ wedding-specific
Free Custom Website Domain
Yes (1 year with annual plan)
Mobile Optimized

✔

Starting Price

$

16.00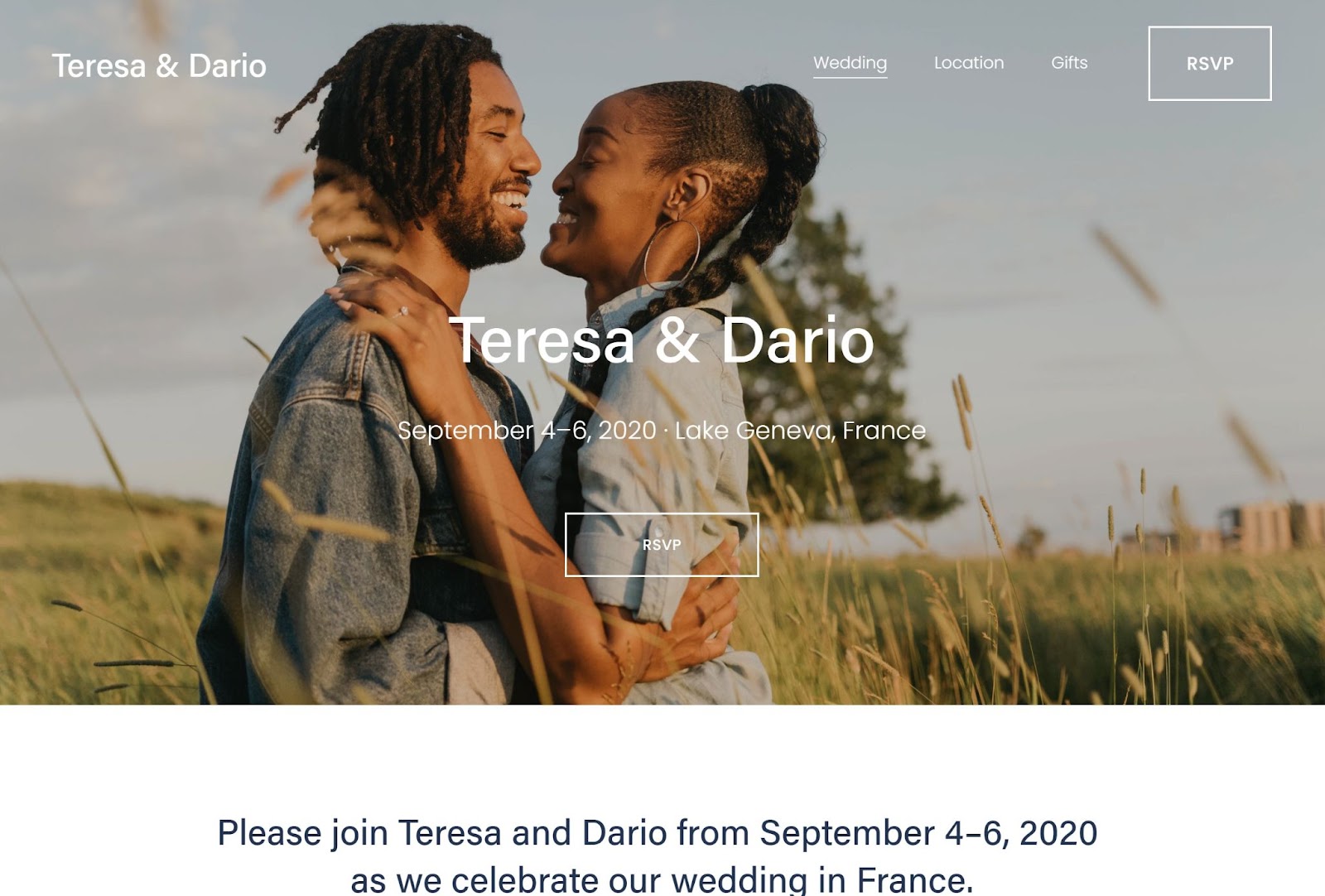 Squarespace's gorgeous, responsive templates
are one of the best ways to create a wedding website that captures the mood of your big day. Each template is intuitive and easy for your guests to navigate. Once you select your template, you can add individual pages for multiple wedding events or present all the details on a single page. Consider adding an FAQ page or an event calendar so that guests can quickly find important information. Other features let you
share suggested hotel accommodations and easily embed links to allow guests to book rooms through your website
– a huge plus if you're planning a destination wedding. If you want to update your website after the wedding with photos and videos that you and your guests can enjoy long after you say "I do,"
you won't have to worry about caps on photo storage – it's unlimited on every Squarespace plan.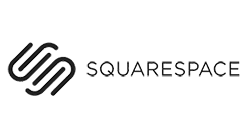 Save up to 30 % on your Squarespace plan today!
Plus get a free domain for one year!
1031 users used this coupon!
Features
Beautiful galleries. Easily share photos and videos with family and friends of your courtship, engagement, and ceremony. Several gallery layout options, slideshows, built-in lightboxes, and subtle animations can spice up your site.
Track and manage RSVPs. By linking your customized RSVP form to your email, you can track and manage guest information and automate notifications.
Registry options. Create a cash registry or use thumbnails and image blocks to link to your external gift registries. If you have a Zola registry, you can even display a selection of gifts that guests can browse without leaving your site.
Social media integration. You can link all your social media channels and embed a social feed on your website to share wedding news, photos, and updates.
Read our expert Squarespace review for more
.
Number of Templates
140+ total, 7 wedding-specific
Free Custom Domain
Yes (1 year with annual plan)
Mobile Optimized

✔

Starting Price

$

16.00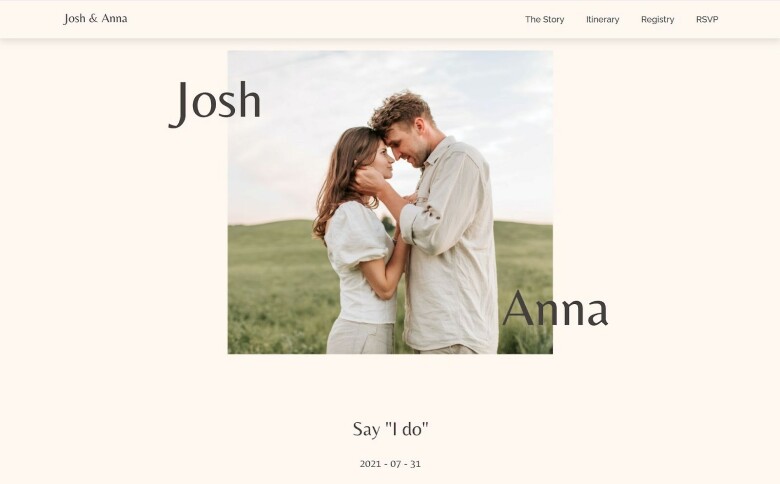 With just seven in all, Hostinger Website Builder has a smaller selection of smart-looking wedding templates – but if you don't find one that has the right look and style,
Hostinger's AI builder will create a wedding template for you.
Using Hostinger's drag-and-drop editor, you can add or remove features and rearrange elements and layouts.
When you drag an element from your dashboard, the grid snaps it into place so your wedding website will always look sharp.
You can add features like an online RSVP form or an FAQ page where guests can conveniently check details like dress codes and event itineraries. You can also integrate Facebook Live Chat to instantly connect with far-flung friends and share your excitement in real time.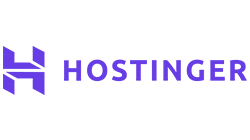 Save up to 85 % on your Hostinger Website Builder plan today!
Limited-time offer - Don't miss it!
65 users used this coupon!
Features
Enhance images. Hostinger offers smart tools that can remove distracting backgrounds from your photos and improve image quality.
Helpful AI tools. If you're not sure how to write your wedding story, the A.I. Writer will develop content for you. You can also use Hostinger's free smart tools to design a personalized wedding logo.
Unlimited storage. There's no limit to the number of photos you and your guests can share. Storage is unlimited on every plan.
App integrations. Hostinger offers a selection of useful apps for your website. For example, you can add an event calendar, music player, or Google Map to help guests locate venues and pull up directions.
For more information,
read our expert Hostinger Website Builder review
.
Number of Templates
150+ total, 7 wedding-specific
Free Custom Website Domain
Yes (1 year with annual plan)
Mobile optimized

✔

Starting Price

$

2.61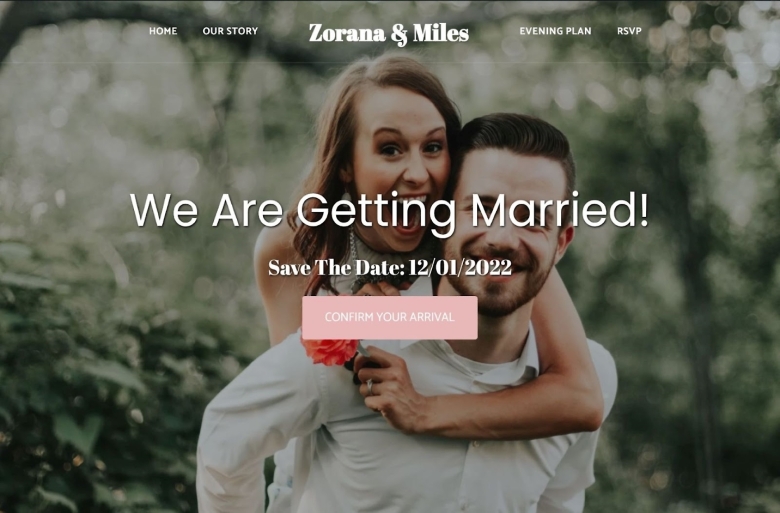 You can start with any of SITE123's responsive templates to build an appealing wedding website
– they're that easy to personalize. What's more, every template is fully responsive, so you never have to worry about how your site will look on a tablet or phone. With SITE123's point-and-click editor, you can easily add sections or pages, swap a homepage image for a slideshow or background video, and change the typography's size, style, and font. It's full-screen homepage images are ideal for showcasing your favorite close-up.
No builder makes it as easy as SITE123 to switch between a one-page and a multi-page wedding website.
All you have to do is toggle a button on your dashboard to choose between the two options. Plus, you have the option to switch back at any time. SITE123 will automatically reconfigure your site for you
–
even after you've published.
Features
Multimedia galleries. You can create slideshow, carousel, or rounded image galleries to share your photos. SITE123 even lets you add videos to your galleries so guests can stream the most memorable moments from your wedding day.
Multilingual website. With a premium plan, you can set your website to auto-translate into multiple languages. Guests can then use a pull-down menu to select their preferred language.
Guest list management. You can use the contact form to gather RSVPs and have them sent directly to your email address. And with the Schedule Booking tool, your website can be a central hub for managing your guest list.
Password protection. You can protect your privacy – and that of your guests – by password protecting your website.
Read our expert SITE123 review for more details
.
Number of Templates
180+ total, 1 wedding-specific (in the "Events" category).
Free Custom Domain
Yes (1 year with annual paid plan)
Mobile Optimized

✔

Starting Price

$

12.80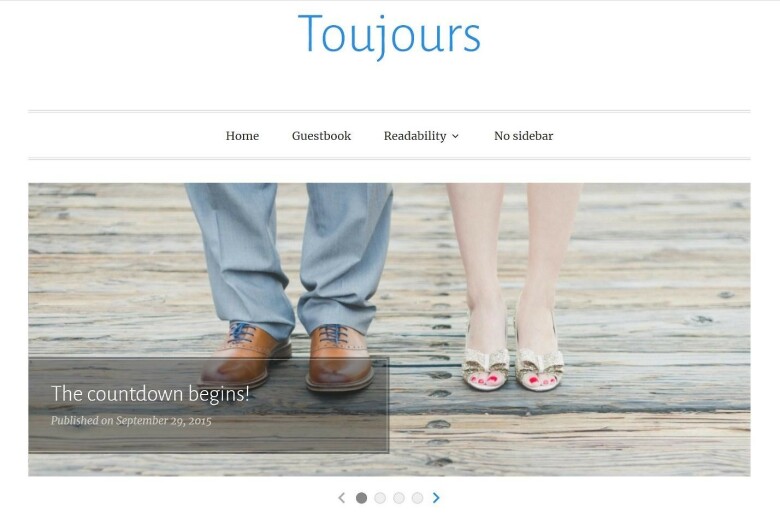 Tech-savvy couples may want to consider WordPress for its powerful tools and flexibility. While there are just a few recommended wedding themes,
you can customize any of WordPress's 140+ themes to fit your personality and wedding style.
Changing your theme's colors, fonts, and layout is easily done with the block editor. Simply click on the "+" button on your dashboard to add pages using pre-built layouts, or start from scratch with a blank page. You can use blocks to add text, personalized photo galleries, slideshows, videos, and more to your pages.
WordPress offers tons of widgets and plugins for adding extra features to your wedding website.
For instance, adding a Map block will make it easy for guests to locate your wedding ceremony/reception venues and download directions if needed.
If you want even more features, you can upgrade to the WordPress Pro plan.
This will unlock premium wedding-specific themes, thousands of plugins, and more.
Features
Digital guestbook. You can create a guestbook page to let friends and family share their memories and photos, and congratulate you on your upcoming nuptials.
Countdown timer. Adding the Event Countdown block helps to build excitement about your upcoming wedding. If you're comfortable working with CSS code, you can style the timer to match your site's theme.
Guest management. After you personalize your RSVP form, you can add the Follow Blog widget to keep guests updated as the big day approaches. You can also create RSVPs for other events, like a bachelorette party or rehearsal dinner.
Media galleries. Keep guests engaged by sharing favorite images in galleries or slideshows, uploading albums, or even streaming a video of your nuptials.
Want to know more?
Read our full WordPress.com review
.
Number of Templates
140+ themes, 6 recommended for weddings (+ more with a premium plan)
Free Custom Website Domain
Yes (1 year with annual plan)
Mobile optimized

✔

Starting Price

$

4.00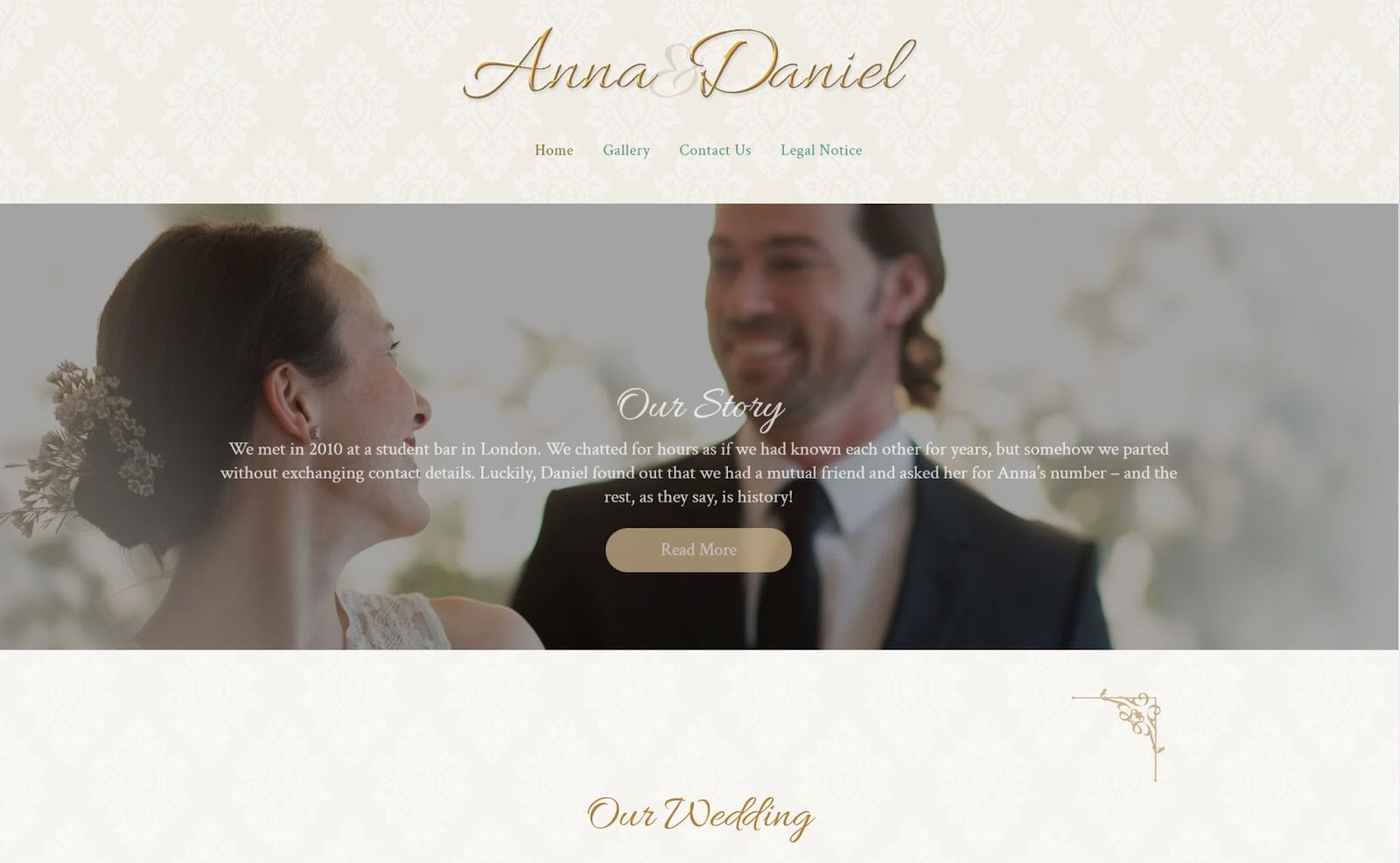 Nothing could be easier than creating a mobile-friendly wedding website with the basic MyWebsite Now builder from IONOS.
But if you want additional design flexibility and features, I'd suggest using IONOS's more upscale MyWebsite Creator instead.
The MyWebsite Creator offers traditional wedding templates, which, with a little effort, allow you to craft a website that aligns with a contemporary or refined wedding theme. Just select an alternate font, modify the color scheme and layout, and incorporate your own photos and videos to add a personal touch. IONOS's Apps provide practical features your guests will appreciate. For example, adding a Google Event Calendar makes it easy for guests to review relevant dates and make arrangements. And
the Menu app lets you share your wedding menu on your website and invite guests to submit their meal preferences.
Features
Multilingual functionality. When you activate automatic translation, your wedding announcement can be viewed in up to 60 different languages.
Personal support consultant. IONOS offers 24/7 customer support with a perk: a designated consultant, available during business hours, who will guide you through the design process.
Social media integration. IONOS lets you link all your social media platforms. For example, you can embed videos you've posted on your Facebook page, upload images from Flickr or Pinterest, and add YouTube videos to your site.
Photo editing tools. The photo editor lets you adjust brightness and saturation, crop images, and add Instagram-like filters, text, and backgrounds.
See more features in our full IONOS review
.
Number of Templates
400+ total, 7 wedding-specific
Free Custom Website Domain
Yes (1 year with annual plan)
Mobile optimized

✔

Starting Price

$

6.00
The Best Wedding Website Builders Make It About Your Needs
When it comes to choosing a website builder for your wedding announcement, you'll want to pick one that offers a complete package – beautiful wedding templates, helpful management tools, and ample personalization.
Wix takes first-place for its template selection, user-friendly drag-and-drop editing, and plentiful features and functionality.
It's the best platform for couples who want complete creative control over their site's design. If you're looking
for a stylish, visually-focused website, Squarespace is your best option.
You'll get wedding planning tools that let you organize your guest list and share full event details (including the menu) for your big day. If you're new to website building, you may want to
go with Hostinger Website Builder for its simple builder and A.I tools
, which can help you design an attractive website.
If you're unsure of which builder to use, I've summarized their key features in the table below.
Free Plan
Best Feature
Best For
Starting Price
Wix

✔

Templates and tools for fully customized websites
Couples that want complete personalization and planning tools

$

16.00

Squarespace

✘

Visually-inspired templates
Couples who want an image-focused wedding website

$

16.00

Hostinger Website Builder


✘

AI website design tools
Time-pressed couples who need help with content

$

2.61

SITE123

✔

Beginner-friendly builder
Couples who want a  fast and easy website building experience

$

12.80

WordPress.com

✔

Tools, widgets, and plugins for limitless customization
Couples with technical skill or time to learn

$

4.00

IONOS

✘

Budget-friendly plans
Couples willing to forgo full customization for affordability

$

6.00
FAQ
Which is the best website builder for a wedding site?
Wix offers 20+ designer-made wedding templates and tons of apps and built-in features for planning and guest management. It's the best option for creating a custom wedding website that reflects a couple's unique personality and wedding theme. Wix offers a 30-day money-back guarantee so you can test its premium features risk free.
What should I include on my wedding website?
A good wedding website puts your story and all the details front and center: the date, time, events, and venues, plus a prominent RSVP. Photo galleries and social media feeds will get guests excited about your upcoming ceremony. If you're inviting lots of out-of-town guests, you should also include hotel accommodations (with booking links) and suggested nearby activities. If this is your first time building a website, you may want to take a look at our step-by-step guide to website design in 2023.
Is Squarespace good for designing a wedding website?
Squarespace is one of the best wedding website builders for couples who want a polished website that showcases their visual memories. It's a good platform if you're looking for creative control over your site's design together with dedicated wedding features, like integrated registries. Squarespace's 14-day free trial gives you ample time to test the platform. If you're still unsure of which platform is best for your wedding website and are looking for more options, our list of the best website builders in 2023 can help.
When should you publish your wedding website?
A good rule of thumb is to start designing your wedding website a year in advance, but when you publish your website will depend on the type of wedding you're planning and your guest list. Couples planning destination weddings, for example, will want to give their guests extra time to make arrangements for travel and accommodations.