The font that you choose says something about your brand's personality to your audience
: Are you classic or modern? Serious or fun-loving? Is your brand loud and bold, or more quiet and subdued? These are important questions that you should be asking yourself when developing your brand and promoting your products. No matter what font you end up choosing, it should be integrated throughout your website and marketing materials. Check out our picks for the
best website builders
that can help you construct your perfect website. Large brands will often spend thousands of dollars—or more!—to develop a custom and proprietary font. Most small businesses don't have the resources to cover this cost, nor is it necessary.
Nowadays, there are a number of websites that offer countless fonts for free, which can match any style or occasion.
Here's a look at some of the best.
#1: Google Fonts
With everything that Google does, it should come at no surprise that they also have an open source typeface market. Click the font page to read its history, learn about its designer, and see examples of type or add your own. You can see popular font pairings, and download all styles in a font family at once. There are
nearly 900 font families to explore, the vast majority of which are fairly standard with good readability, including serif, sans serif, and handwritten options.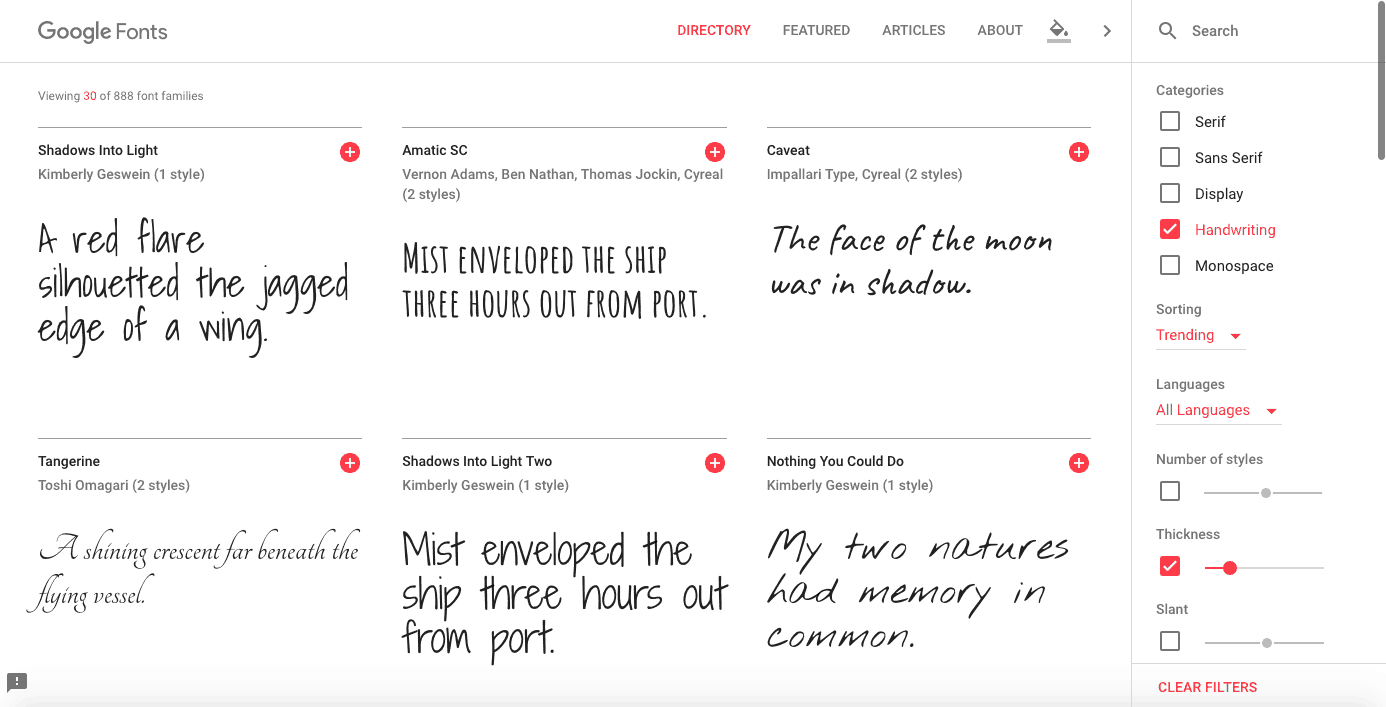 #2: FontSpace
At FontSpace, you can download one of 36,000+ fonts in seconds. There are previews and download buttons right on the homepage.
What sets this platform apart is its vast and intuitive filtering system
, helping you easily find styles that are "vintage," "floral," "scary," "funky," etc. You can also browse by font designer, new arrivals, popular fonts, or at random. Save your favorites as you explore the website to build a shortlist of the fonts you are considering.
#3: Behance
Adobe's Behance is technically a social network for creative freelancers. While they don't specialize in fonts, you can choose the "typography" category or enter "free fonts" in the search field to
find some of the most unique and artistically-focused fonts on the internet
. However, you should note that many are only free for personal use. You will need to purchase a license if you plan to use the font for commercial purposes, although most of the costs are quite reasonable.
#4: Font Squirrel
Font Squirrel pulls its inventory from a number of different sources, although all of the featured fonts are supposedly 100% free for commercial use—to varying extents. This means that
there is no "personal use only" restriction on any free font.
Each option indicates if the font can be used for commercial documents, embedded on your website with CSS, used in e-books, or embedded in software and applications. This range of usage makes Font Squirrel is a great place for business owners to look for options that match their marketing needs.
#5: DaFont
DaFont has 36,000+ fonts to choose from. You'll see clearly indicated whether the font is "100% free" or "free for personal use" (i.e., no commercial usage). Make sure that you pay attention to the individual licensing rights of each to ensure that your selection will meet your needs. You can search for fonts by keyword, or filter from a variety of stylistic categories.
DaFont stands out in its collection of dingbat options, which are basically the original emojis of the typeface world
. This can be a good way to give your company more creative ways to visually express your brand.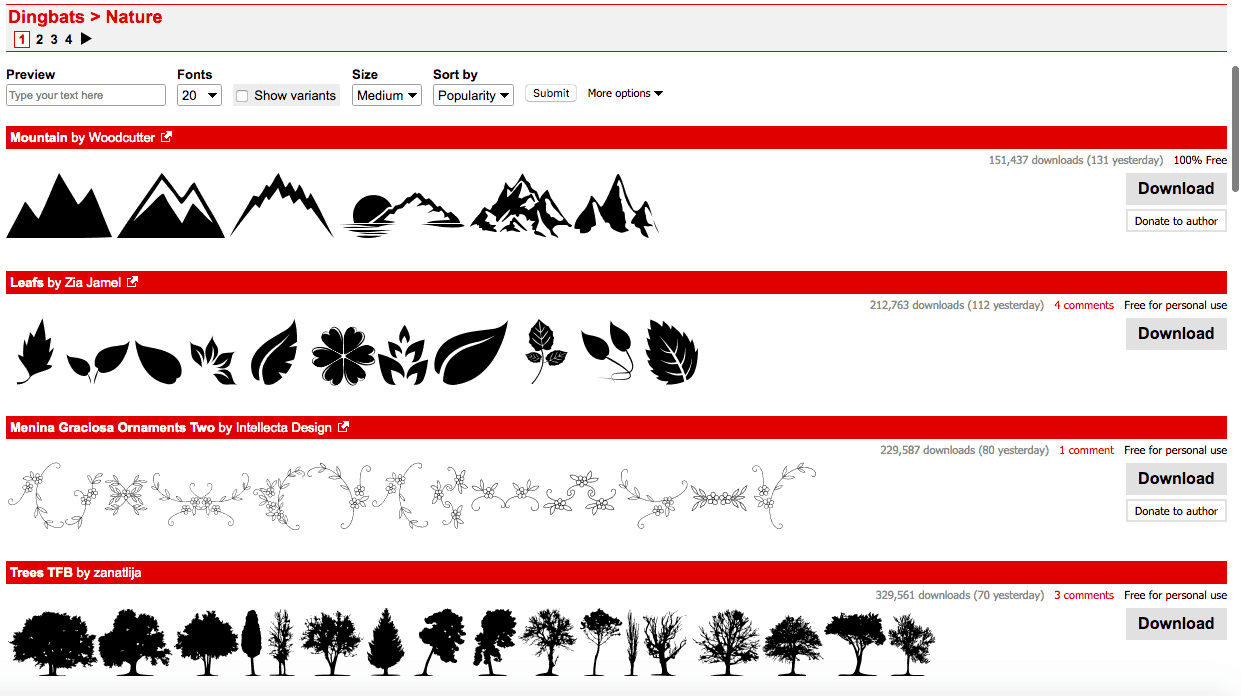 #6: Abstract Fonts
Abstract Fonts might not have the most modern interface or intuitive UX, but it does offer
a wide number of options for those looking for a unique and bold typeface.
The majority of the fonts are extremely niche, and include categories such as "fuzzy," "esoteric," "military," and "ransom." If you have a young audience, or your brand often creates fun and versatile marketing materials, it's worth checking out the options. Any commercial use restrictions are indicated in the preview.
#7: FontFabric
While FontFabric only has about 130 different options,
one of the best features of the site is that many include comps showing how the font would look on different websites, stationary, and advertisements.
This is extremely helpful in envisioning how the font can come to life for your brand. And don't be fooled by the limited inventory; each font is distinctive, giving the overall collection a very artistic feel compared to some of the other websites on this list.
The vast majority are free for both personal and commercial use, and can be imported and modified as you like.
Read the details carefully, as some require specific software for all of their elements (such as color) to work properly.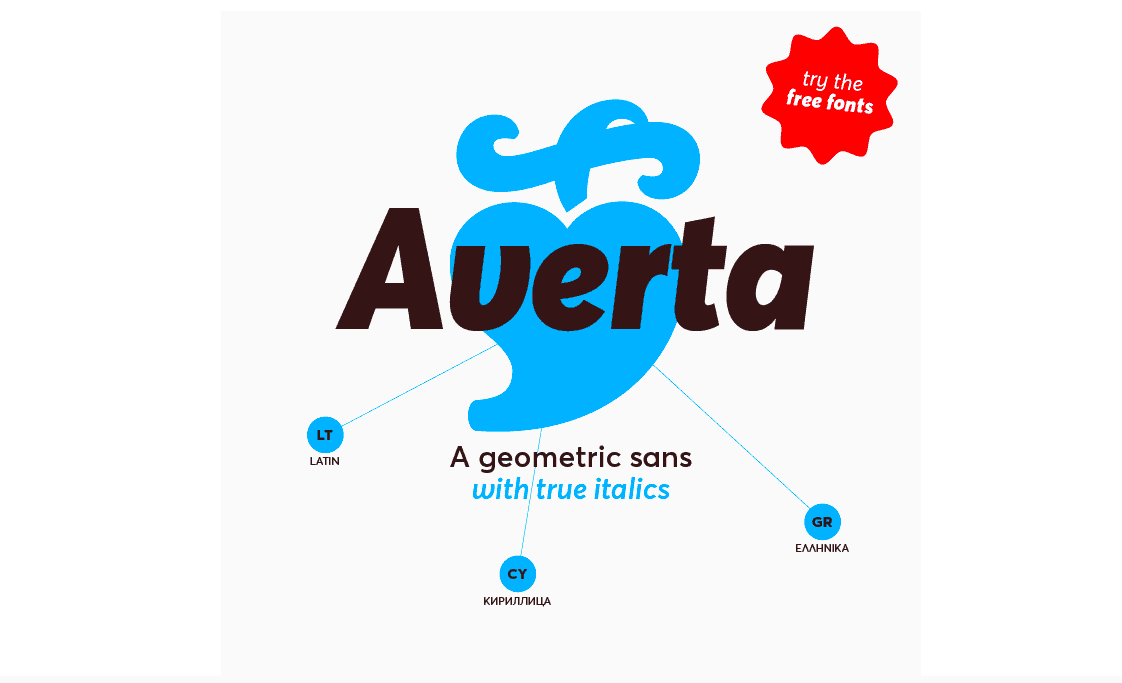 #8: Lost Type
Lost Type is another limited "font boutique" website with limited but unique font options.
The service uses a "pay what you want" model for most personal licenses
, with 100% of funds going directly to the respective designer (commercial licenses cost money). Each font has its own microsite, providing loads of visual examples, as well as information like where the designer found his or her inspiration. Lost Type is great for projects and brands that require an artistic and personal touch.

#9: The League of Movable Type
The League of Movable Type is an open source font foundry. This means that means
all of their fonts are available for free—even when used commercially—so long as you credit the designer
. In a website or flyer, this could involve placing a straightforward "font credit" statement at the page's bottom. Additionally, The League serves as a community for typeface designers, providing courses for individuals aspiring to create their own typefaces, along with a podcast covering a wide array of typography-related topics. The League proves to be an excellent resource for discovering top-notch artistic fonts that are unquestionably free for any usage. Just remember to appropriately acknowledge the source by giving due credit.
#10: 1001 Free Fonts
For a direct solution to all your typeface needs, head over to 1001 Free Fonts—a website that offers way more options than its name suggests. While the interface is a bit oldschool when compared to some of the other websites on this list, there are a number of solid choices that can easily meet any brand's needs.
The platform is very basic, which means that all of the important information (such as different levels of licensing rights) is extremely clear and easy to locate
—which is helpful if you are looking to make a quick decision.
Finding the Perfect Match
Selecting the right font for your brand is about more than just your personal preferences.
Make sure that you are true to your brand's personality and visual identity. And above all, make sure that your chosen font is readable.
It doesn't matter how visually appealing your website is if no one can understand what it says. Remember, you can choose different fonts for headers and your body copy; try using a more interesting font as a supplement to a webpage or advertisement, and a clean and simple font for the main bulk of copy. With all of these great free options, you'll be able to find the perfect font for whatever project lies ahead.