If you want to actually sell your art online, a well-designed website is key. You need a website builder that gives you the freedom to create a site that reflects your artistic vision. But that's not all.
You're going to need professional e-commerce features to make potential buyers feel comfortable making a purchase, but you don't want to end up paying a fortune in sales commissions. You'll need marketing features to make sure those potential buyers can actually find your site, but you don't want to spend hours learning the ins and outs of SEO.
I tested dozens of website builders to bring you this list of the very best. These tools offer all of the above and more, and the best thing about them is that they're incredibly easy to use – even if you have no technical experience.
Best Website Builders for Selling Art Online – Our Top Picks
Wix – Best for design flexibility
WordPress.com – Best for the artistic story-teller
Weebly – Best e-commerce capabilities
Jimdo – Best guided tutorial for artists
Site123 – Best for complete beginners
What We Look For in the Best Website Builders for Selling Art Online
The right website builder for you must have e-commerce capabilities, so you can build an online store. It also needs to have enough storage space for all your amazing artwork, so you don't have to leave any piece out.
You'd also want a good selection of templates, both in versatility and in quality. They should offer beautiful gallery layouts, and high customizability to allow you full creative freedom.
Other features you might want are email marketing to help your audience up to date on future shows and new pieces for sale, and
All the builders on this list have everything you need to build a remarkable website to feature your art in a unique way. Read on to find out which one is right for you.
1. Wix
Wix is excellent for almost any form of website, including art websites. With over 600 templates, there are plenty of designs to choose from, and Wix even has a category for Creative Arts. Two templates I really enjoy are Modern Art Gallery and Graphic Illustrator.
Graphic Illustrator is part gallery and part image store, with the main webpage set up to display available pieces. The store section allows you to sell your artwork, while the info section gives information about you, upcoming exhibits, and more. Modern Art Gallery is great for those who operate a gallery or want to host their own online gallery. It has a nice sliding image feature on the front webpage, as well as a blog section and webpages where your visitors can learn more about your gallery.
Wix offers plenty of great features in its templates, but if you find that your template lacks a feature, check out the Wix App Market for a wide variety of tools. For example, you can find robust photo galleries, forms, live chat, Google Maps apps, and more.
Since you're looking to sell art, check out the e-commerce tools available on the App Market, including shopping cart apps, payment processors, and more. You'll need to upgrade to at least Basic Business to sell products, but Wix offers 100% commission-free sales.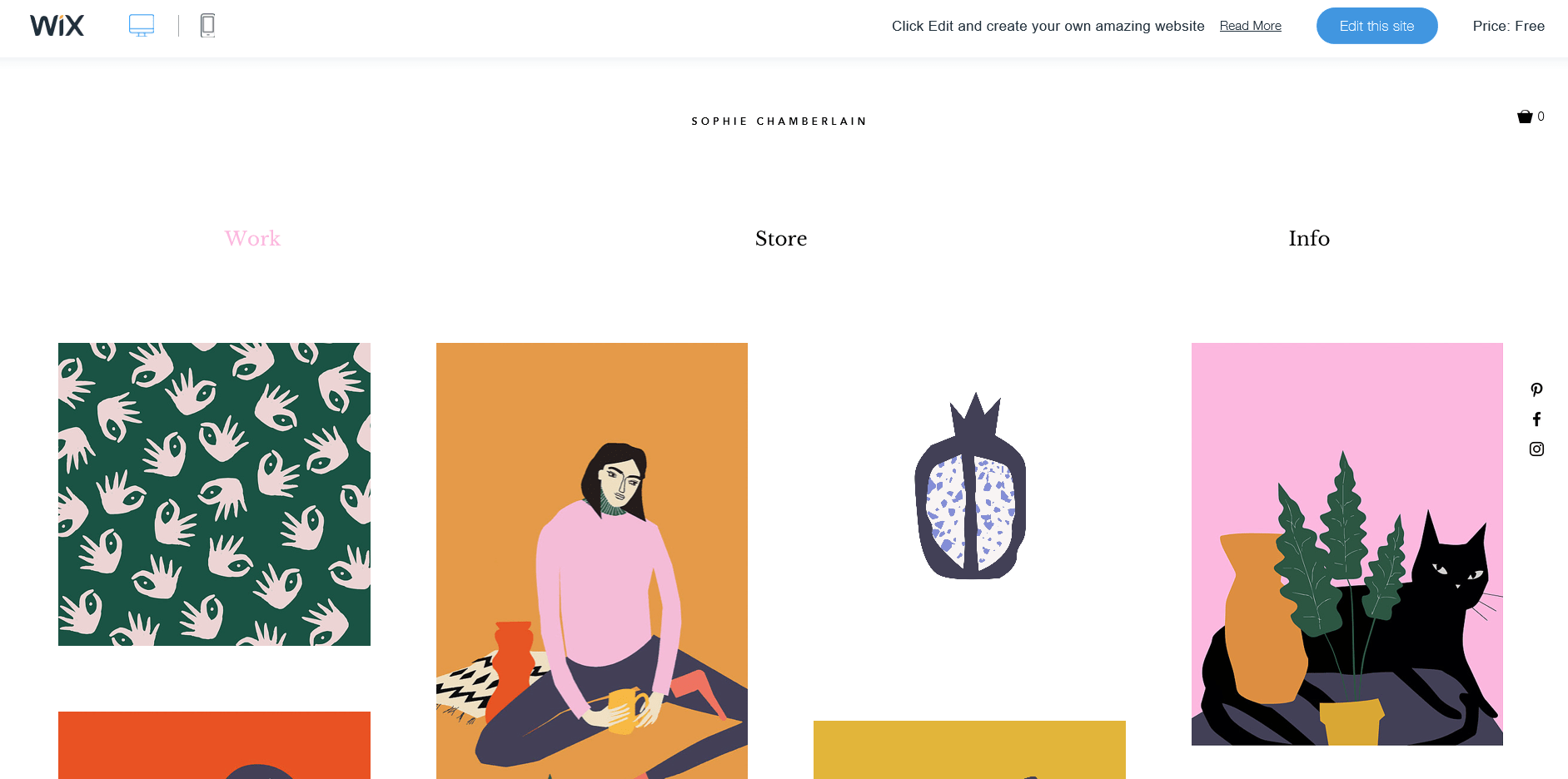 Want to learn more about Wix? Don't miss our expert review.
2. WordPress.com
WordPress is a dynamic website builder, but keep in mind that WordPress.com is a bit different from installing WordPress on a standard website host. First, for most plans, you're limited to the templates offered through WordPress.com, and both Free and Personal users must pay to access Premium templates.
Fortunately, a number of free templates will work for art websites. Blask, Orvis, and Cubic are all portfolio-style templates you can use to display and sell artwork. All offer blog elements, allowing you to keep customers updated on new projects, gallery displays, and more.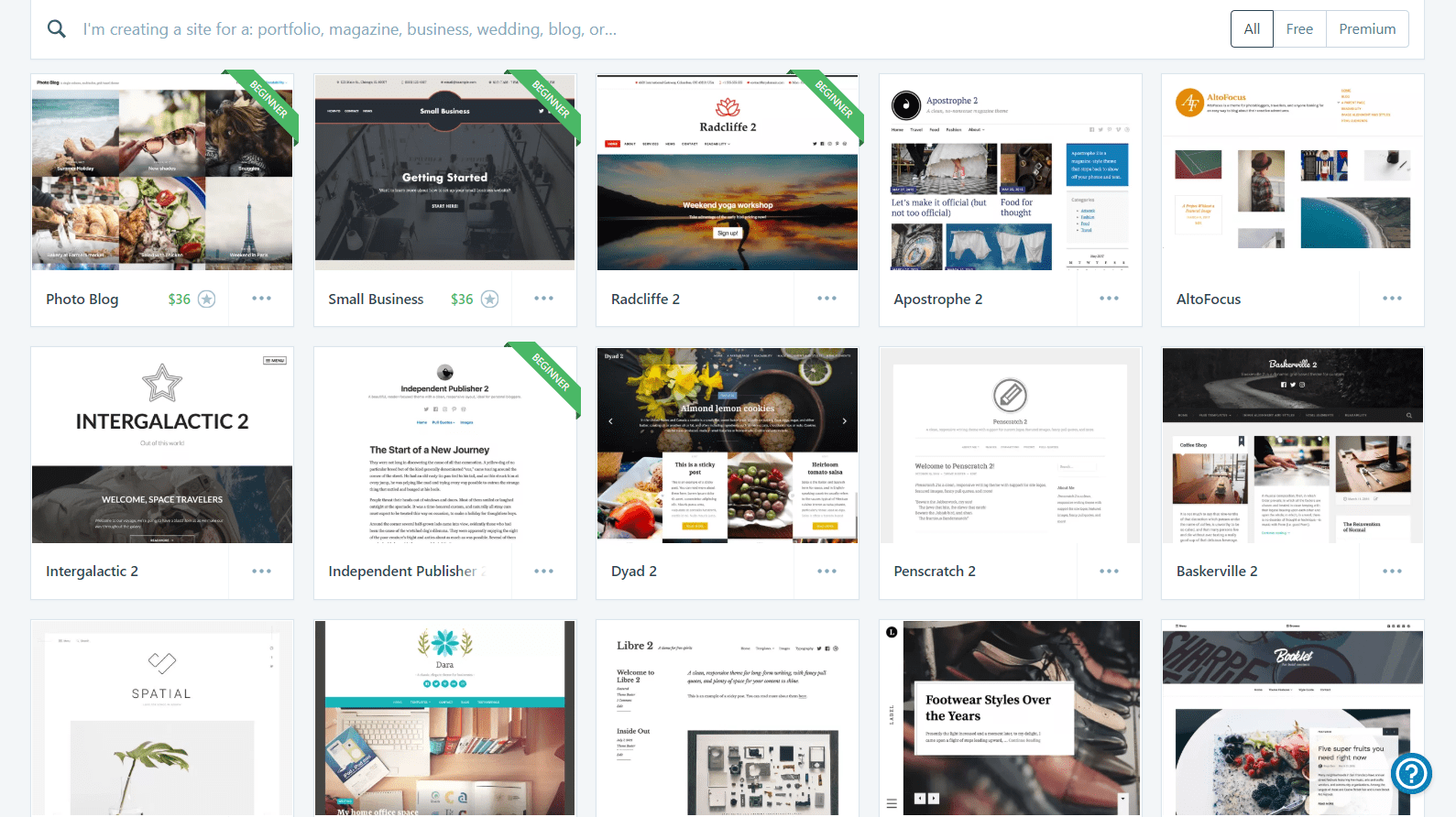 WordPress.com templates are primarily limited to the design elements pre-configured in the templates. If you need more control over your CSS or access to Premium templates without paying a per-template fee, you must upgrade to Premium.
However, you're going to have to upgrade to WordPress' Business plan to install custom plug-ins, themes, and more. Both Premium and Business will allow you to sell products on your website.
Or read our in-depth WordPress review.
3. Weebly
Since you're looking to sell your art online, Weebly is definitely a builder you should check out. While its template selection is a bit limited compared with those from other builders such as Wix, all of Weebly's designs are customized to help you increase sales.
Two Weebly templates I like are the Hugo and Modus Operandi templates. Hugo is an online store while Modus Operandi is a portfolio template, but both are great options for introducing your customer to your products on the main webpage. Straightforward design elements give off the impression that you're both professional and experienced. While Modus Operandi is more of a portfolio template, but you can add store elements to sell your artwork.
All Weebly templates are customizable both via the Weebly App Center and via direct customization of both HTML and CSS. You can add galleries, web store tools, live chat, social media apps, and much more.
To sell art online, you'll have to upgrade to the Starter plan, which includes access to Weebly.com checkout for a low 3% transaction fee.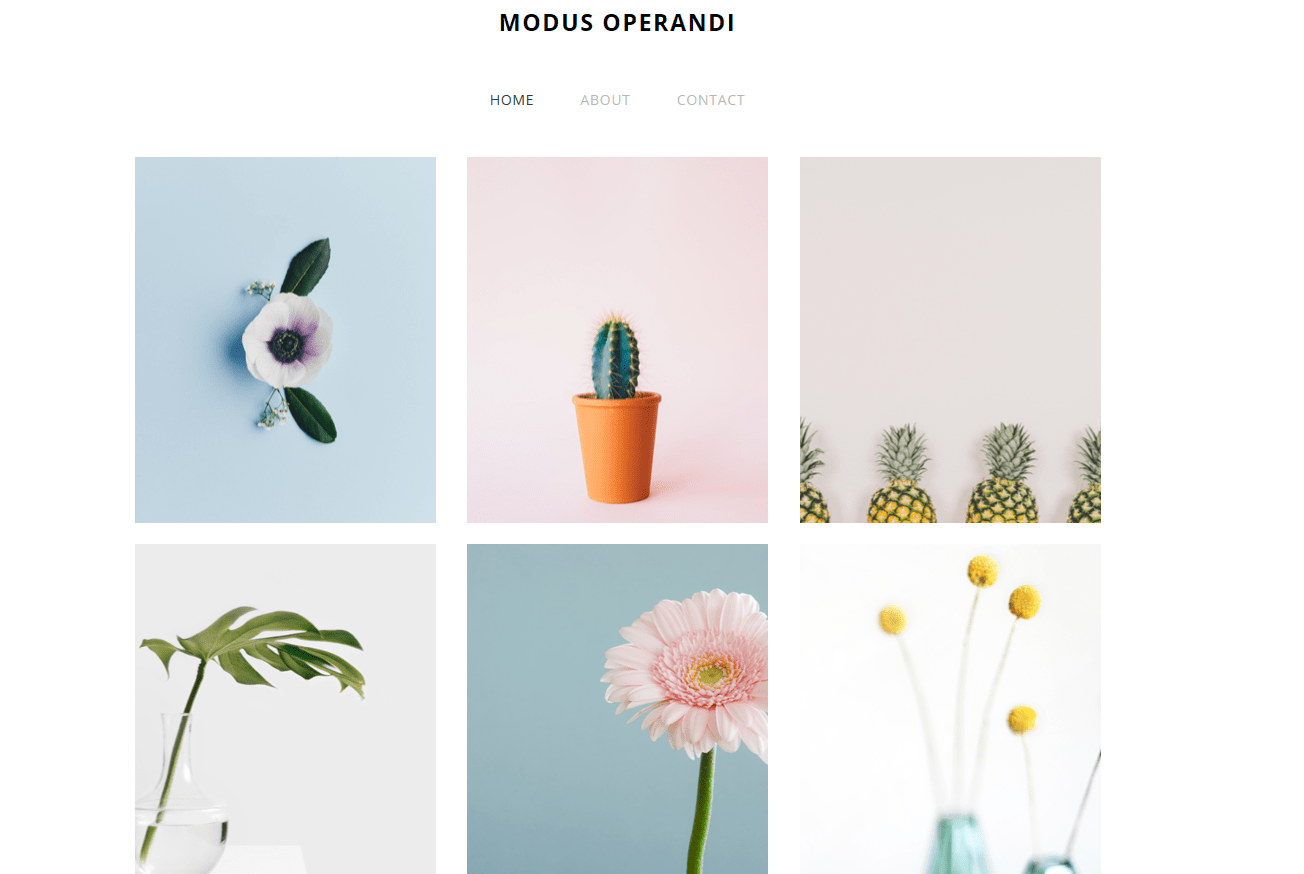 Curious to know more about Weebly? Read our in-depth review.
4. Jimdo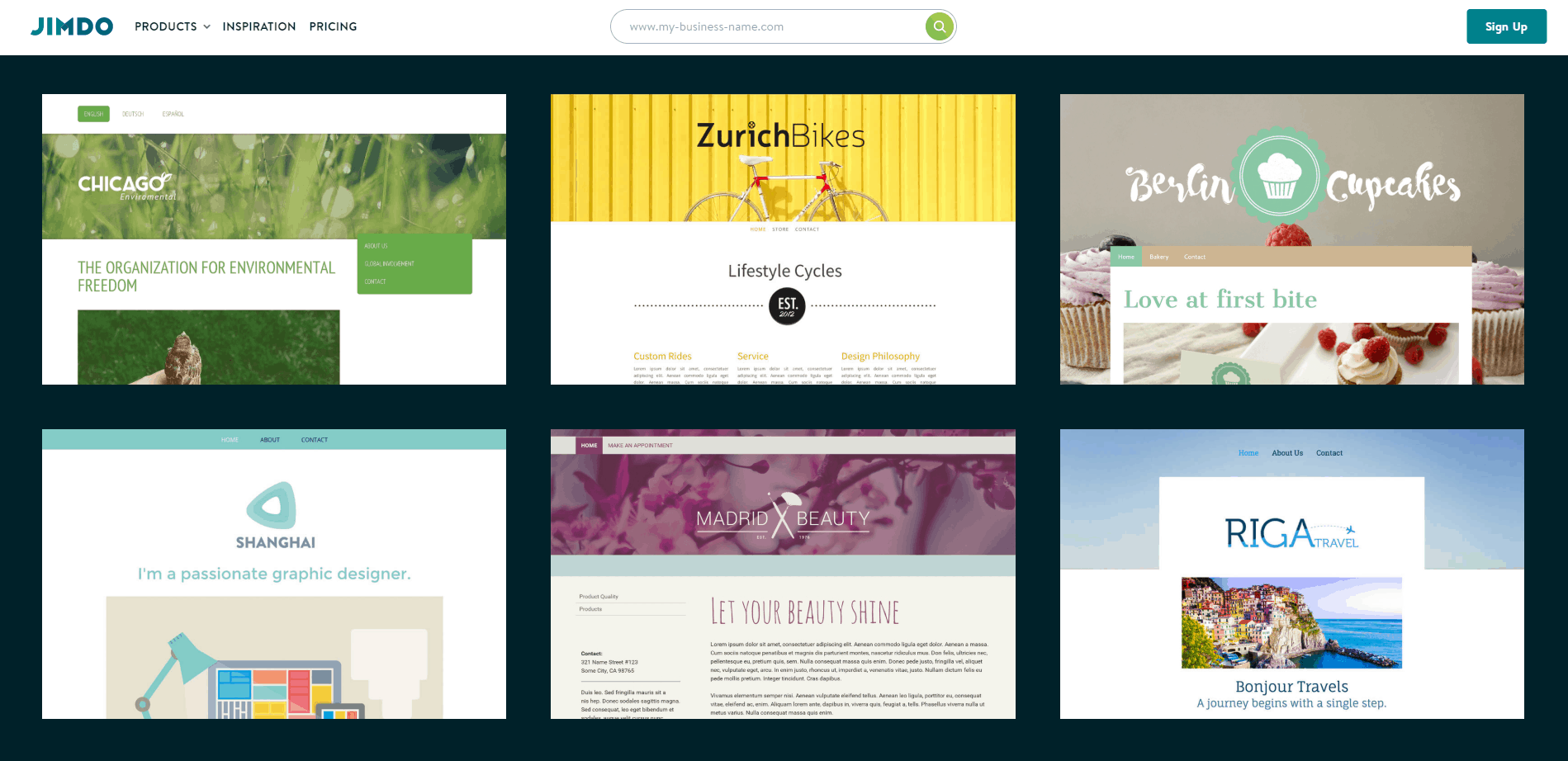 Jimdo has a minimal library of templates and only one that will work for art websites. The Copenhagen template is geared toward photography studios but can be easily modified to display your art pieces. The template offers a photo gallery and webpages where you can share information about your work and your business in general.
Another option is to choose the basic Blank Template and then build your website entirely from scratch. The template will allow you to add photos, videos, forms, and store item elements to display and sell your artwork to visitors.
One thing I like about Jimdo is that it offers a tutorial webpage targeted for artists. It walks you through all the steps needed to build your website and sell your artwork online. Note that you'll need to upgrade to the Business plan to host an online store.
Unlike other builders on this list, Jimdo doesn't offer an App Market to customize your website. However, you can install third-party apps and widgets and modify the CSS and HTML of your templates. If you know how to code, or are willing to learn, you have tremendous creative freedom with Jimdo, and isn't that what you want as an artist?
You'll find more information on Jimdo in our in-depth review.
5. Site123
Site123 is best suited for those who are looking for a simple website and are not concerned about a ton of fancy features. That's because Site123's selection of templates is somewhat generic. While the platform does have a large number of templates, you're not going to see a lot of variety, even in the Creative Arts section.
That said, I'm drawn to the Art School template, not because of the layout but because it already has store elements pre-configured. You can modify it for your artwork and easily add more. There's also a built-in gallery and contact information section on the template.

The templates don't vary a lot in general layout, but Site123 does offer an App Market you can use to add tools such as live chat, forms, galleries, booking, payment gateways, and more.
The upside to Site123 is that it offers e-commerce functionality on all plans, which can save you about 50% or more over other website builders.
Want to learn more? Read our expert Site123 review.
If even after reading all that, building a website yourself sounds like too much of a hassle, you can use Fiverr to hire a designer that will build a  website for you for as low as 5$ on any of the platforms above.
You can find someone who will build the entire thing for you, or just set the basics and let you design the rest. That's unlike hiring a web designer that will code a website from scratch, and will both be way more expensive and not allow you to tweak the website design yourself without coding knowledge.
Get Your Artwork Discovered by Building a Stunning Art Website
Before the internet age, many artists went largely undiscovered, with their pieces either collecting dust or being sold for grossly reduced prices. Fortunately, the internet now gives you the chance to have your artwork discovered by art lovers around the world and allows you to sell your pieces for what they're really worth.
When you use one of the best website builders above to build your art website, you create a 24/7 art gallery that art lovers can enjoy from anywhere. If something truly speaks to them, they can show their appreciation by buying your piece, giving your work a new home for others to enjoy your magnificent works of art.