The right website builder will let you display your artwork in its best light
. It needs to be super-customizable, allowing your creative vision to shine through, without costing you a fortune. You'll also need marketing features to make sure potential buyers can easily find your site. And since you're a creative, not a techie (although you could be both!), it needs to be easy to use. So, where does one find this magic, customizable, beginner-friendly, art-selling website builder? Well, relying upon my five years in digital content creation,
I've put some of the most popular website builders to the test
, to find out how they compare on the features that matter most to art sellers. Read on to find out what I discovered.
Short on Time? These Are the Best Website Builders for Selling Art Online in 2023:
What We Look For in the Best Website Builders for Selling Art Online
To narrow down the dozens of site builders out there, I've focused on the features that matter most to artists looking to sell their work online:
Ease of use: You're an artist, not a web developer. You don't need any design experience to use these platforms – and you definitely don't need to know how to code. The web builders are all ultra-beginner-friendly, giving you more time for your artistic endeavors.
Design flexibility: I'll say it again: you're an artist. The way things look is important to you – otherwise you'd be in another business. I've investigated the extent to which these builders allow you to customize the look of your website.
Value for money: You don't want unnecessary fees eating into your profits. I've checked whether these website builders offer affordable e-commerce plans, and if they charge commission or transaction fees.
Great image options: Your artwork is the star of the show, and so your website needs to make your pieces pop. These web builders all offer beautiful gallery layouts, and enough storage space to upload high-quality images of your art.
Strong SEO features: Don't let those three letters scare you away! SEO is all about getting found on internet searches – in other words, it's about getting more visitors to your website and making more sales. These site builders all offer tools to help you maximize traffic.
Probably one of the best-known names on this list, Wix is a popular website builder that offers something for everybody. With its
super simple drag-and-drop editor, ultra-flexible customization options and reasonably-priced plans
, it's a great choice for anyone wishing to sell art online. If design is important to you (and I've got an inkling it probably is),
you'll be sure to find a template you like out of the 900+ options in Wix's library
, at least 20 of which are specifically designed for artists. And even if none of them quite takes your fancy,
Wix gives you full design customizability
, letting you edit just about anything – colors, fonts, your site's core structure, you name it.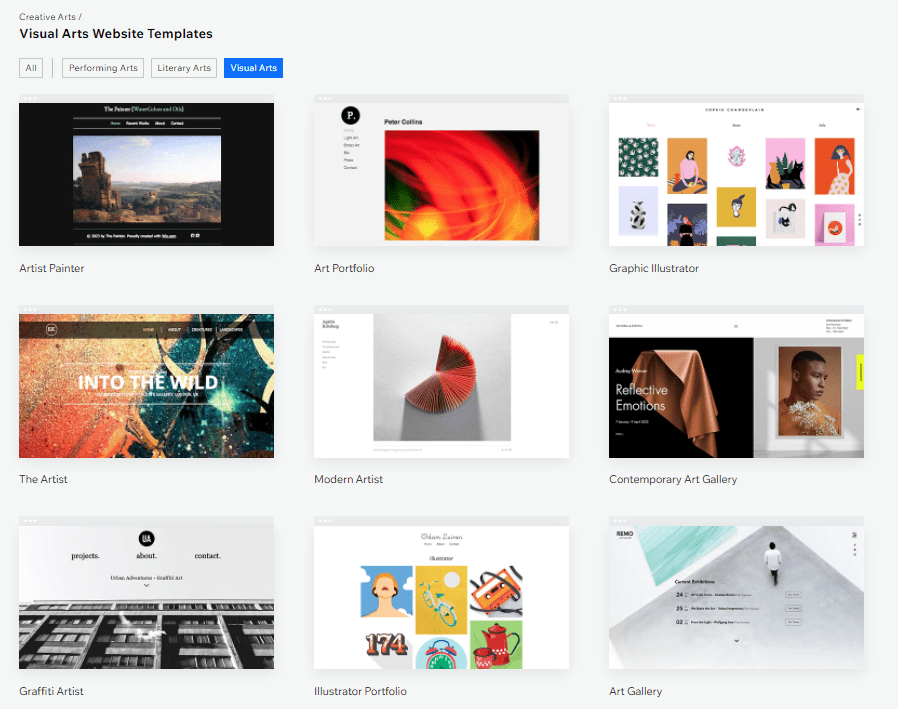 One standout feature on offer is the Wix Art Store, a free optional add-on that, in their words, "
gives you everything you need to showcase, sell, and print your art
" – pretty neat, huh? As well as helping you to create an online store and manage your orders and shipping, the Wix Art Store can also connect you to on-demand print services, which print your art on products like mugs, canvases, and bags. It also provides custom watermarks to protect and brand your images.
Wix Stores: Wix's inbuilt e-commerce platform is free to use (although you need to upgrade to a premium plan to be able to accept online payments) and offers some useful tools, including product variation options, inventory tracking, and order management.
Online marketplace integrations: Wix also allows you to integrate with other platforms so that you can sell, link or tag your products on Facebook, Amazon, Etsy, Pinterest, and others.
App market: The Wix App Market contains more than 300 apps to expand your site's functionality in almost any way you could think of: blogs, live chat, bookings, and much, much more.
Wix SEO Wiz: One of the best SEO tools offered by any web builder out there, Wix SEO Wiz creates an easy-to-follow, tailor-made plan for maximizing your website's traffic. They also have one of the most comprehensive and helpful SEO guides I've ever seen.
Check out our expert review for more info on Wix
. Wix does offer
a free plan
, but you need to upgrade to one of the Business & eCommerce plans if you want to sell anything.
These premium plans offer good value for money
, coming with unlimited bandwidth, up to 50GB of storage (more than enough for all your high-quality photos), a free custom domain for one year, and ad vouchers. Wix doesn't charge commission, but it does have a small processing fee for online payments – which is pretty standard in the world of e-commerce.
Number of templates for creatives
20+
Customizability
Virtually unlimited customization options
SEO tools?
One of the best suite of SEO tools on the market
Free plan available?
Yes, but you need to upgrade to a paid plan to receive online payments
Starting price of paid plan

$

16.00
Squarespace is widely-regarded as the best of the best when it comes to design
 – which as an artist must be music to your ears. It also offers knock-out third party integrations and great e-commerce features, making it a premium site builder, through and through – with a price tag to match. If you're anticipating a lot of sales, however, the cost might seem worth it. Compared to some website builders,
Squarespace doesn't have quite the same range of templates, but the quality is second-to-none
. All
60+ of their minimalistic designs
 are likely to appeal to creatives because they place images at the forefront, making effective use of white spaces and gallery layouts to make the visuals pop – although it's worth noting that you'll need ultra high-quality photos.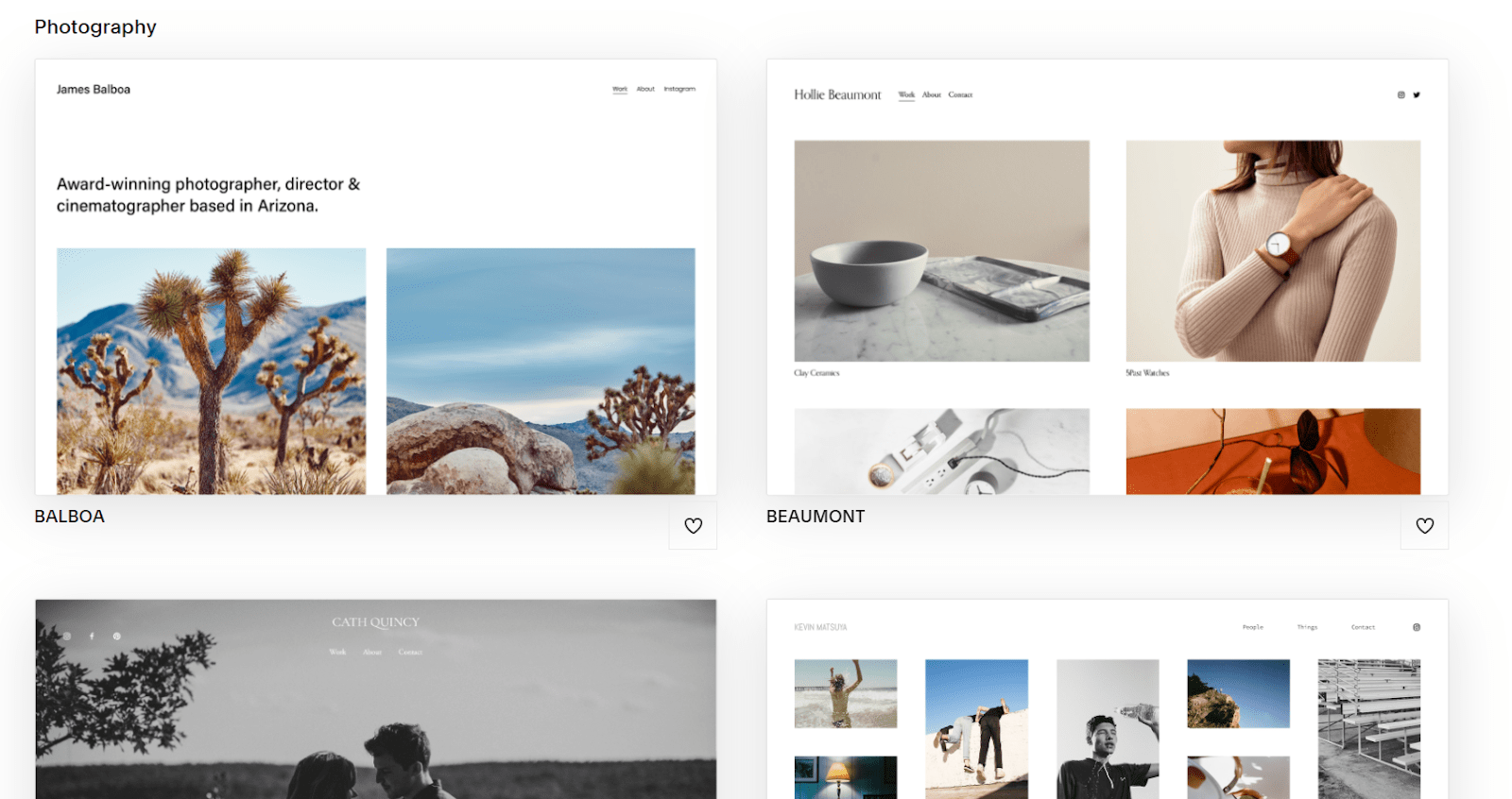 Squarespace's emphasis on clean lines and effective spacing also means that you
don't get quite as much creative control
 – you can't just drag things wherever you like – but, from a design perspective, that might not be such a bad thing. It's hard to make an ugly website on Squarespace. However, in my opinion,
Squarespace drag-and-drop editor is nowhere near as intuitive or simple as the Wix editor
.
Unlike Wix,
Squarespace doesn't offer an app market, but pretty much all of the tools you could ever need come built-in
. A few features of interest to artists include:
Commerce platform: Squarespace's simple-to-use yet powerful e-commerce platform is one of its biggest selling points, offering online payments, social media sale integrations, automatic tax calculation, email reminders, product variation options, and gift cards.
Third-party integrations: Squarespace has teamed up with a whole ream of big-hitters to provide premium third-party integrations galore (seriously, the list is endless), allowing you to expand the functionality of your site in all manner of ways.
Image tools: Unsurprisingly for a website that's all about design, Squarespace offers some great image tools, including a powerful inbuilt image editor, focal point control, and lightbox presentation.
Basic SEO tools: Basic functions like editing meta titles and descriptions are doable on the Squarespace editor, but there's not a lot of the way in the help for beginners.
Check out our expert review for more info on Squarespace.
Although Squarespace doesn't offer a free plan, it does have a
14-day free trial
.
All of that great design doesn't come cheap: Squarespace plans are at the pricier end of the scale
. The cheapest Squarespace plan with e-commerce features costs significantly more than the closest Wix equivalent – and also slaps 3% transaction fees on all of your sales.
Number of templates for creatives
12+
Customizability
Limited in places, but still a good amount of creative control
SEO tools?
Basic tools, and not very beginner-friendly
Free plan available?
No, but there is a 14-day free trial
Starting price of paid plan

$

16.00
It might not be the most customizable or feature-rich builder on this list, but SITE123 is super easy to use –
making it the perfect option if you just want to get a simple website up and running quickly
.
All 180+ of SITE123's templates are pretty decent
, and they even have a number specially designed for creative arts websites. That being said, there's not a huge amount of variety and, crucially,
you have to upgrade to a paid plan to unlock more advanced customization options
.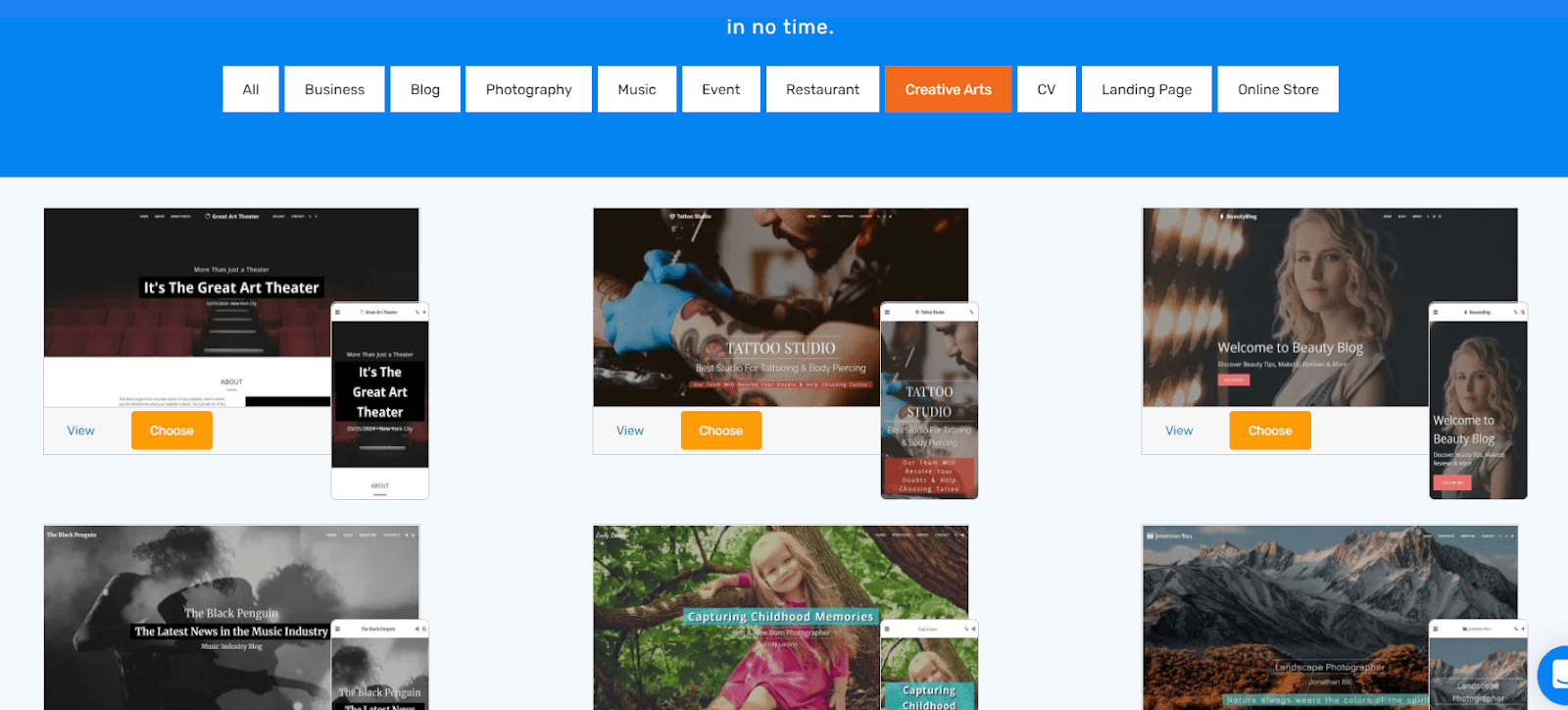 But, all that simplicity does mean
it's possible to build a basic website in a matter of hours
. It's also very geared up for beginners, guiding you  through the whole building process with helpful hints. However, the trade-off for this speed and ease of use is limited creative freedom, since
SITE123 does not have a drag-and-drop editor that lets you put things anywhere you like
. Besides being very quick and easy to use, SITE123 has a few features that will make art sellers sit up and take note – although,
compared to the tools offered by other website builders on this list, some of them lack real depth and quality
:
E-commerce features: SITE123's e-commerce tools are relatively robust and easy to use (although most are reserved for the two most expensive plans). You get: online payments, unlimited products and orders, marketing emails, customer ratings and reviews, and customer accounts and wish lists.
Useful apps and plugins: With the top two subscriptions, you can access the App Market, allowing you to integrate a lot of useful e-commerce tools, including Google Analytics, and Zendesk or Facebook Chat for customer support.
Multiple language options: One relatively unique SITE123 feature is the ability to display your website in up to five different languages.
SEO Adviser Tool: Designed for complete beginners, this in-built tool walks you through some basic steps to boost your website's search engine ranking.
Check out our expert review for more info on SITE123
. Although SITE123 actually offers e-commerce features on its lowest-priced paid plan, you can only access the really useful ones – such as the ability to accept online payments through PayPal and Stripe, or to sell an unlimited number of products – via the two highest subscriptions,
which are priced quite steeply
 compared to some of the other providers on this list. SITE123 doesn't take any sales commission.
Number of templates for creatives
14+
Customizability
Limited customizability, especially on the free plan
SEO tools?
SEO Adviser Tool is good for beginners, but not the most comprehensive tool on the market
Free plan available?
Yes, but you need to upgrade to a premium plan to access e-commerce features
Starting price of paid plan

$

12.80
Compared to other vendors both on and off this list,
GoDaddy is one of the easiest-to-use website builders I've ever tested
. Even as a beginner, you're very unlikely to run into any difficulties with the GoDaddy point-and-click editor (and, in case you do, GoDaddy also offers 24/7 customer support) – making it my top choice if ease of use is your number one priority. Once again,
the trade-off for all this speed and ease of use is relatively limited creative freedom
. GoDaddy offers around 100 variations of its
22 main themes
 (there are 17 options in the "Art and Design" section). The templates are actually pretty decent, but the issue is that they all look broadly similar, and
GoDaddy gives you very limited options for customization
.
Unlike with other site builders, which let you edit individual elements separately, GoDaddy only allows you to choose a primary and secondary font and accent colors for your entire site. You can drag-and-drop elements to reorder them, but since your editing process is restricted by a grid layout, that's about it. Nonetheless, GoDaddy does come with some powerful, useful, and beginner-friendly tools:
E-commerce: Building an online store with GoDaddy is incredibly easy (although you'll have to upgrade to the most expensive plan to do it). You can: list your products on external marketplaces like Amazon, Etsy and eBay, collect product reviews, offer discounts, and make tax and shipping rates.
GoDaddy Insight™: This useful tool creates a custom action plan with specific recommendations for improving your website, based on your industry and goals.
Search Engine Visibility: GoDaddy takes SEO firmly in hand with this useful tool, included in all four plans, that walks you through the process of optimizing your website for search engines.
24/7 support: Lots of web builders on this list make it tricky to find help – not ideal if you're a beginner. GoDaddy offers round-the-clock support via live chat and the phone.
Check out our expert review for more info on GoDaddy Website Builder
. GoDaddy does offer
a free plan
, but as I already mentioned, you have to upgrade to the most expensive plan if you want to access e-commerce features – however, the monthly cost  is comparable to the e-commerce plans offered by both Wix and Weebly. GoDaddy doesn't take sales commissions and, thanks to its partnership with PayPal,
it offers some of the lowest transaction rates out there
.
Number of templates for creatives
17+
Customizability
Limited customization options
SEO tools?
Search Engine Visibility Tool available on all four plans
Free plan available?
Yes, but you need to upgrade to most expensive plan for e-commerce features
Starting price of paid plan

$

9.99
WordPress.com is a dynamic website builder, one that gives you almost limitless design freedom. But this freedom comes at a cost – you do sacrifice speed and ease of use because
WordPress probably has the steepest learning curve of any of the website builders on this list
. The bulk of its customization options do require at least some knowledge of code. WordPress offers
over 250 premium and free themes
, at least 60 of which fall under the "Art" category. The designs are – dare I say it? – a little bit dated in my opinion, but hey – at least you change them as much as you like. It's worth noting that if you want to make super detailed edits via "Advanced Design Customization" (which includes the option to edit the code), you need to upgrade to the premium plan.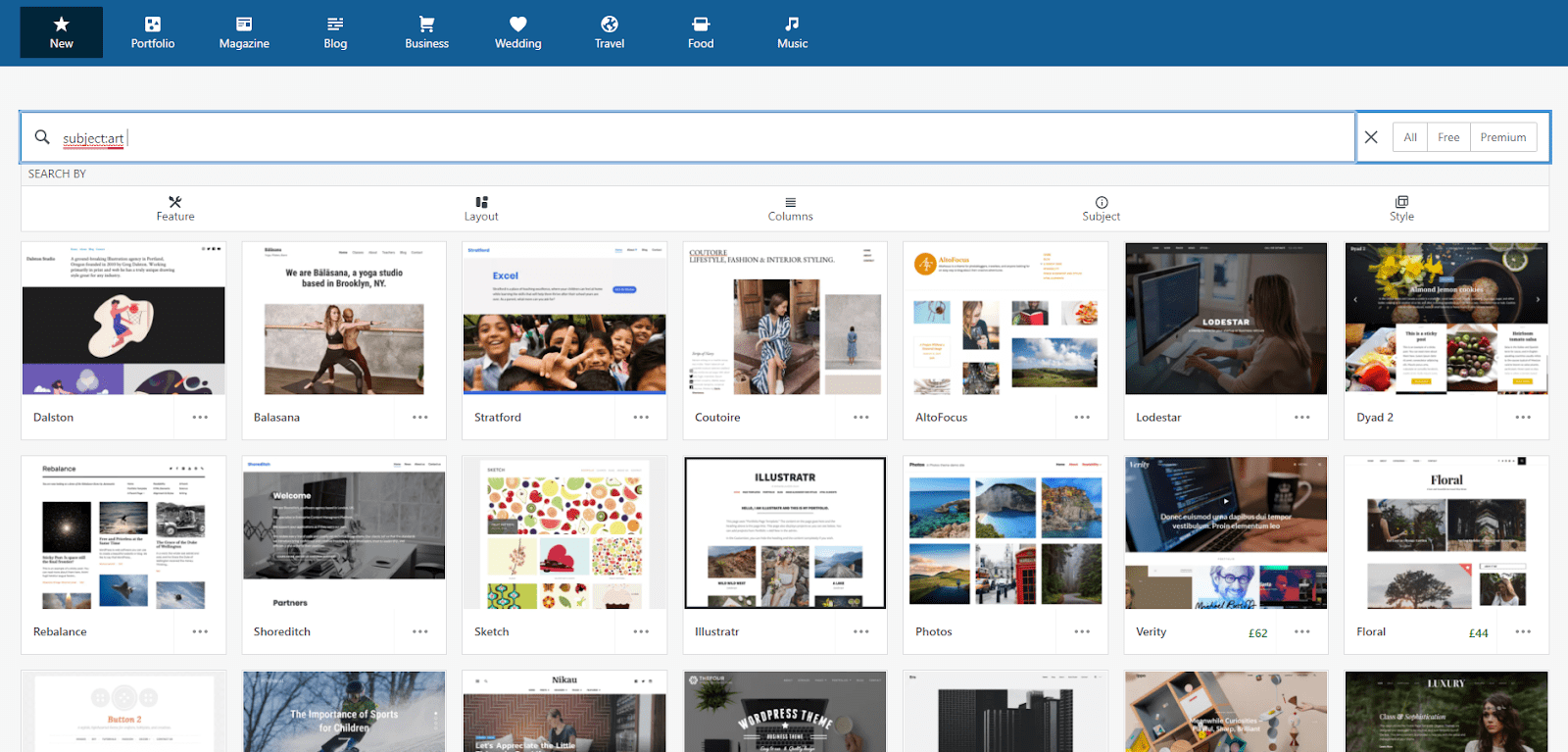 A few standout features on offer from WordPress include:
Store builder: It's relatively simple to set up an online store with WordPress, and the e-commerce plans are competitively priced. With the most expensive plan, you get online and offline payments, automatic tax calculation, coupons, and product reviews.
Huge selection of plugins: WordPress has probably the biggest selection of plugins on offer of any of the builders on this list, letting you transform your website in just about any way you can think of – although they are only available on the premium plan upwards.
Marketing and analytics tools: If you want to boost your SEO, WordPress also provides a number of useful tools, including built-in sitemaps. The ones on the basic plan are just that – pretty basic, but the business plan lets you customize meta information, social previews, and much more.
Generous storage allowance: The WordPress Business plan for small businesses comes with a whopping 200GB of storage, more than enough for uploading all of your high-resolution art images.
Check out our expert review for more info on WordPress.com
. WordPress.com does offer
a free plan
, but you'll have to upgrade to a paid plan to be able to take online payments. The plans actually offer great value for money, with the mid-range business plan offering similar features to Wix, at a similar price – and four times as much storage.
Number of templates for creatives
60+
Customizability
As close to total creative control as it gets
SEO tools?
A number of basic SEO tools on the free plan, and more advanced options on the paid plans
Free plan available?
Yes, but you have to upgrade to be able to take online payments
Starting price of paid plan

$

45.00
Weebly is a super affordable website builder –
offering one of the cheapest e-commerce plans on this list – although the payoff for that is slightly limited features
. This makes it the perfect choice if cash is a bit tight, or if this is your first foray into the world of website building and you want to be sure that the payoff is worth it. It's also very, very easy to use, making it ideal for beginners. Compared to some other builders on this list,
Weebly's selection of template designs  might seem a bit limited
. They're definitely not as impressive as those offered by Squarespace (who they seem to be trying to emulate), but they're still pretty good. They're also super customizable, meaning you can shape virtually every detail to fit your needs and increase your sales. If you're up to the task, you can even edit your website's CSS in Weebly's built-in code editor.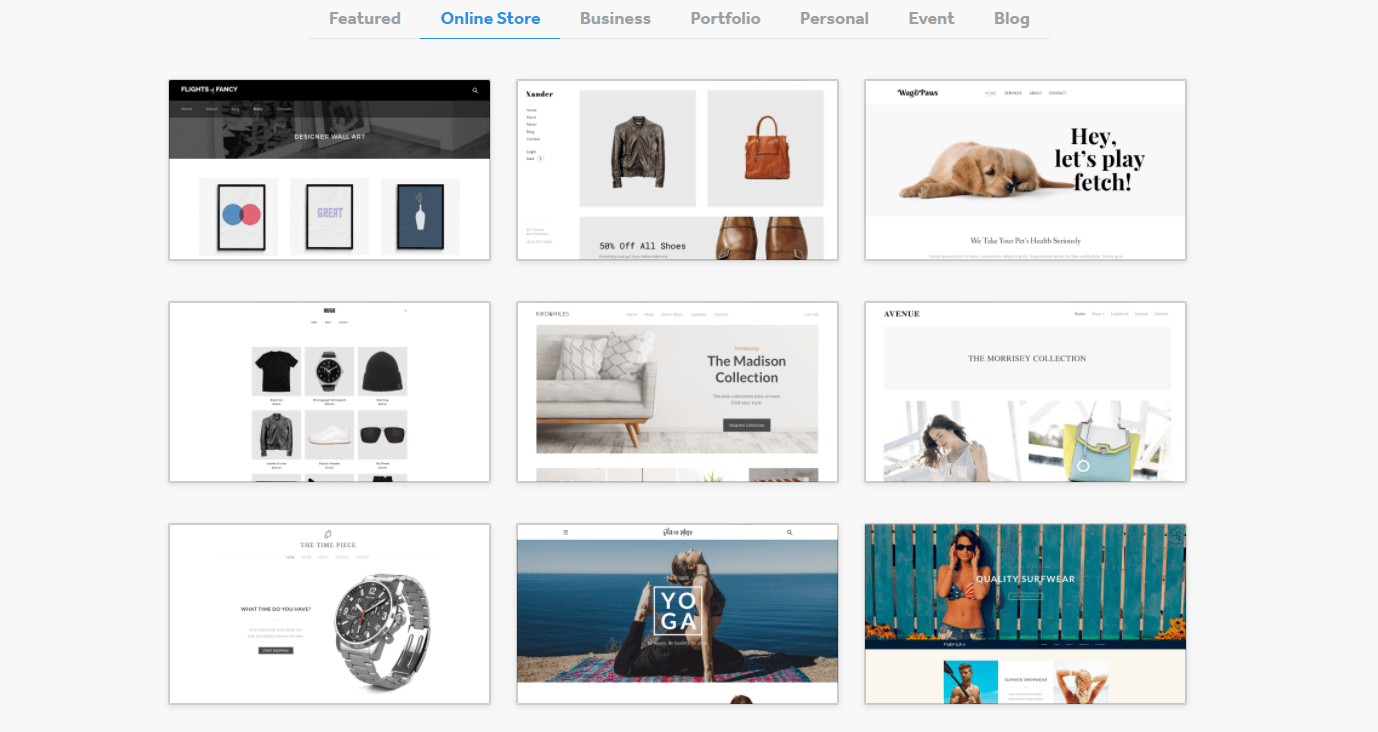 When it comes to features, Weebly has simple tools for just about every function, but the selection isn't as wide as that offered by Wix or WordPress, for example. Here are some features likely to come in useful to art sellers:
Strong e-commerce tools: Weebly has recently been acquired by payment-processing giant Square, meaning it now really hones in on the online store side of things. With the highest-tier plan, you get everything you need to sell art online, including abandoned cart reminders, shipping tools, inventory tracking, item reviews, and coupons and gift cards.
App store: Weebly offers an app for pretty much everything in its dedicated App Center, which contains 350+ free and paid apps from Weebly and third-party providers.
Decent SEO functions: The Weebly editor lets you optimize the SEO settings of every page on your site, and anything it can't do can be done using an app from the store. But there's no personalized guide for beginners.
Check out our expert review for more info on Weebly
. It's on the pricing front where Weebly really comes into its own, offering four paid plans as well as
a free plan
. One slightly strange thing is that Weebly's pricing plans and features aren't the same worldwide. In the UK, for instance, you can only sell online with the highest-tier plan, whereas in the US you can do this on the free plan. Nonetheless,
even the most expensive Weebly e-commerce plan is priced well below the competition
, making it a budget-friendly option.
Number of templates for creatives
15+
Customizability
Good customization options and built-in code editor
SEO tools?
Good SEO customization options through in-built tool and apps
Free plan available?
Yes; lets you sell online in the USA but not elsewhere
Starting price of paid plan

$

6.00
If you're one of those people who turns pale at the mention of SEO (or perhaps you've never even heard of it before), then you'll love Jimdo's automated SEO optimization tool, which can take care of the basics for you with just a few mouse clicks. Throughout, the
Jimdo web builder favors speed, simplicity and ease of use
 – making it well-suited to beginners – although this comes at the expense of fancy features.
Jimdo is very, very easy to use, offering an intuitive web building interface along with helpful guides and walk-through assistance
. If you're short on time or technical know-how, the AI-powered Jimdo Dolphin editor will also do a lot of the web-building legwork for you, asking you a number of questions to build you a basic site structure. With a choice of just
over 100 templates
,
Jimdo's selection definitely isn't the best on the market
, but there are a few that will work for art websites without drastic editing. The customization options are pretty good and, if your technical skills are up to the task, you can also modify the CSS and HTML.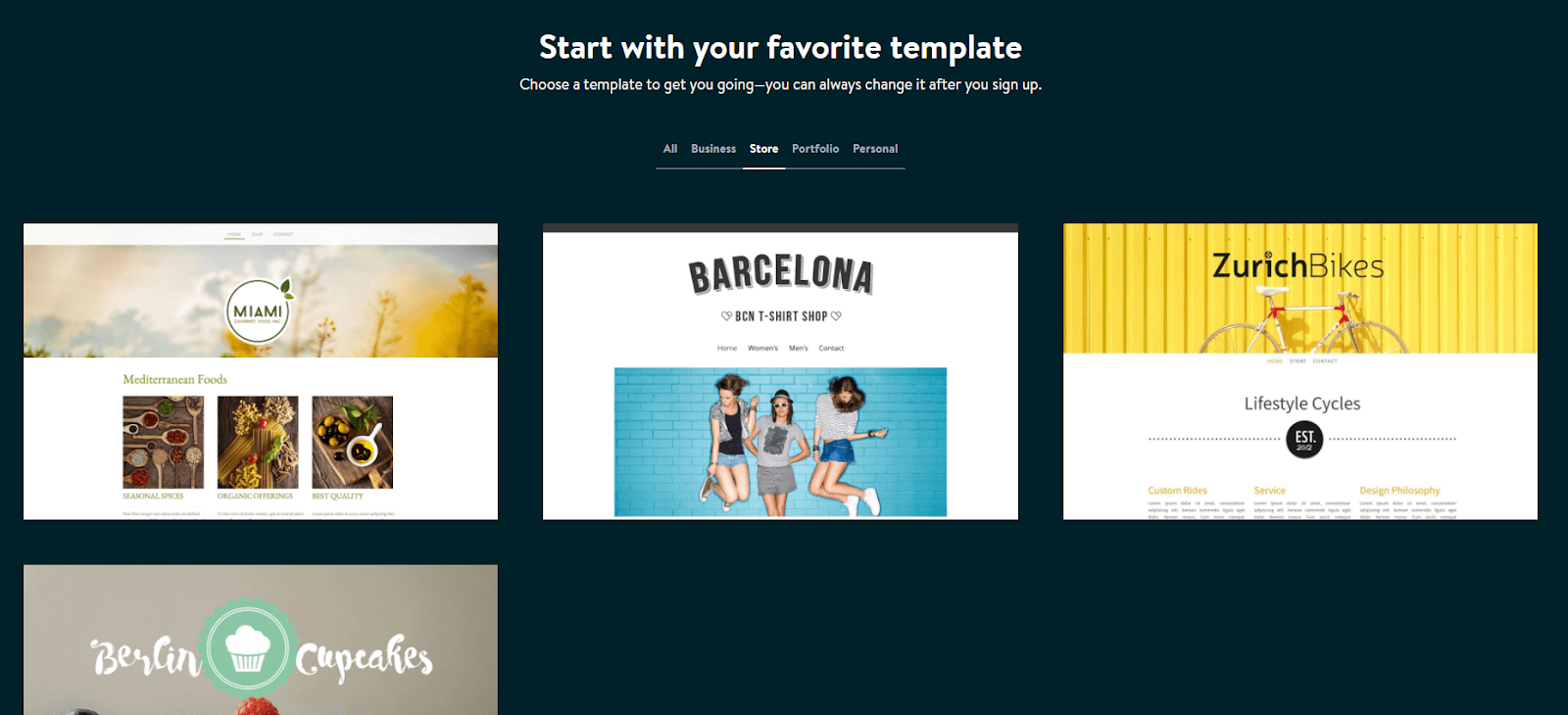 As I mentioned above,
Jimdo doesn't really have a ton of fancy features
, but a few stand out for those looking to sell art online:
Online store: Setting up an online store with Jimdo is a genuinely straightforward process. You will utilize a comprehensive range of fundamental features that are essential for your store's functionality. These features include automatic confirmation emails, efficient shipping tools, proficient order management, flexible discount options, and the incorporation of various payment methods.
Automatic SEO optimization: A pretty robust automatic SEO tool that takes care of SEO basics like title tags, sitemaps, and robots.txt files.
Legal text generator for GDPR compliance: It's not sexy, but it is important. This useful tool – which is available on Jimdo Dolphin higher paid plans – ensures your website is compliant with GDPR and that you don't inadvertently break the law.
Support for multiple languages: You can also set up your site navigation with pages in up to three different languages, perfect if you've got an international audience.
Tutorial page for artists: Jimdo also offers a useful tutorial page, targeted for artists, which walks you through all the steps needed to build your website and sell your artwork online.
Check out our expert review for more info on Jimdo
. Jimdo offers seven differently-priced plans, three of which are for e-commerce sites.
Considering Jimdo is pretty lacking in the high-tech features department, the prices are on the high side
. Other services on this list such as Weebly or Wix give all the same benefits (and a bit extra) for less cost than the lowest-priced Jimdo package. That pretty much sums it up. However, if you're making a lot of sales, it's important to remember that Jimdo doesn't ask for transaction fees.
Number of templates for creatives
6+
Customizability
Pretty good customization options, plus ability to edit code
SEO tools?
Automatic SEO optimization tool takes care of all the basics
Free plan available?
No, you need to upgrade to one of the three online store plans to access e-commerce features.
Starting price of paid plan

$

9.00
Conclusion
Which website builder is right for you to sell art online depends on your priorities: is design your be-all and end-all, or are you looking for something that gives you greater customization options, without the hefty price tag? If you want a visual-centric, design-forward website builder – and I suspect the look of things is very important to you as an artist –
I would opt for Squarespace, because it simply can't be matched in the quality of its templates
 – and it still packs a punch on power. But if Squarespace's fees are out of your price range,
Wix still offers more than enough high-quality designs
, virtually unlimited creative control, and the widest selection of additional functionality of any web builder on this list. That's why it's at the top of our list of
the best website builders for 2023
.
Builder
Stand-out Features
Wix

Largest selection of templates of any web builder on this list
Virtually unlimited customization options
One of the best SEO tools on offer

Squarespace

Top notch designs
Useful image tools
Premium third-party integrations

SITE123

Very quick and easy to use editor
Multiple site language options
Good SEO tools for beginners

GoDaddy

Very, very easy to use web editor
Useful marketing and SEO tools
24/7 customer support

WordPress

Unparalleled customization options
Huge selection of additional apps and plugins, including marketing and SEO tools

Weebly

Very competitively-priced e-commerce plans
Attractive templates with good customization options
Comprehensive selection of apps and add-ons

Jimdo

Automated SEO optimization perfect for beginners
Very easy to use
Legal text generator for GDPR compliance
FAQ
What is the best website builder for artists?
That really depends on your priorities. Each of the web builders listed above emphasizes one or a few aspects above others, some or all of which could be important to you as an artist: ease of use, design, customizability, affordability, or additional functionality. If you're looking for the nicest looking templates, start with Squarespace. If you want more customization options and features, Wix is a safe bet.
How do I sell art online?
There are a number of different ways to sell art online. Many people choose to sell art via a dedicated online marketplace such as Etsy, Artsy, or Saatchi Art, because these websites already have millions of visitors looking to make purchases. However, with these websites you have to pay commission on all your sales. An increasing number of entrepreneurs are therefore adopting a DIY approach and creating their own personal websites, using site builders, to sell art online. To give you some inspiration, take a look at our list of the top web builders for 2023.
How do I create an artist website for free?
Many site builders will let you start a basic website for free – containing many features artists need, like galleries, contact and information pages – although you'll have to sacrifice things like a custom domain name or the option to take online payments. If you do decide to upgrade to get additional functionality, make sure you visit our coupon page to ensure you're getting the best deal.
Is Wix good for selling art?
Wix offers a lot of features that should make artists sit up and listen, including a dedicated add-on (Wix Art Store) that allows you to sell digital and print copies of your pieces directly from your site, commission-free. You can also integrate print on demand services to custom-design products such as posters, T-shirts, mugs, and much more. For more information on Wix, check out our expert review.