I've scoured the internet for the best, easy-to-use website builders for every type of academic
, from grad students to professors and researchers to esteemed chairs.
All the website builders on this list are free (or at least free to try).
Read on to find out which one best suits your needs.
Website Builders for Academics – Our Top Picks
Wix – The most academic website templates and free apps for student forums and more
Squarespace – Seamless sharing options for your academic blog or podcast
SITE123 – Plenty of useful features like appointment booking for office hours
What We Look For in the Best Website Builders for Personal Academic Sites
Your academic website will play a varied role in your career, serving as everything from a static CV for job hunting to a helpful, up-to-date portal for your students. The website builders on this list all offer the essential features to help you create the site you need.
Free plans (or free trials): You can pay to unlock premium features, but only if and when you decide they're worth the price.
Attractive templates: While the quality of your academic history takes first priority, your personal brand matters, too. These templates look great on multiple devices and will establish you as a serious professional.
Design flexibility: You'll be able to personalize your website with the features, layout, and page types you need.
Ease of use: You don't want to waste time figuring out complicated software when you could be working on more important papers or research. These site builders are easy for beginners, with no experience required.
Relevant features: I'll highlight the individual features that make each tool a good choice for academics, such as event calendars, embedded videos, downloadable files, and more.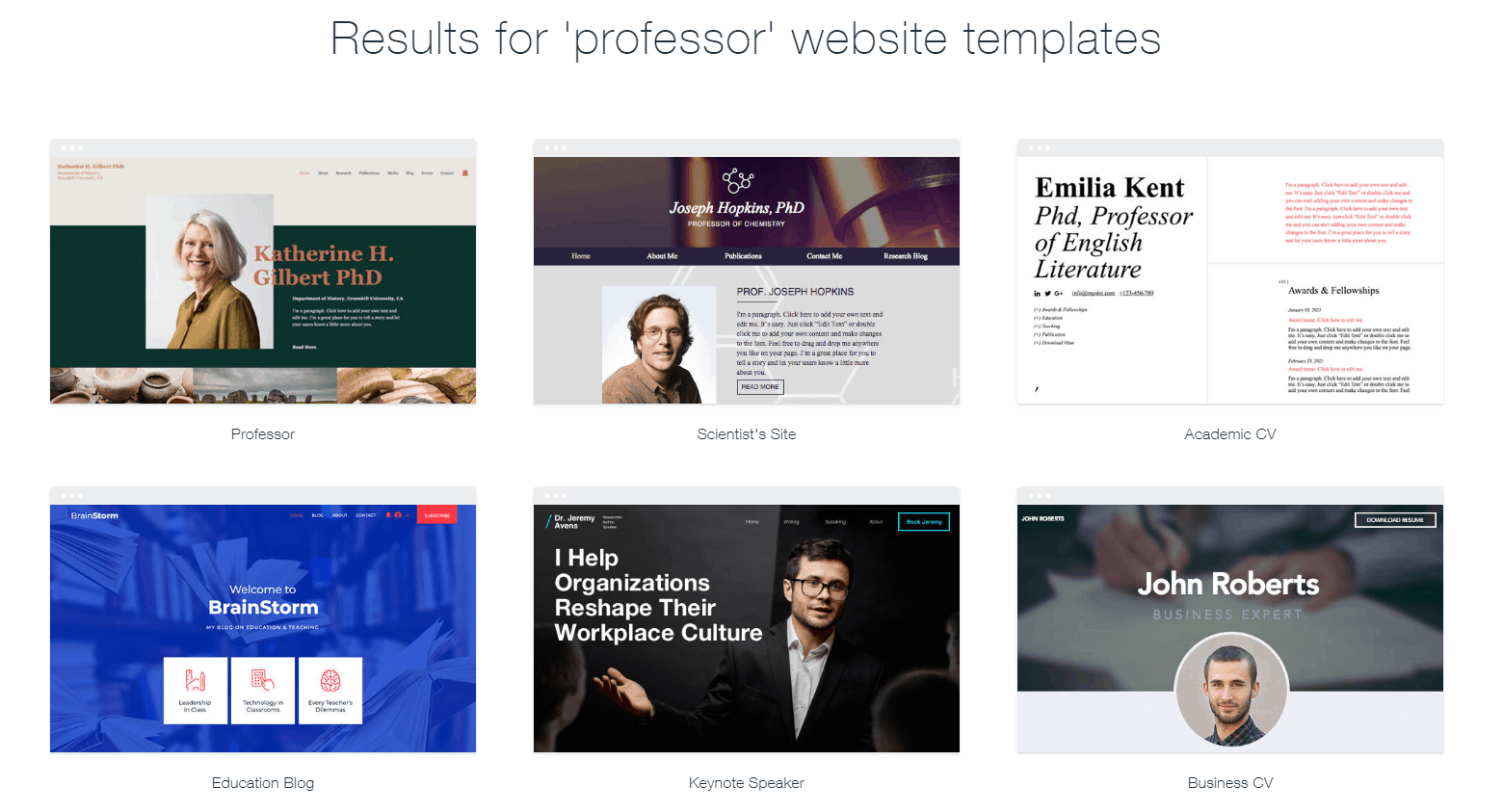 There are around 30 education-related templates on Wix
, a handful of which are dedicated to university-level professionals. As well as offering the largest library of templates, Wix also gives you
very
fine control over the personalization of your site. If you're in a hurry, you can choose one of these templates and make only simple edits: filling in textboxes with your experience and publications, uploading your recent headshots, and perhaps changing some colors or fonts.
You could easily finish your website in a single sitting.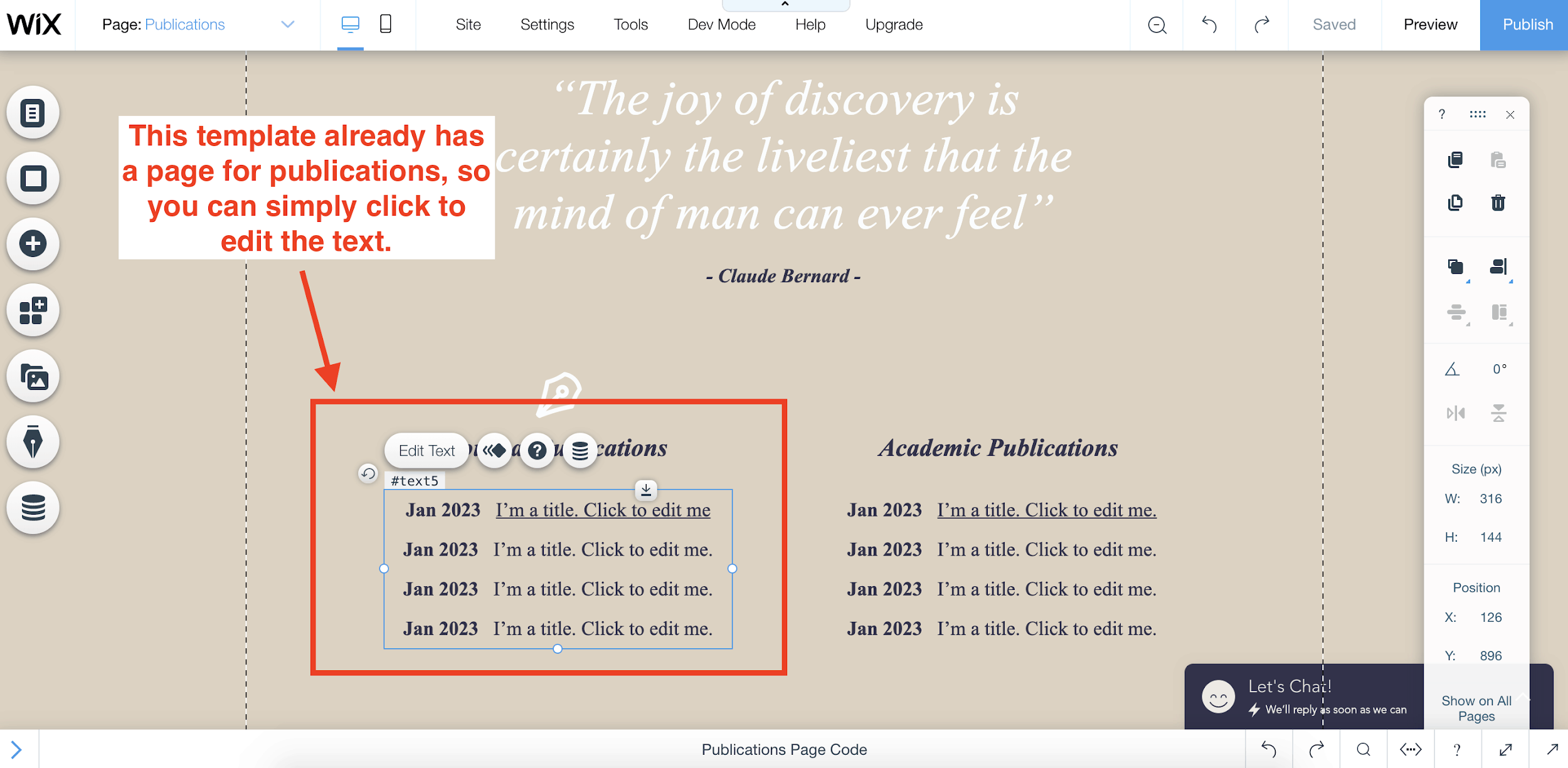 As a researcher or professor, you might especially like these features of Wix:
Add Wix Forum to create an interactive community for students or colleagues to post threads, comment, and share information
Use Wix Documents so visitors can download files (great for course overviews or required reading)
Display an event calendar to showcase upcoming conferences or presentations
Sync with Google Drive to embed documents directly onto your site, allowing visitors to view, download, or edit them
Use Scheduling Pro for booking appointments (perfect for office hours or other consultations)
Discover more features in our
full Wix review.
Pro tip: Spend some time browsing the large template library before choosing one, especially since you can't switch templates later.
Wix's free plan comes with 500MB each of storage and bandwidth
, which should be enough for your personal academic website as long as you don't plan to host too many images, videos, or downloadable files. The downside is that on the free plan you're also stuck with a subdomain and Wix branding on your site, which can make it seem less professional.
As a free user, you can also use Ascend by Wix to send up to 5,000 marketing emails per month – great for sharing links to your recent publications or for keeping in touch with your former students.
Number of templates
900+ templates in total, with around 30 related to education
Mobile-responsive templates?
Templates are mobile-friendly but not automatically responsive. You may have to adjust your mobile site separately.
What do you get if you upgrade to the cheapest paid plan?
With the Combo plan, you'll get:

2GB bandwidth
3GB storage
Custom domain (free for one year with an annual plan)
Removal of Wix branding
30 HD video minutes
Unlike the other site builders on this list, Squarespace doesn't have a free plan,
but it does have a 14-day free trial.
(No credit card is required to get started, either, so there's no risk of accidentally being charged.) Squarespace has earned a reputation for clean, design-forward templates, all of which are mobile-responsive.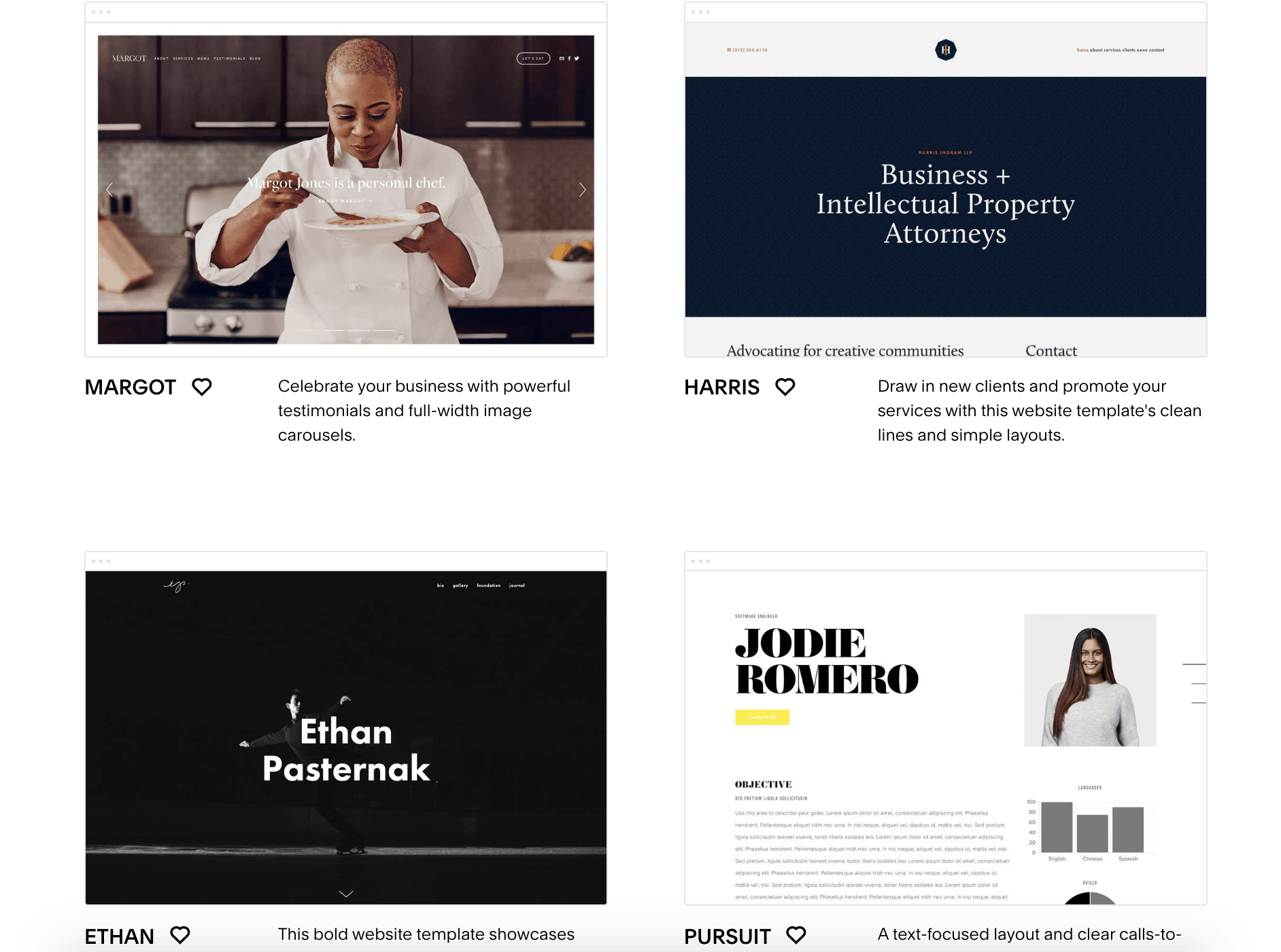 Although none of the templates are specifically categorized as "academic websites," the ones in the Personal/CV category are especially well-suited.
The Pursuit (Jodie Romero) template above, for example, has built-in sections for languages, awards, experience, and more.
It would be quick and easy to fill with your own details. Get more pro tips in our
in-depth Squarespace review.
While many users like Squarespace for its trendy templates, that's not its only attraction. With 18 preset page options and plenty of built-in integrations, you can:
Insert an appointment scheduling block for office hours, synced with Acuity Scheduling
Customize your contact form for students, colleagues, or press to get in touch
Add an event calendar for course exams, conferences, etc.
Use a blog to publish course updates, researcher notes, or even a podcast
Offer downloadable forms (great for assignments, readings, and meeting agendas)
Enable multiple site contributors to help manage your site
There's no separate app market or plugin library with Squarespace. Instead, everything is built-in for a very streamlined and user-friendly experience. All Squarespace plans come with unlimited storage and bandwidth, plus the option for a custom domain.
Number of templates
100+ templates, with none specifically for academics
Mobile-responsive templates?
Yes
What do you get if you upgrade to the cheapest paid plan?
With the Personal plan, you'll get:

Custom domain (free for one year with annual plan)
Unlimited bandwidth and storage
Up to two contributors for your site
Basic website analytics
SITE123 is quick and easy to use, with plenty of pre-set pages and content blocks to make your academic website look good
and
meet your needs in terms of networking, publishing course content, and more. Stand-out features for academics include:
Timelines to visually showcase your publications or research milestones
Contact forms so students, colleagues, or publishers can get in touch
Calendars to display upcoming talks, dissertation defenses, or other departmental events
Booking scheduler to make appointments
A blog to publish your latest work, announcements, etc.
Team pages to introduce your research partners or co-authors
Online agendas for conferences or department meetings
Multiple language display (on the Advanced plan and up)
SITE123 also has an app market, but it's much smaller than Wix's and you'll have to pay for a premium plan to access it. In fact, many actions on SITE123 require a paid upgrade – including access to the full library of fonts and colors.
You can learn more about the benefits of upgrading to a paid plan in our
expert SITE123 review
. If you encounter any questions while you're in the process of creating your site, feel free to utilize the 24/7 live chatbox. I myself have availed of this feature on numerous occasions, and I consistently obtained responses within 30 seconds or even less.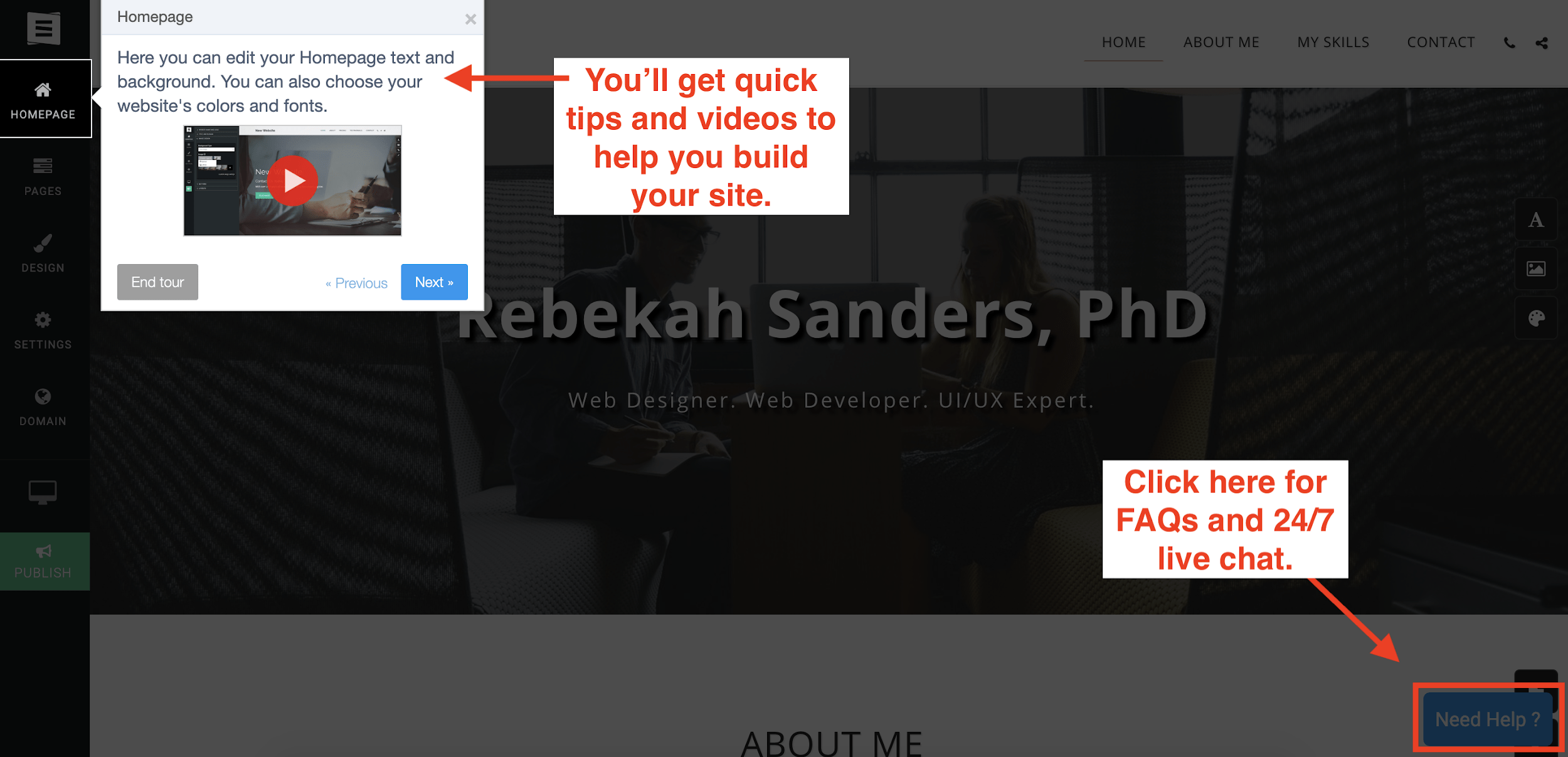 With SITE123's free plan, you'll get 500MB of storage, but you'll be stuck with SITE123 branding and a SITE123 subdomain
.
Number of templates
150+ templates, none specifically for academia (but 6 for CVs/portfolios)
Mobile-responsive templates?
Yes
What do you get if you upgrade to the cheapest paid plan?
With the Basic plan, you'll get:

5GB bandwidth
10GB storage
Custom domain
Removal of SITE123 branding
100 mailing list messages per month
Access to App Market and plugin library
More customization options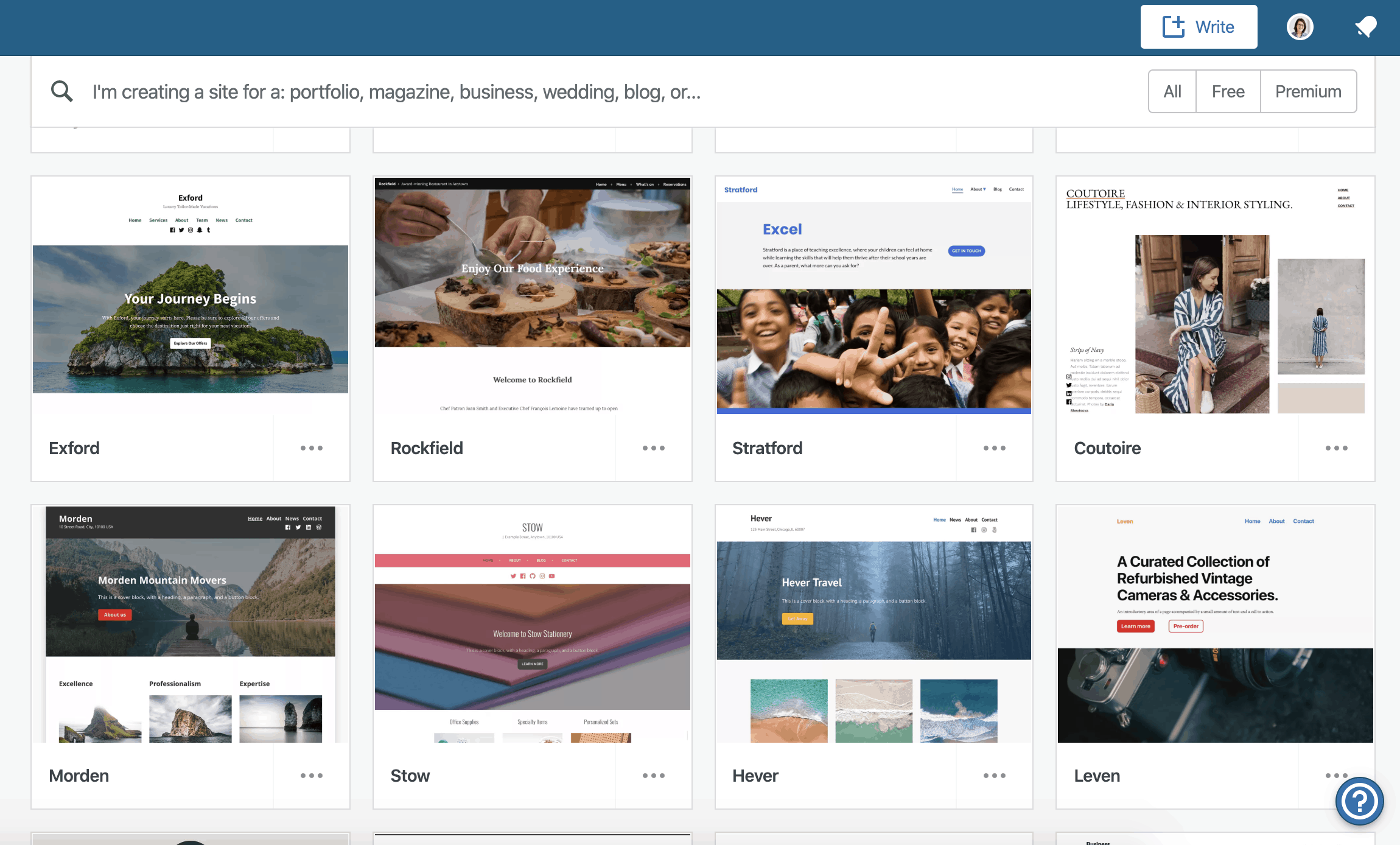 WordPress has a library of over 300 themes, some of which are free and some are paid.
If you upgrade to a paid plan, you can import themes from outside sources like
ThemeForest
. None of the built-in WordPress.com themes are specifically categorized for academics, but of course, any theme can be customized to suit your needs.
You can also change your theme at any time.
WordPress.com is user-friendly, but it's not quite as intuitive as the other site builders on this list
. If you're just starting out, the editor may seem overly complex, and you may have to spend some time finding the different options. To save time figuring it out, start with the tips from our
in-depth WordPress.com review
. For a personal academic site, you might find some of the free widgets very helpful:
Display an event calendar for courses, conferences, or other key events
Add a contact form for students, press, or colleagues
Add a Google Translate button
Embed videos from YouTube, Vimeo, or another platform
Display your latest blog posts and/or top commenters
While these widgets bring handy features, the most powerful enhancements come in the form of plugins, which are exclusively accessible to users on a Business plan and above. WordPress.com offers generous storage with its free plan (3GB), though you'll still be restricted to a WordPress subdomain and branding.
Upgrading to the custom domain plan is so cheap that I'd definitely recommend it.
Number of themes
Nearly 300 in total, none specifically for academics You can also purchase themes elsewhere and import them.
Mobile-responsive themes?
Varies by theme, but most are.
What do you get if you upgrade to the cheapest paid plan?
With the Personal plan, you'll get:

6GB storage
Email and live chat support
Free domain for one year (with an annual plan)
Removal of WordPress.com branding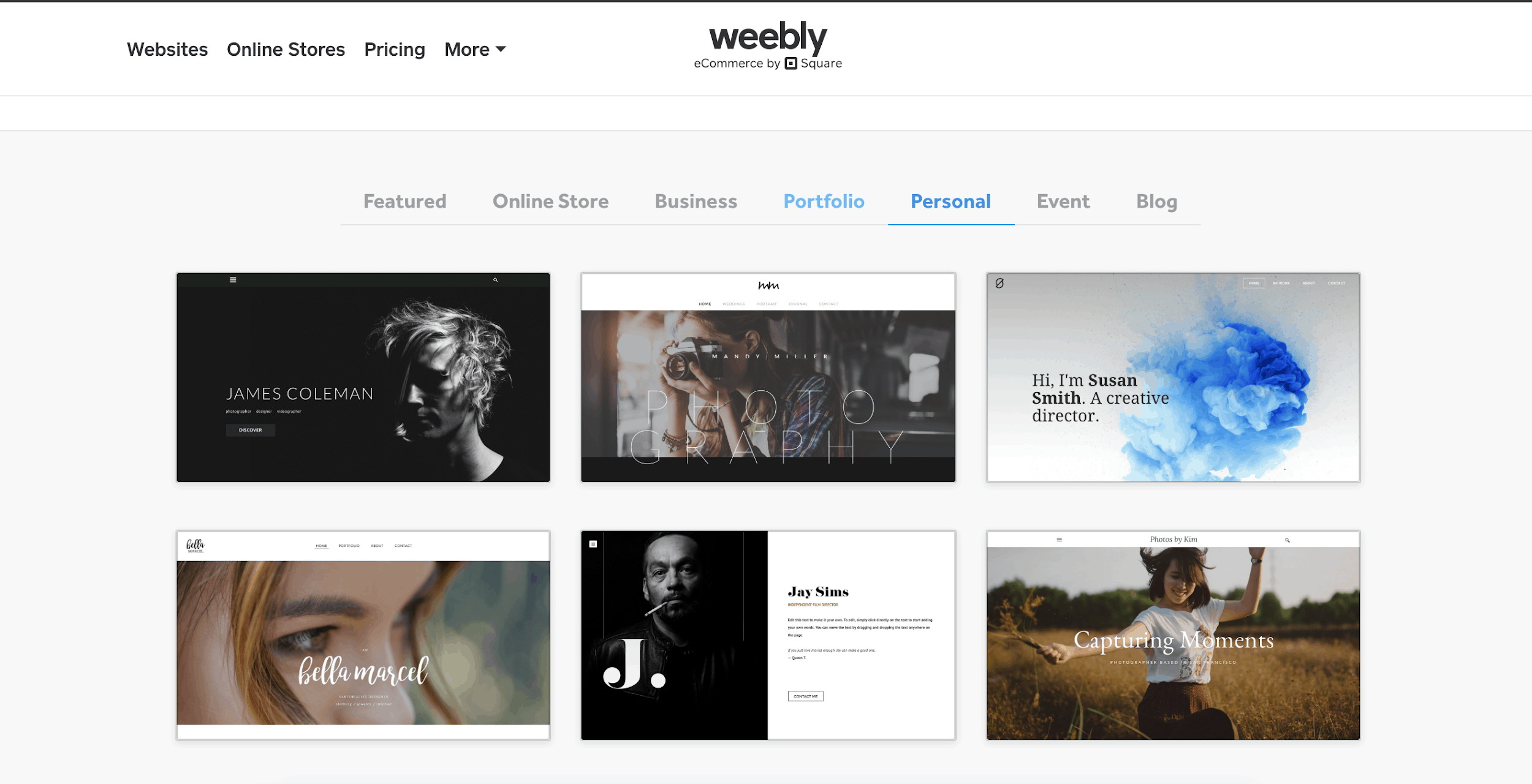 Weebly doesn't have themes specifically for academics (Wix is the only builder on this list that does). However, you can choose any theme that appeals to you and customize it however you like.
All Weebly themes are mobile-responsive
, and unlike with Wix, you can change them at any time (even after your site is live). Find out more in our
in-depth Weebly review
.


Save up to 33 % on your Weebly plan!
Limited-time offer - Don't miss it!
116 users used this coupon!
When editing your site, you can choose from 25+ preset page elements or add another 50+ free apps through the Weebly App Market. For an academic site, you might like these elements:
Contact form for students or colleagues to easily get in touch
Embedded documents via Scribd, which site visitors can download (ideal for curriculum, assignments, or course reading)
Embedded videos via YouTube
A social button to connect to your LinkedIn profile
RSVP forms (great for planning department meetings, talks, or round-tables)
A blog to publish regular commentary or course announcements
With Weebly's free plan, you'll get 500MB of storage, but your site will have a Weebly subdomain, and branding for Square
, Weebly's parent company. In order to get a custom domain, it's definitely worth upgrading. If you post a lot of course videos for your students, you might also enjoy the HD video player that comes with the premium plans.
Number of themes
60+ themes available, none designed for personal academic websites specifically You can also purchase third-party themes on ThemeForest and import them.
Mobile-responsive themes?
Yes
What do you get if you upgrade to the cheapest paid plan?
With the Personal plan, you'll get:

Custom domain
500MB storage
E-commerce features: unlimited products, online payments, and more

This plan includes Square branding.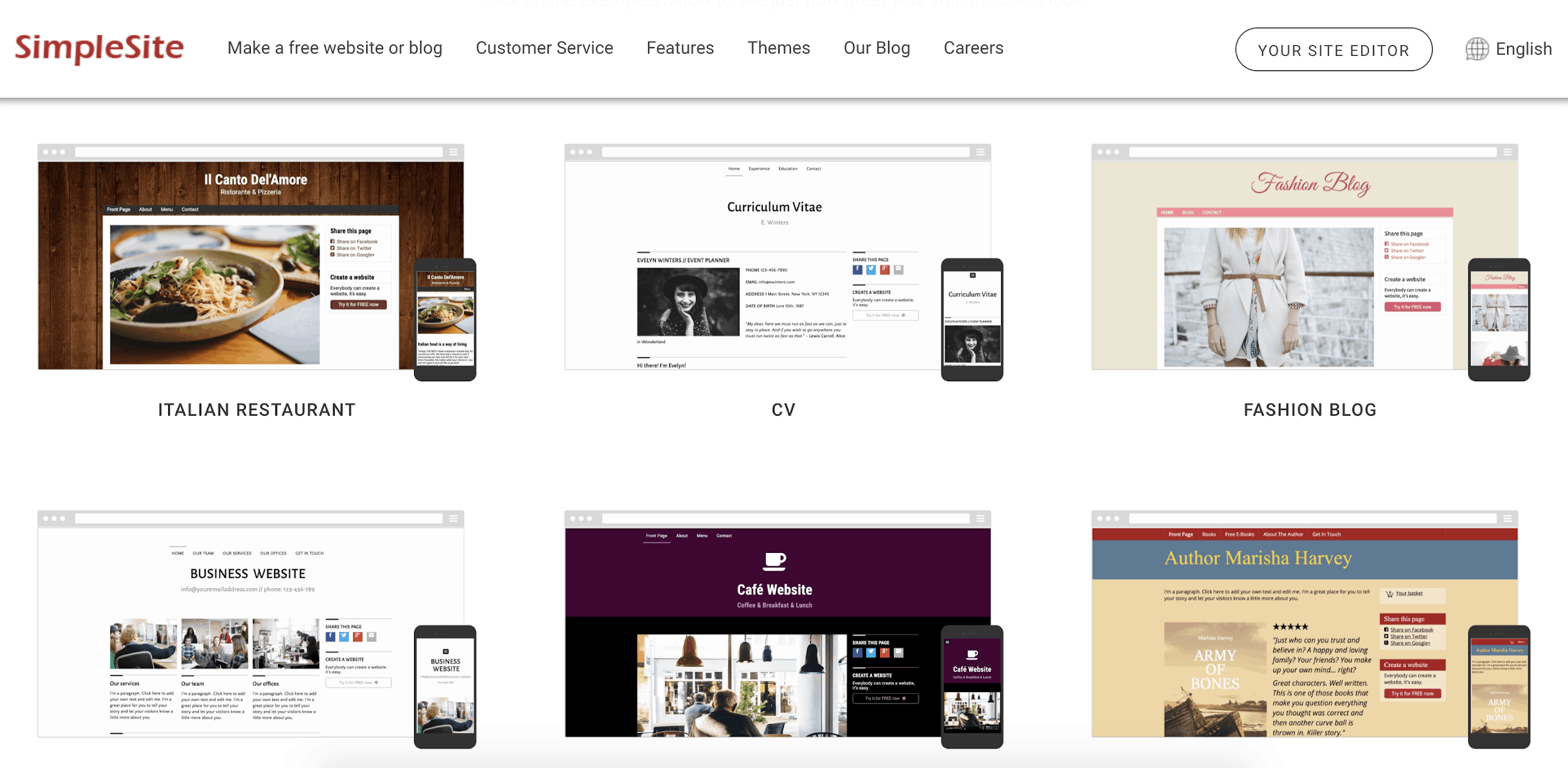 If you're teaching a full course load without a minute to spare,
you might appreciate SimpleSite's efficiency.
Instead of browsing through templates, you'll enter a few pieces of information and – lo and behold! – your website appears. Compared to the other site builders on this list,
SimpleSite offers much less functionality.
You can create a static CV or brochure-style website just fine, and any site you create will be mobile-responsive. However, you won't get the robust page types of SITE123 or the useful free apps available on Wix. If you're not sure if that's going to be enough for you, read our
expert SimpleSite review
 to learn more. To personalize your academic website, you can:
Add a contact page for students or colleagues to reach out
Add an image gallery
Insert a slideshow from your last class or conference presentation
Embed videos from YouTube or Vimeo, or upload them directly
With
SimpleSite's free plan
, you'll get a SimpleSite domain name, SimpleSite branding, and up to 15 site pages in total.
Number of templates
No template library to choose from. You enter basic information to have a website generated for you.
Mobile-responsive templates?
Yes
What do you get if you upgrade to the cheapest paid plan?
With the Pro plan, you'll get:

Free domain included with your subscription
Unlimited pages
Removal of SITE123 branding
Five email addresses
How to Build an Academic Website
From online portfolios to showcase your academic achievements to student information hubs, the builders I've listed above have you covered. If you're ready to get started, follow this simple guide to get your website up and running: 1.
Pick a website builder.
Every option on this list has something great to offer, so take some time to find the one that works best for you. I recommend taking advantage of free trials as much as you can! 2.
Select a template.
This is one of the main reasons I recommend Wix – it offers
tons of academic templates
 to make setting up your website a breeze. 3.
Add extra features.
Event calendars are ideal for individuals who frequently give lectures during travels, or you could start a blog to express your ideas to students and fellow scholars. These features can be found in the app store if they aren't already included in the builder. 4.
Connect a domain name.
You can either get one from your website builder (some plans offer a free domain name!) or purchase one separately
So, What's the Best Website Builder for Your Personal Academic Site?
Here are my recommendations. If you
really
want a completely free website (and don't mind that you'll be stuck with a subdomain, site builder branding, and limited storage), then I'd choose one of these builders:
Wix – because all of its templates are free, all design features are free, and many of its apps are free (including Wix Forum, Wix Documents, and other helpful tools for your classroom)
SITE123 – because you'll get most website customization options for free, plus a very quick and easy website building process with 24/7 live chat support if you need it
WordPress.com – because the free themes and free customization options are decent, and you'll get more storage space (3GB) than with any other free website builder on this list
Top Recommendations for Affordable Upgrades
I'm no professor, but I wouldn't feel good about directing students or colleagues to a URL like 45833429.mywixsite.com or professorjanedoe.site123.me. For that reason alone,
I'd be willing to pay a small monthly fee to use my own custom domain.
And if I were going to pay a little more anyway…I'd probably go with one of these website builders:
Wix Combo Plan – because you'll get a free domain for the first year, without paying for extra storage and bandwidth you probably don't need
WordPress.com Personal Plan – because it's the cheapest plan that allows you to connect your own domain
Squarespace Personal Plan – because it has the most professional-looking templates that will put your work in the center of attention
FAQ
Does Wix have good templates for personal academic sites?
Wix has around 30 education-related templates, with some designs aimed explicitly at university-level professionals. You get complete creative control to edit your site, but if you're in a hurry, you can make just simple changes, as Wix templates look great out-of-the-box.You also get plenty of built-in and third-party tools (including education-oriented apps) – find out more in our expert Wix review

. 



Is Squarespace good for personal academic sites?
Squarespace is well-known for its sleek and polished templates. It also has various features that are useful for an academic website, such as scheduling tools and downloadable forms.Squarespace offers a free 14-day trial to let you test the platform first. Its plans are a bit pricey compared to other website builders, but you can use our coupons to get discounts on annual plans

.
Which website builder has the best free plan?
Wix offers free templates, free design features, and many free apps, including Wix Forum and Wix Documents.That said, SITE123's free plan gives you the most website customization options, and it's super easy to use. Or, if you need a lot of storage, WordPress's free plan

 might be the best option, as it provides 3GB of storage and pretty decent free themes. 
What makes a good personal academic website?
Any education-related website should look professional and have relevant features, such as displaying calendars, videos, downloadable files, and letting students book office hours. All website builders on this list offer various benefits for academic sites, but if they don't meet your needs, check out our list of the best website builders for 2023 for more options.