While all the builders on my list will get the job done, my personal favorite is Squarespace. It has the best-looking templates around, and all the tools you could possibly need to build your website, integrated straight into its editor (so you don't have to look for them elsewhere). You can take advantage of
Squarespace's 30% discount on annual plans
to save on your subscription.
The last thing you want is a potential customer to enter your site and run into a clunky interface or ugly design that distracts them from your beautiful cars. Choose the wrong website builder, and that's what you'll get.
Not all website builders come with all the features you need to make your site look great and function well, like powerful SEO tools, stunning galleries to display photos of your vehicles, and advanced marketing tools to help you reach the right audience.
I've tested the best site builders on the market to take the guesswork out of selecting the right option for you. The builders on this list are the ones that proved to be best for a car dealership website.
Short on Time? These are the Best Website Builders for Car Dealerships
Wix – The best car dealership templates
Squarespace – The most attractive image galleries
SITE123 – The best option for complete beginners
What We Look For in the Best Website Builders for Car Dealerships
SEO features: Creating a great car dealership website doesn't mean much without an SEO strategy to help potential clients find you online. The website builders on this list have either integrated SEO tools, or powerful apps and integrations that you can add on.
A variety of gallery layouts: Your clients want to see what you have before heading to the lot. The website builders on this list have plenty of options for displaying photos and videos of the cars you're selling.
Marketing and promotional tools: Get the word out about new arrivals and sales with integrated marketing tools. These builders have tools for creating email campaigns and reaching clients on social media.
Wix offers some great templates built specifically for car dealerships.
The Car Dealership and Modern Car Dealership (shown below) are two templates you can use to get started. Once you've chosen a template, you can customize it to your liking by moving sections around or adding image galleries, text blocks, videos, contact forms, and more.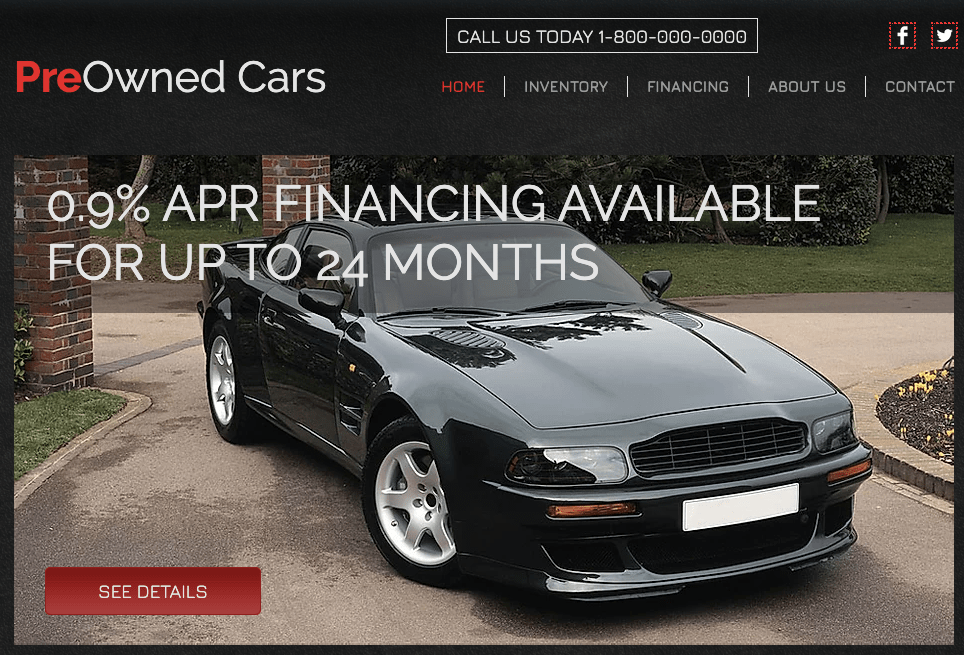 Wix Car Dealership template
If you can't decide which template to begin with, Wix ADI (Artificial Design Intelligence) can create a customized design for you.
Simply answer a few questions about your business's needs, and Wix ADI will recommend three different website designs based on existing layouts. After choosing a design, all you have to do is upload your content, and make any small changes you want.
Here are some other features that make Wix a great option for your car dealership:
Wix SEO Wiz: Get a personalized SEO plan that helps you get found online. Go through your customized checklist to see if your site is currently optimized for search engines. You can also pick and analyze keywords, index your site on Google, and track your progress.
Media galleries: Wix offers plenty of built-in options for galleries. When you upload photos of your car inventory to your site, you can choose a layout, resize images, add links to specific images, and add a title and description. Wix even supports 360° images – simply upload them to your gallery, or import from your social media accounts. You can also showcase any videos you have of your vehicles.
Wix App Market: Wix offers plenty of marketing tools in its App Market. You can add Google AdSense to create ads online, Wix Bookings to allow clients to reserve a time slot to come test drive a car, and Wix Chat to communicate with visitors on your site.
To learn more about the platform, read our in-depth Wix review.
| | |
| --- | --- |
| Free plan available? | Yes |
| Integrated SEO tools? | Wix SEO Wiz |
| Marketing tools and integrations | Plenty of marketing and social apps in Wix App Market |
Squarespace offers an intuitive drag-and-drop editor and sleek templates, making it a great option for a professional car dealership website.
There aren't any templates specifically designed for the automotive industry, so you'll need to select a template you like and then customize it for your site.
You'll notice that Squarespace templates have fantastic image quality and striking designs. They're also customizable, so you can change the fonts, color scheme, and layout of each individual element.
Squarespace also offers these great features:
Gallery Blocks and Pages: Squarespace gives you two ways to display your car images: in a Gallery Block or as a separate Gallery Page. When you add a Gallery Block, you can place images or videos on any page on your site and choose how you'd like them to be displayed. If you want to dedicate an entire page to images of cars, you can use a Gallery Page, which uses a specific design based on your template.
Momento360: Embed 360 photos of your cars using Squarespace's free integration with Momento360, so your visitors get a complete picture of each car.
Map Block: You can easily embed a map on your website using a Map Block. Select a pinned location in Google Maps and have it displayed on your site so that visitors can easily locate your dealership when they're ready to pay you a visit.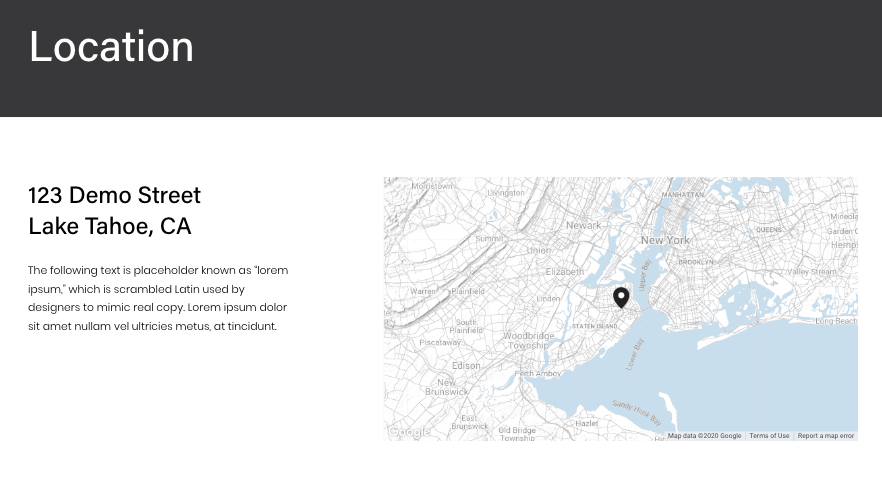 Integrated email marketing: You can place a simple form on your site so visitors can sign up to your mailing list. Squarespace offers a variety of mobile-responsive email templates you can use to create a newsletter or promotional campaign. You'll even get analytics to see how your campaign is performing.
Read our full Squarespace review for some tips and tricks.
| | |
| --- | --- |
| Free plan available? | No, 14-day free trial |
| Integrated SEO tools? | Basic features and SEO checklist |
| Marketing tools and integrations | Built-in email marketing and social media tools |
SITE123's easy-to-use editor allows you to build a site quickly, upload your content, and make simple edits. It could be a great choice if you're just starting out – just keep in mind that the customization options are a bit limited compared to other builders.
The template selection may seem bland compared to Wix's. However, the templates aren't overly complicated and come with the basic elements you'll probably want, like built-in contact forms, location maps, and image blocks.
All of SITE123's templates are mobile responsive, so you can rest assured your site will look great on any device.
SITE123 offers some other features that make it stand out:
SEO tools: SITE123 lets you set meta tags, keywords, and even add meta information to images on your site, to give you the best chances at ranking well in search engine results. The builder also automatically generates a sitemap, another valuable SEO tool that makes it easy for search engines to index all the different pages on your site.
Marketing tools from the App Market: In addition to Google Analytics and AdSense, you can add great social media apps like Pinterest for Business, Twitter Conversion Tracking, and Facebook Pixel, so you can reach a broader audience.
Great customer service: SITE123's Support Center provides detailed guides on how to build your site, and if you get stuck, live chat support is available 24/7.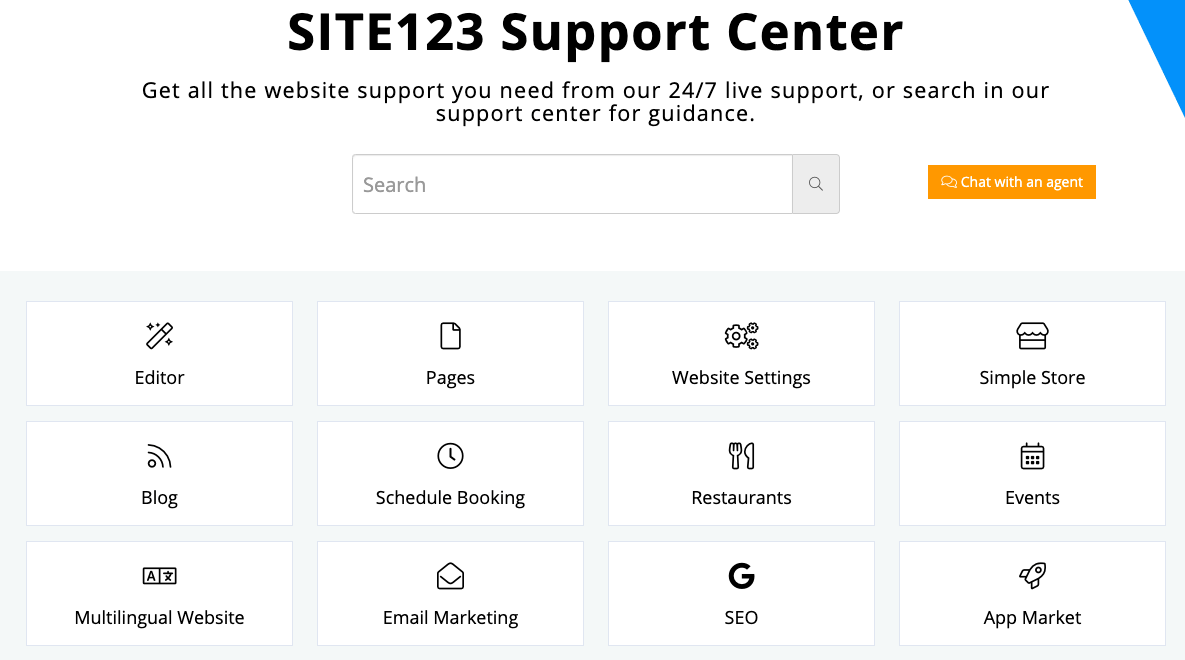 Read our detailed SITE123 review to find out more.
| | |
| --- | --- |
| Free plan available? | Yes |
| Integrated SEO tools? | Yes |
| Marketing tools and integrations | Email marketing tools and third-party social media apps |
WordPress.com is a little more complex than most  DIY website builders, but in return, it has a lot of capabilities.
You'll find a variety of different themes on WordPress.com, most of which are clean and well-designed, that you can customize for your website. However, you won't find any themes specifically designed for car dealerships.
There are third-party websites like ThemeForest, where you can find the exact theme you're looking for. For example, the Motors theme comes pre-built with inventory pages, galleries, social media buttons, and more.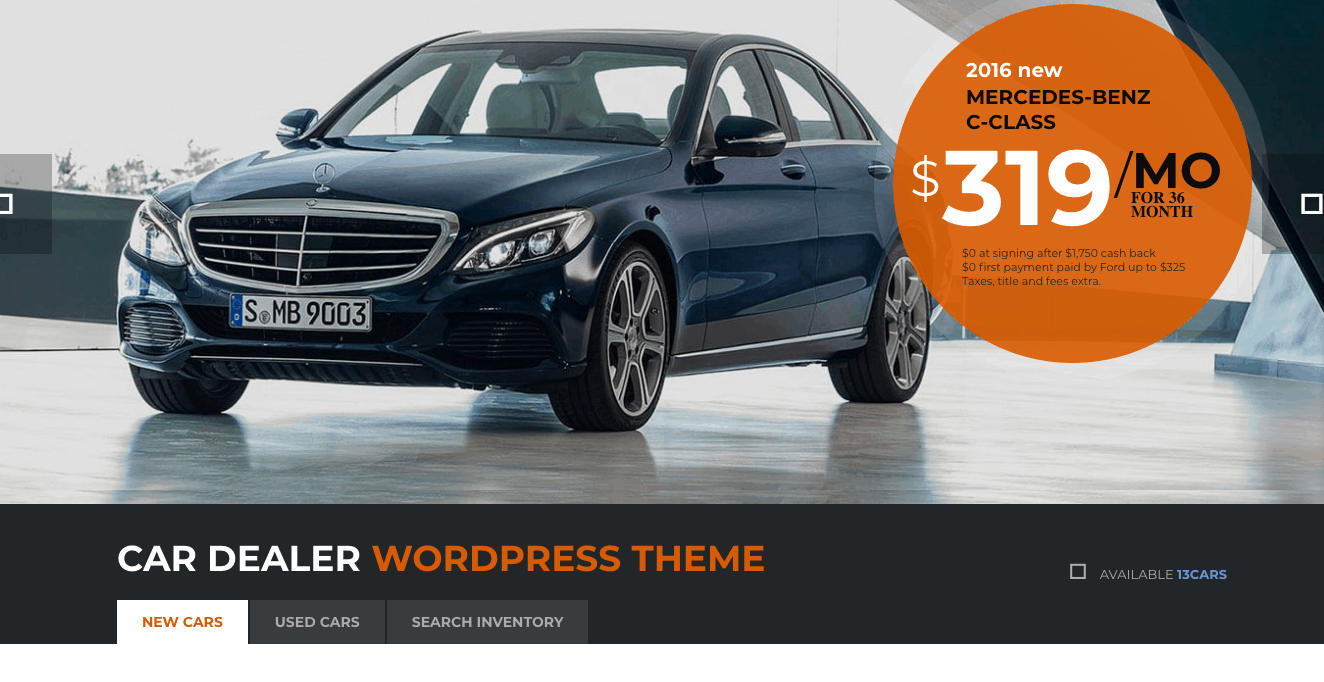 But it is important to note that to use third-party themes and plugins, you need to be on WordPress.com's Business plan. You'll need to decide if a simple website is enough for you, or if you want to invest in more advanced features.
WordPress.com has lots of other great features. Here are a few of them:
SEO plugins for pros: If you decide to sign up for the Business Plan, Yoast and SEMRush are two plugins I recommend. Both offer suggestions on how you can improve the SEO on each page of your site, including adding meta tags and descriptions, and optimizing keywords.
Integrated social sharing: Automatically send your posts to social networks like Facebook, Twitter, and more, so each time you add a new vehicle to your site, you can reach the broadest audience.
Beautiful galleries: You can create a gallery with individual captions by adding a Gallery block to a new post. You won't have as many in-depth options as you would get from a gallery plugin, but it's a simple, straightforward option.
Read our full WordPress.com review for more details.
| | |
| --- | --- |
| Free plan available? | Yes |
| Integrated SEO tools? | SEO plugins, like Yoast and SEMRush, on the higher-tier plans |
| Marketing tools and integrations | Most marketing tools require a plugin |
Weebly doesn't have themes specifically designed for car dealerships, but the themes it does provide have clean, mobile-responsive designs that you can easily customize to suit your needs.
Weebly's SEO tools are a bit limited. There's a basic SEO guide that you can refer to for some tips and tricks on how to build your strategy. However, it lacks in-depth SEO tools like what Wix offers.
But Weebly still has some strong features:
Email marketing: Weebly Promote makes it easy to create an email campaign from start to finish. Choose your layout, build email contact lists, and track how your emails are performing.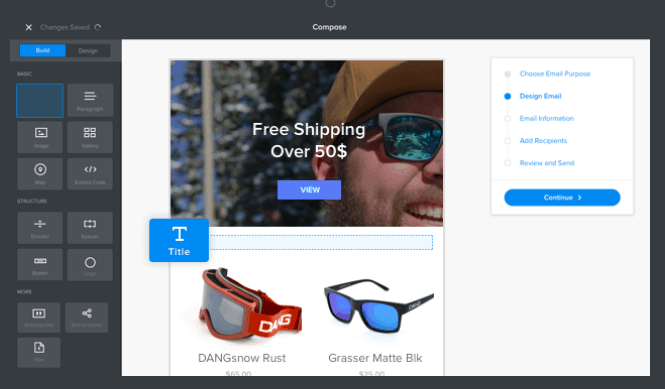 Weebly's Email Marketing feature
Gallery apps: You can use apps like Media Gallery, which allows you to customize the layout of your gallery and display photos with buttons and text. The Image Loupe app lets visitors zoom in on an image, so they can get a better look at all the little details on a car before coming to see it.
Online Form Builder: You can easily create a contact form with the simple drag-and-drop editor. You can select customized fields, like text boxes or checkboxes, and store the data you receive to learn more about your customers.
In our expert Weebly review you'll find a more detailed overview of its features.
| | |
| --- | --- |
| Free plan available? | Yes |
| Integrated SEO tools? | SEO guides available |
| Marketing tools and integrations | Weebly Promote for integrated email marketing, social apps in App Market |
So, Which Option Is the 'Ferrari' of Website Builders?
Ultimately, the builder you choose should be easy to use, but it should also allow you to build a sleek, professional-looking site to encourage clients to visit your dealership.
These are my two top recommendations:
If you want to wow your clients with all-around stunning image displays, go for Squarespace. The integrated email marketing tools are also very handy for creating promotional emails directly from within the builder.
If you want to get your dealership website started quickly and easily, try Wix. With Wix SEO Wiz, you can also rest assured that your website is ranking in search engine results and reaching the right clientele.
Take a look at the chart below for a quick summary:
| | | | | |
| --- | --- | --- | --- | --- |
|   | Automotive Templates | SEO Tools | Standout Marketing Features |   |
| Wix | ✔ | Wix SEO Wiz to help guide you in your strategy | Good selection of marketing apps in Wix App Market | |
| Squarespace | ✘ | Basic SEO and checklist | Email marketing and social media tools integrated into the builder | |
| SITE123 | ✘ | Good set of basic SEO features | Basic built-in email marketing tool, other apps available | |
| WordPress.com | Third-party themes available for purchase | Advanced SEO plugins like Yoast and SEMRush | Need plugins to add more marketing tools | |
| Weebly | ✘ | Basic SEO guide | Weebly Promote to send emails and newsletters | |
FAQ
What makes a good car dealership website?
Once you've chosen a website builder for your car dealership, it's important to consider the factors that will make your website stand out from the crowd. It should include an up-to-date selection of new or used cars you have on your lot, with multiple images, details, and even a video of each one. Also, make sure to include other information that will make your website look professional, such as a map with your dealership's location, information about your company and staff, contact forms for your clients to reach out to you, and a list of any other services you offer.
How much does a car dealer website cost?
The cost of your website really depends on your preferences. You can easily create a basic car dealership website using a free plan from one of our recommended website builders, or you can opt to pay for a plan that gives you more features and customization options. If you decide to go for a paid plan, you can expect to pay at least a few dollars a month for the plan itself. There might be other elements that cost more, such as paid themes, subscriptions to plugins, and other tools. Obviously, the more you invest in your website, the more functions it can have. However, this doesn't mean you need to spend hundreds of dollars a month to get a professional-looking website. You can still get the job done on a modest budget.
Is Wix good for a car dealership website?
Yes! Wix is a great option for building your car dealership website. Wix offers a few good templates built specifically for car dealerships, so it will be simple to get started. Wix's templates are also very customizable, so you can easily add elements or move things around to get the look you want. Wix offers some great features, like beautiful media galleries for images and videos of your vehicles. Wix SEO Wiz is also very helpful in making sure that your potential clients can find you when they search online. Read our full Wix review to learn more.