travelers should also be able to book trips and tours on your website, and perhaps even pay online
. You'll also need to consider that if your website doesn't show up in online searches, you won't get very far. But not all website builders offer SEO, social media, and marketing tools that will boost your site's visibility.
Some even lack basic booking features
. On the surface, many website builders seem to offer the perfect solution for what your travel agency needs. But dig deeper and you'll learn
they don't always provide the right features or tools for your industry
. Choose the right builder and you'll have what you need to grow your business – but choose the wrong one, and you'll waste time and financial resources. To help you make an informed decision, I've researched popular website builders and put together a list of the best options for different types of travel and tourism agencies.
When it comes to website design, essential features, and useful business tools, I found Wix came out on top
. You can try Wix for free, or keep reading to find out which of these builders is best suited to your travel agency's needs.
Short on Time? These Are the Best Website Builders for Travel Agencies in 2023
Wix – Great selection of templates for travel websites, plus features and tools to match.
SITE123 – Easiest builder to get a functional travel agency website online.
Squarespace – Stunning templates with visual impact and excellent marketing tools.
What We Look For in the Best Website Builders for Travel Agencies
While researching and testing website builders for travel and tour agencies, these are the features I focused on.
User-friendly design. All the website builders on this list are intuitive and easy to use. You won't need technical skills to build a website that will draw visitors in – and once your site is live, it's just as easy to update it with your latest travel destinations, deals, discounts, and blog posts.
Attractive, mobile-responsive templates. A poorly designed template makes for an unappealing travel site. Equally important are designs that are easy to navigate on all devices, including phone, tablet, and desktop.
Travel booking features. All the builders on this list offer booking systems that allow clients to check trip availability, reserve, and even pay online if you've added e-commerce functionality.
Must-have marketing tools. Every travel agency needs a website builder that supports their marketing strategy. These builders offer email marketing, newsletters, blogs, and other tools to help you promote your services and attract clients.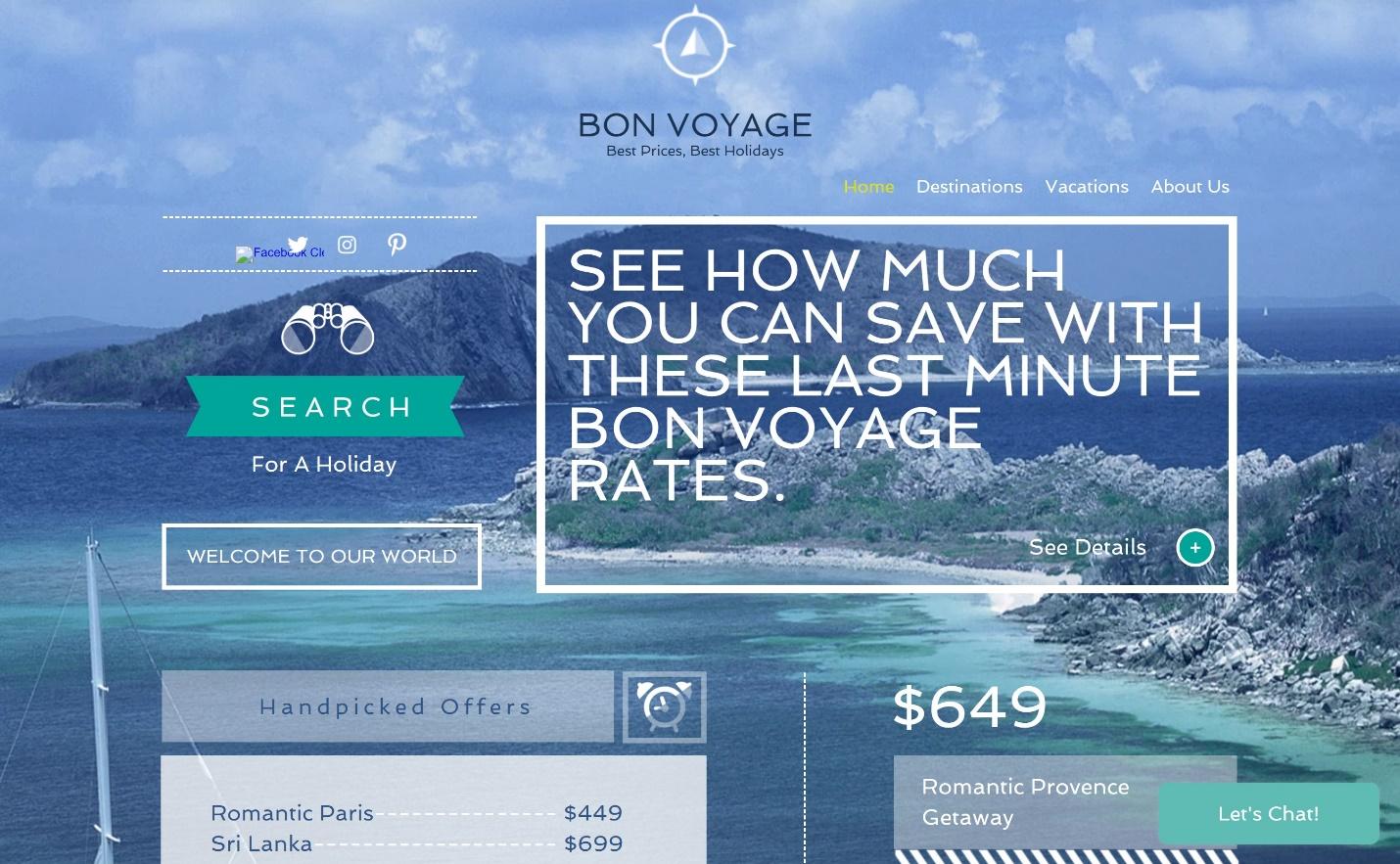 For travel agencies and tour companies eager to create a compelling online presence, Wix stands out as my top choice. Not only does it offer
the biggest selection of free templates
 for travel agencies, but these mobile-friendly designs come packed with features that cater to the needs of the industry. Wix's intuitive interface and drag-and-drop editor make setting up and managing your site hassle-free. You can
add dynamic photo galleries and videos to give potential customers enticing visuals of their prospective journeys
. Wix also offers integrations with review platforms, allowing satisfied travelers to leave testimonials, which can enhance your firm's trust and credibility.
While Wix offers a generous free plan
, as your agency grows and diversifies its services, you'll probably want to upgrade to a paid plan to get a custom domain, remove Wix branding, or branch into e-commerce with travel-related merchandise. Fortunately, Wix offers a range of well-priced plans to suit your firm's changing needs.
Features
Marketing and promotions. Wix gives you tools to craft professional email campaigns, design newsletters, offer discounts and coupons, and create social media ads and videos. Customizable templates can help streamline your marketing efforts.
Comprehensive booking system. Wix Bookings makes it easy for guests to book travel services and securely pay online. You'll also get tools to manage your schedule, calendar, staff, and clients.
AI-powered website design. To make it even easier to build your site, you can try the Wix ADI builder. It takes just a few minutes to create a personalized website complete with image galleries, text, contact forms, and other valuable content.
Suite of business tools. Wix Ascend provides financial, workflow automation, communication, and task management tools that can help you manage and grow your travel agency business. Start for free, then upgrade if you need more advanced features.
Read our expert review
to see more Wix benefits.
Free mobile-friendly templates
800+ (29 travel-themed designs)
Booking features

✔

SEO & marketing tools

✔

Starting price

$

16.00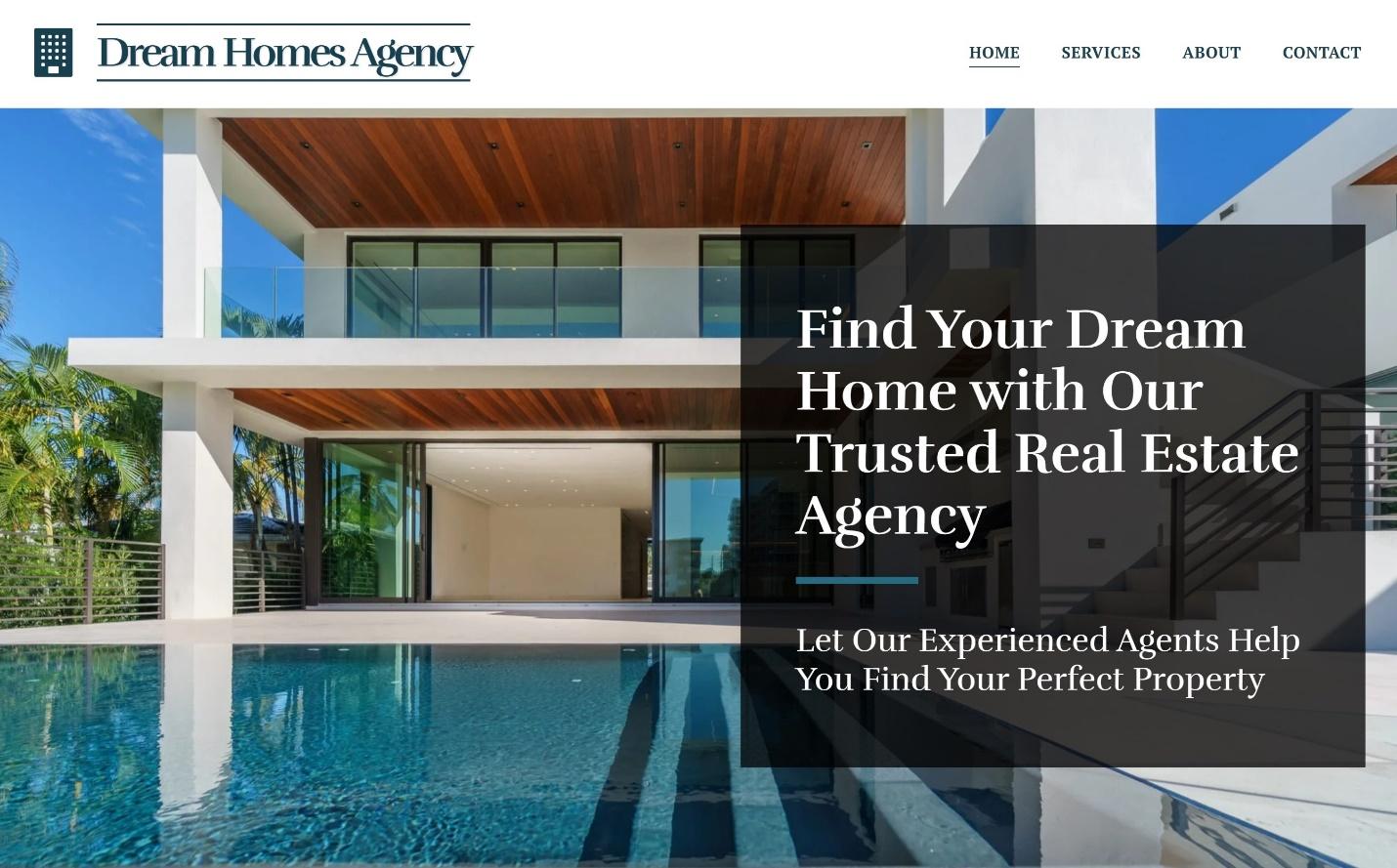 When it comes to easy website building, SITE123 consistently comes out on top. Despite its simplicity, you'll find
its travel and tourism templates include helpful features
to allow visitors to review trip images and itineraries, make reservations, and get in touch for any additional questions. I was impressed by the variety of new tools SITE123 has added to its platform. You can now
use AI technology to write website content
 and there's a basic CRM tool to manage business communication with your customers
. SITE123 templates have always been mobile responsive, but the latest design tweaks make navigation even more intuitive on tablets and phones. To quickly get your site online, choose SITE123's free plan. Don't forget to review the paid plans –
SITE123 has new plans that are tailored to different business needs
, so you'll probably want to upgrade to add a custom domain, integrate payment gateways, and allow guests to book online as your traffic grows.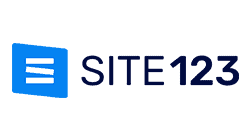 This Black Friday/Cyber Monday, SITE123 is 50 % OFF!
Save 50 % when you sign up for SITE123's annual plan
76 users used this coupon!
Features
Multilingual websites. SITE123 will automatically translate your website into more than one language, allowing visitors to view trip packages and itineraries in their preferred language.
Custom forms. You can design customized contact and booking forms to gather information specific to each client's travel inquiry or trip reservation.
Build brand awareness. Powerful free tools include a digital business card maker, logo designer, and favicon design tool.
Landing page builder. This new feature helps you design a lead-generating landing page that matches your agency's brand. Analytics tools allow you to monitor the performance of your landing page, including its conversion rate.
For more details,
see our expert SITE123 review
.
Free, mobile-friendly templates
140+ templates (a few travel-themed designs)
Booking features

✔

 (with paid plan)
SEO & marketing tools

✔

Starting price

$

12.80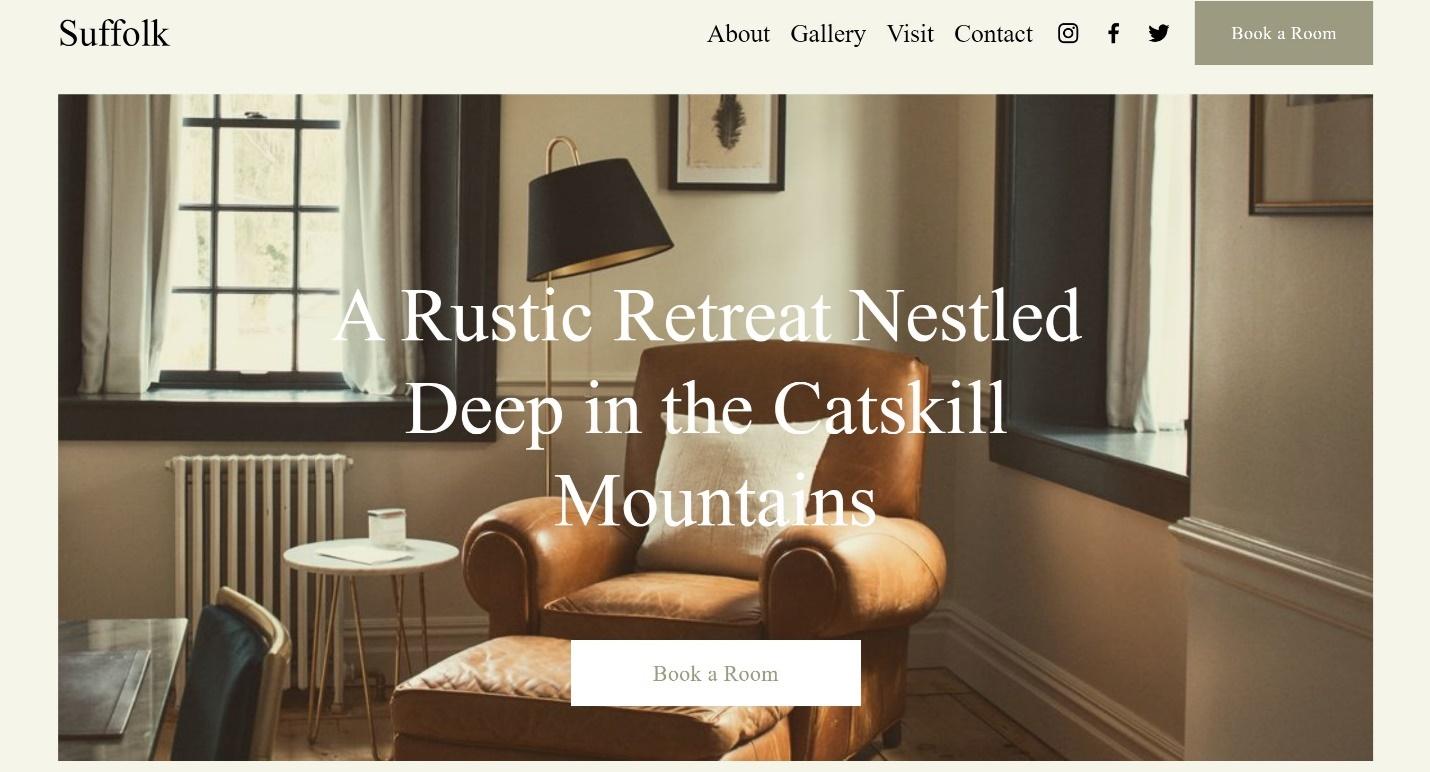 If you want to promote a luxurious feel for your travel agency, Squarespace will be your best option.
Its 140+ stylish templates all share the same features, so you're not limited to a travel-specific design
– you can choose any template that catches your eye. Squarespace also offers impressive design customizations that allow you to build a visually compelling website that sets you apart from your competitors.
You'll also get premium tools for managing and enhancing your travel firm's online presence
. Built-in SEO tools will help your agency rank higher on search engines and drive organic traffic to your website. With robust analytics, you can analyze your site's traffic, visitor behavior, and other vital metrics – and pinpoint what needs improvement. While Squarespace doesn't have a free plan, you can
use the 14-day free trial to choose a template, customize it, and add the features and tools you need
. If you're trying to decide if a builder's paid plans offer good overall value, I can confirm: Squarespace does.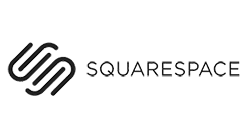 Get $65.00 Off Squarespace's Business Plan
Don't miss out on this great deal!
715 users used this coupon!
Features
Premium marketing tools. Squarespace's marketing tools allow you to design and send branded email marketing campaigns, create engaging videos, manage mailing lists, and track performance – all from your dashboard.
Custom template design. Squarespace Blueprint will help you create a custom template design that's uniquely suited to your travel agency's goals and vision.
Third-party integrations. Not only does Squarespace offer robust built-in tools, but you can also integrate a number of apps you may already be using for accounting, customer relationship management (CRM), analytics, and more.
Excellent social features. Connecting and sharing content across multiple social media platforms, including Facebook, Twitter, Instagram, and TikTok, is easy. Plus, the Unfold mobile app has templates you can use to create eye-catching social content that will amplify your site's reach.
Learn more about Squarespace's features
in our in-depth review
.
Free, mobile-friendly templates
140+ templates (7 travel-themed designs)
Booking features

✔

SEO & marketing tools

✔

Starting price

$

16.00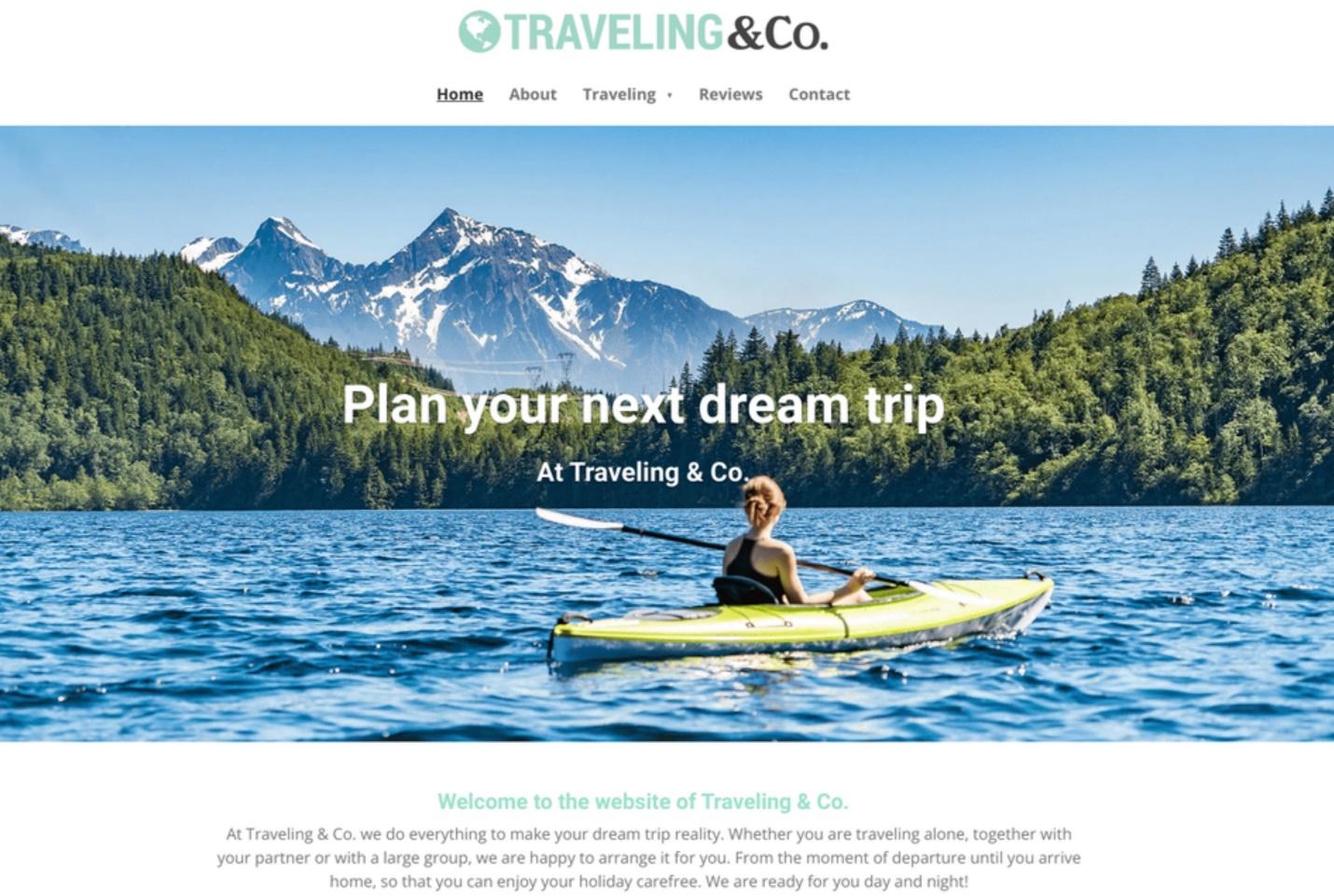 You won't need tech-savvy skills or lots of time to build your website with Webador. Its intuitive interface, customizable templates, and WYSIWYG (what you see is what you get) editor streamlines the design process.
Webador promises to help you build an attractive and fully functional travel agency site in 10 minutes or less
– and it mostly succeeds. But Webador's not just about speed and ease.
It pairs design simplicity with features that cater to travel agencies: a booking system, SEO tools, custom forms, and a rating widget
. Add a slideshow, and you can use this simple builder to create an immersive experience for travelers that encourages them to commit.
Features
Multimedia content. Webador allows you to integrate videos from YouTube and Vimeo to give visitors a first-hand look at tours and travel destinations.
Social media widgets. If you're growing a social media following, you can display feeds from platforms like Facebook, Twitter, Instagram, and Pinterest.
Third-party tools. While Webador doesn't have an app store, you can use embeds to add features like live chat, follow-up surveys for travelers, marketing campaigns, and countdown timers and clocks for limited time promotions.
Interactive maps. If you offer bespoke tours, you can guide visitors by embedding maps with highlights to notable locations, tours, or landmarks.
Curious?
Check out our expert Webador review
for more features.
Free, mobile-friendly templates
50+ (6 travel-themed designs)
Booking features

✔

SEO & marketing tools

✔

Starting price

$

4.00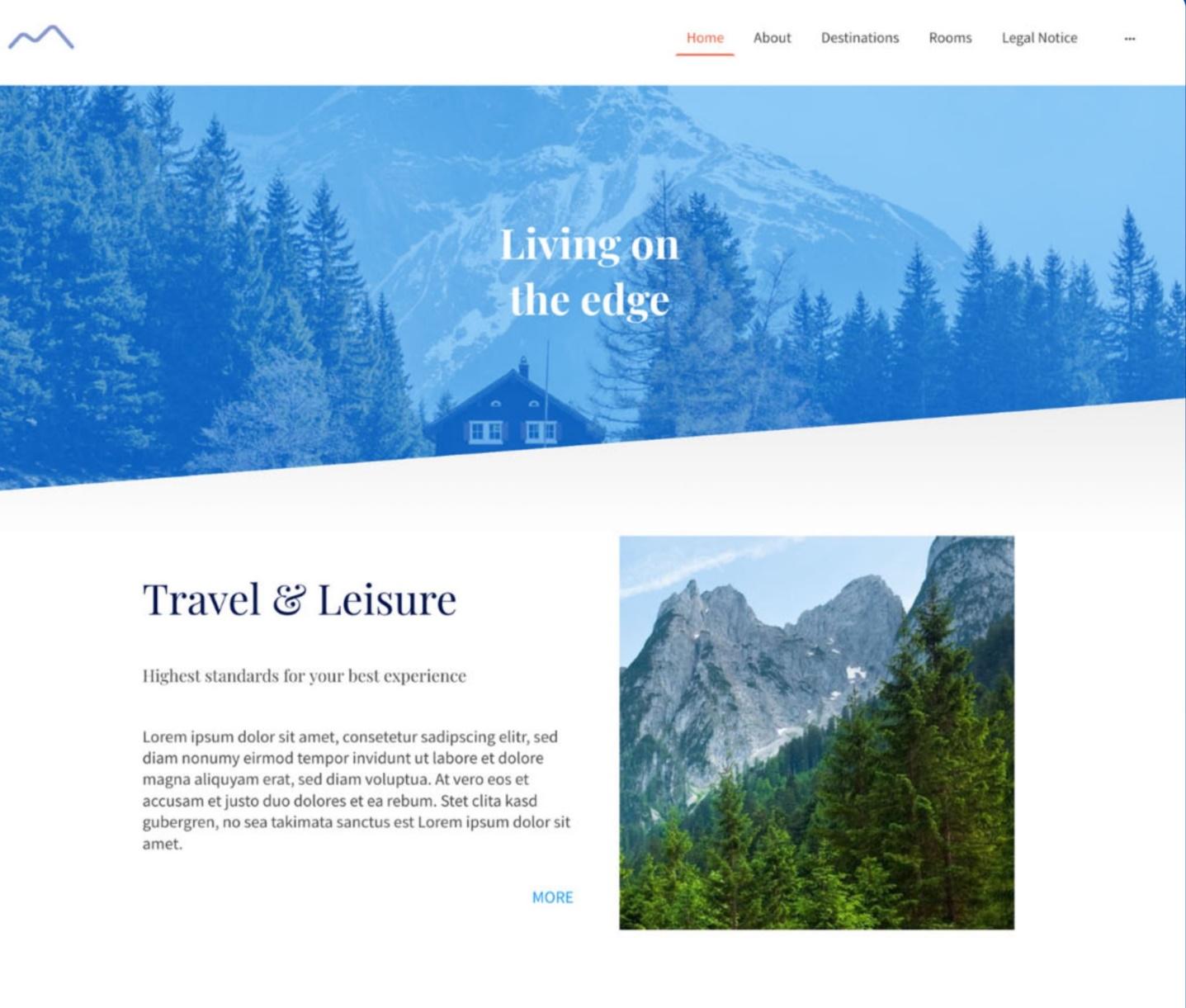 If you want to create a professional travel agency website without breaking the bank,
IONOS is one of the cheapest options out there
. While its template selection is small – just 28 in all – its inexpensive plans have built-in practical features. They come with secure hosting, professional email addresses, custom domains, and more. IONOS's templates are attractive, modern, and can be easily customized to suit the specific branding and aesthetics of your travel agency.
You simply choose a color scheme and then drag and drop pre-built elements, including text sections, CTA buttons, and image/video galleries, onto your pages.
You can also add a contact or newsletter signup form to engage with potential travelers.
For travel agencies on tight budgets, IONOS's low-cost MyWebsite Now plans offer excellent value
. The 30-day money-back guarantee gives you ample time to test the platform before you commit. My advice is to start with the entry-level plan and upgrade to access advanced features like IONOS's booking system.
Features
Handy SEO tools. The free website checker analyzes your site's SEO performance and offers tips to improve visibility and boost traffic. For more advanced features like help with sponsored advertising, you can upgrade to a ranking Coach plan.
Dedicated support representative. You'll receive personalized support from a dedicated consultant who will answer your questions, discuss your site's performance, and provide strategies for success.
Legal and privacy policy templates. Your IONOS website comes with an optional built-in cookie policy to ensure GDPR compliance. This is useful if you work with an international clientele. You'll also find a legal policy template you can customize to reflect your agency's practices.
AI-powered text generation. This handy tool will generate text for headings, trip descriptions, and recommended destinations, saving you time and taking the work out of building your site.
Read our expert IONOS review
for additional info.
Free mobile-friendly templates
28 (1 travel agency template)
Booking features

✔

SEO & marketing tools

✔

Starting price

$

6.00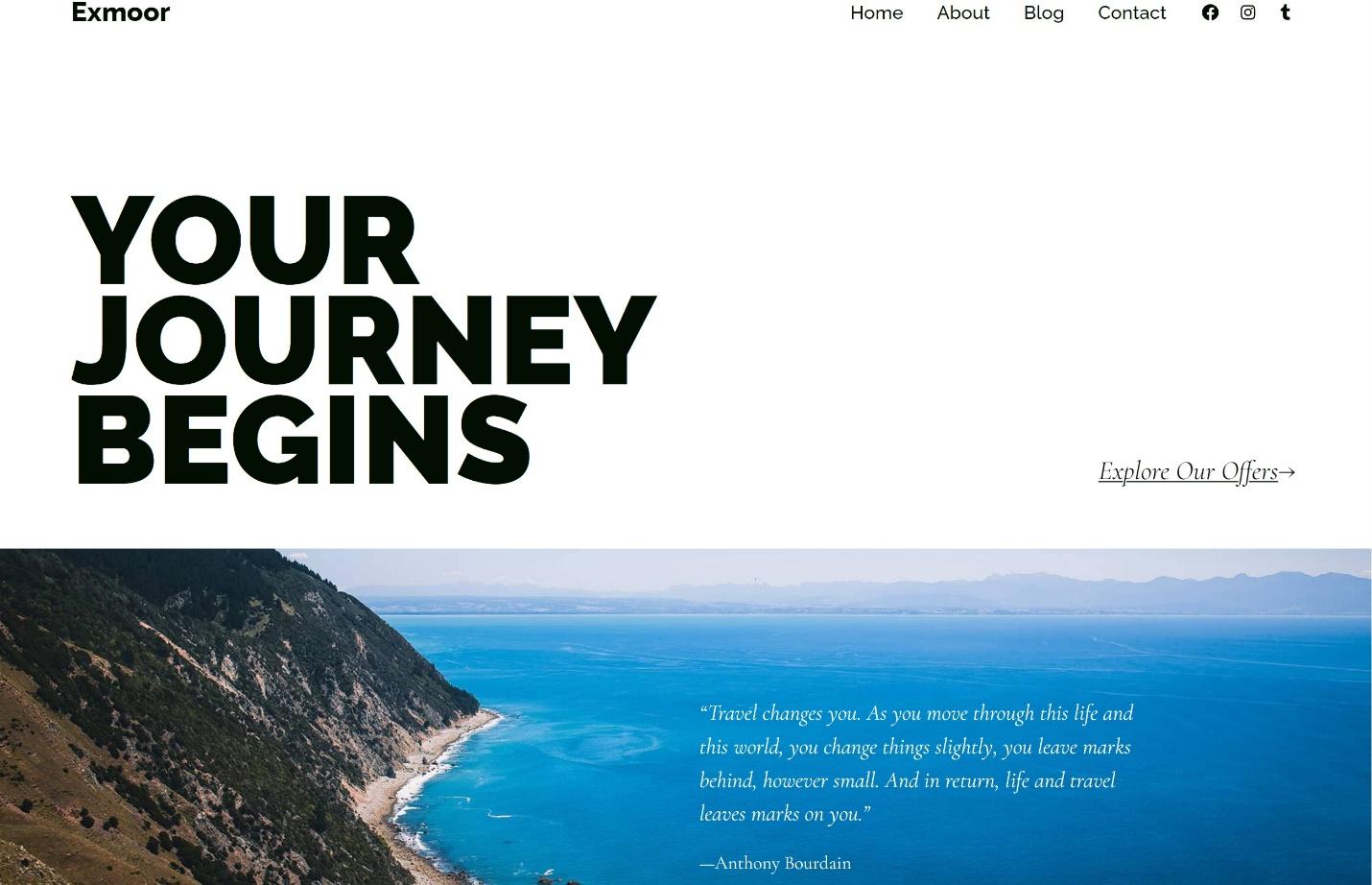 WordPress.com may be more challenging to learn than the other builders on this list, but if you invest some time and effort, your patience will be rewarded.
WordPress.com's customization is second to none
, so you can build a travel website that truly captures what's unique about your business. WordPress.com offers a bunch of travel-themed templates with visually engaging layouts and extensive features. While you can add appointment booking with a form block,
the range of third-party booking tools designed for travel companies is definitely a standout feature
. Just keep in mind, these are only available on a Business plan or higher. While WordPress's free plan is an ideal starting point,
the Business plan is the best fit
for established travel agencies, vacation planners, and tour companies
. It adds tons of features, including access to third-party themes, plugins, and additional SEO tools. And if you integrate WooCommerce for WordPress, you won't have to pay a transaction fee for online payments.
Features
Media integration. WordPress.com allows you to create image galleries, embed videos from platforms like YouTube, and use other media to showcase tours or travel destinations you offer and inspire potential travelers.
Blogging capabilities. You can share travel stories, tips, and insights, which can help attract and engage prospective clients. Interested travelers can sign up for exclusive paid content or subscribe to your blog's RSS feed to get the latest travel news.
Plugins. No website builder can compete with the variety of plugins WordPress provides to improve your site's features and functionality – over 50,000 at the latest count. Some of the top plugins available aid marketing strategies and assist with SEO.
Easy design with Patterns. WordPress Patterns are pre-designed blocks and layouts that allow you to quickly customize complex design elements, streamlining your website creation process.
Read our expert WordPress review
to learn more about its benefits.
Free, mobile-friendly templates
125+ (several travel-themed designs)
Booking features

✔

SEO & marketing tools

✔

Starting price

$

4.00
Choose the Right Website Builder for Your Travel Agency
All the website builders on this list provide editors that are easy to use and templates that are visually compelling. The most suitable builder for your agency will rely on your budget and the features you require. If you're looking for an all-in-one solution for your travel agency,
Wix is my top recommendation
. It offers a wide range of templates, an easy-to-use builder, booking add-ons, and other essential tools to take your agency to the next level. For a fast and simple way to build a professional travel website,
go with SITE123
. On the other hand,
Squarespace is ideal for travel sites
 with extraordinary visual appeal. It also offers excellent built-in social and marketing integrations.
To help you make the right choice, here's a brief overview of the builders in this review.
Free Plan
Best Feature
Best For
Starting Price
Wix

✔

User-friendly builder with tons of features and tools for travel agencies
Any travel agency looking for a builder that checks all the boxes

$

16.00

SITE123

✔

Fast and easy builder for professional website
Travel agencies that need to create a website quickly

$

12.80

Squarespace

✘

Great template, social, and marketing tools
Travel agencies that want an eye-catching site that will draw visitors in

$

16.00

Webador

✔

Simple, budget-friendly builder
Travel firms looking for design simplicity

$

4.00

IONOS

✘

Affordable builder for smaller travel and tour businesses
Travel booking agents that want a straightforward site that's still attractive

$

6.00

WordPress.com

✔

Endless customization and plugins for added capabilities
Tourism businesses that need a powerful builder and have prior experience with website builders

$

4.00
FAQ
Which website builder is best for travel agencies?
This depends on your individual needs. That said, Wix is the best all-around builder for travel agents and vacation planners. It offers the largest selection of free templates tailored for the travel industry. Wix also provides excellent built-in features, a comprehensive booking and customer management system, and impressive business and marketing tools
Can I create a travel agency website for free?
Wix, SITE123, Webador, and WordPress.com all offer free plans, although in my opinion Wix's free plan is the most generous. These free plans include basic features and are great for evaluating a website builder, but you'll likely want to upgrade to get a custom domain, remove branding, and access advanced features like payments and bookings.
What features should a travel agency website include?
A tour company or travel agency website should include detailed trip itineraries, eye-catching visuals, customer reviews, a booking and payment system, and your contact information. Above all, it should be easy to navigate and offer visitors a user-friendly experience.
How much does it cost to create a website for a travel agency? 
The cost of your website will depend on the builder you choose and the features you need. Webador is a great low-cost option for smaller travel firms, while SITE123 will get you online fastest – and does it for free. That said, it's hard to beat Squarespace when it comes to price and value.