While all the builders on my list will get the job done, my personal favorite is Squarespace. It has the best-looking templates around, and all the tools you could possibly need to build your website, integrated straight into its editor (so you don't have to look for them elsewhere). You can take advantage of
Squarespace's 30% discount on annual plans
to save on your subscription.
On the surface, many website builders appear to offer the perfect solution for travel agencies. But they don't always provide the features you need. You're probably looking to take bookings on your website. Then, every travel agency wants to market their site too.
But not all website builders offer booking features, while others can be an SEO nightmare.
Choose the right one, and you'll have a marketing machine that can propel your business and bookings forward.
Choose the wrong one, and you'll waste precious time and resources.
 With this in mind, I've researched a bunch of major website builders to find the best ones for travel agencies. Read on to discover the best website builder for your needs.
What We Look For in the Best Website Builders for Travel Agencies
I know time is of the essence for travel agents, so
all the website builders on this list are intuitive and user-friendly.
 They'll all empower you to get online in a matter of hours and your team can easily update your site with the latest deals, discounts, and blog posts. With that box checked, I looked for website builders with the following features:
Attractive travel templates: Although you can adjust any template to suit your needs, using one designed specifically for your niche provides guidance, inspiration, and a great starting point for your project. It makes the task less daunting and speeds up the process.
Booking features: Most travel agencies are in need of a booking system which offers a smooth experience for both customers and staff. I've outlined the options available with each of the website builders on this list.
Easy-to-use marketing tools: Choosing a website builder that easily integrates with your marketing strategy can save you time and effort. So I've highlighted the marketing and SEO tools that come with each platform. Some offer built-in email marketing, while others provide extensive social media features.
With two templates designed specifically for travel agencies, Wix is a reliable option. But don't think your choices are limited.
There are lots of other templates in the travel category which feature built-in bookings.
All Wix templates are customizable in terms of layout, content, and design, so you have the freedom to adjust any template from any category to meet your needs.
But what really sets Wix apart from other builders is all the features you can easily add to your website.
 Almost every kind of functionality can be implemented, from bookings through to live chat. It's ideal for travel agencies who want to increase sales. However, if you're adding bookings, blogs, and all sorts of other functionality yourself, your pages could get clunky. Try not to go overboard and keep your users in mind.
You can find more useful tips in our expert Wix review
.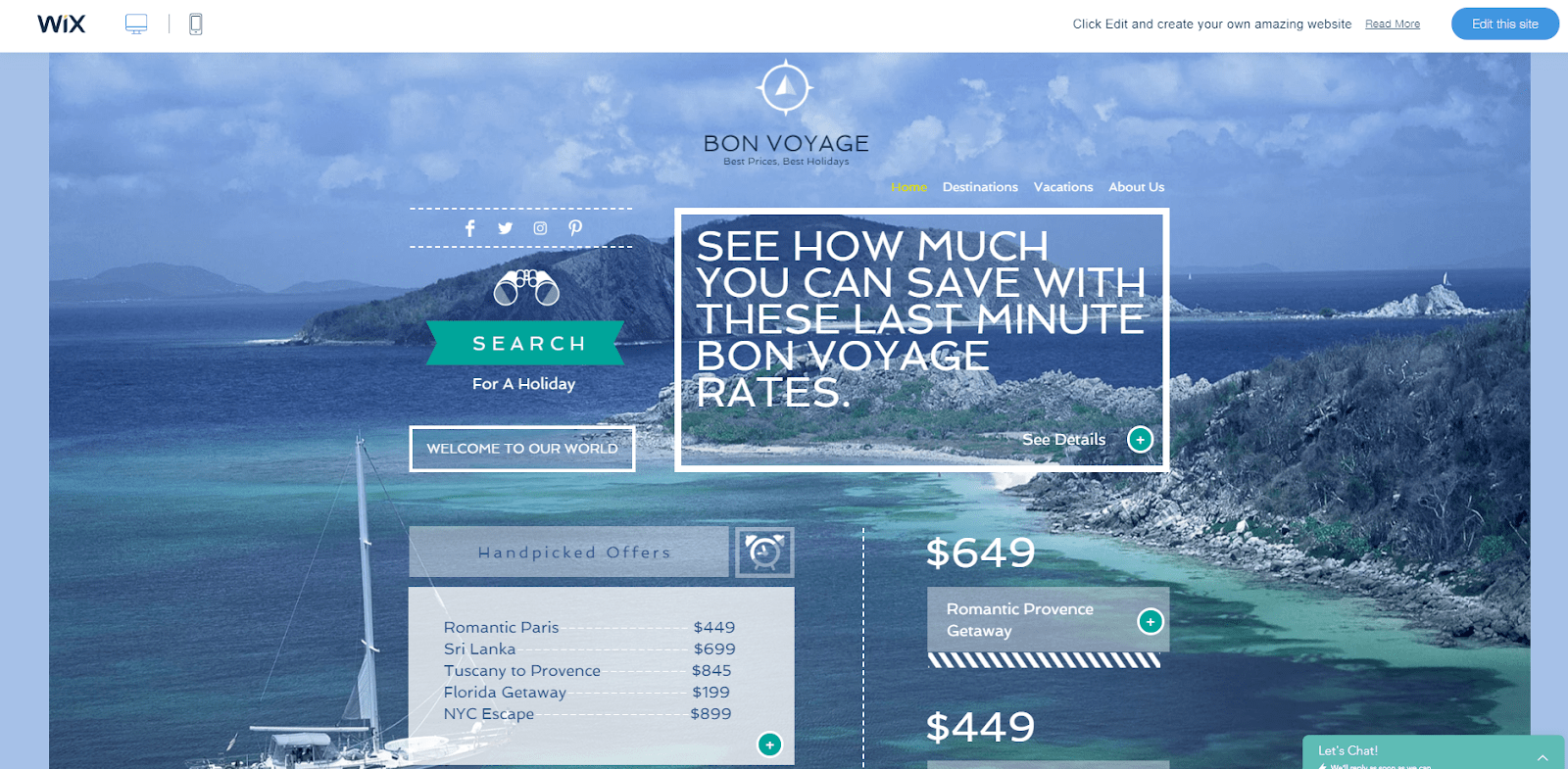 Among the countless features available on Wix, here are the ones most travel agencies will appreciate.
Booking apps: Wix App Market offers hundreds of apps which can increase the functionality of your site. Use Wix Bookings so clients can book appointments and tours. You can also take advantage of free apps like Wix Hotels and Vacation Rental Bookings.
Communication tools: You can easily add forms or live chat to your website so customers can reach out with questions.
Marketing tools: Wix has an extensive range of marketing apps, integrations, and built-in features. Wix ShoutOut allows you to send out newsletters easily, and you can add a blog to your site with just a couple of clicks.
Customer reviews: Vacations are often a big purchase, so you need to build trust with your site visitors. Displaying testimonials and reviews on your site can really help here. Luckily, Wix has more than a dozen apps which can help with this.
Though
Wix offers a free plan
, chances are you'll need a paid one as free websites don't come with custom domains, Google Analytics, or online payments. While many apps are free, some will require an additional fee.
Travel templates available?
Over 30, including one with a built-in search bar designed specifically for travel agencies
Booking feature?
Yes
Marketing tools?
Yes – for social media, blogging, and advertising
SEO features?
Wix SEO Wiz offers step-by-step help for SEO and apps are also available
Starting price of business plans

$

16.00
All of
Squarespace's templates are clean and attractive
, designed to wow your visitors at first glance. While there are no templates designed
specifically
 for travel agencies, this isn't a problem because any template can be adjusted to suit your specific needs.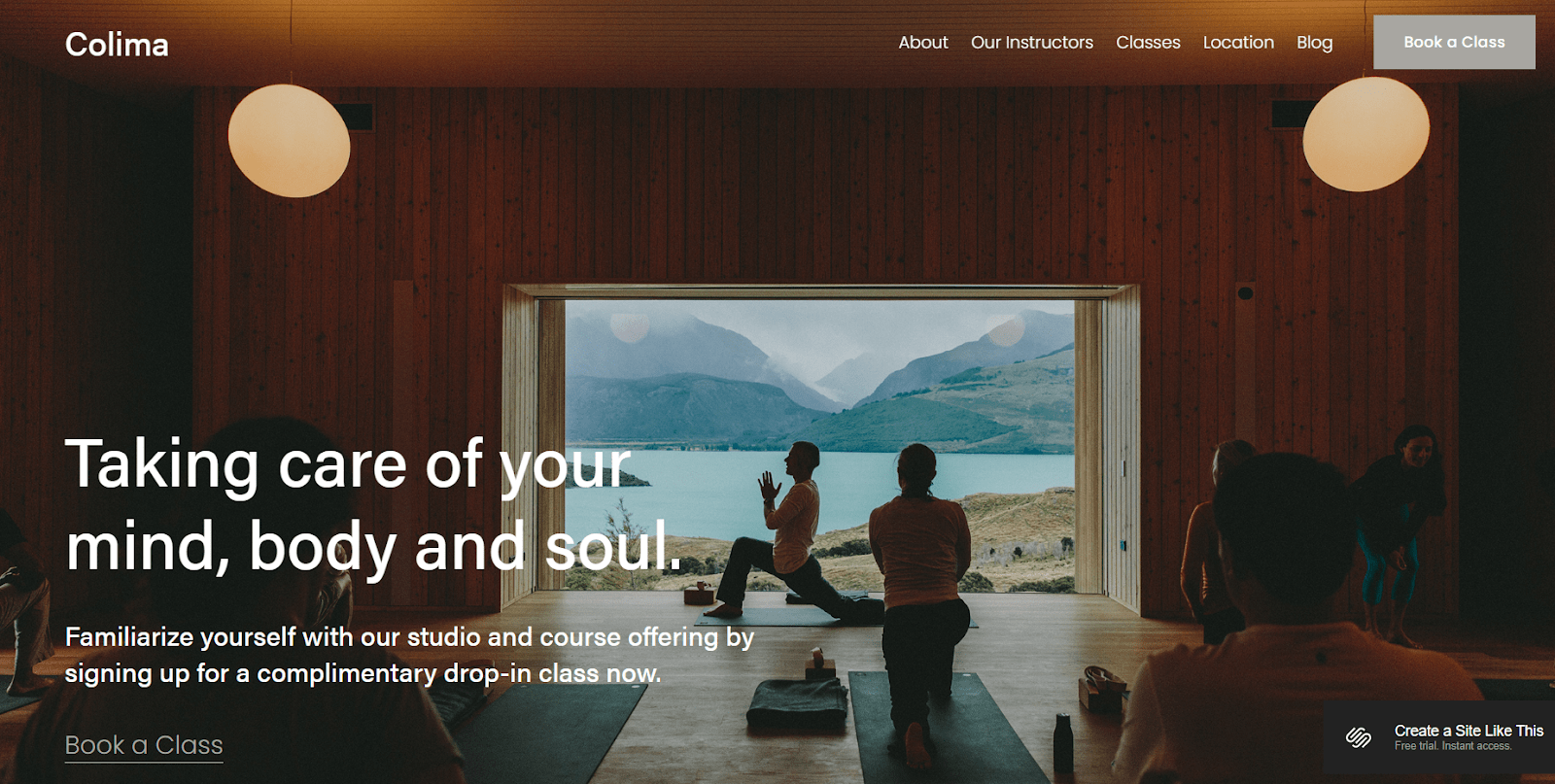 The templates put a lot of focus on images, so Squarespace is probably the best website builder if your travel agency tries to promote a luxury feel or puts an emphasis on lifestyle marketing.
Your site can also feature video backgrounds.
If you have a coder on your team, custom CSS can be applied to your designs, too.
Check out our expert review for more in-depth info
. If you want visitors to take one look at your site and feel like packing their bags, Squarespace is the website builder for you. The platform also offers:
Booking integrations: While Squarespace's built-in booking system doesn't work for holiday reservations, you can direct visitors to third-party booking pages or embed widgets from booking services like Rezdy or Regiondo.
Mobile responsive sites: All Squarespace designs are mobile-ready, so your customers can plan their next vacation while on-the-go.
Great blog platform: Sharing expert tips and travel advice through blog content is a great way to boost SEO, build trust, and drive upselling. Squarespace has a better blogging platform than most competitors. Posts can be scheduled ahead of time and you can enable comments, too.
Marketing features: Squarespace offers loads of integrations. You can easily connect your site to social media and integrate Google Analytics, Google Adsense, and Mailchimp to boost your marketing campaigns.
Travel templates available?
No – just one for a travel blog
Booking features?
Yes
Marketing tools?
Yes, including loads of social media integrations
SEO features?
All the tools you need, but it'll take time to learn how to use them
Starting price of business plans

$

23.00
Known for its endless customization options,
WordPress.com also offers professional designs and extensive features
. For travel agencies,
WordPress.com's range of booking functionality is its standout benefit.
You can install countless booking plugins – two of which are free and designed to set up a complete travel booking system. They both come with a selection of popular payment gateways, as well as five-star ratings.
You can learn about more WordPress.com plugins in our expert review
. Just keep in mind that access to plugins is only available on the Business plan or higher.
However, it is worth the investment to have a booking system specifically for travel agencies.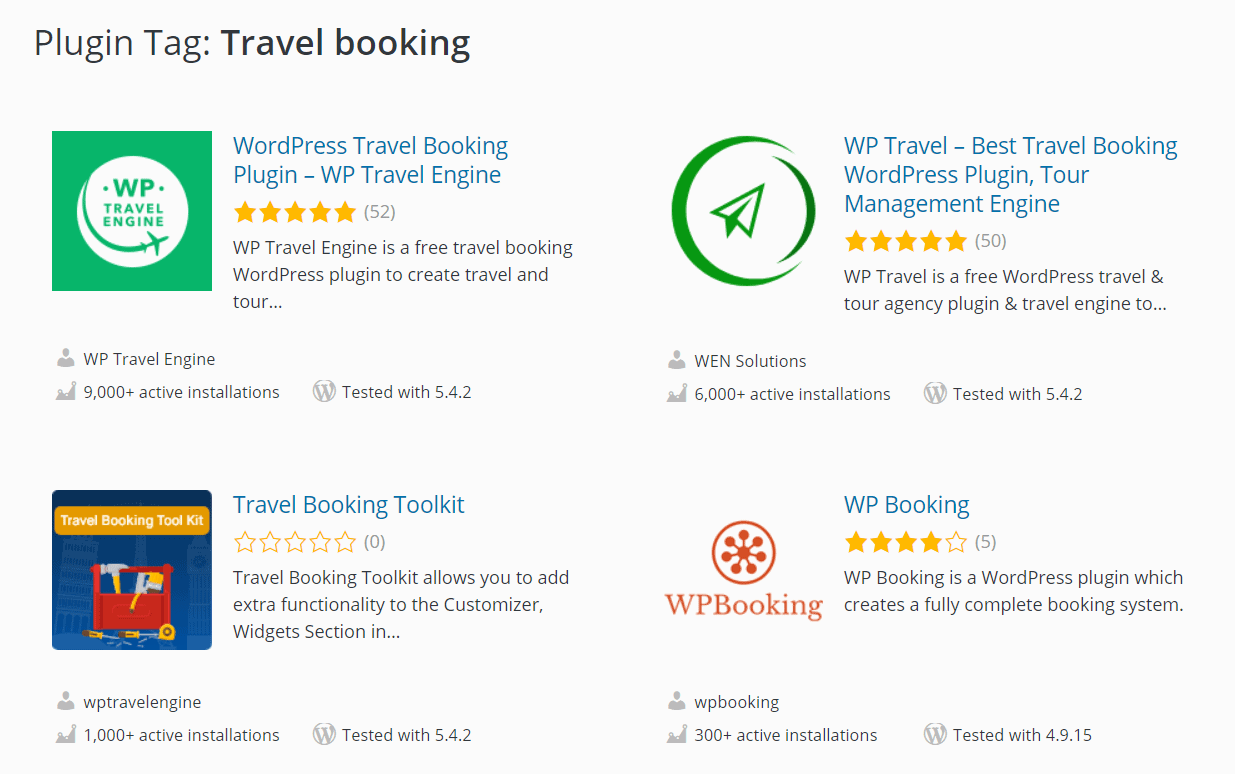 WordPress.com may come with a steeper learning curve than the other builders on this list, but it also offers advanced design tools and CSS editing, so your design choices are never limited. As well as top-class booking functionality, WordPress.com also offers:
Travel themes: The WordPress.com library has two themes with "Travel Agency" in the name, as well as dozens more travel-related layouts. If you have a Business Plan, you can also install third-party themes from sites like ThemeForest.
Multilingual plugins: If you want your packages to appeal to travelers from all over the world, try creating a multilingual site with PolyLang or WPML.
Brilliant for blogs: WordPress.com began life as a blogging platform and many of its themes continue to put a prominent focus on blog pages. This is great for travel agencies who want to take their brochures online. It's also ideal if blogging is part of your marketing strategy.
Travel templates available?
Lots!
Bookings feature?
Yes
Marketing tools?
Plugins, as well as Mailchimp and Google Analytics integrations
SEO features?
Built-in tools
Starting price of business plans

$

25.00
Do you organize local tours? Or arrange vacation rentals for a small number of properties?
If you're a small agency that prefers to do business over the phone, SITE123 is ideal.
 Its strength is in its simplicity. The template editor is intuitive and easy to use, and there are some templates that you can easily adjust to suit your business.
You'll find attractive designs ready to go for tour guides, apartment rentals, lodge rentals, and airline agencies.
On the downside, SITE123's editor doesn't have drag-and-drop functionality. Instead, you're presented with a choice of layout options, so customization is limited. However, if you're inexperienced in design, these layout options may actually help. You can simply follow the template and fill it out quickly.
Our expert review will walk you through what it's like to use SITE123's editor
.
SITE123 is suited to the needs of beginners and small businesses
 who don't have time to play around with features and added customization. SITE123 is a good option if you need to set up a web presence quickly, especially for local tours and tourist services.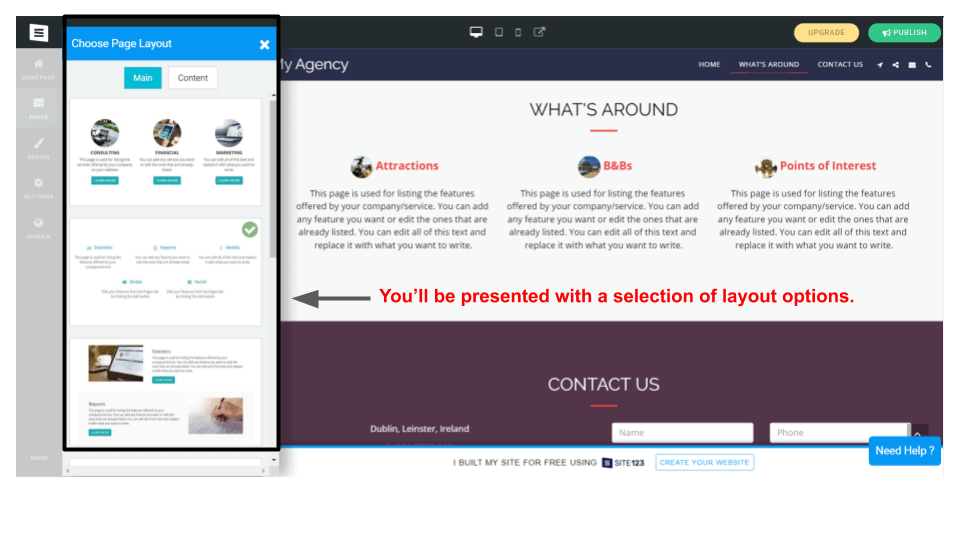 You can also add contact forms to increase leads. It's easy to add a gallery to display images and videos, or show off accommodation or tours with a slideshow or carousel. Other features of note include:
Basic SEO tools: SITE123's tools give you control over meta tags, sitemaps, and 301 redirects to help your agency attract more traffic from Google search results.
Analytics integrations: SITE123 integrates with loads of well-known marketing and analytics tools to boost and track your site's performance. Think Google Analytics, Sumo, Hotjar, LinkedIn ads, and Twitter conversion tracking.
Responsive design: All SITE123's templates are mobile-friendly, so you can take advantage of the growing number of sales made on smartphones. The editor easily switches between desktop, tablet, and mobile views.
Testimonials: If you've received positive feedback from your customers and you'd like to share it with the world, you can easily build trust and social proof by adding a testimonial page to your website from within the SITE123 editor.
Travel templates available?
6
Bookings feature?
Yes, but they're primarily designed to handle appointments rather than vacation plans.
Marketing tools?
Lots of third-party plugins
SEO features?
Yes
Starting price of business plans

$

12.80
All of Weebly's themes are attractive and well designed.
 They're also mobile responsive. However,
it has a smaller choice of themes
 when compared to other site builders and it doesn't offer any travel-focused ones, either. Weebly's drag-and-drop editor is very intuitive and makes customization easy. Plus,
if someone at your agency has programming skills, you can create a website completely tailored to your needs.
You can add HTML, CSS, and even Javascript as needed.
For more info, check out our expert Weebly review
. In terms of bookings, Weebly's App Center features Futurestay for vacation rentals and Regiondo for tour bookings. These make life easier for niche agencies specializing in these kinds of experiences.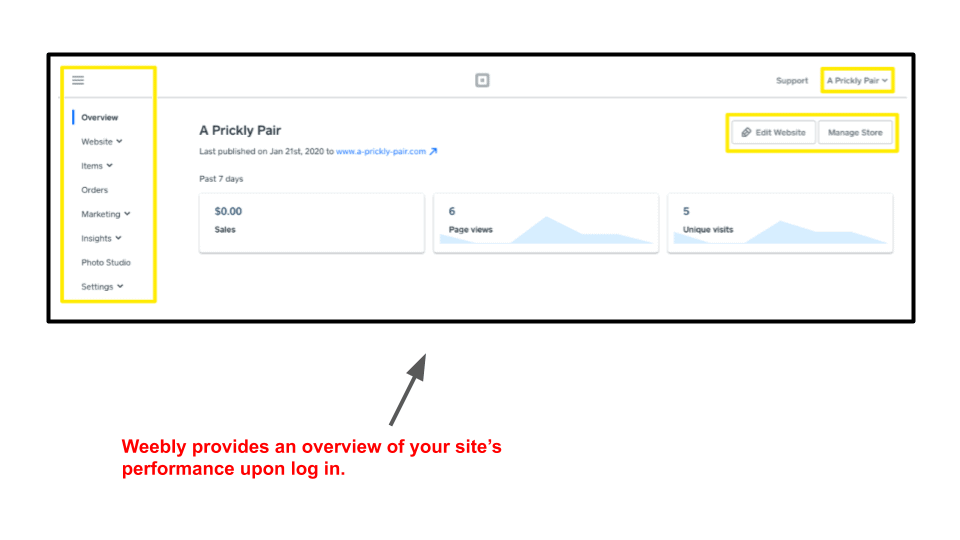 Weebly also boasts an impressive dashboard which allows you to track key site metrics, such as traffic and page views. Its email marketing platform also allows you to effortlessly track performance. Other noteworthy features for travel agents include:
The App Center: Weebly apps are about boosting traffic, driving sales, and social media promotion.
Multilingual plugins: Premium plugins like Localizer and ConveyThis can be used to make your website multilingual. They both support 90 languages!
Eye-catching photo features: Show off your most popular destinations in a slideshow or photo gallery. You can also create a stunning home page by embedding a background video.
Weebly offers value, but not as many features as other builders. It's ideal for promoting a smaller travel agency and sharing content with visitors.
Travel templates available?
No
Bookings feature?
Limited – there's Futurestay for rentals and Regiondo for tours
Marketing tools?
Yes, but not a many as other builders
SEO features?
The basics
Starting price of business plans

$

12.00
Give Yourself a Break by Choosing the Right Website Builder
All the sites on this list offer easy-to-use editors and visually pleasing templates. But if you're looking for a website with loads of functionality,
Wix is the best builder for you
. However, if the primary feature you need is a travel booking system,
WordPress.com is a better fit
. Alternatively, if you already use a third-party booking system, it's worth checking to see if you can integrate it with
Squarespace
.
| | | |
| --- | --- | --- |
| Website Builder | Top Features | |
| Wix | Very user-friendly and comes with a huge choice of features and functionality | |
| Squarespace | Will help you build a beautiful, on-brand website to wow your visitors | |
| WordPress.com | Stands out for its travel booking plugins and superior customization | |
| SITE123 | A simple but effective tool ideal for small teams | |
| Weebly | Extremely easy-to-use with endless customization possibilities | |
FAQ
How much does it cost to make a travel website?
It's possible to create a travel blog or journal for free. But if you want a professional and fully functional site for your travel agency, you'll need to sign up for a paid website builder plan. The site builders listed above offer various plans and pricing, but here's an overview of what you can expect to pay for a business plan.
How do I create a travel website for free?
Wix, SITE123, WordPress.com, and Weebly all offer free plans. These include basic features, such as access to templates, support, SSL certification, and sometimes SEO tools. Free plans are great for testing out different website builders to see which one works best for you. However, as long as you're on a free plan, you can't use a custom domain and your site will also feature the website builder's branding. So keep in mind that you may need to upgrade at some point in the future, especially if you want to take advantage of advanced features like payments and bookings. You can check out our list of the best completely free website builders for more options.
What website builder is best for travel agencies?
That depends on your travel agency's specific goals and needs. WordPress.com and Wix are best in terms of booking systems. But Squarespace is ideal for visually appealing travel sites. Want to further compare your options? Check out our list of the top website builders in 2023.
Do I have to pay monthly for a website?
Most website builders will allow you to choose your subscription term – you can pay either monthly or annually. If you don't mind paying for a year of service upfront, it's usually a better option because it will save you money. Make sure you check out our coupon page so you always get the best deal.