I've tried dozens of hosts with servers in Canada over the past few months, and I was generally impressed with their performance and features.
Even so, you have to be careful, because not all hosts that look good actually are.
 For example, I've seen several providers that lure you in with low base prices, but do not support free SSL certificates, requiring you to pay for premium SSL (or other must-have features) later on down the line. Not cool. With that in mind,
I set out to find the best web hosting services for Canadian websites as part of Website Planet's huge web hosting comparison project.
 Some of the small local providers I tested did surprisingly well, while others turned out to be slower (and more expensive) than international hosts with data centers outside of Canada. Below, you'll find all the details you need to make an informed choice. Grab a comfy spot on the chesterfield (as grandma might say), and let's get to it.
What We Tested in Ranking the Best Web Hosts for Canada
We signed up for several months of hosting with each provider, and we used this time to take a good, hard look at everything from performance to support. Here's the gist of our process:
Features. We looked for providers that give you plenty of storage space and bandwidth – but we didn't stop there. We also kept an eye out for SSL certificates, automatic backups, built-in caching, and other essential features.
Ease of use. We awarded extra points to those hosts that made it easier for us to sign up, connect a domain, set up WordPress, and launch a site. Our goal was to make sure that even beginners with no previous experience could launch a website using the providers on this list.
Performance. Most reviewers run speed and reliability benchmarks on blank websites, so their results aren't realistic. We tested each host's speed, global performance, and uptime using a WordPress-based landing page website with text, images, and plugins.
Support. We contacted each host through live chat, phone, and tickets (where possible). We rated these interactions based on availability, waiting time, and helpfulness.
Pricing. Headline prices can be deceiving. To properly rate each host, we looked into hidden costs, renewal fees, and the commitment period required to get the best deals.
This is just a quick preview of everything we tested in our massive web hosting comparison project. I'll go into more details later on, but for now, here are the best web hosting services for Canada.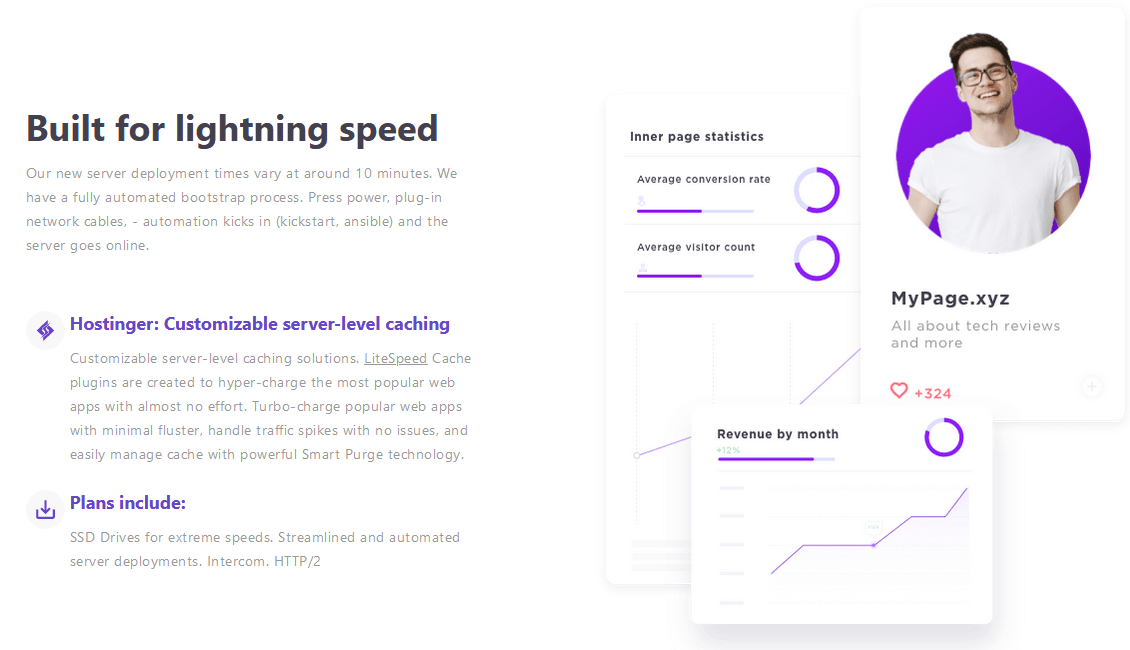 Hostinger has the best deals on long-term shared hosting plans.
 The entry-level Single plan costs less than a ten-pack of Timbits, and although it is admittedly less tasty, it gives you plenty of storage space and bandwidth, a free SSL certificate, and built-in caching. In short, everything you need to host a simple website. Given the very low price, I was concerned performance might be subpar, so I put Hostinger through some
rigorous testing
. The results were surprising: 
not only did Hostinger deliver faster page loading speeds than most other low-cost providers, its performance was also great around the world.
 According to Sucuri Load Time Tester, it did better in Canada than most local hosts, even though its nearest data center is in the US. The only real downside with Hostinger is that it upsells aggressively, but this is more of an annoyance than anything else. Feel free to ignore the popups – chances are, you don't actually
have to upgrade anything.
Features:
Streamlined control panel. Hostinger's hPanel is less cluttered and easier to navigate compared to the traditional cPanel. All the important functions are there, including a one-click installer for dozens of CMSs.
Powerful caching. Hostinger uses the LiteSpeed web server, which comes with built-in caching for superior performance. You'll find the Cache Manager in your dashboard, ready to go.
Managed WordPress features. Hostinger creates backups of your website on a weekly basis, and automatically updates your WordPress installation and plugins. Most hosts make you pay extra for both of these perks.
Free email hosting. You get one professional email address "@yourdomain" if you opt for the entry-level plan, or 100 addresses otherwise.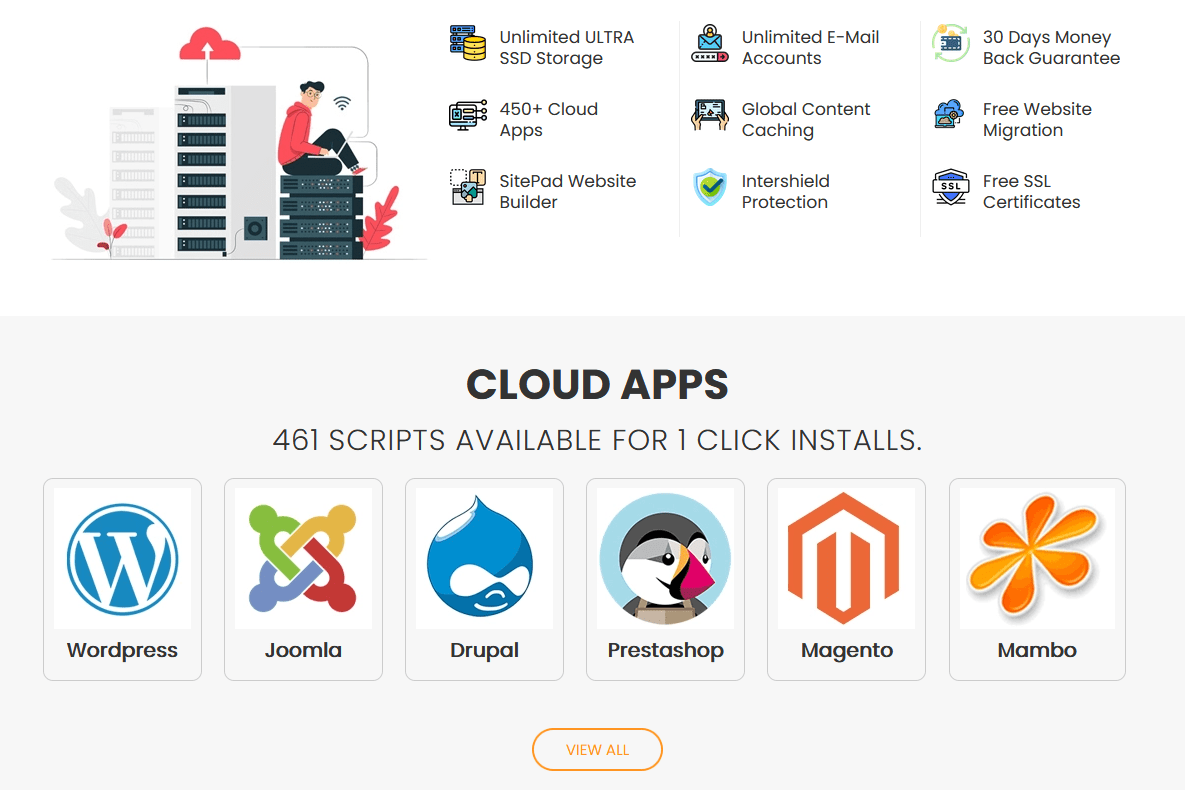 InterServer keeps things simple with a single Standard shared hosting plan that offers unlimited storage space, bandwidth, and email accounts.
The best part?
This plan also happens to have the cheapest monthly billing cycle on this list, which means you won't have to pay up front for multiple years of hosting just to get a good deal. 
You also get to host an unlimited number of domains, which is fairly unique for an entry-level plan.
If you have multiple low-traffic websites, each with its own domain name, InterServer is perfect for you.
InterServer's data centers are all in the US, but during my tests, I got fantastic speeds throughout North America using the NY data center.
 Access to a CDN (content delivery network) is included in the Standard plan, which can further boost your website's performance for Canadian visitors.
Features:
cPanel with Softaculous. If this is your first time hosting a website, cPanel might seem a bit overwhelming. But once you get used to it, you'll love everything it can help you do: setting up domains, managing your email, enabling SSL, and more. Plus, you'll be able to use Softaculous to easily install WordPress, or hundreds of other awesome scripts (including galleries and contact forms) for your site.
LiteSpeed web server. Like Hostinger, InterServer leverages the LiteSpeed web server to significantly improve performance. LiteSpeed is faster and more stable than the older Apache server software used by other hosts, and it comes with built-in caching.
Ironclad security. There's a machine-learning firewall, a malware scanner, and automatic backups to keep your website safe. And if your site is still somehow compromised, InterServer will clean it up for you.
Redundant SSD

– InterServer's SSD drives are kept in a reliable RAID-10 array. This boosts performance and also ensures your stored data is replicated across multiple SSD drives. Even if one drive fails, your data will be safe on another.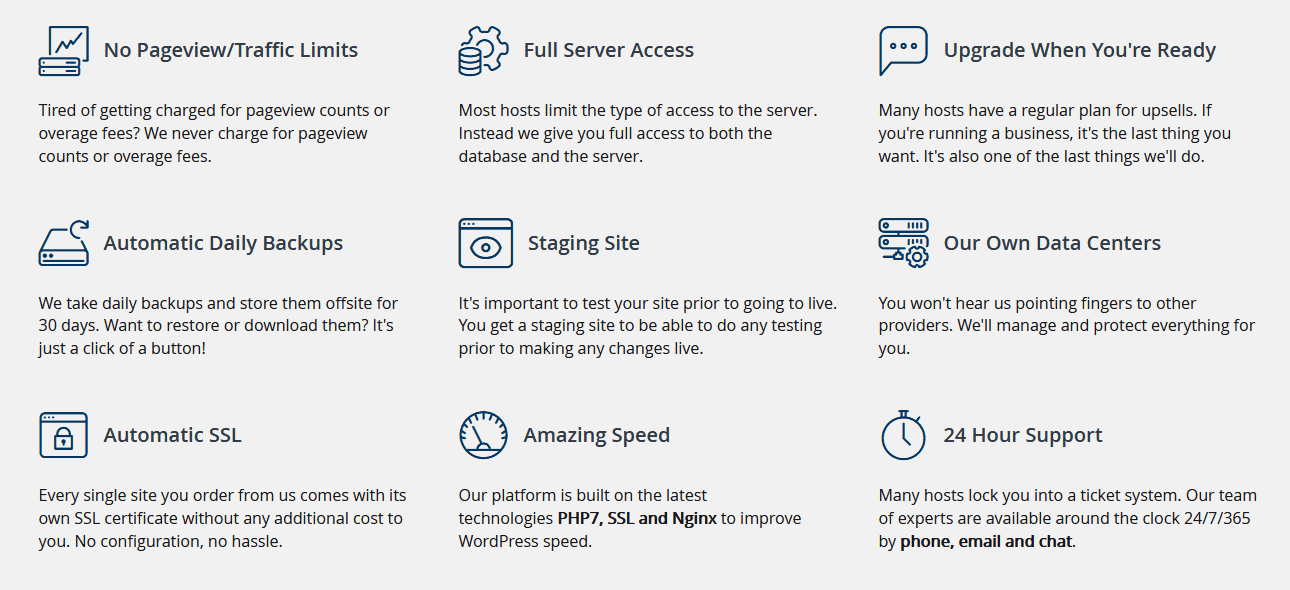 Both Hostinger and InterServer are great options for personal websites and company landing pages, but if you have a high-traffic site or a large e-commerce store, I recommend Liquid Web.
It's a premium service that is priced as such, but you get real experts to take care of all the back-end optimization for you.
 If you ask me, that's worth every loonie.
In terms of performance, Liquid Web does exceptionally well in Canada and around the world,
 so it's a great choice if you have a mix of Canadian and international visitors. Uptime was fantastic
according to my tests
, and it's backed by a 100% uptime guarantee, which is well above the industry standard. Depending on your expectations, Liquid Web might seem expensive.
But I've tested several premium services of this kind, and Liquid Web is actually one of the most affordable.
 It's overkill for small, personal sites, but one of the best options for more complex or high-traffic projects.
Features:
Managed plugin updates. Lots of hosts offer automatic plugin updates, but Liquid Web does more than that. The tech team creates a clone of your site to test whether any of the updates will break it. If everything works well, your live site is upgraded. Otherwise, you receive a notification with the details of any incompatibilities.
Image optimization. Images can slow down your website – a lot. Liquid Web has image optimization built into its application stack, speeding up your site without you having to delve into the back end.
Expert in-house support. You wouldn't believe how many hosts outsource support to faraway companies (I'm looking at you, InterServer). Liquid Web's customer support is offered in-house, and its agents are knowledgeable about all things hosting.
No overage fees. It's not unusual for premium web hosting services to place strict caps on your bandwidth or the number of monthly visitors. Liquid Web's limits are only rough guides, so you have plenty of room to grow before you're forced to upgrade to a more expensive plan.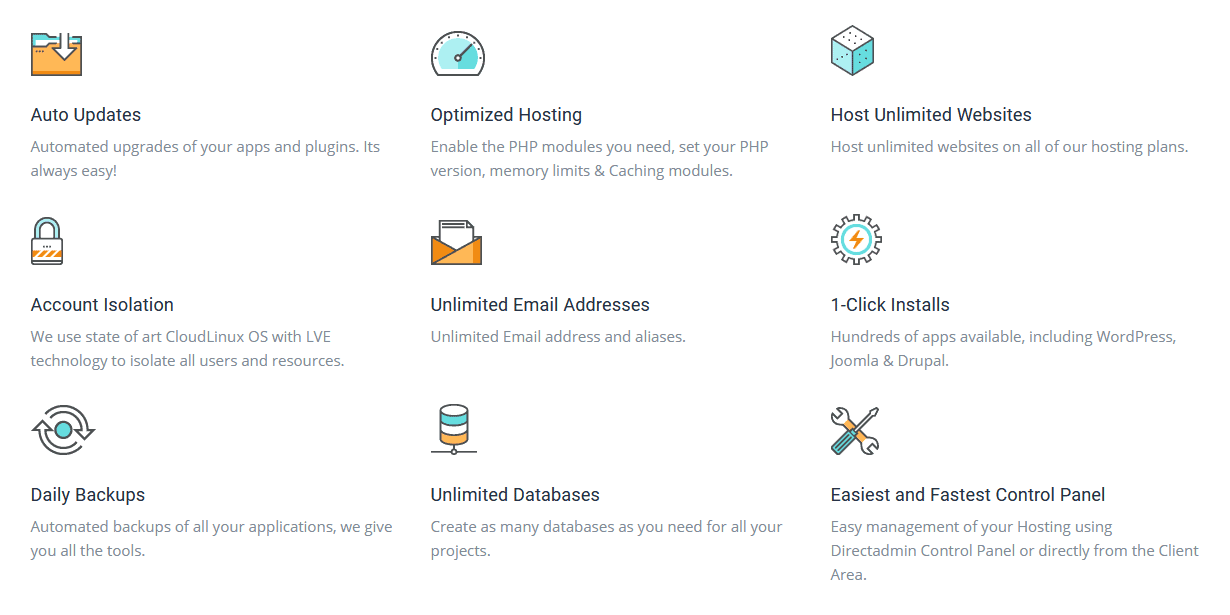 If you'd rather stay True North strong, Bluebird Hosting is your best bet.
It's not quite as cheap as Hostinger, but it comes close, and it offers great value for money.
 All plans include a free SSL certificate, automatic backups, and several built-in performance boosters. More importantly, Bluebird Hosting offers the fastest page loading times of all the Canadian hosts I've tested.
According to both GTmetrix and Sucuri Load Time Tester, Bluebird Hosting is almost as fast as some of the best international hosts,
 including Hostinger and Liquid Web. In addition, its uptime was flawless throughout the
duration of testing
.
That said, the storage space you get on most plans is very limited,
which might be a deal-breaker if you want to host a website with lots of images and other media. For instance, the entry-level Brood plan has just 500MB of storage and 10GB of bandwidth. That's enough for a simple landing page website with low traffic, but might not be the best option if you expect your site and its audience to grow quickly.
Features:
DirectAdmin control panel. It's similar to cPanel in that it has all of the same options, but I found it to be better organized and easier to use. Props to Bluebird Hosting for offering a superior user experience.
NGINX reverse proxy. Although Bluebird still uses the classic Apache web server, many of its drawbacks are offset by NGINX. The latter is set up as a reverse proxy to help with caching, and to better distribute traffic across different servers. Long story short: you get faster and more stable hosting.
WordPress-optimized plans. Bluebird's WordPress plans come with additional caching options, more storage space and bandwidth, and automatic updates. WordPress is preinstalled alongside several useful plugins.
Excellent support. Bluebird Hosting offers support through tickets only, but I never had to wait for more than 30 minutes to get a reply. The agents were always enthusiastic, and provided comprehensive answers to all of my questions.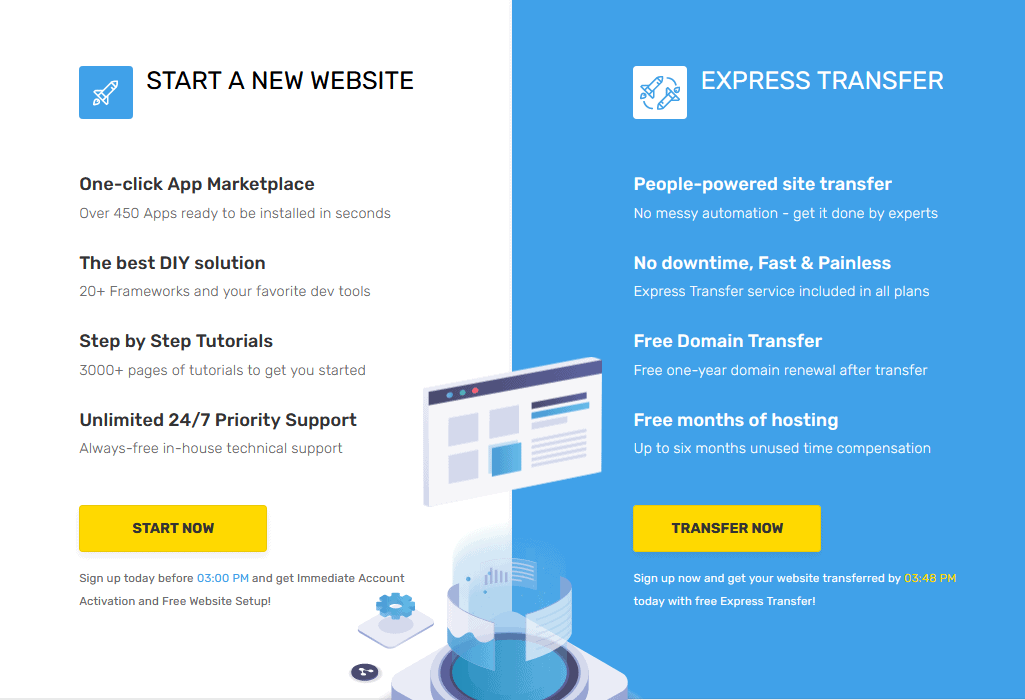 Shared hosting is sufficient for simple websites, and it's usually less expensive. However, sharing a server with hundreds of other users can lead to significant fluctuations in performance.
That's why FastComet uses CloudLinux with CageFS to isolate each account on its shared servers.
Thanks to this setup, you have access to a decent number of vCPU cores and RAM at all times.
There are fewer fluctuations in speed, and your account is safer overall because a security breach in one account can't spread to another.
 It's almost like having a VPS, but at a lower price. Of course, FastComet is not the only host to use this technology.
It is, however, one of the few international providers that has a data center in Canada.
 Plus, it includes everything you need on its cheapest plan, such as a free SSL certificate, a built-in CDN, and automatic backups.
Features:
Automatic app updates. Whether you use WordPress or any other CMS, you can enable automatic updates for the core software and all of your plugins. Your website stays safe, while you save time.
Superior caching options. If you opt for the FastCloud Extra plan, five different layers of caching – including Varnish, Memcached, and APC – are set up for you. These can drastically improve your website's performance.
Hack-fix guarantee. FastComet has several security measures in place, but if your website somehow gets hacked, the tech team restores it as quickly as possible.
Great live chat support. FastComet is available around the clock through live chat, tickets, and phone. I've personally bombarded them with questions at all hours of the day, and the agents were willing (and able) to help with almost all hosting-related issues.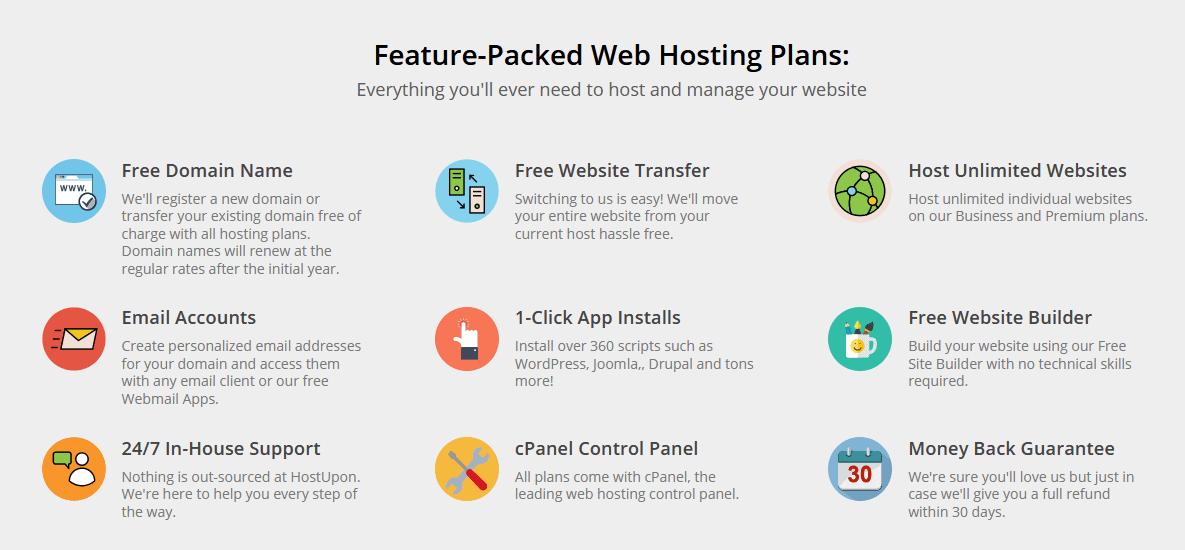 HostUpon has only a single data center based in Canada, so I was really surprised to see the exceptional results it got on both GTmetrix and Sucuri Load Time Tester.
 Loading speed wasn't far behind Bluebird Hosting, and it got a rare A grade from Sucuri for global performance. To top it all off, uptime was nearly perfect throughout the
testing period
. That said, there is a reason why HostUpon is not higher up on my list.
Both its Starter and Business plans lack an SSL certificate and automatic backups.
 You might wonder whether you really need these two features. First, SSL certificates are there to keep your visitors' data safe. Without one, your site is flagged as "not secure" by browsers, which – even if user data isn't being entered into forms on your site – doesn't make the best first impression. Second, backups are also a must. Even if your site never gets hacked, you might accidentally break it while updating a plugin. Heck, your cat might take a stroll on your keyboard while you're editing your work.
Both SSL and automatic backups are included in HostUpon's Premium plan, 
which may be worth it if you can afford it, but keep in mind that cheaper options do exist.
Features:
Unlimited resources. You get unlimited storage space and bandwidth, even on the cheapest plan. Aside from InterServer, few hosts are as generous.
LiteSpeed caching. The LSCache plugin isn't installed by default, but you can install it yourself or contact support to set it up for you. Once the cache has populated you can enjoy improved performance for your site.
Softaculous auto-installer. Use it to install WordPress with just a couple of clicks, or set up automatic software updates to boost your website's security. Hundreds of other apps and scripts are also available.
Spam and malware protection. HostUpon leverages Imunify360, a comprehensive server security suite, to keep your website safe. It also offers SpamAssassin protection for your email.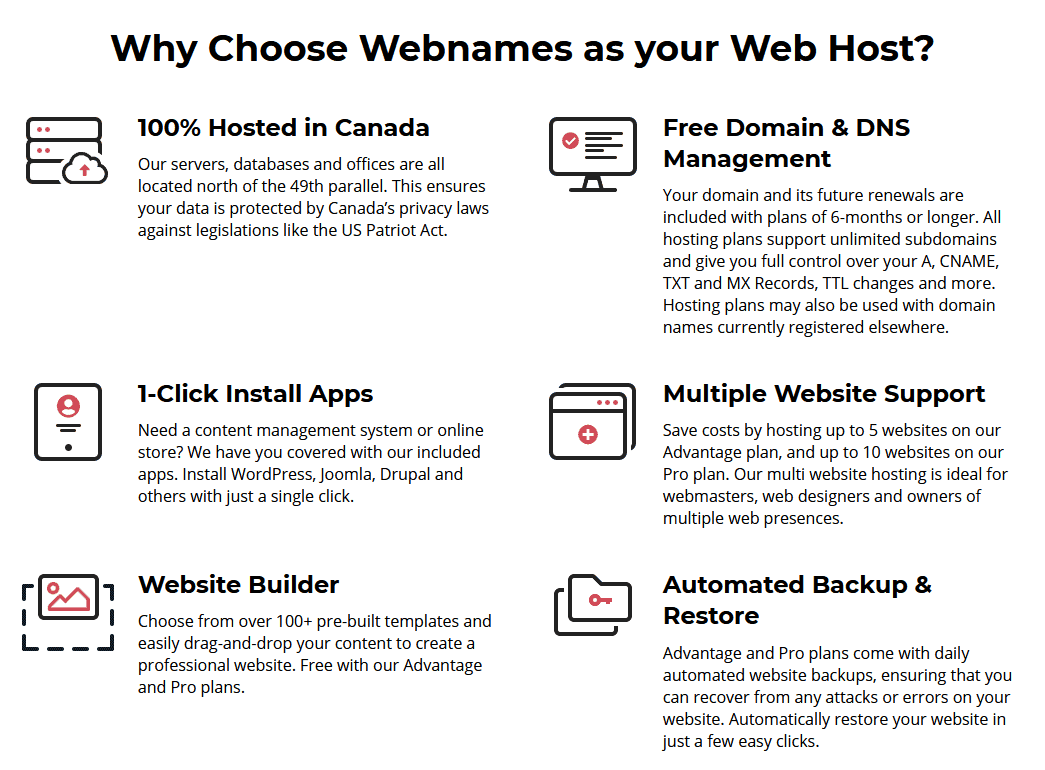 There are lots of things to like about Webnames.ca's
WordPress plans
.
You get unlimited storage space and bandwidth, the servers are properly optimized for WordPress, and performance is decent throughout Canada.
 But there are a couple of issues too. The first is that
SSL is not included with any of Webnames' plans,
 nor does the provider support free SSL certificates from Let's Encrypt. The premium SSL certificates on offer are competitively priced, but they'll still increase your overall costs. The other problem with Webnames.ca is the fact that its basic support service is more or less useless. Live chat almost never works, and neither does the ticket form, so you're stuck with either email or phone.
I tried both, but the agents were rarely helpful – when they decided to answer at all.
 There is a paid WordPress support add-on (presumably with more qualified agents), but it's super-expensive.
Features:
Plesk control panel. Personally, I prefer Plesk over cPanel. Its interface is more modern and far better organized, which makes it easier to navigate and use.
WordPress optimizations. Webnames uses the LiteSpeed web server, which is arguably the best solution for PHP-based websites (like the ones you build with WordPress). LiteSpeed caching is thus also available.
BoldGrid website builder. Like Elementor, BoldGrid is a drag-and-drop website builder that works with WordPress. The premium version is included for free with all of Webnames' WordPress plans.
Always–free domain name. Yearly and six-month plans come with a free domain name that stays free for as long as you keep renewing your contract. No other host on my list has this feature.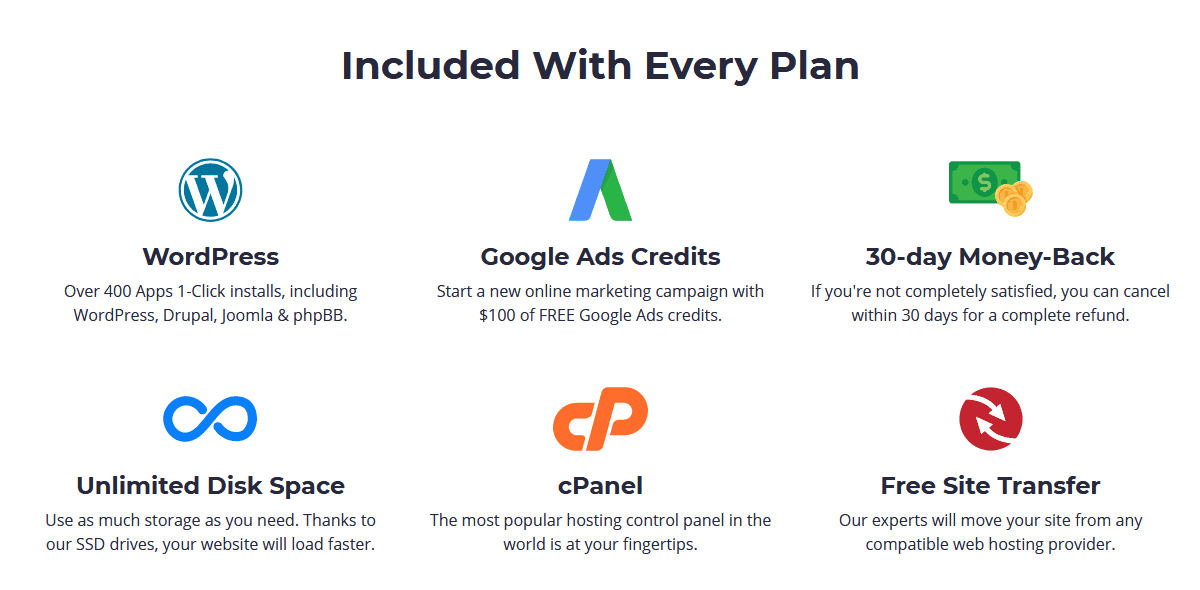 In spite of having recently acquired higher-rated provider Sibername, Web Hosting Canada offers no spectacular features. Most of its plans are solid, but 
the entry-level package doesn't include an SSL certificate or any built-in performance optimizations.
 The Pro plan is only slightly more expensive, and it gives you significantly better value.
Performance is also decent throughout Canada, although it tends to drop rather dramatically outside of the country.
 Still, if you have a mostly local audience, this shouldn't be a problem. What might be a problem is pricing. Sure, Web Hosting Canada looks
cheap
at first,
 but
the renewal fee is sometimes double the initial price, depending on the plan you choose.
WHC is not the only provider that boosts its prices on renewal – even big international hosts like Hostinger do this. But the difference is that Hostinger is still very cheap even after the initial term, whereas WHC is definitely on the expensive side.
Features:
Unlimited resources. All WHC shared hosting plans include unlimited storage space and bandwidth – a rare offer from a local provider. Managed WordPress plans are more restrictive, but still pretty generous.
Integrated CDN. It's easy to activate Cloudflare when the CDN is built into your dashboard. This is a standard feature with international hosts, but only a handful of Canadian hosts have it.
Built-in optimizations. So long as you go with either the Pro or the Enterprise plan, your website is hosted on a WordPress-optimized server. Caching is configured for you, alongside several security filters designed to keep your website safe.
One-click staging. You can experiment with changes to your website before you publish them by using a staging environment. This is included with every WHC WordPress plan, and it lets you play around with your design or test plugins without having to worry about breaking your live site.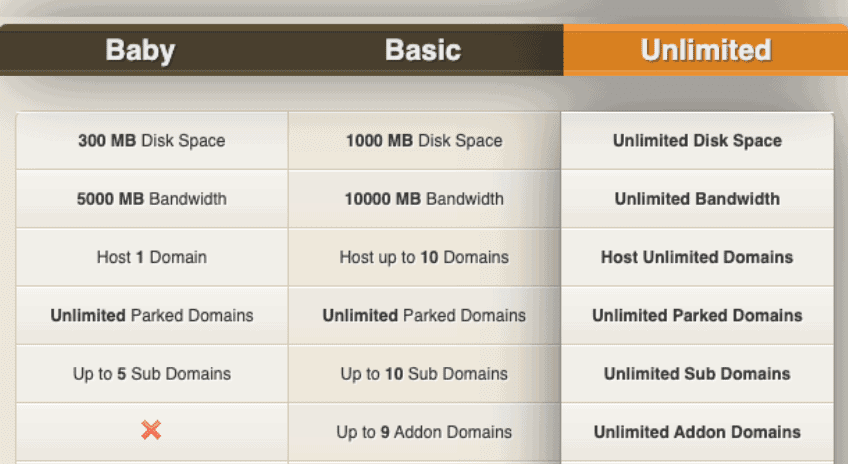 SKGOLD Hosting appears dated, and I'm not just saying that because of its early 2000s website look.
The features you get with its plans are very limited, but the provider does have some redeeming qualities.
 For example,
I found its performance surprisingly decent
. It wasn't as fast as some of the other Canadian hosts on my list, but it did well. SKGOLD is also pretty cheap compared to other local providers, but unfortunately, this is a classic case of "you get what you pay for." 
If you opt for the entry-level Baby plan, you get 300MB of storage space and just under 5GB of bandwidth, which is barely enough for a landing page.
 Hardly any other features are included.
You'd expect the WordPress plans to offer more tools, but they're actually identical to regular shared hosting.
 As for SKGOLD's "cloud hosting," you'd better hold on to your toque for this one: it's just regular shared hosting with Cloudflare CDN.
Features:
Intuitive dashboard. One thing that SKGOLD has going for it is that it's very easy to use. The client dashboard is neat and well-organized, and you get cPanel to manage your hosting account.
Unlimited email. You might not get a lot of storage for your website, but you can create an unlimited number of email aliases "@yourdomain." Grandma might want one, you never know.
Free SSL. I've seen so many local hosts that make you pay for an SSL certificate. Extra points for SKGOLD.
Attracta SEO tools. You can use this plugin to quickly optimize your content and meta data for SEO purposes. It doesn't give you anything you wouldn't get with a free plugin like Yoast, but still, it's nice to have.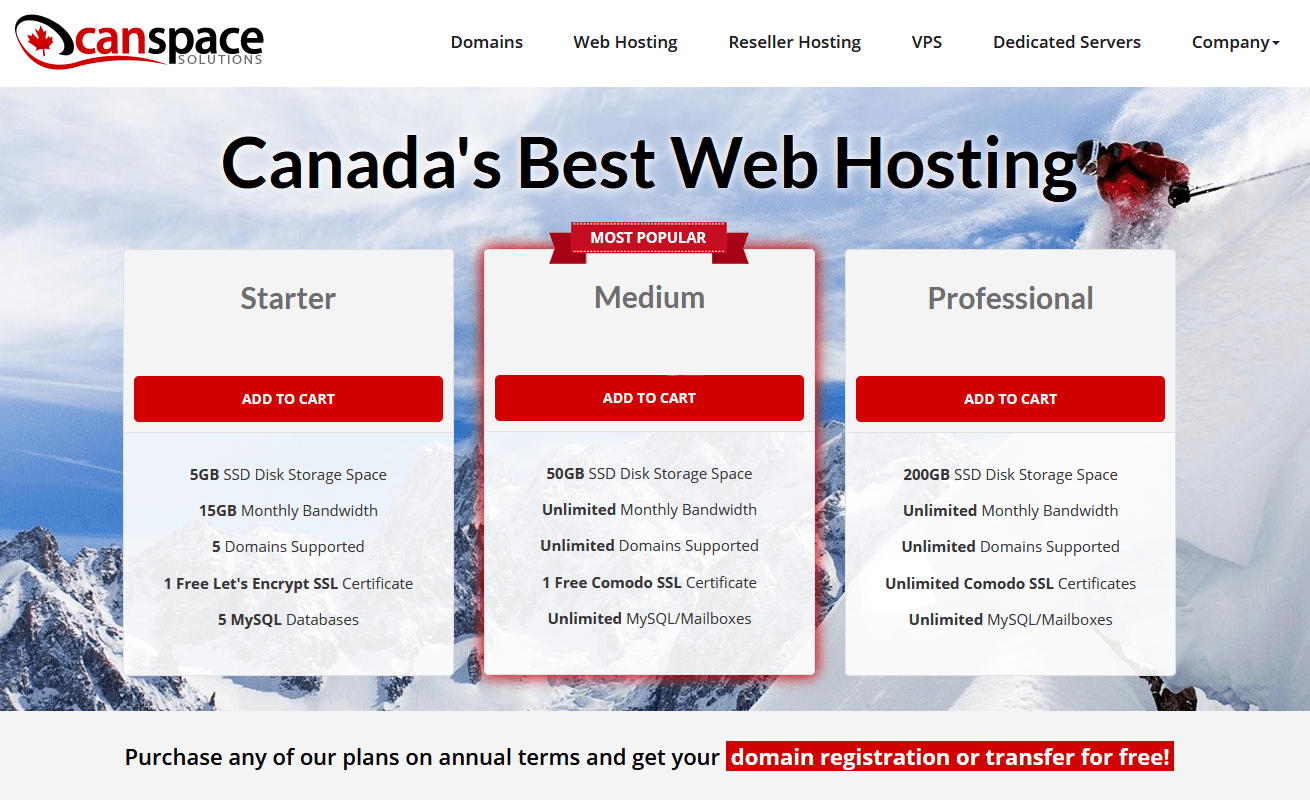 I wouldn't say CanSpace is bad, but it's certainly less value-packed than it makes itself out to be.
Sure, the entry-level Starter plan is relatively cheap, but storage space and bandwidth are limited, and there are few other features included.
 Free SSL is provided, at least – but that's about it. As for performance, CanSpace is actually one of the slowest Canadian hosts that I've tested.
Its uptime was good
, but page loading speeds averaged at just over 2 seconds according to GTmetrix.
 Weirdly enough, performance was better in Germany and France than in some parts of Canada, even though the data center is located in Quebec.
To get a decent set of features (and presumably, better performance), you'd have to go with either the Medium or the Professional plan,
 but both of these are significantly more expensive. There are cheaper (and much better) options on this list.
Features:
Quick setup. Going through the entire signup process takes no more than 15 minutes, and your hosting account is available right away. You still have to set up WordPress to get started, but Softaculous makes the installation quick and painless.
Built-in Cloudflare. The CDN can speed up your website a bit by caching content nearer to your audience, but don't count on it to perform miracles. If performance is important to you, CanSpace might not be the right choice.
Basic website builder. It's nothing special, but CanSpace's site builder does include hundreds of templates and lots of useful scripts. Overall, it's a reliable alternative to WordPress.
Fast support. Ticket support is available 24/7, and the agents never took longer than 30 minutes to reply. I was able to resolve most of my issues this way, although I didn't get any help optimizing my website.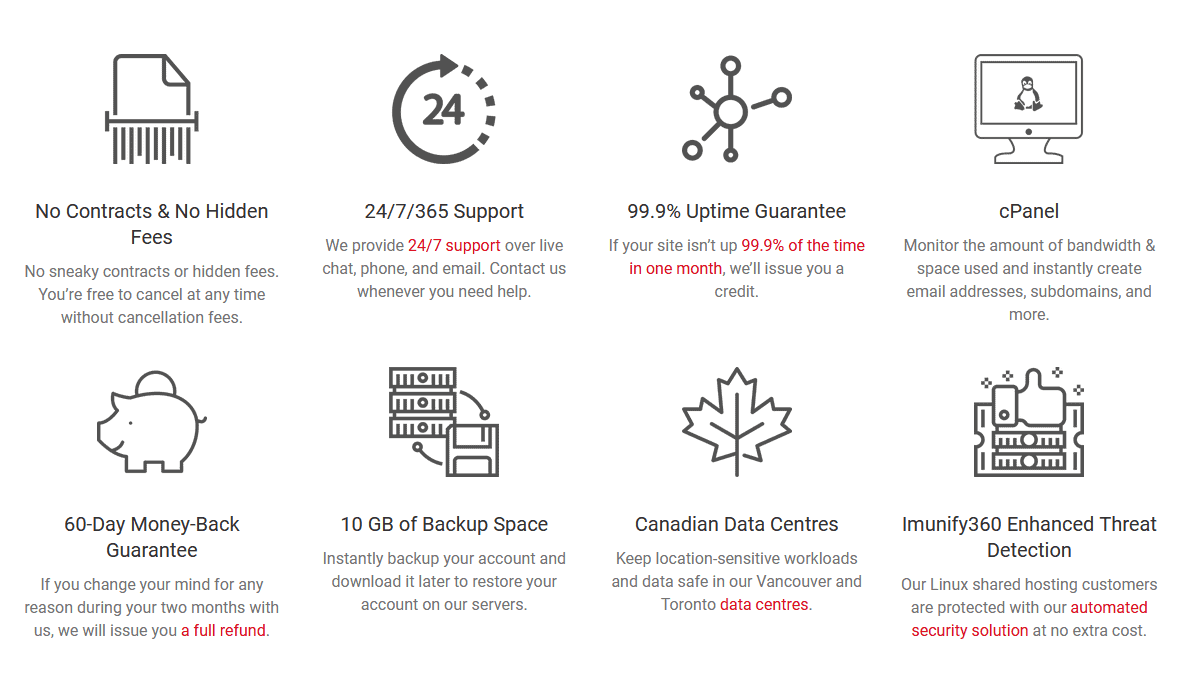 Canadian Web Hosting is one of the top-performing local hosts on my list, following Bluebird Hosting and HostUpon.
 Uptime was slightly lower than the promised 99.9%
during my tests
, but still high enough to pass as reliable.
Unfortunately, getting started with CWH was a bit of a nightmare.
Buying a plan was easy enough, but CWH's client dashboard is poorly organized and difficult to navigate.
Important settings are hidden behind multiple screens, and the interface feels as though it's working against the user.
Although cPanel is included with CWH's shared hosting plans, this is not the case with its managed WordPress hosting.
 Instead, Canadian Web Hosting requires you to contact customer support whenever you want to change your settings. Now, I'm not one to pass up getting tasks done
for
me, but in my experience, customer support was very slow and not always helpful.
Features:
Superior coverage. Canadian Web Hosting has two data centers in Canada: one in Toronto and one in Vancouver. This translates into better performance for site visitors across the country, which few other local hosts can match.
Unlimited bandwidth. Stingy bandwidth caps are common with local hosts, so I was very happy to see this feature. Too bad CWH is not as generous with storage space.
Managed WordPress. There are three WordPress plans that come with additional features, such as automatic backups and software updates. Sadly, the cheapest plan doesn't include malware detection or email hosting, and the Standard plan is significantly more expensive.
Weebly website builder. This is one of the simplest website builders out there, and even the free version has more than a dozen templates. CWH sets it up for you, but if you want premium features, you have to pay extra.

Cirrus Hosting covers most of the basics, but the platform is plagued by issues that are difficult to ignore.
 For instance, I appreciate the generous 50GB of storage that it offers on the entry-level plan, but this is HDD rather than SSD storage. Most hosts don't use HDD anymore because it's considerably slower and more prone to failure. Unsurprisingly, Cirrus Hosting did poorly on
my performance tests
.
The average loading time for my website was almost 3 seconds, and uptime was well under the 99.9% standard.
 Since Cirrus Hosting doesn't have an uptime guarantee, I was not entitled to any compensation for poor service.
My experience with customer support was good, but only when I used tickets.
 Live chat was operated by non-native English speakers who offered little to no help before abandoning the session. Given that Cirrus Hosting's prices are also relatively high for what you're getting, its service is not easy to recommend.
Features:
Free domain name. You can register your domain name for free if you buy at least one year of hosting. However, the offer is only available for the first year.
Simplified dashboard. You'll be using HostBill to manage different aspects of your account, including your domains, hosting packages, and other services. The interface is clean and easy to navigate, and there are several quick links to important settings, as well as to customer support.
Dedicated IP. Cirrus Hosting's most expensive plans come with a dedicated IP, which protects your SEO ranking and prevents your email accounts from being flagged for spam.
WordPress-ready plans. These come with additional features, including automatic backups and updates, built-in caching, and spam filtering. It's not much compared to what other hosts give you, but it's better than nothing.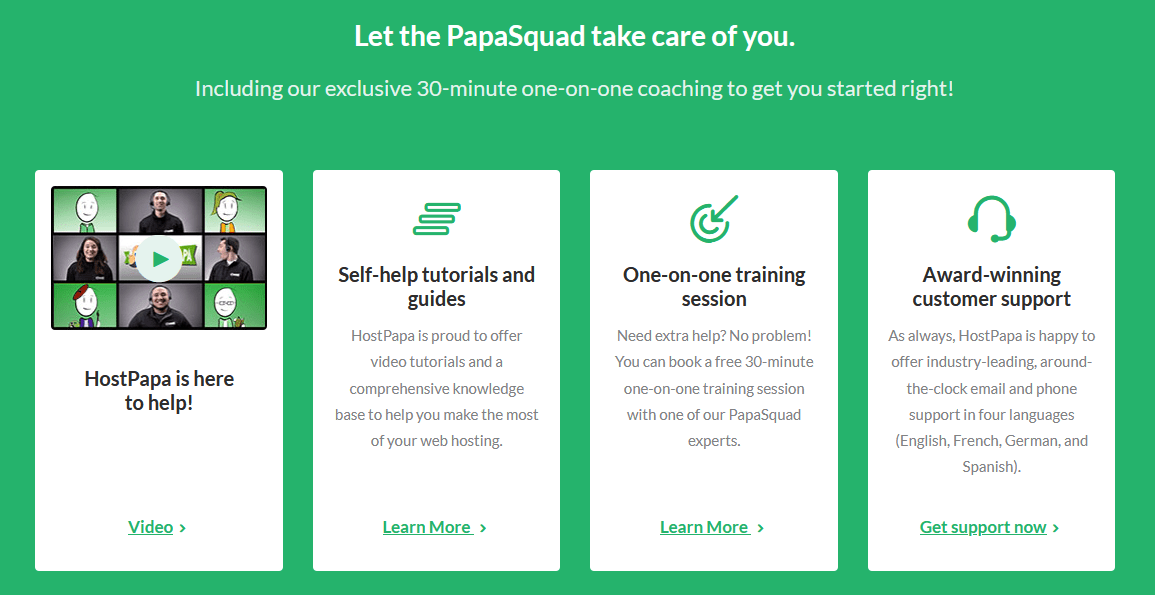 In other reviews, HostPapa often comes up as the best Canadian host. I can only guess this has to do with the provider's generous affiliate program rather than the actual quality of its service.
I spent several months testing HostPapa, and my conclusion is that it's way too pricey for what it offers.
It looks good on paper – lots of resources, free SSL, and caring support. But while you do get a generous amount of storage space and bandwidth, automatic backups are not included in most plans, and the servers are not properly optimized for performance.
In fact, HostPapa was one of the slowest hosts I've tested, alongside Cirrus Hosting.
Customer support was usually quick to respond, but rarely useful.
Not only that, but some agents focused entirely on upselling rather than answering my questions.
 And HostPapa's "affordable" prices are only available prior to renewal. In some cases, you can end up paying three times the initial fee once the first term runs out.
Features:
Lots of storage space and bandwidth. Compared to other Canadian providers, HostPapa has very generous resource allocations. But if it were possible, I'd take less storage space to get better performance.
Preinstalled WordPress. If you go with one of HostPapa's WordPress plans, the CMS will be installed for you during checkout. This is the easiest way to get started without having to do anything technical.
Free website builder. HostPapa's proprietary drag-and-drop builder is included on all plans, but you can only use it to create two pages. To launch a more complex website, you have to pay extra.
One-on-one training. During the sign-up process, you have the option to schedule a 30-minute call with a HostPapa representative. They will guide you through navigating the dashboard, setting up a website, and implementing security features.
Top Hosts for Canada – Full Comparison
Looking to match up two hosts at a glance? Check out the table below to see a side-by-side comparison of all the entry-level shared hosting plans on my list:
Our Testing Process in Detail
This was one of the lengthiest web hosting comparison projects we've ever done at Website Planet. Keep reading if you're curious about
how
our team rated the providers on this list, or if you're in a hurry,
skip straight to my recommendations
.
Features
To rate hosts in this category,
we looked at everything from storage space and bandwidth to must-have features like SSL certificates, automatic backups, and performance boosters.
 Providers that ticked all (or most) of these boxes got the highest scores. However, not all of these features are equally important. For example, you want to have enough storage space for a decent website with high-quality images, but you shouldn't focus too much on "unlimited" storage.
It's unlikely you'll ever need more than 5GB for a small blog, a portfolio, or a landing page.
 Aside from Bluebird Hosting and SKGOLD Hosting, all hosts on our list meet this requirement. Bluebird and SKGOLD are stingier with their storage (and bandwidth) allocations on the entry-level plans, but they still give you enough for a simple site.
What sets them apart is the fact that Bluebird has built-in caching, whereas SKGOLD does not.
 This is far more important than the amount of storage you get, because it means your website on Bluebird Hosting will load more quickly.
Ease of Use
We approached each host's sign-up process and dashboard from the perspective of a complete beginner.
 We chose a plan, connected a domain, set up WordPress, and uploaded our test website with every provider. If everything went smoothly with a given host, we awarded it a high score in this category. Otherwise, we deducted points. Most of the hosts on our list did very well here.
Bluebird Hosting
 and Hostinger got particularly high scores thanks to their clean, well-organized dashboards and their beginner-friendly tools.
 There were no problems during sign-up either, so we were able to get started right away. Other providers weren't far behind.
The only notable exception is Canadian Web Hosting, which has an unnecessarily complicated client dashboard, and offers no control panel with its managed WordPress plans.
 Buying and connecting a domain also took way longer than it should have, and customer support wasn't very helpful in speeding things up.
Performance
Our test website consisted of a simple landing page with text, a few high-resolution images, a contact form, and several other widgets you might use on your site.
 We chose to use this template rather than a blank page, because we wanted the results to reflect how your site would actually perform with each host. So, what did we learn?
As a general rule, local Canadian hosts delivered faster loading times across the country than most international providers.
 This is to be expected since local hosts have data centers in Canada, but it does come with a disadvantage in that performance tends to drop outside of the region. So, if you have a mix of local and international website visitors, an international host with data centers around the world might be a better choice. There were also several exceptions to this rule. HostPapa, Cirrus Hosting, and CanSpace demonstrated relatively poor performance in Canada despite the fact that their data centers are in the country. On the other hand,
Bluebird Hosting
 and HostUpon did exceptionally well both in the region and around the world.
Support
We got in touch with each host's customer support team, and asked questions that beginners might need answers to.
 To give you just a few examples, we asked for help installing WordPress, uploading a theme, and optimizing our test website. We did this using all available channels at different times of the day. Most hosts got a good score in this category, but
we were particularly impressed with Liquid Web, FastComet, and Bluebird Hosting.
 A knowledgeable, helpful agent was always available no matter the time of day. We also received some unpleasant surprises. For instance,
we discovered that InterServer's live chat service is manned by complete amateurs with a precarious grasp of English.
 We also found that several hosts – including Cirrus Hosting and Webnames.ca – advertise live chat support, but their live chat service is almost always broken or unavailable.
Pricing
We factored in each provider's advertised pricing, but in order to determine the kind of value you'd be getting for your money,
we also had to investigate the billing term commitments and whether there were any missing features you'd have to buy as add-ons, as well as other hidden costs.
For instance, Webnames.ca looks pretty cheap, but its entry-level plan doesn't include an SSL certificate.
Paying extra for one can more than double the overall cost of your hosting.
To give you another example, Hostinger is by far the cheapest provider on our list, but only if you sign up for a long-term plan.
If you'd prefer to pay on a monthly basis, InterServer offers the best deal.
Which Host Should You Choose for Your Canadian Website?
You have several exceptional options to weigh against your specific needs, exact location, and level of experience. Feel free to explore them at your own pace, but if you're in a hurry (or feeling a bit lost), these are my recommendations:
If you want to host a simple, low- to medium-traffic site,
Hostinger should be at the top of your list
.
 It's an international provider rather than a local Canadian one, but its US data center offers phenomenal loading speeds throughout North America. The entry-level plan is incredibly cheap even after renewal, and it gives you everything you need to reliably host a website.
Maybe you don't fancy the idea of paying up front for several years of hosting. In that case, InterServer is your best bet. The
Standard shared hosting plan
has unlimited…everything, and it lets you host multiple websites, each with its own domain. Even if you pay on a monthly basis, the price is still low.
Liquid Web is more expensive than other providers on my list, but you get very good value for money. According to my tests,
Liquid Web offers unmatched performance
 and stability, as well as a superior level of managed support. Experts take care of speed optimizations, security, and software updates for you while you focus on your website and your business.
Bluebird Hosting ticks all the right boxes.
 It has data centers in Canada, its performance is splendid in the region, and its plans include all the must-have features that I look for in a host. It's not the cheapest Canadian service on my list, but it is the fastest and the most reliable. If you'd rather go with a local provider, this is your best option.
Few low-cost international hosts have a network of data centers that can match FastComet's. Not only does FastComet have servers in Canada, it also uses CloudLinux with CageFS to ensure your website doesn't slow down when other users on the same server get a lot of traffic.
The cheapest plan
 has everything you need to get started, and there's a generous 45-day money-back guarantee.
FAQ
Which is the best host for Canada?
It depends. Hostinger would be my go-to provider for a small-to-medium website, such as a personal blog, a portfolio, a business landing page, or even a small online store. It's super-cheap, and its performance is outstanding both in Canada and around the globe. That said, if you'd rather go with a local Canadian host, Bluebird Hosting has the best speeds, uptime, and customer support according to my tests. But again, I only recommend it for simple sites. If you want to host a high-traffic website or an ecommerce store, Liquid Web is a better choice. It's more expensive, sure, but it also offers a level of stability that no shared hosting provider can match. You'll also find several other exceptional options on our list of the best web hosting services.
How much should I pay for hosting in Canada?
If you want to host a simple, low-traffic website, you don't need to spend a lot of money. For example, Hostinger is incredibly cheap if you sign up for several years. Or, if you'd rather have a guaranteed annual rate, InterServer has the most cost-effective plan. Just remember to check our coupons page before you make a decision. In some cases, you can save up to 90% on your first term.
Does it matter where you host your website?
Absolutely. In fact, this is one of the most important things to consider when you choose your provider. The closer the web server is to your audience, the faster your website will load. But be careful: not all hosts perform the same server optimizations, which can lead to mixed results. For instance, Bluebird Hosting has data centers in Canada and is very fast in the region. But Cirrus Tech, which is also based in the region, is slower than many international hosts with data centers in the US.
Is Bluehost good for websites in Canada?
Bluehost pops up in a lot of web hosting reviews, but we've tested it alongside other popular providers and it has failed to deliver on its promises. The features included in its plans are average, at best, and the price is too high for what you're getting. Customer support is mostly poor, and you can't know precisely where your website is hosted because Bluehost refuses to disclose the location of its data center. You'd be better off with one of these tried-and-tested Bluehost alternatives.