but when we test these hosts, we often find that good performance is limited to site visitors near the main data center
. Which, more often than not, is located in America. It's an unfortunate fact that many hosts only offer serviceable speeds in the US, but
the best providers have data centers around the globe. They also make use of high-end hardware and powerful caching technology
. All of this can help to deliver exceptional performance in the UK and elsewhere. To find out which VPS hosts offer the greatest value for money, I've tested as many as I could and narrowed it down to the top seven. Read on to find out which of them is the best option to serve your UK audience.
Short on time? These are the best VPS hosts for the UK:
Kamatera – flexible plans with fantastic performance
Hostinger – incredibly cheap, yet speedy and reliable
SiteGround – managed service with WordPress-specific features
What We Look For in the Best VPS Hosting Services for the UK
High performance. The longer your visitors have to wait, the more likely they are to give up and go somewhere else. That's why I've only included hosts that offer great loading speeds in the UK.
Great reliability. If your virtual private server is frequently down, your site traffic will decrease as well. Near-perfect uptime was a prerequisite for this list.
Affordability. A good-value VPS plan doesn't need to break the bank. Many of the hosts below offer a cheap starting point.
High-end data centers. Providers with top-quality data centers located in or near the UK earned a lot of extra points. Proximity results in lower latency, which means better performance overall.
Scalability and flexibility. A major benefit of a VPS is its customizability. Most of the hosts I've chosen make it easy to scale your resources and customize your plan, instantly.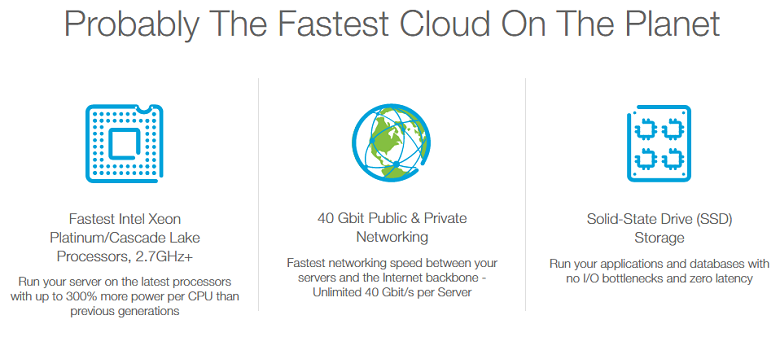 There's no need to worry about the performance of
Kamatera's cloud VPS service
.
With a London data center and fast Intel Xeon processors
, your UK visitors can expect to benefit from high loading speeds. Kamatera excels in the customizability and scalability of its hosting plans.
You can build your VPS from the ground up
, setting the exact amount of resources you need. Making changes later on is a simple process of raising or lowering your resource levels within the Cloud Management Console. While there is a managed service available, it's much more expensive. Kamatera works best as a self-managed solution, allowing you to take full advantage of its flexibility. However, this isn't for beginners – running a VPS requires a fair amount of technical know-how.
Pay-as-you-go pricing. Kamatera charges you an hourly rate, and as such you'll pay only for what you use. Any changes you make to your VPS configuration will be reflected in the price immediately.
Multiple add-ons. You can apply load balancers, firewalls, and cloud block storage to your plan. These incur a monthly fee and can be enabled easily through your account console.
Offsite backups. For a small monthly fee, your server can be backed up daily to an external storage array. You can perform full or partial restorations whenever you need to.
Generous free trial. Kamatera's trial plan grants you access to a customizable cloud VPS for 30 days. You are free to set up your server as you please, as long as the value of your services remains under $100. You also get a designated account manager for the duration of the trial.
Money-back guarantee
30-day free trial
Support channels
24/7 support tickets, email, and phone
Beginner-friendly?
No
Starting price

$

4.00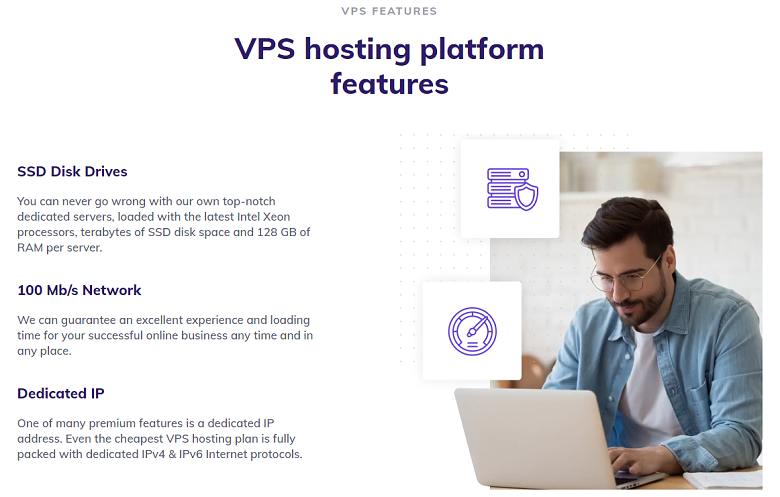 Hostinger provides a cloud VPS service at a budget price
 – it's easily one of the most affordable options on this list. While the resources on the cheapest plans are a little meagre, it's easy to upgrade when you need to. All hosting upgrades occur immediately with zero downtime. Hostinger doesn't offer a management service. Instead,
it describes its VPS plans as semi-managed
. This means you'll largely be left to your own devices, though the support team is happy to respond to any queries. And the knowledge base offers a wide range of tutorials covering the basics of running a VPS. While Hostinger doesn't have a huge list of data centers, it does have one in London.
With good speeds overall and near-perfect uptime
, Hostinger is a worthy option if you're looking to target a UK audience.
A free domain name is included with some hosting plans from Hostinger
VPS snapshots. You can create a single VPS snapshot for free which can be restored on demand. Additionally, your data is automatically backed up every day.
Redundant SSD storage. Hostinger's SSD drives use a double RAID configuration to provide a high level of redundancy.
BitNinja security. All of Hostinger's servers are protected by the comprehensive BitNinja security solution. This helps to defend your site against malware, brute force attacks, hacking attempts, and more.
Free dedicated IP. Every one of Hostinger's VPS plans comes with a free dedicated IP address.
Money-back guarantee
30 days
Support channels
24/7 live chat and ticketing support
Beginner-friendly?
No
Starting price

$

3.99
If you're looking for an easy and beginner-friendly way to run a virtual server in the UK, SiteGround's cloud hosting plans may be the right choice for you.
All of its cloud plans are fully managed
– you won't need to worry about configuring and upgrading your server software, as these tasks will be carried out for you. And a London data center means latency should never be an issue. You can also enjoy 24/7 priority access to technical support.
SiteGround's support team goes the extra mile for its customers
, providing hands-on help rather than just pointing you to related documentation.
If you're using WordPress, it will be kept updated for you automatically, along with all of your plugins.
This goes a long way towards keeping your site secure and functioning properly. However, SiteGround certainly isn't cheap – it's the most expensive option on my list. Also, although it is generally developer-friendly, full root access is not included with any plan.
A free domain name is included with some hosting plans from SiteGround
Plenty of resources. Even the cheapest plan gives you 4 CPU cores, 8GB of RAM, and 40GB of SSD space, and allows for 5TB of data transfer. This gives you enough room to develop a resource-intensive site.
Instant scalability. You can easily buy additional RAM, CPU, or storage space, with no downtime. You can also configure an auto-scale option to accommodate traffic surges.
Powerful WordPress plugins. All plans include SG Optimizer, a fully configurable plugin that enables caching, images, and compression on WordPress sites. You also get the Migrator plugin, which facilitates moving WordPress sites from other hosts to your SiteGround account.
Developer-friendly. Git and WP-CLI are supported on every cloud plan. And the SiteGround Git plugin allows you to create Git repositories of your WordPress sites through a user-friendly interface.
Money-back guarantee
14 days
Support channels
24/7 live chat, support tickets, and phone
Beginner-friendly?
Yes
Starting price

$

100.00

A2 Hosting offers both managed and unmanaged VPS plans.
Prices for the unmanaged plans start very low while the managed plans cost a lot more. As you might expect, you'll need developer-level knowledge for the unmanaged plans, whereas A2 takes care of all setup, maintenance, security, and updates for you on the managed plans. Regardless of the plan you choose,
A2 Hosting features great speed and reliability
. If you want even more power, you can pay for one of the premium Turbo VPS plans. These use AMD EPYC processors and NVMe SSD drives for the best possible performance. The only concern performance-wise is that the data center nearest to the UK is located in Amsterdam. A2 Hosting has a unique refund policy.
If you decide to cancel after the money-back guarantee expires, you are still eligible to receive a prorated refund
for the remaining time on your contract.
Generous resources. Even the cheapest unmanaged VPS plans provide you with at least 150GB of SSD space. The managed plans start at 2 CPUs and 4GB of RAM.
Fully scalable. You can upgrade your plan at any time to gain access to more resources or the benefits of the Turbo Servers. You may even choose to scale all the way to a dedicated server. A2 Hosting will ensure the transition is seamless.
Softaculous auto-installer. If you use cPanel, you get access to Softaculous for free. This allows you to install a wide array of CMSs, development frameworks, and web scripts.
Free website migration. If you choose a managed plan, A2 Hosting's support team will migrate your site free of charge.
Money-back guarantee
30 days
Support channels
24/7 live chat, tickets, email, and phone
Beginner-friendly?
Yes; if you choose the managed plans
Starting price

$

2.99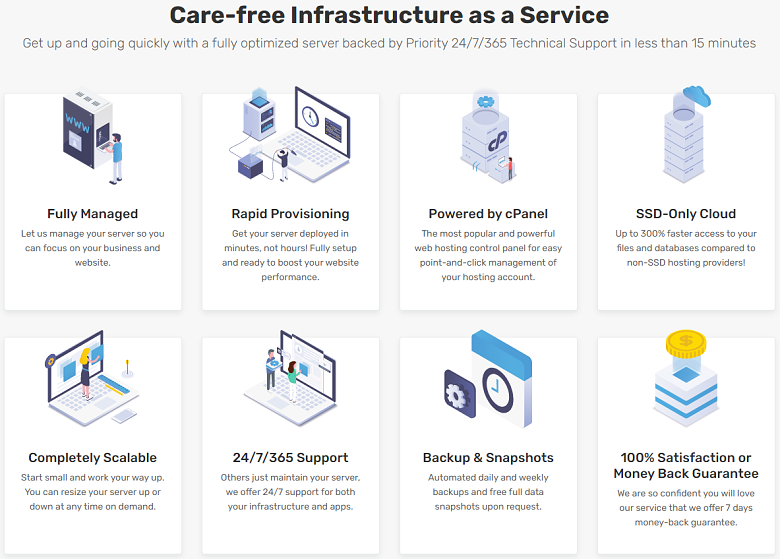 All of FastComet's
cloud VPS plans
 are fully managed and include plenty of impressive features. To start,
it has an extensive free backup solution
, providing automatic daily and weekly backups which can be restored at any time. On-demand snapshots are also available. Next,
FastComet features absolutely solid performance and reliability
, with a London data center to sweeten the deal further. Finally, it's the support service that makes FastComet stand out from the crowd.
The support team is always willing to go above and beyond
, assisting with issues that many other hosts simply wouldn't touch, from third-party app installations to control panel support. The biggest downside is the price – it's not as expensive as SiteGround, but it'll definitely leave a hole in your wallet.
Full root access. Interestingly, FastComet features full root access even though its plans are managed. This gives you the freedom to configure and manage all aspects of your server while receiving all the benefits of a managed hosting service.
FastGuard security. An extensive, proprietary security solution is included with every plan, protecting you on the server level, the hosting account level, and the application level. Servers in FastComet's network share intelligence with one another about the latest security threats.
RocketBooster optimizations. If you want an extra boost in speed, you can choose to apply the RocketBooster optimization package to your server. It includes LiteSpeed web server, Varnish static and dynamic caching, and more.
Free domain transfer. FastComet will transfer an existing domain name and renew it for a year, free of charge.
Money-back guarantee
7 days
Support channels
24/7 live chat, tickets, and phone
Beginner-friendly?
Yes
Starting price

$

46.16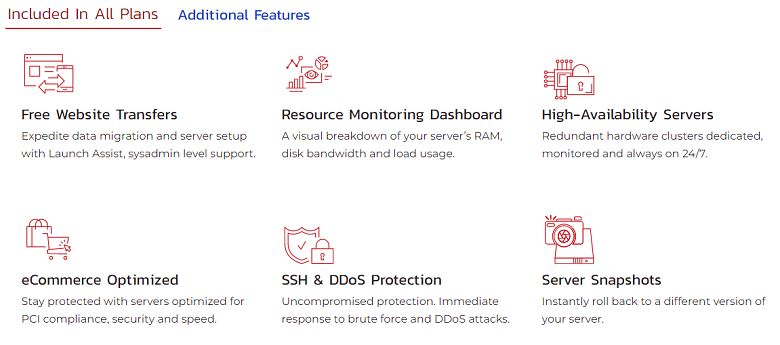 Like FastComet, InMotion Hosting offers both unmanaged and managed
VPS plans
. Choosing an unmanaged plan will save you money if you can manage a server yourself, but
the managed VPS plans include some remarkable features, such as multiple dedicated IPs and five free cPanel licenses
. As such, InMotion Hosting's managed VPS plans are well-suited to hosting multiple websites. Still,
what stood out to me the most was the 90-day money-back guarantee
. This is three times longer than the industry standard, making InMotion a terrific option if you'd like more time to test whether a VPS is the right solution for your website(s). The bad news is that InMotion Hosting doesn't have a UK data center – in fact, it doesn't even have one in Europe. Both its data centers are located in the US. Despite this,
it still managed to achieve good speeds within the UK during my testing
. This is likely thanks to speed-boosting technologies and optimizations, such as NGINX web servers and Brotli compression support.
Launch Assist. If you purchase a managed plan, you get free access to two hours of premium support. Simply tell the InMotion Hosting tech team what your new server requires and they'll take care of it. This can include site transfers, server optimizations, and expert advice.
Ansible control node. Your first unmanaged server comes with a free Ansible control node and a custom curated Playbook to help you deploy your server. This nifty tool can also save you time by automating common processes, such as the definition of security protocols or the installation of popular applications.
Free domain. InMotion offers a free domain name for a year if you purchase a 6-month plan or longer. This can be a new domain, or an existing one that has been transferred to InMotion Hosting.
BoldGrid site builder. Every plan includes free access to the BoldGrid website builder. This allows you to create a professional WordPress site with a simple drag-and-drop interface.
Money-back guarantee
90 days
Support channels
24/7 live chat, tickets, email, phone
Beginner-friendly?
Yes, with the managed plans
Starting price

$

24.99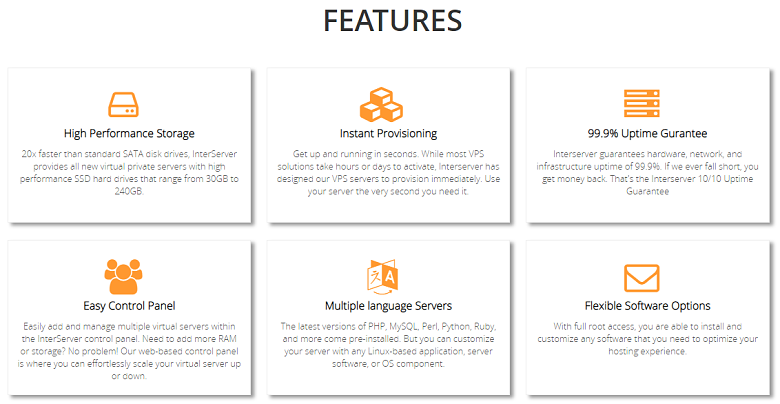 If you're looking for a budget VPS without any fuss, InterServer is a good option.
Unlike the majority of VPS hosts, it offers VPS "slices" instead of plans.
Each slice contains a set amount of resources and costs the same low price.
If you purchase 4 or more, you get managed support at no extra charge
. You can only pay via monthly billing, as there are no discounts for prepaying a year or more in advance. It's refreshingly simple.
My tests with InterServer
showed consistently good speeds in the UK along with
perfect uptime over several days of testing
. But be forewarned – InterServer's data centers are all in the US, so you may need to install a CDN for the best possible results. There's also no money-back guarantee or free trial, but as VPS plans can only be paid monthly, this isn't much of a letdown.
SSD RAID-10. InterServer offers the utmost in reliability. All SSD drives use a RAID-10 configuration for maximum redundancy.
Optimized WordPress VPS. If you're looking to work with WordPress, InterServer offers specialized VPS plans that come with a preconfigured and optimized WordPress installation.
DirectAdmin control panel. InterServer offers the DirectAdmin control panel for free. It comes with support for a single account and up to ten domains. Alternatively, you may purchase cPanel or Plesk.
Webuzo. You also have free access to the Webuzo control panel, which allows you to install hundreds of popular applications.
Money-back guarantee
None
Support channels
24/7 live chat, tickets, phone
Beginner-friendly?
Yes; if you purchase 4 or more slices, you get managed support
Starting price

$

6.00
Which VPS Host Is Right for Your UK Website?
Finding the right VPS for a specific country requires you to jump from host to host, going through stressful and time-consuming registrations and server setups, possibly only to find that you aren't getting the speeds you were promised. After conducting performance tests in the UK, I can affirm the reliability of all the hosts mentioned in this list. Your choice ultimately depends on your specific requirements, as each host offers distinct features. In case you require assistance with your decision, I have provided my recommendations below.
If you need a fully-customizable server with a lot of freedom to scale as you wish, go with Kamatera.
For the best value for money,
Hostinger offers the lowest prices
 while still providing great performance and reliability.
If you have the budget,
SiteGround's managed VPS plans are filled to the brim with features, especially for WordPress.
Alternatively,
FastComet also offers a managed solution with a support team that always gives a little extra.
A2 Hosting has a particularly great refund policy on its VPS plans
, while
InMotion Hosting's feature-filled packages can be tried risk-free for 90 days
. Looking for the easy, low-commitment option?
InterServer delivers consistently good performance at a low monthly rate.
Standout Feature
UK data center?
Managed service?
Starting Price
Kamatera
Fully customizable servers, fantastic performance
✔
✔

$

4.00

Hostinger
Cheapest option, with competitive speeds and reliability
✔
✘

$

3.99

SiteGround
Managed VPS, lots of WordPress features
✔
✔

$

100.00

A2 Hosting
Managed and unmanaged plans with a great refund policy
✘
✔

$

2.99

FastComet
Superior managed service backed by expert support
✔
✔

$

46.16

InMotion Hosting
Impressive feature list, 90-day guarantee
✘
✔

$

24.99

InterServer
Simple monthly solution that is both cheap and reliable
✘
✔

$

6.00
FAQ
Do I need VPS hosting?
VPS hosting provides greater performance and reliability than shared hosting, but it is the more expensive option. Shared hosting often makes more sense for basic websites with light traffic. If that sounds like a better fit, check out our list of the best web hosting providers.
Which is the best host for the UK?
Kamatera offers fully-customizable cloud VPS plans with outstanding performance, and your UK visitors will enjoy rapid page loading from its London data center.
Is Kamatera easy to use?
Unfortunately, you'll need developer-level knowledge to use Kamatera's services. You could pay for managed support, but there are better options out there for managed services. I'd recommend SiteGround or FastComet if you're a beginner to VPS hosting.
Which is the cheapest web host in the UK?
Hostinger is the least expensive host for VPS services on this list, and it provides solid performance in the UK. If you're looking to save even more money, check out the great deals on our coupon page before making a purchase.