posting photos and rates on one of these listing sites will only get you so far
– you'll also need to create a website if you want to build a profitable rental business.
A well-designed website can help you establish your brand, market your rental(s), and manage bookings
. But with so many builders to choose from, how do you decide which is the right one? To make your task easier, I tested dozens of popular website builders and built sites with each one. In the end, 6 builders measured up. Each has the right mix of features and functionality for the vacation rental space. Most of these builders make it easy to link or integrate your site with third-party rental channels, and some include tools to manage all your bookings and rental services. Choose the one that best fits your needs – they all have what it takes to create an effective online presence and convert site visitors into paying guests.
Short on Time? These Are the Best Website Builders for Vacation Rentals in 2023
Wix – Versatile, all-in-one solution with advanced booking, rental property management, and SEO tools.
Squarespace – Gorgeous templates for unique branding, plus easy integration of third-party services.
Zyro – Beginner-friendly builder with innovative AI tools for help with site design and branding.
What We Look for in the Best Web Hosts for Vacation Rentals
To find the best builders for vacation rentals, I evaluated a broad range of website builders, focusing on the following essential features.
Direct booking tools. Allowing travelers to look over amenities, rates, and availability and make reservations via your website eliminates the fees charged by listing/travel sites.
Multiple secure payment options. It's essential to give your guests different secure ways to pay on desktop and mobile. All of the builders on my list let guests pay by credit card, check, and bank transfer. Most don't charge transaction fees.
Good SEO, analytics, and marketing tools. There's no point to having a well-designed vacation rental website if potential guests can't find it. Every builder on my list has features to help your website rank higher in search results.
Robust mobile capabilities. You need powerful mobile features so you can manage bookings, accept payments, and chat with potential guests from anywhere.
Free SSL certificate. The surest way to turn off a potential guest is to have their browser identify your site as "not secure." That's why every builder on my list includes an SSL certificate with every plan.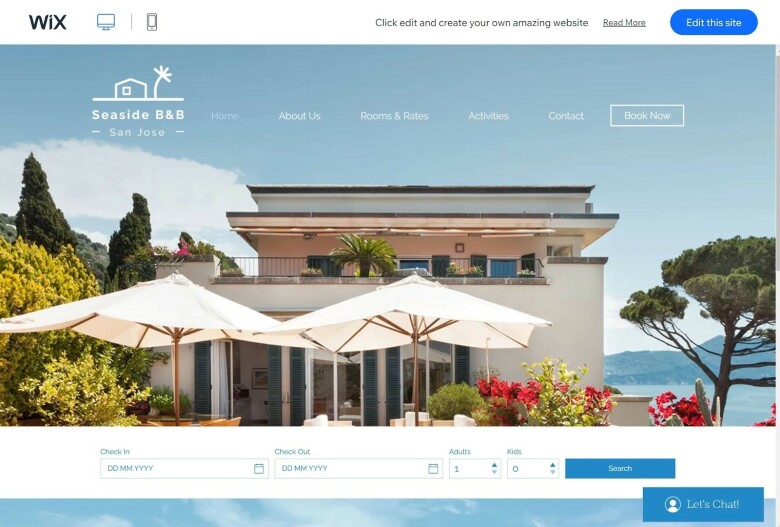 Wix has a great combination of features and ease of use, with everything you need to make a site for any type of rental: single apartment, inn, B&B, hotel group, luxury resort – you name it.
You'll find
dozens of templates in the Travel and Tourism category
. Once you pick your template, it's easy to personalize it using Wix's drag-and-drop editor. Vacation rental templates usually come with the Wix Hotels app built-in (and if not, you can add it with a click).
The Wix Hotels app gives you all the tools you need to manage your rental property and allow guests to book and pay online.
What's more, you can enable 50+ payment options for online and point of sale (POS) transactions. You can use the free plan as long as you want, but
a paid Wix plan will open your site for business
. With the Business plan or higher, you'll get a custom domain name, online bookings will be enabled, and you can accept online payments.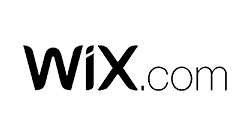 Wix is now only $4.50 per month!
Sign up for an annual plan and enjoy the savings.
7202 users used this coupon!
Features
Rental channel management. Add the Channel Manager to the Wix Hotels app to keep your property's details and availability updated on 150+ services, like Airbnb, Expedia, and Booking.com.
Commission–free booking. With the Wix Booking app your guests can pay online. While you'll still have to pay transaction fees, you won't have to pay additional host fees, guest fees, or commissions – so you'll save a lot compared to listing sites.
Business tool suite. Wix Ascend gives you marketing, financial, workflow automation, and task management tools that can help scale your vacation business. Start for free, then upgrade if you need more advanced features.
Personalized SEO. Wix's SEO Wiz tool gives you a personalized SEO setup plan. It walks you through the steps of getting your site indexed on Google and optimized for search engines.
Read our expert Wix review for more details
.
Free SSL Certificate

✔

Booking Fee

✘

Rental Channel Integration/Management

✔

Starting Price

$

16.00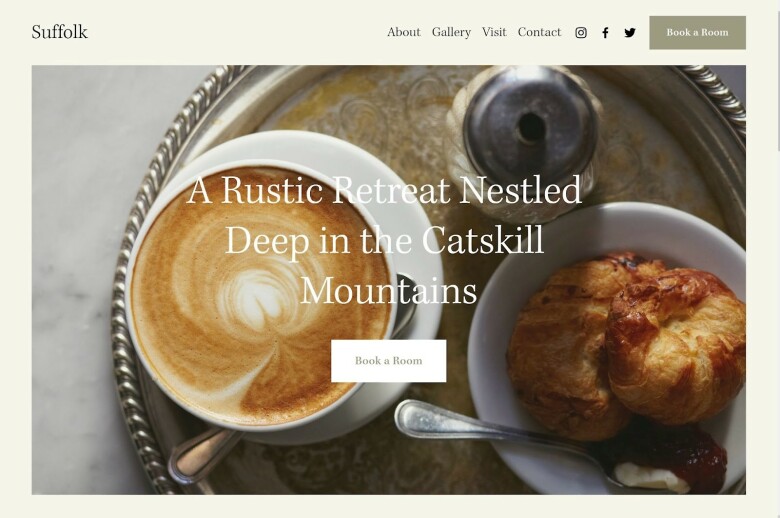 While many builders rely on one basic design,
every Squarespace template looks unique
. These templates come with features that make it easy for prospective guests to browse property details, review rooms and rates, check amenities, and learn about things to do. A "Booking" page lets visitors
reserve a room by entering their preferred dates, number of guests, and contact information
. Hotels and B&Bs can even use pre-built menu pages or add Menu blocks to share their restaurant menus. Potential guests can contact you with questions via live chat, email, or phone. While Squarespace doesn't have a free plan, you can
use the 14-day free trial to try Squarespace risk-free
. When you take features and fees into account, Squarespace is pretty cost-effective compared to other options for your vacation rental site, putting it near the top of my list.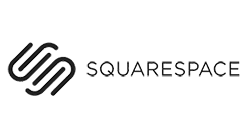 Save up to 30 % on your Squarespace plan today!
Plus get a free domain for one year!
1031 users used this coupon!
Features
Link third-party rental channels. You can use "Book Now" buttons and image click-through URLs to link to platforms like Airbnb and Vrbo. You can also embed an external channel to allow guests to book a stay without leaving your website.
Minimal transaction fees. Squarespace's Business plan charges a transaction fee of just 3%, and the two Commerce tiers don't charge any transaction fees at all. (Payment processors may still impose their own fees.)
Advanced image options. You can add hover effects and set images to open in a lightbox when clicked, letting visitors bring up an enlarged image to get a closer look. Videos can give potential guests a virtual tour, which can prompt them to book.
Sophisticated blogging. Squarespace lets you organize posts with tags and categories, add featured images and excerpts, and optimize for SEO with customized URLs and title tags.
For more info, read our Squarespace review
.
Free SSL certificate

✔

Booking Fee

✘

Rental Channel Integration/Management

✔

Starting Price

$

23.00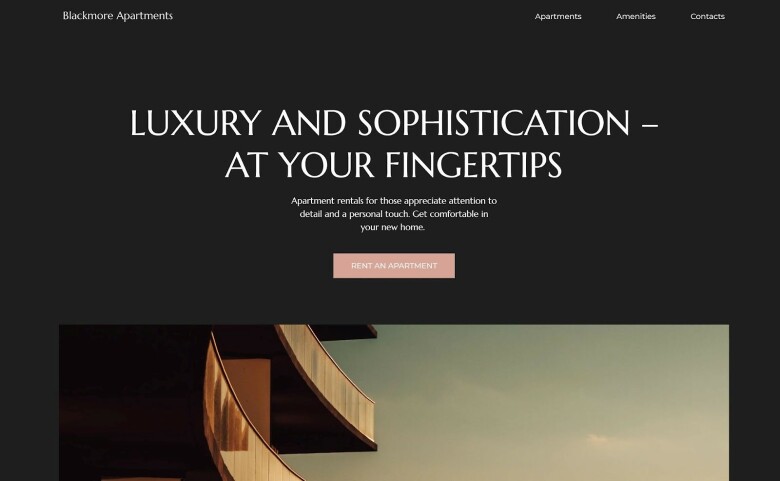 Zyro is a solid option if you lack time or website know-how. All you have to do is answer a few basic questions about your site and Zyro's artificial intelligence builder will generate a suitable template for you. Alternatively,
Zyro's sleek vacation rental templates
are easy to customize thanks to a drag-and-drop interface. Although the template selection is limited, Zyro has enough features to accommodate a variety of different vacation rentals. Built-in tools let you customize contact forms and subscription signups. And
if you add a third-party widget, such as JotForm, guests can submit a reservation inquiry or booking.
Zyro is a particularly good builder if you want to appeal to international travelers.
You can build a website in 16 different languages
and add 50+ payment gateways that serve travelers around the globe. You can even customize cookie banners to comply with different international standards. Because
Zyro has very affordable website builder plans
, it's an excellent choice for individual property owners, small inns, and B&Bs. While it doesn't have a free plan, Zyro has a 14-day free trial period, as well as a 30-day money-back guarantee.
Features
AI–powered content and design. Zyro's smart tools can design a logo, create a slogan for your business, write keyword-rich content, and suggest blog topics you can use to promote your rental property.
Advanced photo editing. Zyro gives you simple tools to automatically resize images, remove distracting backgrounds, and transform images from low to high resolution. This helps take the hassle and expense out of photo editing.
Customer relationship management. Automated emails, customizable discounts, and seasonal coupon codes are just some of the features you can use to build a database of happy, repeat guests.
Mobile optimization. All Zyro templates are responsive on every screen size. Plus, you can edit the mobile and desktop versions of your site separately – so you won't need to compromise on design choices just to be mobile friendly.
Read our expert Zyro review for more
.
Free SSL Certificate

✔

Booking Fee

✘

Rental Channel Integration/Management
Yes, by embedding code
Starting Price

$

4.41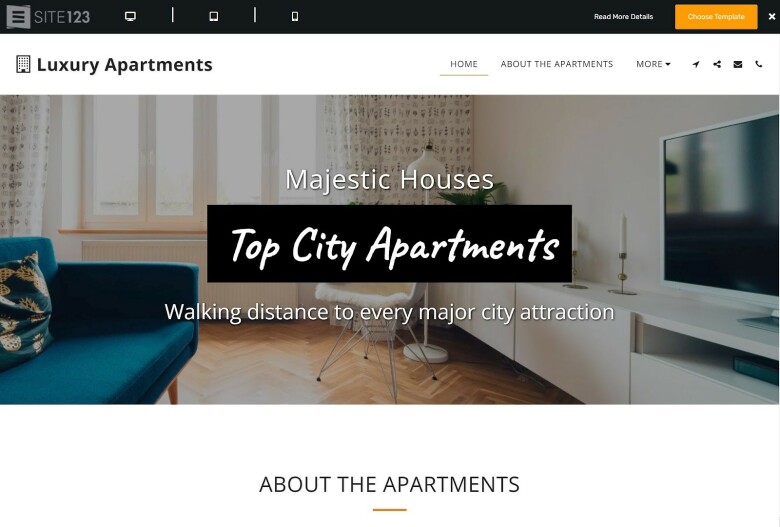 No builder or property management site can beat SITE123's sheer simplicity.
SITE123 templates for hotels and rentals
 include helpful features to allow site visitors to contact you, make reservations, and pay. Templates also let you integrate content from Trip Advisor, Google Maps, social media, and more. Thanks to SITE123's intuitive point-and-click editor, it takes just a couple of clicks to customize any design element. For example,
you can easily convert any template from a one-page site to a multi-page site, and vice versa
. However, the tradeoff for this simplicity is that customization options are more limited than with builders like Wix. To quickly get an online presence,
try SITE123's free plan
. As your business grows, you'll probably want to upgrade your plan to add a custom domain, remove SITE123's branding, integrate payment gateways, and allow guests to submit online booking inquiries.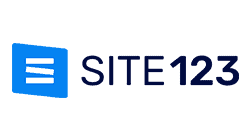 Save up to 50 % on your SITE123 plan!
Limited-time offer - Don't miss it!
76 users used this coupon!
Features
Mobile-friendly sites. Data shows that many travelers prefer to book stays on mobile devices. All SITE123 templates are fully mobile-responsive, which ensures they are easy to navigate and load quickly on any size screen.
Multilingual functionality. Depending on your plan, SITE123 can automatically translate your website into different languages for site visitors. It's a nice feature that can broaden your reach to potential travelers.
App Market. Though SITE123's app store only has a small selection of apps, you'll find must-have marketing and analytics apps, such as Google Analytics, Facebook Pixel, and Pnterest Meta Tag.
Payment options. With a Gold Plan you can enable SITE123's multi-currency setting to accept payments in up to 80 different currencies. Your guests can pay using their preferred payment processor, such as PayPal, Stripe, Braintree, or 2Checkout.
Learn more in our full SITE123 review
.
Free SSL Certificate

✔

Booking Fee

✘

Rental Channel Integration/Management
Yes: URL embeds, TripAdvisor integration
Starting Price

$

12.80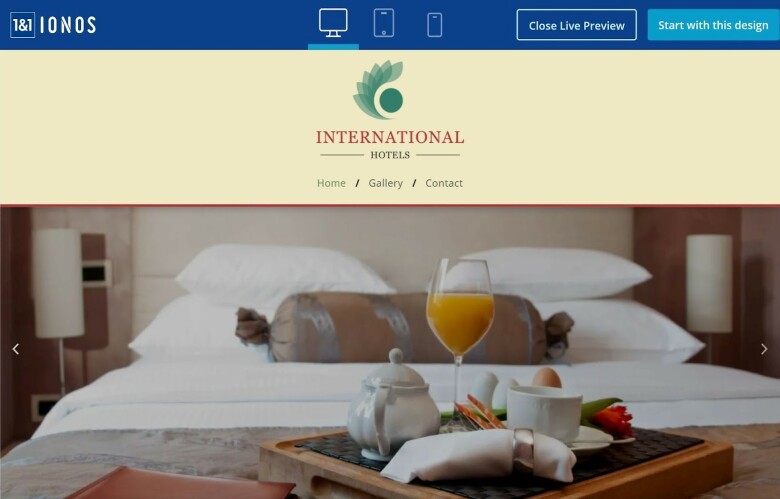 IONOS offers two different builders you can use to create a vacation rental website. MyWebsite Now, its basic builder, and MyWebsite Creator, which has more features. There's also an option to use IONOS for managed WordPress hosting.
If you use MyWebsite Now or
MyWebsite Creator, you'll have access to
2 specialized vacation rental/hotel templates
. The templates are well-designed, but the limited selection could hamper how unique your website looks. Luckily, they have attractive galleries to show off your rental property's ambience. Another helpful feature is the option to set up a special log-in area for repeat guests. All templates have a built-in customizable contact form, so it's easy for travelers to submit reservation inquiries. If you've added a Live Chat widget, they can also start a conversation, which can help establish your trustworthiness. A
30-day money-back guarantee
gives you ample time to test the platform before making a commitment.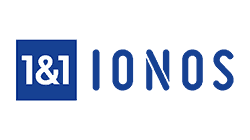 Save up to 80 % on your 1&1 IONOS Website Builder plan!
Limited-time offer - Don't miss it!
43 users used this coupon!
Features
Get featured in online directories. IONOS' List Local and List Local Plus add-ons get your site listed in 25 online directories, including Yelp and the Foursquare City Guide. This can boost your online visibility with travelers. (Fees apply.)
Third-party integrations. If you subscribe to the MyWebsite Creator Plus plan, you can use custom code to embed content, like popular listing sites. There's also a widget for integrating your social media content.
Image editing. You can use photo editing tools to format, crop, and edit images without leaving the website builder. It makes showing off your properties much easier.
Personalized customer support. You can get one-on-one support with a personal consultant who will answer your questions, discuss your site's performance, and offer strategies for success. They are available via phone, email, or chat during standard business hours.
Learn more about IONOS in our in-depth review
.
Free SSL certificate

✔

Booking Fee

✘

Rental Channel Integration/Management
Yes, by embedding code (select plans only)
Starting Price

$

5.00
6. Lodgify: Comprehensive Rental Property Management (At a Price)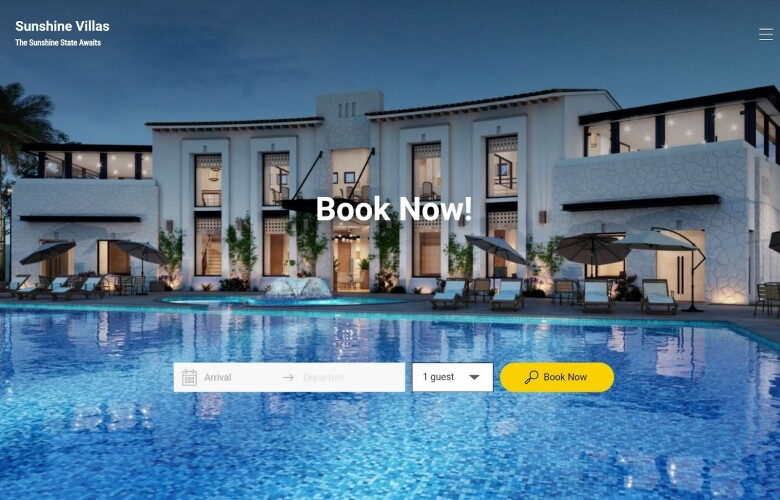 Lodgify's comprehensive property management software
includes a reservation system, payment processing, and the ability to easily manage your vacation rental property's reservations across multiple sites.
Templates come with relevant pages and sections – an overview, image gallery, room types, amenities, calendar, and rates
– but no blog. While you can't tweak every aspect of your template like you can with Wix, you can change the colors and fonts, and upload images. Lodgify also lets you use widgets to add features like a contact form, live chat, and virtual tour. Lodgify offers a lot, including its Lite plan (no monthly fee but a 3.9% booking fee). Beyond this, however, plans get pricey. Monthly fees increase with the number of rentals you have, plus you may still have to pay booking and transaction fees. For this reason, Lodgify may only be affordable for larger property management companies.
I recommend taking advantage of its 7-day free trial.
Features
Rental channel integration. With Lodgify's booking engine, you can seamlessly connect third-party services to sync your rental property's availability, reservations, and rates in real time.
Task management. Larger vacation rental businesses with one or more locations will find the built-in task management features can help improve staff performance and keep clients happy.
Multiple payment options. You can securely process credit card, checks, bank transfers, and in-person (POS) payments. Lodgify also automatically converts a guest's currency to your site's currency, which allows you to book international travelers.
SEO and marketing tools. You can set up e-commerce tracking in Google Analytics to monitor the number of visitors who successfully complete the booking process. Additionally, Facebook Pixel enables you to target marketing campaigns using data on visitor interaction with your ads.
| | |
| --- | --- |
| Free SSL Certificate | ✔ |
| Booking Fee | Yes, on two of the four plans |
| Rental Channel Integration/Management | ✔ |
| Starting Price | $11 |
Which Best Vacation Rental Website Builders Is Right for Your Property?
Your
property type, target market, technical skill, available time, and budget are important to consider
when deciding which builder is right for your vacation rental. You may also want to choose a builder that offers seamless integration with rental listing and travel services.
Wix is the best all-in-one solution
, which is why it's my top pick overall. It's a complete package, with the biggest template selection, easy customization, and booking/rental channel management. If your priority is a stylish website,
Squarespace's visually-inspired templates
will present your rental property at its best. Another reason to choose this builder is the wealth of useful third-party integrations. On the other hand,
Zyro is best for getting online quickly
. Its templates are sleek and well-designed, and its suite of advanced AI tools can greatly simplify the process of building a site. The table below compares every builder in this review to help you pick the one that's right for your rental property.
Free Plan
Best Feature
Best For
Starting Price
Wix

✔

Essential booking tools and a huge choice of templates
For second-home owners, property managers, resorts, and everything in between

$

16.00

Squarespace

✘

Beautiful and highly functional templates
Short and longer-term vacation rentals by realtors, property managers, individuals, hotels, and inns

$

23.00

Zyro

✘

Multi-language website functionality
Vacation rental owners appealing to foreign visitors

$

4.41

SITE123

✔

Ease of use
Condo owners, small to mid-sized hotels, inns, and B&Bs

$

12.80

IONOS

✘

Three builders serve diverse needs
Second-home owners, hospitality businesses, and developers designing sites for vacation rentals

$

5.00

Lodgify

✔

Comprehensive property/guest management
Large hospitality businesses with big budgets
FAQ
How do I create a free vacation rental website?
Both SITE123 and Wix have free plans you can use to design a short-term rental website. A free plan can be a good way to start out, especially if budget is an issue. You'll have to upgrade to accept payments and add advanced features. Zyro and IONOS have starter plans that are good low-cost alternatives – they run just a few dollars per month. Our step-by-step guide to designing a website in 2023 has helpful tips to make the task easier.
Which is the best builder for vacation rentals?
When you take features into account, Wix is the gold standard for vacation rental sites. That's because Wix offers the templates, design flexibility, and advanced tools to meet the needs of any kind of vacation rental business. Individuals and small hospitality businesses only need to pay for what they need. And on top of all that, it's incredibly user friendly.
Can I integrate external listing/travel sites with my website?
Most builders make it easy to integrate and manage bookings from popular listing and travel sites like Airbnb or Expedia. With some builders, like Wix and Lodgify, you simply add the app for the rental channel. Squarespace lets you integrate listing/travel sites by embedding URL code to display third-party content on your site.
Do I need to use a dedicated vacation rental builder for my site?
While dedicated vacation rental builders can be useful, they tend to have basic templates and limited customization. The best general-use builders offer most of what these dedicated rental builders can do and much more. See our list of the best site builders for 2023 for numerous examples.