The internet is the perfect travel agent, allowing you to find info on travel destinations and book trips to those destinations in just a few clicks. Your visitors want to know where to go, what to see, and the best way to do it on a budget. If they don't find that information on your website, they'll go elsewhere.
Fortunately, the best website builders will give you all the tools you need to create a beautiful travel website. Whether you're looking to provide information to travelers or provide them with an opportunity to book tickets for tourist attractions, these platforms can help you build the perfect travel website.
Wix
Wix gives you plenty of options to create an excellent travel website. It even has a template category dedicated to travel and tourism. However, a lot of those templates are geared toward users who run a hotel or Airbnb. However, two templates I like are Traveler Blog and Food Tours.
The Traveler Blog template is an excellent example of a blog with multiple webpages dedicated to different aspects of travel. There's also a section where you can specifically feature videos of your destinations. The website is also set up with social media links and a mailing list subscription section.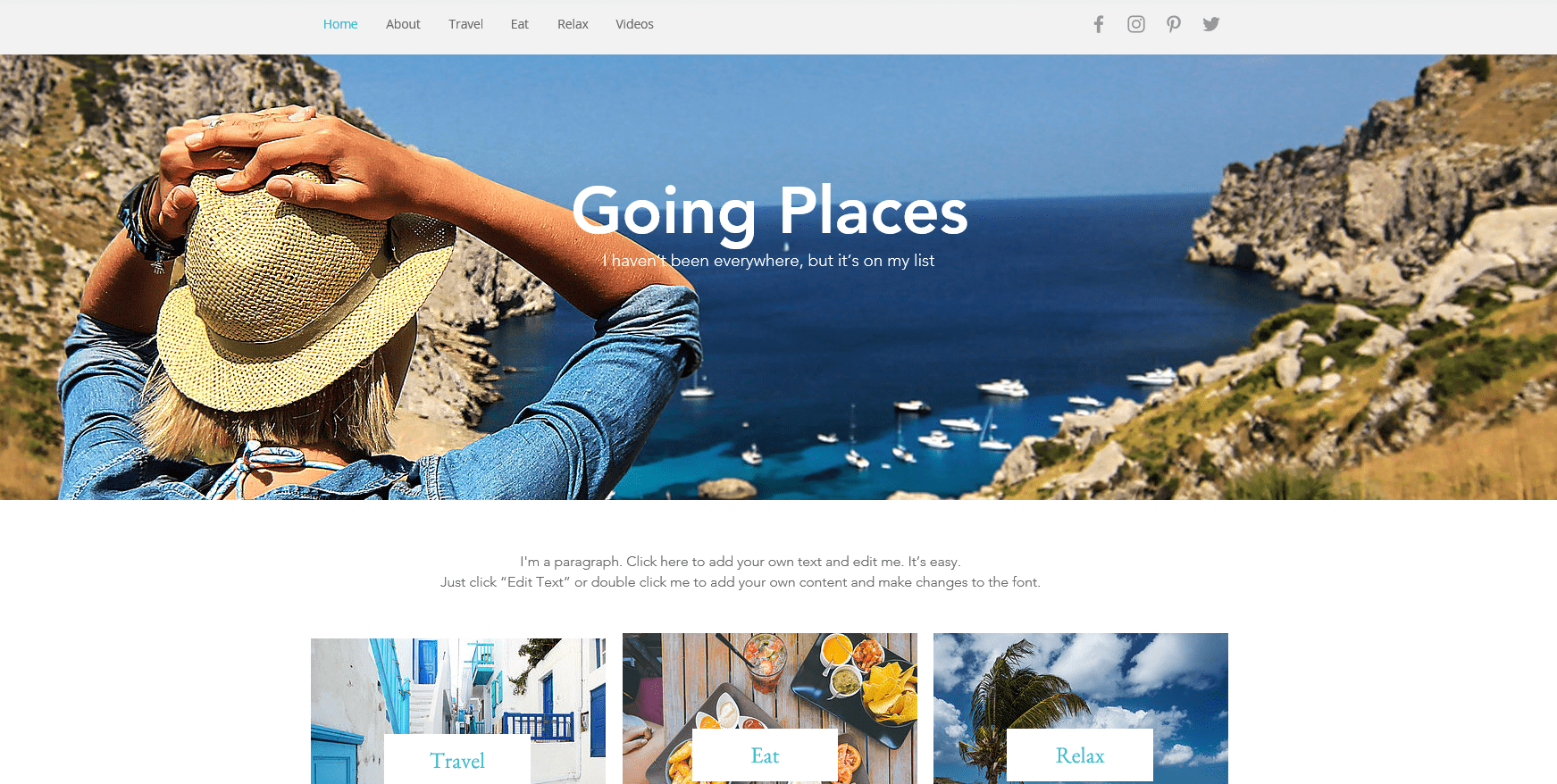 The Food Tours template is set up as a review website on various restaurants. It also includes options for scheduling food tours with an online booking section.
If a Wix template doesn't have a feature you need, check out the App Center. It has hundreds of specialized applications that can add functionality such as booking calendars, photo galleries, testimonial or review apps, and more.
Unless you plan to sell products on your travel website, the Combo plan will probably work best, as it offers at least 3GB of storage and has a free domain. If you need more storage, Unlimited is a nice choice.
If you want to sell travel-related products, Wix offers Business and E-commerce plans, with Business Basic offering 20GB of storage and zero-commission e-commerce tools.
For more information about Wix, read our expert review.
Site123
Site123 is another option for creating a travel website, but be forewarned that you're not going to find much in the way of variety with its templates. For example, if you look at business templates, they aren't going to look much different from the blogging templates.
The Team Upstream and Story of My Journey blogging templates are good places to start. The Story of My Journey template is set up as a simple blog with a section for travel posts and an email subscription section. The Team Upstream is a similar setup but has been broken up into sections that highlight upcoming events and news about the travel and extreme-sports company.
The templates on Site123 are very basic, so you'll want to use the App Center to modify your template. Here you can add travel photo galleries, forms, video tools, and other website functionality.
If you plan to sell merchandise or offer travel-related products, Site123 is an inexpensive choice for e-commerce, as all paid plans have e-commerce functionality.
To learn more, read our in-depth Site123 review.
WordPress
WordPress can be a great editor for most any website, but keep in mind that WordPress.com is not the same as using WordPress on a regular web host. WordPress.com offers a limited selection of templates, and if you use the Free or Personal plans, your choices are limited even further. There are only nine free themes offered for Travel. Out of those, Cubic and Apostrophe are excellent choices.
Cubic is a grid theme that's suitable for a photo blog or blog in general. The Apostrophe template is more of a magazine template, but that can be easily converted into a magazine-style travel website complete with calendar, blog posts, photo galleries, and more.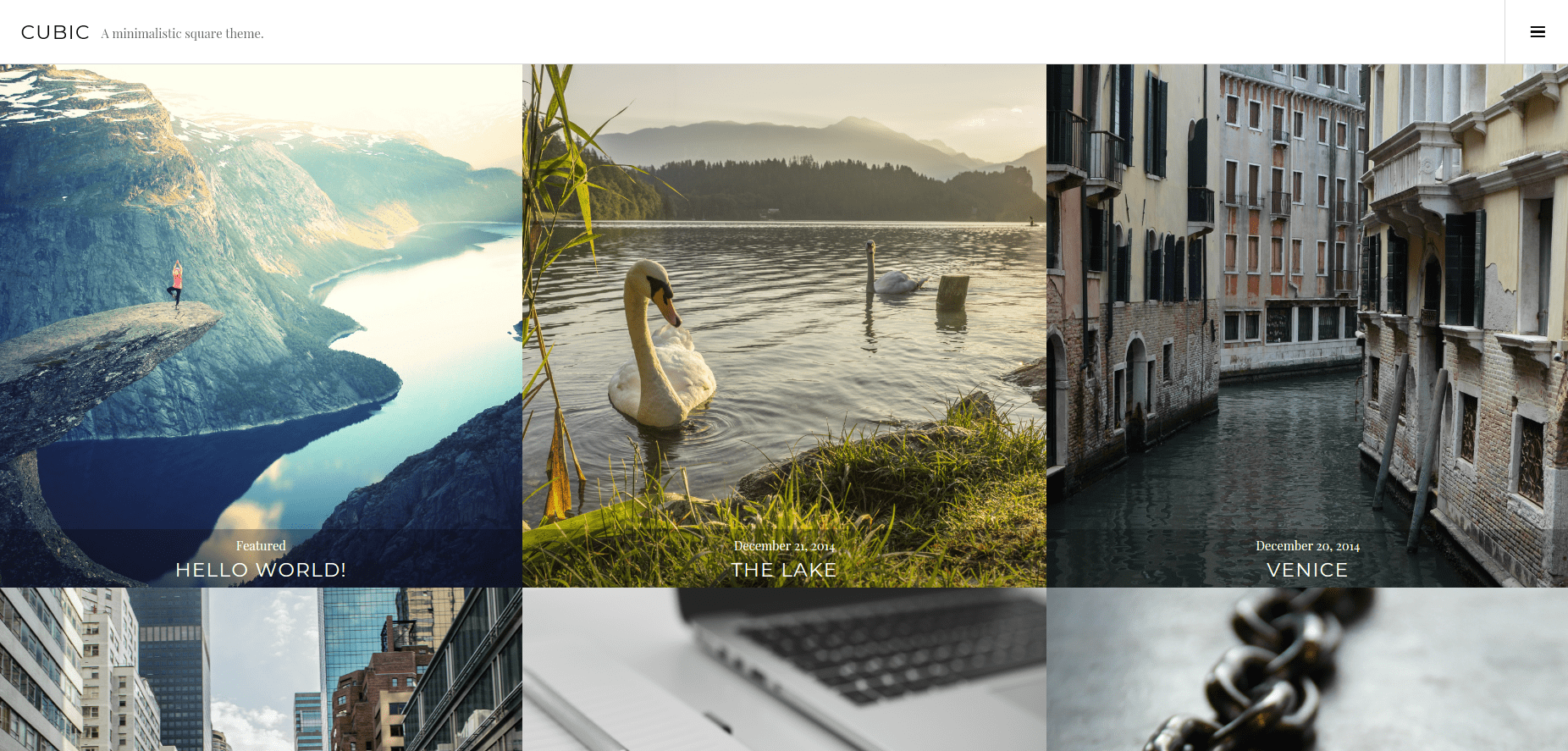 With WordPress themes, your design features are built into the template, and you are only allowed to make theme customizations that are hard-coded into the templates. You can't change the CSS or HTML of plans for the Free and Personal plans. With Premium, you do get the options for Premium templates, and you can modify some code, but you can't add custom apps or templates. To install custom apps and templates, you have to upgrade to Business.
If you like WordPress, you can build a beautiful travel website. However, keep in mind that to get full functionality, you have to upgrade to its most expensive plan.
SimpleSite
Among all the website builders on this list, SimpleSite has the smallest selection of templates — with none dedicated specifically to travel. SimpleSite does have multiple blog templates such as the Food Blog and Fashion Blog templates. They can be modified and turned into a travel blog or travel-booking website.
All template designs are straightforward, and there are tools to customize them. You can include photo galleries, videos, forms, and more. The primary advantage of using SimpleSite over other builders is that it's the only provider that gives you unlimited media for your website. If you plan to offer extensive travel photos and video galleries, this is one website builder that will allow that without your having to worry about storage or bandwidth caps.
Also, all plans on SimpleSite include e-commerce features you can use to sell travel-related products. However, to get unlimited features, you have to upgrade to E-commerce. The monthly plan is also a bit pricier than other plans on this list.
Read our in-depth review to see if SimpleSite is the right choice for you.
Weebly
One area where Weebly shines is in template design. While there are other builders with a more extensive library of templates, none are as visually stunning as Weebly's. Two themes that are great for travel are their HighPeak and Travellin templates. Both have excellent graphics, a modern layout, and a section describing services, the ability to register for events, and more.
If you need additional functionality for your travel website, check out the App Center. You can find anything you need to improve your templates, from galleries to forms, FAQ apps, chat apps, social media apps, and more. Also, Weebly templates are customizable at the CSS and HTML levels, something you don't get on most of the website builders on this list.
For those needing e-commerce functionality to sell travel merchandise, few websites have better tools than Weebly. If you upgrade to Starter or higher, you get e-commerce functionality with low transaction fees and the ability to use Weebly's checkout feature.
Need more information? Read our expert Weebly review.
Squarespace
Squarespace offers a nice selection of modern-style templates. Like Wix, Squarespace has an extensive library that includes several travel-themed templates. Two that I enjoy are the Fairfield and Native templates.
Fairfield is a cooking-experience template with video backgrounds, sections to books sessions, a calendar of events, and checkout functionality. Native is a simple blog template, but the simplistic functionality stands out and makes the template perfect for mobile devices.
One downside to Squarespace is that you don't get as many customization options as you do on other builders. There's no app market available for the builder, and in many cases, you'll only have the features available through your template. However, one thing Squarespace allows that other builders don't is the ability to install multiple templates. You can tinker with various template designs and go with the one you like best.
The Business plan is the best Squarespace plan, as it offers unlimited options, including e-commerce features with low transaction fees.
Find out more in our expert Squarespace review.
Use the Best Website Builders to Build the Perfect Travel Website
Most of us have tight schedules and limited time to plan out our weekend trip or vacation. That's where travel websites such as yours come into play. Personalized travel websites are often much more effective at selling travel services and products than standard travel agencies that mainly focus on selling the most expensive travel packages possible.
When you build a travel website using one of the website builders above, you give your visitors the tools and info they need to plan their travel itinerary. Whether they're looking to go on a weekend getaway out of state or take a vacation to an exotic international destination, your travel website can significantly contribute to their next perfect trip.