I did test the best website builders on the market to help you find the one you need
. The website builders on this list are not only free, but
they also let you do more than just create more than just a pretty web-page
. They offer features like customizable menus to open your costumers' appetite, beautiful image galleries to show your mouth-watering creations, and social media integrations to keep your followers updated on your current location. And on today's menu:
One of the biggest advantages of creating a website with Wix is that it has an extensive library of over 500 customizable templates, all featuring drag-and-drop elements
.
The
Restaurants & Food category
has numerous templates, that although not being designated food truck website templates, can be easily converted into a food truck webpage. As well, you can look at other template categories because some might be just right for you! Two templates I like are French Cuisine and Chef Kitchen.
French Cuisine has a nice block layout that allows you to feature your dishes in a visually stunning way
. You also have sections for your menu and a contacts webpage.
Chef Kitchen has a blog layout with a slideshow banner on the front webpage
. From the homepage, your customers can book reservations, place orders, view the menu, and learn more about your staff.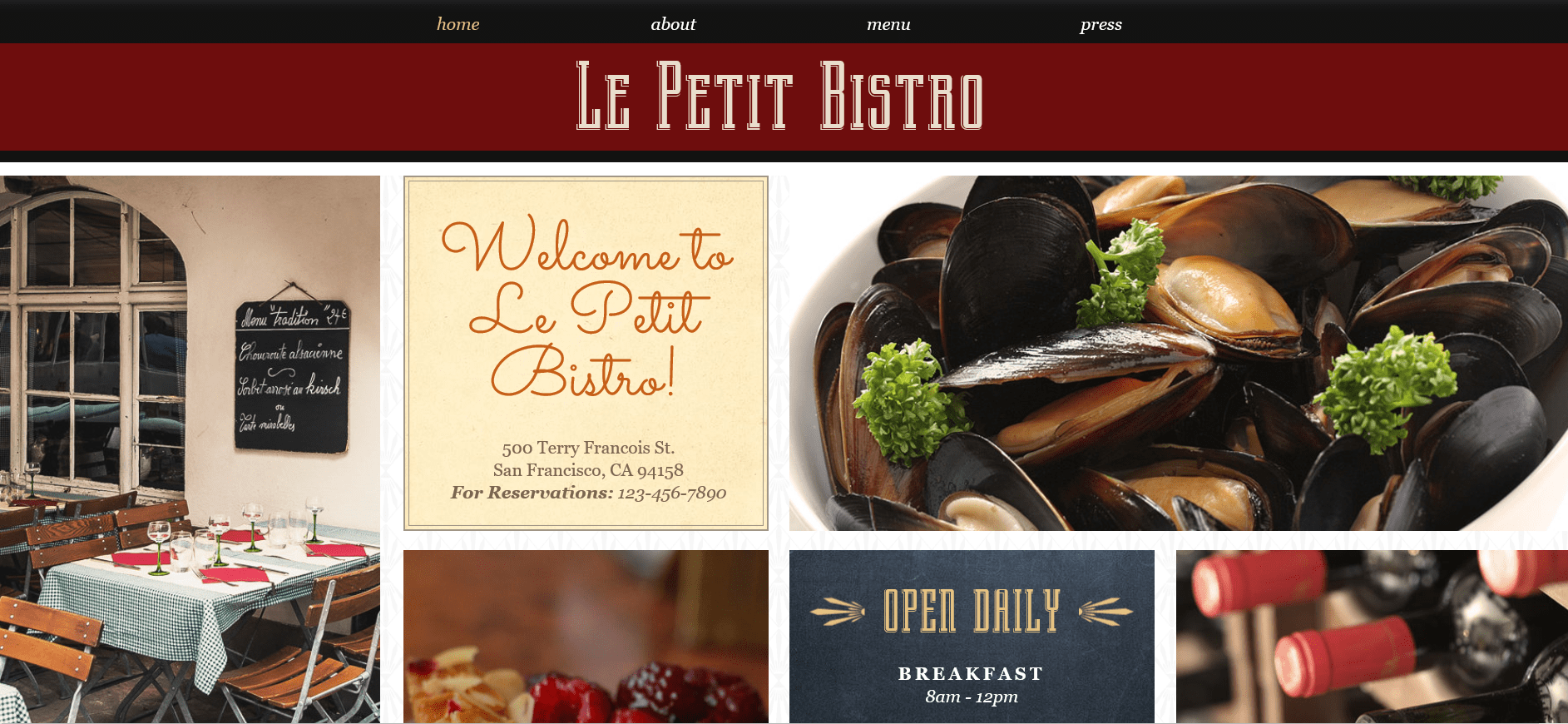 Wix templates already come with great standard features, but if you want to add more, go to the App Market.
There, you can add extra features to your webpages, such as photo galleries, menu apps, online orders or reservations, and a Google Maps app to help customers find your food truck
. While
many reviewers like Wix
due to its ease of use, others dislike it because your options to modify your base design are limited. Once you select a template, you're locked into that template. If you choose to change it, you must recreate your website. Also, some apps require a licensing fee to unlock full functionality.
If you're looking for a more professional look for your food truck website, then Weebly is a good choice. Since Weebly caters to e-commerce websites,
a majority of its templates are geared toward helping you increase sales
. Two of the business templates that work well for food trucks are the Urban Dine and Burger Shop templates.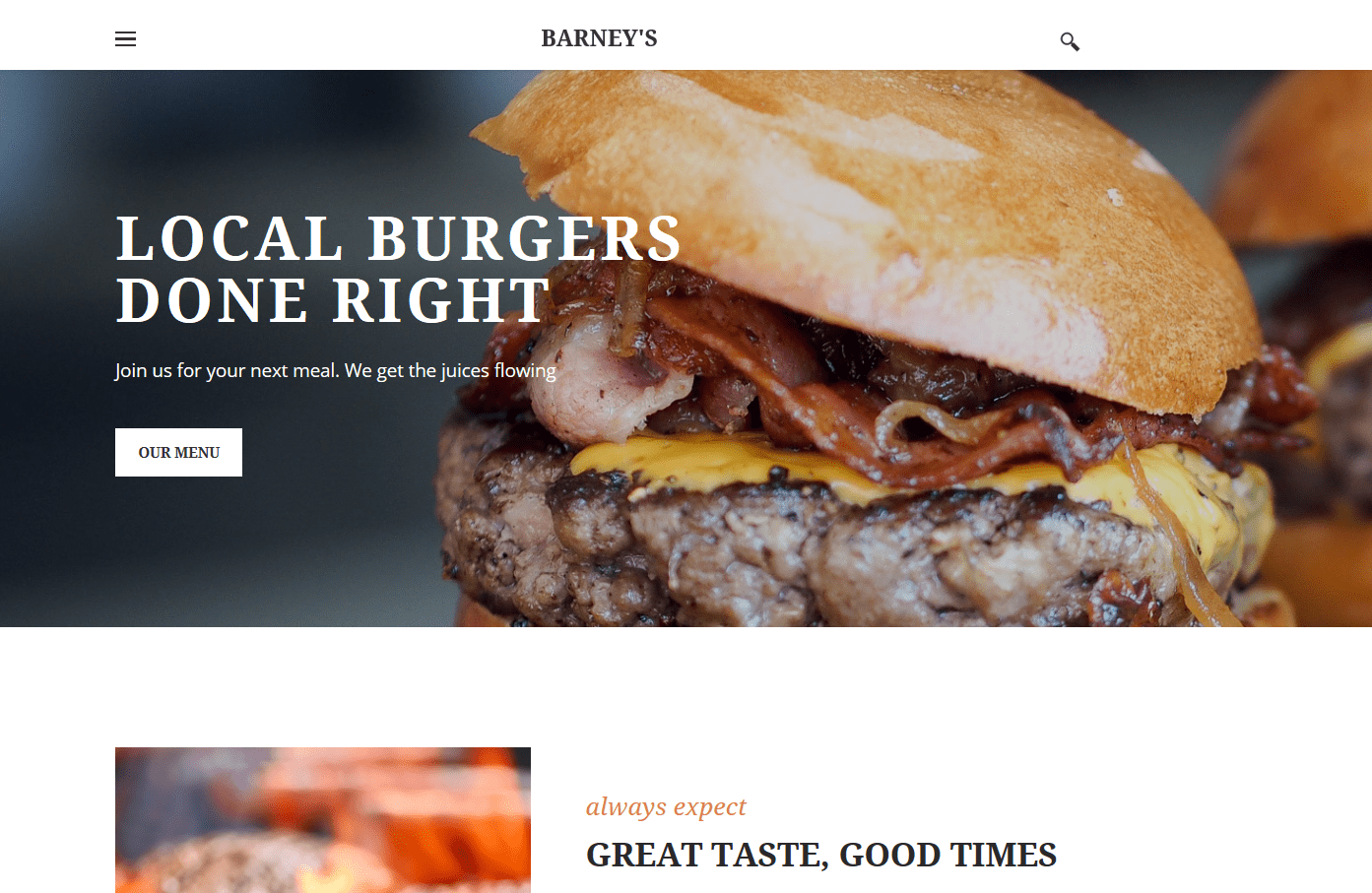 Both templates offer visually appealing block styling that allows customers to preview your business and menu, and either order online or find information on your location and hours. If the templates lack features you need, check out the Weebly App Center. It has apps that will help boost traffic, increase sales, and market your truck on social media. Also, if you want to conduct deep customization of the templates, you can do so, as
Weebly allows you to edit your HTML and CSS code
. That way, you can get the perfect look and set up your webpage to make a great impression every time. No wonder it gets
such great reviews
. If there's one thing I'd like to see Weebly improve, it would be its selection of templates. They're a bit lacking compared with those from other builders such as
Wix
and
Squarespace
.
Site123 is great if you need a basic food truck webpage
. It has a category dedicated to restaurants with several templates that will work for food trucks. Pizzeria and East Feast are two layouts that I like, and both include online menus and Google Maps integration to help customers find your food truck. If you need extra functionality that's not included in the template, check out the App Market. It has a selection of tools that includes
galleries, online forms, marketing tools, payment gateways,
and more.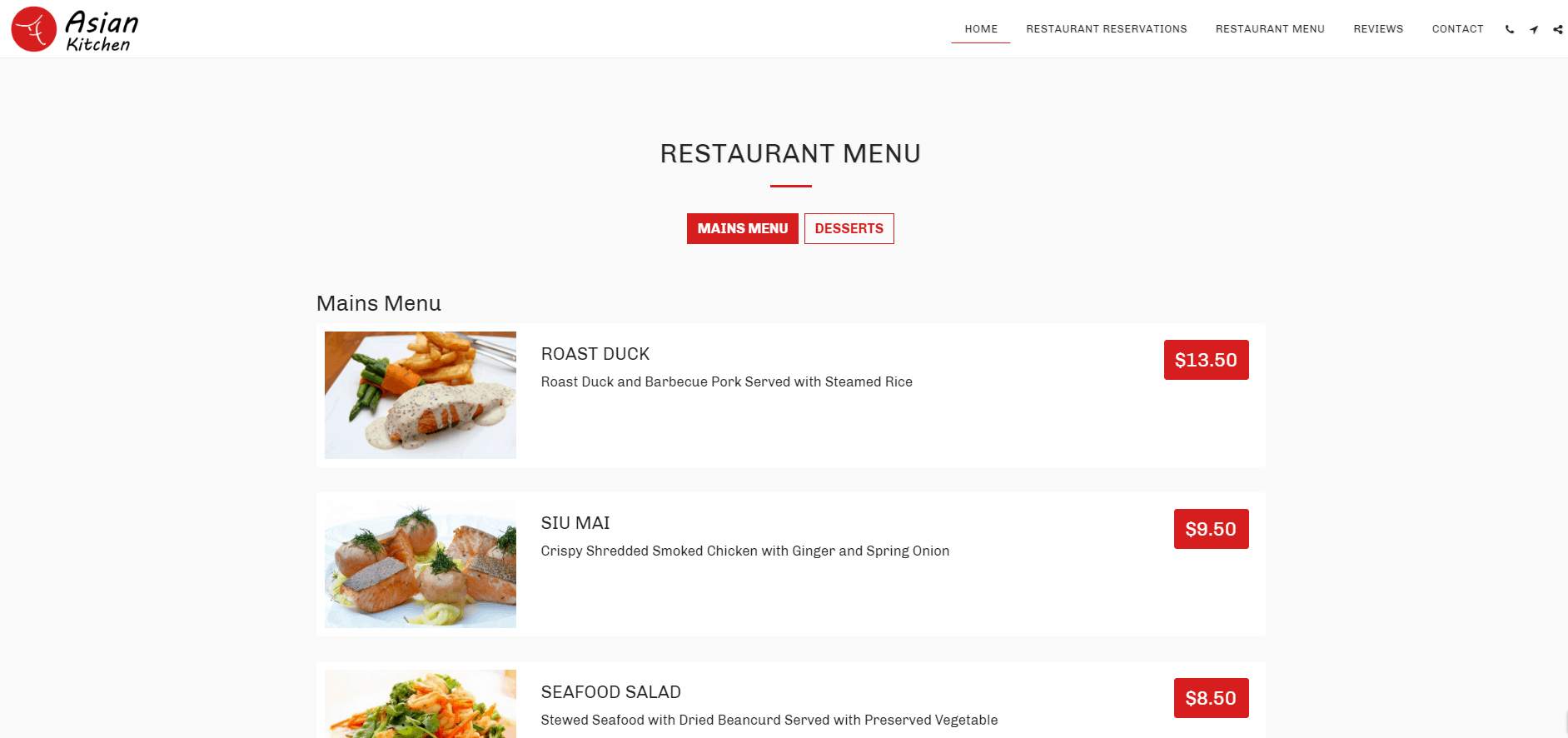 While
Site123 gets generally positive reviews
, you may need to do a bit more customization of your template than you would with other website builders, as
Site123's template layouts offer little variety.
However, if you're looking for a multi-lingual website builder, this is an excellent choice; Site123 offers plans that allow you to code your website in multiple languages automatically. Also, if you plan to accept online orders, Site123 provides e-commerce features on all plans. Note that the Professional plan allows you to accept credit card orders online and gives you other advanced e-commerce features.
WordPress is famous for giving webmasters tremendous freedom in creating websites. However, WordPress.com is not the same as standard WordPress. WordPress.com's features are limited depending on which plan you choose. If you're a Free or Personal customer, you're going to have to pay to access Premium templates.
There's a solid selection of free templates, and some are suitable for food trucks
. My favorite is the Pique template. It's designed explicitly for cafes, and while setup in a modified blogging style, it can easily be modified to fit your needs. You can include your menu, information about your business, customer testimonials, hours of operation, and directions to your location through Google Maps.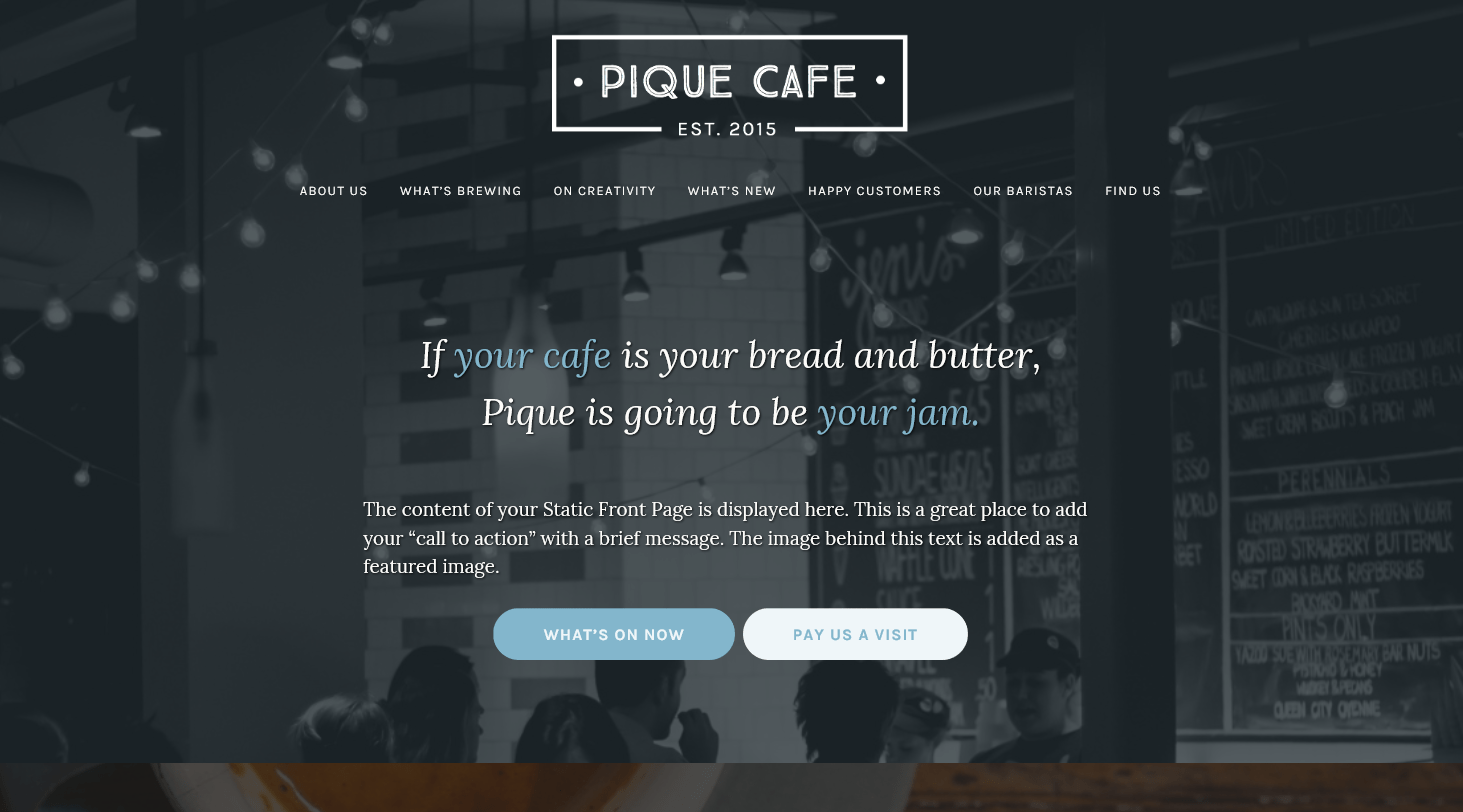 Note that if you use WordPress, many of your design options will be limited to available features offered within the template.
You can't install customer plug-ins or even custom themes on most plans.  Most templates will include standard features you can use to create your webpage, including forms, galleries, and more. If you're looking to do deep code edits of HTML or CSS, you can do that only with WordPress' Premium and Business plans. To unlock full functionality, including the ability to install custom templates and plug-ins, you have to upgrade to Business.
Out of all the builders on this list, SimpleSite has the fewest design options. It offers a limited number of templates, and most are set up in a blog format. If you choose to go with SimpleSite,  I'd recommend trying the Cafe or Food Blog templates, as they offer a simple layout that will allow you to show off your business. Cafe has a nice fading slideshow graphic that you can use to display images of your truck, dishes, and customers enjoying your meals. It also has a built-in menu section. SimpleSite customization features are all built into the templates, and you can add features such as
online menus, galleries, forms, and online video.
One reason
users appreciate SimpleSite
is that you get unlimited video and images on your website.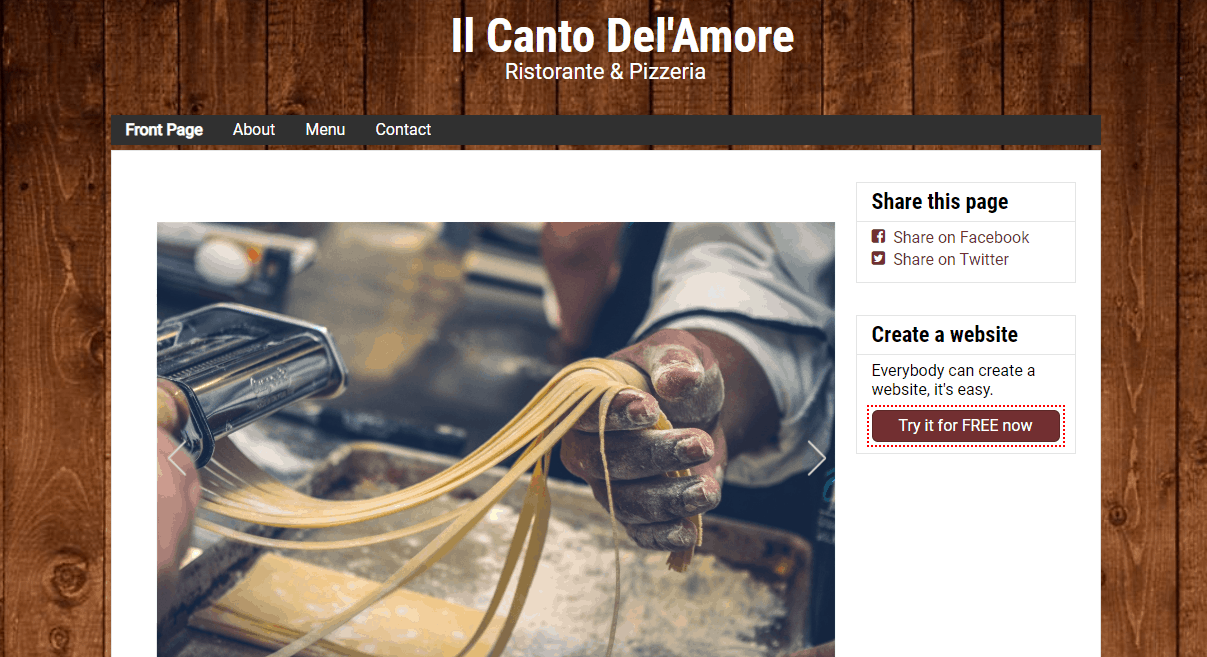 SimpleSite templates are very basic, so your website is probably going to look a little dated compared with other builders. However, if you're looking for basic or a minimalistic look, this will work well.
Note that SimpleSite is also a good choice if you're on a budget
because the free plan does provide up to 15 webpages and even offers limited e-commerce functionality. If you're just getting started, you can build a basic website with SimpleSite and upgrade or move to one of the other providers on this list once you start growing.
Squarespace offers an extensive library of professionally-designed templates, which are perfect for most businesses, including food trucks. While Squarespace has only a small selection of restaurant and food-truck-themed templates, the ones it offers are some of the best on this list. The excellent templates are one of the reasons
users like Squarespace so much
. I find the Tremont and Motto templates particularly appealing. The Tremont template stands out as an excellent option, showcasing a fading navigation effect that functions seamlessly on both PC and mobile platforms. It allows for swift access to the menu, contacts webpage, and online ordering. On the other hand, the Motto template boasts a simplistic yet contemporary design. It provides easy access to the menu, location details, as well as options for making reservations or placing orders directly through the main website.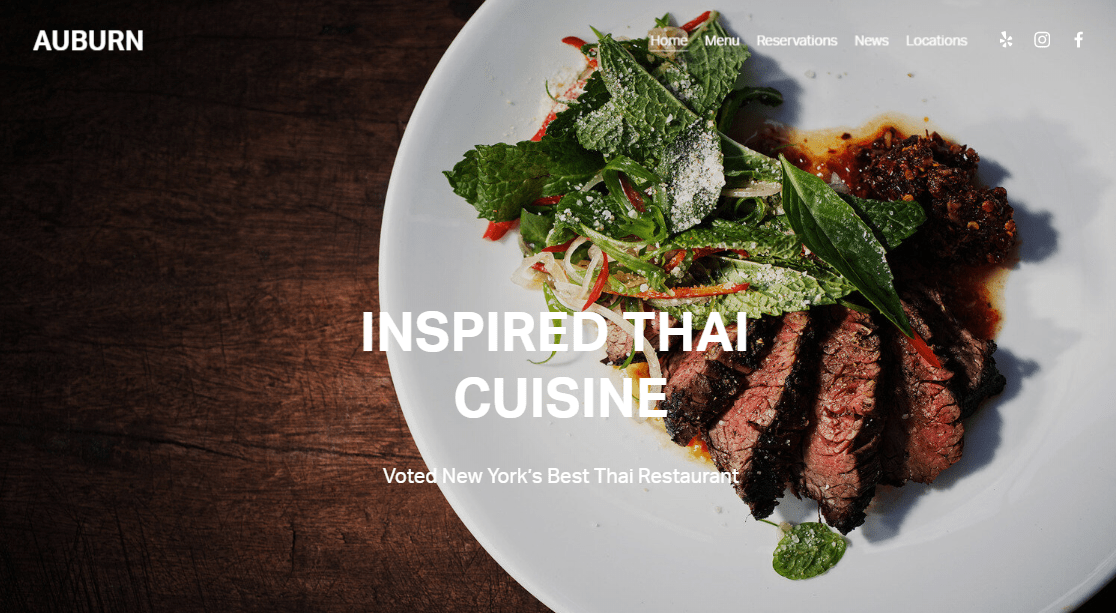 While the templates on Squarespace are very modern and offer many standard features such as
photo galleries, forms, and social media integration,
there's not a lot of advanced customization provided through the builder. There's no app market, but you do have the ability to modify HTML and CSS code to conduct deep code edits. One feature Squarespace has that other website builders on this list lack is the ability to install and use multiple templates. You can install several templates and play with different designs. If you decide that your current layout doesn't work, just switch to another template without having to start over.
Keep on Food Truckin' with a Professional Food Truck Website
Food truck customers are a different breed. If they love your food, they'll track you down for their next meal. Of course,
if it's too difficult to find you, they'll give up and try another truck
. That's why you want to keep your customers updated through your food truck website.
By using any of the above-mentioned website builders, you can create your food truck website. This will keep your customers updated about your current location and help them find you easily when they're hungry for their next meal. This method allows you to keep running your food truck and making delicious dishes that your customers just can't resist.