only a few builders have templates specifically designed for professional real estate agents or agencies
. And
getting a good-looking template is only the tip of the iceberg
. Whether you're an independent agent or part of an agency,
you'll need specific features to get the most out of your website
– image and video tools for showcasing properties, contact forms and booking tools for capturing leads, and marketing and SEO tools for promoting your brand. On top of that, you'll want an easy-to-use solution that allows you to build a site quickly (and all without breaking the bank). Sounds too good to be true, right? I set out to find out.
After testing dozens of options, I found 6 builders that have what you need to create a fully-featured, eye-catching real estate website
for surprisingly little money or effort.
Short on Time? These Are the Best Website Builders for Real Estate in 2023
Wix – 23 fully-customizable templates designed for real estate websites that need complete functionality.
Squarespace – Gorgeous templates and effective social media tools for reaching new clients.
Zyro – Intriguing AI tools help you showcase properties and boost your brand.
What We Look for in the Best Real Estate Website Builders
In addition to being intuitive and easy to use, a real estate website builder should also have some specific features for managing and displaying properties. Here's what I focused on when compiling my list:
Attractive real estate templates. Nearly every builder on my list offers home-oriented designs that you can customize as you see fit. This gives you a choice of various layouts and a chance to create an authentic website that reflects your brand.
Multimedia features. I made sure to only include builders with versatile gallery layouts that can showcase your properties in a compelling way. Each also has video features for giving buyers virtual tours of their potential new home.
Lead capture tools. These builders come with customizable contact forms and booking tools – either built-in or integratable – that make it easy for potential buyers to ask questions and arrange viewings through your site.
SEO tools. Even the best images and booking tools won't matter if buyers can't find you. Every website builder on my list offers useful SEO features to help you rank higher on search engines.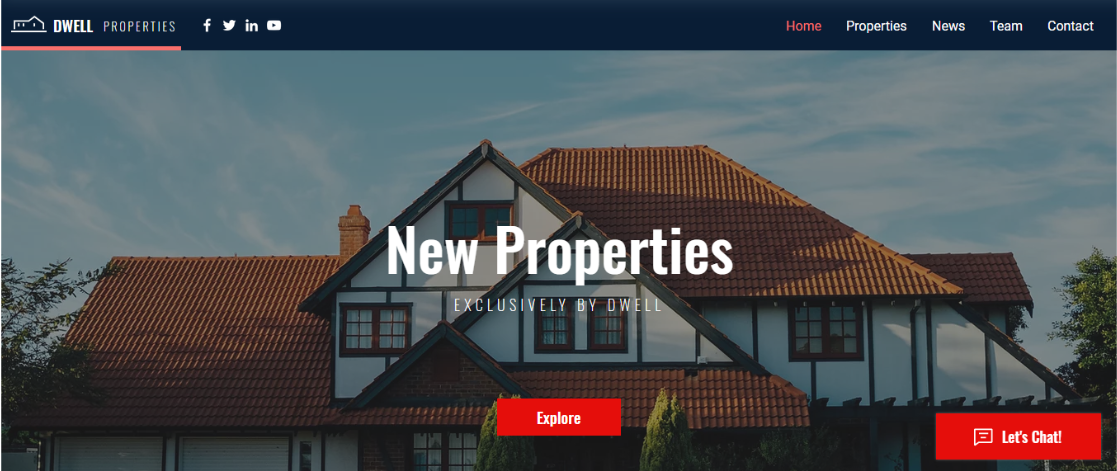 Wix offers 23 templates just for real estate sites
, which is more than almost any other website builder. Each comes with the most useful features already built in, such as photo and portfolio listings, Google Maps, contact pages, social media integrations, and more. Wix even lets you add custom code to your site, so you can
connect an IDX (Internet Data Exchange) system that displays all your real estate listings.
Every template is fully customizable, with Wix's powerful drag-and-drop editor allowing you to move elements around freely to create your ideal layout. Or, if you're in a hurry, you can have the Wix ADI tool
generate a unique real estate website for you
in minutes. For most real estate businesses,
Wix's Unlimited plan is more than enough
. You'll get unlimited bandwidth, 10 GB of storage, and one hour of video. You'll even get free ad vouchers for promoting your site on Google and Bing results pages.
Wix offers a 14-day money-back guarantee
with every Premium plan, provided you pay by credit card.
Features
SEO features. Wix has a strong set of SEO tools that let you customize meta tags, URLs, and even control how your pages look when they're shared on social media. To ensure you get the most of these features, you also get Wix SEO Wiz, a step-by-step guide on optimizing your site for search engines.
Wix Email Marketing. You can use a simple drag-and-drop builder to create email campaigns and send them to your mailing list to reach more clients.
Wix Social Post Builder. Wix gives you templates for designing slick images for social media, which you can share directly to the platforms of your choosing.
300+ apps and integrations. Wix has a robust app marketplace to extend your site's functionality. For instance, you can use the Real Estate app to manage and display your listings, while the Virtual Tours app lets you create 360° VR experiences of your properties.
Want to learn more?
Read our expert Wix review
.
Real estate templates
23
Free plan
Yes
Storage space
500 MB to 50 GB; 30 min to 5 hours of video
Starting Price

$

16.00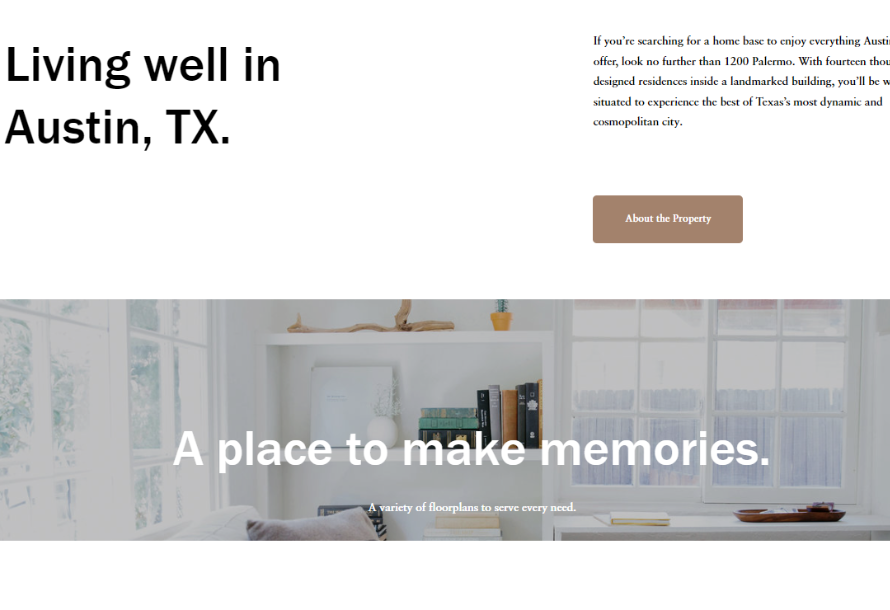 Squarespace templates are some of the most eye-catching of any website builder
, so you won't have to worry about making a good first impression.
There are 6 real estate templates
, but you can customize any template to fit your needs. Like Wix, Squarespace allows you to integrate an IDX system to let your visitors find real estate listings in their area. Squarespace has
built-in social media and content creation tools
to help you promote your real estate website. For example, the
Squarespace Video Studio app lets you create engaging videos for personal introductions or showcasing your properties.
You get video templates, an auto voiceover tool, and more. Also, the Unfold mobile app provides custom Instagram story templates to make your content stand out on social media.
Squarespace has a 14-day free trial
to let you test its features before you commit. All plans include SSL security, unlimited bandwidth and storage for images, plus 30 min of video.
I recommend the Business plan
to get a professional email from Google, advanced analytics, and the ability to use pop-ups to alert people of new listings and pricing deals.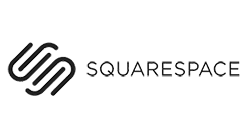 Save up to 30 % on your Squarespace plan today!
Plus get a free domain for one year!
1031 users used this coupon!
Features
Affordable add-ons. Squarespace Email Campaigns is a paid add-on that lets you customize email templates to match the look of your site. Also, you can use Squarespace's scheduling to take appointments for property showings, send automatic reminders to clients, and more.
Blogging platform. You can easily set up a blog on Squarespace to share property value updates and tips on how to choose a new home (for example), which will help drive traffic to your site.
Free logo maker. Squarespace's completely free logo making tool can help increase your brand's familiarity.
Weglot Translate Extension. This third-party extension automatically translates your content into any of 100+ languages, which is perfect if you provide services to international renters and buyers.
Curious to learn more?
Read our expert Squarespace review
.
Real estate templates
6
Free plan
No, but there's a 14-day free trial
Storage space
Unlimited for images, 30 minutes of video
Starting Price

$

16.00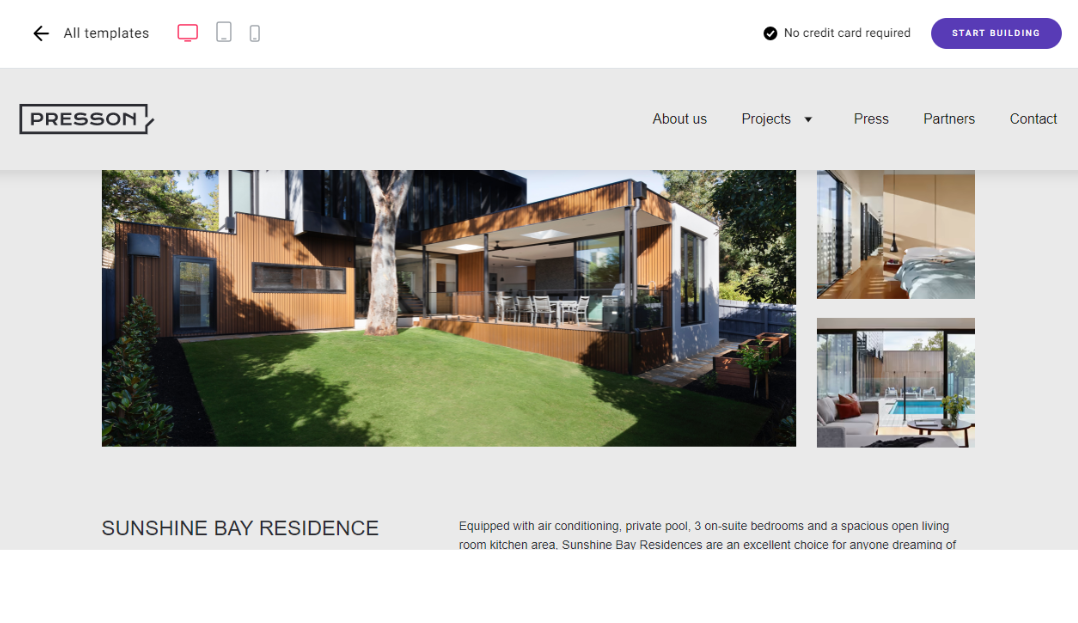 Although Zyro doesn't have a real estate template category, some options in the Services and Home & Decor section work well for real estate sites. The intuitive editor lets you customize your template by dragging and dropping elements and changing colors and fonts. You'll find options for adding photo galleries, slideshows, and videos to showcase properties.
You can even customize contact forms and send out newsletters to generate more leads.
If you're in a hurry,
Zyro's suite of AI tools will save you time
. The AI Writer generates SEO-optimized content (for a blog, for example), while the AI Business Name and Slogan generators can help you build a more recognizable brand. Also, the AI Image Upscaler ensures that your property photos always look immaculate. With the exception of its e-commerce tools, Zyro makes all of its features available on every plan.
The starter plan is a good option for real estate agencies, as you get unlimited bandwidth and storage
and access to all AI tools and marketing integrations. Zyro's plans are backed by a 30-day money-back guarantee, so you can try it risk-free.
Features
Grid-based editor. All elements on your page will snap to a grid, so your layout will always look organized.
Tools to boost conversions. Zyro has an AI heatmap tool that monitors your site's traffic and suggests layout changes to increase conversions. You can also integrate Google Analytics to get a deeper insight into how to improve your site's performance.
Live chat integrations. Although there's no app store, you can integrate live chat apps like Facebook Messenger and WhatsApp with your site to communicate with potential buyers in real time.
Zyro Booking. Zyro's booking tool is available on the Business plan, and it allows your clients to view your availability and schedule appointments on your website.
Want to know more?
Read our in-depth Zyro review
.
Real estate templates
2
Free plan
No, but there's a 30-day money-back guarantee
Storage space
Unlimited
Starting Price

$

2.61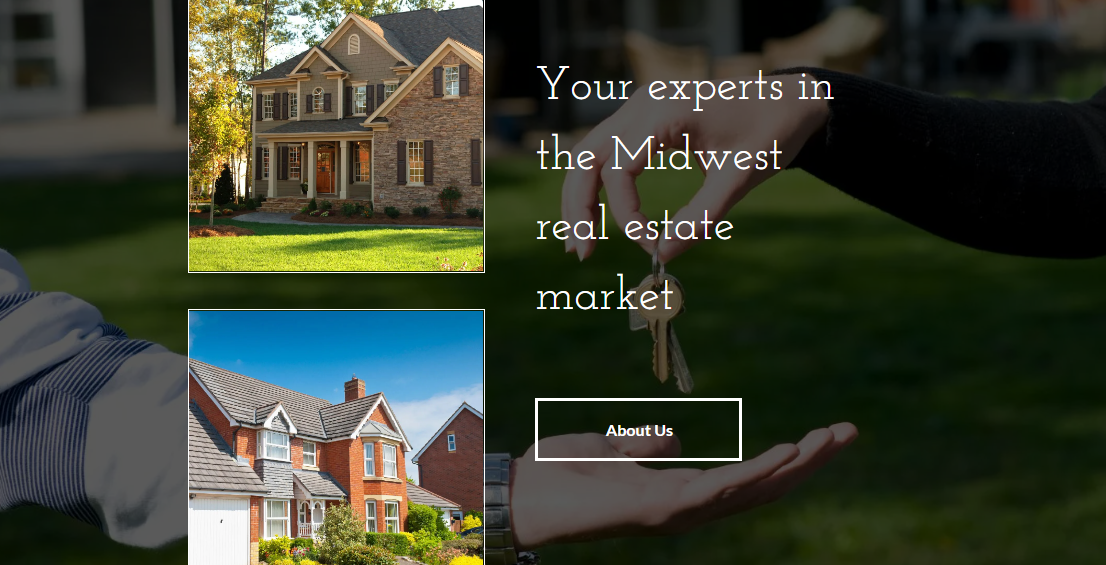 IONOS has two website builders: MyWebsite Now and MyWebsite Creator. MyWebsite Now is the simpler of the two, making it a good option for beginners looking to get online quickly. However,
if you own a real estate agency, you may want to consider MyWebsite Creator
. It's still easy to use, but you get more features and creative freedom. MyWebsite Now has only one template for real estate, whereas
MyWebsite Creator offers 50+ real estate designs
. With MyWebsite Now, you get prebuilt page sections and limited design options. This is enough for a basic site, but Creator gives you many more features and customization options – everything from image galleries and sliders to video backgrounds and animations. Both builders come with free professional email, a built-in newsletter tool, and SEO and analytics features. However, MyWebsite Creator also provides social media integrations, a blog, and multilingual functionality.
Whichever IONOS builder you pick, you can test it risk free with a 30-day money-back guarantee
.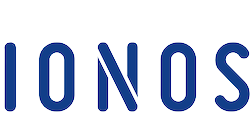 Save up to 80 % on your IONOS Website Builder plan!
Limited-time offer - Don't miss it!
43 users used this coupon!
Features
Integrated photo editor. You can crop, resize, or add overlays to images directly in the editor, so you have full control over how your properties will appear to website visitors.
Personalization options. IONOS lets you create tailored content for your visitors. For example, you can create pop-ups based on location, time (i.e. holidays), and type of visitor (first-time or returning).
RankingCoach and ListLocal. RankingCoach is a tool that will help you optimize your site for SEO and learn more about it in the process. ListLocal also helps increase your ranking by listing your company details in the most important online directories.
Business widgets. While customizing your site with MyWebsite Creator, you can drag-and-drop widgets for customer reviews and online scheduling.
Want to learn more? Read our
expert IONOS Website Builder review
.
Real estate templates
50+
Free plan
No, but there's a 30-day money-back guarantee
Storage space
Unlimited
Starting Price

$

6.00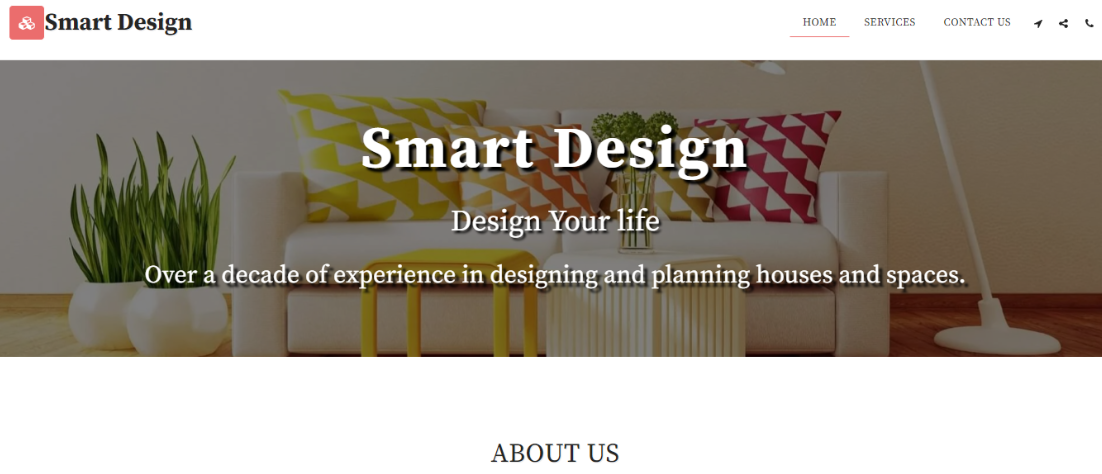 SITE123 doesn't offer much in terms of pre-designed real estate templates, but you can customize any of its business templates to fit your needs.
SITE123 is one of the most beginner-friendly website builders I've tested
, so making edits is a simple and quick process. I was most impressed by
SITE123's versatile gallery designs
. There are 8 gallery layouts to choose from, including a rounded gallery grid to spice up traditional square designs. Also, SITE123 supports full-screen image displays, so visitors can see your listings in all of their glory. SITE123 is a great option for real estate agencies in large cities or multilingual communities.
You can
display your website in up to five languages
, and there are built-in multilingual SEO features to help you rank higher on search engines in your chosen languages. Even though SITE123 has a free plan, it's pretty basic and lacks some key features. Upgrading to the Premium plan gives you 5 GB of bandwidth, 10 GB of storage, multilingual features, and a free domain for one year.
At just

$

12.80

/mo, the price is fairly reasonable, too.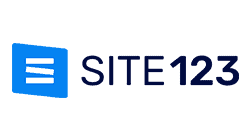 Get 40 % OFF SITE123
Save 40 % when you sign up for SITE123's annual plan
76 users used this coupon!
Features
App Market. SITE123's App Market contains plenty of real estate-friendly integrations, such as tools for building forms and taking online bookings, Google Analytics, Zendesk Chat, and more.
Bulk image upload. Thanks to this feature, you'll be able to upload your entire portfolio of listings in one go and organize them later.
Handy Reset button. If you decide not to keep some of your edits, SITE123 allows you to reset your website to its last published version by clicking the Reset button under the Settings tab.
Custom form builder. SITE123's built-in form builder allows you to choose from various form layouts and customize fields, create auto-reply messages, and more.
For more details,
read our in-depth SITE123 review
.
Real estate templates
3
Free plan
Yes
Storage space
10 GB
Starting Price

$

12.80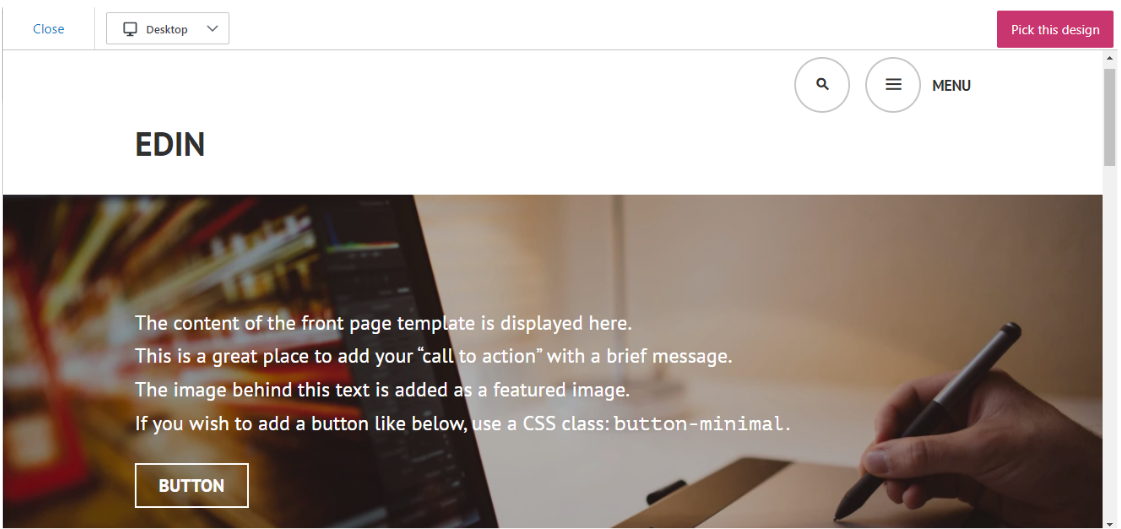 WordPress.com's exceptional blogging features work great for real estate agencies with an extensive portfolio of listings and a lot of content. There are several real estate-specific options in the Business section. However,
with an advanced plan, you can incorporate themes from third-party marketplaces like TemplateMonster and ThemeForest
, so the choice is virtually endless. WordPress.com uses a "block editor" for pages and blog posts. With it, you add content blocks for images, videos, forms, calendars, etc, and rearrange them as desired. S
ome WordPress.com themes also have a separate theme editor for your site's overall appearance
. The amount of site-wide customization available to you depends on your theme. Switching between the two editors can be confusing, especially if you've never built a website before. However, many WordPress.com
themes come with the features you need built in
– whether that's contact forms, signup forms, or social media icons – helping to make things easier. WordPress.com may not be the easiest website builder out there, but the extra effort is worth it considering the power you get in return. You can use WordPress.com's free plan to test the platform, and if you're satisfied, you can
upgrade to the Business plan or higher to install plugins and get advanced SEO tools.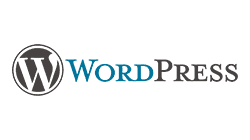 Save up to 55 % on your WordPress plan!
Limited-time offer - Don't miss it!
43 users used this coupon!
Features
Flexible content editor. The block editor on WordPress.com transforms all the content on a page into movable blocks, including paragraphs, headings, and background images. This flexibility makes it ideal for showcasing various properties.
Extensive third-party plugins. WordPress has over 50,000 free and paid plugins you can add to your site, for everything from advanced galleries to virus scanning.
Mailchimp block. By adding the Mailchimp block to your site, you can collect emails from anywhere inside a post or page.
Jetpack essentials. Thanks to Jetpack features, you'll get faster-loading pages, protection from spam, and optimized SEO to rank high on search engines.
Want to know more?
Read our expert WordPress.com review
.
Real estate templates
5, plus dozens of third-party options
Free plan
Yes
Storage space
6 GB to 50 GB
Starting Price

$

4.00
Pick the Best Real Estate Website Builder to Sell More Homes
All these builders will let you create an engaging real estate website that showcases your listings, gets more leads, and helps you reach the final goal of selling a home.
If you want creative freedom and loads of storage for images and videos,
Wix is my top recommendation
. Wix templates come with its best features built in, but you can always add more through Wix's extensive app market. And despite its incredible flexibility, Wix is still beginner friendly. On the other hand, if you rely on social content to help you attract clients,
Squarespace is a great option
thanks to its built-in social media tools.
Squarespace also has best-in-class templates that will ensure your website looks professional and modern. Or, if speed and simplicity are your top priorities,
Zyro's suite of AI tools
can help with your site's layout, content, and branding.
It's also one of the most affordable options on this list, despite not skimping on features. If you're still undecided, here's a quick comparison of the different builders I tested.
Free Plan
Best Feature
Best For
Starting Price
Wix

✔

User-friendly yet advanced customization
Multimedia-rich real estate websites

$

16.00

Squarespace

✘

Beautiful templates
Real estate companies focused on social media content

$

16.00

Zyro

✘

AI tools that save money and time
New realtors with a tight budget

$

2.61

IONOS

✘

Over 50 real estate templates
Realtors who want creative freedom without breaking the bank

$

6.00

SITE123

✔

Beginner-friendly editing
Real estate agents that need to get online quickly

$

12.80

WordPress.com

✔

Content-oriented features
Realtors looking to promote their properties via a blog

$

4.00
FAQ
Can you use Wix for real estate?
Wix has a wide selection of real estate-focused templates, as well as plenty of features that real estate websites need. For example, it allows you to customize portfolio listings, videos, contact pages, and more. It also offers tons of creative freedom for building a distinctive real estate brand, despite being impressively easy to use.
How do I create a free real estate website?
Several of the builders in this article have free plans, like Wix and SITE123. However, their free plans have limited functionality that could hamper your business. All website builders on this list offer their best features on paid plans, which are generally affordable. Regardless of the platform you choose, be sure to check out our step-by-step guide on building a website in 2023 for tips on building an effective website.
What is an IDX integration?
An IDX system makes sure your real estate website stays connected to MLS (Multiple Listing Service), a database that contains the listing of all your properties. Through IDX integration, you can display real estate listings from the MLS database on your site. These listings are updated regularly, which ensures your website automatically lists the latest offerings. Wix makes it easy to add IDX to your site using custom code – you just copy the code and paste it in the designated widget area.
Is WordPress good for real estate websites?
In addition to real estate-oriented themes, WordPress.com lets you choose from hundreds of third-party plugins that can extend your site's functionality. Given its focus on blogging, WordPress.com is a great option for established realtors with lots of listings and content.