I caught other hosts advertising PostgreSQL hosting plans that don't exist.
Most Linux and Windows servers can (in theory) support PostgreSQL, but in my research I've looked for hosts that offer the latest PostgreSQL versions and actually have technical support that can help if something goes wrong. I've tested as many hosts as I could to narrow the list down to the best PostgreSQL hosting providers in 2023
The outcome of my PostgreSQL testing might surprise you.
 Read on to find out why.
In a Hurry? Here Our Top Picks for PostgreSQL Hosting Services in 2023
A2 Hosting – Turbo-speed hosting for PostgreSQL, with an "anytime" money-back guarantee.
SiteGround – Shared or cloud hosting for PostgreSQL with fully customizable resources.
HostPapa – VPS hosting for PostgreSQL with three different support options, including fully managed hosting.
What We Look For in the Best PostgreSQL Hosting Services
When comparing PostgreSQL hosting packages, I focused on three main topics:
PostgreSQL plans: Does the website host have packages that support PostgreSQL? And does it provide management tools like phpPgAdmin?.
Up-to-date PostgreSQL: The version of PostgreSQL available is important, so I examine how recent it is and whether you can upgrade or downgrade it yourself.
Customer support: Evaluating how the host's support department responds to detailed questions about PostgreSQL gives you an idea of the level of support you can expect as a customer.
A2 Hosting is an affordable option with reliable technical support for PostgreSQL.
 It supports PostgreSQL on shared hosting and VPS accounts.
A2 Hosting is currently running version 9.6 of PostgreSQL, which is the newest version out of all the hosts I asked
. On shared hosting, you can't change the version of PostgreSQL you use, but on a VPS, you can install any version you want.
Shared hosting plans at A2 Hosting
give you the capacity for unlimited databases on the Swift or Turbo plans, or just five on the Lite plan. You can manage your database with phpPgAdmin, which is pre-installed. A2 Hosting also gives you a choice of Python versions on shared hosting accounts, and Perl is also supported.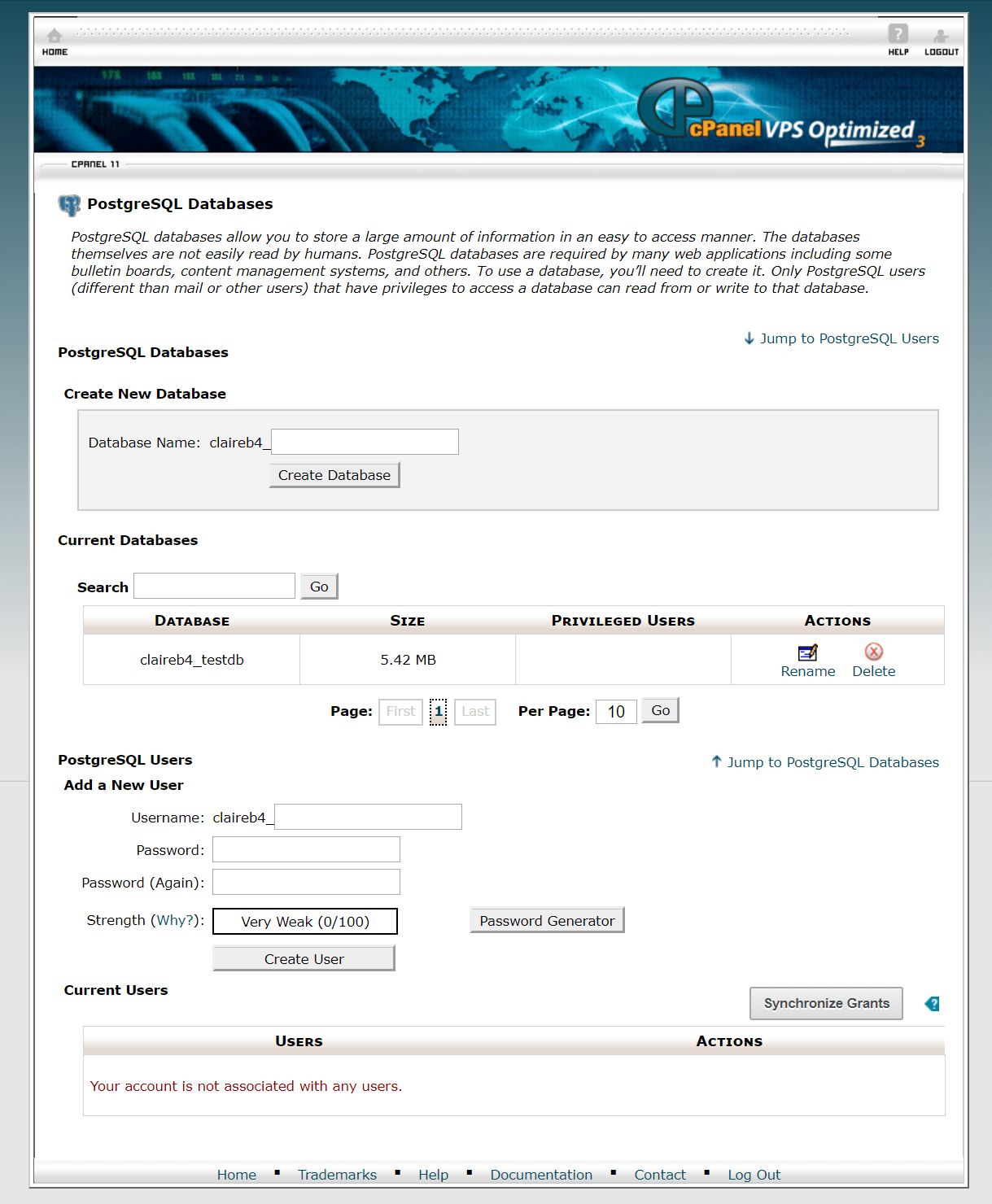 All shared plans have SSD storage for speed, but the Turbo plan goes one step further by limiting the number of customers per server.
If database speed is crucial, it might be worth the extra cash.
Either that, or you could go straight to a VPS with full management.
Features
Room to grow: You get unlimited storage and bandwidth on shared hosting plans, so you can develop your site without hitting plan limits.
Automatic backups: Server rewind backups on the Swift or Turbo plans guard against accidental data loss.
Simple PostgreSQL management: cPanel gives you all the tools you need to manage your databases in an easy-to-use dashboard.
SSD storage: Fast solid-state hard drives are used for your site files, operating system, and databases, which should increase the speed of your application.
Security features: The Perpetual Security service includes kernel updates, hack protection, virus scanning, and 24/7 security monitoring.
Read more about A2 Hosting's features in our in-depth review
.
Recommended Plan
Lite shared hosting plan
Money-Back Guarantee
Anytime
Support
24/7 via live chat, ticket, phone
Beginner Friendly?
Yes
Pricing

$

2.99
SiteGround supports PostgreSQL on shared or cloud hosting plans.
However, cloud hosting is the better option, because the shared hosting plan currently lacks management tools.
A free domain name is included with some hosting plans from SiteGround
SiteGround's cloud hosting
works the same way as a VPS. You get a set allocation of CPU cores, memory, disk space, and bandwidth, and all of these resources are reserved for your account. You can install anything you like, which means you can pick the version of PostgreSQL best suited to your project.
Cloud hosting at SiteGround includes full management
, so if you aren't confident in installing software on a server, you could ask the support team to do it for you. SiteGround even has an autoscale feature that can temporarily boost your plan resources to cope with a traffic spike.
 Autoscale makes cloud hosting an attractive option for business-critical PostgreSQL applications
 that might otherwise struggle with demand at busy times. Right now, I can't recommend shared hosting for SiteGround, since its new control panel, Site Tools, lacks phpPgAdmin. I found that I could create PostgreSQL databases (using version 8.4.20 of PostgreSQL), but there was no way to manage them. Its support team told me that they will be implementing phpPgAdmin soon, but wasn't able to give me an exact date.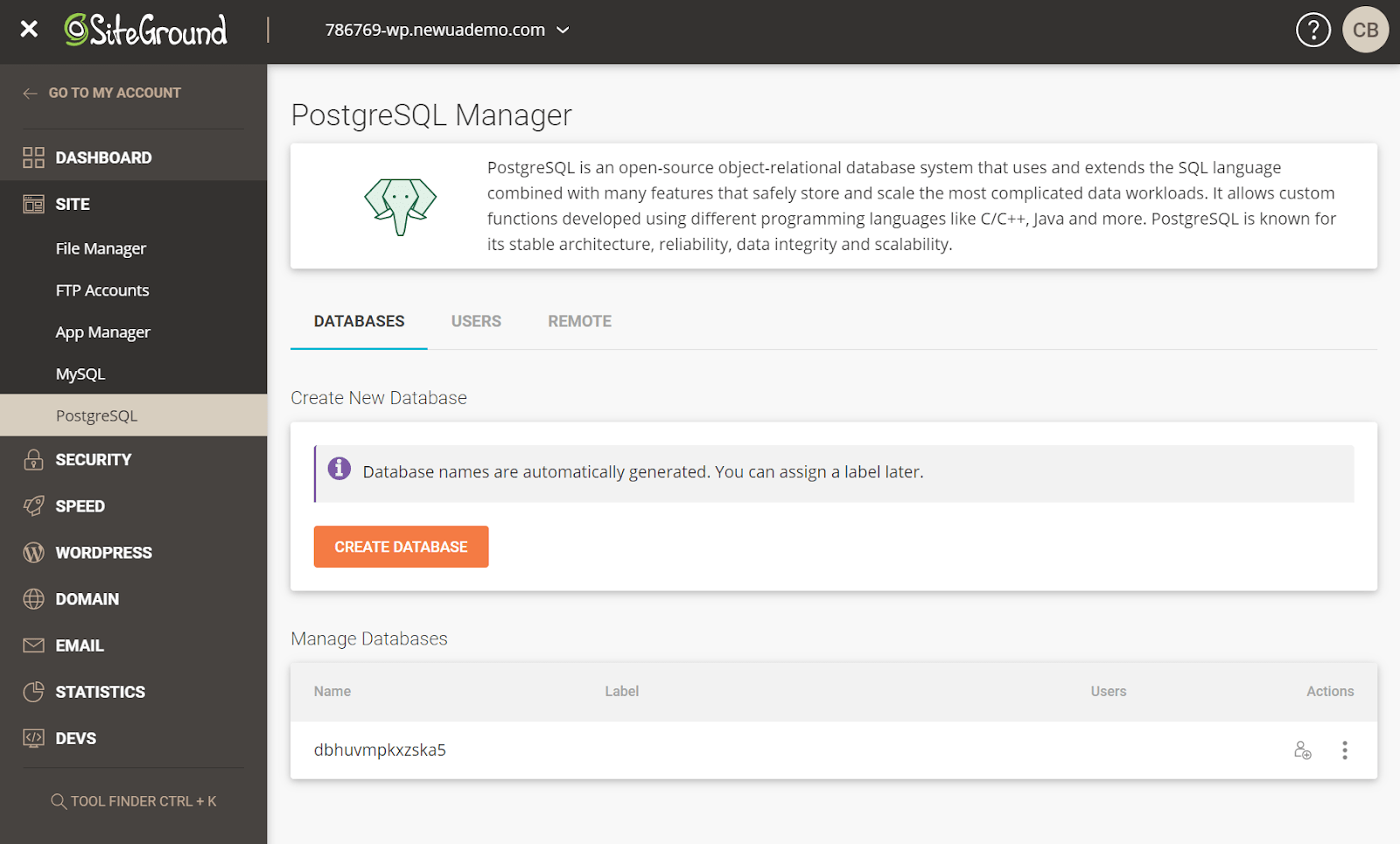 Features
Customizable plans: Four cloud hosting plans are available. If your requirements don't fit, you can design your own plan using the slider and get an instant price for the resources you've selected.
Instant scaling: Set your plan to autoscale, or manually increase the RAM or CPU cores in the control panel. Once you've chosen your new resources, they're instantly available to use.
Strong security: SiteGround's proud of the security it has in place to protect customer data, including anti-hack monitoring systems, custom firewall rules, and proactive server patches.
Agency and reseller features: You can create client accounts within your own cloud hosting account, which will be useful if you plan to develop PostgreSQL projects for clients. Each client account has its own control panel.
Read more about SiteGround's features in our expert review
.
Recommended Plan
Cloud hosting
Money-Back Guarantee
30 days
Support
24/7 live chat, phone, ticket
Beginner Friendly?
Yes
Pricing

$

100.00
HostPapa's Fully Managed hosting gives you PostgreSQL with cPanel.
It supports PostgreSQL on its VPS hosting plans, but
not
on its shared hosting plans.
A free domain name is included with some hosting plans from HostPapa
I had a long conversation with HostPapa's support team about this since it advertises "PostgreSQL-optimized" shared hosting.
HostPapa says that this is a mistake and that a PostgreSQL shared hosting plan does not actually exist.
Instead, you can choose any of its five VPS hosting plans, which are affordable and have a good range of features. Additionally, there are also three levels of management: Self-Managed (basically, no management at all), Managed, or Fully Managed.
If you rely on cPanel to manage your databases, you would need to upgrade to its Managed or Fully Managed package, which includes cPanel and root access.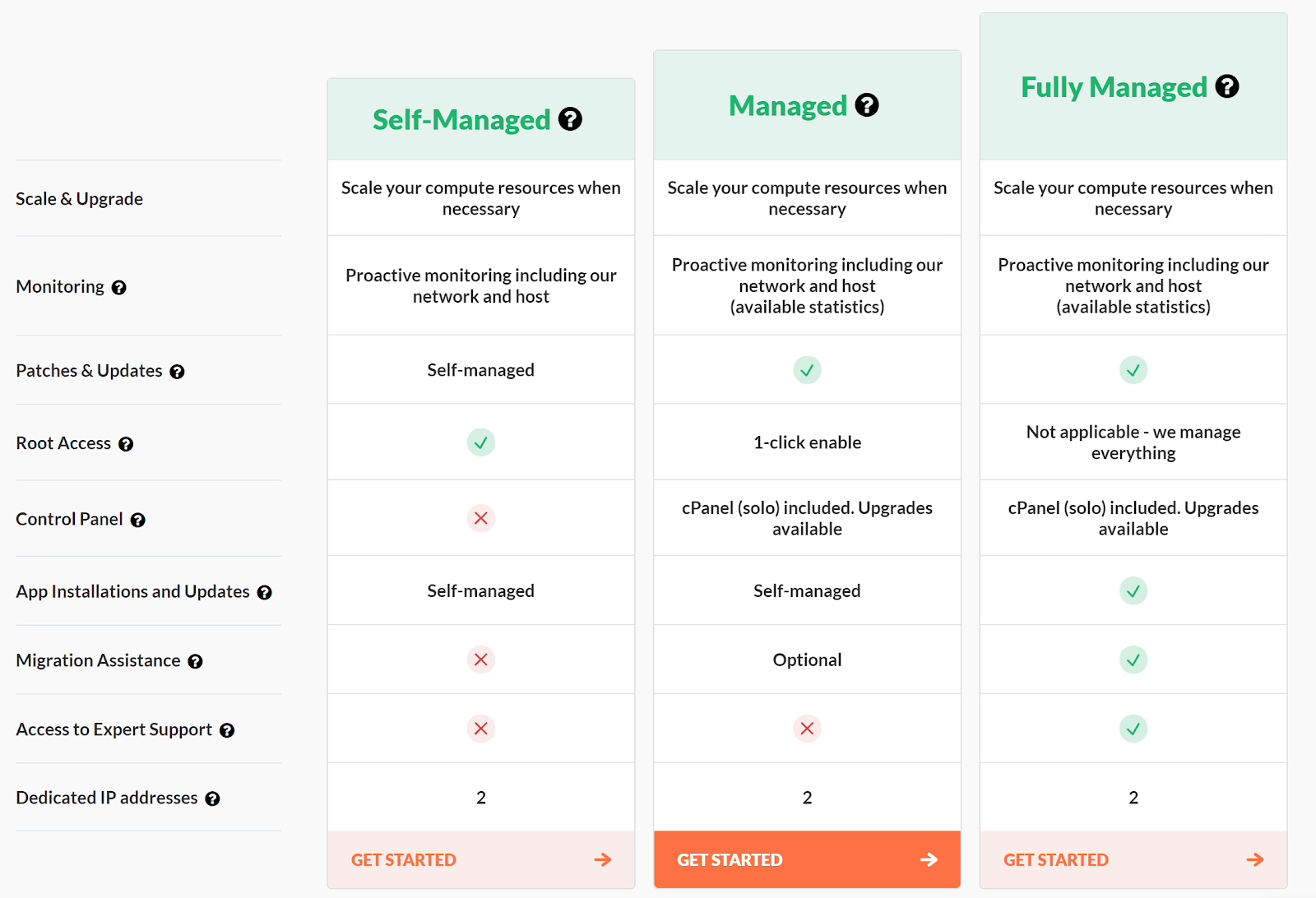 Keep in mind that some hosts are vague on what their plans actually provide.
 HostPapa makes various claims about its PostgreSQL hosting, including terms like "impenetrable security" and "solid core functionality." The person who answered my questions at HostPapa was the most proactive and engaged of all of the support representatives I spoke to, but they could not tell me
specifically
what those terms mean. As such, I would perhaps not rely on them to provide a very deep level of support either.
Features
Quick setup: HostPapa will get you up and running with your VPS almost immediately. VPS accounts are functional in 60 seconds or less after you've placed your order.
Flexible pricing: HostPapa offers five plans, and you can further control your plan and pricing by choosing between three levels of management: unmanaged, partially managed, and fully managed.
Developer friendly: Root access on VPS hosting gives you complete control over the software and utilities on your server.
Find out more about HostPapa's features in our expert review
.
Recommended Plan
Mercury
Money-Back Guarantee
30 days
Support
Multilingual (English, French, Spanish, German); live chat, phone, ticket
Beginner Friendly?
Yes (with Fully Managed support)
Pricing

$

19.99
Developers and experienced users will feel at home hosting PostgreSQL with Liquid Web.
It has
by far
 the best knowledge base documentation that I found on any host's website; the level of detail would be just right for someone who's used another database and is in the process of replacing it with PostgreSQL.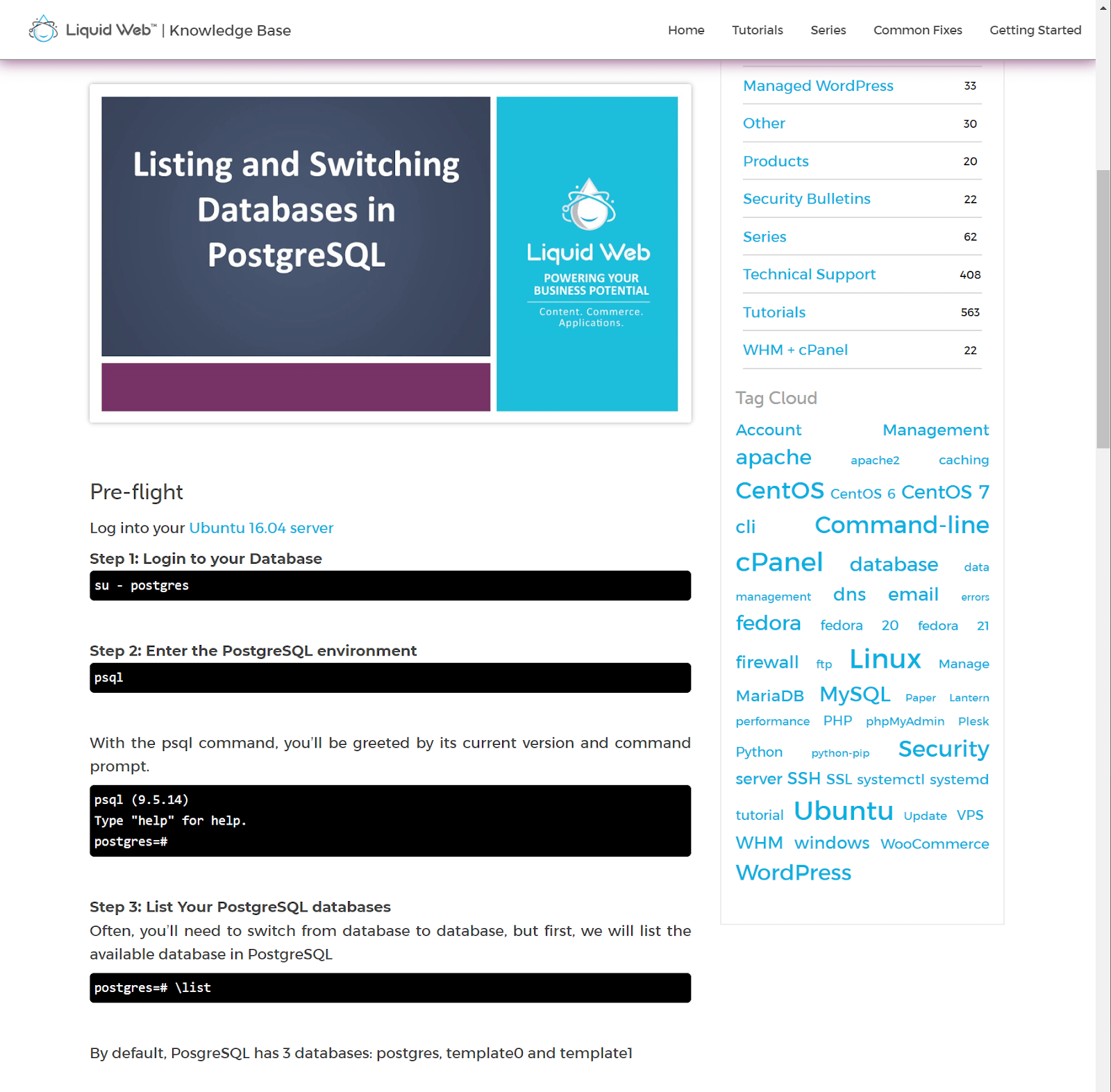 You can install any version of PostgreSQL and any management tool on
LiquidWeb's VPS hosting plans
.
 If you're used to cPanel, Liquid Web gives you 30 cPanel accounts; other control panels are also available.
If you're comfortable using the command line, you'll likely be fine with an unmanaged VPS.
 Anyone who might struggle to install PostgreSQL or its management tools can opt for partially managed (Core Managed) or fully managed VPS hosting instead. You can contact the team at Liquid Web to set up your plan according to your own requirements, or use live chat to discuss the options that best suit your project.
Liquid Web is perhaps not the most beginner-friendly host on the list, but it seems the most competent out of all the hosts I looked at. 
The quality of the documentation on its website clearly demonstrates that its technical team knows how to support PostgreSQL, so you could get an appropriate level of support from the host if you got stuck.
Features
In-house data centers: LiquidWeb owns and manages its own data center facilities, and offers a 100% uptime guarantee.
Automatic server monitoring: Load balancer, Server Protection, and vulnerability scans are continually operational to help keep your website online.
Security package included: The ServerSecure package keeps hackers out and detects outdated software that could compromise your server and allow hackers an entry point.
Customizable plans: LiquidWeb's Solutions Architects are available to design custom VPS plans for customers, so you only pay for what you need.
Discover more about Liquid Web's features in our expert review
.
Recommended Plan
2 GB RAM VPS
Money-Back Guarantee
No
Support
Live chat, phone, ticket, tutorials
Beginner Friendly?
Yes (with Fully Managed support)
Pricing

$

15.00
InterServer supports PostgreSQL on its VPS or dedicated servers.
 The lowest-priced option is a single-core VPS with 2048 MB RAM, 30 GB SSD storage, and transfer capped at 2 TB.
InterServer does not offer full support for PostgreSQL – it is very honest about this.
So you're going to be on your own if you choose to use InterServer for PostgreSQL hosting, and that makes it unsuitable for beginners. I tried to work out which plan would be best for PostgreSQL, but quickly ran into trouble.
I picked a price based on the number of CPU cores, but on the order form, this changed to "slices."
 Its support team told me that one core and one slice are not the same thing, and it was not clear how many CPU cores I would be getting at each plan level. I spent around an hour on live chat trying to understand this and didn't manage to come out of it with an explanation I felt was credible. I would definitely recommend having a chat with support just to verify that your VPS is going to have the resources you need.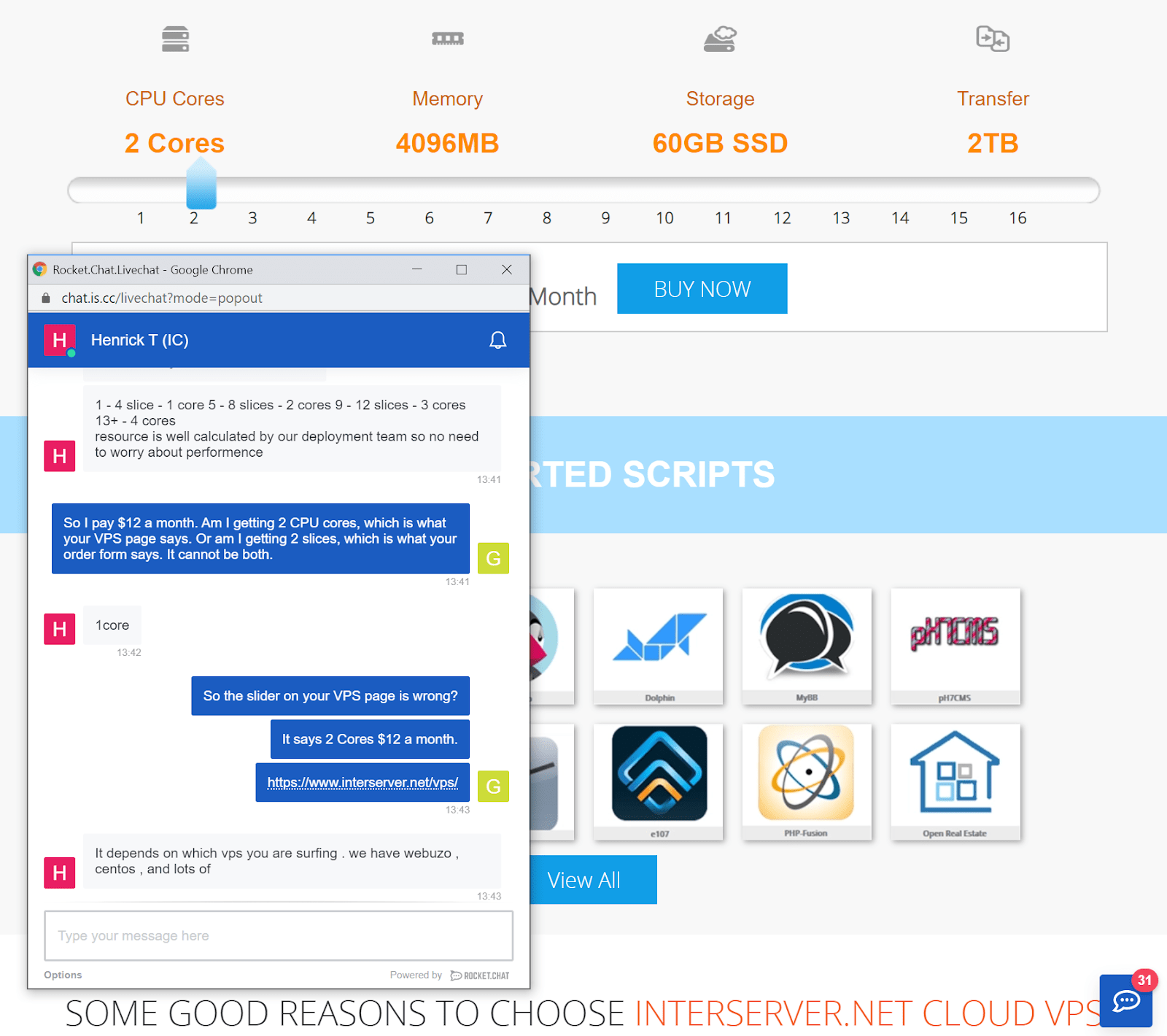 I respect InterServer for its honesty, and I think it'd be a fine budget option for those who know what they are doing.
It would have helped their case if the pricing was a little clearer.
Features
Affordable PostgreSQL hosting: If you're on a tight budget, InterServer will suit you. Managed support is available on some plans, but bear in mind that the team isn't going to offer the level of support that a more expensive host could offer.
Self-healing servers: If a server goes down, InterServer will redirect traffic to a working node, which could help to improve your site's uptime.
Easy management: cPanel is available on VPS hosting for an additional licensing fee.
Read more about InterServer in our expert review
.
Recommended Plan
Cloud VPS
Money-Back Guarantee
No
Support
Limited support for PostgreSQL via live chat and ticket
Beginner Friendly?
No
Pricing

$

6.00
Choose Your PostgreSQL Hosting Carefully
If you need a VPS, I feel confident in recommending Liquid Web.
 It has good support options, a great uptime guarantee, and a knowledge base that blows the other hosts out of the water. Although it's not the cheapest, you can design your VPS to perfectly match your project.
A2 Hosting is a great choice for PostgreSQL on shared hosting if you don't need the power and resource of a VPS yet.
It has the most recent version of PostgreSQL, and it also has cPanel and phpPgAdmin set up and ready to go, with a tech team that can answer the kinds of questions developers are likely to ask.
HostPapa is a good budget option for a VPS
 if you want an affordable plan for a small PostgreSQL application that gives you some room for growth. You'll be best off paying extra for the Managed or Fully Managed support plan so you get cPanel too.
| | | | | | |
| --- | --- | --- | --- | --- | --- |
| | InterServer | A2 Hosting | SiteGround | HostPapa | Liquid Web |
| PostgreSQL on Shared Hosting | ✘ | ✔ | ✔ | ✘ | ✘ |
| Number of Databases | Unlimited | Unlimited (except Lite, 5) | Unlimited | Unlimited | Unlimited |
| SSD Storage | ✔ | ✔ | ✔ | ✔ | ✔ |
| PostgreSQL available on VPS | ✔ | ✔ | ✔ | ✔ | ✔ |
| Current Version | Any | 9.60 (shared), Any (VPS) | 8.4.20 (shared), Any (VPS) | Any | Any |
| Pre-installed phpPgAdmin | ✘ | ✔ | ✔ | ✘ | ✘ |
| Full VPS Management | Extra fee | Yes | Yes | Extra fee | Extra fee |
| Control Panel | cPanel (additional fee) | cPanel | Custom | cPanel | cPanel |
| | | | | | |
FAQ
What is PostgreSQL?
PostgreSQL is an object-relational database. Developers can define their own objects, like numbers, strings, IPv4 addresses, and location references, and link them together. PostgreSQL is commonly used for medium to large applications, such as large websites or business databases, which tend to require a large database that can perform efficiently. PostgreSQL is open source, which means anyone can examine the program code if they want to check how it works. While most hosts can support PostgreSQL, you're best choosing a host such as A2 Hosting which has support for the database – or choose fully-managed hosting from Liquid Web.
Are Postgres and PostgreSQL the same thing?
Yes – Postgres is an easier way of referring to PostgreSQL.
Is Postgres better than MySQL?
MySQL is an easy-to-use database suitable for most small to medium websites. Developers often choose Postgres for websites that are more demanding. Postgres also has a good reputation for reliability and security that often makes it a better choice for mission-critical applications, such as supply chain databases, since it's important that they avoid any downtime. Hosting with MySQL is more budget-friendly – you can get excellent deals from hosts like Hostinger, with prices starting as low as

$

1.99

. If you're looking for a host with MySQL, you can see our top ten recommended hosts in our guide to the best web hosting providers in 2023
Why is PostgreSQL hosting more expensive than MySQL hosting?
Although some hosts support PostgreSQL on shared hosting plans, which are the most budget-friendly, in many cases full PostgreSQL support is only available with VPS hosting (for example, with SiteGround). Because VPS hosting is more expensive than shared hosting, you can expect to pay more. However, the performance of VPS hosting is much better. If the cost of your hosting is a concern, you can find some great discounts on our web hosting coupon page.