No matter whether you are trying to impress a future boss or attract new customers to your website,
first impressions matter
. But when it comes to landing pages, it's not just about looks; ultimately, landing pages need to drive conversions and turn curious browsers into highly interested potential customers. This is exactly what a great landing page builder helps you to do. However,
with mobile having now officially overtaken computers as a way to access the internet (51.2%)
, you should use a landing page builder that's designed specifically with mobile responsiveness and usage in mind. Let's take a look at some of the ones who are doing it the best:
#1: Unbounce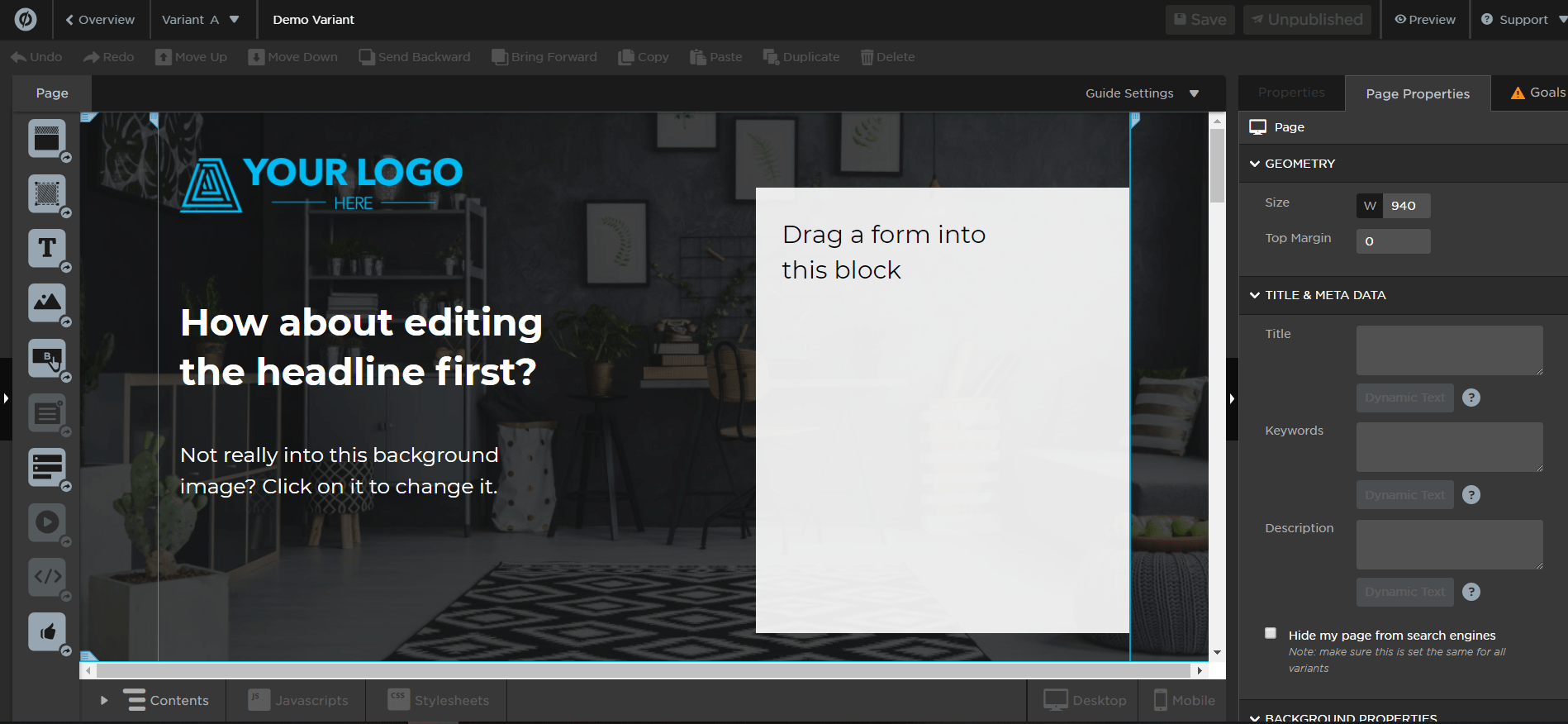 Unbounce
is an expert in all things conversion. According to their website, they have worked with over 14,000 brands—including big names like Vimeo and Hootsuite—to create "developer-free" landing pages, pop-ups, and sticky bars that increase campaign and website conversion rates.
Features:
Unbounce includes all of the standard features, but its best is probably its integration with:
WordPress
HubSpot
InfusionSoft
Marketo
Salesforce
It also includes a pretty
powerful and easy-to-use landing page builder, for both mobile and desktop, which you can test on the website.
The user also has the ability to create additional marketing tools, such as custom pop-up and sticky bars.
Pricing:
There are no free plans with Unbounce, however, they do have a generous 30-day free trial instead of the usual 14. They have three pricing plans that are overall comparable to the other products, although a bit on the pricier side. Most businesses should be more than happy with the Basic plan.
What We Like:
Unbounce's standout feature is a fantastic dashboard that lets marketing and design agencies easily manage their clients and projects.
What We Don't Like:
They don't really have any affordable pricing plans for individuals.
Who Is it For?
Unbounce is (or has been) used by a number of huge and instantly recognizable brands. If you look at their prices and features, it's clear that they target a higher-end audience of agencies and anything from small to enterprise-level businesses. They provide great tools for agencies to manage their landing page products for separate clients.
#2: PageWiz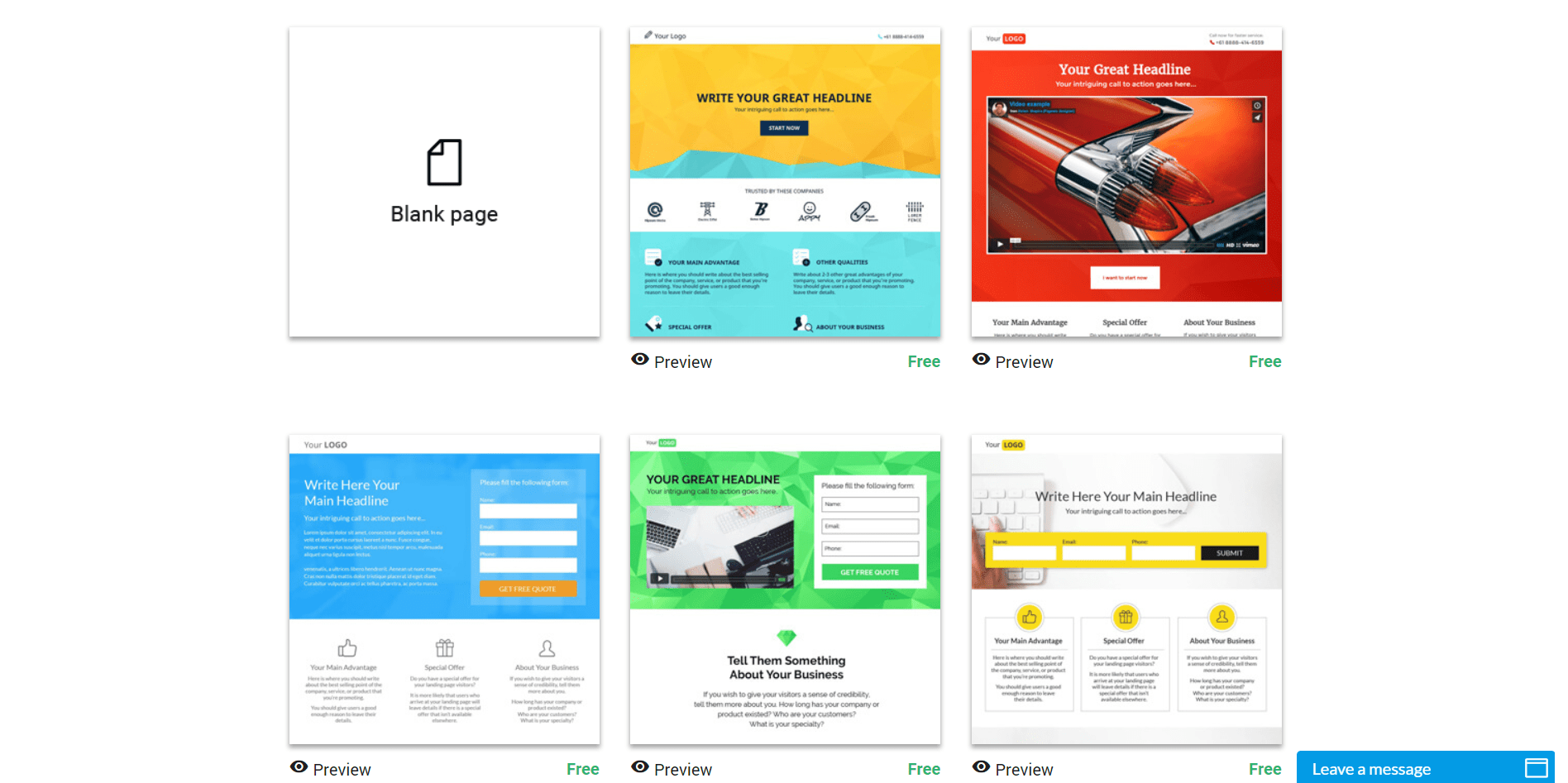 PageWiz strongly positions themselves as an integrated service that can help marketing and design agencies manage client campaigns. They focus on ease of use and flexibility. But digging deeper, we found there's even more to love.
Features:
PageWiz comes will all the most essential features on all pricing plans:
A drag-and-drop landing page builder design tool
Built-in automated A/B testing
A dashboard for managing client accounts
Templates for different types of landing pages
Analytical tool for stats reporting
Plugins for SEO (including Google Analytics and other webmasters tools)
Pricing:
Like Unbounce, PageWiz offers a credit card-free 30-day trial period. They are also one of the few platforms with plans that are affordable for everyday users. You can also choose to be billed monthly, half-yearly or yearly for discounted rates. You only pay for more domains, visitors, and white-labeled email lead notifications with higher plans. There are also "Larger" plans designed for enterprises or professional agencies with many clients.
What We Like:
PageWiz offers extremely flexible pricing plans for both casual and enterprise users as well as billing methods.
What We Don't Like:
Honestly, there is very little not to like. Although, there could be a larger number of templates.
Who Is it For?
PageWiz is for everyone! They have
packages and pricing plans that are affordable enough for individuals
who just want higher conversions on their blog, as well as enterprise-level packages that cost thousands of dollars and provide a complete solution for any landing page need.
#3: KickoffLabs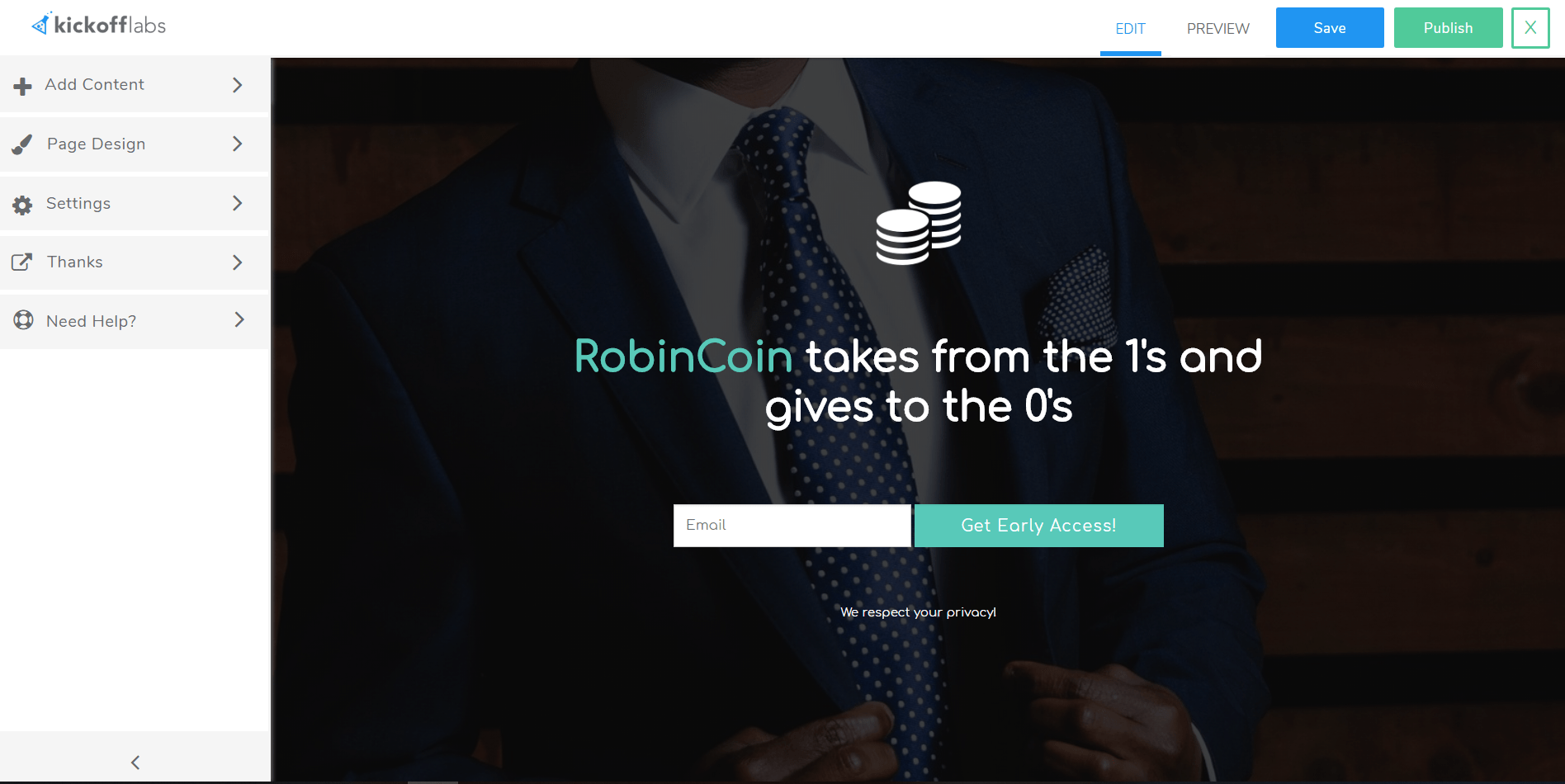 More than the other landing page builders,
KickoffLabs
is focused on the contest and giveaways aspect of landing pages, including coupons and referrals.
Features:
KickoffLabs has a few special features that distinguish them from the rest, such as:
Running referral reward programs for your visitors
Leaderboards with points and rewards system for followers
Bonus entry sweepstakes and unlocking rewards for leads
Email opt-in bribes for quick conversions
All the referral rewards, competitions, and loyalty bonuses provide a great way to engage your audience and entice more visitors to become customers.
Pricing:
KickoffLabs has a Business, Premium, and Enterprise plan. Each allows more campaigns, visitors, and team members than the previous, and also differs quite a lot in terms of accessible features. Prices are in the low to mid-range comparatively and you can get a discounted rate for annual billing.
What We Like:
Fantastic tools to create your own reward programs based on lead generation or referrals.
What We Don't Like:
The designer is easy to use, but slightly limited when compared to others.
Who Is it For?
The referral, sharing, and loyalty rewards are
especially potent tools for someone who is launching a product, competition, or business in order to generate excitement and get exposure.
Agencies who run these campaigns on behalf of clients will also enjoy this platform's client management tools.
#4: InstaPage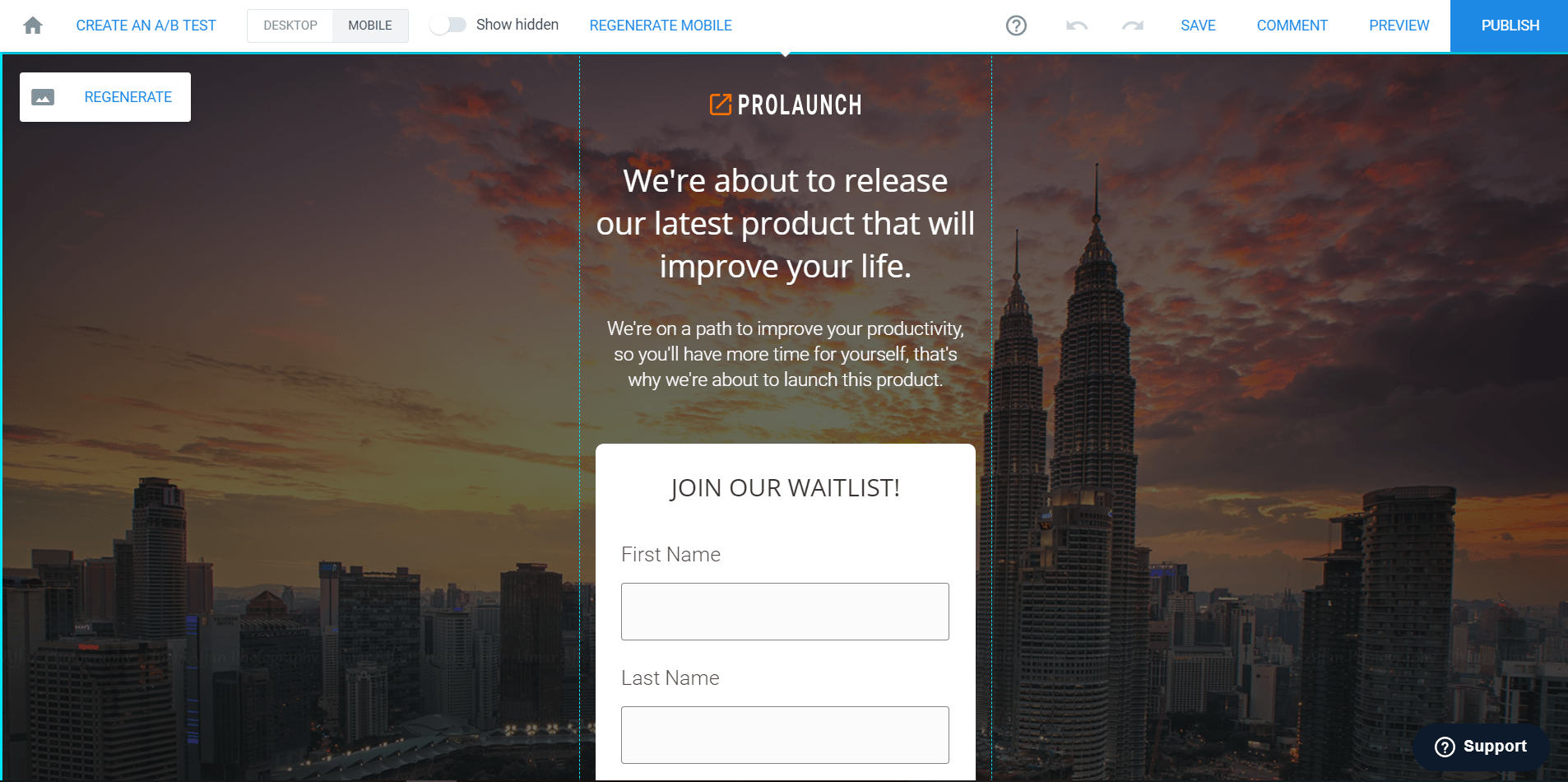 As you might expect given their name,
InstaPage
really emphasizes just how quickly you'll be able to develop a landing page. However, this is a platform that offers users much more than speed.
Features:
InstaPage's primary focus is to help build landing pages where you not only market yourself, your company, or your brand, but can also become a B2B marketer:
In-depth user analytics including A/B testing, heat maps, and more
A huge number of integrations with platforms like Salesforce, Marketo, Zapier, and Google AdWords
Access to the advertising conversion cloud for B2B collaboration
On top of that, they also provide extensive collaboration and user account controls to streamline the process of working in a team or for clients to review work.
Pricing:
There is only a Core and Enterprise plan, each of which can be billed monthly or annually. The Core package comes with over 40 integrations, all the analytics tools, and access to al the builder tools. The Enterprise package provides enhanced security, professional services, and is meant for large corporations handling heavy traffic.
What We Like:
One of the best builders that makes it incredibly easy to create mobile responsive pages.
What We Don't Like:
You don't have a lot of choices when it comes to pricing, in terms of the features you want or don't want.
Who Is it For?
InstaPage is either geared towards marketing agencies who want to closely collaborate internally and with their clients, or for big businesses who want to maximize conversions and take part in the lucrative B2B marketing movement.
#5: Lander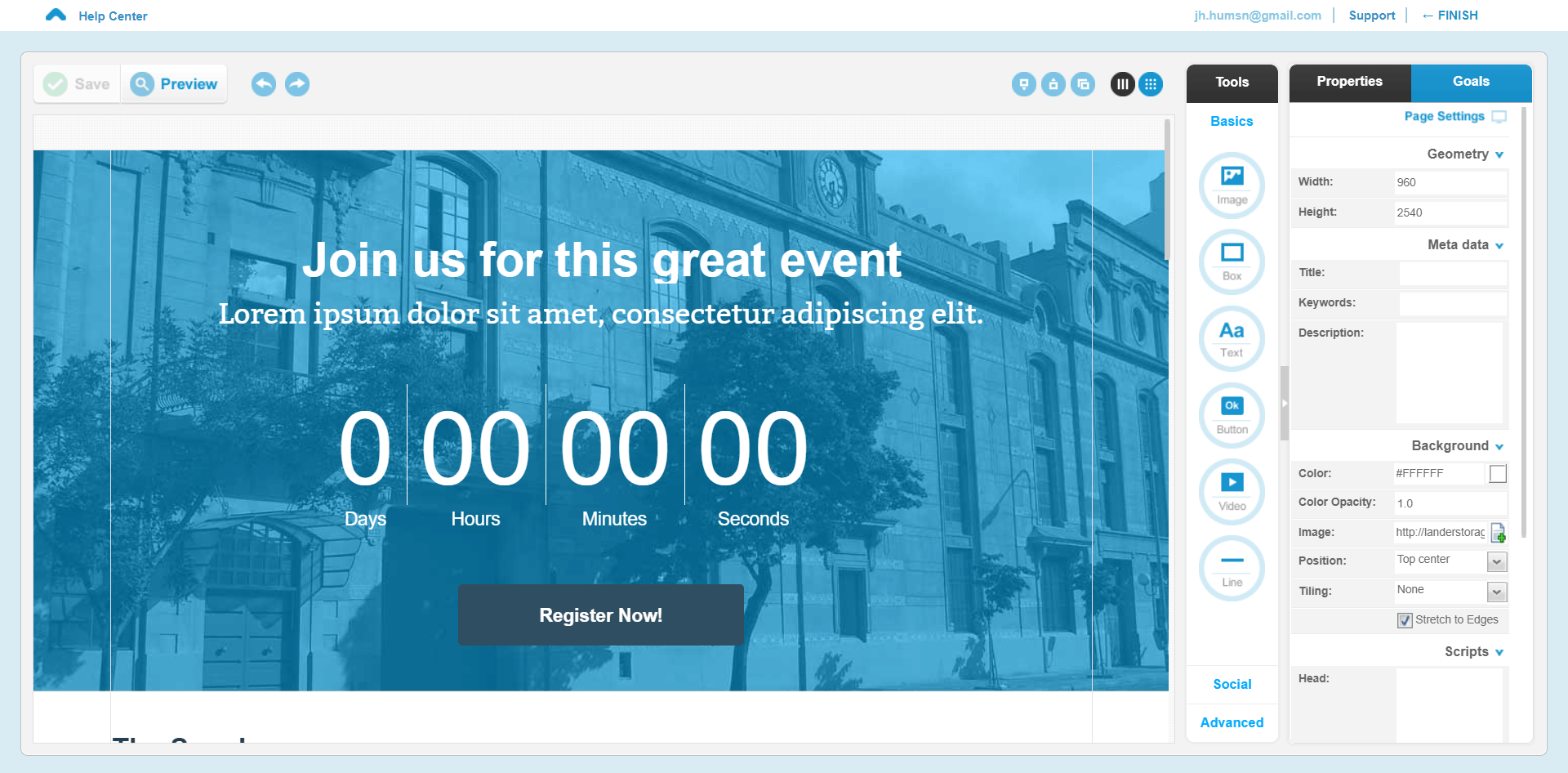 Lander
is a more user-friendly and entry-level product than others on this list, which makes these important conversion tools more accessible for small shops and personal blogs looking to reach and convert more customers.
Features:
Even with more basic functionality, Lander still offers the most important features:
Integrations with Marketo, Salesforce, Zapier, and Webhook
The ability to make custom edits to your code
A/B testing tools
A drag-and-drop page builder
Tool to create your own Facebook tabs
Except for custom code and the Facebook tab tools, there isn't anything too exceptional.
Pricing:
The pricing plans for Lander are well thought out and cater to just about any budget. While there is no free plan, they do offer a 14-day free trial. The crazy thing about selecting annual billing is that, in most cases, you will save more than half of your total costs.
What We Like:
A superb selection of 100+ templates to kick off your designs.
What We Don't Like:
This isn't the most polished user experience or the easiest builder to use.
Who Is it For?
With some phenomenally cheap pricing plans,
technically anyone could take advantage of the Lander platform. However, we probably wouldn't recommend it if you're looking for enterprise features, as you would be better off with PageWiz or InstaPage.
Put Your Brand's Best Foot Forward on Mobile
Don't miss out on the chance to engage potential new customers in one of the easiest, yet most effective ways possible: targeted landing pages. With any of these options, you'll also ensure that your landing pages will impress mobile as well as desktop viewers. So, the biggest question you need to ask yourself is, which is right for you?