Minecraft is a hungry game – it needs top-notch CPUs and plenty of RAM to perform at its best
, especially if you want to install lots of mods and plugins to spice up the fun. Without computing power, gameplay will lag. Yet
some Minecraft hosts charge for just-OK servers that can barely handle a vanilla install, never mind anything else.
And if you want to host more than a few players, you'll need to be careful – some providers have strict player limits, even on upper-tier plans. So, which hosts will provide you with the best Minecraft experience at an affordable price? I've tested as many Minecraft hosts as I could to come up with a list of the top six. Read on to find out which one is the right fit for your particular needs.
Short on time? These are the best hosting providers for Minecraft:
Hostinger – fast and reliable Minecraft hosting with low prices
ScalaCube –  one-click installations for 1000+ modpacks and a free website
Kamatera – customizable and scalable VPS that's perfect for Minecraft
What We Look For in the Best Hosting Providers for Minecraft
High performance.
 Without enough computing power, you are going to experience horrific lag. Every host I've chosen uses speedy CPUs and offers enough RAM to run Minecraft smoothly.
Fantastic reliability.  
Lag is bad, but a crashed server is even worse, as this can cause you to lose hours of progress. That's why I've specifically looked for hosts that can commit to keeping their servers available and responsive.
Fast scalability.
As your playerbase grows, you may need to add CPUs and memory. I've chosen hosts that allow you to scale the resources of your server to accommodate a growing user count.
Customizability.
While vanilla Minecraft has its charm, you and your players might be missing out if you don't try some of the many modpacks out there. I've picked hosts that fully support the installation of mods, plugins, and custom .jars.
Affordability.
A good Minecraft server doesn't need to break the bank. All of these hosts provide a cheap way to get started.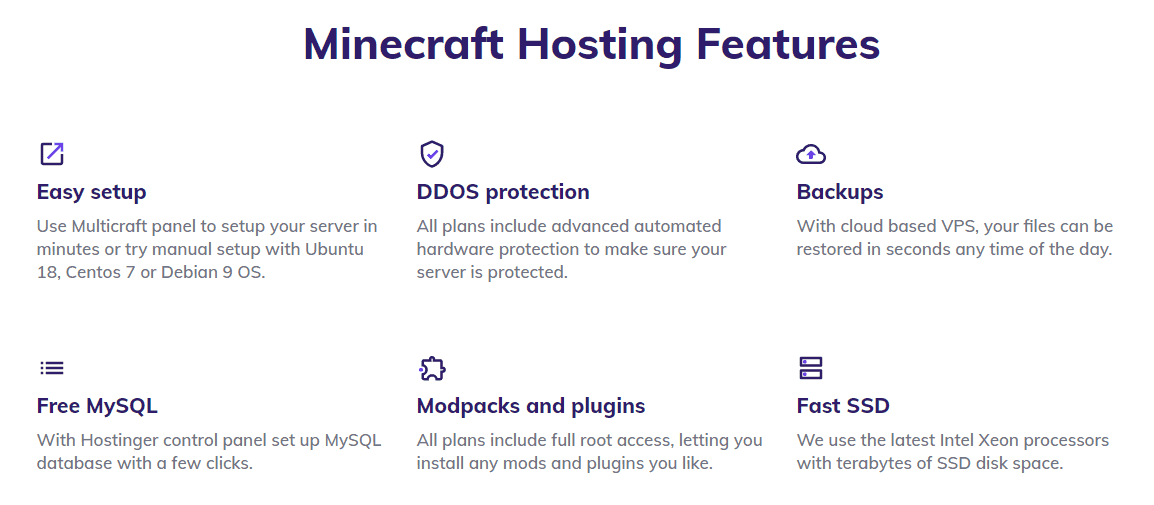 Hostinger
is one of the best budget hosts available for website hosting, and it just so happens that it has reasonably-priced plans for Minecraft too. Even
the cheapest plan has 2 vCPUs, which are powered by speedy Intel Xeon processors.
You also get a reasonable 2GB of RAM. This is more than enough for a starter server, and it gives you enough resources for a few plugins and mods.
Hostinger offers full root access to your server on all its Minecraft plans
, allowing you to install whatever you desire. There are also some nice free features, such as automatic offsite backups and dedicated IPv4 and IPv6 addresses. It isn't all good news – Hostinger's Minecraft hosting isn't protected by a legal reliability guarantee, though it does advertise 99.99% uptime.
A free domain name is included with some hosting plans from Hostinger
Preinstalled Minecraft versions. Every plan comes with a variety of Minecraft servers ready to install. This includes the Java and Bedrock versions of vanilla Minecraft, as well as CraftBukkit, Spigot, and PaperMC.
Reliable SSDs. Hostinger's SSDs use a double RAID configuration. This means that there is little chance of data loss, even in the event of hardware failure.
Discounts for longer payment plans. If you purchase a 48-month plan, you can save a significant amount of money.
30-day money-back guarantee. Hostinger offers a standard refund policy. You can request a full refund within 30 days of your first purchase, no questions asked. This should give you enough time to try out its service.
| | |
| --- | --- |
| Money-back guarantee | 30 days |
| Data center locations | 1 in the US, 3 in Europe, 1 in Asia |
| Support channels | 24/7 live chat and support tickets |
| Starting price | $8.95 |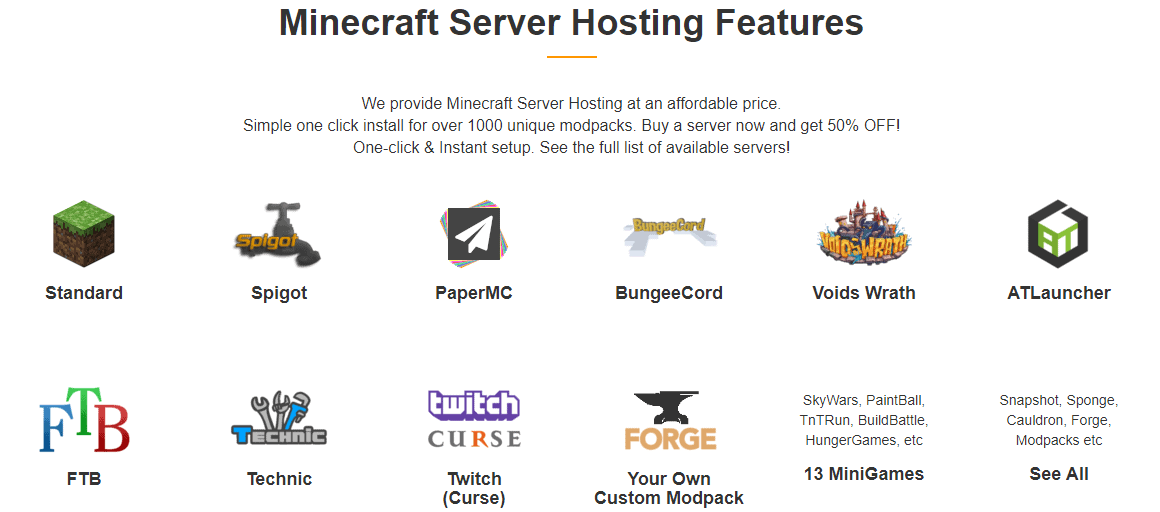 Standard web hosts often don't have advanced knowledge of Minecraft server configuration.
As a dedicated game server hosting company specializing in Minecraft, ScalaCube outlines its Minecraft hosting services in great detail
 with a comprehensive feature list. For example,
included with every plan is a pre-built website and forum
. The website shows the active players at any given time, and the forum gives your community a place to post rules and ask questions. For a small fee you can get a customizable Minecraft launcher.
It'll provide everything new players need to play before taking them directly to your server.
My only issue with ScalaCube is there's no way to switch between the Java and Bedrock versions of the game without purchasing a brand new plan each time.
Forever-free trial. ScalaCube offers a free plan that allows you to try out one of its powerful servers. You can install whatever modpacks you like and there's no time limit. However, you are restricted to a single player slot.
Huge number of mods. With over 1000 modpacks available for single-click installation, your community should never run out of new ways to experience custom Minecraft gameplay.
Proactive DDoS protection. ScalaCube proactively monitors for DDoS attacks, ensuring a rapid response if your server is targeted.
24/7 live chat. Most Minecraft hosts provide support services through tickets, which can be slow. ScalaCube uses a responsive live chat service to put you in touch with a support agent more quickly.
Money-back guarantee
None, but there is an unlimited single-player free trial
Data center locations
1 in Canada, 2 in Europe, 1 in Australia, 1 in Asia
Support channels
24/7 live chat
Starting price

$

2.50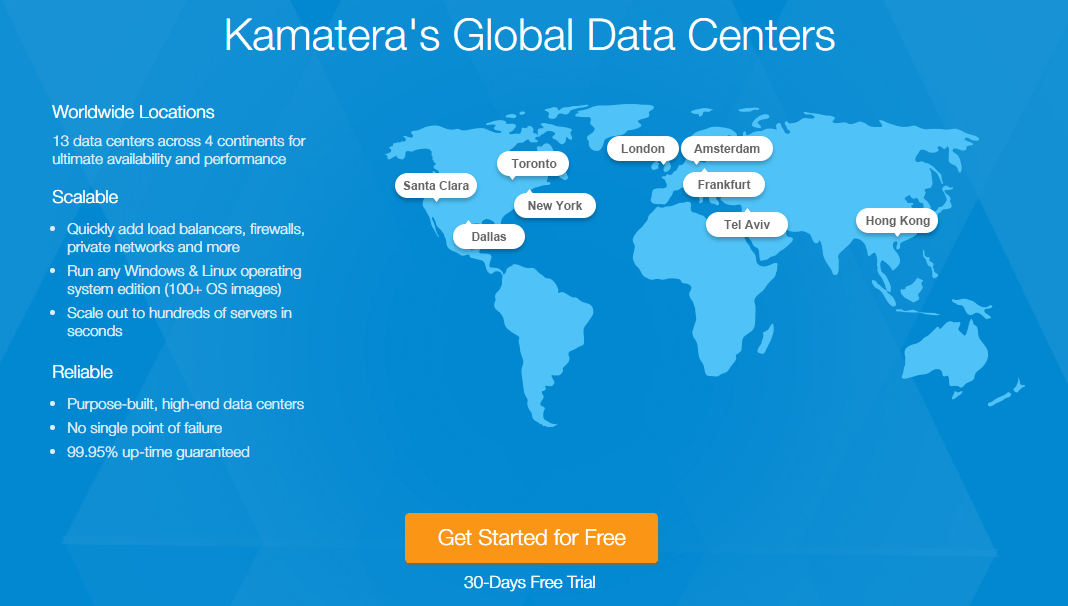 Kamatera doesn't specifically offer Minecraft hosting, but its cloud VPS service is certainly up to the task.
With Intel Xeon Platinum processors and SAN SSD arrays, your Minecraft server won't be lacking in performance.
The value of Kamatera lies within its flexibility. Rather than offering plans with set amounts of resources,
Kamatera lets you customize your server with the exact resources you need
. Need a particularly RAM-intensive setup for your large and complex map? Simply allocate as much RAM as you need.
Kamatera also differs from other hosts because of its pay-as-you-go system:
 you are billed hourly for the precise amount of resources you use. This makes scaling up or down a simple affair, as any changes will be reflected instantly in the hourly price of your server. However, Kamatera isn't for beginners – you'll need to know how to run your own VPS, along with how to install and set up a Minecraft server manually.
Generous free trial. Kamatera offers a 30-day free trial with $100 in service credit. With this, you have full freedom to customize your server as long as you stay under the $100 limit.
Flexible backup restoration. You can pay a small fee to have your server automatically backed up every day to an external storage array, and you can perform full or partial restorations as needed.
Powerful security. Kamatera offers a Cloud Firewall premium add-on which provides high-end protection against hacks and malware. This is a good idea, especially if you're looking to host tournament play.
Lots of data centers. With over 13 data centers spanning four continents, you'll be able to serve Minecraft players around the globe.
Money-back guarantee
30-day free trial
Data center locations
3 in the US, 1 in Canada, 3 in Europe, 1 in the Middle East, 1 in Asia
Support channels
24/7 phone, email, and ticketing support
Starting price

$

4.00

There's a lot to like about Shockbyte. Prices start very low –
it's one of the most affordable hosts on this list
–  but there's still plenty of impressive features available that make it worth considering further.
Automatic backups are included
 – many more expensive hosts, like Kamatera, charge extra for such a service. And, unlike with ScalaCube,
you can change between the Bedrock and Java versions of Minecraft with ease.
 Finally, you get unlimited bandwidth and SSD storage with every plan. While Shockbyte promises 100% uptime, you are only due compensation if your server goes down for five consecutive minutes. Shorter periods of downtime are not covered by the SLA.
All versions supported. ShockByte allows you to install any Minecraft version you desire with a single click. This includes all Minecraft snapshots.
Server management add-on. For a monthly fee, ShockByte's support team will install and configure mods, plugins, and custom .jars for you.
Custom-built servers. Like Kamatera, Shockbyte allows you to create your own server. However, this service is only for the largest Minecraft communities, as the minimum allocated RAM is 17GB.
Free third-party trials. Included with every plan is a 45-day free trial of Enjin's Advanced plan. This is a CMS (content management system) for creating gaming websites which can be integrated with your Minecraft server. You also get a 30-day Premium trial for Tebex (formerly Buycraft), which offers game monetization tools.
Money-back guarantee
24 hours
Data center locations
1 in the US, 1 in Europe, 1 in Australia, 1 in Asia
Support channels
24/7 support tickets
Starting price

$

2.50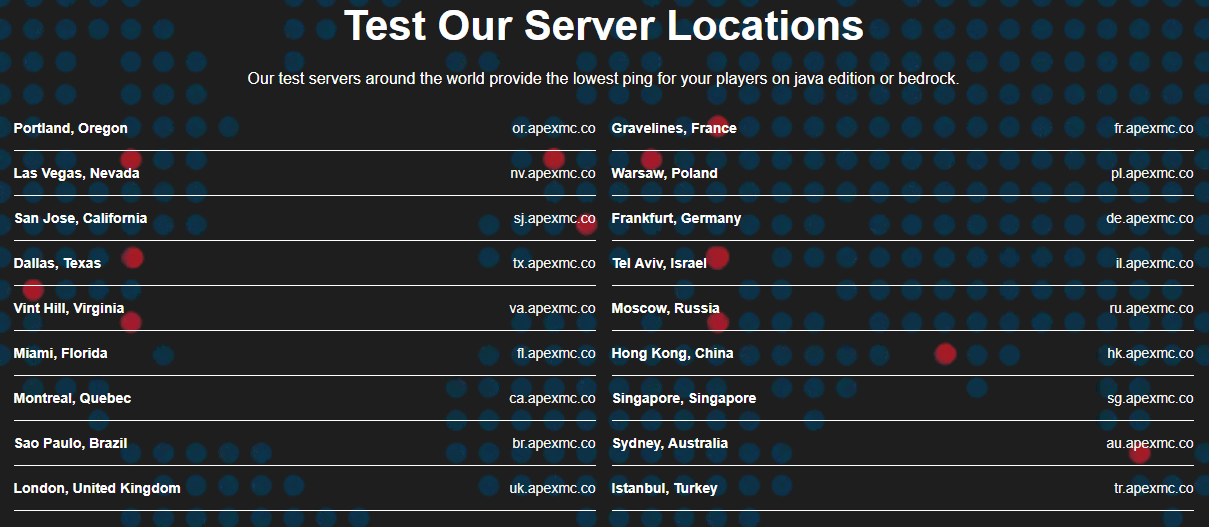 What immediately caught my attention about Apex Hosting is the sheer amount of data centers on offer.
With 18 locations, you'll be able to offer low-ping gameplay to your player base, wherever in the world it may be.
It also offers fantastic and responsive support which is available 24/7,
 through both live chat and tickets. Agents are always happy to assist, even going so far as to help you install mods or change your server version for you. You usually have to pay for this kind of service. If you prefer to manage things on your own,
Apex Hosting also offers one-click installations for over 200 modpacks, along with automatic backups
 to ensure you don't lose valuable progress. As good as Apex's support team is, upgrading your plan can take up to a few hours, which means significant lag time for your players if you're already exceeding your current resource limits.
Custom control panel. All plans include access to a custom version of the powerful Multicraft control panel. This includes mobile support, allowing you access to all the functionality of the desktop version while on the go.
99.99% uptime. Apex Hosting offers a 99.99% uptime guarantee. If uptime falls below this threshold in any given month, you can request a month of free hosting in service credits.
Fast setup. After purchasing a server, it becomes instantly available for use. Additionally, you have the option to pay a modest one-time fee to have our team set up up to five permission groups for you. We will also install any plugins you require. It's important to note that this service includes preinstalled Dynmap, BungeeCord, and Votifier functionalities.
Super-powerful top-tier plan. If you're looking to host a server with a lot of players, Apex Hosting's EX Series plan features Ryzen 3800X CPUs and NVMe SSD drives for maximum performance.
Money-back guarantee
7 days
Data center locations
6 in the US, 1 in Canada, 6 in Europe, 1 in Australia, 1 in the Middle East, 2 in Asia, 1 in South America
Support channels
24/7 live chat and ticketing support
Starting price

$

4.49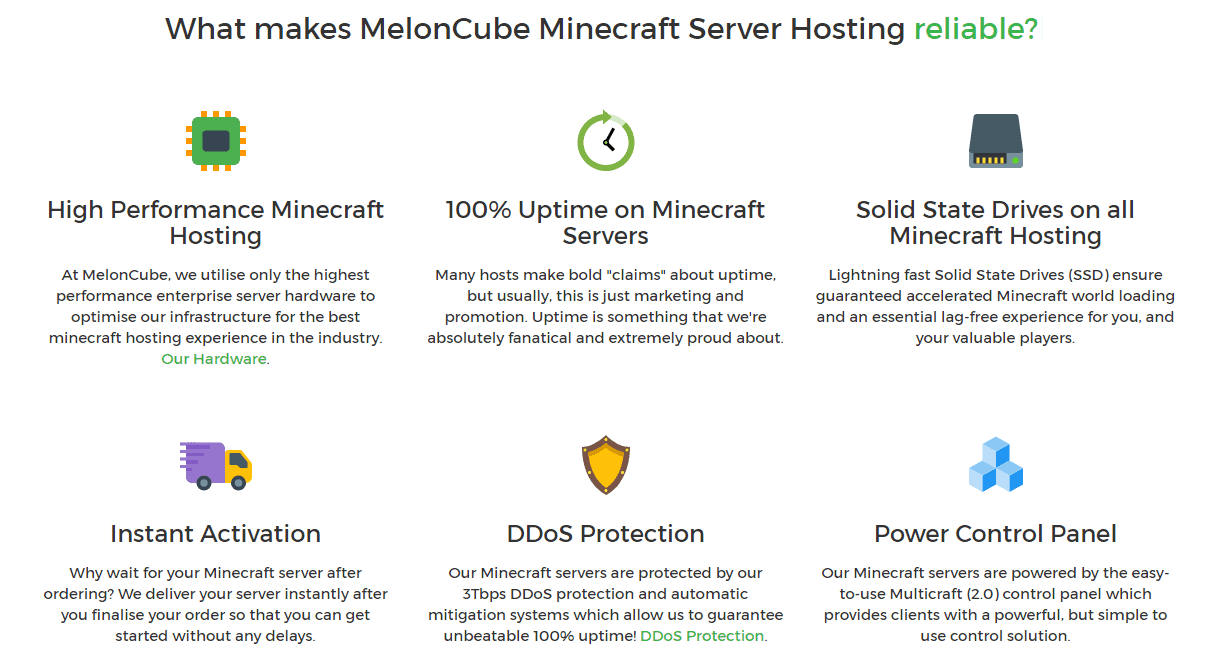 MelonCube has specialized in Minecraft hosting since the early days.
 It offers high-quality servers with a focus on performance and reliability. MelonCube's promise of 100% uptime is not a true guarantee. You're only due compensation if you endure more than 15 minutes of total downtime during any given month. But MelonCube makes up for it with extensive free support.
Ticketing is responsive and very helpful, and you receive personalized advice from a designated account manager.
You also get 3Tbps-level DDoS protection and state-of-the-art mitigation systems
. Plans are also pretty cheap, with discounts available for quarterly, semi-annual, and annual plans.
Free trials for third-party add-ons. You get generous trial plans from Enjin, Tebex, and Minetrends.
Automatic restarts. The longer a Minecraft server has been running, the more it tends to slow down. MelonCube allows you to schedule reboots at set times. Online players will be warned in advance.
Multiple user accounts. MelonCube allows for multiple user accounts on the Multicraft control panel at no extra cost, making it easier to manage with a team.
Advanced support. A monthly fee gives you access to an upgraded support plan. This allows you to request unlimited modpack or plugin installations and updates, map uploads, and more.
Money-back guarantee
3 days
Data center locations
3 in the US, 1 in Canada, 1 in Europe
Support channels
24/7 ticketing support
Starting price

$

3.00
Which Minecraft Host is Right for You?
On the surface, nearly every Minecraft host appears to be a suitable choice, but there is a significant variation in the actual quality of service. Opting for the wrong host can result in high ping, sluggish speeds, frequent crashes, and the loss of players. Every one of the above hosts will deliver great performance and reliability. It's just a matter of choosing the right one for your particular needs. If you're still unsure, here are my recommendations.
Hostinger offers good performance with full root access.
Its basic plans are perfect for starter servers. However,
if your ambitions require a more flexible custom plan, Kamatera is a good choice.
ScalaCube includes many useful features that can help to grow your community,
including a pre-built website and forum. It also features over 1000 modpacks for easy installation.
Shockbyte is a good budget option, featuring unlimited resources and automatic backups at low prices.
Likewise,
MelonCube is also very affordable
, with particularly strong DDoS protection.
Finally,
Apex Hosting offers many data centers that cover every major continent, along with an above-and-beyond support service
.
Standout Feature
Free automatic backups?
Full root access?
Starting Price
Hostinger
Good performance and reliability, full root access

✔

✔

$8.95
ScalaCube
Lots of modpacks, free website and forum

✘

✔

$

2.50

Kamatera
Fast cloud VPS, fully customizable and scalable

✘

✔

$

4.00

Shockbyte
Good value for money, with plenty of features

✔

✘

$

2.50

Apex Minecraft Hosting
Helpful support with many data centers available

✔

✘

$

4.49

Meloncube
Best DDoS protection, high speeds, low prices

✘

✘

$

3.00
FAQ
Can you host a Minecraft server for free?
You can operate a server from your personal computer, but this depends on your PC's strength and the speed and capacity of your internet connection. Hosting Minecraft for free is an option, but I anticipate limited player slots and performance problems. If you're working with a tight budget, it's smarter to choose a budget-friendly provider, like the hosts I've listed.
Which is the best host for Minecraft?
I personally recommend Hostinger – it offers decent performance at a reasonable price. Alternatively, ScalaCube is great if you're looking to host a popular server with an accompanying website and launcher. You may also want to check out our list of the best web hosting providers in 2023 to see our top recommendations.
What are the minimum requirements for Minecraft hosting?
You should have at least 1GB RAM and 1 CPU for a vanilla Minecraft install with no more than a few players. I recommend at least 2GB RAM and 2 CPUs if you want to add mods and plugins.
Which is the cheapest Minecraft hosting provider?
Shockbyte offers the cheapest starting point for a Minecraft server. While you shouldn't expect many resources to work with, you can upgrade your plan whenever you want without losing any settings or data. Before you commit to any plan, be sure to look at the great deals for 2023 on our coupon page.